Intro
The year 2020 was incredibly challenging for everyone, and its impact most certainly cannot be overestimated. In regards to live streaming, 2020 became the year of opportunities, as many businesses and individuals were forced to work from their homes. With that in mind, we at Restream did our best to help many people share their activity with the whole world in times of lockdown. To celebrate the end of this tough year, we would like to share the results of our hard work with you.
When we think of 2020, we will remember dozens of new amazing features, helpful improvements, new incredible opportunities, more exciting partnerships, hundreds of bug fixes, and, of course, heart-melting support from our community. Let's dive into the brightest memories of the huge progress we've achieved together!
🎥 Restream Studio
In 2020, we made an official launch of Restream Studio — a simple yet powerful tool that has everything modern streamers need for professional live streaming. It allows you to go live directly from a single browser tab on multiple streaming services at the same time. Restream Studio has lots of amazing features: from overlays and colorful themes to the ability to add guests and stream in Full HD. Here are the key innovations we implemented in Restream Studio this year.
Chat overlay (beta). With this new feature, you can add your chat feed into your live stream so your viewers are able to see all the comments. We've also added an ability to moderate the chat directly in your Restream Studio! You can reply, mute, and block any annoying viewers or chat bots.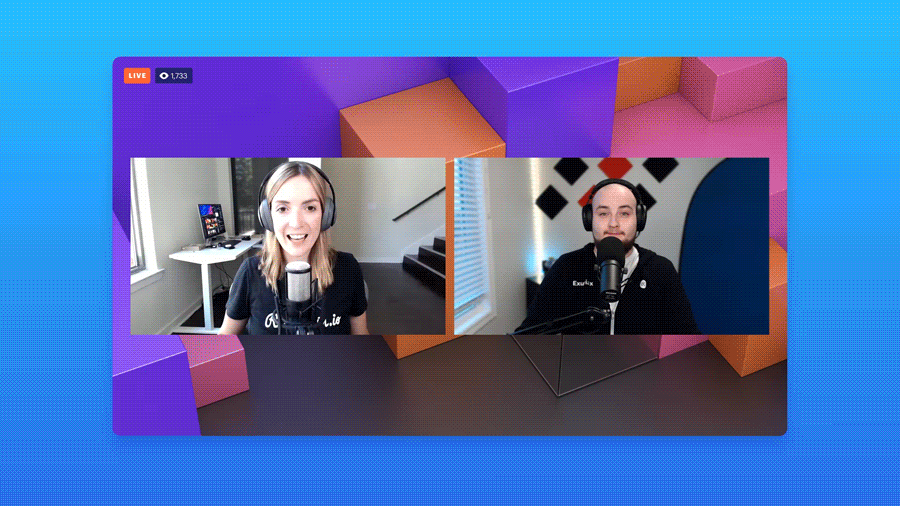 Guests. A huge update that allows you to invite up to ten guests to your stream. Making live shows has become that much easier!
Layout control. This feature allows you to organize every element on your stream just the way you want. You can easily swap places with your guests, screen share, and add video files.
Private Chat. The new Private Chat feature allows you to discreetly communicate directly with your guests! No one else can see this chat.
Full HD. Live streaming in Full HD is now available in Restream Studio. Try out the 1080p live videos and stun your viewers with crystal-clear quality.
Screen sharing. Now you can share both your screen and your webcam with the audience at the same time.
Adding videos. One more great feature that allows you to add videos to your stream to use them as pre-rolls, post-rolls, or stream breaks.
Video as a source. Now you have more options to add videos to your streams. Instead of screen sharing, you can simply upload your video and play it on the stream.
Recordings. Finally, you can save your live streams and have them ready anytime you want. Apart from the video version, you can also download the clean audio file for your podcasts.
Stereo sound. We've made it to the new level of audio quality. Restream Studio now fully supports stereo sound!
Backgrounds. Your live streams can and should be visually unique. That's why we've added lots of new awesome backgrounds.
New videos. Need to take a break during your stream? You can now customize it with our new astonishing videos!
New themes. Mix colors and shapes to create your own unique theme and make your stream stand out!
Colors. We've added customizable colors to Restream Studio to help you brand your live streams in a simple and straightforward fashion.
Layouts. With our new layout presets, you can intuitively position the appearance of attendees on the stream.
Overlays. Restream Studio now supports more amazing overlays to help you brand your streams!
Viewer counter. Last but not least, now you can see how many viewers you've got on your streams. But more importantly, you can find out exactly where your audience is tuning in from!
💬 New Restream Chat
We've completely revamped Restream Chat. Not only has it become incredibly stable, but we've also added amazing stickers, badges, super chats, and more! You can now overlay the chat on your stream and let the audience see it. Moreover, we added customization of the chatbox with 20+ ready-to-use templates. And most importantly, you can now moderate your chat — block or mute offensive users and annoying bots!
🕺 New partnerships
We are proud and honored to become partners with so many respected and renowned brands, including Sling Studio, Live U, Logitech, Typeform, Placeit, epocCam, and many others. From multi-camera setups to thousands of logo and banner templates, we have everything to help you attract more viewers and grow your stream.
Restream + LinkedIn
We are pleased to be a verified partner of Linkedin Live. Thanks to this partnership, we can continue improving our services for content creators looking to run their live shows! You can now target LinkedIn audiences directly from your Restream Studio. Also, the LinkedIn Live comments feature has been integrated into Restream Chat. And finally, we now support the LinkedIn Events feature, as well as the ability to schedule your LinkedIn events directly from Restream Studio!
💪 More platforms
During the year 2020, we have added a bunch of new streaming platforms to our pull of officially supported destinations. We are happy to be partnering with so many amazing platforms, including Dailymotion, Trovo, Mixcloud, and Nonolive. You can easily connect these platforms to your Restream Studio in the platform list and start streaming right away!
👉 Restream Live Events
Now you can schedule your stream without leaving your dashboard and let your audience know when you plan to go live! This new feature allows you to not only save up your time but also make sure your viewers are aware of your live streams.
🔗 Referral program
Know someone who's looking to get into streaming? With the new Restream Referral program you can receive massive rewards for inviting your friends into our community! When you invite someone to Restream, they'll receive a $10 credit after completing their first stream. But that's not all — you can earn up to $49 when your friend upgrades to a paid subscription plan! Withdraw your reward later directly to your PayPal account. You can simply send your referral link to people you'd like to invite and then simply track your stats.
💰 Series A
The year 2020 opened new exciting possibilities for us! Restream raised $50M in Series A financing led by Sapphire Ventures and Insight Partners. Thanks to this amazing opportunity, we are taking an enormous leap forward in our goal to democratize live streaming, making it as easy as a phone call.
🎬 Live shows on YouTube
We've also launched great educational live shows to help you understand the world of live streaming, learn new strategies, and discover new possibilities. Don't miss the insightful webinars, talks, and interviews with the most renowned specialists in the world of live streaming and marketing, including Neil Patel, Dr. Matthew Stevenson, and Mike Russell!
🙌 Final thoughts
For the Restream team, the year 2020 has been both incredibly challenging and fruitful. We focused on the further improvement of our products, the addition of new streaming destinations, and new exciting partnerships. And in the upcoming year, we will continue our journey towards accessible, easy, and professional live streaming for everyone!
As we look back on the past year, we feel incredibly proud and honored — not just because of our achievements, but mainly because of your support. It is our community that keeps motivating us to grow and improve, and we are grateful for it. With this message, we wanted to thank our Restream family and wish you all success and happy holidays! ❤️