As one of the most engaging types of content you can create, Q&As are of great use for achieving many business goals.
✅ Increase awareness? Check.
✅ Get people interested in your offer? Check.
✅ Generate leads? Check.
That's the power of engagement for you. But if you want to amplify the Q&A's reach and increase sales, you need to live stream your interviews. Let's see why and how to do it.
Broadcast Interviews and Q&As the way big brands do It
Sometimes, all it takes is a camera, an internet connection, and an interesting speaker to create content and get results, and sometimes it's more complicated. Let's check some examples:
Citroen Spain, the car manufacturer's Spanish arm, used a live Q&A stream to attract people in their sales funnel using a specialized tool. The results included gaining 1100 highly-qualified leads and boosting the customer satisfaction rate to 97%.
New York's Metropolitan Museum of Arts along with the lifestyle and fashion magazine Vogue live-streamed a Q&A featuring Vogue's editor-in-chief Anna Wintour and the Met's Costume Institute curator Andrew Bolton. It netted them over two hundred thousand views.
Airbnb, the lodging and tourism giant, and Disney, the multimedia company, teamed up to live stream a red-carpet event from The Jungle Book premiere. The stream got them a wide reach of more than a hundred thousand views.
Cisco, one of the world's leading tech companies, live streams their events and includes Q&A sessions on hot topics with their internal specialists. This helps establish them as an industry leader while spreading awareness.
Experian, the credit reporting company, hosts live-stream sessions where they offer free advice about credit scores, as well as answer questions on personal finance topics. This helps them solidify their brand and the connection with viewers by educating them.
The Ultimate Fighting Championship (UFC), the mixed martial arts promotion company, live streams behind-the-scenes videos and Q&As with ring girls. This helps them establish their brand and humanize the company.
There you have it — brands from different industries choosing to live stream their interviews and Q&As. They achieved great results from increasing the reach of their videos, to boosting customer satisfaction and supporting the branding efforts.
What makes Interview and Q&A live streams great?
Live-streamed Q&As, interviews and Ask-Me-Anything sessions are the types of content that perform great.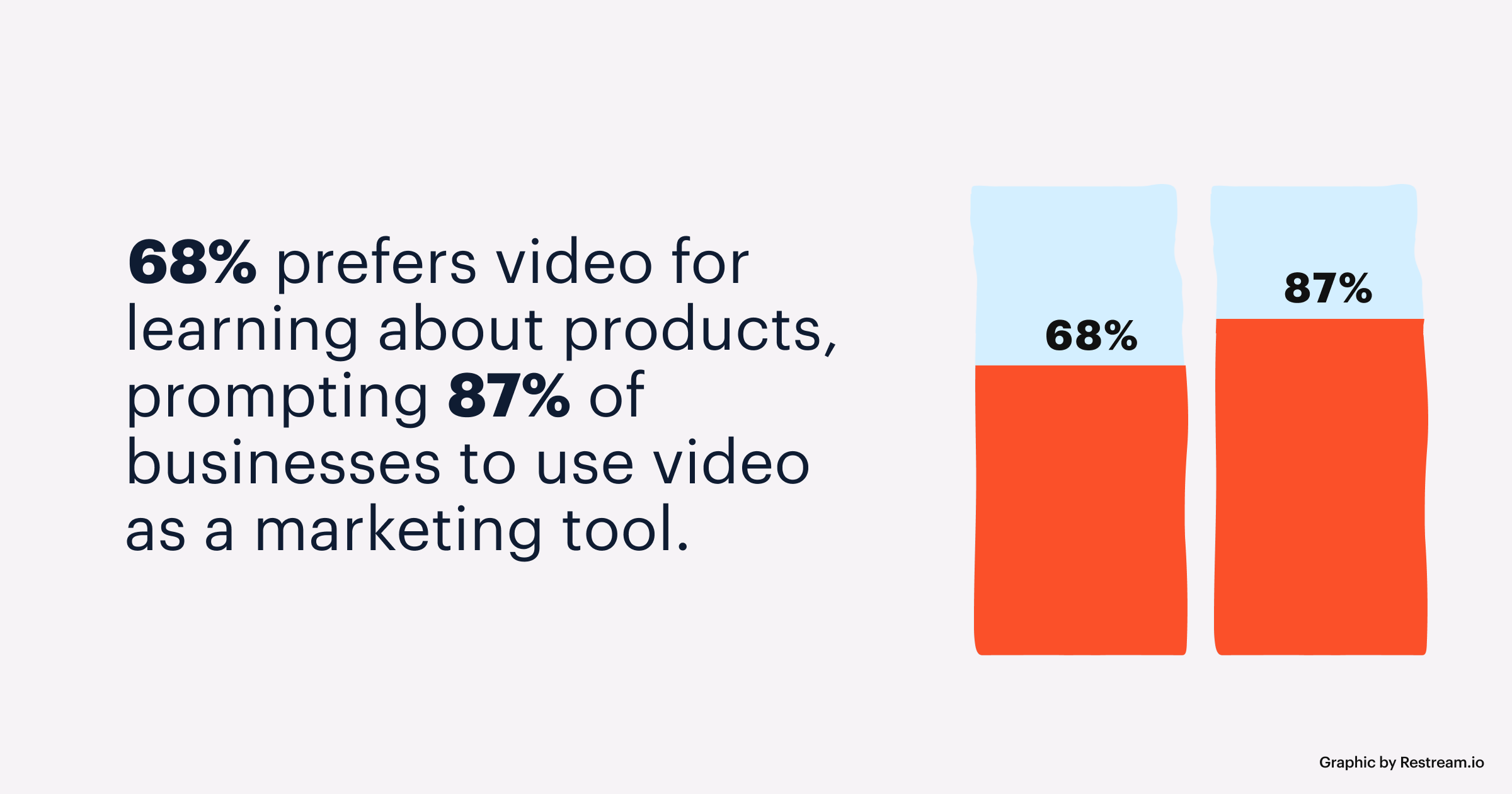 Here's what they bring to the table:
They humanize the brand. People sometimes forget that behind the business and brands they love, there are people just like them. Q&As remind them.
They invite viewers into the conversation. People want to be a part of the conversation if it's interesting or important to them. That's why interviews are so engaging.
They are incredibly versatile. You can use interviews to sell, educate, entertain, or create a specific impression about your business.
Video content has its own intrinsic benefits:
It's experiential. Video is more in line with the current shift away from a textual and towards a more experiential internet.
People like video. 68% prefers video for learning about products, prompting 87% of businesses to use video as a marketing tool.
Live streaming video ties it all together:
Large reach at a low cost. You need a little more than a smartphone, an internet connection, and a social media profile to start a stream and reach thousands of people.
Live stream fosters engagement. People will jump at the opportunity to ask questions or react to your content because they can get real-time feedback from you and from other viewers.
People can consume them everywhere. Thanks to the rise of mobile device usage, your possible pool of viewers is bigger because they can view your content wherever they are.
Add it together, and what do you get? A great type of content to reach and engage an audience. Once you do that, you can use your Q&As, interviews, or AMAs for everything from enhancing brand recognition to driving conversions.
Read later: Take your audiences Behind the Scenes: why and how to do it📍
How to Best Reach Your Audiences
What do you do in marketing if you want to connect with an audience? Obviously, you go where they are. The same goes for live streaming. You should consider the type of audience, your industry, and the topic of your interview while choosing the platform for broadcasting. This will help you navigate the landscape better:

Some platforms aren't specialized in a type of audience or a theme. They have a broad demographic:
B2B marketers have everything they need in one platform, and so do fans of events and influencers. They should use, respectively:
Gaming content is becoming a hotbed of drama and high-dollar transfers. Gamers will go to the general platforms, but they mostly stick to niche platforms:
Some nations and regions have their own preferred websites. Using them might require you to know the local language and culture. Still, if you want to reach an audience in these countries, the local platforms are your best choice, for example:
China — DouYu
South Korea — AfreecaTV and KakaoTV
What about streaming to multiple platforms?
What's stopping you from streaming to more than one website at the same time? It can be one of several things, including lack of hardware, software, and the know-how. But none of that has to put a stop to your plans. Restream lets you easily multistream from one source to many platforms and:
Increases your reach — with native support for over 30 supported platforms, you'll reach your audiences no matter how scattered they are online.
Is easy to use — no steep learning curve here. Restream is very-user friendly with an intuitive interface and an extensive knowledge base.
Is easy on your resources — you don't have to invest in any additional hardware or bandwidth apart from what you'd use to stream to a single website.
Has affordable pricing — the basic offer is free, with membership plans allowing for additional, advanced solutions.
Easy live streaming for everyone
Run professional live streams from your browser.
Get Started
Restream makes multistreaming effective without straining your resources. Plus, it helps you manage things like scheduling streams, chatting with audiences, and gives you awesome performance analysis.

How to Broadcast an Interview or Q&A that Rocks
You don't have to be Barbara Walters or David Frost to conduct a great interview or a Q&A session. All you need is some prep work and you'll be good to go. So let's get started.
Preparing for a Q&A
Get opinion-makers involved early. Let them contribute questions or ask their opinions about possible interviewees. At best, it's free publicity. At worst, it's good networking.
Build anticipation for your Q&A. Announce it beforehand via social media or even traditional media ads. It pays off to invest in building interest in your upcoming Q&A.
Let the audience contribute. Take questions from potential viewers before the session. Start engaging them early, and they'll be more likely to tune in for the live stream.
Embrace tricky questions. Find and prepare questions that are not easy to answer. Don't overuse them, but don't forget them either — people like tricky things.
Prepare for unexpected situations. Learn how to deflect a question, shift focus from it, or dismiss its premise. You never know what kind of question you can get from viewers.
Prepare an exit strategy. Put a limit to your interview. Setting a runtime is an effective exit strategy. Have a way to end the stream, even in case the stream goes south.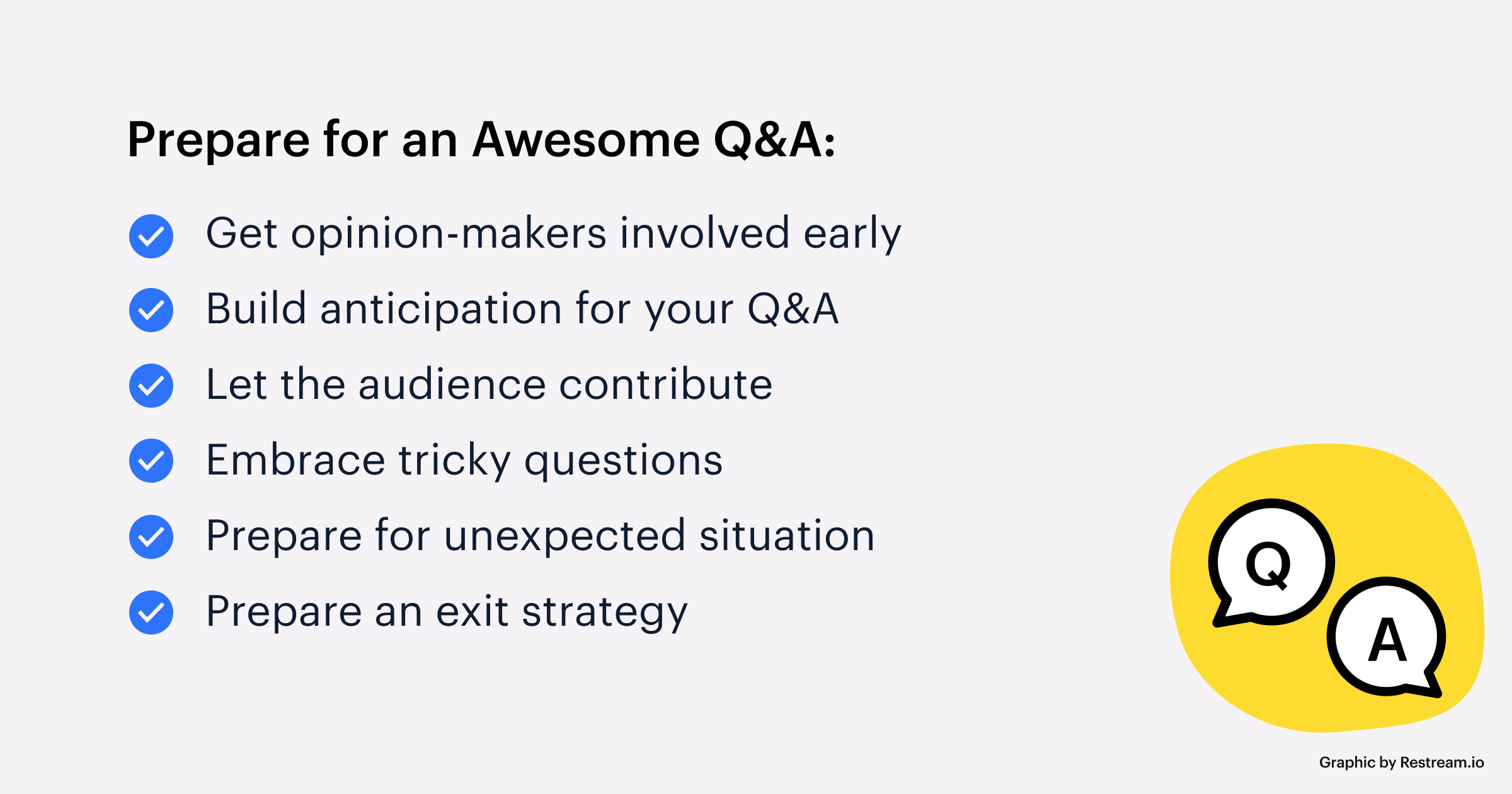 Handling the Event Like a Pro
Boost reach with live streaming. Pick the right platforms for your content and use them to connect with your audience. Live broadcast interviews are very engaging.
Be high-energy. Finish your preparations the day before, and have a good night's rest. You will need your energy to concentrate on the interview.
Be appropriately engaging. React emphatically to the topic and the person you're talking to. If you don't engage, neither will your audience.
Keep the professional jargon to the minimum. Unless your audience is strictly professional, you should avoid industry jargon. Speak so that everyone can understand you.
Open the interview to audience questions. Have someone handle the chat and select questions from the audience. It will boost engagement greatly.
Help your interviewee look good. Give them a hand if they're having trouble with some questions. This isn't gotcha journalism. You want them to come back.
Don't sell too hard. Be subtle with your sales pitch if it's a part of the stream. Offering a promo code that's only redeemable during the stream is a good choice.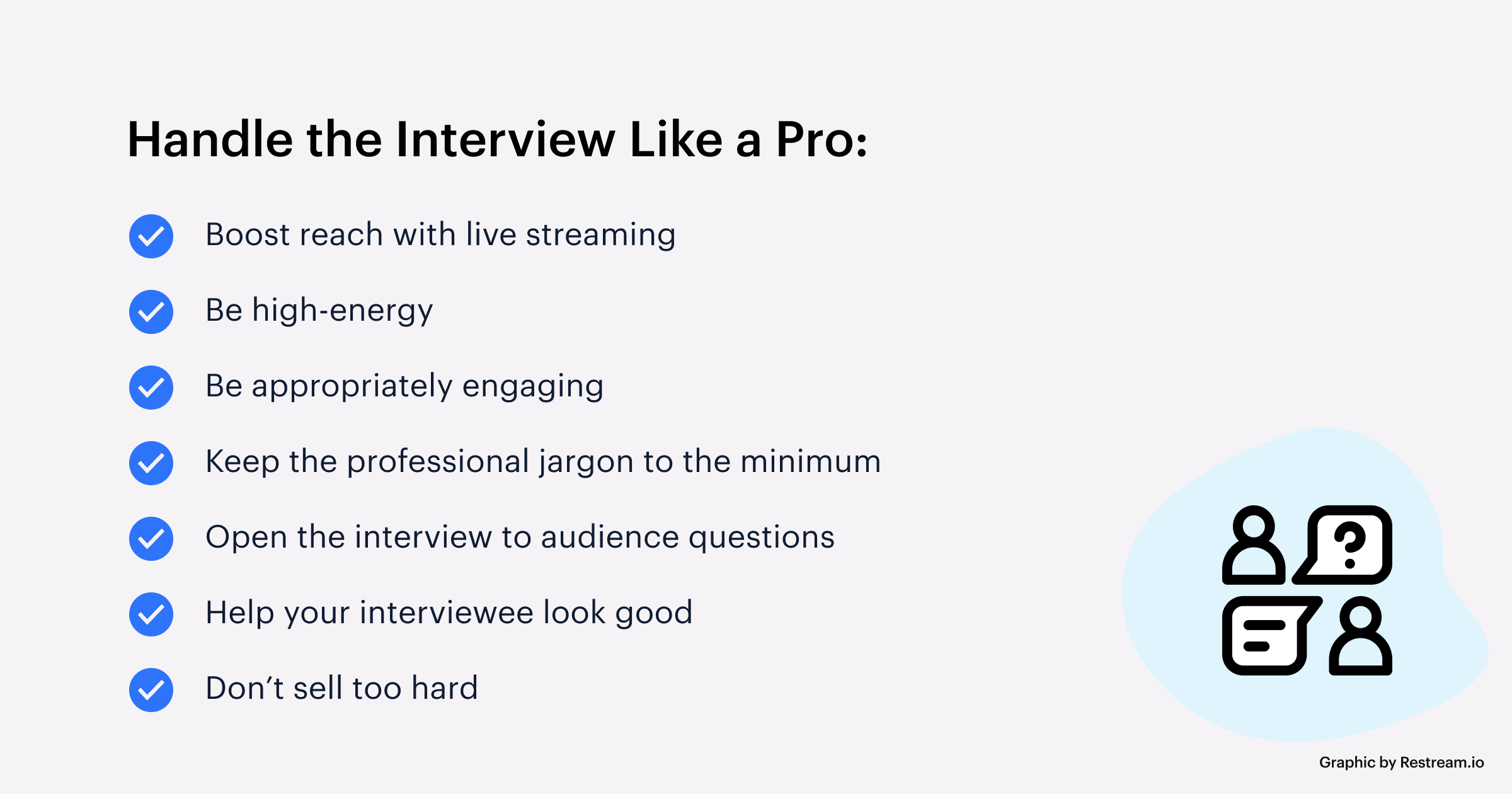 Your Post-Interview Routine
Follow up with your interviewee. Send a thank-you note if you don't run into each other often. If given a chance, casually ask for feedback. Stay on good terms with industry figures.
Follow up with the audience. Follow the Q&A session with a questionnaire for feedback to keep them engaged. You can also use event advertising.
Check the coverage. Check media coverage and social mentions of your interview or Q&A. Note which influencers and journalists came through, and which were duds.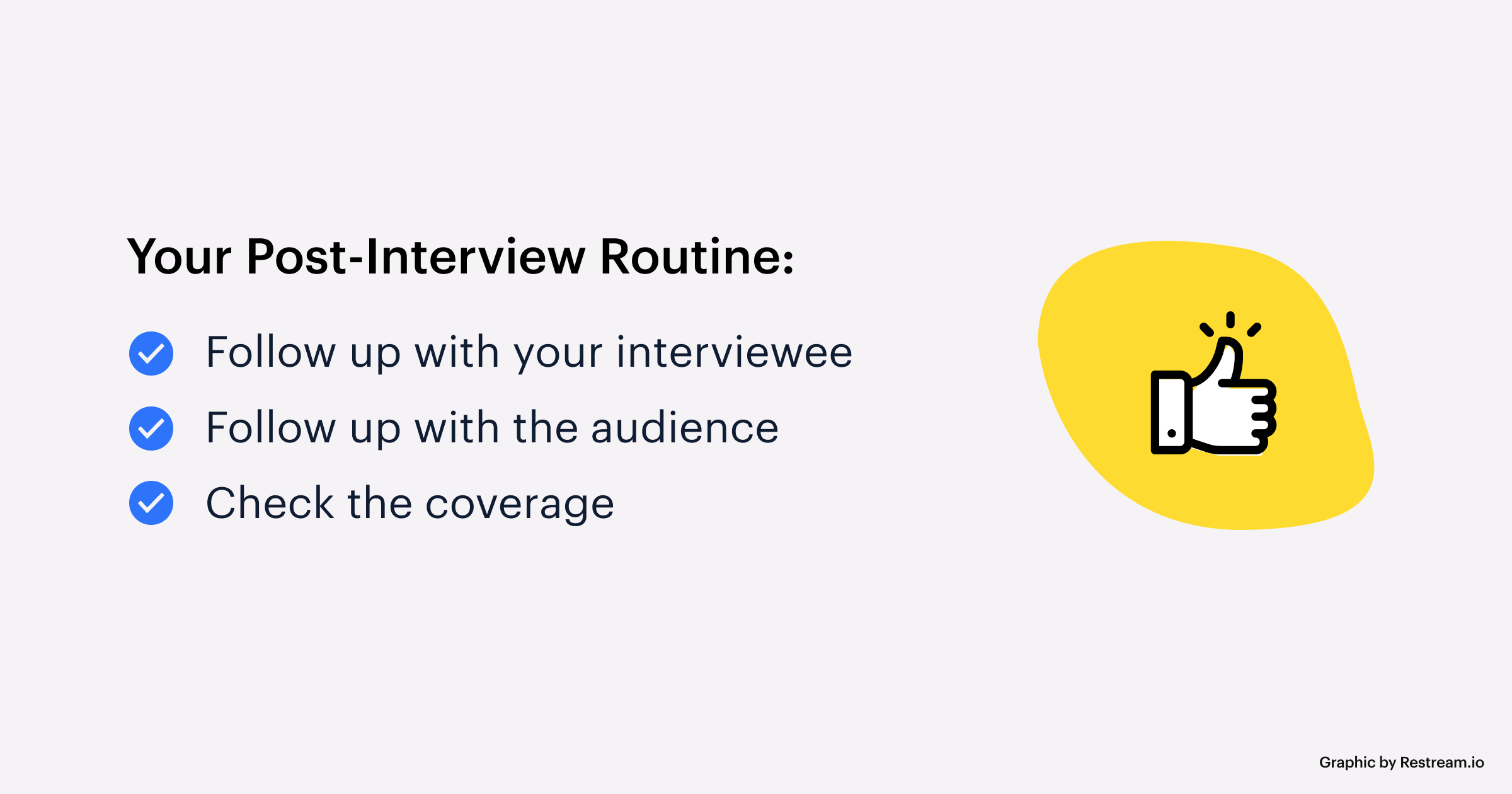 It's easy, see? All you need to do is follow these tips, and your chances of creating a great interview will increase significantly. So don't go into it unprepared.
Conclusion
You can never have enough tools that can boost your sales, awareness, or reach. As far as achieving these goals goes, live-streamed Q&As are particularly useful, because.
It takes the best from live streaming and the question-and-answer format to make an incredibly engaging experience for the viewers.
It facilitates live two-way communication between your business and the audience, giving you the chance to hear your viewers and speak to them.
You can easily find your customer base online because almost every platform or social network now uses live streaming.
It's accessible because the technology is readily available. All the tools you need to make — or watch — a live stream come in an average smartphone.
In a nutshell, a live-streamed Q&A is just an awesome opportunity to connect with your audience, whether you're in a niche industry or you have a very broad customer base. Using Restream, you can broadcast the interview to many platforms simultaneously and can forge even more connections, and that's what it's about.