Intro
We wanted to celebrate the 2021 winter with something special and worth remembering, because we believe live streaming should be both easy and joyful. The new year has inspired us to fulfill even more plans and dreams — all aimed at becoming better for our Restream community.
The winter updates are full of new amazing features, top-notch integrations, and, overall, nice improvements, thanks to your candid feedback! So let's waste no more time and dive right into the changes we made this winter.
🎥 New Restream Studio features
The following Restream Studio updates might seem simple at the first glance, yet each of them further increases both the effectiveness and the enjoyment of your live streams. Let's go through the new features!
Chat overlay
Chat overlay is an amazing new update to Restream Studio. You can now add a chat overlay with all incoming messages from all your chosen platforms directly in Studio. They will display on your stream as a live feed. Tracking your viewers' comments while simultaneously live streaming has become that much easier and engaging.
HQ sound
From now on, you can live stream with unprecedented HQ audio. Say goodbye to dull, low-quality sound on your broadcasts! This new feature is especially great for those who live stream audio podcasts often. However, considering that lots of viewers mostly listen to streams rather than watch them, everyone will benefit from this update.
Volume slider
Have you ever experienced a case when one of your stream guests has a super loud, ear-piercing microphone? You are incredibly lucky if you haven't, as now you can adjust the volume of your guests' mics remotely! Moreover, the volume slider works for your mic as well as your uploaded videos.
New graphics themes
We've added more customization options to help you make your live streams truly exceptional and viewer-friendly. You now have access to three different themes for your captions in Restream Studio. A better CTA means higher conversion rates!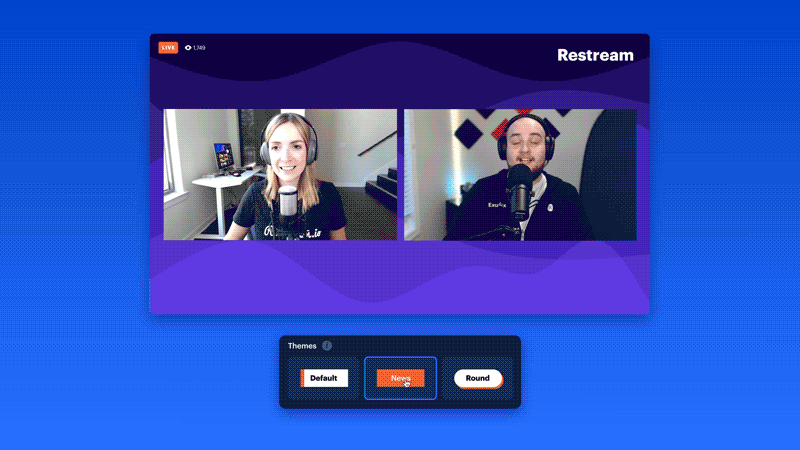 Better UX
Finer animations, a polished dashboard, avatar placeholders for guests, more layouts in Restream Studio, no overlapping between highlights and layouts — these improvements can surely enhance your streaming experience.
🔗 Better integrations
This part focuses on the better integrations with the supported streaming platforms, including Facebook, LinkedIn, and Trovo. The updates are aimed at improving your streaming experience while broadcasting to the platforms mentioned above.
LinkedIn Closed Captions
You can now enable automatic Closed Captions for your pre-recorded and scheduled live videos to LinkedIn when using Restream Events. The LinkedIn Closed Captions feature supports both pre-recorded and live events. CCs are generated automatically and only in English.
Facebook Groups names and pictures in Chat
More integrations with Facebook Live! You can now invite your Facebook audience to connect their accounts to Restream. This allows them to share their names and profile pictures in chat. The new update not only helps you identify the users in your chat quicker, but also adds to the sense of community on your live streams.
🤩 More improvements and updates
Besides the big ones, as we all know that the devil is in the details, we also made some further improvements to provide you with more control over your live streams and level up the overall quality of broadcasts.
Restream Events
Meet the revamped and refined version of the good old Restream Scheduler! With Restream Events you can now schedule and broadcast your pre-recorded videos or share invite links for future live streams. In other words, Restream Events helps you make sure your audience is notified before every upcoming live stream!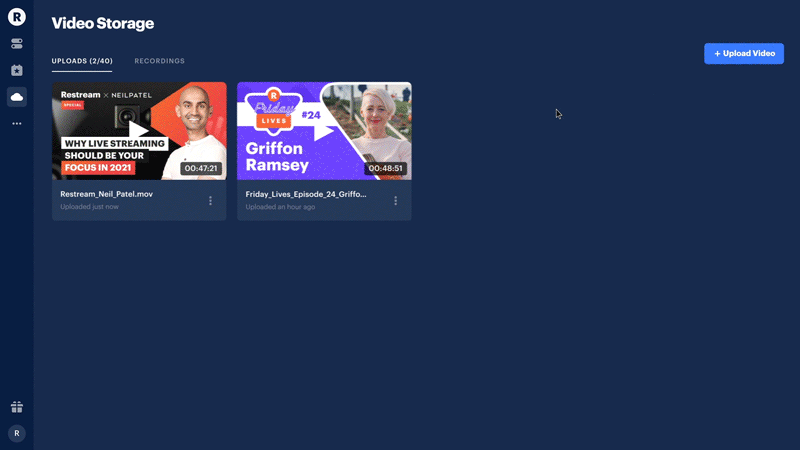 Chat moderation
Our cross-platform Chat has gotten a cool update as well. Now you can moderate your stream chat and make sure your viewers behave well. You can either mute or ban permanently anyone who doesn't adhere to your rules.
More languages
We constantly add more language support for captions, and this time is no exception. For this year's winter updates, we added the following languages: Hebrew, Japanese, Hong Kong Chinese, Simplified Chinese, Traditional Chinese, Korean, Vietnamese, Thai, and Greek.
🙌 Wrapping up
The 2021 winter was fun and fruitful, and when it came to development, we did our best. Every single new feature or update was aimed to help you make the most of your live streams. The winter Restream updates include:
Better Restream Studio experience (Chat overlays, HQ sound, volume slider, more layouts, custom graphics themes, etc.)
Better integrations with the streaming platforms, like Trovo, Facebook, and LinkedIn.
New Restream Events allows you to upload, schedule, and live stream your pre-recorded videos or live events.
Each day, we grow and move towards our goal — making professional live streaming easy and accessible for anyone — all thanks to you! We are looking forward to aspiring to new heights and becoming better for our amazing community.