Intro
Today, the world of live streaming is filled with amazing possibilities. Gamers, businesses and even churches can benefit from this new form of communication and entertainment.
As the live streaming market keeps growing and evolving, many companies are trying to create something Restream has already done: a one-stop-shop live streaming solution for professional live video production and broadcasting. Restream includes all the tools you need plus makes it unbelievably simple to multistream to different platforms simultaneously.
Of course, you don't have to take our word for it. Every company claims they're the best in the field. So to make it fair, let's look at some alternatives to Restream. See for yourself how these live streaming services compare to Restream and decide which one suits your needs.
Easy live streaming for everyone
Run professional live streams from your browser.
Get Started
🤔  What are the alternatives to Restream?
There's no shortage of live streaming tools, apps and services out there that can help you create and share live content. Here are a few focus areas to keep in mind when comparing your options:
Multistreaming
Ease of use
Chat features
Broadcasting pre-recorded content
Analytics and insights
Learning more about live streaming
🦑 Multistreaming
Restream lets you choose from 30+ streaming platforms, as well as custom RTMPs. You can stream to YouTube Live, Twitch, Facebook and many more platforms at the same time.
Live streaming services like Castr and Switchboard Live also offer multistreaming, but connecting to your channels is more complicated. Restream offers native integration with top streaming software, including OBS Studio, Elgato, Streamlabs and XSplit.
Restream also offers a backup stream option — if something goes wrong with your stream, you'll be automatically switched over to the backup stream to avoid any interruption for your viewers.
🕹 Ease of use
The tech side of live streaming doesn't have to be difficult. In fact, you can go live in just two clicks. Restream Studio allows you to broadcast your content directly from your browser, so you don't have to install any third-party apps.
Socialive and Be.Live also allow their users to stream directly from the browser. However, Socialive's timeline feature isn't as easy to use.
Restream Studio also includes tons of features to make streaming more flexible, convenient and customizable. You can brand your stream in seconds with custom graphics and overlays. Managing comments coming in on multiple platforms is a breeze with the centralized cross-platform chat feature. Want to feature a guest on your stream? Generate a simple link they can use to join you for interviews, live talks or quick AMA sessions.
Plus, Restream Studio records and saves all of your broadcasts, so you can re-use them later. Split-track recording creates separate audio tracks for each audio source on your stream, so converting your live interview or panel into a podcast is easy.
💬 Chat
Multistreaming is great for expanding your reach, but how do you handle all those live chats across multiple platforms at once? Restream chat aggregates messages from all your platforms so you can read and respond to them in one place. You can even display chat messages on your stream in real time, allowing all viewers to participate from any platform.
SheepChat is a similar tool that allows for cross-platform multichat, but it doesn't support as many platforms as Restream. You'll also have to pay for the premium version to unlock the full set of features.
Multiply your views and engagement
Reach a wider audience by streaming to multiple platforms simultaneously.
Get Started
💽 Broadcasting pre-recorded content
What if you could live stream without being in front of the camera? Restream's Upload and Stream allows you to schedule and live stream your pre-recorded videos as if they're live.
OneStream.live provides a similar tool, but it only supports recordings. You can't actually live stream with this service.
Upload and Stream is great for turning a single streaming session into multiple live experiences. For instance, you can live stream for viewers in your time zone, then schedule the recording to broadcast live at a later time for viewers on the other side of the world.
📈 Analytics and insights
Restream provides users with useful statistics that allow you to analyze and optimize your streaming performance. You can see how many people are watching your stream across all platforms, and even analyze the top comments and emojis.
Livestream by Vimeo also provides their users with a powerful analytics feature. But Restream analytics takes it a step further by sending a monthly report summarizing your live streaming progress and achievements. You can share these reports on Twitter and Facebook to let your followers know how much your channel and viewership is growing.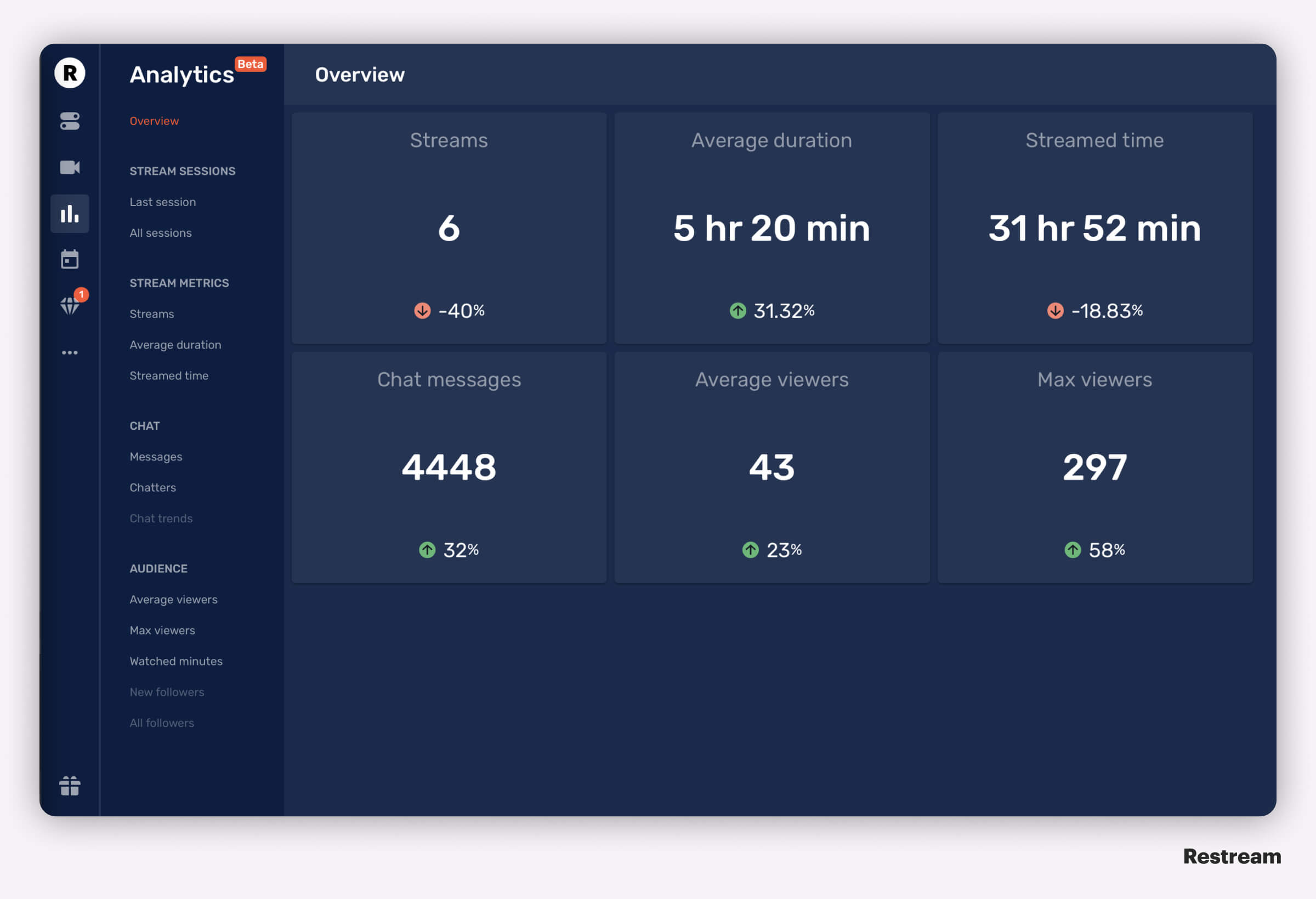 🤓 Learning more about live streaming
Live streaming services like Wowza and Dacast have incredible knowledge bases, which get updated regularly. If you want to learn more about live streaming and grow as a streamer, these are great services. The downside is that the content might be difficult to understand for new streamers.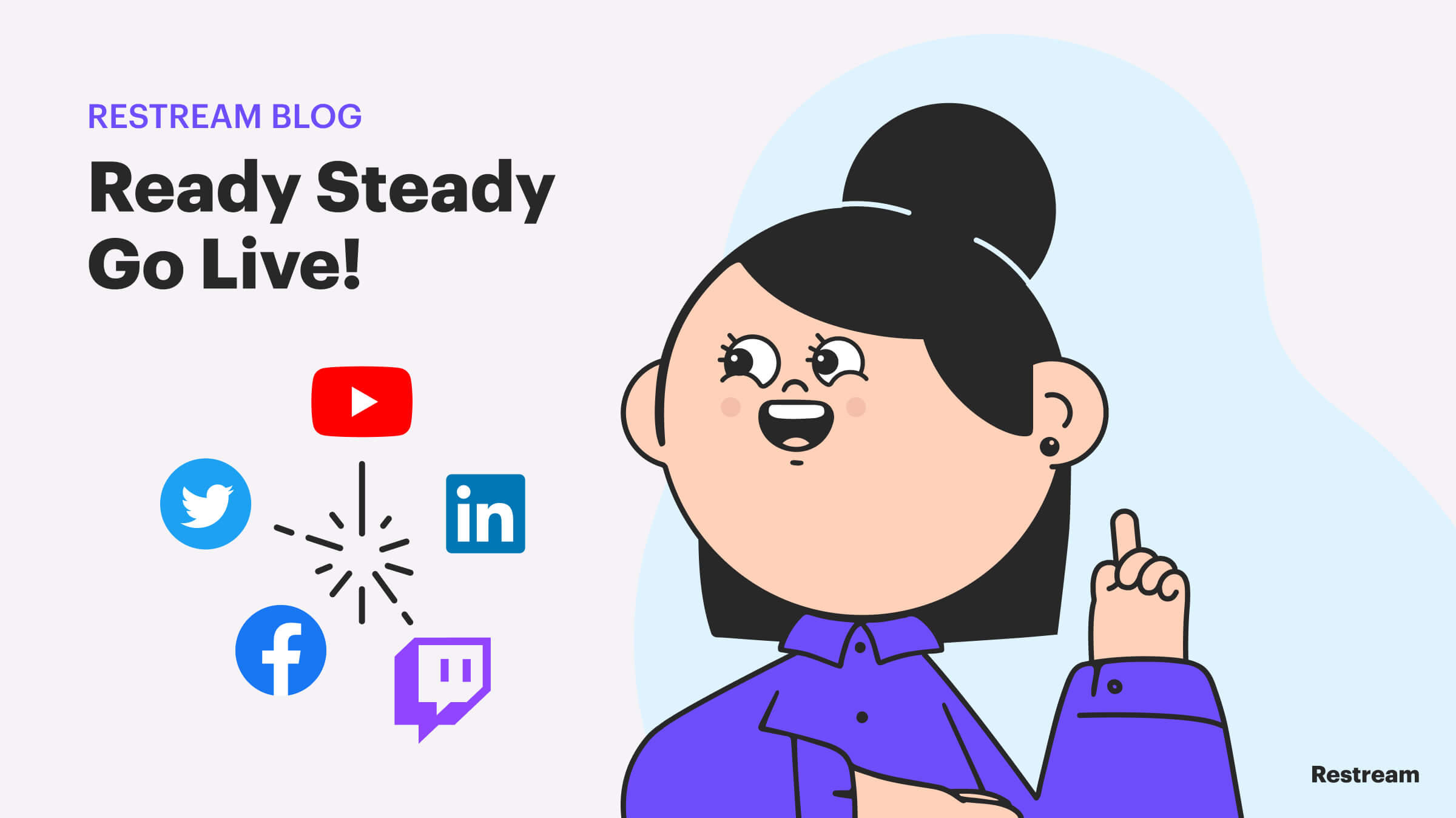 The Restream Blog, on the other hand, provides useful information in a digestible way, so that anyone can learn something new and apply it in practice. Our blog contains hundreds of articles to help you increase your audience and gain more viewers. Not to mention, if you have any questions about live streaming, our support team will gladly answer them!
Final thoughts
All the live streaming services in this article offer terrific features to help you live stream like a pro.
Restream's big advantage (in our opinion) is that it includes all those terrific features in one place. We built it to be a one-stop-shop, after all. From insightful analytics to a professional live streaming studio, you can do it all with Restream.