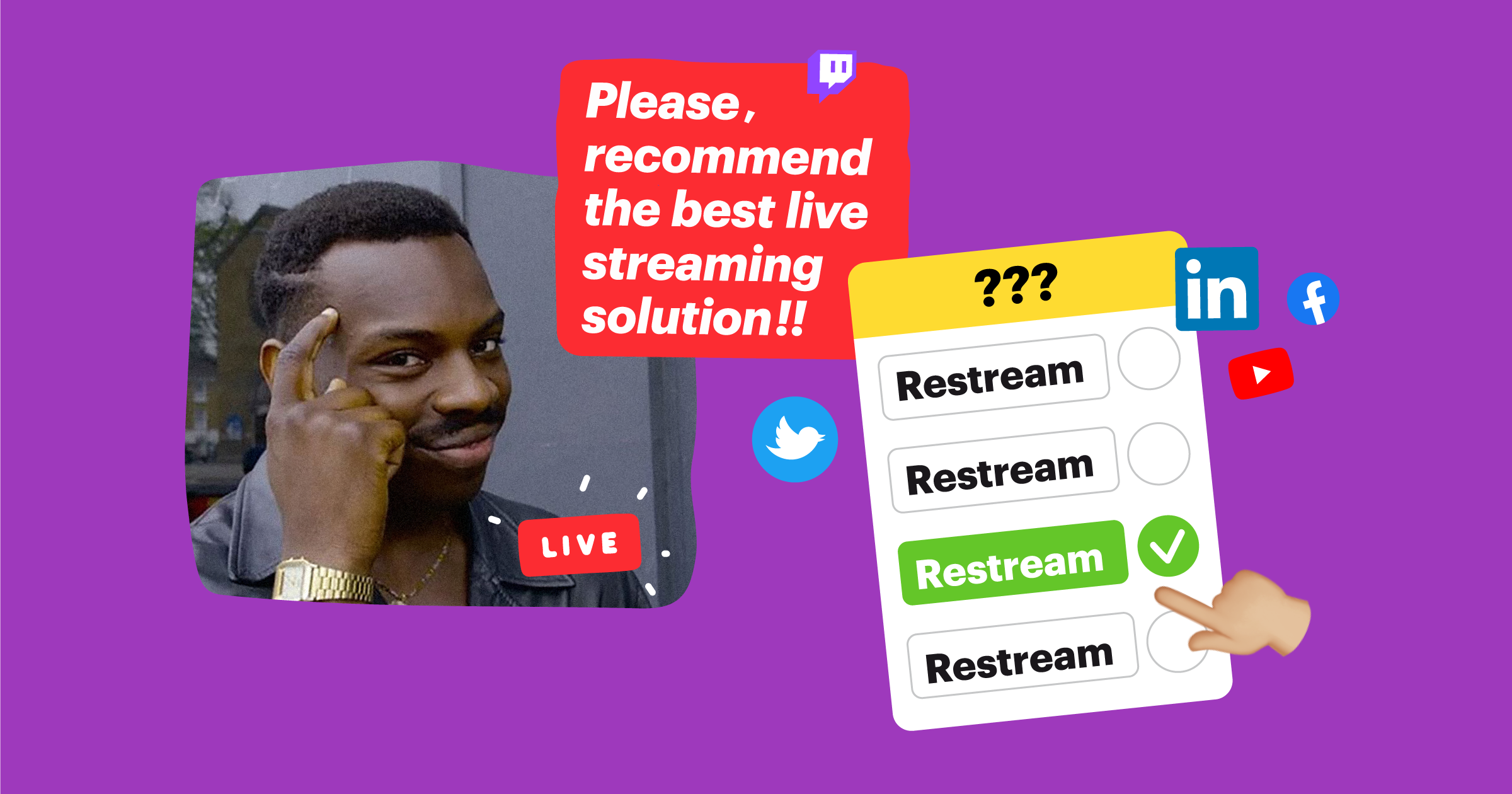 Today, the world of live streaming is filled with hundreds of amazing possibilities. Gamers, businesses, and even churches — all can benefit from using this new form of communication and entertainment. We at Restream.io want you to be able to take all those advantages and have the smoothest live streaming experience.
While the live streaming market keeps growing and evolving, many companies are trying to create something Restream has already made possible — a go-to live streaming solution with all the tools needed for professional live video production and broadcasting. Moreover, with Restream you can multistream to different platforms simultaneously, thus growing your audience and achieving better performance as quickly as possible.
But, of course, you don't have to take our word for it. Any company would surely claim they are the best in the field. Therefore, to make it fair, let's take a look at some of Restream's alternatives. See for yourself how these live streaming services compare to Restream and decide which one suits your needs the most.
What are the alternatives to Restream?
The live streaming market is currently oversupplied with different tools, apps, and services that can help create and share live content all over the place. Let's focus on the best Restream alternatives you may stumble upon across the web. These companies offer the most options in regards to live streaming. To make things easier for you, we've divided this article into five different sections, each representing the following key live streaming options:
Multistreaming
Built-in streaming studio
Scheduler
Analytics and insights
Learning more about live streaming
Multistreaming
Restream.io allows you to multistream to 30+ streaming platforms, as well as custom RTMPs. For instance, you can live stream to YouTube Live, Twitch, and Facebook at the same time. Live streaming services like Castr and Switchboard.live also offer the multistreaming option. However, with Restream it is ten times easier and faster thanks to the native integration into top streaming software, including OBS Studio, Elgato, SLOBS, XSplit, etc.
Restream also allows you to forget about poor stream quality thanks to multiple security and protection features. The fallback option helps back up your stream, whereas the amplifier allows you to stream to platforms outside your region. With Restream, you can easily reach all your audiences across the world on their favorite platforms.
Built-in streaming studio
Live streaming doesn't necessarily have to be technically difficult. In fact, you can go live in just two clicks. Restream Studio allows you to broadcast your content directly from your browser, so you don't have to install any third-party applications. For instance, Socialive and Belive also allow their users to stream directly from the browser. However, it may take you ages to figure out how to do that, especially if you are new to live streaming.
Easy live streaming for everyone
Run professional live streams from your browser.
Get Started
With Restream Studio, you can easily add guests to your stream and host interviews, live talks, or quick AMA sessions. Also, you can share your screen with the audience and showcase your presentations. Furthermore, you can customize your live streams with your own overlays, watermarks, and logos to make them truly unique and standout.
Restream Studio allows you to live stream nearly every type of content: from educational webinars and entertaining interviews to business presentations and product launches. You can upload and play your pre-recorded videos directly on your live stream in just two clicks! Few services can offer the same level of quality.
👉 Learn more: Restream Studio: Everything you need to know
Scheduler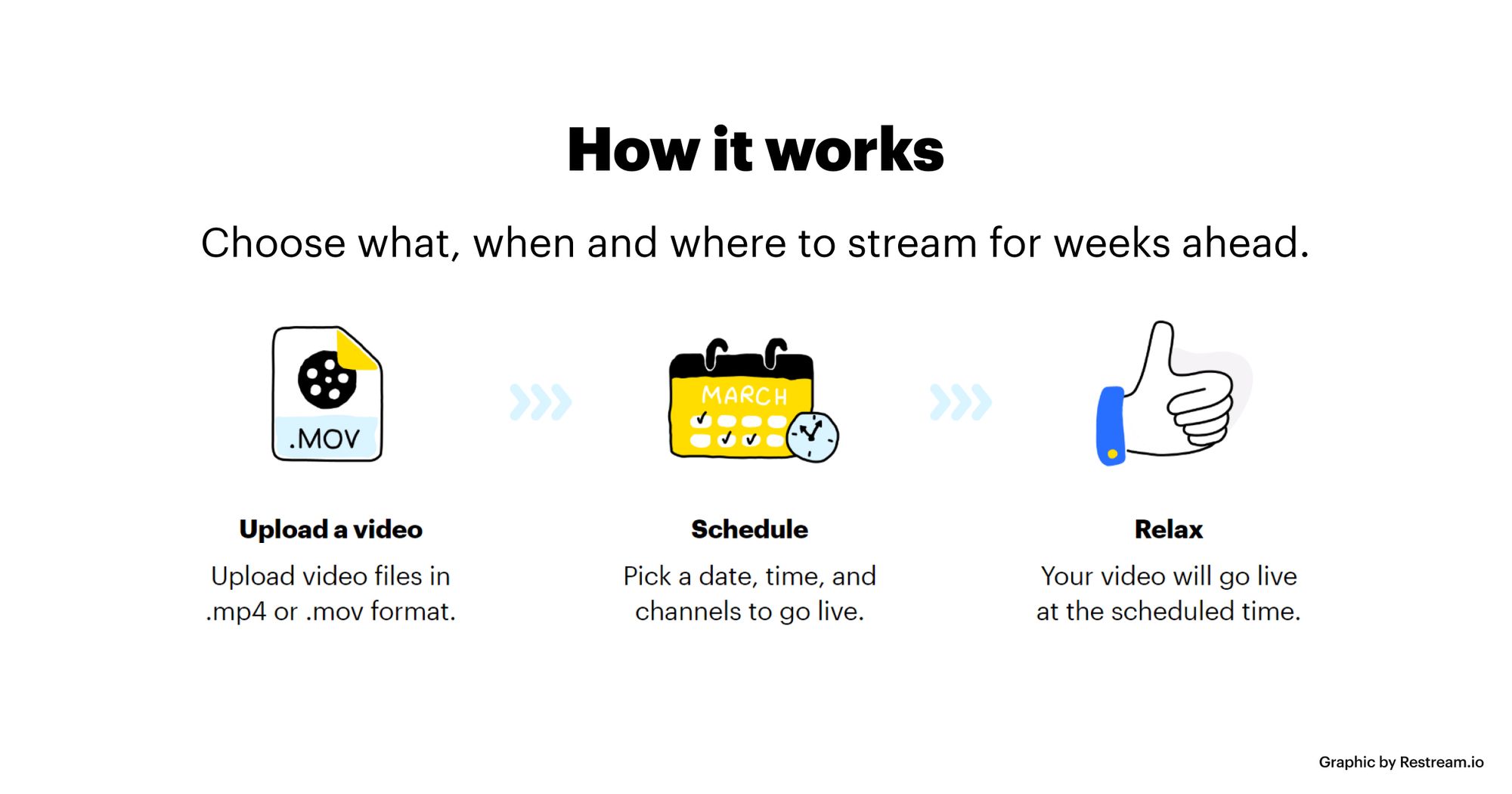 Have you ever wondered if there was a possibility to live stream videos while being away from the camera? Restream Scheduler allows you to schedule and live stream your pre-recorded videos on as many platforms as you like. Onestream.live also provides a similar tool. However, you cannot actually live stream using this service — scheduling pre-recorded videos is the only available option.
This tool is especially useful if you have audiences in different time zones. For instance, you can live stream for your viewers in the US and then schedule this recorded stream to be live streamed a few hours later in South Korea. Restream Scheduler is a simple yet powerful way to maximize your audience reach and make your live streams global.
👉 Learn more: Restream Scheduler: Everything you need to know
Analytics and insights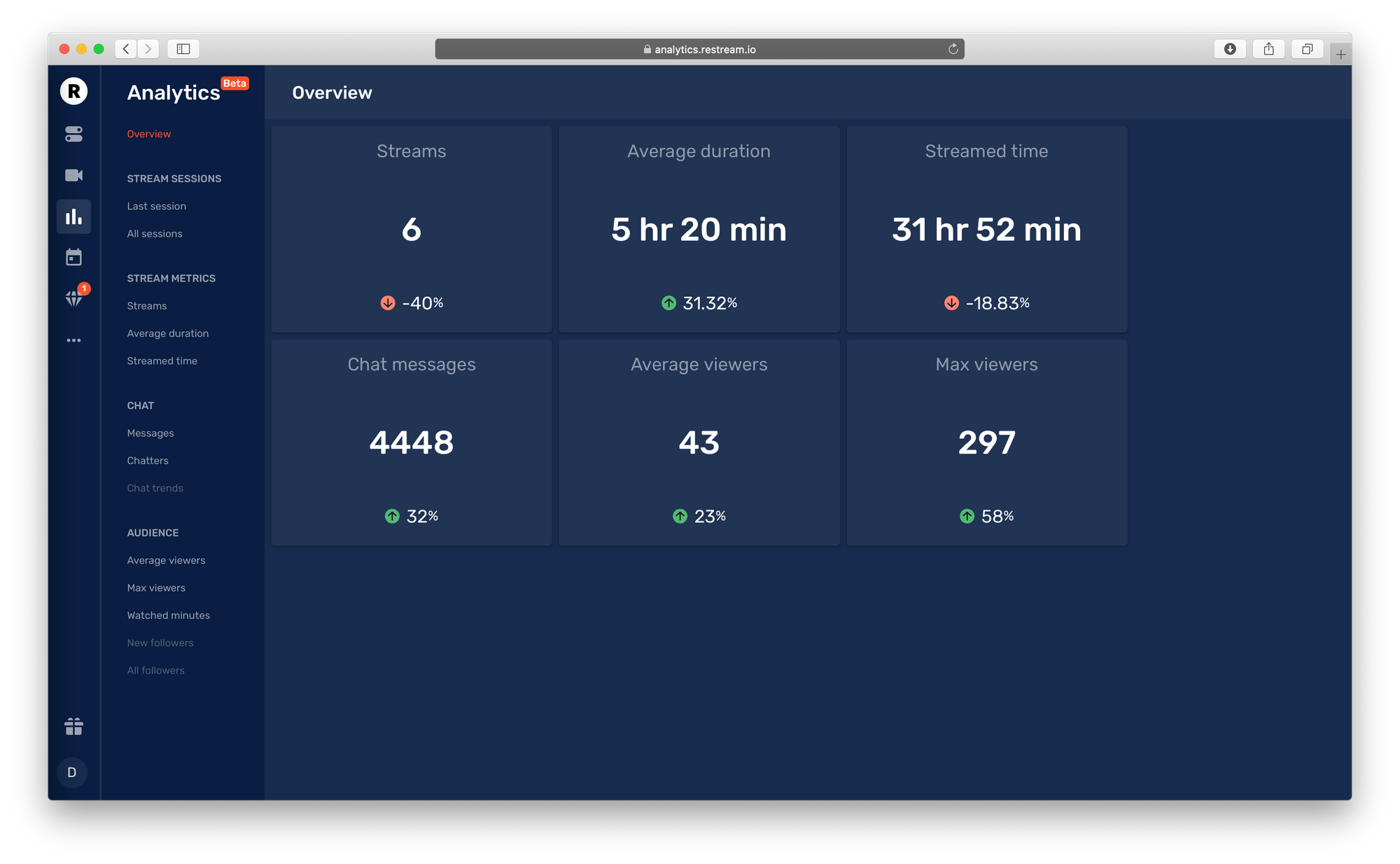 Restream provides users with useful statistics, which allow you to analyze your performance and grow faster. You can see how many people are watching your stream across all platforms, as well as the top comments and emojis! Livestream by Vimeo also provides their users with the powerful analytics feature.
Restream Analytics takes it a step further by sending our users monthly reports, which contain helpful data on their live streaming progress and achievements. You can share these reports on socials, like Twitter and Facebook, to make your friends envy you. Typically, you would need a third-party app to be able to gather such stats on your live streams. However, we at Restream want you to have everything at hand.
Learning more about live streaming
Live streaming services like Wowza and Dacast have incredible knowledge bases, which are constantly updating. If you want to learn more about live streaming and grow as a streamer, these are great services. One possible downside, however, is that the presented information might be a bit too difficult to understand for new streamers.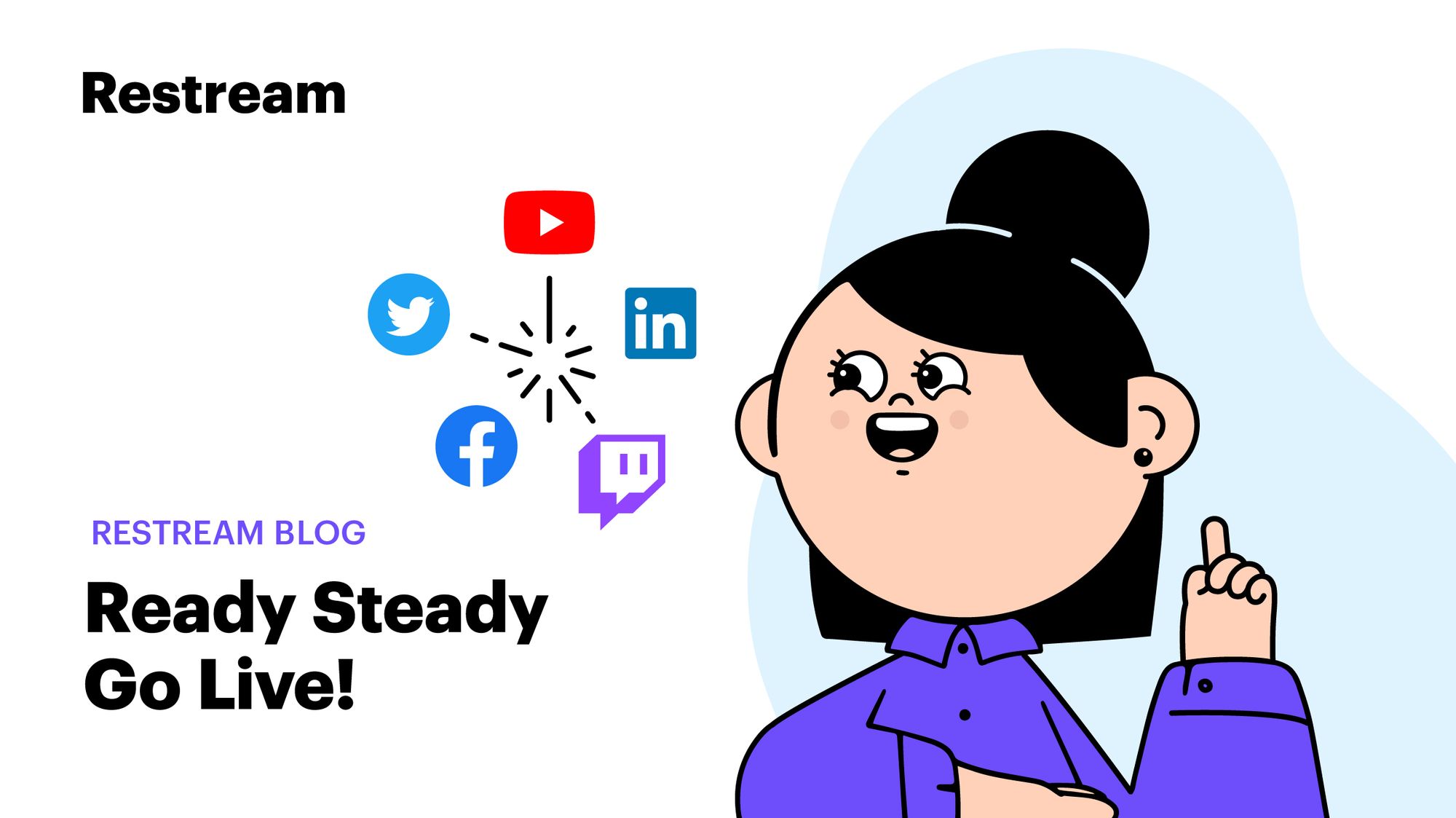 Restream Blog, on the other hand, aims to provide all the useful information in the most digestible way, so that anyone could learn something new and apply it in practice. Our blog contains hundreds of articles to help you increase your performance and gain more audiences. Also, if you have any questions about live streaming, our support team will gladly answer all of them!
Final thoughts
We believe the companies mentioned in this article all provide high-quality services. Therefore, the purpose of this article is, first and foremost, to highlight the advantages of using Restream, rather than to belittle any other company. Moreover, we at Restream value your opinion and want to prove ourselves in practice.
One thing that definitely sets Restream apart from the rest is that we have everything you will ever need to make the most of your live streaming sessions. From insightful analytics to a professional live streaming studio — we've got all the tools in one place to help your live streams grow and attract more viewers.
👀 Are you still looking for Restream alternatives? Sign up with this link and get a 20% discount for your first month. This option is only valid for a limited period.
---
And of course, if you have any questions or concerns, please do not hesitate to get in touch with our 24/7 support team! Click the chat icon at the lower right-hand corner of your screen to ask a question!