Intro
Today, the world of live streaming is filled with amazing possibilities. Gamers, businesses, and even churches can benefit from using this new form of communication and entertainment. We at Restream.io want you to take advantage of those benefits and have the smoothest live streaming experience possible.
As the live streaming market keeps growing and evolving, many companies are trying to create something Restream has already done: a go-to live streaming solution with all the tools needed for professional live video production and broadcasting. But Restream is more than a high-quality, easy-to-use live streaming tool. With Restream, you can multistream to different platforms simultaneously. Grow your audience and achieve better engagement by working smarter, not harder.
Of course, you don't have to take our word for it. Every company claims they're the best in the field. So to make it fair, let's look at some of Restream's alternatives. See for yourself how these live streaming services compare to Restream and decide which one suits your needs.
🤔 What are the alternatives to Restream?
The live streaming market is currently saturated with tools, apps, and services that can help you create and share live content. Let's focus on the best Restream alternatives you may stumble across, the companies that offer the most options in regards to live streaming. To make things easier for you, we've divided this article into five different sections, each representing the following key live streaming options:
Multistreaming
Built-in streaming studio (with tons of features!)
Chat
Events
Analytics and insights
Learning more about live streaming
🦑 Multistreaming
Restream.io allows you to choose from more than thirty social channels (YouTube, LinkedIn, Twitch, Twitter, Facebook, and many others) to stream at once.
Live streaming services like Castr and Switchboard.live also offer this multistreaming option. However, with Restream it's easier and faster to connect to your favorite live streaming platforms thanks to Restream's native integration with top streaming software, including OBS Studio, Elgato, SLOBS, and XSplit.
Learn how to connect Restream to your favorite encoders and broadcasting software with our handy help guides.
You won't have to worry about poor stream quality with Restream, thanks to multiple security and protection features. The fallback option helps back up your stream, and the amplifier allows you to stream to platforms outside your region. With Restream, you can reach all your viewers across the world on their favorite platforms with no problem.
🎥 Built-in streaming studio
The tech side of live streaming doesn't have to be difficult. In fact, you can go live in just two clicks. Restream Studio allows you to broadcast your content directly from your browser so you don't have to install any third-party applications.
Socialive and Be.Live also allow their users to stream directly from the browser. However, Socialive's timeline feature isn't as easy to use, and Be.Live only lets you stream to Facebook and YouTube.
With Restream Studio, you can easily add guests to your stream and host interviews, live talks, or quick AMA sessions. All it takes is clicking a link, and your guests can join your live broadcast. Also, you can easily toggle between your video feed and sharing your screen, or show both at the same time. You can also customize your live streams by adding your own graphics, including overlays, watermarks, logos, and backgrounds, so your stream reflects your brand.
Restream Studio is also packed with many more features to make multistreaming a breeze. You can view all the chat messages coming in from viewers, from each platform you're live on, in a centralized chat hub on the Restream Studio dashboard. To help your viewers connect with each other, you can also display a chat overlay allowing every viewer to see every message from every platform. How cool is that?
Other great features include RTMP source links — which allow you to connect Restream Studio to Zoom and other third-party apps — and split-track recording. Restream Studio records and saves all of your broadcasts, so you can re-use them later. Split-track recording creates separate audio tracks for each audio source on your stream, so converting your live interview or panel into a podcast is easy.
Restream Studio allows you to live stream nearly every type of content, from educational webinars and entertaining interviews to business presentations and product launches. You can upload and play your pre-recorded videos directly on your channel in just two clicks! Few services can offer the same level of quality and so many features.
👉 Learn more: Restream Studio: Everything you need to know
💬 Chat
Multistreaming is great for expanding your reach, but how do you handle all those live chats across multiple platforms at once? Restream Chat is our live video chat tool that helps you manage all your live streaming communication. You can connect your live streaming platforms to Restream Chat, and when you go live, you'll see all your messages in one chat window, with an icon showing from which platform each message is sent.
Restream Chat also lets you put a chat overlay on your stream to display chat messages in real time. All your viewers can keep up with the conversation, no matter which platform they're watching your stream on.
SheepChat is a similar tool that allows for cross-platform multichat, but it doesn't support as many platforms as Restream, and you have to pay for the premium version to unlock the full set of features.
With Restream Chat, the relay bot also lets viewers on different platforms communicate with each other. If you go live on YouTube, for example, chat messages from other platforms like Twitch will not only appear on your Restream Chat client, but they'll also show up in the YouTube chat for your YouTube viewers.
👉 Learn more: Restream Chat: Everything you need to know
🗓 Events
What if you could live stream without being in front of the camera? Restream Events allows you to schedule and live stream your pre-recorded videos on as many platforms as you like.
Onestream.live also provides a similar tool. However, you cannot actually live stream using this service — scheduling pre-recorded videos is the only available option.
Restream Events is especially useful if you have audiences in different time zones. For instance, you can live stream for your viewers in the US, save the recording, then schedule the recorded stream to go live a few hours later for your South Korean viewers. Restream Events is a simple yet powerful way to maximize your audience reach and make your live streams global.

Restream Events also lets you plan a live stream ahead of time and create an event you can share on social media. It will generate a link, which viewers can click on to go to your live stream at the scheduled broadcast time. What better way to get the word out about your upcoming live event?
👉 Learn more: Restream Events: Everything you need to know
📈 Analytics and insights
Restream provides users with useful statistics that allow you to analyze and optimize your streaming performance. You can see how many people are watching your stream across all platforms, as well as the top comments and emojis!
Livestream by Vimeo also provides their users with a powerful analytics feature. But Restream Analytics takes it a step further by sending our users monthly reports. These reports contain helpful data on your live streaming progress and achievements. You can share these reports on Twitter and Facebook to let your followers know how much your channel and viewership is growing!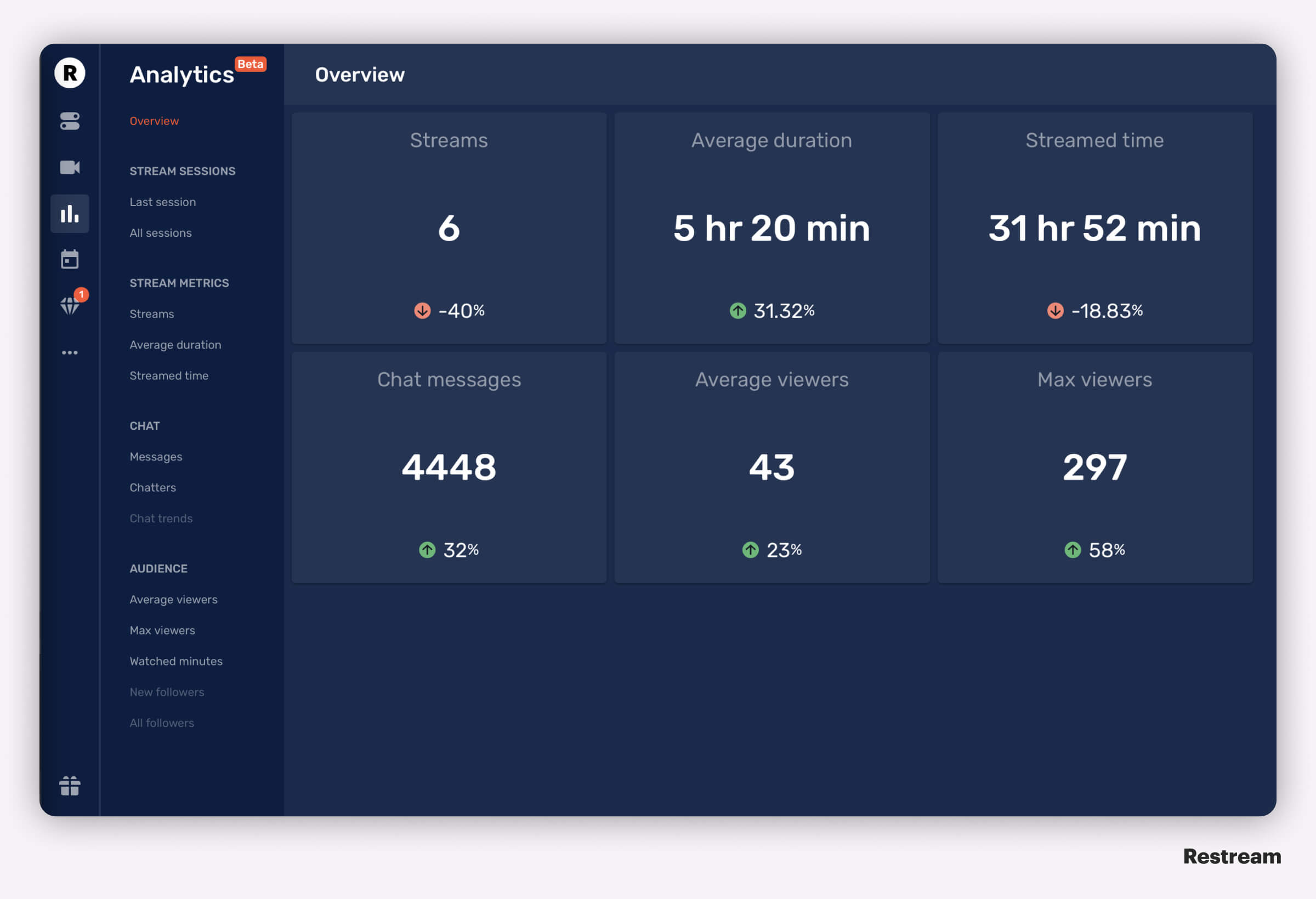 With Restream, you also have access to Restream Monitor, which provides technical data about your stream's performance, such as bitrate, keyframe interval, FPS, frame drops, and more.
Typically, you need a third-party app to gather such stats on your live streams. However, we at Restream want you to have all the info you need to succeed.
🤓 Learning more about live streaming
Live streaming services like Wowza and Dacast have incredible knowledge bases, which are constantly updated. If you want to learn more about live streaming and grow as a streamer, these are great services. One downside, however, is that their information might be difficult to understand for new streamers.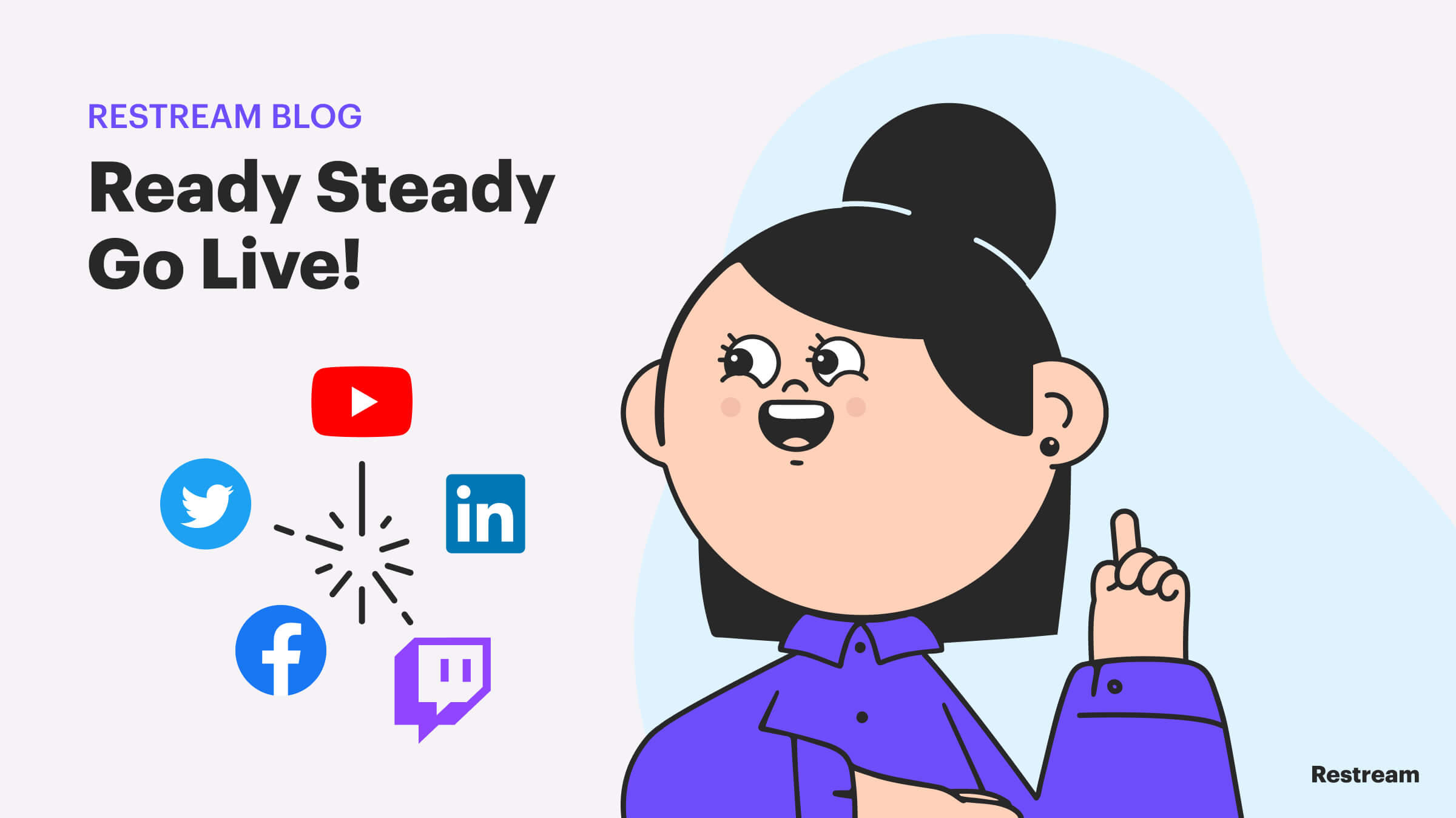 The Restream Blog, on the other hand, provides useful information in a digestible way, so that anyone can learn something new and apply it in practice. Our blog contains hundreds of articles to help you increase your performance and gain more viewers. Not to mention, if you have any questions about live streaming, our support team will gladly answer them!
If you prefer a more structured learning environment, you can also check out Restream's educational live streaming course, "How to start your own live show." It's free to enroll and covers different types of live streaming, which platforms to choose, managing your broadcast with Restream, promoting your live stream, and much more.
Final thoughts
The companies mentioned in this article all provide high-quality live streaming services. With this article, we wanted to highlight the advantages of using Restream — not belittle other companies. At Restream, we value your opinion and want to prove ourselves in practice.
One thing that definitely sets Restream apart from our competitors is that our products have everything you need to make the most of your live streaming sessions. From insightful analytics to a professional live streaming studio, we've got all the tools in one place to help your live streams grow.
👀 Are you still looking for Restream alternatives? Sign up with this link and get a 20% discount for your first month. This offer is only valid for a limited period.
---
And of course, if you have any questions or concerns, get in touch with our 24/7 support team! Click the chat icon at the lower right-hand corner of your screen to ask a question!