There are tons of live streaming tools for any level of production: from basic to high-end professional. However, one software that works for virtually any live streaming task is OBS Studio.
Whether you are at the beginning of a live streaming career or have already been there and done that, our step-by-step guide on OBS Studio will help you master this beast of a tool in no time. Without further ado, let's dive right into the thick of it and learn how to use OBS Studio.
The #1 live
streaming solution
Get started for free
What is OBS Studio?
OBS Studio is arguably the most popular live streaming encoder. It is completely free and open-source, and it has lots of useful features to help you produce professional live streams. OBS Studio also allows you to record your video, connect to any live streaming or video conferencing platform, and use any digital camera for live streaming.
Installing OBS Studio
If you haven't installed OBS Studio on your device yet, here's a quick roadmap on how to do it. Firstly, go to the official OBS Studio website and select your platform: Windows, MacOS, or Linux. Then, open the downloaded file and begin the installation.
You will have an opportunity to include several additional plugins for OBS during the setup. Usually, it is recommended to leave the boxes blank. After the installation is completed, you can launch OBS Studio either directly from the installation window or later via a new icon on your desktop.
Quickstart to OBS Studio
Now that you've installed OBS Studio on your device, let's go through the main things you will need in the work area. Don't worry. Although OBS may seem quite overwhelming at first, you will quickly discover how simple and straightforward it is.
After loading OBS Studio for the first time, you will encounter the Auto-Configuration Wizard. This automated tool tests your system and applies the most optimal settings specifically for your device. The Auto-Configuration Wizard is simply the best if you want to start streaming as quickly as possible. You can access it in the Tools menu at the top menu bar at any time to perform the automatic configuration. And if you aren't happy with the result, you can always modify the settings yourself later, fine-tuning the settings for your specific needs.

Creating your first scene in OBS Studio
A scene is a combination of your video and audio layers (sources) captured by OBS. Each of these layers has one specific input. For instance, say you want to create a live stream with a video input from your webcam, an audio input from your microphone, and a video input from your device's screen. By adding these three layers to the sources for your scene, OBS combines and streams them altogether.
The very first time you run OBS, you will notice one empty Scene in the Scenes box at the bottom left. You can delete it, rename it, or add a new one. Keep in mind, only one selected scene will be streamed. This gives you the option of switching the scenes during the stream to show different stream appearances.
Getting audio and video sources into OBS Studio
Typically, OBS Studio uses your default input and output audio sources. You can check the audio levels in the Audio Mixer section next to the Sources box and see if they are active when you speak or play any sound on your device. You can click Settings and go to the Audio tab to select your audio sources manually.
With the video sources, however, it is a different story. You can note that the video preview is black, meaning OBS doesn't have a connected video source yet. To change that, you should add a video source in the Sources box next to the Scenes one. Simply right click inside the box and add a new video source. Here are some examples:
The Game Capture feature allows you to capture the specific game you are playing (and also sometimes can be useful for capturing windows that can't be captured by the window capture option).
The Window feature works for most non-game applications.
The Video Capture Device will add your webcam or capture card as a video source.
The Blackmagic Device source allows you to use the Blackmagic Design capture cards,  ensuring the best possible compatibility with OBS.
The Browser source allows you to add your browser as a source and live streaming anything from your browser directly through OBS.
The Display Capture is used to add your monitor as a source and basically capture your entire work screen. You can choose the display to capture and enable or disable the visibility of your cursor.
The Image source allows you to add various image types to your scene. Practically any image format is supported, so you don't have to worry about that.
With the Media source it is possible to add all sorts of different media types directly to your stream. The currently supported file types are:
Video: .mp4, .ts, .mov, .flv, .mkv, .avi, .gif, .webm
Audio: .mp3, .aac, .ogg, .wav
Finally, the Text source allows you to add simple text renders to your stream layout.  Most default editing settings are available.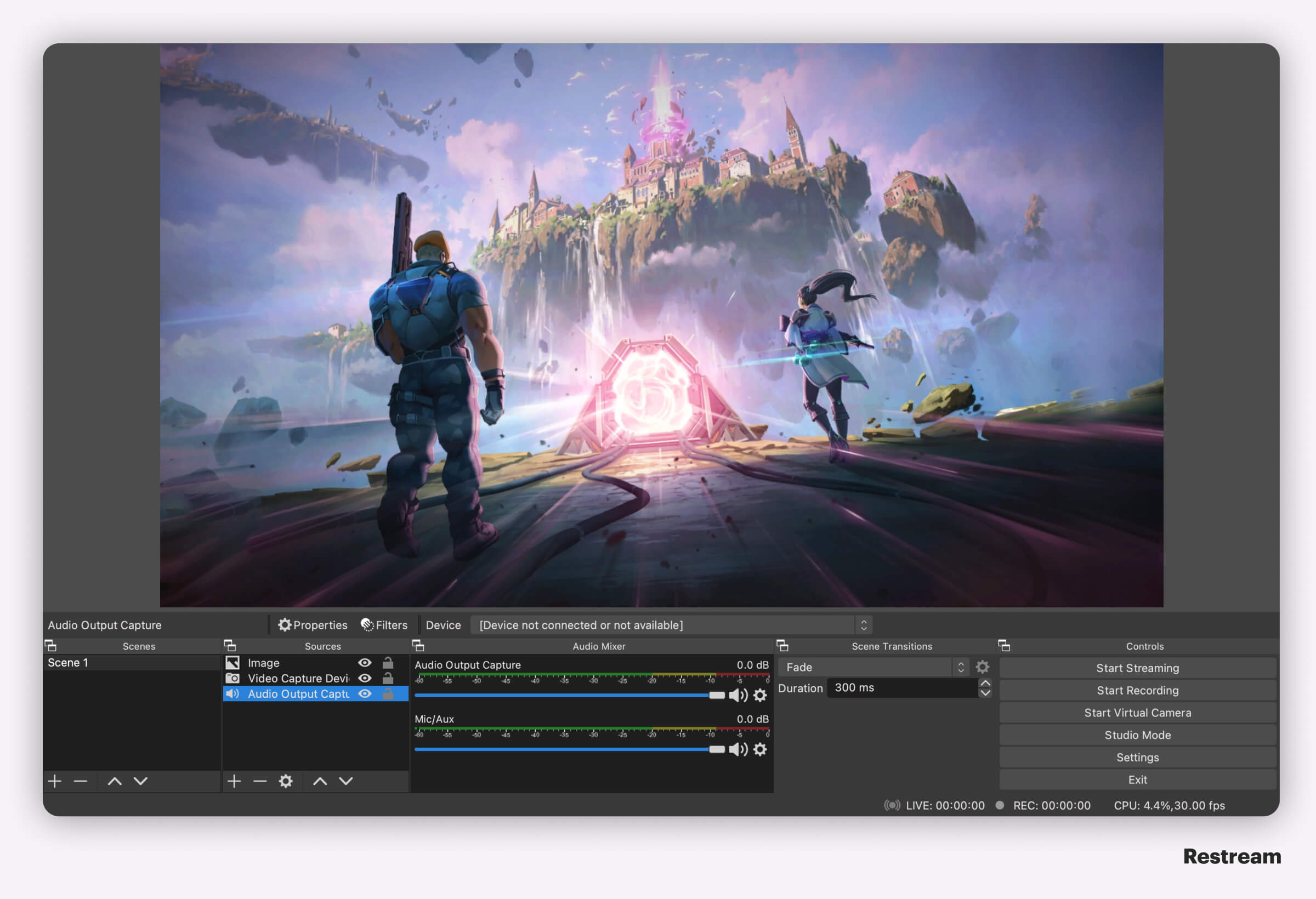 Understanding and managing layers in OBS Studio
The layers system comes in handy when you want OBS to capture multiple video sources on your stream. Each of your added video sources lies on a different layer, which allows you to create combinations of output pictures and manage them just the way you want. The highest video source on your Sources list will be displayed on top of every other one.
For example, if you want to stream a game with your webcam on, you should place your Video Capture Device source first on the list, followed by the Game Capture of your game. You can check whether everything is layered correctly in the preview window. And if something doesn't work, you can rearrange the layers by simply dragging and dropping them inside the Sources box.
Adding filters for visual and audio effects
After you are done managing your audio and video layers, you can add special filters and effects to the sources. Simply right click on the source and choose Filters. For the audio sources, you can apply compression, increase or reduce gain, and add a noise gate, suppression, your own VST plugins, and much more.
As for your video outputs, you can apply Chroma Key, change the Scaling/Aspect Ratio, edit the size of the picture with the Crop filter, and so on. There's plenty of custom plugins you can use in OBS which add even more filter options for both audio and video.
If you want to change the size and placing of your video source in the preview, simply click on the source you want to work with and drag any red square to increase or reduce the size of the picture. While dragging use Ctrl, Alt, Shift (or mac alternatives) to scale or crop without preserving original aspect ratio.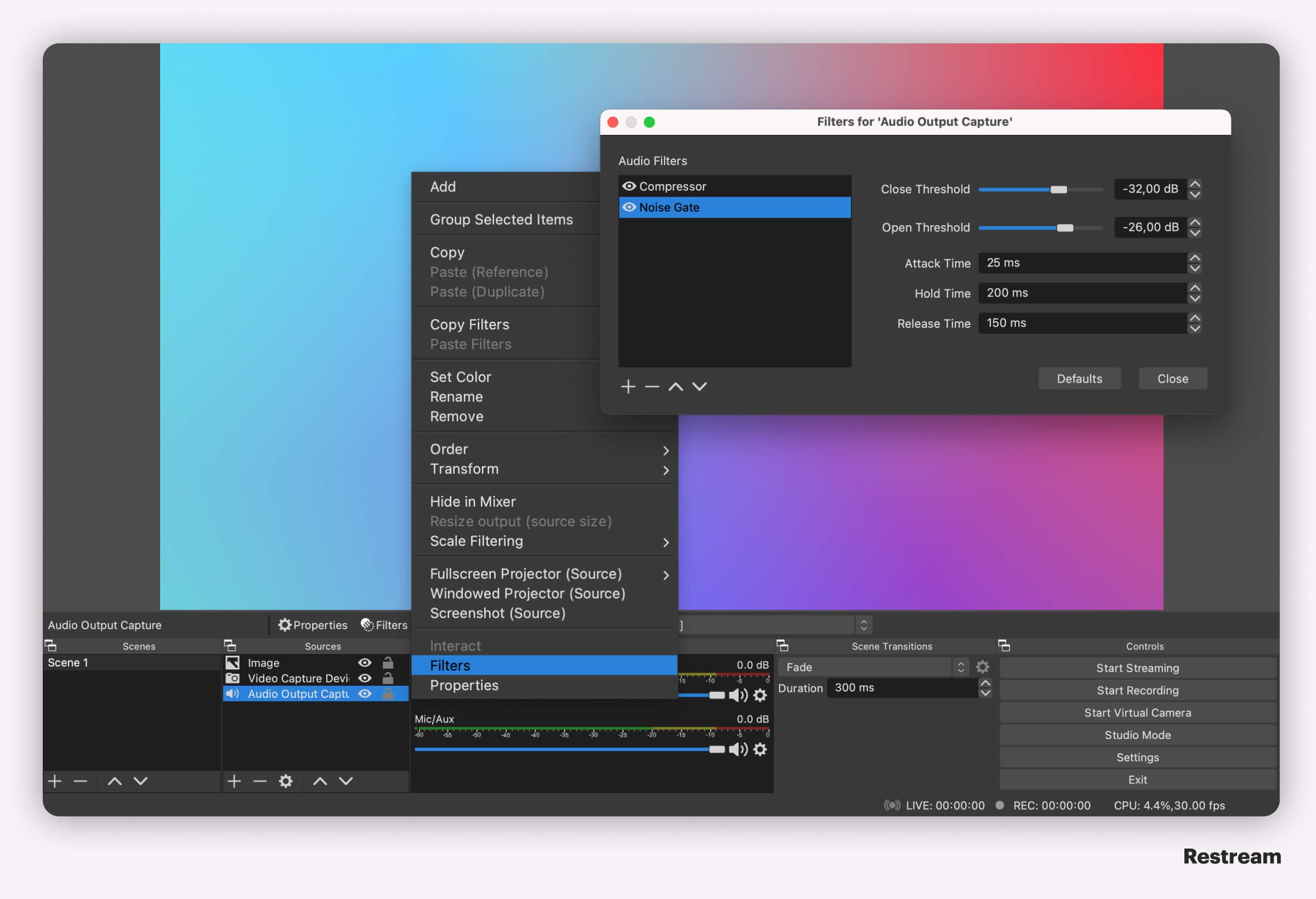 How to use OBS's Studio mode
OBS Studio has an incredibly powerful feature called Studio mode that allows you to modify your scenes and switch them on-the-go. To access this feature, simply click on the Studio mode button right above the Settings button. You will see your preview screen is now split into two screens.
The right one is your actual Live view, meaning your audience will see exactly what's going on this screen. The left screen is where your editing comes into place. There you can edit any element in your selected scene while live streaming, choose the transition style, and switch between your scenes at any given moment.
Starting your live stream in OBS Studio
With OBS Studio, you can broadcast directly to one streaming platform. For instance, if you want to live stream to Twitch, go to Settings and click on the Stream tab. Choose Twitch in the Service drop-down list and paste your Stream Key. Apply the changes and click OK. Now all that's left to do is to click the Start Streaming button on the bottom right.
If you don't know where to find your Stream Key, simply click the Get Stream Key button or go to your Twitch dashboard and find it in your stream settings.
Unfortunately, OBS Studio doesn't allow you to live stream to multiple services. However, what it can do is broadcast your content directly to Restream. Similar to the instruction on how to stream to Twitch, just go to the OBS settings and select Restream in the service list. This way, your broadcast will be translated to Restream, where it can be shared on multiple platforms at the same time, including YouTube, Facebook, Twitch, Twitter, Trovo, LinkedIn, and many more.
If you don't know where to find your Stream Key, simply click the Get Stream Key button or go to your Twitch dashboard and find it in your stream settings.
Live stream everywhere,
all at once
Get started for free
Recording your videos with OBS Studio
OBS Studio allows you to not only live stream, but also record your video content. Right below the Start Streaming button, you can find the Start Recording option. By clicking it, OBS Studio will immediately start recording your session. Simply click the button again to stop recording. By default, OBS recordings go to the Video folder in your main documents. However, you can easily change the path and adjust the quality in the Output tab in your OBS settings.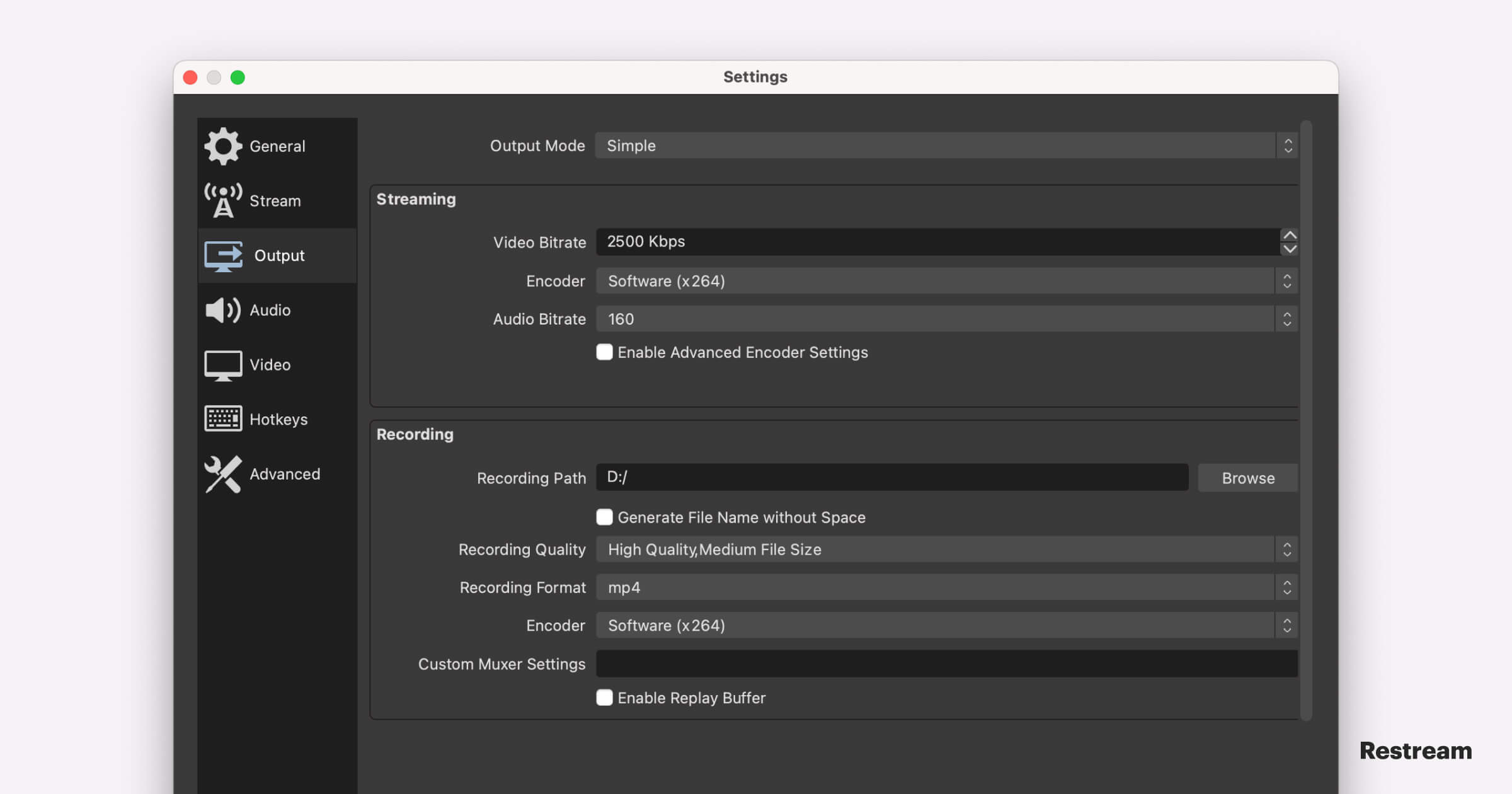 Note that you can record with the original stream quality or higher/lower by using additional resources of your computer. Recordings support up to 6 audio tracks for later edits. The recommended recording format is MKV because it allows 6 tracks and will not break if OBS crashes for some reason.
Wrapping up
OBS Studio may seem extremely frustrating at first glance. However, if you learn to use it step by step, you will quickly discover how simple and incredibly useful it is. OBS is super easy to install and tune, as it has the Auto-Configuration feature to help you get started in a matter of seconds. The streaming software has lots of built-in tools to easily manage your audio and video sources — all to make your streaming experience nice and smooth.
With OBS Studio you can live stream directly to one streaming platform or many different platforms at the same time with Restream! The software also allows you to record your live streams — or any video and audio source, for that matter. And what's also important, OBS Studio is completely free!