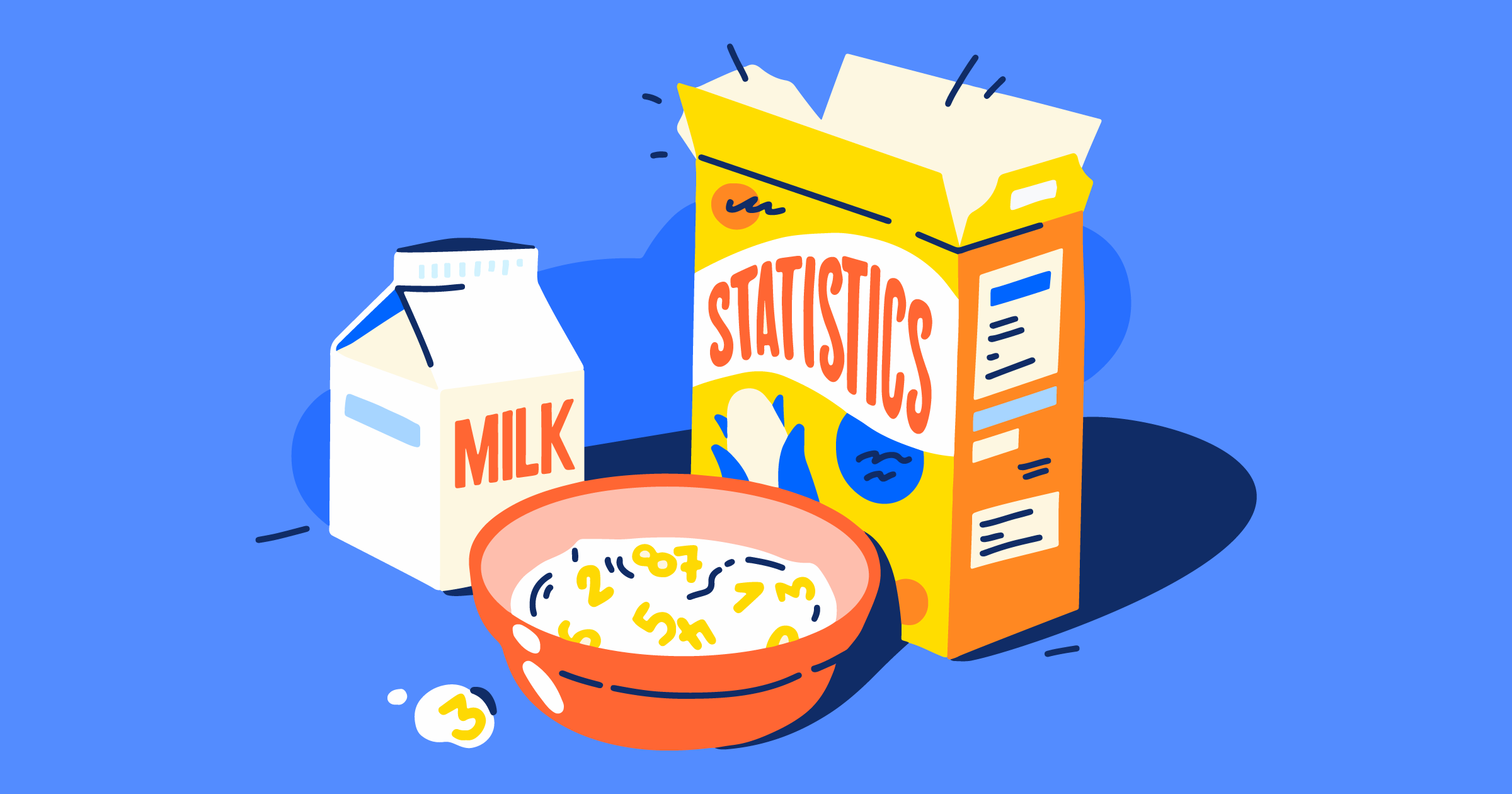 2019 was an interesting year for live streaming, marked by high-profile transfers of streaming superstars. Tyler "Ninja" Blevins and Michael "Shroud" Grzesiek are probably the biggest names that decided to leave Amazon's Twitch for Microsoft's Mixer, a direct competitor.
Unsurprisingly, Twitch managed to survive the exodus and subsequent dent in viewing hours, and Mixer has a long way to go before it becomes a serious competitor to Twitch. We'll need to see something a lot more dramatic happen if the state of affairs is to change.
So you probably won't see Twitch or YouTube fall from their thrones in 2020. But that doesn't mean the live streaming ecosystem is any kinder or easier for people who want to survive in it. And as always, knowledge is your best armor that doubles as a weapon, so here are the stats that will improve your live streaming this year.
👨‍💻 Changing Audience Habits
We've seen viewer habits change steadily over the past decade or so. Now, with two new generations — Millennials and Gen Z — coming into focus as part of the coveted demographic slice, it's even more important to understand what devices they use to consume their content and what habits they form.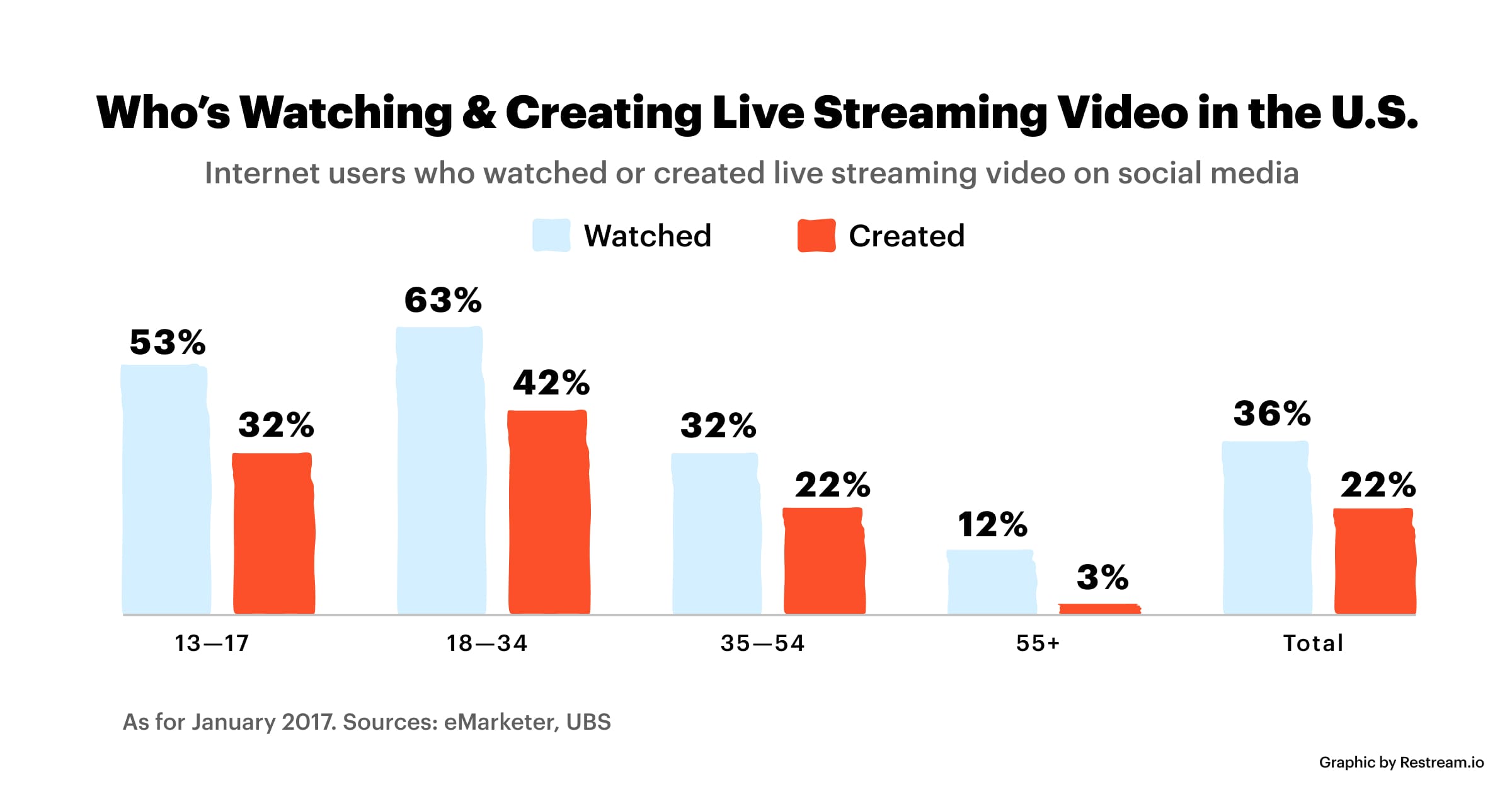 1. Viewer habits are changing. More than half of 18- to 49-year-olds either don't watch TV very much or don't watch it at all.
2. Younger people don't seem to like watching traditional TV as much. More than a quarter of 18- to 49-year-olds, or 27%, are either cord-cutters or have never owned a TV.
3. 13- to 34-year-olds make up a third of the connected TV device user base.
4. Around 40% of computer and mobile video viewers fall in the 13 to 34 age bracket.
5. Younger viewers are also pickier. It takes 9.4 minutes on average for viewers ages 18 to 34 to sift through content selection menus before they find something to watch. For the average American 18+ viewer, that time is 7.4 minutes.
6. Younger viewers are also more adventurous. 18- to 34-year-olds are most likely to watch something different than usual (35%), but are also most likely to give up the search and decide not to watch anything (28%).
7. About 6 in 10 young adults in the U.S. primarily use online streaming to watch TV.
8. People don't think TV is that important anymore. Only 31% of Americans expect they'd have a very hard time giving up their television.
9. People watch an average of 16 hours of online video per week – a 52% increase in the last two years.
▶️ The Platforms They Are Using to Watch Content
If we're talking about watching live content online, it's impossible to skip live streaming platforms. Increasingly, however, social networks have also been establishing themselves as places where people can watch — and broadcast — live content. Here are some stats that should illustrate the streaming platform landscape.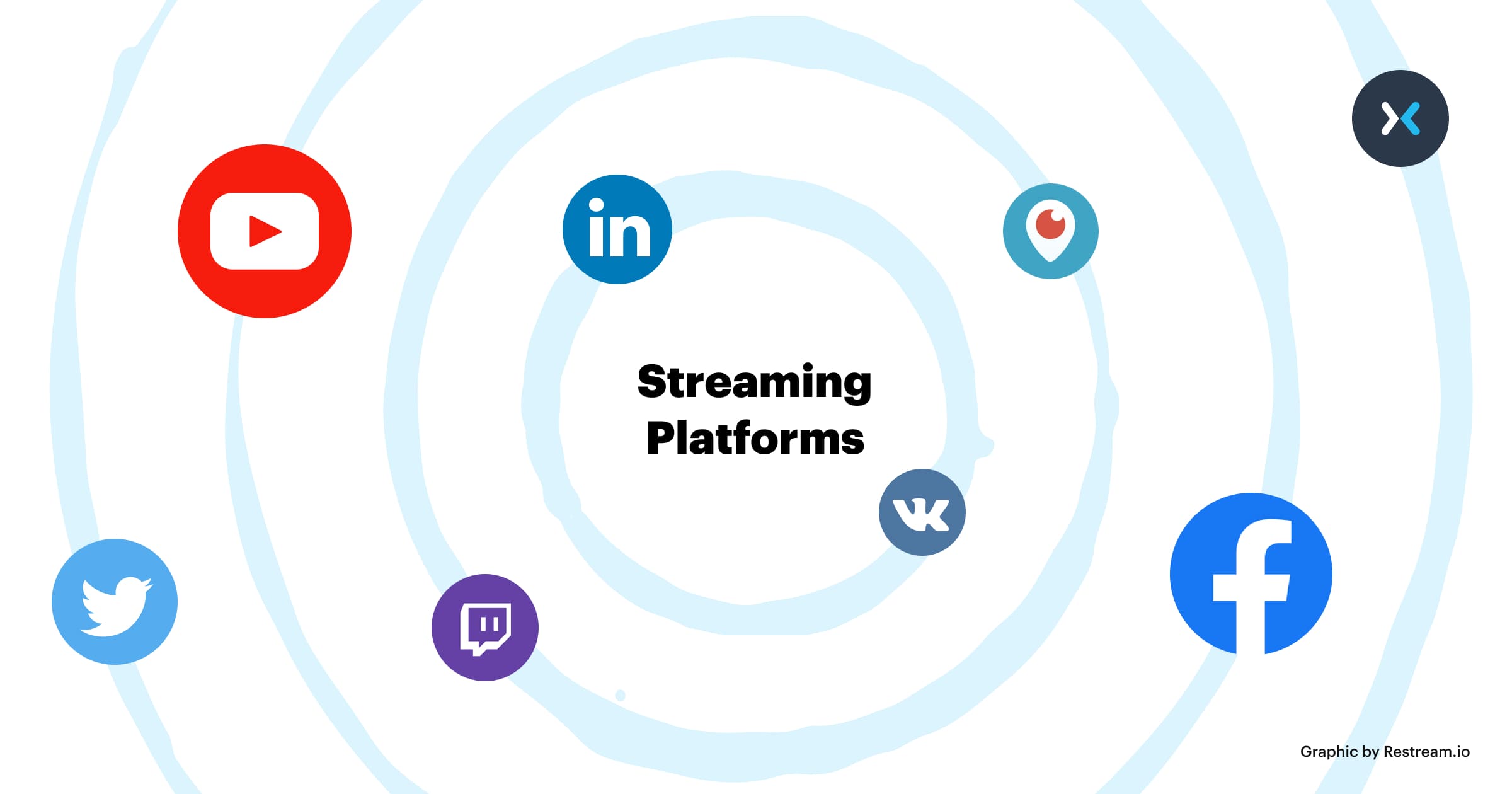 10. If we'd use hours watched as the main criteria, Twitch would be the biggest live streaming platform in the world. It accrued more than 9.3 billion hours watched in 2019.
11. It's also expanding quickly — Twitch grew by 20% between 2018 and 2019.
12. If we'd use the number of monthly active users, Facebook would be the biggest website with live streaming capabilities in the world. The social network reached 2.5 billion monthly active users in Q4 of 2019.
13. When looking at websites that are primarily video platforms, YouTube has the most monthly active users. It reached 2 billion in the first half of 2019.
14. Twitch has over 15 million unique daily visitors and 3 million content creators – broadcasters.
15. Twitch also has 500,000 streamers active every day.
16. Twitch is the leader of the live streaming market with a market share of 73% when measured by hours watched.
17. Still, Twitch saw a 2% YoY decrease in its share thanks to the platform investing significant effort to catch up.
18. With more than 350 million hours watched — and a 210% YoY growth rate — Facebook Gaming grew the most in 2019.
19. Mixer, the streaming platform owned by Microsoft, saw plenty of growth in 2019, too. It grew by a cool 149%.
20. For its part, YouTube Gaming managed to be the only platform that experienced a growth in hours watched, hours streamed, and concurrent viewership in Q4 2019.
21. Daily watch time for Facebook Live broadcasts grew four times over the course of a year.
22. On Facebook, one in five videos is now a live broadcast.
23. Twitter streamed more than 1,300 live events throughout Q1 of 2018, nearly a threefold increase over Q1 of 2017.
24. More than 70% of YouTube watch time comes from mobile devices.
👀 What Are They Watching and How?
We know live streaming is becoming a popular way to present content because there's an audience eager to watch it. We also know the platforms they're choosing for content consumption. Not let's see what – and who – they like watching the most.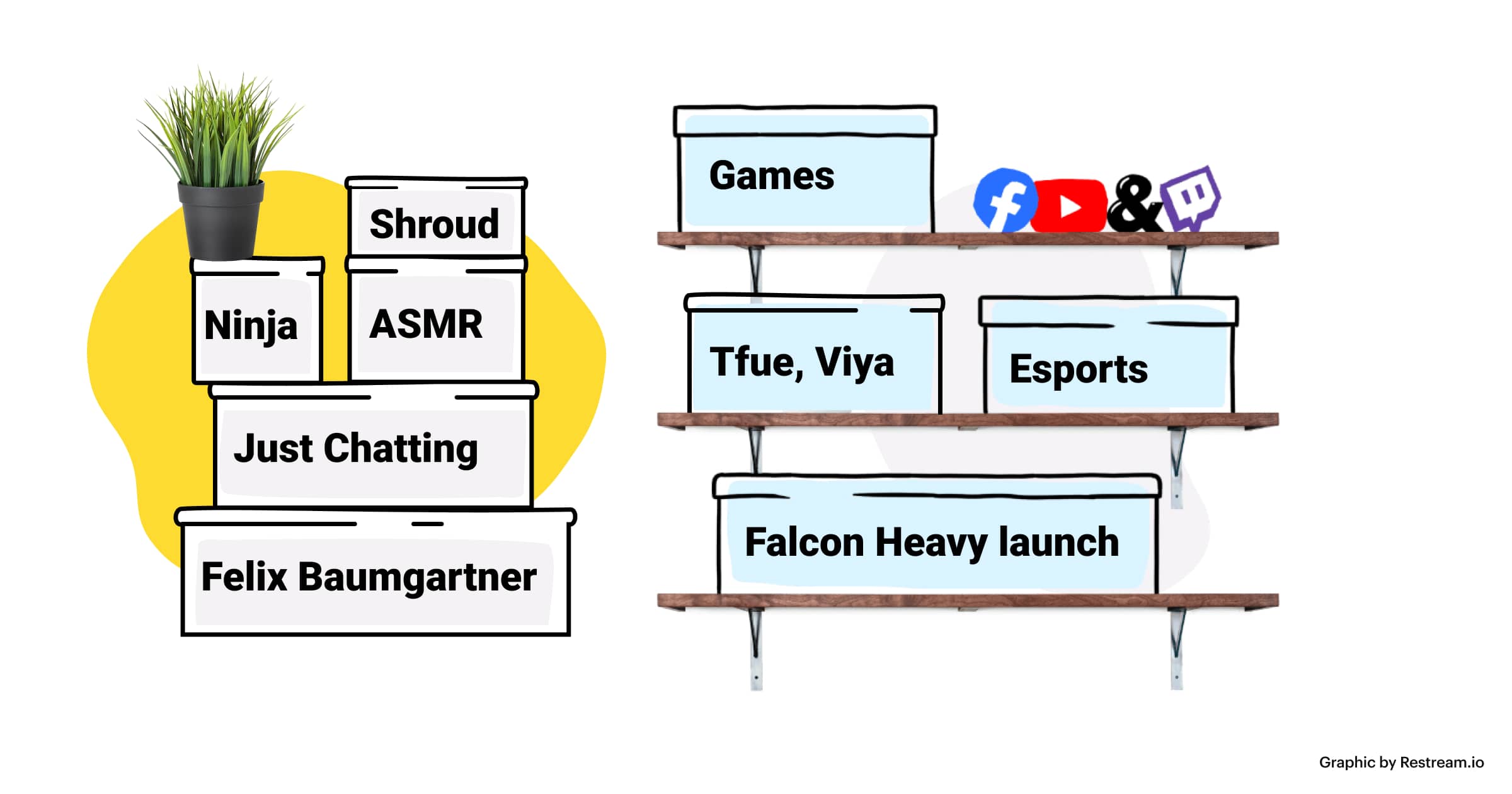 25. Games are the most-watched streaming categories on Twitch. League of Legends, the most-watched category on Twitch in 2019, accrued more than 990 million hours watched.
26. The third most-watched live stream category on Twitch — a gaming-first streaming platform — is the Just Chatting category with over 651 hours watched.
27. 2 out of 5 most-subscribed channels on YouTube feature gaming-related content.
28. Esports make up fewer than a quarter of the time watched on Twitch's top 200 channels.
29. The most-watched live streamer of the year 2019 was Tfue, logging more than 87 million hours watched. He managed to beat Ninja and Shroud, popular streamers whose platform transfers made the news.
30. Before he moved to Mixer, Shroud's viewership on Twitch was 1.62 times bigger than Mixer's total viewership.
31. Viya, a Chinese streamer from the platform Taobao, managed to generate almost $50 million worth of sales by promoting products during a live stream.
32. The live stream that holds the record for the most concurrent views on YouTube was Felix Baumgartner's space jump with a peak viewership of 8 million.
33. The second most popular live stream in YouTube's history was Space X's Falcon Heavy launch with peak concurrent viewership of 2.3 million.
34. The stream with the most concurrent views in Twitch's history was the ELEAGUE Boston Major 2018, with 1.3 million peak simultaneous viewers.
📸 An Industry Snapshot
Finally, no set of statistics would be complete without an industry snapshot. Live streaming is a growing industry, but it's dependent on many factors, most notably on access to fast internet. So let's check up on the forces that shape the industry and see how well live streaming is faring.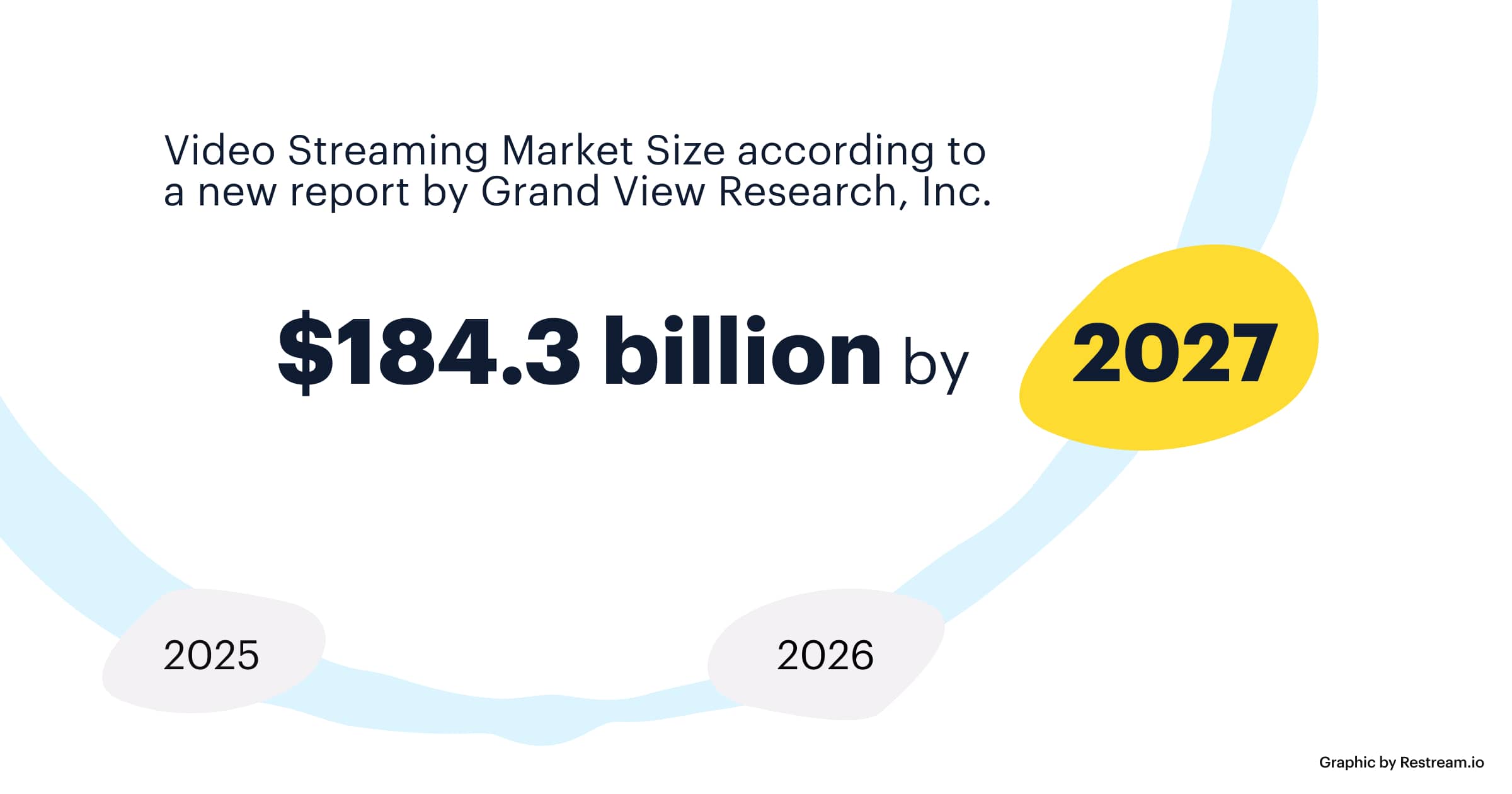 35. The global average download speed over fixed broadband was 63.85 Mbps in July 2019.
36. A year before, it was 46.48 Mbps, meaning it increased by more than a third — 37.4% — in the timeframe of a single year.
37. The world's mean download speed over mobile was 27.69 Mbps in July 2019.
38. This represented a 21.4% increase from July 2018, when the global mean download speed over mobile was 22.81 Mbps.
39. In 2017, video accounted for 75% of global IP traffic.
40. By 2022, global video IP traffic is expected to grow at a compound annual growth rate of 29%, reaching an 82% share of all IP traffic.
41. Live video is expected to grow 15-fold by 2022 and reach a 17% share of all internet traffic.
42. By 2027, the global video streaming market size is projected to reach $184.3 billion.
43. China leads the world when it comes to using live streaming for e-commerce purposes. The platform Taobao generated more than $15.1 billion in gross merchandise volume in 2018 thanks to live streaming.
44. Most consumers want to see more videos from brands — 85% of them would agree with that statement.
45. Video is a useful tool for marketers – 95% of video marketers would say it helped increase understanding of their product.
46. Out of the marketers who use video, 32% plan to add Facebook Live to their strategy for 2020.
47. Video has proven to be very effective for marketing, so much so that 99% of marketers who are using it say they'll continue doing so in 2020.
48. Multistreaming with Restream remains the number one way to reach audiences across several platforms by streaming live to 30+ platforms simultaneously.
Start multistreaming today.
Reach a wider audience by streaming to multiple platforms simultaneously.
Get Started
Whether you're an audience member, a content creator, or a marketer who wants to explore various use cases for live streaming, you should get the same takeaway from these stats. Live streaming is not only alive and well, but it's thriving. In 2020, it will continue to grow and attract more audiences and content creators.