Live streaming has had quite a year. The industry was projected to grow in 2020, but nobody could've predicted the COVID-19 health crisis and the huge boost it would lend to live streaming.
Where does live streaming stand at the end of 2020? Restream surveyed streamers to get some insights into the state of live streaming in 2020.
👀 Live streaming trends before COVID-19
Live streaming was on the uptick at the start of 2020. The industry was set to grow 15 times as large by 2022, reaching 17% of all internet traffic. According to Grand View Research, the live streaming market was projected to be worth $184.3 billion by 2027 — not bad for an industry less than 20 years old.

Which live streaming platforms saw huge growth in 2019 and were set to take off in 2020?
Facebook Gaming grew the most out of all the major live streaming platforms – 210% from 2018.
Twitch had more than three million content creators in 2019, with a 20% YoY growth.
YouTube became the second most popular social network behind Facebook in 2019, with two billion monthly active users.
LinkedIn launched its live streaming platform, LinkedIn Live, in February 2019.
Big things were happening in the live streaming space pre-COVID, and 2020 was going to be an important year as well. Then the global pandemic hit, and it launched the live streaming industry farther than any projections estimated.
😷 How the pandemic changed streaming
By March, COVID-19 outbreaks had forced more than half of the world's citizens to stay at home. With remote work and school, and non-essential shops and cultural spaces closed, much of the world's population suddenly had a lot of time on their hands. They filled it by going online, watching more content than ever before.
Of the major live streaming platforms, who won the "Lockdown Spike?"
Facebook won most views, growing by 239% from March to May.
Twitch won most hours watched, increasing by 267% from March to May.
YouTube came in third for most views (14% increase) and most hours watched (111% increase) between March and May.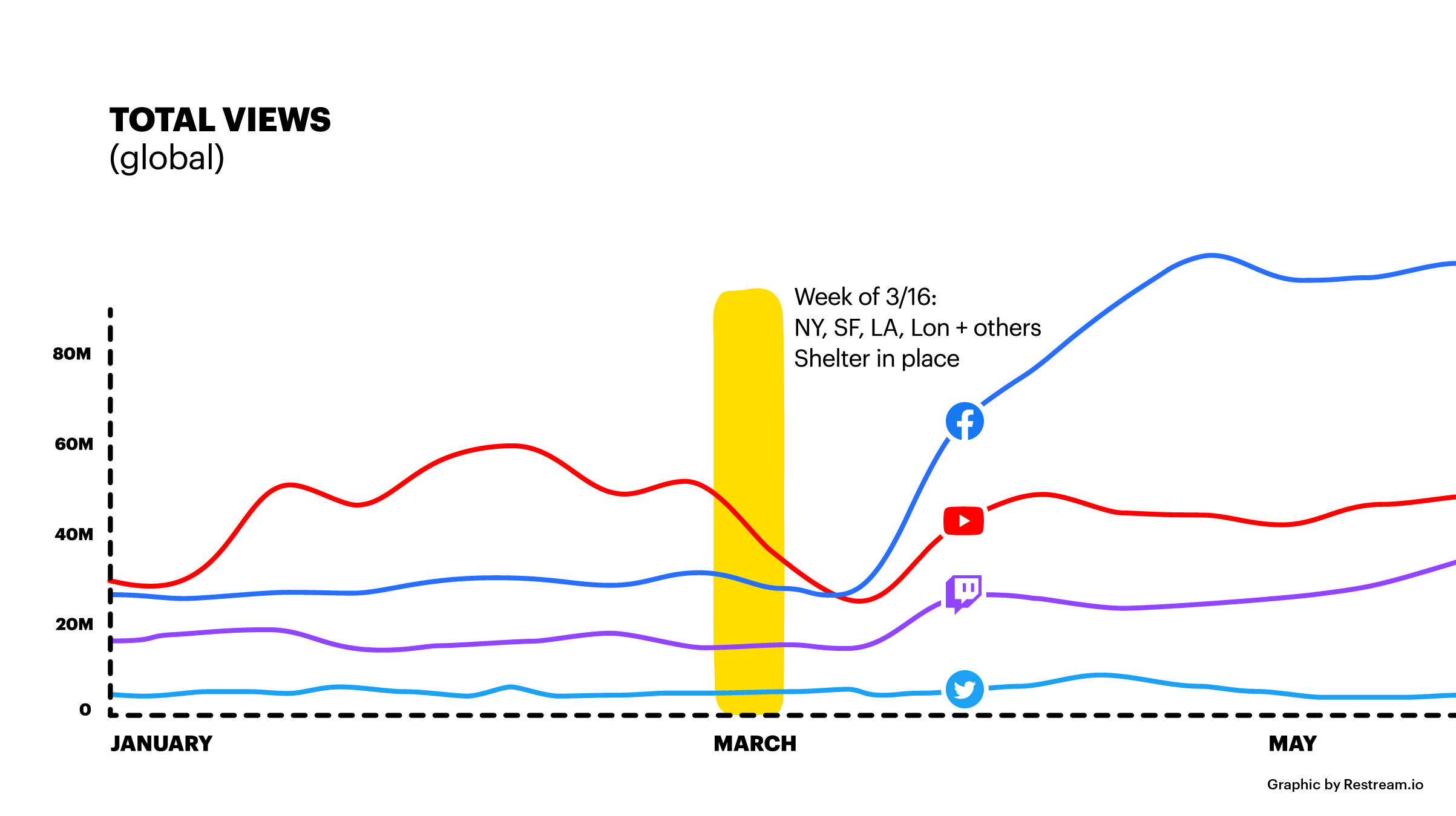 YouTube and Twitch have spent the rest of 2020 battling for watch time, with YouTube overtaking Twitch by the end of September, at 44% of hours watched. Twitch was only at 37%.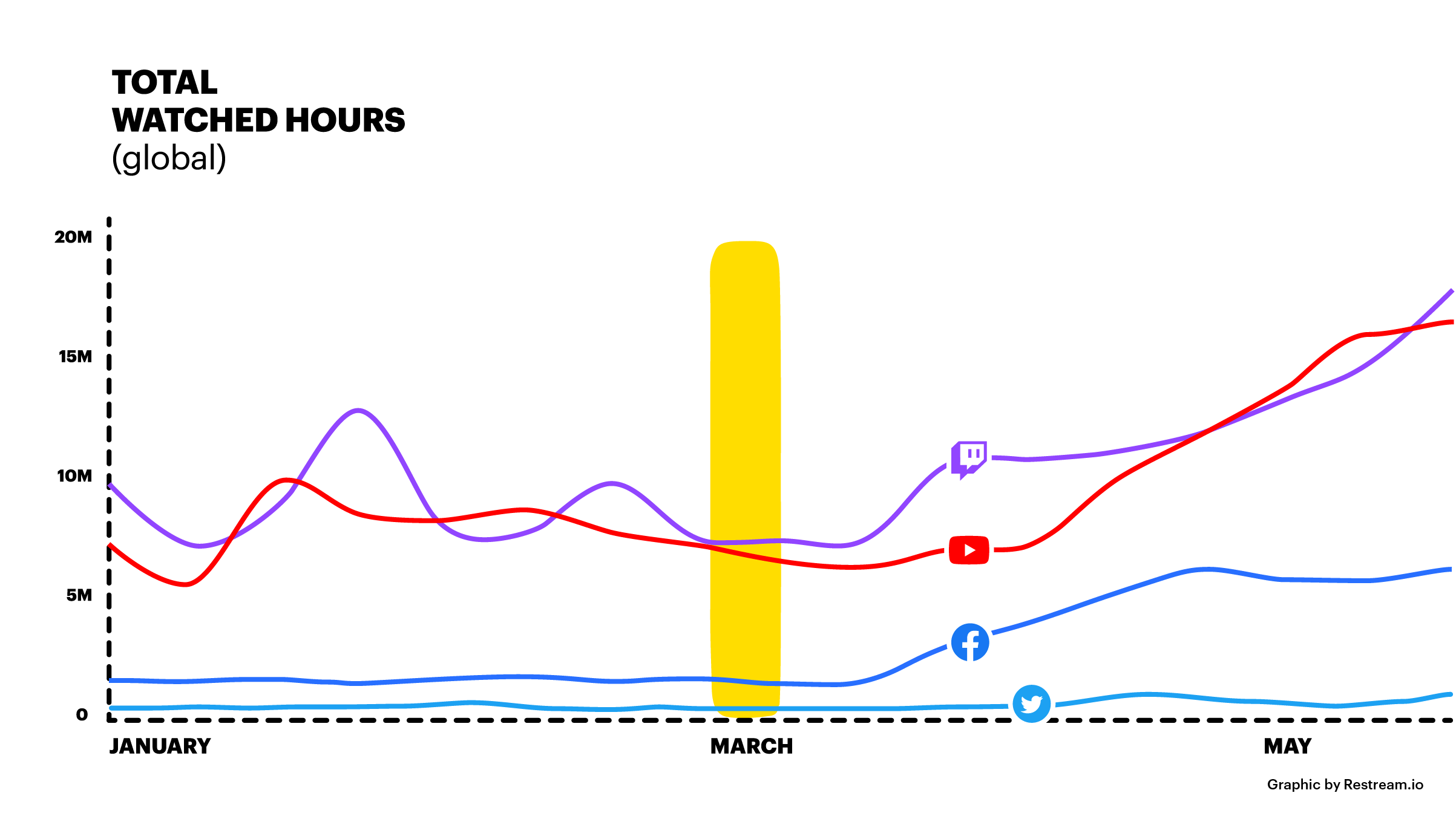 Everyone's live streaming now
Proponents of live streaming grew beyond gamers and entertainers. Canceled in-person events led many from the business and cultural sectors to live stream as well. Companies and organizations started hosting webinars instead of conferences, musicians streamed live performances from their living rooms – even politicians and diplomats moved their summits and meetings online.
💁‍♂️ Profile of a streamer in 2020
If live streaming has become so popular in 2020, what does a typical streamer look like? Let's break down some characteristics:
Platform of choice: When surveyed, people preferred either YouTube or Twitch above all other platforms, with Facebook coming in at a respectable third place.
Streaming frequency: Half of the survey respondents said they stream content once a week, and a quarter said they go live daily.
Streaming topics: Gaming and Esports still drive live streaming, but they only make up 54%. The rest of the live streamers in the survey were streaming about music, sports, or entertainment (17%), professional content (9%), everyday life (6%), or another topic (14%).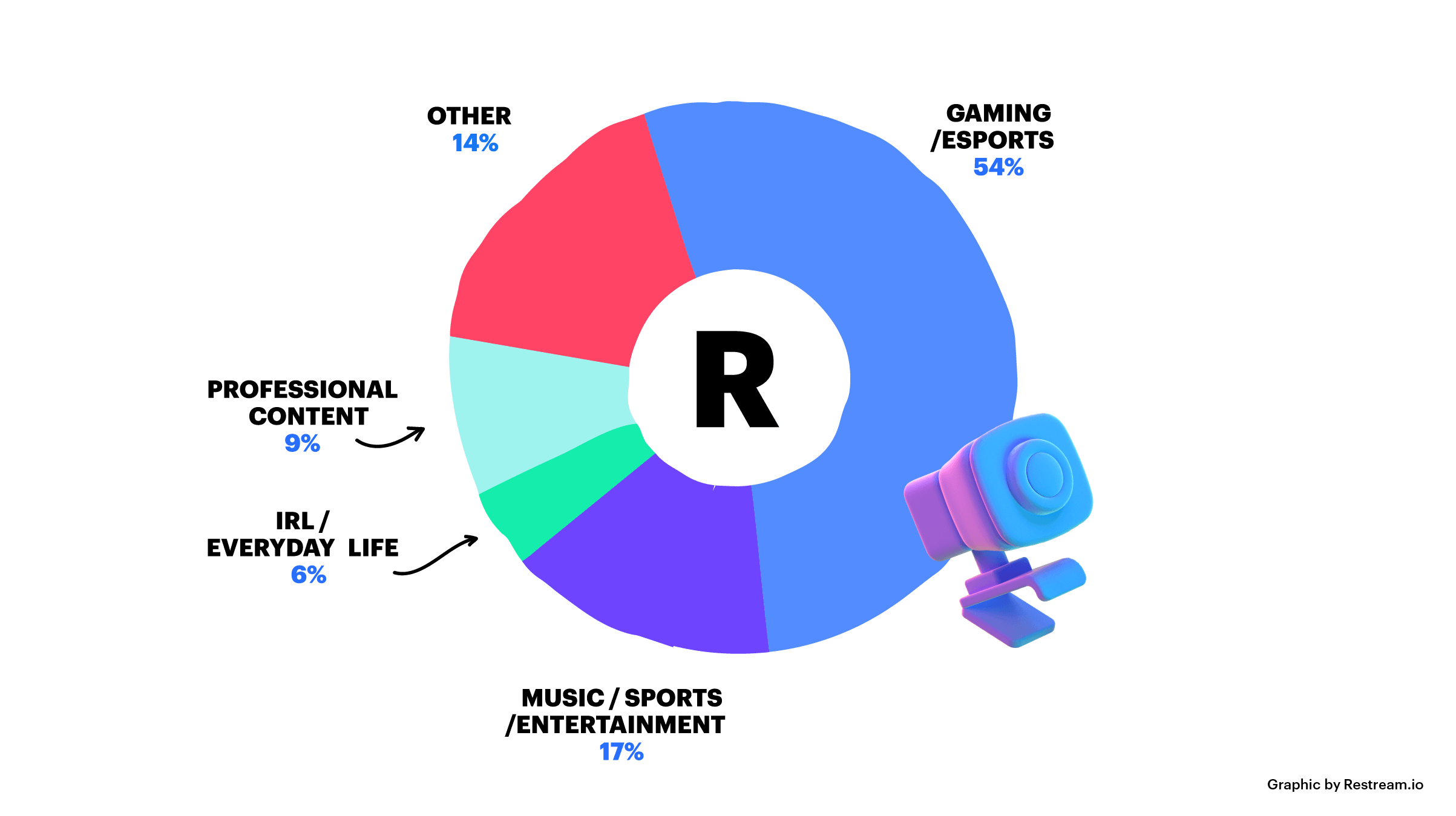 Audience: By far, respondents said they preferred a smaller audience that's more engaged to a larger audience.

🤔 Why streaming?
What makes people want to stream in 2020? It depends – how old are they, and what are they streaming about?
Younger streamers overwhelmingly prefer gaming, with 78% saying they stream about gaming. The 25- to 44-year-olds also prefer gaming, but by a slimmer margin – only 56%. For the 45+ streamers, gaming isn't as important as entertainment and professional content.

For all age groups, one in five respondents said streaming was about earning income and eventually becoming a full-time job. Big chunks of the under-24s and the 25- to 44-year-olds consider streaming a hobby. The older respondents were more concerned with streaming as part of their personal brands.

With the spike in the number of Twitch users in 2020, it's hard to deny that the pandemic and subsequent lockdowns have encouraged more people than ever before to start live streaming. According to TwitchTracker, the total number of active Twitch channels went from 3,753,539 in February to 8,546,985 in December 2020 – a 128% increase. The biggest jump in active channels was between March and May.
Overall increases in gaming and online content consumption drove more people to try live streaming. It also doesn't hurt that starting a live streaming channel is easier than ever before with helpful tools like Restream.
🤑 Streaming for businesses
Individuals weren't the only ones who took to live streaming in 2020. The pandemic encouraged more enterprise streamers (those who stream for clients or a company) to stream content. About half of the business streamers surveyed by Restream said they weren't streaming in 2019, but are now.
Virtual communication became the only way for companies to get in touch with their customers – live-streamed conferences, events, and webinars replaced in-person events. Organizations started centering their marketing strategies on live streaming, with 73% of survey respondents saying they increased their investments in live streaming.
That investment seems to have paid off:
36% of enterprise streamers say their revenue has increased since they started live streaming their corporate events, and 53% said their event attendance went up after going virtual.
70% of business streamers now stream weekly or daily.
53% of corporate streamers say live streaming is here to stay.
91% of business streamers plan to keep streaming after COVID, and 81% say it will be a social media priority in 2021.
In 2020, businesses saw the potential of live streaming and plan to keep it up.
🦑 How Restream fits into 2020's live streaming trends
Restream's live streaming solution helps content creators produce high-quality live content and broadcast to more than 30 top platforms, including the likes of Twitch, YouTube, Periscope, Facebook, and LinkedIn. New and veteran streamers alike realized their potential in 2020 with Restream's tools.
Large brands and celebrities started using Restream in 2020 to connect with customers and fans. Enterprise corporations like Microsoft, large entertainment brands like MTV, and even public affairs entities like the World Economic Forum, the World Health Organization, and the Biden Harris Presidential Campaign, all incorporated Restream's tools into their media and content strategies in 2020.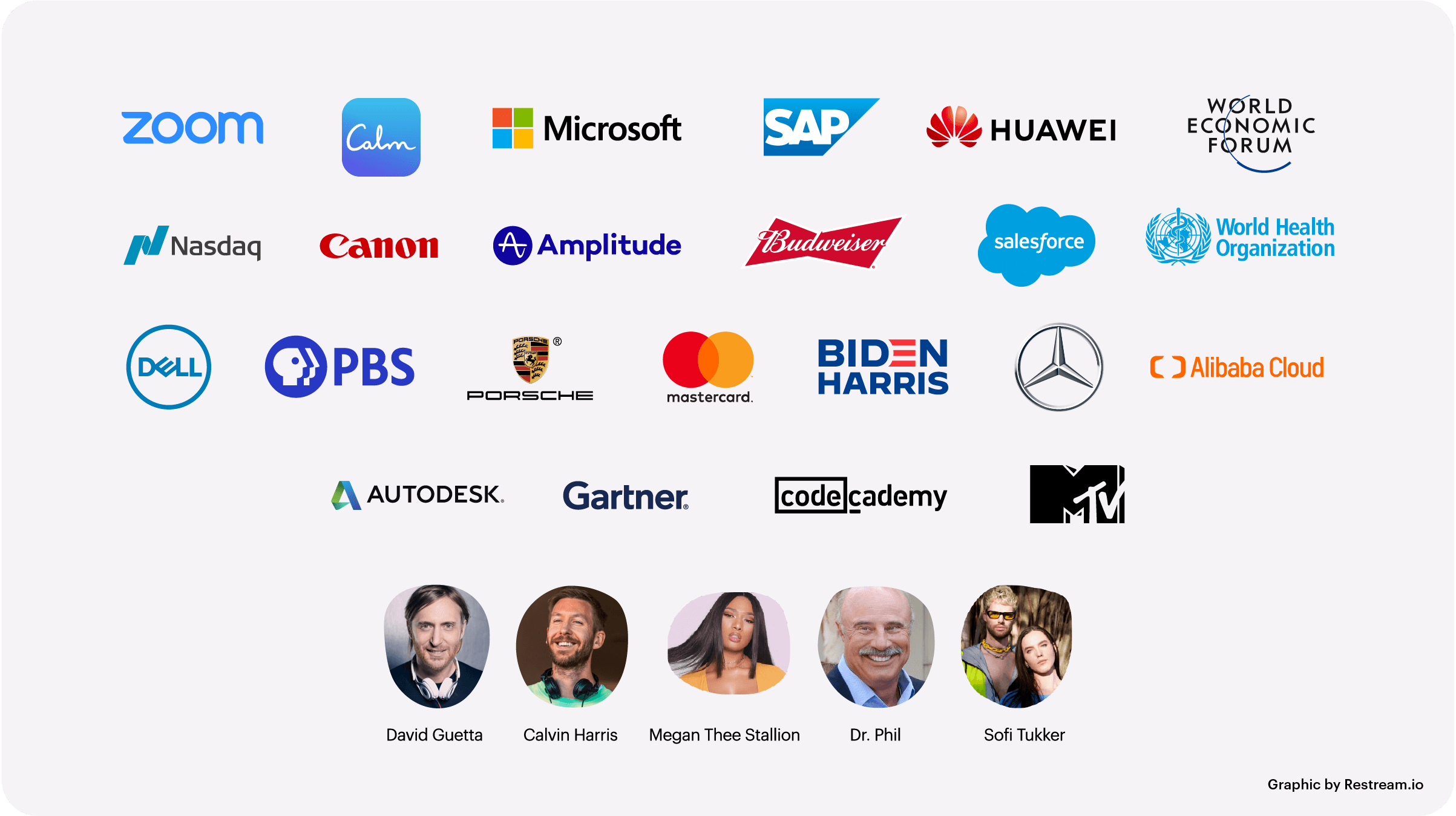 Restream's tools help over three million content creators. Creators, whether they're gamers, lifestyle gurus, or large corporations, use multistreaming to reach more than one platform simultaneously and the chat aggregator to see comments from each platform. You can schedule pre-recorded content, go live directly from your browser with Restream Studio,  download recordings of broadcasts, and analyze user trends to expand your audience. With all these features, Restream can make your live streaming experience easier.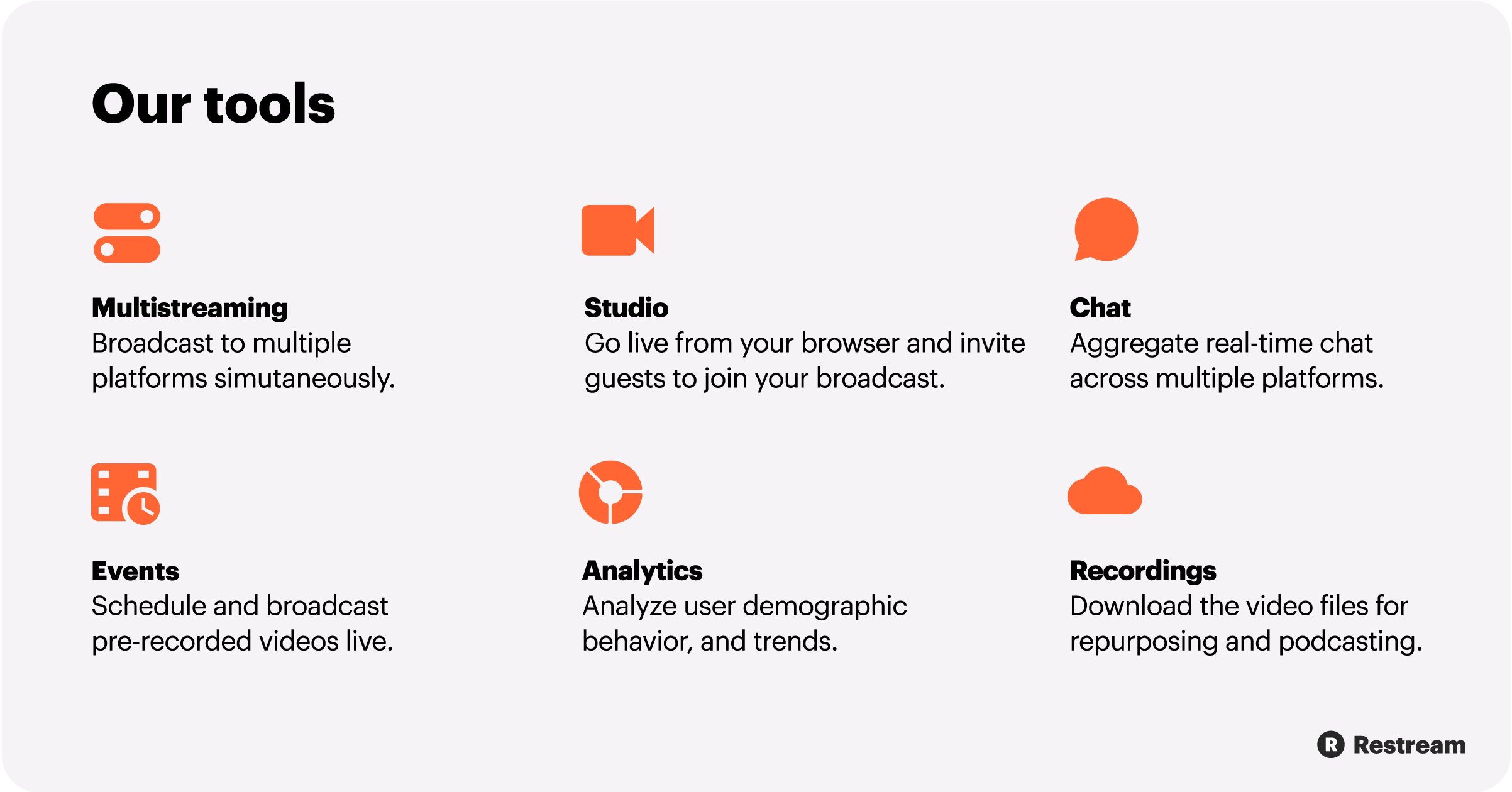 Read later: Restream tools and features: Full guide 📍
🙌 The state of live streaming in 2020: wrapping everything up
2020 has been a whirlwind year for live streaming. An industry that was already set to grow has exploded thanks to the particular circumstances of 2020 and the COVID-19 health crisis. Even when the pandemic ends, live streaming will be here to stay.