Intro
Technology never stands in place. We constantly evolve and uncover amazing new ideas that improve our lives on a daily basis. When you think of the latest discoveries and trends in the world of entertainment and communication, live streaming immediately comes to mind. And just like the world around us, live streaming is no longer what it used to be.
Today, live streaming can be fast, reliable, highly functional, and, even more importantly, simple. Different services excel at different qualities, but Restream Studio takes it one step further by combining all of them. In this article, we will describe its amazing features, as well as the most popular use cases to help you discover all the benefits of using this tool to live stream your content. This is the ultimate guide to Restream Studio — your streaming companion.
What is Restream Studio?
Restream Studio is a modern professional live streaming solution that allows you to broadcast your live content to multiple top streaming platforms, including Facebook Live, YouTube Live, LinkedIn, Twitch, Twitter, etc. It doesn't require any third-party applications, as it runs directly from your browser.
Everything you need to multistream on 30+ platforms is contained in a single browser tab. How cool is that? Furthermore, Restream Studio allows you to add guests directly to the stream, share your screen with the audience, play local video files, and more!
Lucky you! You've just found an offer one cannot simply skip. With this promo code, you can get access to all Restream paid features for 7 days absolutely for free. Moreover, you'll have a 25% discount for your first upgrade. 😉 Enjoy the smoothest live streaming experience with Restream.
👉 Here is your promo code link.
When it comes to live streaming equipment, things do not get more complicated. The bare minimum you need is an average PC or Mac, a stable internet connection, a webcam, a webcam software (like Restream Studio), and and a microphone. Keep in mind, however, that fast internet doesn't necessarily imply it is stable. And in the live streaming department, a stable connection is crucial.
Restream Studio automatically optimizes video settings for the smoothest streaming experience on the most popular platforms. That's why you don't have to worry about manually adjusting your stream settings. Simply hit that Go Live button when you are all set!
Note: Sometimes, in order to have more control over your stream, you may want to use third-party encoders such as OBS Studio or any other. This is especially true when live streaming video games.
Restream Studio features
With Restream Studio you have a vast arsenal of useful tools to maximize your control over the stream: from the ability to add custom captions, background images, overlays, and logos to screen and video sharing options. The webcam software also allows you to add guests directly to your stream and host interviews and Q&A sessions. So, without further ado, let's go through the list of all its features.
🔥 Multistreaming
One of the most efficient ways to maximize your audience reach is to live stream to as many platforms as you possibly can. Restream Studio allows you to broadcast your content to all your favorite live streaming platforms at once. Simply add channels in your Restream dashboard, and your broadcast will automatically be transferred to each one of them when you go live. — no additional webcam software is needed.
🔥 Inviting Guests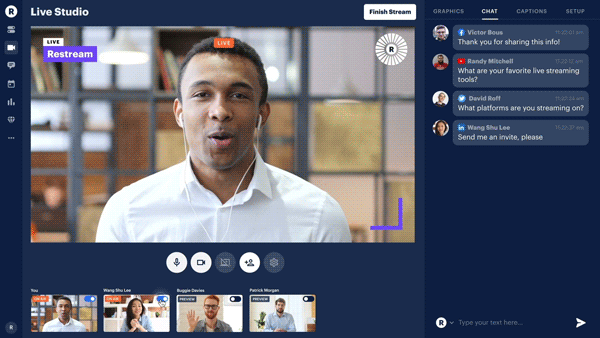 With Restream Studio, you can invite guests on your stream and host professional interviews or podcasts. It is as simple as sharing a single invitation link. The free version allows you to have up to six participants! And if you need to invite more people, you are always welcome to upgrade your Restream subscription plan.
Regardless of your subscription plan, you will have at least one permanent invitation link. This means you can reuse it for all your future co-streams and shows. It's a unique link that is connected to your Restream Studio. But, of course, you can refresh the link and create a new one anytime. Needless to say, your live stream sessions are secure, meaning no one can join your steam without your guest invitation link.
Easy live streaming for everyone
Run professional live streams from your browser.
Get Started
🔥 Playing video on-stream
The next feature allows you to upload and share any video content with your audience. Whether it's a promotional video, a pre-roll, or just a short stream break, this option can help you engage with your viewers more. You can upload any MP4 video of up to 150 MB in size. After you've successfully added your videos, you will be able to display them on your stream. The video will occupy the whole layout and mute all your guests, which makes this feature great for pre-rolls and ad breaks.
Another quite useful option in regards to playing videos on-stream is the ability to play a local video file. You will have your added video displayed next to your webcam preview. This option is especially cool for reaction-type content, where the host reacts to all sorts of videos. The video requirements are exactly the same: the MP4 format and up to 150 MB.
🔥 Interacting with chat
Restream Studio allows you to see all your viewers' real-time comments from platforms you are streaming to in one place thanks to the Chat feature. You can highlight any message in chat. Display your favorite messages on the screen by simply clicking on them. Moreover, you can type in your Studio Chat and interact with your audience directly without any third-party apps or dozens of browser tabs.
Bonus chat features: chat overlays and moderation. You can also throw the chat feed right into your live stream and let the audience see all their comments on the screen. Don't worry — you can easily moderate the chat to get rid of any potentially harmful and toxic comments.
🔥 Screen sharing
Showcasing presentations online is super easy with Restream Studio thanks to the Share Screen feature. It allows you to show what's going on your monitor in a matter of two clicks. Don't forget to close everything inappropriate or potentially unsafe (passwords, personal data, etc.) before sharing your screen on live streams.
🔥 Adding captions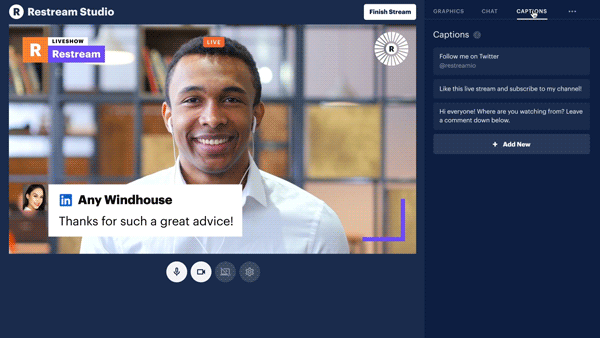 Adding efficient CTAs (calls to action) in Restream Studio could not be easier. You can use the Captions feature to create custom text banners at the bottom left of your stream. Choose what you would like to say to your audience. Whether it's a call to like and subscribe or a promotional link, be sure — your audience will notice your message!
🔥 Visual customization
One thing you can do to make sure viewers identify your live streams and distinguish them from the others is to brand them! The customization process starts with a simple logo or watermark, which you add to your stream so people recognize your brand. Restream Studio facilitates you in that goal by allowing you to add all sorts of custom visuals to your live streams. You can change background images, apply unique stream overlays, and add watermarks all in one place!
The background picture is shown when your webcam is off, whereas your overlay will always stay on top of the stream. We recommend the 1280×720 px resolution for your background images and overlays. As for the watermarks and logos, we recommend 250×250 px.
🔥 Split track recordings
Split track recording is a great feature for anyone who wants to repurpose their live streams. It allows you to download separate recorded audio tracks of each participant in your live stream. This way it becomes so much easier to edit your recorded broadcasts and create high-quality podcasts, teasers, and highlights for your social media!
🔥 RTMP Source
One more great feature, RTMP Source, allows you to connect your streaming software, like OBS Studio, Zoom, XSplit, or others, directly to your Restream Studio. Thanks to RTMP Source, you can take the most of the two worlds and significantly enhance your live streaming production.
For example, you can connect OBS to Restream Studio and easily change lower thirds, always have your branding on the stream regardless of the camera source, and apply additional visual effects. And by connecting Zoom to Restream Studio, you can increase the number of on stream guests up to 1000 and even multistream your Zoom phone calls! With RTMP Source, you can connect virtually any streaming software and start benefiting from new opportunities.
👉  Learn more: RTMP Source in Restream Studio and how it works
🔥 Editing titles
Considering that live streaming to multiple platforms requires quite a lot of management and organizational skills, we want to help you save up your time. The Titles feature allows you to change the name of your stream on the platforms you are on. This is especially great if you live stream to a decent number of platforms, as you wouldn't need to set each title manually.  With the help of this feature, you can also edit your stream's description on most of the streaming services.
🔥 Live stream customization options
User experience is our highest priority. Therefore, we are constantly working hard on improving it. With Restream Studio, it is possible to move the appearance of your live stream guests in virtually any fashion. Also, there's no overlapping between videos and the chat comments or captions. Smooth experience means quality of your live streams, and our webcam software surely delivers it.
🔥 Full HD streaming
Last but not least, you now have a choice to live stream in Full HD resolution or stay with the traditional 720p option. One of our latest features allows Pro users to impress their audiences with stunning 1080p live videos via Restream Studio.
Wrapping up
Restream Studio is a multifunctional live streaming companion that helps you create professional live content and broadcast it simultaneously to more than thirty streaming platforms, like YouTube Live, Facebook Live, LinkedIn, Twitch, etc. It has lots of amazing features and tools to help you maximize your audience reach in the most straightforward yet elegant fashion. Some of the most useful features of Restream Studio include:
Multistreaming
Inviting guests
Playing videos on-stream
Interacting with a cross-platform chat
Chat overlays and moderation
Full HD streaming
Screen sharing
Adding captions
Visual customization
Editing titles
We at Restream constantly come up with new ideas and evolve our products. Our latest update in the form of Full HD streaming, chat overlays, and chat moderation proves exactly that! Don't hesitate to message us if you want to learn more or have any questions.
Your live streaming companion
simple, professional, reliable
Get Started