Let's talk about something that just a few years ago was considered a funny joke, to say the least. Who could've imagined that people would be able to live stream video games for a living? Today, such a childish idea is more than reality – this is the way of living for some people. We want to support gamers in every possible way. That is precisely why we've prepared a complete guide on live streaming video games.
In this article, you will learn about basic streaming setup and how you can improve it to make your stream look more professional. Also, we will talk about the pros and cons of the most popular streaming platforms, such as Twitch, YouTube, Facebook, etc. Last but not least, we will share some useful tips on how to grow your audience and make money with live streaming. Brace yourself, as it's going to be a hell of a ride!
🎮 Why is game live streaming so popular?
First off, we want to reflect on the factors behind the popularity of game live streaming. As a relatively simple concept, it does something we love so much, but in a way that is so much easier to access. We are always hungry for emotions and communication. Therefore, if you look at the most popular streamers, you'll notice they all are incredibly energetic and talkative. Ever since the ancient times, we've enjoyed watching the gladiators fight, the Olympic games, or any other competition for that matter.
Another incredibly important factor that has helped game live streaming gain its incredible popularity is a sense of community. The need to be part of a community is essential for pretty much any human being. And game live streaming provides exactly that in people's living rooms. Apparently, around 48% of gamers prefer watching live streams to playing video games themselves.
Lastly, since most of the popular streamers are professional eSports players, viewers can learn something new and become better at their favorite games. Viewers can learn not only from their gameplay but also via live communication by asking game-related questions. Live interaction is the key component for any successful streamer.
⚙️ What are the basic requirements for game streaming?
Now let's talk about the things you need to start live streaming. Surely, you don't need to participate in the Glorious PC Gaming Master Race to have high-quality live streams. However, it is true that the more powerful your machine is, the higher the stream quality can be. The low-budget hardware recommendation typically includes an Intel Core i5-4670 processor, 8GB of RAM, and Nvidia GTX 650 series or higher. Of course, you can live stream with consoles and smartphones, though.
Apart from having a strong PC, you also need a good webcam and microphone. Remember, the audio quality is especially underestimated. However, consider the following: a lot of viewers simply listen to live streams, rather than actually watch them.
Of course, you will need a third-party app like OBS Studio or Streamlabs OBS, which transfers your data to a streaming platform. Restream Studio, on the other hand, allows you to stream chatting sessions with your viewers right from your browser. You can forget about dozens of tabs and windows when you want to take a break from streaming games!
Also, don't forget that a stable internet connection is as important, if not more, as all other components. An ethernet connection is preferable instead of a wireless one. Another thing that also matters is the upload speed. It basically determines how much information can be streamed each second. It is recommended to have an upload speed of around 5 Mbps to have live streams of decent quality.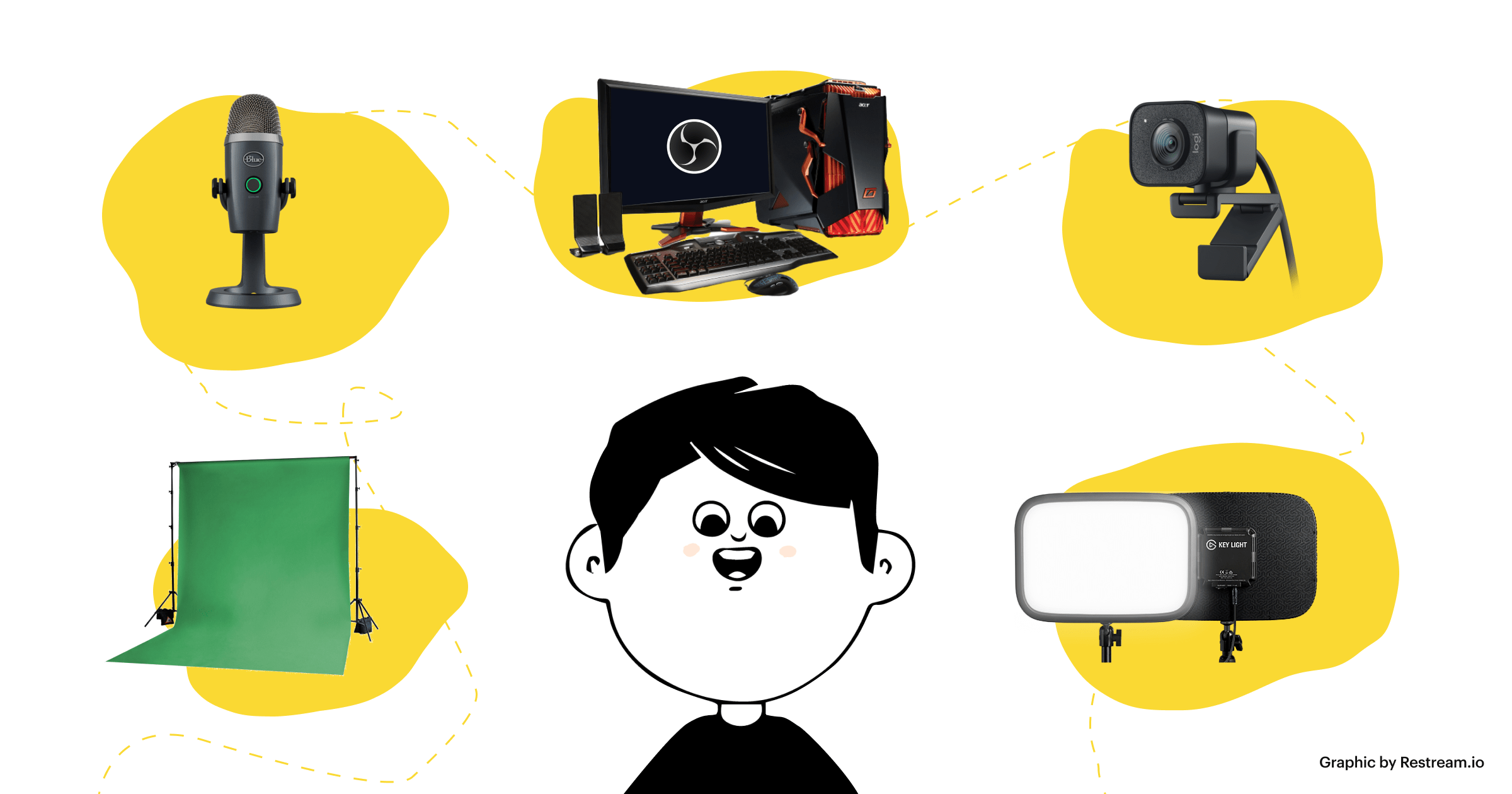 Additionally, you might want to invest more in the lighting and all sorts of different special effects, like a green screen and custom overlays. Such an investment speaks of your level of commitment, which can attract more viewers.
🤔 Which streaming platform should I choose?
If this question was raised a couple of years ago, the answer would be pretty obvious and unequivocal. And indeed, Twitch used to be the only harbor for gamers. However, nowadays there are some amazing alternatives to good old Twitch. Let's take a closer look at the popular streaming platforms for gamers.
Facebook Gaming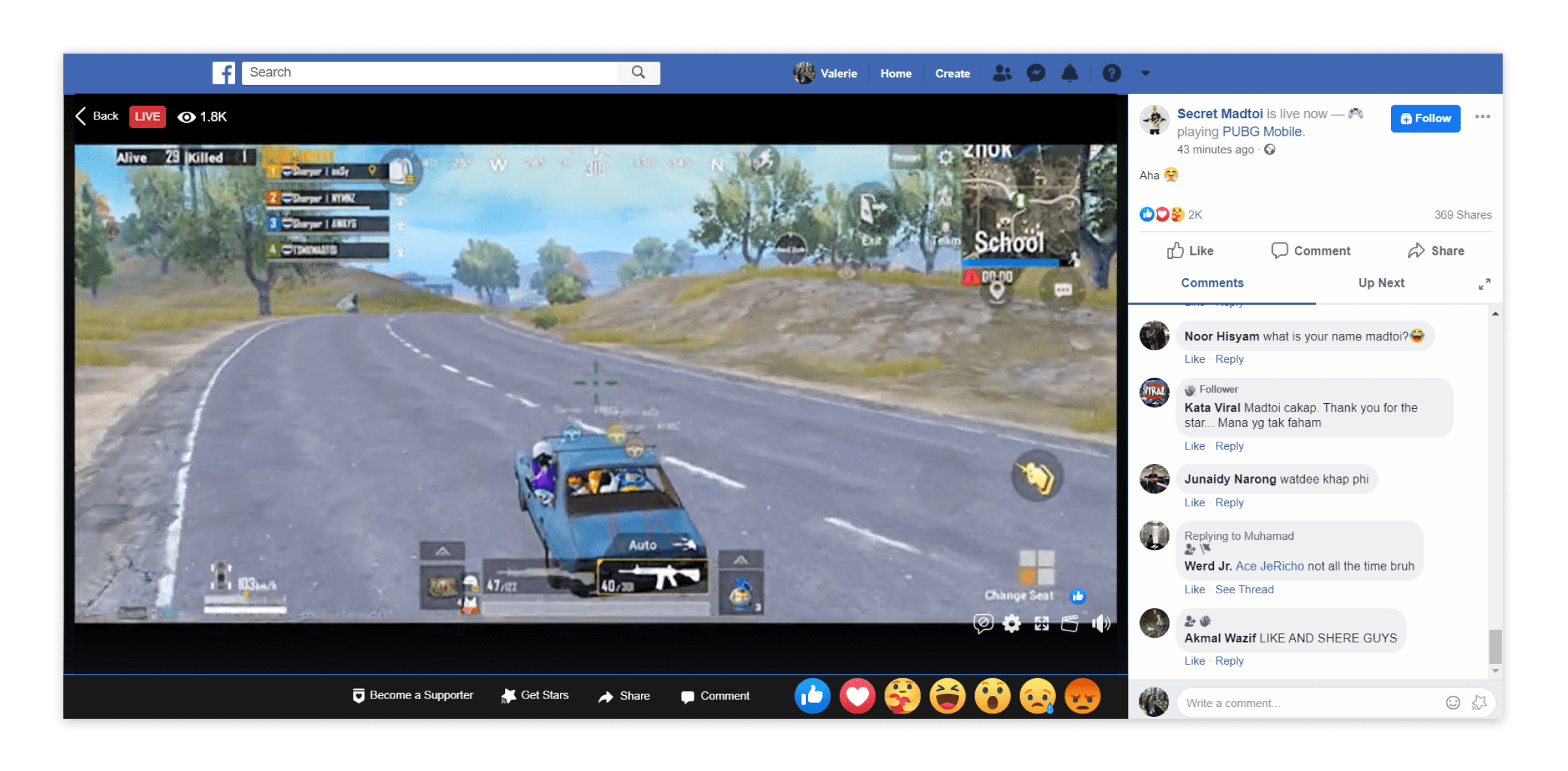 Game live streaming has become popular and profitable extremely fast. No wonder Facebook also wanted its share. Unfortunately, the road to beating Twitch is way too long. Nevertheless, Facebook Gaming has its advantages. Many streamers believe it is easier to make money with Facebook Gaming than with YouTube and even Twitch. This can be explained by the pre-existing audience. Gamers can share their streams on their timelines and in gaming groups.
Another benefit of using Facebook Gaming is a special program called Level Up, which offers streamers customized support, access to high-quality streaming (1080p, 60 fps), and a special currency for your fans to support you. However, Facebook Gaming still has only 11% of total hours watched, which is definitely the biggest disadvantage.
Twitch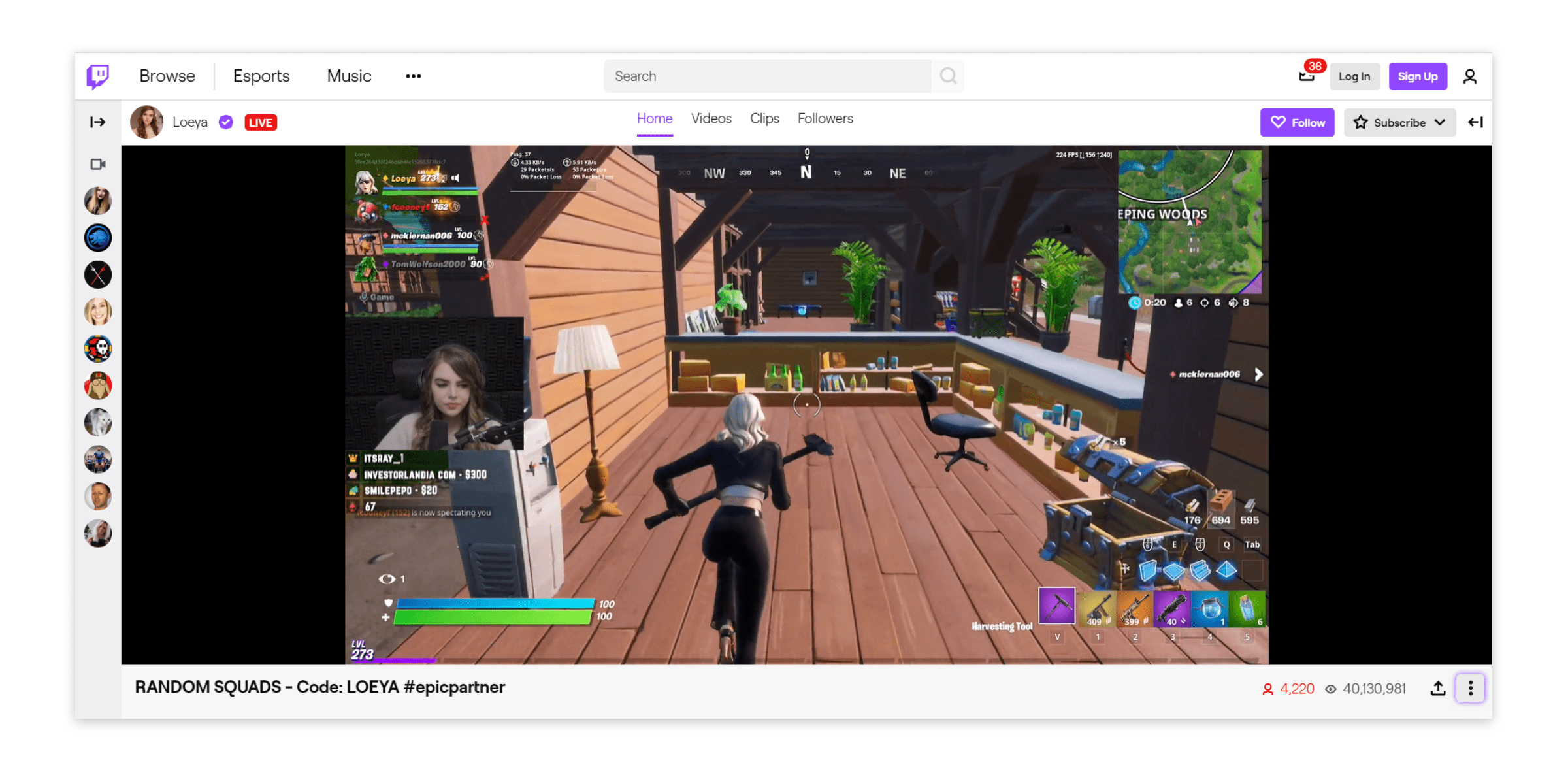 They say all roads lead to Rome. Similarly, we've come full circle to finally address the elephant in the room and admit the fact that Twitch is indeed the biggest streaming platform for gamers. It seems that Twitch has everything: from a user-friendly interface and chatbots to a clear partner program and millions of viewers. Undoubtedly, Twitch is the way to go.
Unfortunately, every coin has two sides, and Twitch is no exception. Beware of trolls when live streaming on this platform. There are lots of users who will insult and mock you just for fun. Although typically this is no big deal, some streamers might not handle the pressure. The golden rule is to stay calm and confident, and they will eventually go away.
Considering the fact that every streaming platform has its pros and cons, you might want to live stream on every one of them simultaneously. With Restream, you don't need to choose. You can simply multistream on each of them. Moreover, Restream offers incredibly useful features like analytics, chat, and Live Studio that can help improve your stream and grow your audience.
😎 How to become a successful game streamer
Having a proper streaming setup is half of the job done. We now want to share with you how to do the other half. Let's get straight to business and cover some helpful recommendations on how to become good at game live streaming.
First and foremost, you should choose a game that fits two simple criteria – it is trendy and it brings you joy. Consider targeting games like League of Legends, Fortnite, VALORANT, CS: GO, Dota 2, and GTA V. All of them are extremely popular and can be super fun to play. Here you can monitor the latest trending games.
The other advice is to be consistent. Stick to a regular schedule and try to always show up at the scheduled time. This not only shows your commitment but also gives a sense of reliability to potential subscribers. Consider using Restream Events for days when you are not able to live stream. This tool allows you to broadcast your pre-recorded videos on multiple streaming platforms when your viewers expect you to go live.
Don't forget that the ability to interact with viewers is the biggest advantage of live streamers. Many streamers shift their priority from actually concentrating on the game to constantly engaging the viewers. Keep the conversation going as much as you can, but don't force things. Keep it simple and natural.
Brand your live stream like a pro! Choose from hundreds of amazing gaming templates on Placeit. It has everything you need to make your live stream unique and eye-catchy: Twitch panels and overlays, YouTube banners and thumbnails, animated logos, etc. And just for your information, all templates are fully customizable!
Watch your behavior. It is not rare for streamers to ruin their careers with toxic behavior or rule violations. Racism, sexism, hate speech, cheating, and nudity are only the tip of the iceberg. There are way more things that can get you in trouble.
Appreciate every subscriber. It is important to show gratitude to your viewers, especially those who follow and subscribe. You are able to make money from gaming only thanks to your viewers. So make sure your audience knows you appreciate this fact.
Run polls, giveaways, and contests. The right incentives can not only attract newcomers but also keep the old ones. Some cool giveaway ideas include free game keys, gift cards, and in-game currency or customization features.
Want more live streaming insights and tips? You are welcome to our 👉 Discord channel, where hundreds of like-minded people share their experience. It's like Reddit, but faster!
🙌 Wrapping up
The future of live streaming for gamers looks bright. That's why, if you want to pursue a career as a professional streamer, now is the perfect time to start. You will need a strong PC, smartphone, or console to stream from. Consider buying a good webcam and microphone, as the stream quality is crucial for attracting new viewers. For the same matter, it is important your lighting is also top-notch.
Before you are all set and ready to live stream, choose a game you would like to stream and commit to it. Be consistent with your schedule, and don't forget to interact with your viewers. You can skip the hard choice of a streaming platform and multistream with all of them via Restream. And if for some reason you can't stream at the scheduled time, you can use Restream Events. It allows you to live stream even when you are not able to.