Facebook is one of the largest websites in the world and the second most popular live video platform in the U.S. When you broadcast live videos on Facebook, you have the potential to reach thousands of people. To get that many eyeballs on your Facebook Live stream, however, you need to produce exceptional content.
This guide to Facebook Live streaming will help you go live on Facebook, know what kind of content to stream, and create live videos that are more engaging for your audience.
Go live on Facebook with Restream.
Get started for free
What is Facebook Live?
Facebook Live is a live video streaming feature that lets you broadcast a live video to a Facebook profile, page or group. You can live stream on Facebook on desktop or with the mobile application. Facebook's live streaming feature is free to use — all you need is a Facebook account.
Launched in 2016, Facebook Live enables individuals, businesses, organizations and public figures to share live videos directly with their friends and followers.
The 5 benefits of streaming on Facebook
Facebook is an excellent platform for live streamers in all genres because it offers several benefits.
Wide reach. Facebook boasts over 3 billion monthly active users worldwide, offering a huge potential audience for your live streams.
Visibility. Facebook Live videos are pushed to the top of your followers' news feeds and trigger notifications to let your followers know you're live. It increases the chances that more people will tune in.
Real-time engagement. The live chat on Facebook Live videos lets viewers interact with you directly and in real time. You can have conversations with your followers and build trust with your community.
Versatility. Facebook Live isn't limited to a specific niche or industry. You can stream on Facebook whether you're a gamer, chef, artist, entrepreneur or public figure.
Robus metrics. Facebook provides you with analytics and insights about each of your live videos, including the number of viewers, demographic data and engagement metrics. You can use this data to understand how your content was received by your audience and tailor future live streams accordingly.
Start your first live stream on Facebook
It's easy to start streaming on Facebook and you can control your settings. You can even live stream content that's not happening live, as long as you make it clear that you're streaming pre-recorded content. The best part is you can do it all from your phone, tablet, laptop or desktop, with a professional software and hardware rig or through a multistreaming platform.
How to live stream to Facebook on mobile
Facebook has made live streaming from its mobile app incredibly easy, so an impromptu stream is never out of the question. Follow these steps:
Open the page, group or profile you want to stream to.
Tap the Live Video button at the bottom of the post composer. Facebook needs permission to access your camera and microphone.
Add a description, tags, location, feeling and activity to your stream. You can also add fun effects and stickers.
Tap Go Live.
To add a guest to appear on your live stream, tap the Add guest button (the person with the plus sign next to it) and search for friends and followers to invite.
To create a poll during your live stream, tap the Poll button (the three uneven bars).
Tap the menu at the bottom right (the three bars) for more settings and options for your live stream.
Tap Finish when you want your broadcast to end.
When the live stream is finished, it will appear as a video post on your profile, page or group with the tag "Previously Live."
Adding a description, tagging friends, checking in to a location and adding a feeling are optional actions to take when you start a Facebook Live stream, but they're highly encouraged. They can increase your reach and make your stream more attractive for viewers to watch.
How to live stream to Facebook on desktop
You can go live on Facebook from desktop in one of two ways: via Facebook's live streaming studio, Facebook Live Producer, or with a third-party live streaming software such as OBS Studio or Restream Studio.
Go live with Facebook's live streaming studio
All you need for this option is a webcam and a Facebook account.
Make sure you are signed in to the proper Facebook account and go to facebook.com/live/producer.
Choose whether you want to go live right now or create an event to go live at a later time.
Select your profile timeline, page or group as your streaming destination.
Select your webcam as your video source.
Add details such as a description, friend tags, locations, feelings or activities.
Add more details such as polls, questions or graphics.
Click the Go Live button when you're ready to start broadcasting.
Go live on Facebook with Restream Studio
If you have a high-quality camera, a microphone, or a multi-cam setup, you might need streaming software instead of Facebook Live Producer to create an engaging and professional-looking broadcast. For that, you need live streaming software like Restream Studio.
1. Create a new Restream account or log in if you already have one.
2. Add your Facebook account to Restream. You can read our detailed instructions on how to connect Facebook and Restream.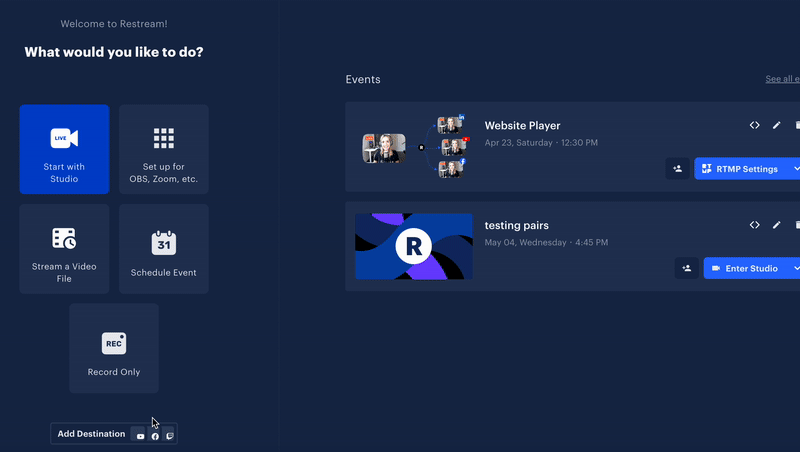 3. Enter the Restream Studio, a browser-based live streaming software.
4. Adjust your stream settings, such as adding graphics, changing the layout or queuing up guests. You can easily add guests to your Facebook Live stream using Restream.
5. When you're ready, select Go Live to start your Facebook Live broadcast via Restream.
Why you should go live on Facebook with Restream
Restream makes Facebook Live streaming a breeze. Not only can you multistream to other platforms simultaneously, but you can also schedule pre-recorded videos to go live on Facebook using Restream's Upload and Stream.
You can also engage and interact with your audience thanks to Restream's multichannel live chat; and you can add up to 10 stream participants when you use our live streaming software, Restream Studio, to go live on Facebook.
Some of the other benefits of Facebook Live streaming with Restream are:
Stream in Full HD
Share your screen and choose different screen layouts
Display custom graphics including overlays, captions, and logos
Add a scannable QR code that links to any URL
Stream with multiple cameras
Play a local video file on-stream
Save a recording of your stream to edit and repost later
Get robust stream analytics
What kind of content does well on Facebook Live?
Facebook Live is a versatile platform so you can use several types of live video content and see results. It's important to see what works best with your audience, too.
Live event. Put an in-person event online via Facebook Live.
Interview. Find someone else in your niche or industry and interview them live. Let your viewers submit questions too.
Q&A or AMA session: Let your audience take the reins and ask you questions during a live session.
Behind-the-scenes video: Give an inside look at your company, home studio or wherever your audience might be interested in seeing.
Product demonstration: Demo a product or tool for your audience, whether it's one of your own products or someone else's.
10 tips to help you stream on Facebook
Knowing how to go live and what kind of content to stream is only half the battle of Facebook Live streaming. If you want to get any engagement, you'll need to keep some of the following tips in mind.
1. Ensure you have a strong internet connection
You don't want your stream cutting in and out the whole time. Spotty connections are frustrating for viewers and they won't stick around long if your video is constantly freezing. If you're streaming on mobile, use Wi-Fi instead of cellular data. If you're streaming with a computer, connect it to the internet via an ethernet cable, rather than using Wi-Fi. Always use the strongest internet connection you have available so your live stream stays smooth and uninterrupted.
2. Give your audience opportunities to react
Facebook Live videos have several features you can use to engage with your audience. You can run a poll, give top fans a shoutout with the Front Row feature, pin comments to the top of the live chat, and invite guests to go live with you. In addition to these features, set aside time for question and answer sessions during your broadcast or plan an activity that requires audience interaction, like a quiz.
3. Do a test run beforehand
To make sure everything is working and to get yourself a little more comfortable on camera, do one or two practice streams. Facebook lets you set your audience to "Only Me" when you're setting up your live broadcast. Make sure your camera and microphone are working, that your lighting looks good and that your internet connection is solid.
4. Get decent lighting
Good lighting makes a huge difference for live videos (or any kind of video for that matter). The best and least expensive option is to sit facing a window, so you have natural light shining on your face. If you don't have access to natural lighting, get a ring light or some cheap clamp lamps and position them right behind your camera.
The goal is to illuminate your face while you're on camera, so avoid having lighting sources behind you or directly overhead (unless they're balanced out with additional lights placed in front of you). We have a thorough video lighting guide you can check if you need more tips.
5. Team up with other creators
You can easily add people to your Facebook Live video if they are your Facebook friend or follower. This makes it easy to find other content creators and have them join your broadcast. You can interview each other, do an activity together, or take joint questions from the audience. The other creator's regular viewers will tune into your broadcast and may even start following you and your live streams too.
6. Broadcast for a longer period of time
Facebook recommends longer live videos so you have more time to engage with your viewers. The platform prioritizes videos of at least three minutes or more to encourage people to keep watching. The longer you're live, the more chances you have of your followers seeing your stream.
7. Get a moderator
If you have a lot of people tuning in, trying to do the stream while also moderating the chat can be tough. You want to be sure nobody in the chat says anything obscene or trolls any of the other viewers. Finding and hiding inappropriate comments while you're in front of the camera isn't always easy, so you might want to get a second person to watch the chat for you.
8. Widen your reach with multistreaming
Don't limit yourself to just Facebook — go live on multiple platforms simultaneously. Think of how many more viewers you could reach if you're also live on YouTube, Instagram, LinkedIn and multiple other streaming platforms. When you multistream, your audience can choose to watch you on their favorite platform; so if they don't have a Facebook account, they can watch on YouTube instead.
Live stream everywhere,
all at once
Get started for free
9. Edit and upload previous live streams
Once the stream is over, your work isn't done. Facebook will automatically post the stream to your timeline as a video, and a recording will be saved in your Facebook video library. Download the recording of your stream and edit it so you can post it as a video-on-demand (VOD) on another platform, like YouTube. You can also make a highlight reel or short clips to post on social media and YouTube.
10. Tell viewers what to do next when you sign off
At the end of your stream, don't just say "bye" and sign off. Give your viewers a specific action to take. Do you want them to follow you on other social media channels? Visit your website? Check out your new book or latest products? Or maybe you just want them to follow you on Facebook so they can get notifications when you stream. Come up with a concrete action for viewers to take and say it at the end of your live stream.
FAQs
Is Facebook Live still available?
Yes, you can broadcast live videos on a Facebook profile, page or group for free. All you need is a Facebook account. As of October 2022, Facebook ended its live shopping feature, so you can no longer add products for sale to your Facebook Live stream. But you can still go live with a regular broadcast on Facebook.
How do I go live on Facebook?
You can go live on Facebook using either a mobile device or computer. With a mobile device, you need the Facebook app to go live. With a computer, you can either live stream using Facebook Live Producer or with a third-party broadcasting software such as Restream Studio.
How long does a Facebook Live stream last?
The time limit for streaming live on Facebook at one time is eight hours. Once you reach this time limit, you must stop your stream and start a new broadcast.
Will someone know if I watched their Facebook Live stream?
It depends. If you're their friend, they might get a notification when you start watching, but they might have turned this feature off. After the stream is over, the host can see statistics about viewers, but not information about whether you were watching.
Can I control who sees my Facebook Live stream?
Yes, you can choose your audience type when you start a new broadcast on Facebook. You can make the audience public, private or for just you. You can also add age and location restrictions to your live broadcast settings. You can also set up a private group with only certain members and stream to that group.
Wrap-up
If you stick to the tips in this guide, you can take your Facebook Live streams to the next level. Live streaming to Facebook and other social media platforms is easier with Restream. You can multistream, go live straight from your browser, easily add guests and much more.