Intro
In 2016, when Facebook launched live video streaming, they didn't have to look for new things to make people like it more. The social network started the year with over one and a half billion active monthly users, and it acquired over three hundred million before the year ended. It all seemed like business as usual for the biggest social network in the world.
However, it's hard to say that Facebook wouldn't be where it is today if it wasn't very good at adopting what's new and hot. In 2013, it was video autoplay on the timeline. In 2016, it was live video streaming, a very popular content format everyone started using — your friends, your favorite comedian, your religious community, your favorite brand. Your grandma might be using it, too.
If you're still on the fence regarding the combination of the world's hottest form of content and the biggest social network, you're at the right place. This is the ultimate guide to Facebook Live; covering everything from why you should be streaming live video to all the different ways Facebook lets you live stream.
That's not even everything! So, buckle in and let's get started by answering a simple question: what's so great about live video?

Why is live streamed video so awesome? A 5-point answer
The pioneers of live video streaming, or "broadcasting" as they liked to call it, were the founders of Justin.tv. This now defunct platform is probably more famous for its gaming-content-first offshoot Twitch, but in its core, it was much more like YouTube for live video broadcasting.
The Justin.tv team was really onto something with live streaming, even though they might have been a little ahead of their time. It took a couple of years to find out what makes live video streaming so great. Now that we know, there's no getting around it.
1. Audiences are used to live content
Do you know another popular medium that's built, at least partially, around live visual content? It's television, of course. It's a significantly less drastic change to go from watching TV to watching live streaming than it is to go from watching TV to reading blog posts. Simply put, live streamed video is familiar and fresh at the same time.
2. It allows a sense of immediacy and direct communication
Some types of live streaming are better at pulling this off, that's for sure. Live streaming an event might be immediate, but it's not as intimate and direct as, let's say, streaming from the bathtub. Either way, viewers get a sense that there's very little separating them from whatever they are watching. Live streaming gives them access. That creates a sense of immediacy that's very beneficial if you're able to harness it.
3. It results in more engagement than regular video content
The numbers say it all – live video is far superior at making viewers engage with the content than regular video. If you're not sure why this is important, the short version is - Engagement plays a crucial part in the success of influencers and broadcasters alike on a social network.. Also, if people want to engage with you and your content, it can simply mean that you're making content they want to react to. That can be a good thing.
4. It's taking over the internet
Admittedly, video isn't the most economical type of content. It takes bandwidth to broadcast video. It also takes bandwidth to view it. Cisco predicts that, in the next three years, video will account for 82% of all IP traffic. So yes, video is taking over the internet, and live streamed video is still video, so it's on the winning side.
5. It's easy
Accessibility is the key trait a new technology needs if it's to have good adoption rates. Live streamed video is incredibly accessible. You can stream it from a smartphone, so right off the bat an incredible number of people can do it. You can also stream it from a webcam, and who knows how many people have those. Most social networks have a live video streaming service, so live streaming couldn't be easier or more convenient.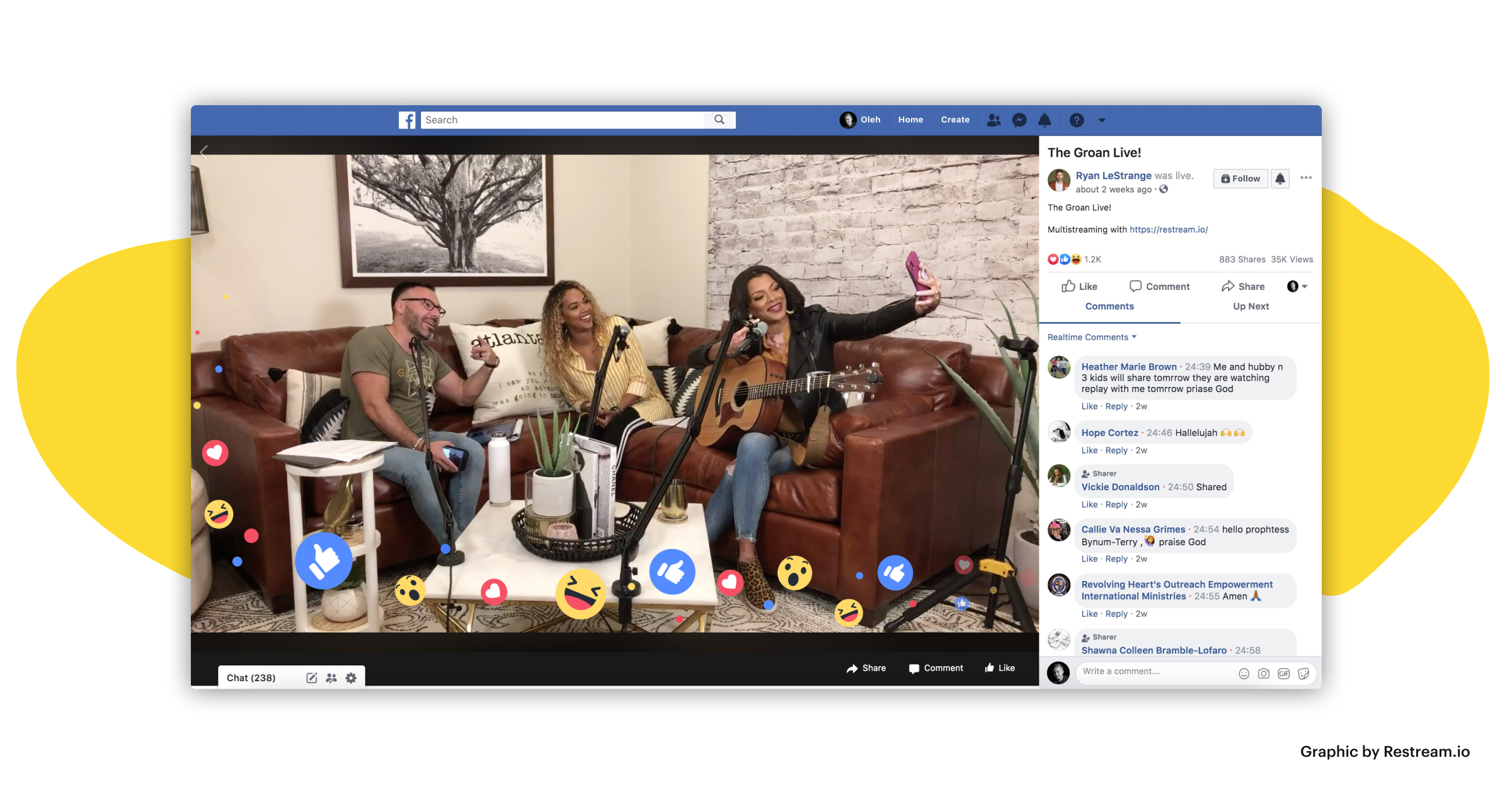 Why live stream video on Facebook?
Out of all the social networks and video sharing websites in the world, why choose Facebook? That's a great question, and the answer is simple.
It's Facebook.
The social network with 2.38 billion monthly active users, and 1.56 billion daily active users. Facebook is the third most visited site in the world, as ranked by Alexa. It's the most popular search term on Google, according to ahrefs.com. It's the company whose profits continue to exceed expectations even as the company is facing some very damaging PR.
The things that make Facebook such a great social network are also what make it very attractive for live streaming video. The famous reach it affords, the targeting and analytics capabilities that are best in the business, the advertising platform, the synergy with Instagram — Facebook is just awesome, whether you like it or not.
Facebook makes it very easy to join in on the live streaming video fun, and that's what makes it so great. Facebook is a little bit fuzzy on the quality of video it supports, but in general, you can stream in 720p, 30fps, and be A-Okay with your viewers. You can stream using your webcam, a camcorder, or even a multiple camera setup. If you know how to monitor the quality of your streams, you can make the most out of any setup you use.
You can even live stream content that's not happening live, as long as you make it clear that you're streaming pre-recorded content. The best part is you can do it all from an app on your phone, tablet, laptop, desktop, with a professional software and hardware rig, or through a multistreaming platform.
Live streaming on Facebook is incredibly easy, and it's potentially very beneficial. If that's enough to get you intrigued in the live streaming video on the world's most popular social network, here are all the ways you can live stream on Facebook.
How to live stream to Facebook from your smartphone
The Facebook app is the original home of Facebook Live since that's where the service first became available. If spur-of-the-moment streaming is called for, the smartphone can be the perfect tool for the job. However, your phone can also be a part of a stream you plan and advertise.
It makes sense that live streaming with Facebook Live using the Facebook app should be easy, and it is. You can stream from your profile page by tapping on the "what's on your mind" field and then choosing "Go Live" as the type of post you want to create. Alternatively, you can do the same from your feed by tapping on the camera icon in the upper left-hand corner.
Facebook needs permission to access your camera and microphone, and you should give it when you receive the prompt. You'll see camera modes at the bottom of the screen — switch it to "live," and pause for a second.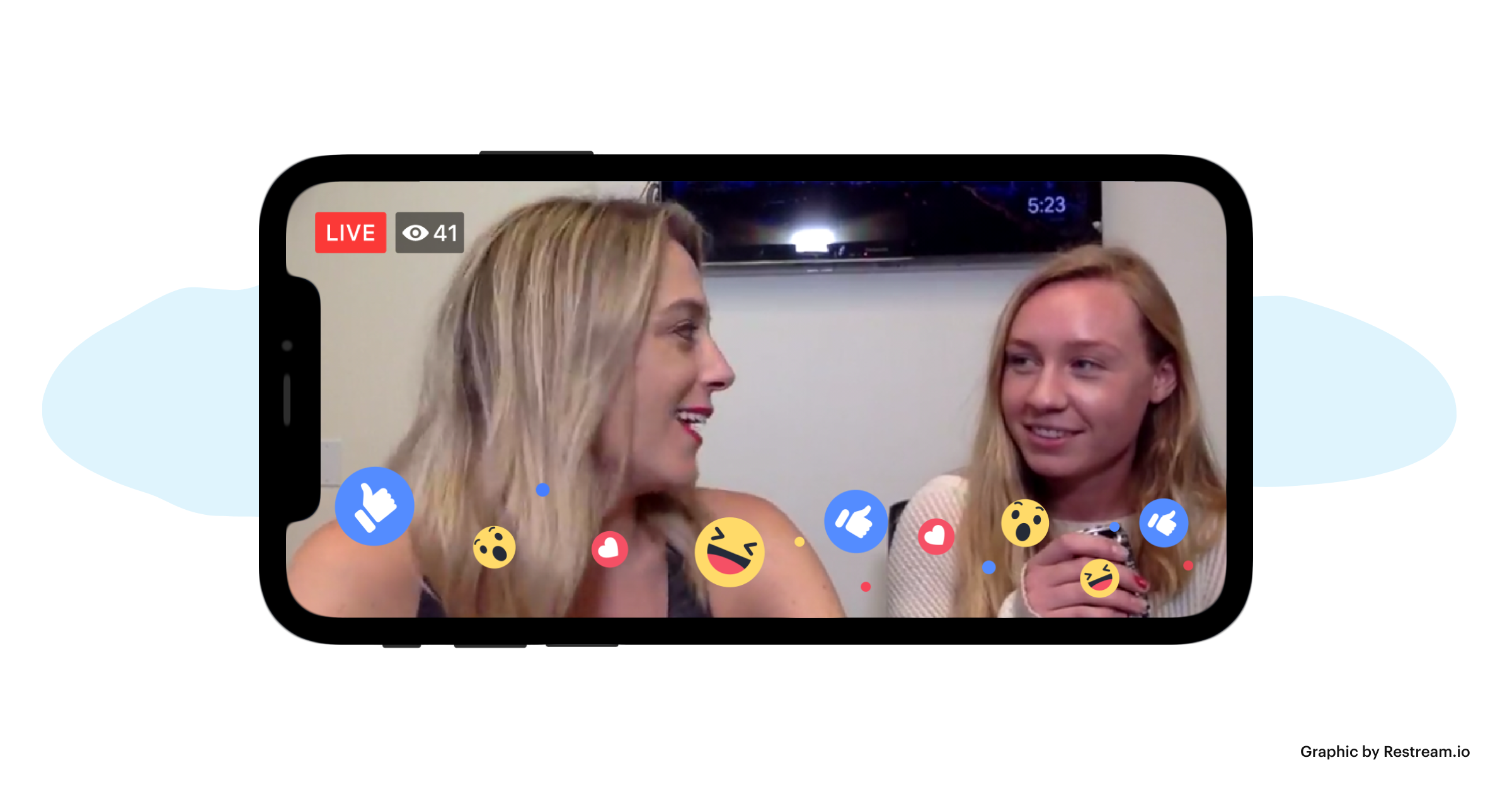 Before you actually go live, you'll need to do a couple of things. You need to choose the privacy setting for your video, and how you want the video posted after you end the stream. You'll also be able to write a description, tag friends, pick a location, filters, and image overlays.
Doing these things can drastically increase the success of your broadcast, and soon you'll see the benefits of planning a live stream. So take your time, if you have enough of it, and get ready to hit the "start live video" button.
How to live stream to Facebook from your desktop, using a webcam
Live streaming on Facebook from a desktop or a laptop computer with a web camera is very similar to doing it with a smartphone. You just get fewer customization options, so if you're really keen on using filters, maybe it would be best to stick with the smartphone.
To get started do the following: when you're on your Facebook page, click on "create post." Find "live video," in the content options and click on it. You will receive a prompt to give Facebook access to your computer's camera and microphone. You'll need to grant access in order to live stream.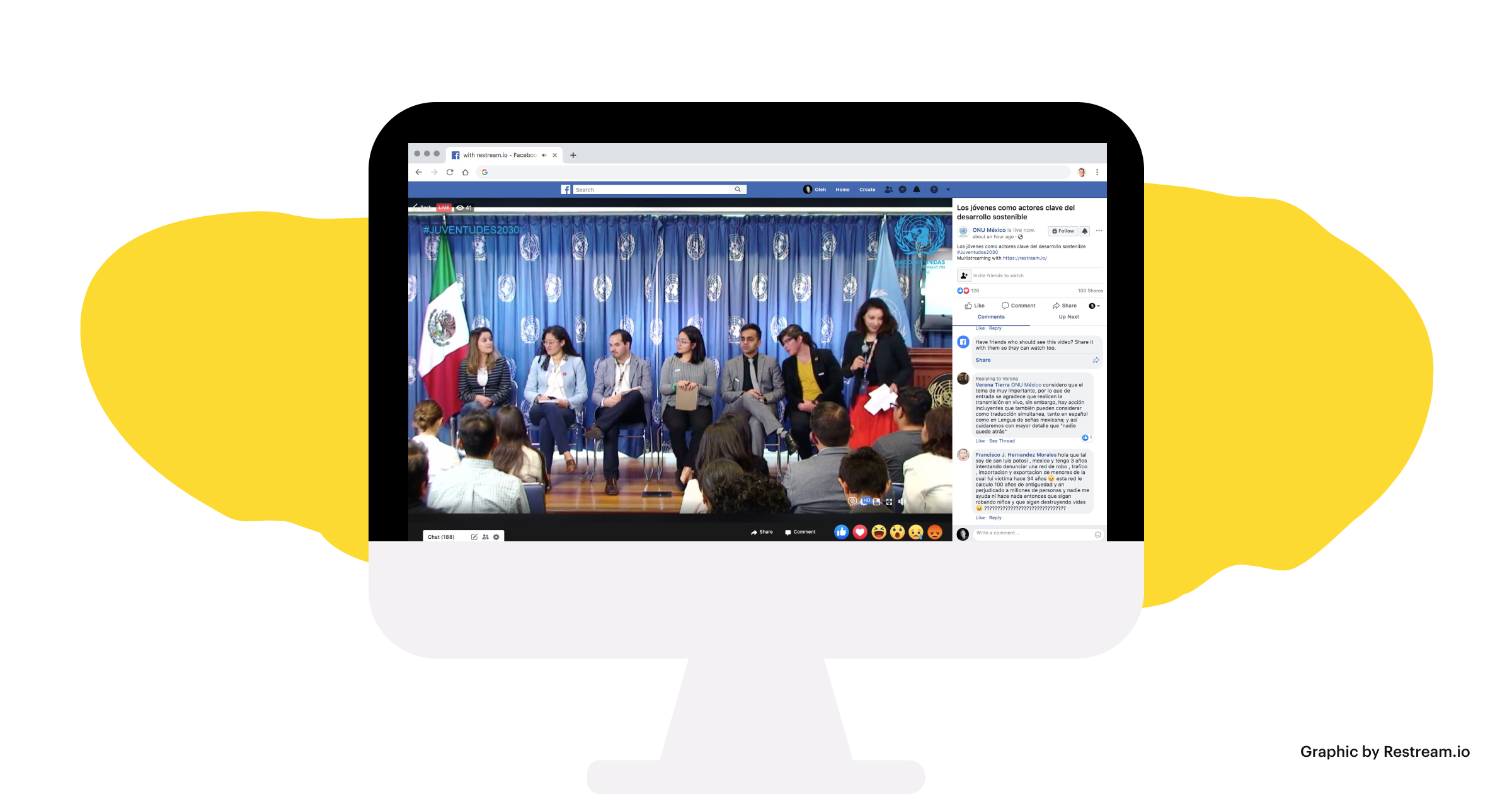 You'll see a preview, and you'll be able to edit the video's description before you go live. Once you do, the video will appear on your page, at which point you can use the upper right corner drop down menu to edit it.
How to live stream to Facebook from your desktop, using a more professional setup
If you have a seriously good camera, a microphone, or a multi-cam setup, Facebook's platform will not have what you need to broadcast high-quality, multi-cam video. You'll need to use special streaming software, and you'll need to know how to make it work with Facebook.
Let's say you decide to use OBS Studio, one of the most popular open source broadcasting tools. Go to your Facebook page. Press the "live video" button and get the notification that camera access was denied. However, you'll be able to choose a "connect" option.
Clicking on it will show you all the options for sharing, describing the video, adding tags, and all those things. Take care of it all but remember that you're after something else. You'll see two pieces of information on the screen: the server URL and the stream key. Copy the key.
In the OBS Studio settings, choose the "stream" option, pick "streaming services" as the stream type, choose Facebook Live, and copy the stream key. At that point, your OBS Studio is connected to Facebook. You can stream using your custom hardware and software rig.
Read Next: Ways to ruin your streaming career 📍
How to multistream to Facebook and other platforms at the same time
People like streaming to multiple platforms because that allows them to address their audience regardless of the social network they are on. There's a whole bunch of benefits to multistreaming, but it really comes down to this: if you would be able to multistream to Facebook and YouTube at the same time, why wouldn't you?
Using a multistream tool such as Restream, you can stream to multiple websites at the same time. This is something you would typically do if you had a setup like the one mentioned in the previous tip — a camera and a microphone plugged into OBS or any other type of encoder.
Easy live streaming for everyone
Run professional live streams from your browser.
Get Started
The trick here is to link your Facebook account with Restream. You do that by going to your dashboard, clicking "add channel," then picking Facebook Live. You will get a prompt to connect to Facebook, which you should accept, after which you should also accept to give Restream access to your account. You will get to pick the visibility of your stream, and that's pretty much it.
The next time you want to multistream using Restream, just ensure that Facebook and your other platform of choice are both toggled on, and you're set to go.
How to live stream pre-recorded content to Facebook
Facebook doesn't let you stream video that's pre-recorded as if it were live, not unless you qualify to use Facebook Premieres. If you're a mere mortal, then you must ensure that your broadcast unmistakably shows the video you're streaming is a recording, not a stream of an event as it's unfolding in front of the camera.
Still, having a way to stream pre-recorded video can be very useful, even though everyone will know it's pre-recorded. If you signed up for Restream, you might notice it has a special tool called the Restream Events. It lets you upload videos and pick when and where you want to publish them.

Using it is simple. You just upload the video and create an event that will contain all the necessary information about the stream. You'll be able to set the time and date, the title of the event, and of course the video you want to stream. There's not much else for you to do after that.
What kind of content does well on Facebook Live
Live streamed video content is, in a way, just like any other type of video content. The only difference is that when we say "regular" video content we think of something that was recorded and uploaded to a video sharing website, while live streamed content is broadcast as it's happening.
For the most part, you can use the same forms of content to achieve the same goals as you would when uploading a video. If you're out of ideas, here are a couple of types of content that, at least from a technical standpoint, shouldn't be too hard to pull off live.
1. Stream from an event
When you stream from an event, you're giving everyone who couldn't attend it a window into the goings-on. You can organize streaming of an event you're in charge of, or you can stream from an event you are attending. Keep in mind, though, that your hosts might frown on the latter, so make sure it's okay first.
2. Do an interview
Sure, it's much easier to book celebrities or at least reasonably famous people for interviews if you're a big publisher. But don't shy away from interviewing important people in your own niche. Celebrities have the star power on their side, but regular folks can be just as interesting. At the very least, however, you should have a reason to interview that person. It wouldn't hurt to look up to a professional for inspiration. This clip of New York Times' sports columnist Juliet Macur interviewing the Olympic gymnast Simone Biles is a great example of a short and effective interview.
3. Hold a Q&A or AMA session
Q&As or AMAs are incredibly valuable forms of content. They are based solely on audience interaction — you, the content creator, spend time communicating with your audience. They get to ask you what they want, and you get to answer them. This is the type of content anyone could use, from brand spokespersons to religious leaders, and it costs next to nothing to produce.
4. Go for virality
Trying to create viral live content is risky business. The payoff is great if you manage to do it, as it will get you tons of views and a lot of user interactions. But you have to be prepared that your attempt at virality might flop. So hope for the best, but prepare for a "meh" outcome.
Here's something you might try: don't rely on high production values. Try to find an interesting, silly, or quirky premise. Make a live stream that's aware of what it is. Here's an example from LADbible.
5. Behind the scenes video
Behind the scenes videos are great because they give viewers access while explaining how the things they like are made. This kind of content can range from being a light form of entertainment to being educational. The crowd it attracts will also range from fans to people who're fond of learning how things come into being.
This video from Rachel Farnsworth of The Stay at Home Chef fame is a great example. She gives a lesson in video production while letting her audience see how the proverbial sausage gets made.
6. How-to and product demonstration
How-to and product demonstration videos are powerful tools marketers often use to drive their potential customers towards making a purchase. They are effective types of content even in their written form. But with live video, they are immediate, visual, and interactive. Perfect to draw attention and increase sales.
If you're looking for a savvy marketer who knows how to create great demonstration content, look no further than Martha Stewart. She's doing more than just cooking in this video, and she's making more than a product demonstration video.
7. A random or spontaneous video
In some cases, you can go live with little notice, no real plan, and no expectations. You can rant, or say hello to whoever is watching, or answer a couple of questions and connect with people.
Live video streaming can do wonders for organizations and individuals. But remember that it's just a communication tool. You can use it spontaneously, with low production value and no advance notice. Sometimes, live video streaming can be just that — video that you stream live. Nothing more, nothing less.
Facebook live tips: what to do before, during, and after a live stream
By now, you should have some solid Facebook Live knowhow. You're aware of the benefits of live video streaming, and why Facebook is a great place for it. You know how to set up a stream, and you're aware of the power of multistreaming. You might even have an idea for the type of content you want to create.
But have you mastered Facebook Live? Hardly. Live streaming is easy to figure out, but it's very tricky to master. You should know how to prepare for a Facebook Live streaming session. It doesn't hurt to get a few pointers about the things you should and shouldn't do during the stream.
Finally, it's also a good idea to have a post-stream routine that will help you improve your craft with every stream. So here are some tips, including the basic ones, that will take you from preparation all the way through performance analysis.

Before you start streaming
It's often the case with live video streaming that preparation is where most of the work happens. The most important work, at least, because your pre-broadcast activities can make or break your stream. Here are some tips to help you make the most out of pre-stream preparation.
Plan your broadcast. Maybe you're not the type of person who'd write a script for a live stream. At the very least, have bullet points to help you guide the content. If you're new to live streaming, practice in front of a mirror, and do test runs. Be as prepared as possible for the moment you go live.
Promote your stream. If you can, use other channels. Just how far ahead you should announce your live stream is up to you. Keep in mind, however, that you can announce some type of content way ahead before it's about to happen. The payoff justifies the buildup.
Pick the location carefully. Think about distractions, Internet connection strength, and speed. It's easy if you're streaming from your home or a studio. If you're doing it from a remote location, test the connection beforehand. Maybe bring someone to help you prevent people from wandering into the shot.
Some aspects of production matter more than you think. If going live on Facebook, 720p@30fps is what you should aim for. Not much you can do to beat that, but you can invest in decent lighting, and more importantly, a good microphone. Audio influences the perception of quality to an incredible extent.
Broadcast to yourself first. Facebook Live lets you be the only person to see your broadcast. This is a great tool for testing your broadcasting skills, rig, and setup.
Think about the timing. You could live stream an event that's happening outside of your audience's peak activity hours. In this case, your stream might underperform, and you can't do much about it. But whenever it's possible to choose the timing of your streams, make sure that you're streaming when your audience is active. Or at least awake.

During the stream
Live streaming has its own rules of etiquette — not too many of them, but a couple you should know. If you get them wrong in some types of video streams, like in Q&As, you risk alienating your audience. Let's see how you can avert this disaster.
Respect the behavioral conventions of live broadcasting. Yes, it's an online broadcast, but your audience still expects you to follow established conventions. Don't fidget around if you can help it. Use appropriate eye contact. Speak loud and clear so viewers can understand you. Do what TV broadcasters do.
Address people using their names. When you're answering someone's question, make sure you mention their name. Always try to answer viewers' questions, at least a couple of them. That's an important part of the engagement we've been talking about
Give shout-outs. If you have a regular audience, and you notice a prominent regular joining the stream and saying hello, give them a shout out. It helps retain your very important viewers, and it gives the rest something to aspire to.
Ask people to subscribe to your live notifications. You want people to know when you're about to go online, right? Well, they will if they subscribe to your live notifications. It's a good strategy to mention it at least once during your stream.
Keep broadcasting for a bit longer. The ideal length of a broadcast is something you'll have to figure out on your own. But keep in mind that going live for a longer period will give more of your audience a chance to pop in and see what you're up to.
Use calls to action. Marketers are not the only people who are selling something during live video streams. If you have something you want people to do, whether it's buying a product, downloading an e-book, or visiting your website, ask them. Make a couple of calls to action and use them throughout the broadcast.

After the stream
There are still things to do after the stream ends. Maybe not as many things as there are before or during the stream, but you'd be doing yourself a disservice if you neglected to look back at your streams after they are done. Here's what a post-stream routine might look like.
Make sure the stream is over. Don't do the equivalent of forgetting about a hot microphone and blurting out something. The first thing you should always do when you think your stream is over is ensuring that you're in the right and make sure you're offline.
Edit your video. After your live stream is done, you will have the chance to edit it. There's nothing wrong with leaving it as it is, but if you can make it look a bit better, there's no shame in doing it. Your audiences surely won't mind.
Always look at the stats Facebook gives you. Facebook will let you know about interesting metrics such as audience retention, engagement numbers, and clicks. These metrics are what you should use to map your road forward. They will tell you where you're at, and how to get where you need to be.
Promote and share your video if you like it! When your live stream becomes a video, it takes on a completely new life. You can do great things with it, such as boosting it or using it for your blog or newsletter. If you think the live stream went particularly well, and if your editing made it even better, promote it . Extract every bit of value from it.
The best bit of advice about Facebook Live you could ever get would be to keep at it. Live streaming, and particularly live video streaming of Facebook, is a valuable tool. People around the world are using it to connect with existing audiences or to find new ones. Some want to sell products and services or develop brand awareness. Others are more interested in interacting with fans and patrons. People even engage with their religious communities and use live streaming to spread their faiths, beliefs, and ideas. So even if it takes you some time to figure it all out, the sheer volume of possible use cases is an undeniable testament to the usefulness and value of live streaming. So keep at it until you get good.

Bonus: 10 common questions about Facebook Live answered
Still not happy with your familiarity on Facebook Live? You're not alone. The internet is full of people who are asking about very specific things regarding Facebook live video streaming service. We've answered ten of the questions we see come up commonly that weren't already covered by the guide.
1. Can you boost a Facebook Live video?
You can't boost a Facebook Live video, technically. There is a possible workaround that involves scheduling the post on Facebook, then linking to the scheduled post in another post you'll boost, but it might not work. You're free to experiment with it, though, and you can always boost your video after you're done streaming it.
2. How long should my Facebook Live be?
We've mentioned in our guide that the ideal length of your video is something you must determine on your own. Some types of content work best with a shorter format, others require more time. Facebook recommends going live for at least ten minutes. The most you can go is for four hours. Stay live for as long as you can keep your audience's attention.
3. Why is my Facebook Live video blurry?
A common reason for blurry video is a slow internet connection. You need to have a decent upload speed, not download speed, to live stream video. If your upload speed is good but the video is still blurry, there might be something else taking up your bandwidth.
4. Do I have to save Facebook Live video?
Your live video streaming is saved automatically and posted on your page or your profile. You don't have to do anything else if you want to save it. If, on the other hand, you're wondering whether it's required that you keep the video — it's not. You can delete it just like you would any other post.
5. Do Facebook Live videos expire?
They do if you set them to expire. After you're done with broadcasting and the video is posted to your page, under the post options you'll find "edit post." At the bottom right of the menu, you'll find a button that says "published" and clicking it will give you an option to select "schedule expiration." That's where you can set your post to expire, and what happens with it when it does.
6. How do you see old live videos on Facebook?
In general, old live videos on Facebook are treated like regular videos. So you'll be able to find them the same way you would any other video on Facebook, by visiting a page and looking through all of its videos or old posts.
7. Can someone see if I watch their Facebook Live?
It depends. If you're their friend, they might get a notification when you start watching. This is a feature they can turn off. After the stream is over, however, they will be able to see a number of statistics that do not include information about you watching their Facebook Live.
8. Does live streaming use a lot of data?
It can. It depends on the quality of the video you want to stream. Higher quality video requires a larger bitrate or more bits uploaded per second. To stream at Facebook's highest possible resolution, 720p, and get a decent video quality, you'll need to spend at least one gigabyte of data per hour of streaming.
9. Can you control who sees your Facebook live?
Yes, you can. Facebook Live lets you choose whether you want the video to be public, private, or for friends only. It also lets you choose an audience by gender, age, and location.
10. How to be good at Facebook Live?
Usually, putting the audience in the center of the content is good advice. But you should also do the other things from this guide — plan your content, make it with the highest production value you can muster, treat your audience with respect by being professional and interacting with them. Don't forget to include those calls to action — being good at Facebook Live also means using it effectively to achieve your business ends. Martha Stewart would probably agree.