Ever since TikTok introduced live streaming, it's become a top social media platform for live video content. If you have a presence on TikTok and you're ready to take audience engagement to the next level, then you should start live streaming.
In this guide, you'll learn how to make TikTok live videos, how to make money from them, and the best practices for going live on the platform.
The #1 live
streaming solution
Get started for free
👀 What is TikTok LIVE?
TikTok LIVE is the live streaming arm of the popular short-form video app. Rather than shooting, editing and uploading your videos to TikTok for users to watch later, you start filming in real time and viewers can interact with you directly. Just like Facebook, Instagram and YouTube all have live streaming capabilities, so does TikTok.
TikTok live videos are usually short and informal — like having a casual conversation with your viewers. Brands use TikTok live streams to do more formal videos, like tutorials or product demos. Going live on TikTok can be a great way to connect with your audience, build trust and boost engagement.
Why go live on TikTok?
TikTok is the fastest-growing social network and video platform around, surpassing the one-billion-user mark in September 2021. Its popularity is due to how easy the app is to use — anyone can create an account and start uploading videos with their smartphone. The platform thrives on user-generated content, so even unedited, less-than-high-quality content can go viral on TikTok.
Here are some stats to help you get a sense of TikTok's success and why you should factor the platform into your live streaming content strategy:
With the ability to live stream on TikTok, creators can connect directly with their followers in real time. Success on TikTok relies on community building, and there's no better way to foster ties with your fans than with live engagement.
What do I need to go live on TikTok?
Before you can start live streaming on TikTok, you need to:
Download and install the app. If you haven't already, you will need to download and install the TikTok app on your mobile device. It's free to download and to make a TikTok account. As of December 2021, TikTok started testing live studio software for desktop, but it's only available in certain regions and to less than 1,000 users. For now, you'll most likely have to use the mobile app (or a third-party streaming app) to go live on TikTok.
Verify you are allowed to go live. Not every TikTok user is eligible to start live streaming. You must be at least 16 years old and have at least 1,000 followers.
See if you can earn gift points. If you are at least 18 years old, you're eligible to earn gift points while streaming on TikTok. Gifts are TikTok's donation system, which allow users to send streamers money. We'll go into more detail about making money with TikTok below.
Review TikTok's community guidelines. If you want to go live on TikTok, you have to follow TikTok's rules. Read TikTok's community guidelines before you start streaming on the platform.
How to go live on TikTok on a mobile phone
Going live on TikTok is easy — if you meet the requirements. If you want your content to be engaging and professional, it will take a little behind-the-scenes prep work as well. But it doesn't take much to get started: simply open the app and press the Go LIVE button.
Here's how to go live with the TikTok app:
1. Launch the TikTok app.
2. Tap the plus sign at the bottom-center of the screen.
3. Tap the live button, which appears right next to the record button. If you don't see it right away, swipe left until you see it.
4. Pick an image for your stream and give it a title. The title and video will be what makes people decide to watch, so make sure they're interesting and enticing!
5. Change any settings before you go live, such as assigning moderators or activating LIVE gifts.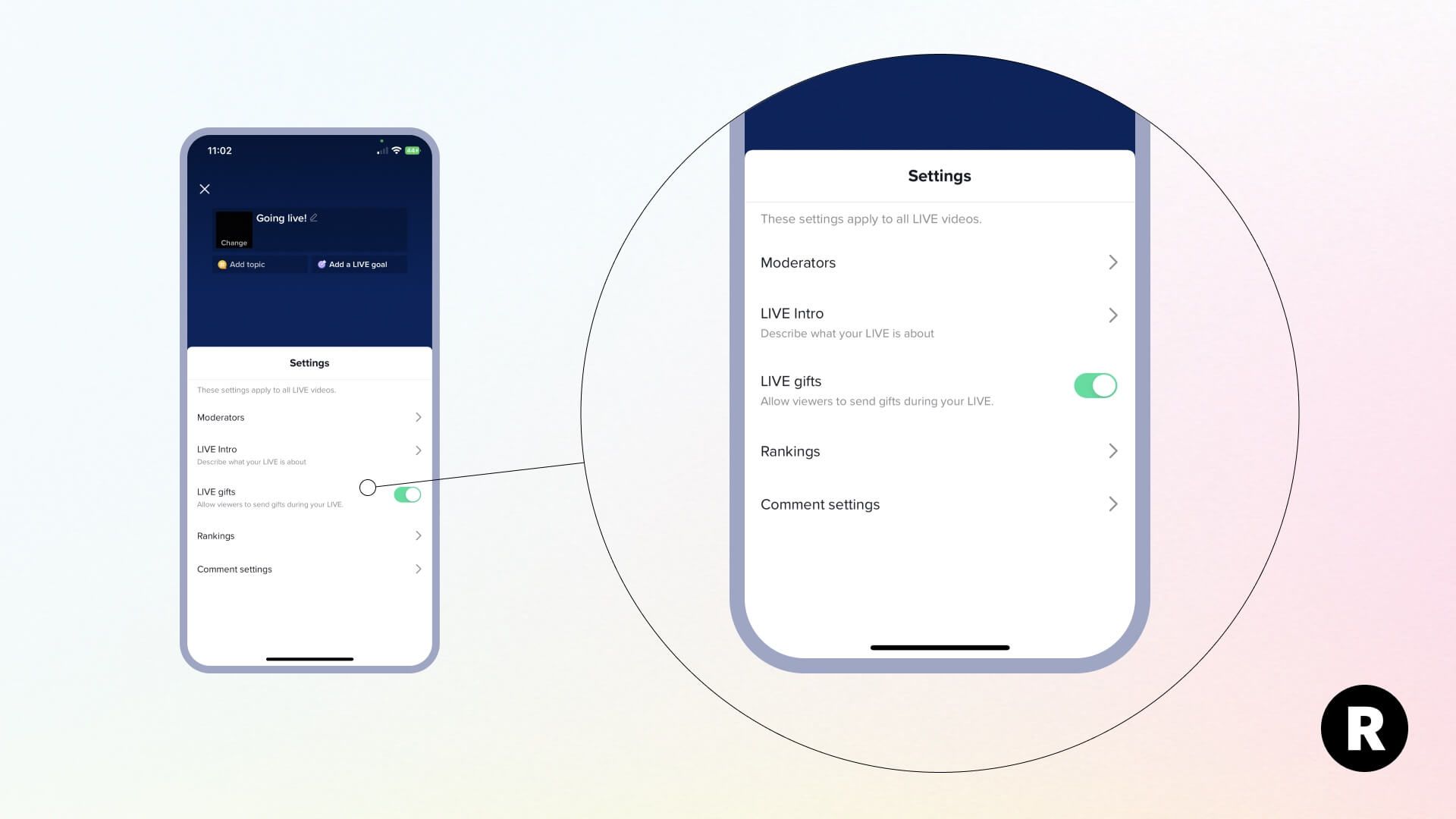 6. When you're ready to start streaming, tap the big Go LIVE button at the bottom of the screen.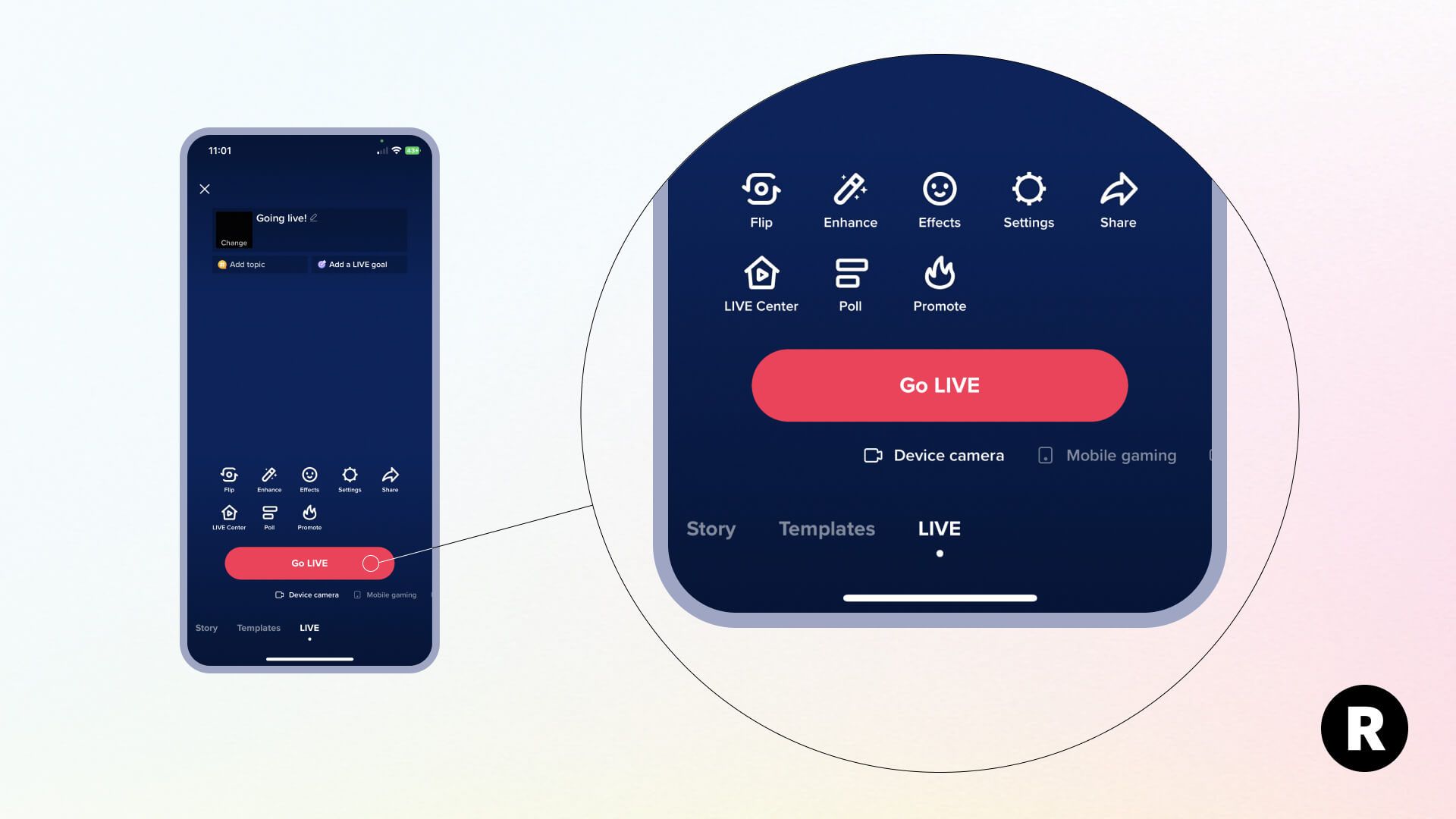 7. The app counts down from 3 and then you're live.
8. While you're live on TikTok, you can change interaction settings, like launching a poll for viewers, adding music and stickers, flipping your camera and more.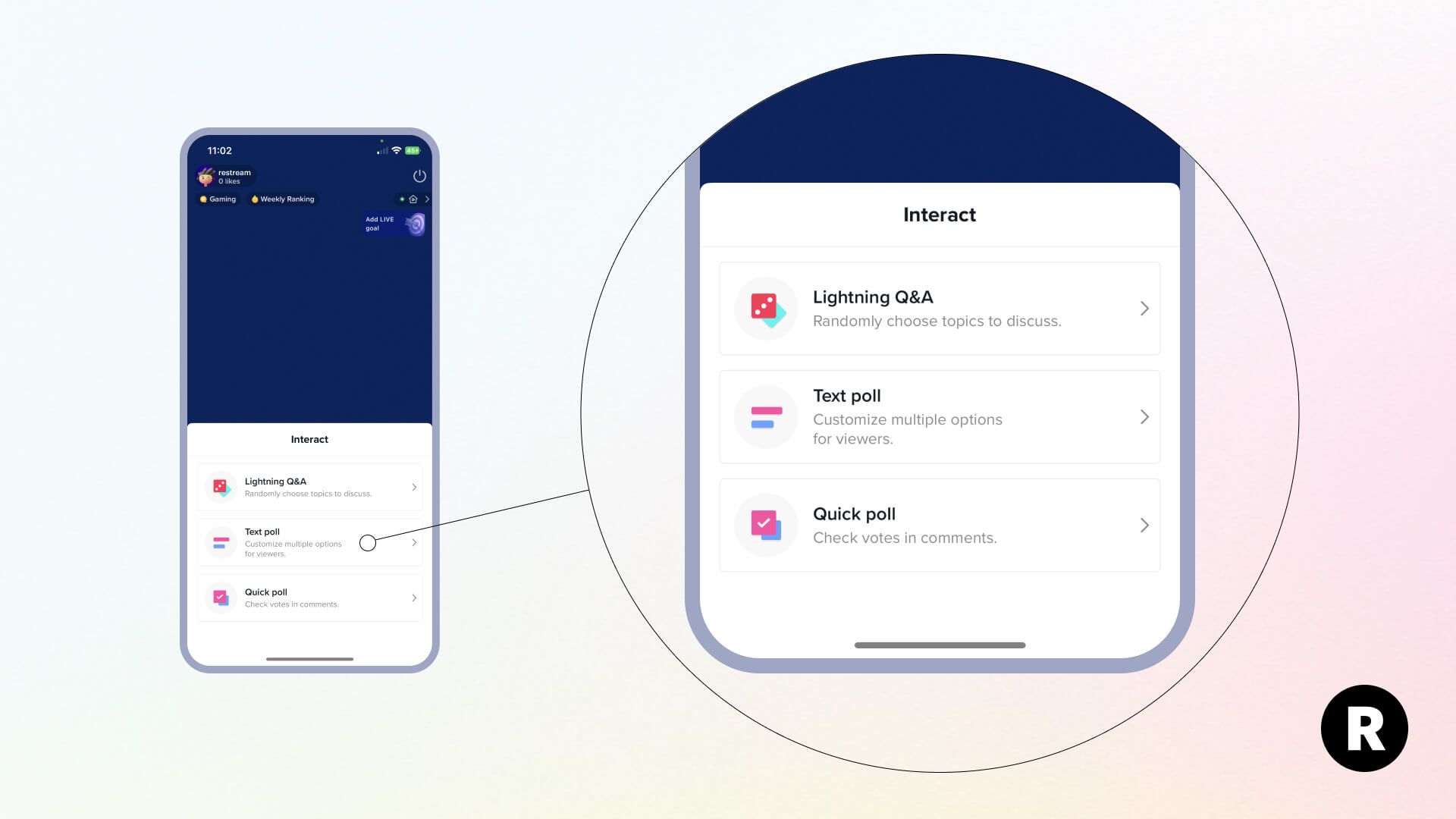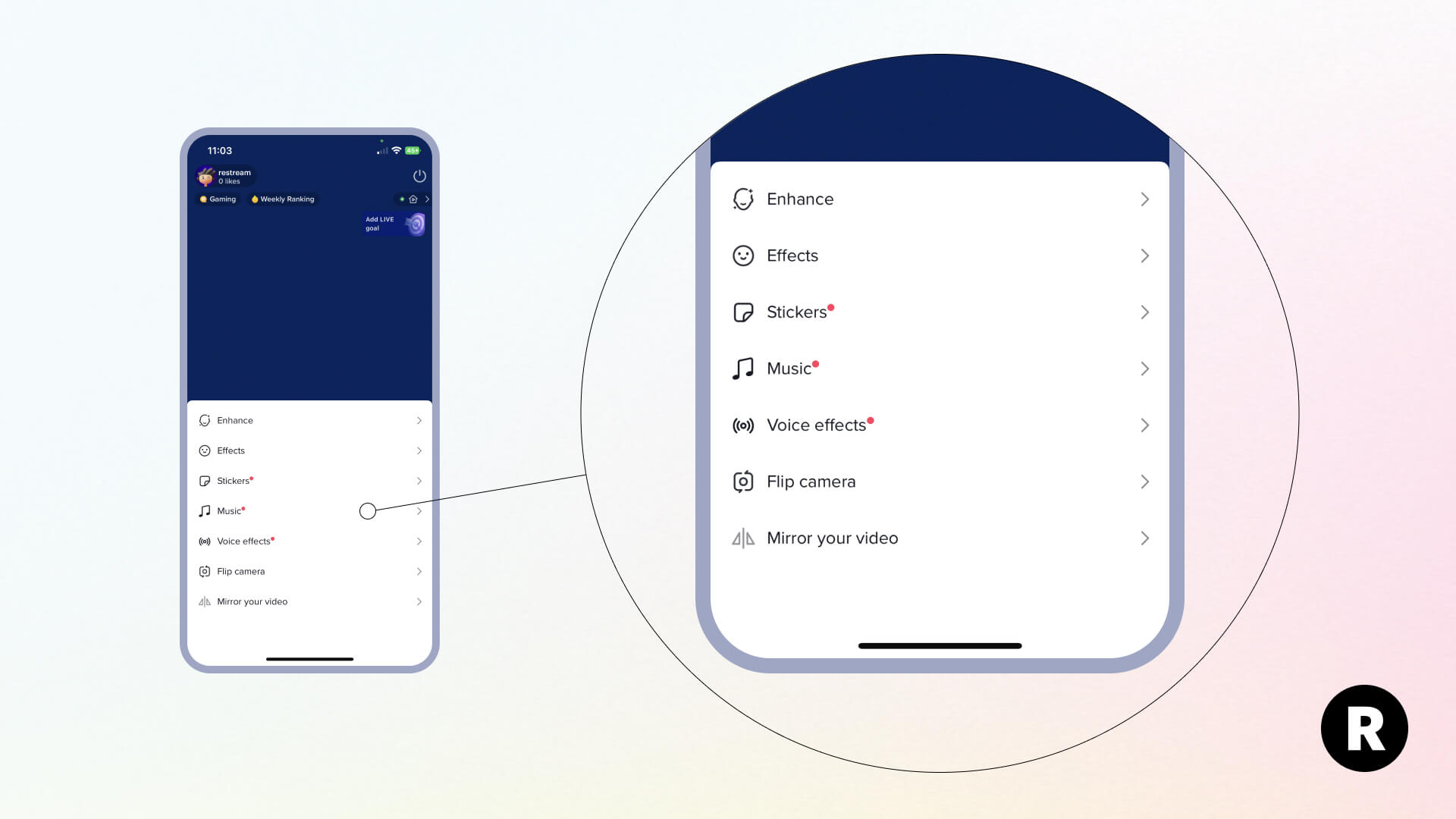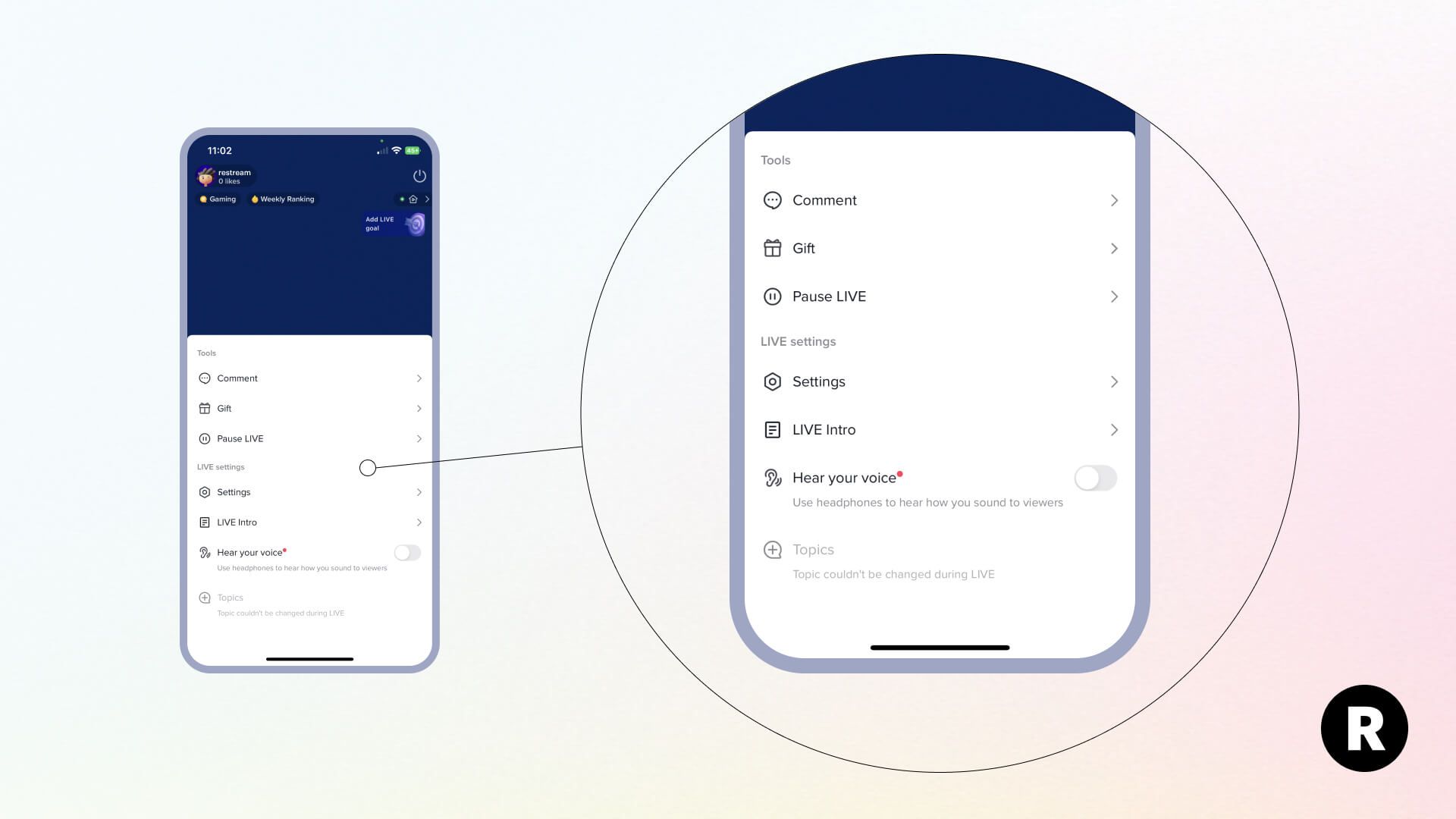 If you don't meet the requirements for TikTok live streaming, you won't see the live button in your app.
How to go live on TikTok on a PC
Going live with the TikTok app on your mobile phone isn't the only way to stream to TikTok. You can also use your PC. Currently, there are two ways to broadcast live videos on TikTok from a desktop or laptop computer:
Note that these two methods are not available to all TikTok users. Even if you have more than 1,000 followers and you have access to live streaming on TikTok, you still may not be able to access RTMP streaming or the LIVE Studio.
Here's how to go live on TikTok on a PC using encoding software and RTMP:
Open the TikTok app and select the plus sign at the bottom.
Select the LIVE option.
Choose your title and filter effects.
Select the Cast to PC option underneath the Go LIVE button.
You'll see your TikTok stream key and server URL; write them down, and don't share them with anybody.
Open your encoding software (like OBS Studio or Restream Studio) and navigate to the settings where you can edit streaming destinations.
Find a destination with the name Custom RTMP or something similar and select it.
Paste the stream key and server URL you copied from TikTok in the appropriate fields. Save your changes.
Start your live stream from your encoding software when you're ready and it will broadcast to your TikTok channel.
If you want to stream to TikTok in addition to other platforms like Facebook, YouTube and Twitch, you can use Restream. With one Restream account you can go live on multiple channels simultaneously. Scroll down to the next section to learn how to connect Restream with TikTok.
In May 2022, TikTok started rolling out early versions of its desktop encoding software, TikTok LIVE Studio. This Windows-only program works just like any other streaming software, but you can sign into your TikTok account and stream from your computer to TikTok. You don't need access to RTMP to use it.
You'll know you have access to the LIVE Studio if TikTok sends you a notification.
Here's how to go live on TikTok using the LIVE Studio software:
Download the TikTok LIVE Studio software from the TikTok website.
Run the installation wizard on your computer like you would for any other program.
When the installation is done, make sure the checkbox next to Run TikTok LIVE Studio is selected, then click Finish.
TikTok LIVE Studio will open and then you can click Log in to begin. Log in with your TikTok credentials.
If you're new to streaming from a PC, click Set up now for the beginner setup. If you've used live streaming software on your PC before, you can click either Import from another tool to import your settings and scenes from another streaming software, or click Go LIVE now to start streaming.
If you click Set up now, the software will take you through setting up your microphone and camera.
In the Microphone window that pops up, click the pull-down menu to select your microphone, then click Next.
In the Camera Settings window that pops up next, click the pull-down menu to select your camera, then click Next.
In the Steam Settings window that pops up next, you can change settings like Video quality, Encoder, Encoder shift, and Color space. We recommend changing your Video quality to 1080p if your computer can handle it. Once your done choosing your settings, click Next.
In the Scene setting window that pops up next, select Fullscreen desktop if you don't want to show your camera feed and Fullscreen desktop + camera if you do want to show your camera feed. Then click Finish.
You're ready to start streaming with TikTok LIVE Studio.
Some creators choose to go live on TikTok from a PC because it's easier to manage the content they want to show on a PC. Gaming content is a good example of this. Creating a live video production on your PC, rather than with your phone and the TikTok app can give you more control over the quality of your stream and frees you up to do more dynamic content, like interviews, talk shows, webinars, tutorials and more.
Go live on TikTok with Restream and multistream to other platforms
If you want to go live on TikTok from your desktop or laptop computer, you can use a streaming tool like Restream Studio.
Other than allowing you to stream on TikTok from a computer, Restream Studio also has several other benefits for streamers:
Multistream to TikTok and other platforms at the same time
Invite guests to your stream with a simple Restream invite link
Upload custom logos and graphics
Play video clips and local video files from your computer
Add copyright-free music to your stream
Share your computer screen on your TikTok broadcast
By multistreaming to TikTok and other social platforms like YouTube Live, Facebook Live, Twitch and Twitter, you can multiply your views and expand your audience. Your viewers can watch you on whichever platform is most convenient for them. Multistreaming is easy to do with a service like Restream, which integrates with over 30 streaming platforms and has RTMP streaming for custom channels.
Live stream everywhere,
all at once
Get started for free
To use Restream Studio, you'll have to create a custom RTMP channel in Restream, and you'll need your TikTok stream key and server URL.
Here's how to set it up:
Open the TikTok app and select the plus sign at the bottom.
Select the LIVE option.
Choose your title and filter effects.
Select the Cast to PC option underneath the Go LIVE button.
You'll see your TikTok stream key and server URL; write them down, and don't share them with anybody.
Create a free Restream account if you haven't already.
Open your Restream Studio account and navigate to the dashboard.
Select the Edit Destinations button, then Add Destination.
Select Custom RTMP from the list.
Fill in the stream key and server URL you copied from TikTok in the appropriate fields.
Select Add channel.
Head back to the Restream dashboard and select Stream with Studio.
Give Restream Studio access to your camera and mic, provide your name, then launch the Studio.
Customize your stream using Restream Studio's features.
You're ready to start streaming on TikTok!
Note that to use the custom RTMP channel feature with Restream Studio, you must have a Restream paid plan.
9 tips for improving your TikTok live streams
To engage TikTok viewers enough to build a following and generate some revenue, you have to create high-quality TikTok live videos. Follow these live stream best practices to impress your audience and establish a presence on TikTok.
1. Avoid banned words
TikTok flags words and phrases associated with hate speech, and the platform's community guidelines state that attacks and slurs against protected classes and content that contains hateful ideology are not allowed. The terms of service also prohibit explicit content, spam and harassment.
TikTok doesn't keep a master list of "banned" words that you can reference, but there are some words and phrases that will be censored if you use them in your content. Some Reddit users keep an updated list of banned words as they happen upon them in the TikTok app, but it's hard to rely on anecdotal evidence when you're trying to make professional content on TikTok.
This is a sensitive topic because TikTok has received harsh criticism for censoring terms related to the LGBT, disabled and Black communities. There have also been incidents related to political censorship on TikTok from around the world.
As a creator, try to focus on the message you want to share with your audience and aim to make your content as appropriate as possible. You should always read TikTok's community guidelines and terms of service before starting to live stream on the platform.
2. Create a schedule
Platforms like Facebook and YouTube save a replay of your live broadcast once it's over. Users can then rewatch it at any point as a regular video on demand (VOD). For this reason, many streamers will greet their replay audience at the beginning of the stream or structure the session in a way that's a bit more VOD-friendly.
TikTok does not save your live streams, so if a user misses your session, they can't rewatch. This feature is an excellent tool for encouraging your fans to tune in when you're live — because they'll miss out if they don't! It's much easier to get a regular audience for TikTok live streams if you go live at the same time every day or week.
TikTok allows you to create a LIVE event card for upcoming streams that you can then share on TikTok and other platforms. Viewers can register for your event as well, so they'll get a reminder for when it starts.
3. Prepare your topic in advance
Live streams can be spontaneous and impromptu; it's part of their appeal. But if you are trying to build a following and create more engaging TikTok LIVE content, you should find ways to keep people in your session. If you go into it without a plan, you may quickly run out of things to say and see your viewers dropping off.
To avoid this, plan your topic ahead of time. You don't have to spend hours writing a script; just jot down a quick outline with your ideas and the main points you want to hit. Having a framework to reference during the stream will help keep you on track if you have a lull.
4. Engage your audience
There are other audience engagement tips to keep in mind besides preparing your topic beforehand. Create opportunities to interact with some of the following tactics:
Ask viewers where they're from
Greet everyone who joins your stream
Run a poll
Do a Q&A or AMA
5. Limit streaming length
TikTok recommends keeping your live streams to 30 minutes, but you can stream for longer. On one hand, the platform is known for short-form videos, so keeping streams limited might help them perform better. On the other hand, the longer you're live, the more time users have to join your session (and send you Gifts or Tips). Choose the streaming length that works best for your audience.
6. Set up a live streaming studio
If you're going live for a few minutes, holding your phone in your hand seems practical enough. If you plan to broadcast for 30 minutes or more, though, you'll need a tripod or something to set your phone on to keep the stream stable. You'll also make your TikTok stream look more professional if you add some lighting — a single ring light can work wonders for the quality of your video.
Also, try to clear the space behind you from distracting objects and stream in a room where you won't be disturbed by other people. You can also help improve the sound quality in your home live streaming studio by spreading blankets, pillows and rugs around to minimize echos.
7. Check your internet speeds
One of the worst experiences for viewers is having a stream or video buffer too much or fail to load. If this happens while you're live, you'll lose viewers. Before you stream, make sure your Wi-Fi connection is solid by running speed tests.
8. Write an eye-catching title
When you go live on TikTok, the app asks you to give your stream a title. Choose something that will grab attention and accurately describe your content. Users get the first impression of your stream from the title, so use words that will make people want to watch.
9. Moderate your live stream
Viewers can add comments during your TikTok live stream for others to see, and negative or inappropriate comments can bring down the experience for everyone else, including you. Use TikTok's moderation tools to filter out certain words or phrases, mute problematic viewers, or even block some viewers. Moderating the live chat helps make your stream more engaging and accessible for everyone.
Can you make money on TikTok live streams?
TikTok has a donation system that allows content creators to earn revenue for their live streams. You can also go outside the platform and use third-party tools to generate income from TikTok streaming.
First, let's go over TikTok's in-app monetization options.
Monetize with TikTok
TikTok has five ways creators can earn money from fans (without relying on ads). Creators can use the new Creator Next portal to manage these monetization options.
1. Creator Fund
TikTok launched the Creator Fund in July 2020. The platform pledged to give $200 million to encourage creators to make content on TikTok. The program is supposed to expand to $1 billion by 2023. You have to meet certain requirements to be eligible:
Located in the U.S., U.K., France, Germany, Spain or Italy
18 years of age or older
10,000 followers minimum
100,000 video views in the last 30 days
Follow TikTok's community guidelines and terms of service
TikTok Pro subscription
To join the Creator Fund, you have to apply. Open the TikTok app, go to Settings, select Creator tools, then TikTok Creator Fund.
2. Creator Marketplace
The TikTok Creator Marketplace is a platform that matches brands with creators who want to collaborate. By joining, you can connect with brands who are looking to sponsor TikTok creators through either paid or reward-based campaigns. Only Personal or Creator accounts are eligible. You also have to meet age, follower, content and engagement requirements.
You'll receive an invitation when you're eligible to join the Creator Marketplace.
3. Video Gifts
TikTok users can send creators Video Gifts, which TikTok uses to help determine video popularity. Based on the number of Gifts, TikTok sends creators Diamonds, which can be exchanged for money. To be eligible to receive Video Gifts on TikTok, you must:
Be at least 18
Opt into Creator Next
Have at least 100,000 followers
Have a 30-day-old account
Have published a public video in the last 30 days
Not have repeat violations of TikTok's community guidelines and terms of service
Keep in mind that some videos aren't eligible to receive Gifts.
4. LIVE Gifts
If you want to be a TikTok live streamer, then you'll need to know about LIVE Gifts. They work mostly the same way as Video Gifts. Viewers can send you LIVE Gifts during your live TikTok broadcast, and TikTok will award you Diamonds based on the LIVE Gifts you receive. Then, you can exchange those Diamonds for cash. Only viewers who are 18 years or older can send Gifts.
Note that it's against TikTok's community guidelines to ask for Gifts during a video or live stream.
5. Tips
The final monetization tool TikTok provides in the Creator Next portal is Tips. Users can send Tips to creators directly in $5, $10, $15 or custom amounts. The maximum Tip amount is $100 per transaction and $500 per day.
With Gifts, TikTok gets a cut before the creator receives a payout. With Tips, creators pocket the entire amount minus processing fees (TikTok uses Stripe to pay creators). To be eligible to receive Tips, you need to:
Join the Creator Next program
Be 18 years of age or older
Have at least 100,000 followers
Be based in the U.S.
Have an account in good standing
To start receiving Tips, opt into the TikTok Creator Next portal.
Advertise with TikTok for Business
The monetization options through the Creator Next portal are not available for TikTok Business accounts. However, Business accounts can use some of the following tools to earn money on TikTok:
In-feed video ads
Branded hashtags
Brand takeovers
Branded effects
Other ways to make money on TikTok
You don't have to rely solely on TikTok's features to earn money. You can also develop external revenue streams using your TikTok audience as a base. Here are a few ideas for earning cash from your TikTok popularity:
Participate in affiliate programs
Become a brand ambassador
Post sponsored content
Accept donations via another platform (such as Patreon)
Create and sell your own merchandise
There are several ways to make money with live streaming, especially if TikTok is your chosen platform.
Let's wrap up
The potential for audience engagement and building your brand on TikTok is huge. Live streaming is one of the easiest ways to get closer to your audience and solidify a community around your brand. TikTok also provides avenues for earning income from live streaming, so you can turn it into a side hustle or even a full-time job. When you use Restream to go live on TikTok, you have the tools to create a powerful, professional and engaging live stream that you can share across multiple channels simultaneously.
With this guide, you have everything you need to get started streaming on TikTok. Happy streaming!