Telegram is one of the most popular social networks in the world, with 550 million monthly active users. It's a messaging service that combines chatting and video calling with content distribution. As of March 2022, you can broadcast live videos to Telegram channels and groups with an unlimited number of viewers.
With Restream, you can not only go live on Telegram, but you can also customize your stream, invite guests and even stream on multiple other channels — like Facebook and Twitter — at the same time.
This guide shows you how to go live on Telegram on either mobile or desktop and how Restream can help you make a professional, engaging live stream.
Easily go live on Telegram
using Restream
Get started for free
The benefits of live streaming on Telegram
Live streaming on Telegram has several benefits, no matter what your streaming goals are. You can stream educational content, an informal chat, interview or just about anything else.
Unlimited viewers: There's no limit on the number of viewers who can tune into your live video on Telegram. Whether you're streaming to a channel or group, you can have as many people watching as you want.
Channel or group members can join: Any member of a channel or group can request to start broadcasting when you're live, so you can have guests join your stream from anywhere in the world.
Create your own TV channel: Telegram is full of one-to-many channels where creators can distribute content and messages to their followers. If you have a channel in Telegram, you can easily turn it into your own TV channel by streaming live video to it on a regular schedule.
Secure live streaming: Telegram is known for its robust privacy and security protections. By broadcasting live video on Telegram, you can ensure that only the people you want to see it can see it. You can also be confident that live chat messages are encrypted from end to end.
How to live stream on Telegram
To go live on Telegram, you can use either the mobile or desktop app. You must be the owner of the channel or admin of the group you're streaming to as well. You can stream to both private and public channels.
How to stream on Telegram on mobile
You can go live on Telegram on mobile with either iOS or Android.
Download the Telegram mobile app from either the Play Store or the Apple Store.
Sign in to your Telegram account.
To stream to a channel, tap the channel from your list of channels and groups.
Tap the channel name at the top of the screen.
Tap the three dots in the top right corner.
Tap Start Live Stream.
Choose whether to display yourself as a user or as your channel. Then tap Start Live Stream.
Once the stream starts, you can unmute yourself and switch on your camera.
When you want to end the stream, tap the red Leave button. Check the box next to End live stream, and then tap Leave. The stream will end.
How to stream on Telegram on desktop
You can go live directly from your Telegram desktop application. You can start by selecting Video Chat in your group or Live Stream in your channel. You have to be an admin to start live video on Telegram. You can then set up your Telegram live stream with the Telegram desktop app, using your webcam and microphone
But If you want to customize your Telegram live stream and stream to other social platforms like Facebook, Twitter, YouTube and more at the same time, you can also go live for free using Restream.
These detailed instructions will help you easily go live on Telegram using Restream Studio.
1. In your Telegram app, select Stream with inside the channel or group where you are an admin.
2. A window with your Server URL and Stream Key will pop up. You'll need these for later.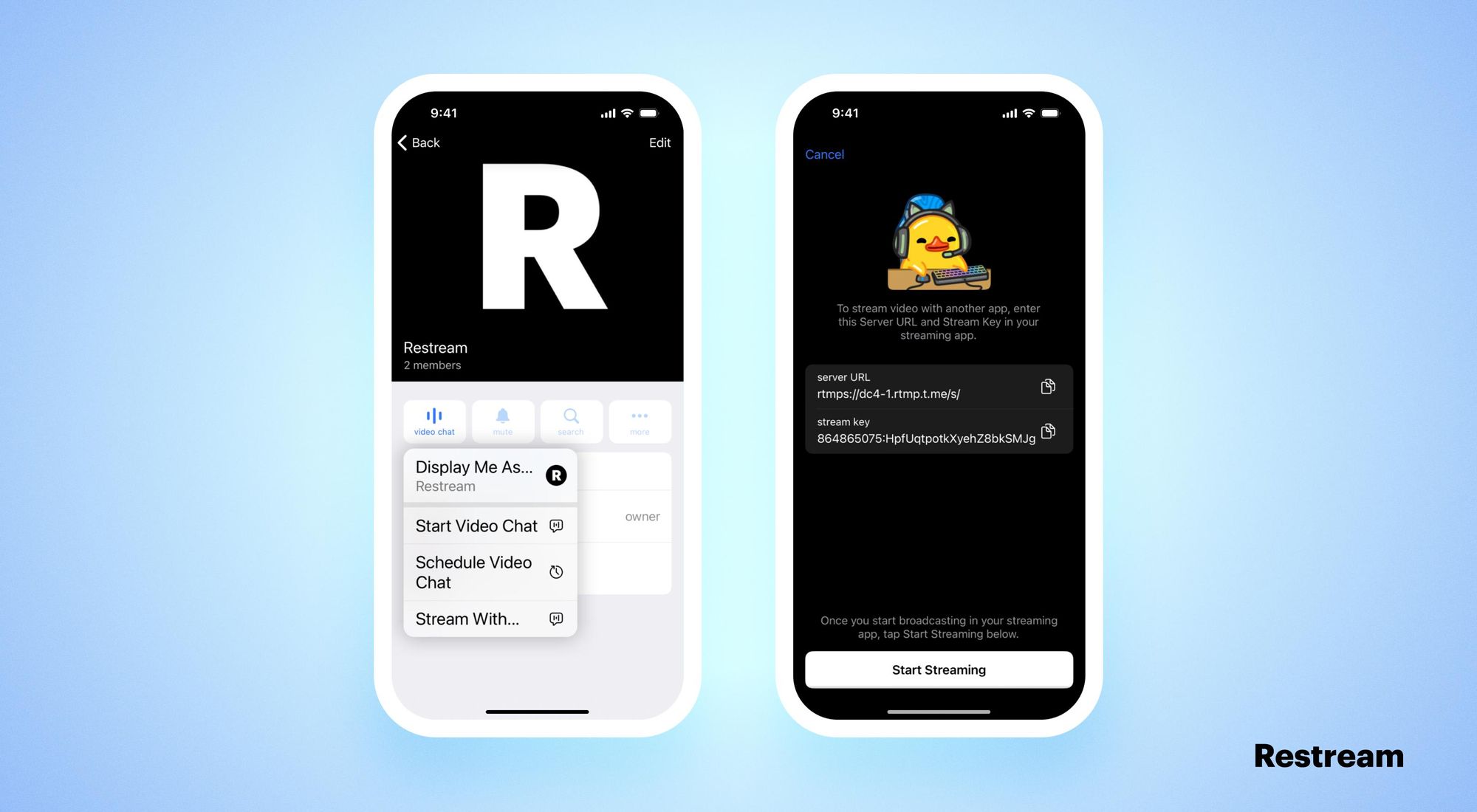 3. Create a free Restream account or log in if you already have one.
4. Click Add/Edit Destination and click the Telegram icon.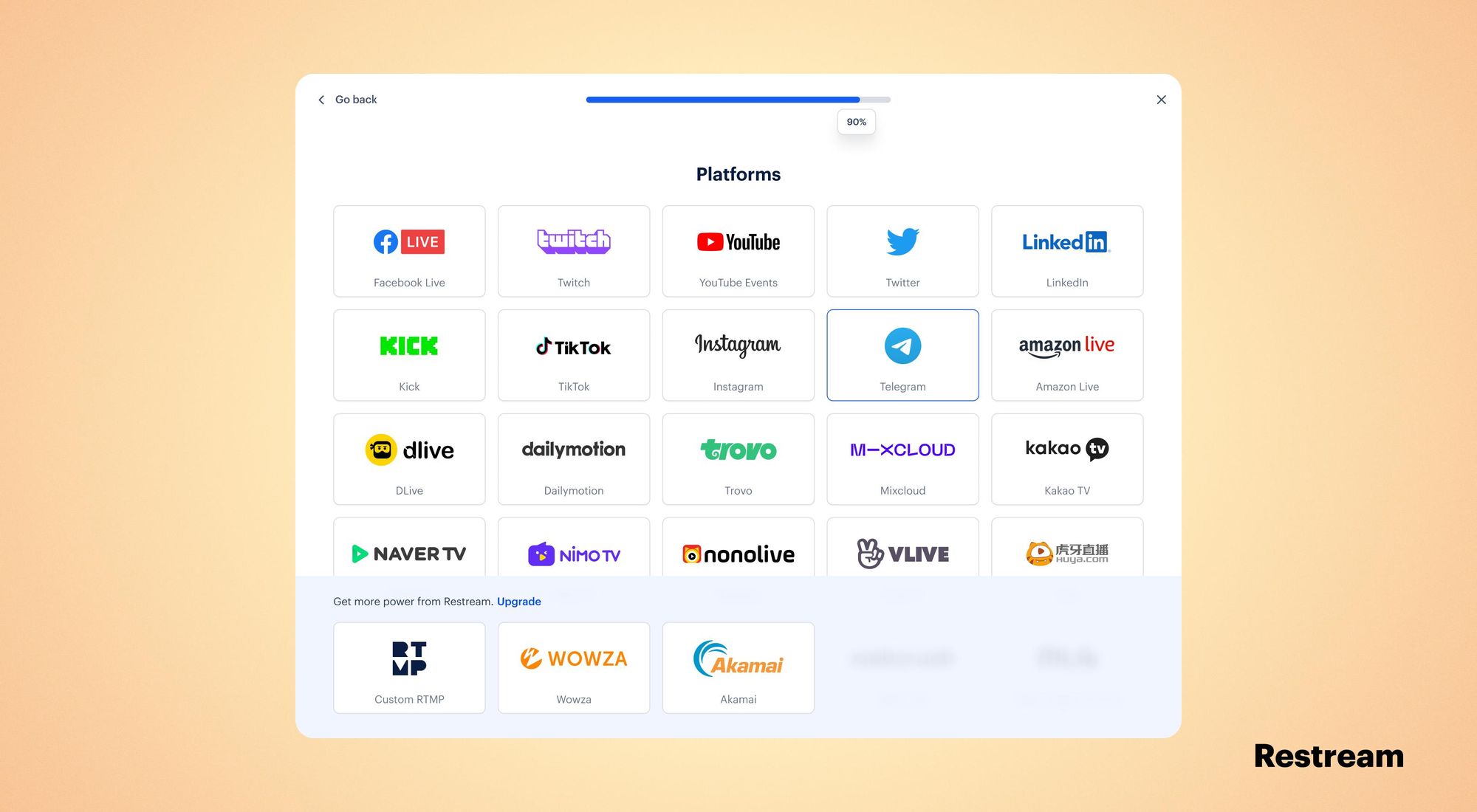 5. Copy your Server URL from Telegram and paste it into the RTMP URL field in Restream. Then, copy your Stream Key and paste it into the Stream Key field in Restream.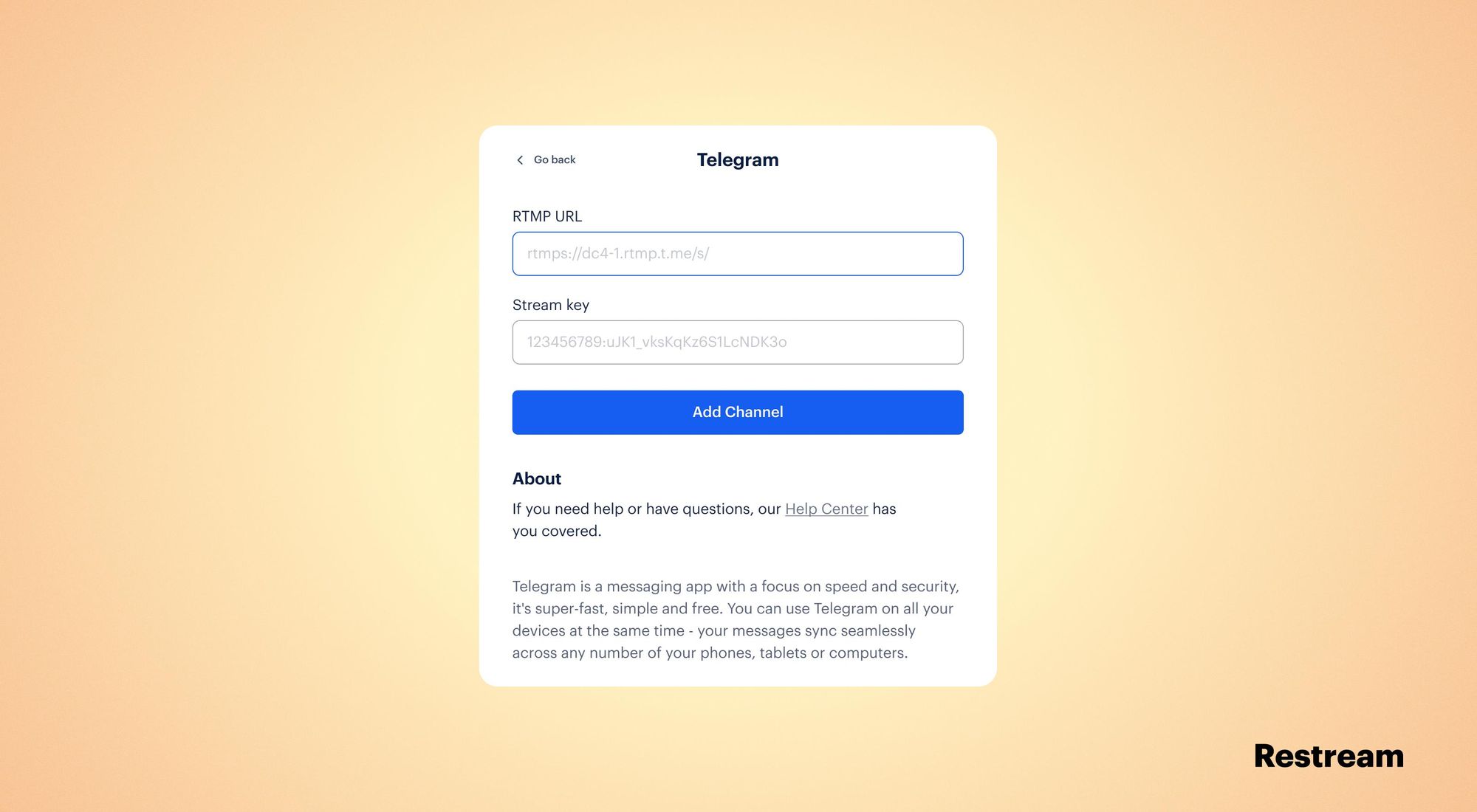 6. Back on the Restream dashboard, click Stream with Studio.
7. Enter your name as you want it to appear on-stream (you can toggle it off later) and give Restream Studio access to your mic and camera.
8. Adjust your stream settings such as displaying graphics and overlays, screen layout, inviting guests, etc.
9. When you're ready to start streaming, click Go Live. Then, click Start Streaming in Telegram.
10. When you're ready to end the stream, end it in Telegram first, then in Restream.
Note that comments from the Telegram live chat will only show up in Telegram, not in Restream.
Why use Restream for Telegram live streaming?
You can start broadcasting your content on Telegram in just a few clicks by connecting your Telegram account to Restream. Our live streaming studio lets you stream directly to Telegram from desktop — and you can even access Restream Studio from a web browser on your mobile device. Take advantage of all the features Restream has to offer so you can make your Telegram live stream look more professional.
Multistreaming: Go live on Telegram, Facebook, Twitter and more at the same time.
Vertical mode: Optimize your live stream for mobile viewers by switching to portrait mode (aka vertical mode) when you go live.
Custom graphics: Easily upload your logos, backgrounds and overlays to Restream so you can broadcast a branded video.
Guests: Invite guests to appear on your broadcast with a simple link — they don't even need a Restream or Telegram account to join.
Guest channel streaming: Push your live broadcast to your guests' channels as well as your own so you can collaborate securely.
Upload and stream: Schedule recorded videos to appear live on Telegram so you can jump into the real-time chat with viewers while the content plays.
Live stream everywhere,
all at once
Get started for free
Use Restream with encoding software
Restream Studio lets you go live directly from your web browser on a computer or mobile device. If you prefer streaming with an encoding software such as OBS Studio, however, you can still use Restream to multistream to several platforms at once. Restream supports more than 30 streaming platforms and lets you create RTMP streams for platforms that don't have native integration.
All you have to do is connect Restream to OBS, then connect Telegram and your other preferred channels to Restream. Then, you can go live on OBS and your broadcast will appear on all your selected platforms.
Tips for making the most of your Telegram streams
Want to make your Telegram live streams a smash hit? To get the most out of your Telegram broadcasts, incorporate the following tips..
Give your stream a unique title
When you're streaming to Telegram from the desktop app, you can edit the title of your live stream. By default, it uses your channel name. Change it to something enticing and attention-getting so viewers will know what your stream is about before joining.
Invite members to view your stream
After you create your live stream on Telegram, invite users, groups and other channels to view it. Go to the settings for your live stream and find the Share options. You can share your link in other groups and channels you're in, or you can add users and groups by searching for them.
Ask questions to promote engagement
Make your live stream more engaging for your viewers by asking questions, running a poll, hosting a quiz or promoting other interactive activities. Nobody wants to listen to you talking for 30 minutes uninterrupted. Involve your viewers in the stream too so they feel a connection with you.
Multistream to additional platforms
Streaming on Telegram can be a great way to build a community and establish authority for your personal brand. But if you want to make an even bigger splash, try multistreaming to other platforms in addition to Telegram. With a tool like Restream, you can choose from over 30 platforms to live stream to simultaneously.
FAQs
Can I stream on Telegram?
Yes, you can stream on Telegram on desktop or mobile. Navigate to the Telegram group or channel you want to go live on, select the group or channel name, select options, and then select Start Live Stream. You can also broadcast live video to Telegram using third-party streaming software such as Restream Studio.
Can I stream on Telegram on a PC?
Yes, Telegram makes a desktop app for Windows, Mac and Linux. You can start a new live video with Telegram's desktop app, but for a more professional live stream and the option to multistream on other platforms, you need a third-party streaming software like Restream.
How do I join a Telegram live stream?
To join a live stream on Telegram, you need an invitation from the host of the live stream. The host can invite you directly by searching for your account on Telegram or they can send you a link via email, text or another messaging service. When you join, you can select which channel or account you would like to go live with. Then, select Join and you can join the waiting room. Once you're in the waiting room, the host of the live stream can add you to the stream.
Wrap-up
Live video gives you an exciting way to connect with your audience on Telegram. Whether you want to host informal fireside chats in your group or broadcast branded content on your channel, you can easily go live on Telegram. With Restream Studio, you can fully customize your stream with your branding, choose from multiple screen layouts, invite remote guests who aren't members of your group or channel, multistream to other social platforms like Twitter and Facebook, and much more.