Many people have used Zoom to stay in touch with colleagues and loved ones during the global pandemic. But Zoom is more than just an app for video and voice calls — it's also great for live streaming.
With Zoom, you can broadcast your content on streaming platforms, like YouTube Live or Facebook Live. However, you can also live stream to all these platforms simultaneously using third-party tools like Restream. It's easy and doesn't require any technical skills.
The #1 live
streaming solution
Get started for free
Who should use Zoom to live stream?
Normally, businesses that have multiple offices with remote employees gain the most from Zoom. However, Zoom is not just for meetings. It's also a live streaming tool with cool features like polling and virtual hand raising. Teachers and life coaches use it to live stream classes, presentations and webinars. Fitness instructors use Zoom to broadcast classes, and experts host workshops on a variety of subjects. Live streaming allows you to interact with your viewers in real time — a huge advantage over video on demand (VOD).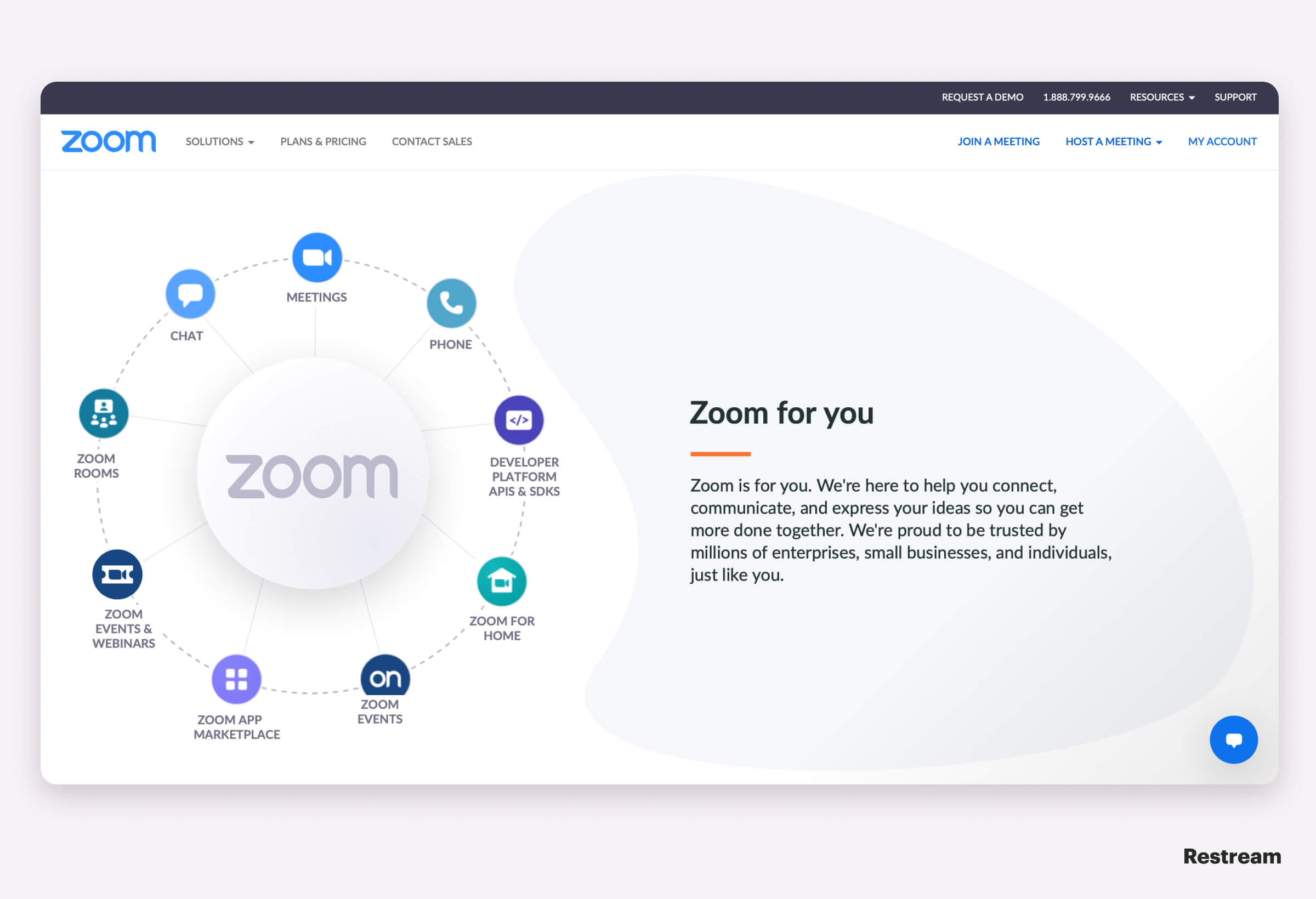 How to live stream with Zoom to multiple platforms simultaneously?
Currently, there are two options for multistreaming using Zoom. The first method requires purchasing a paid Zoom plan (Pro, Business, or Enterprise). The second uses a third-party app, like OBS Studio.
Live streaming with a Zoom paid account via Restream
Multistreaming is broadcasting your live stream on multiple platforms simultaneously. For instance, say you want to live stream your webinar on YouTube Live, LinkedIn, and Facebook Live with Zoom. You'll need at least a Pro Zoom subscription and an account on Restream for this to work. Here's a detailed video guide on how to do this. Just follow the instructions below, and you'll be ready to go!
In Zoom, enable live streaming of your meetings. Go to your Zoom profile and click Settings. Click In Meeting (Advanced) and find the Allow live streaming meetings option. Turn it on and make sure all the boxes are checked.
Now you can host a meeting in Zoom as you would normally do. In the meeting control panel, click More and select Live on Custom Live Streaming Service.
Fill in your Streaming URL and Streaming Key. You can find them on the Restream channel dashboard. You also need to enter the URL of any of your connected streaming platforms, like YouTube, Twitch, or Facebook.
Click the Go Live button. In a few seconds, Restream will broadcast your live stream on every connected channel.
Live streaming with basic Zoom via OBS Studio and Restream
Let's say you want to live stream on more than one platform, but you don't have a paid subscription with Zoom. Restream allows you to broadcast your Zoom webinars or meetings on as many streaming platforms as you want simultaneously, including LinkedIn, Facebook, YouTube, and more. In addition to your free Zoom and Restream accounts, you'll need to download OBS Studio. But don't worry! The setup process is super easy and user-friendly.
1. If you haven't done so yet, create your Restream account. The registration only takes a minute.
2. Connect your Restream account to OBS Studio. To do so, open your OBS Studio app and go to Settings on the right.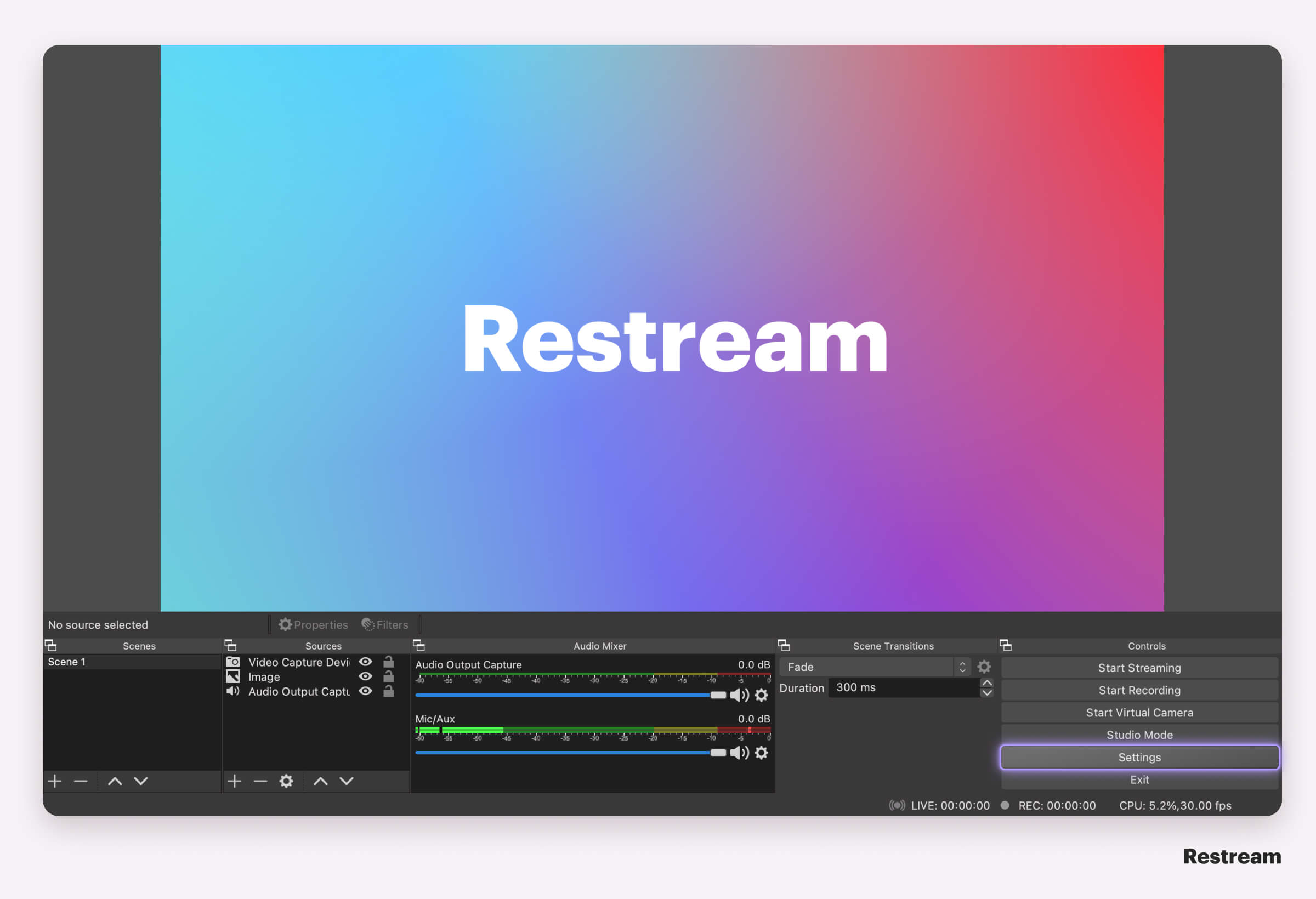 3. On the Stream tab on the left, click Restream.io - RTMP in the drop-down menu.
4. Click Connect Account. You'll be asked to log into your Restream account.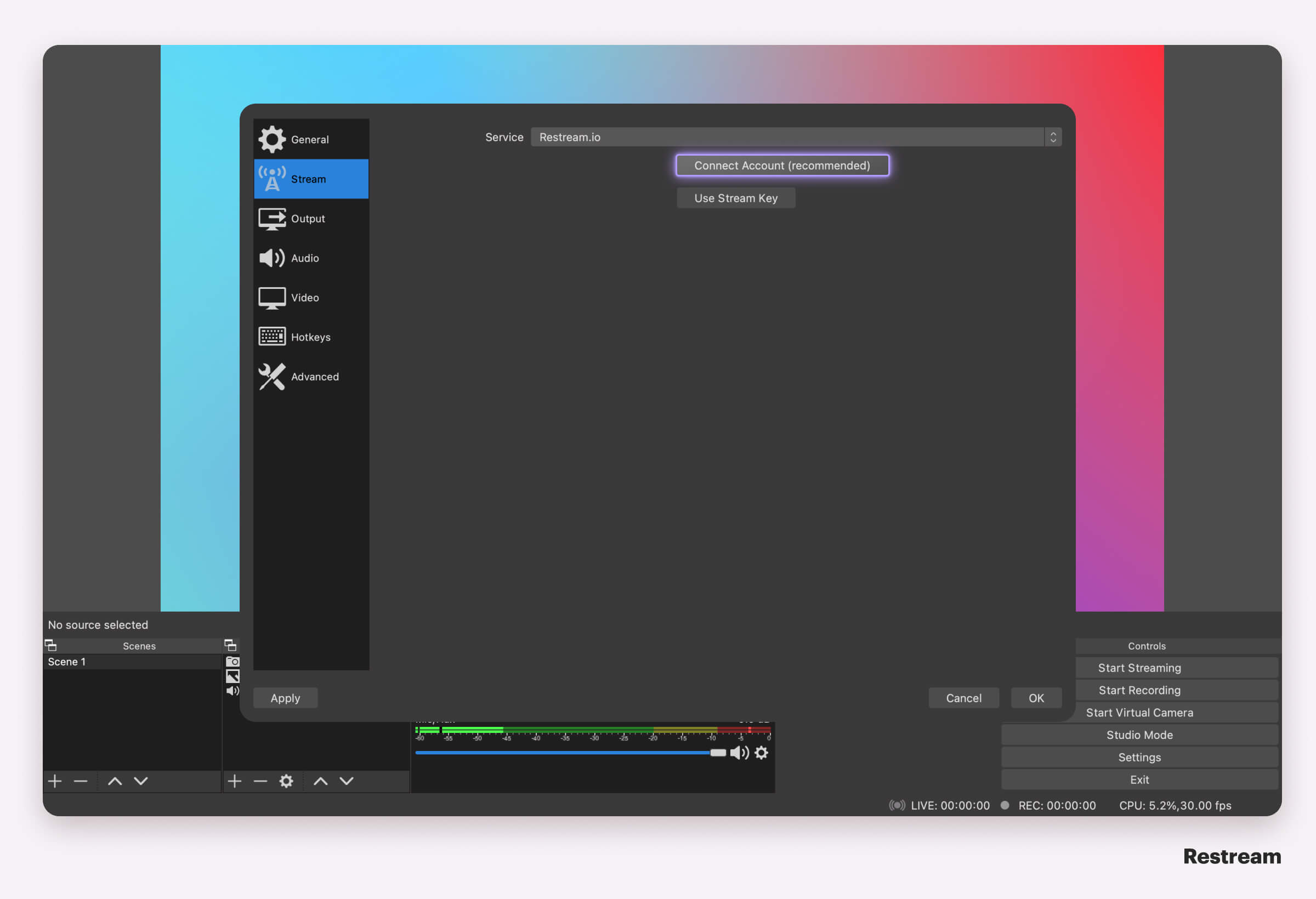 5. After you've successfully connected your Restream account and OBS Studio, choose the channels you want to live stream on. To do so, go to your Restream dashboard and click +Add Channels.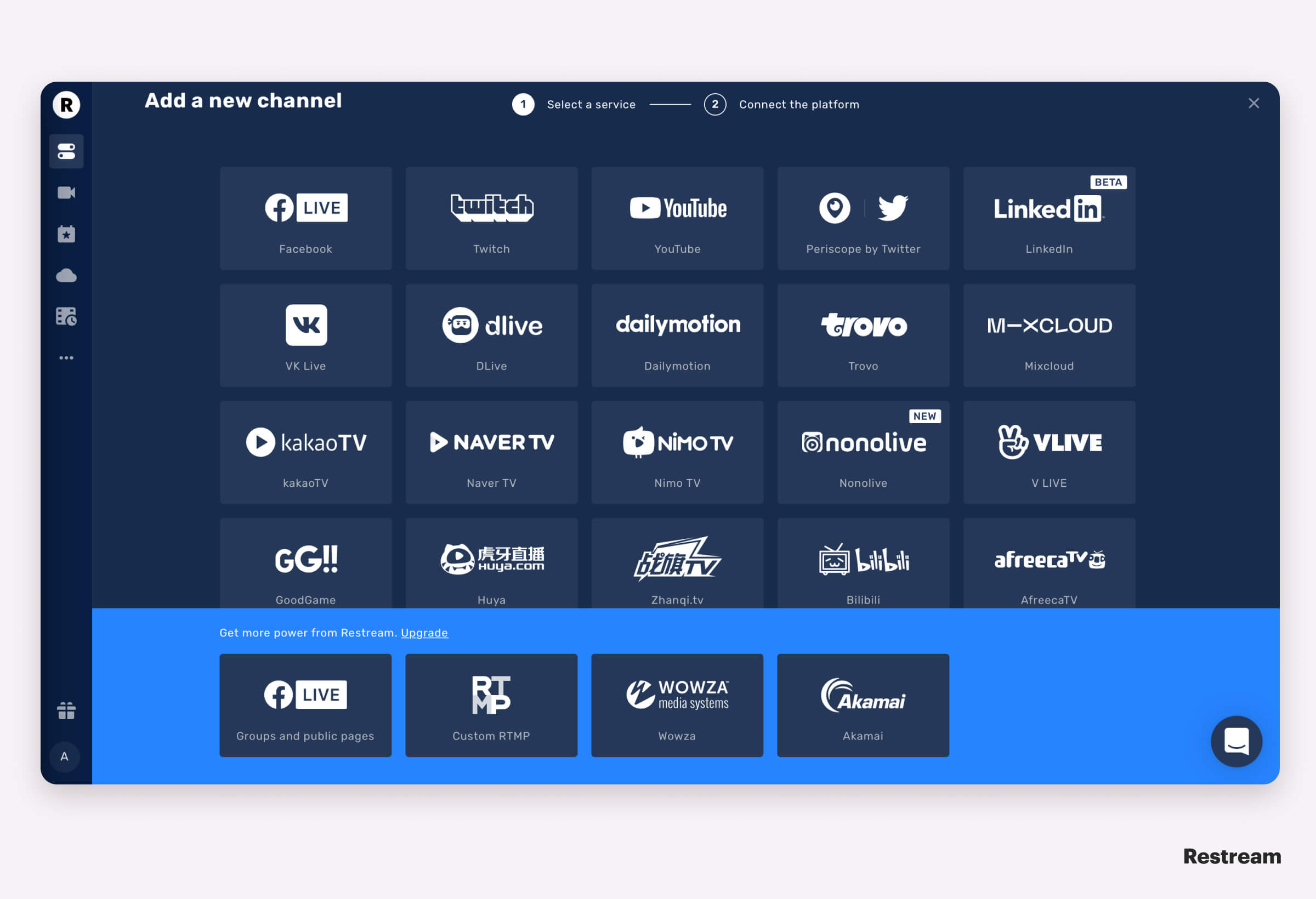 6. Make sure OBS Studio specifies Zoom Meeting as the video source. On the Sources tab, click Add and select Window Capture. Note that if you are live streaming from Zoom on a Mac, you must install a plug-in called iShowU Audio Capture.

7. Name it something like Zoom Meeting and click OK.
8. In the Window option, select your Zoom meeting [Zoom.exe] in the drop-down menu and click OK.

9. Click Start Streaming and go live!
Live stream everywhere,
all at once
Get started for free
Using Zoom to live stream — a few examples
There's a lot you can do when you know how to use Zoom in your live streaming setup, especially if you combine it with a multistreaming service. Zoom is a popular solution for communication in a workplace setting, so it has many professional and business use cases. Still, that doesn't mean you can't multistream with Zoom for your side projects or even a hobby you want to turn into a business.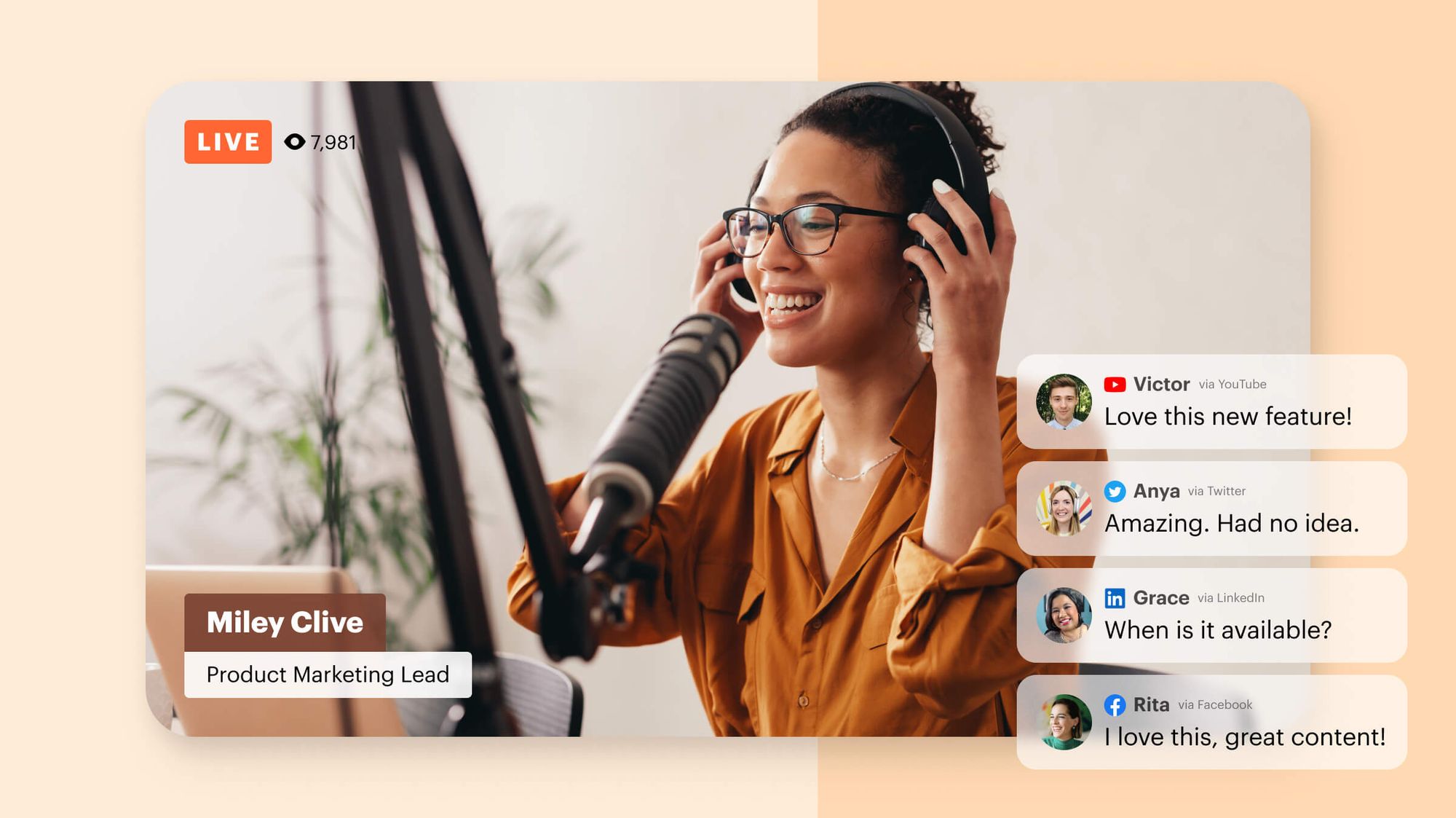 Why live video is a
must
for marketers
Get closer to your customers with a live product launch, webinar, Q&A or giveaway and create opportunities to interact in real time.
👉 Get Started
Here are some of the more popular ways you can use Zoom to live stream:
Give a behind-the-scenes look. Behind-the-scenes segments are a type of content that businesses make when they want to demonstrate their company culture and increase their reach. With Zoom, you can take going behind the scenes a step further by broadcasting team meetings. Your audience will appreciate the authenticity of a live behind-the-scenes look, but be careful not to blurt out any business secrets!
Produce an online show with co-hosts and panelists. Zoom works great for any kind of content that uses a video call-in feature. It helps you co-host your show with someone who's not in the room or create your very own panel of guests.
Stream product demonstrations from several locations. Product demonstrations are engaging, and adding some social proof or a couple of words from product ambassadors or employees can make them even better. With Zoom, none of your product demonstrators have to be in the same physical location as you, so you can save on travel or accommodation expenses.
Make your educational content available across the world. Is there something you're good at and want to share your knowledge of? You can gather a couple of highly interested people and host a webinar with all the options Zoom offers. You can then live stream whole sections of the webinar online to reach new audiences.
These ideas are an excellent start. But when you combine teleconferencing, webinars, and live streaming, you can create any number of interesting types of content.
Some things to keep in mind when using Zoom to live stream:
You can record your Zoom webinars. Paid users can record webinars and save them to the cloud. Both paid and free users can use Zoom to record their content on local hard drives. You can use the footage to stream it again later, upload it to your platform accounts, or edit it into new videos.
Zoom can transcribe your webinars for you. Don't worry if you didn't prepare a detailed script for your webinar — Zoom will produce a transcript for you. You can use it later to turn your webinars into other types of content, such as a book or a series of articles.
Zoom has advanced features such as polling. You can use these features to make your meetings and webinars more engaging and interactive. You can see an attendee list in Zoom. It's always good to have a list of meeting attendees. You can see who attended the meeting from within Zoom. Better yet, Zoom lets you ask the attendees for additional information when joining the meeting.
Wrap up
People who like to live stream, especially those who do it for business purposes, are always on the lookout for new and better ways to reach their audiences. That's why multistreaming is becoming such a big deal. Using Zoom with your multistreaming setup is by far the most convenient option to reach as many people as possible.