Intro
It's that time of year again — time to score some excellent Black Friday deals! Restream has scoured the web looking for holiday deals for live streamers, and we put all our favorites on this list. Whether it's software tools to help build better visuals or a new stream deck and microphone, all streamers can find something to get excited about in our Black Friday and Cyber Monday roundup.
🔥 Supercharge your streaming
Before we unveil this year's best Black Friday and Cyber Monday deals for live streamers, Restream has an offer that will make creating professional live streams easier than ever. As an intuitive live streaming solution, Restream's suite of products help you boost your views and enhance live video engagement without any extra hassle.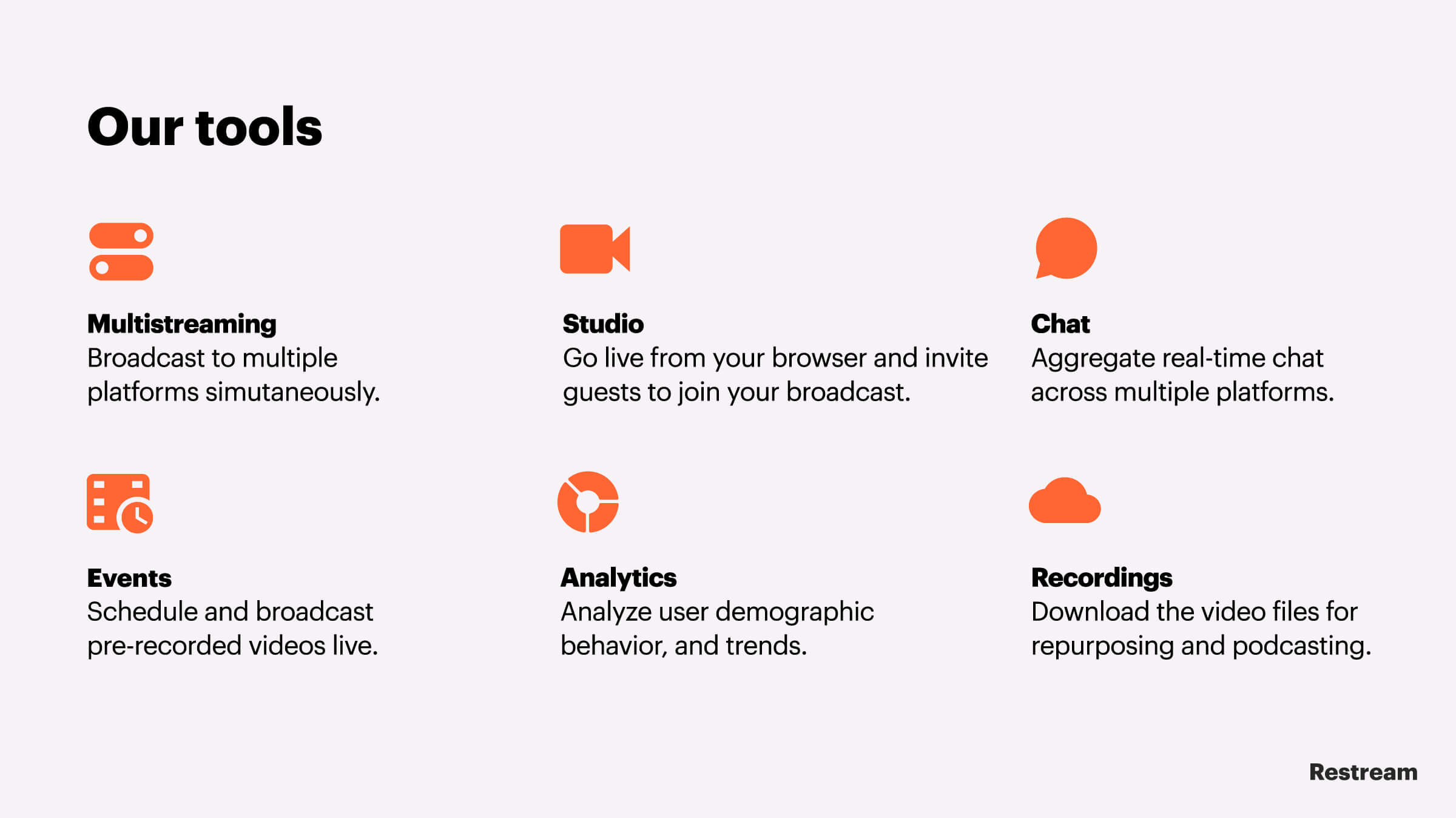 That's why you should hop on our Black Friday & Cyber Monday Flash Sale — our biggest sale of the year. New Restream users can get 50% OFF all of our annual subscription plans. You get one full year of Restream at half the price! Current Restream users on our free plan can also benefit from this exclusive deal. For those of you already using Restream with a Standard plan, you can save up $245 if you upgrade to a Professional plan or higher. With those savings, you get Restream access for one full year, but only pay for five months' worth!
This is our best deal of the whole year, and it only lasts four days. Restream plans are on sale now, until Monday, November 29 at 12:00 AM Pacific.
⚙️ Streaming/gaming equipment
Getting the right gear takes your stream from amateur-level to professional-grade. Webcams and microphones are a necessity, while green screens, lighting, tripods, and screen decks up the quality of your content. If you're a gamer, you also need the right mouse and keyboard to help you play your best when going live.
Here are Restream's Black Friday suggestions for the best hardware for streamers in 2021.
🔧 Accessories
Extras make your live streams more engaging and look more professional. Green screens, lighting, and stream controllers all improve the streaming experience both for you and your viewers.
🎥 Software & Apps
Not only do software and apps keep your live stream up and running, but they also help distinguish your content from the competition. Visual tools let you push the boundaries of your creativity, providing an appealing and engaging stream. Of course, you need tools that help you go live — you wouldn't be able to live stream otherwise! Organizational software lets you brainstorm new ideas and saves you from redoing your work.
🔗 Miscellaneous
There are so many aspects to live streaming that make someone a successful streamer — gear and software certainly don't cover it all! We've rounded up some other useful deals for live streamers this Black Friday.
Wrapping Up
If you're a streamer hoping to up your game in 2022, then Black Friday 2021 is the time to invest. Better visuals and tools for going live are just as important as your webcam, microphones, and lighting. With such awesome deals on the best streaming tools, you're sure to find what you need to take your content to the next level.
---
Keep checking back here for more deals! We're adding new ones as they're announced. Stay tuned 😉