Intro
The creator economy is a force to be reckoned with today. Counting over 50 million independent content creators, curators, influencers, community builders, bloggers, and videographers, the creator economy has helped build million-dollar companies with just a laptop and a webcam. The creator market, which includes the influencer marketing industry, is worth over $104.2 billion and increasing every day.
As an influencer, you too can build a super successful company. How? By mastering the art of live video experiences with fans.
This guide will take you through why and how influencers should live stream, including tips for getting started and marketing yourself to brand partners as an influencer.
👀 Why influencers live stream
Influencer marketing is all about connecting with fans so you can share insights on your favorite brands with them. Live streaming is one of the best ways to engage with your audience because it happens in real time. You can start a conversation with your followers, speaking directly to them and answering their questions instantly.
Apart from increased engagement — which is a big factor — what other benefits does live streaming have on influencer marketing?
Live streaming makes influencers more accessible. Getting close to your audience and making them feel like your peers is how you win their trust as an influencer. When you live stream, your viewers become more than just viewers, because they can participate in the stream via live chat.
Live streaming produces quantifiable results. The return on investment for influencer marketing can be hard to measure. But with live streaming, you easily see the size of your audience and how many people made a purchase or visited the brand's website as a result.
Live streaming is free and easy to do. It takes a lot less time to go live than it does to make a pre-recorded video, or video on demand (VOD). A three-minute VOD takes three hours to edit, but a thirty-minute live stream only takes 30 minutes, plus any prep time. Once a live stream is over, you can save the recording and repurpose it as a VOD as well.
Influencers can do live collaborations. Streaming with another influencer doubles your audience and exposes more people to your channel and the brand you're promoting. You can easily do one live stream on two channels simultaneously by using Restream Pairs. Simply create an event for the upcoming stream using Restream Events and send a link to join to your partner streamer.
Algorithms love live streaming more. On platforms like Facebook and Instagram, users who are live appear at the top of the feeds of their followers. Going live increases your visibility on these platforms.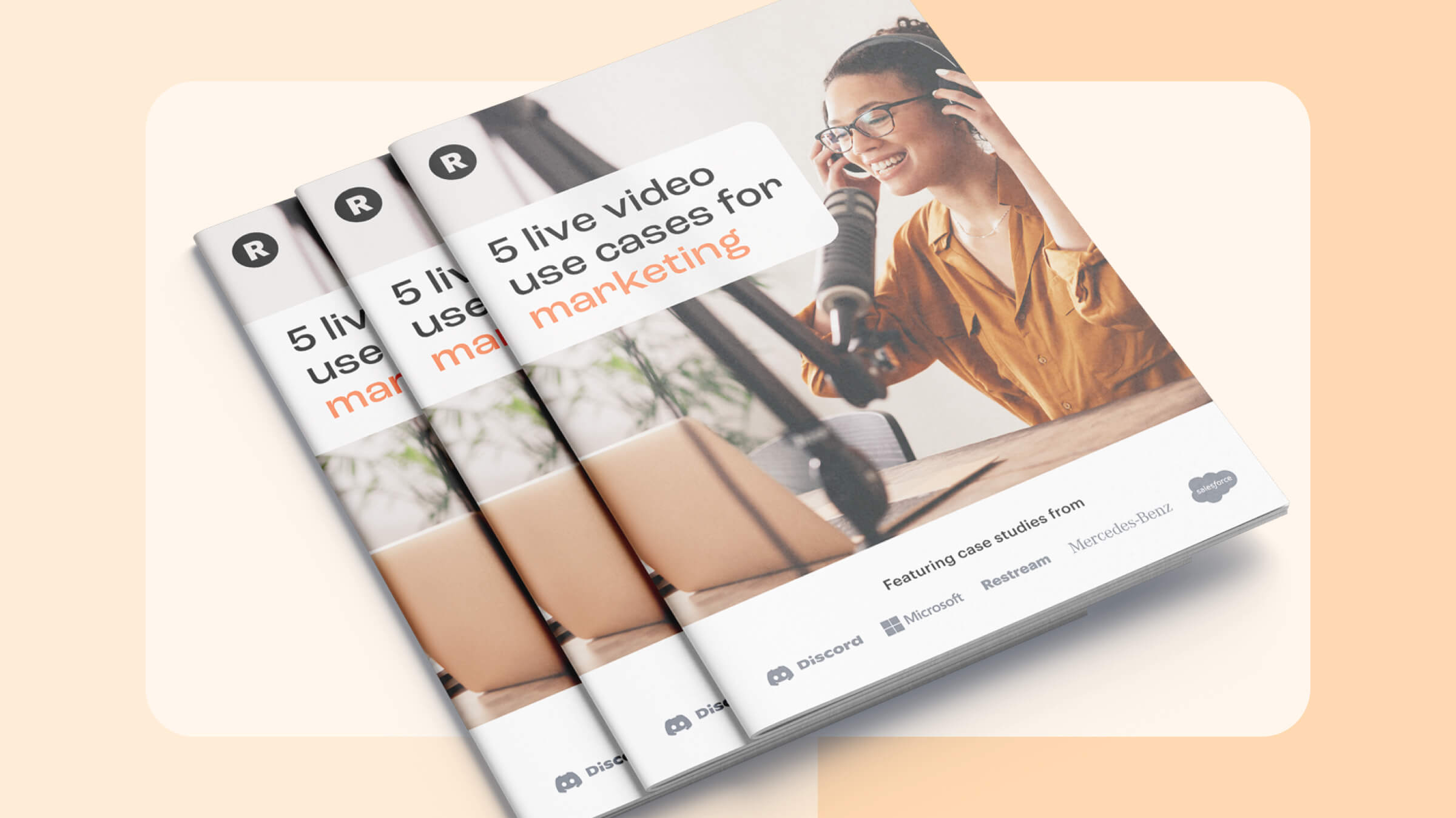 Free ebook: 5 live video use cases for marketing
Learn how marketers at top brands like Microsoft, Discord and Salesforce are using live video content to engage with customers and prospects and deliver results.
👉 Get the Ebook
Why influencers should multistream
It's clear that live streaming benefits influencers. But what if you could expand your audience faster and grow your reach further? By multistreaming — streaming to multiple platforms simultaneously — you can. Go live on YouTube, Facebook, Twitch, Twitter, and other popular platforms all at once by using a multistreaming tool like Restream.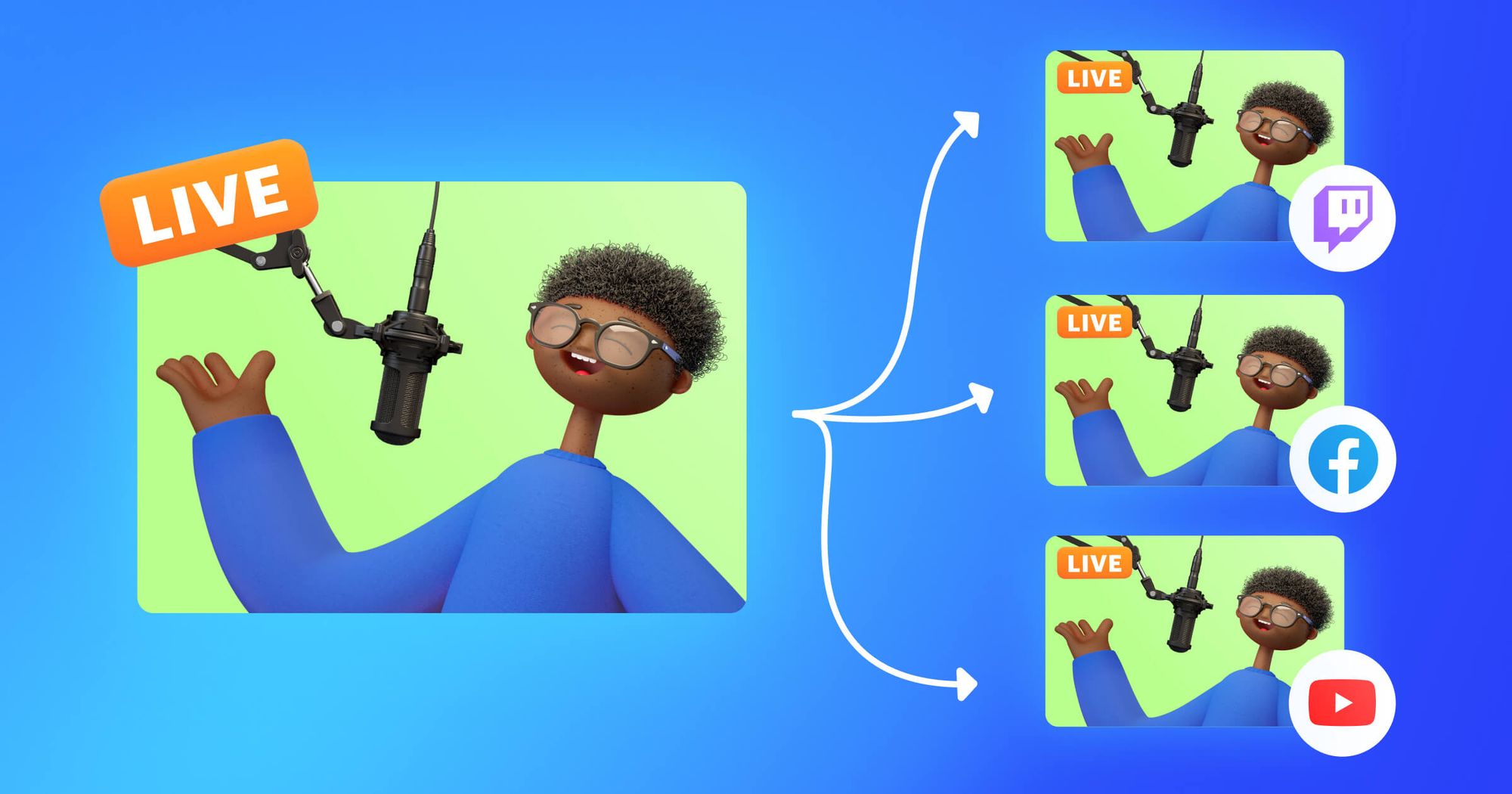 By multistreaming, you don't have to decide which of your platforms your target audience is most likely to be on. Nor do you force your fans to watch you on a platform they don't use. You meet your audience where they are, increasing your discoverability. You've already put the work in to build your following on various platforms, so why not engage all of them?
Multiply your views and engagement
Reach a wider audience by streaming to multiple platforms simultaneously.
Get Started
🤓 Live streaming tips for influencers
Today, live streaming is accessible enough that any influencer can easily start doing it. If you're new at it and want your marketing efforts to pay off, however, keep these tips in mind.
1. Invest in your live streaming equipment
On many major platforms, you can go live from your smartphone using its mic and camera. While streaming this way is super easy, you don't have much control over the quality of your stream. To stand out from other content creators and influencers, you need high-quality live streams, which require decent equipment.

Even if you have a small budget, you can still purchase a good webcam, external mic, and some cheap lighting. These three pieces of gear alone will help improve the quality of your stream drastically. Read our guide to live streaming equipment to get a better sense of what's available and what's worth spending your money on.
2. Continue to cultivate an audience outside of streaming
Once you start live streaming, you shouldn't neglect your other marketing channels. Keep posting regularly on social media, adding new blog posts, producing new podcast episodes, or whatever audience-building techniques you used before. Live streaming is just one addition to your influencer's toolbox, and it's more powerful when you use it in conjunction with your other channels.
3. Partner with brands you actually care about
If you commit to promoting a brand you don't like or know nothing about it, it shows. You'll feel less enthusiastic about creating the content and won't put any energy into it. And your fans will be able to tell. Even if you can feign the excitement for a brand you don't care about, promoting it will eventually take its toll and you'll grow resentful of having to live stream about it.
4. Choose the right schedule for live streaming
For your audience, there are good and bad times to go live. Figure out when most of your fans tend to be online and aim to live stream at those times. YouTube, for example, shows you when your viewers are online across all of YouTube in the last 28 days, so you can tap into this data to help schedule your live stream.
Other factors to consider when scheduling your stream include:
The type of content you're streaming
The action you want viewers to take afterward
Which devices your audience is watching on
The time zones your viewers are in
5. Prepare your streams ahead of time
The purpose of going live is to interact with your fans in real time, but that doesn't mean you can't write a short outline for the live stream beforehand. If you go into it without a plan, you could end up with awkward silences or mishaps. Think briefly about the topics you want to cover and how long you want to spend on each one. Keep your plan flexible, of course, but have a plan.
6. Be authentic
Although some preparation before a live stream is ideal, don't script the whole thing! Be genuine when you're live, especially when you're talking about your brand partner. Your fans are watching for you, so give them what they want and show off your personality.
7. Use the right streaming tools
There are many live streaming software and apps to choose from. If you want an easy-to-use streaming solution that lets you multistream, try Restream Studio. Our live studio lets you start a broadcast on YouTube, Twitch, Facebook, Twitter, and all your favorite platforms from within your web browser. Simply connect your accounts to Restream, launch the Studio, then start using all the awesome features Restream Studio has to offer. Add a custom logo and background graphics, share your screen, invite guests to the stream, play local video files and copyright-free background music, and much more.
🚀 Marketing and negotiating for influencers
For influencers who want to partner with brands, creating content is only half the battle. Marketing yourself and negotiating with brands for deals are an integral part of being a successful influencer as well. Adopt a marketing mindset if you want to collaborate with brands, and keep these tips in mind:
Charge for value, not time. Brands aren't paying you for the hours you spend on creating a live video, they're paying for the creative way you engage their prospective customers, which leads to more conversions for them. When you set your pricing, focus on the unique offering you have with live video, rather than on the number of hours you put in.
Prove you are relevant. Brands won't work with you if you come out of nowhere. Show that you've done similar work for another brand in the same industry and are familiar with their target audience. Some brands don't want to work with influencers who praise their competition too much, however, so don't focus solely on a brand's competitors.
Provide a track record of successful campaigns. Brands are more likely to collaborate with you if you convince them that you can engage and sell. Share a past live stream with them that was particularly engaging, share your conversion metrics, and invite the brand reps to one of your upcoming streams so they can see you in action.
Be on the same page. Always make sure you and the brand have the same expectations, deliverables, and deadlines in mind. Miscommunication is both easy and detrimental to this kind of partnership. Double-check everything and ask for adjustments if needed.
Should you do commission-only partnerships?
One common way to partner with brands is as an affiliate, whereby you get a small commission of any sale made using your unique link to the brand's product or service. Affiliate marketing can benefit both established opinion leaders and aspiring trendsetters, and here's why:
It might be the only option: Many brands only offer performance-based campaigns, but they may offer as much as 30% lifetime concurrent commission for each new paid user. Restream has a Referral Program that gets you rewards for every new user you sign up, and you can even get collaboration offers from us if you bring in tons of new Restream users.
Affiliate programs tend to have good tracking: Programs track clicks, traffic sources, custom links, and landing pages, providing you with a testing ground to master conversions. Learn what works for brands and your audience and use that knowledge to make your sponsorship proposal stronger in the future.
Use the affiliate program as a subscription business: Build brand loyalty by continuing to connect your community with cool products and services from the brand. Your followers become loyal customers, which brings you a sustainable source of income.
🤑 The benefits of influencer-brand collaborative streams
When brands and influencers team up and unite their respective audiences, it leads to remarkable results. Influencers have the power to tell a unique story and weave the brand into it by using interviews, Q&A sessions, behind-the-scenes looks, or simply having brands co-host a stream.
Creating a live video together decreases production time and increases authenticity.
Both you and the brand spend less time on the content, and by streaming together frequently, you help reinforce the message.
Restream recently introduced a new tool that makes co-hosting live streams a breeze. With Restream Pairs, you can send a live broadcast to both your channel and your partner brand's channel at the same time. All it takes is scheduling your upcoming live stream with Restream Events, then sending your partner a secure link. When the stream starts, it'll be live on all your connected channels, plus your brand's channels.
Restream regularly hosts live collaborations with other brands, and the Pairs feature comes in handy for these sessions. Earlier this year, Restream added integrations for the transcription and video editing service Descript to some Restream products. To co-market both brands and announce the new integration, we hosted a dual live session on both Restream's and Descript's channels. Doing so boosted views and engagement for both brands, with 8.9k views on Restream's channel and 2.1k views on Descript's channel, for a combined total of 11k views.
Another interesting way to collaborate is with takeovers. Either the influencer takes over the brand's channels or vice versa. The brand's followers get something new and unexpected from the influencer takeover, and the influencer's followers get access to exclusive content or offers from the brand takeover.
👉 Examples of influencers using live streaming
To help you see what's possible with live streaming as an influencer, check out these examples of streamers who use affiliate links or other forms of brand sponsorship.
1. Cosmopolitan x Lauren Conrad
Fashion influencer Lauren Conrad hosted a live Q&A session on Facebook, in partnership with Cosmopolitan. The video was simple and direct, even filmed on a smartphone, but still managed to wrack up 4.2k views on the replay. It shows that while video quality is important, the value your content brings to your audience is indispensable as well.
Influential skin care influencer Hyram hosted a live session to answer viewer questions about skincare routines and added a list of his favorite products, with affiliate links, in the description. Hyram's stream was engaging and actionable for users, while still allowing him to drop affiliate links to products he mentions.
3. Sephora x Fenty Beauty by Rihanna
In a collaboration with Rihanna and her beauty line Fenty Beauty, Sephora hosted a live product launch and beauty talk. Rihanna taught people how to use the new products in a thirty-minute live session that promoted both brands.
4. Aveda x Hair & Beauty Influencers
Cosmetic brand Aveda hosted a series of live masterclasses featuring makeup and hairstyling specialists like Stacy Reid and Naomi Dove. Aveda has an archive of all its previous live streams hosted on its website too, which helps drive more traffic to the site.
Twitch streamer Ludwig created an ad for Coinbase and integrated it into his live stream. His live video is a good example of collaboration with other live streaming influencers, as it also featured Mizkif, Pokimane, and QTCinderella.
6. Linus Tech Tips Live x Pulseway
Tech influencer Linus Sebastian hosted a live stream to discuss and promote a server monitoring tool from tech company Pulseway. Reviewing products as Linus does in this stream is a good way to catch the attention of the brands you'd like to partner with as an influencer.
🔥 How Restream helps influencers who live stream
Restream is the ultimate live streaming solution for influencers. We have a range of tools geared at making live streaming easy and accessible, whether you're a beginner or pro. Check out how each of our products helps influencers who live stream:
Multistreaming: You can go live across multiple channels at once by simply connecting them to your Restream account. You can then connect Restream to your live streaming software, such as OBS Studio, or you can go live directly from Restream Studio.
Restream Studio: Our live Studio lets you broadcast right from your web browser — no download needed. Simply give access to your camera and mic, then start adjusting all the awesome settings and features Restream Studio provides. One particularly useful tool is the Brand Folders feature. It allows you to save different sets of overlays and settings and switch between them with one click. You can save a brand folder for your general streams and one for when you do streams promoting your brand partner.
Restream Chat: Staying engaged with fans during the stream is essential. Restream Chat keeps all messages from all across your various platforms' live chats in one central place. Read messages from YouTube, Facebook, and Twitch all in one window while you're live.
Restream Events: As an influencer, promoting streams is just as important as the streams themselves. Schedule and promote live streams using Restream Events. You get a shareable link to the event, which you can post on social media, and your viewers can click on it when it's time for your stream to start. Restream Events also allows you to upload a recorded video and schedule it to go live.
Restream Analytics: Keeping track of stream metrics is vital for an influencer because it's the info you need to show you're successful. Whenever you stream with Restream, we'll track all your important stream metrics and aggregate them across all the platforms you're live on.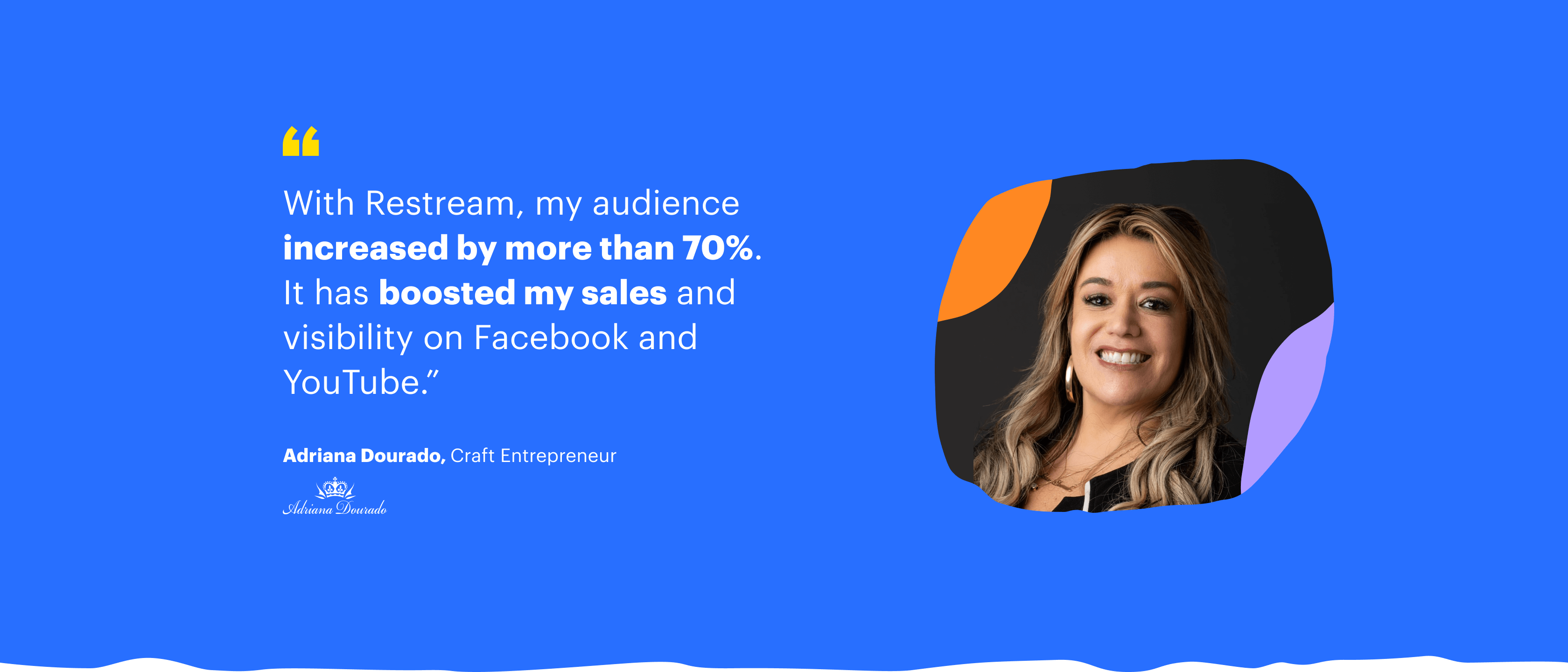 Let's wrap up
Live streaming opens so many opportunities for influencers to build their communities and make lasting partnerships with brands. Taking advantage of the real-time engagement live video offers not only brings you closer to fans but also attracts the attention of brand partners. If you can become a successful live streamer, then you'll be a successful influencer.