Intro
Nowadays, it's not enough to simply press the "Rec." button and start your stream. If you really want to grow your audience, you should get a little bit more creative. The diversity of available media formats, communication tools, and devices opens up lots of new opportunities. We are talking about repurposing your content. In this article, we describe what is repurposing and why it is essential for live streaming.
Whether you already do live streaming for a living or you just want to try your hand at it, consider the following. How many different content formats do you consume daily? Most people watch videos on YouTube, read blog posts, and enjoy live streams. However, there are so many more ways to deliver information and attract even more people from all over the world! This is exactly what we are covering here.
What is repurposing content, and why do you need it?
Imagine you wanted to invent some new way of delivering your content via the web. Now, why would you need to think of something like that? The answer is obvious — you want to grow your audience by attracting new consumers. This is where repurposing of your content just may come in handy.
For instance, perhaps the only way you share content is by live streaming on Twitch, YouTube, Facebook, and other platforms. This way, your audience consists only of people who enjoy watching streams. Now, imagine how many more followers and subscribers you would get if you, for instance, made a video montage of your stream and posted it on YouTube. This example illustrates just how useful the repurposing of content can be for every content creator in our modern world.
So what exactly does it mean to repurpose your content? It means you change the way you present the same information. This allows you to reach new audiences without the need to create new content from scratch. Repurposing content works not just for live streamers, but also businesses, marketers, influencers, etc. Now, let's move forward and describe the most popular ways of repurposing content.
What are the ways to repurpose content?
Although there are lots of very effective ways to repurpose your content, it depends on your original content format. Regardless, we will try to cover every frequently used repurposing strategy, and hopefully you will find the ones that suit you best.
🙌 Download, edit, and post

This way of repurposing content is basically the opposite of the previous one. You can always download the video of your live stream session (also called VOD) and create a well-produced video of the highlights of your stream. All you need is some basic trimming and photoshopping skills.
First, cut every failed or unnecessary frame, leaving only the best and most important ones. The next thing you want to do is create an appealing preview (a thumbnail) for your video. Finally, post it everywhere you want: from YouTube and Facebook to Vimeo and Twitter. You can go even further and embed the result into your blog or create a short teaser of your video to post on Instagram.
💬 Quotes from video

The next popular way of repurposing content is making snaps of your live video and adding an interesting quote on top of the picture. Typically, this works as a simple yet very powerful and cheap ad tool. All you need to do is take a high-quality screenshot and add an engaging quote from your stream. Then, post the result on Facebook or any other social media.
🎥 Instagram teaser

Yes, we've already mentioned these Instagram teasers. However, this way of repurposing content is way too trendy to skip without any details. According to Facebook, more than 500 million people use Instagram daily. So why don't you try to take advantage of this fact? Especially if it is free!
Nowadays, the maximum length of the video you can upload on Instagram as a usual post is 60 seconds. However, you can increase this limit with the new feature called IGTV. It allows you to upload videos longer than 60 seconds without cutting them into small pieces. So, let's say you have a two-hour-long live stream video. All you need to do is cut it down to a three-minute video of the highlights and upload the resulting video on Instagram TV.
🎙 Audio podcast

Another popular way to gain more audience from other platforms is to create an audio podcast. You can simply turn your recorded live stream video into an audio file and post it on SoundCloud or iTunes. However, make sure the audio quality is high and consider editing your audio to adapt the content for listening. Nobody wants to hear silence, annoying background noises, or volume jumps.
📚 Twitter snippets

Much like the Instagram teasers and quotes from live videos we have mentioned above, fancy snippets for Twitter can give your content more exposure and thus more audience. These little teasers can be in the format of a short video or just a picture. Come up with an engaging title and description, as well as a few key hashtags. And don't forget to add the link to your main content!
📖 Keep your blog alive

Which blog is more engaging: the one that has nothing but a wall of text, or the one that has cool pictures and videos embedded inside? This is obviously a rhetorical question, and we all know the answer. Therefore, consider using your live videos in the blog if you have one. Moreover, the views of embedded videos count towards the total number, which positively affects your reputation on video hosting platforms.
📹 Reusing old videos

Depending on the content type, you could reuse your old live stream recordings to create a compilation. Such compilations are often used to make tutorials and presentations for online courses. In case you have some knowledge or experience you want to share, this repurposing content method is just for you.
✉️ Email campaign

Email campaigns allow you to target exactly the audience you want. Although usually you cannot embed your videos into email, you can add a fancy thumbnail. Don't forget to insert the link to your video. Also, think of your exact call to action in your emails. Meaning, what would you like people to do after reading them?
🤩 Live streaming
One of the most effective ways of repurposing your content is to stream your edited videos. There are many cool streaming platforms, like YouTube, Twitch, Facebook, Instagram, and even LinkedIn. Live streaming quickly gains popularity all over the world, regardless of the content type. One of the biggest advantages of this repurposing method is that you can share your content on every platform in real time for free. It might be a bit challenging to comprehend the technical stuff, though. Therefore, consider trying out Restream and leaving all the difficulties to us.
Easy live streaming for everyone
Run professional live streams from your browser.
Get Started
Last but not least, Restream Events allows you to live stream your pre-recorded videos on 30+ platforms simultaneously. Imagine you have absolutely no time or desire to stream, but you already have a ready video you could use instead. You can schedule your saved videos and enjoy your day while we live stream them for you! The good thing is that Twitch affiliates can reuse their streams on other platforms after the exclusivity period ends. This period lasts only 24 hours.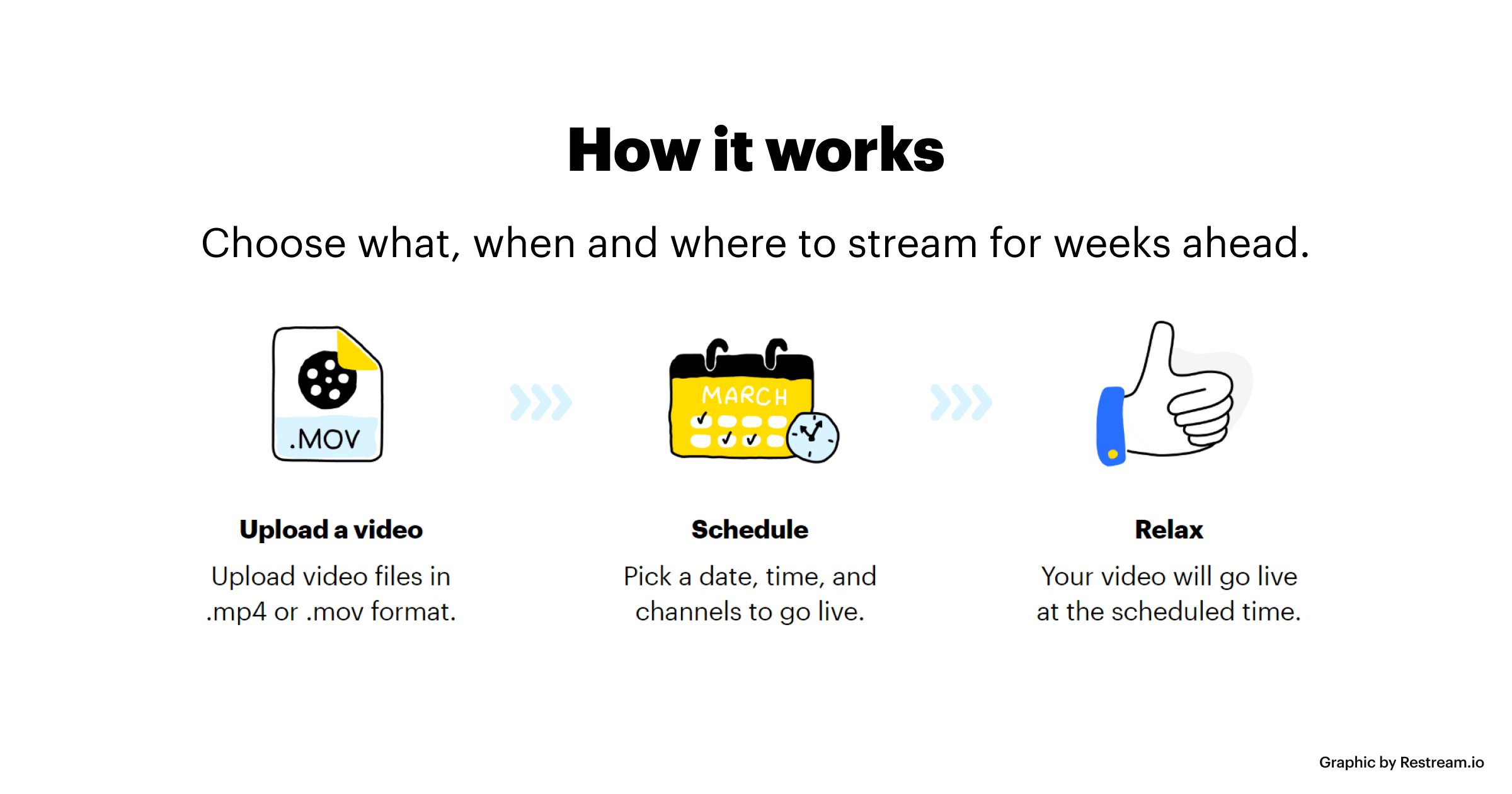 Wrapping things up
Let's recap everything we've been discussing here. First of all, what is repurposing content? It basically means presenting your content in other ways to reach new audiences. There are many ways to repurpose your live videos, but some of the most effective ones include:
Videos into live streams
Live streams into edited videos
Quotes from video
Instagram teasers
Audio podcasts
Twitter snippets
Reusing old videos
Email campaigns
Restream Events
You've probably already noticed that many popular creators do not limit themselves to one repurposing method. After all, the doors will be opened to those who knock. Choosing the right way to repurpose your live videos depends on the type of content you already have. For example, if you have multiple live stream videos suitable for listeners only, why won't you make a podcast? Simple as that! The more people discover your content, the faster your audience will grow.