Intro
Live streaming is one of the most powerful ways you can engage your audience and reach your business goals.
Social media platforms prioritize live videos over other content, and viewers interact with, watch, and share live videos more than traditional video posts. In business, 94% of marketers believe video content is useful for explaining a product or service, and 92% see video as an important part of their strategy.
But for all those benefits, going live does have a big drawback. It can be… stressful. 🤪
We get it. At Restream we've been going live for years and we still feel nervous sometimes!
On live video there's no do-over if you draw a blank or say the wrong thing. And you have the added pressure of managing your tech and engaging in the chat, all while you present information or interact with guests.
For some creators, live streaming is so nerve racking they stream less often or never go live at all. Maybe this has even happened to you.
The good news is we've come up with a solution that you're going to love!
We're thrilled to announce Restream's new integration with Descript, the all-in-one audio/video editing and transcription tool. Together, we're bringing you the best of both worlds: the ability to live stream pre-recorded videos that have been edited to perfection.
We know what you're thinking now: video editing is so daunting! And normally you'd be right — with most software, editing is time-consuming and requires special skills and experience.
But just wait. You haven't experienced editing with Descript! 🦄
🚀 Descript makes editing videos a breeze
Editing videos with Descript really is as simple as editing text. It works like this: upload your imperfect, unedited video and Descript will instantly transcribe it. Then, you can go to town editing the transcript, and your changes will be reflected in the video. Fix flubs, remove ums and ers, add captions, and more. It's kind of magical and fully awesome.
You can also create awesome promo materials from your content like audiograms (which are great for social media) that feature audio and captions over an image.
Once your video is edited and ready for your audience's eyes, it's time to go "live" with Restream. 🤩
🦑 Stream your flawless videos with Restream
Once your edited video is ready, simply click the export button in Descript to send the video to your Restream Video Storage. (Integrations are rad!)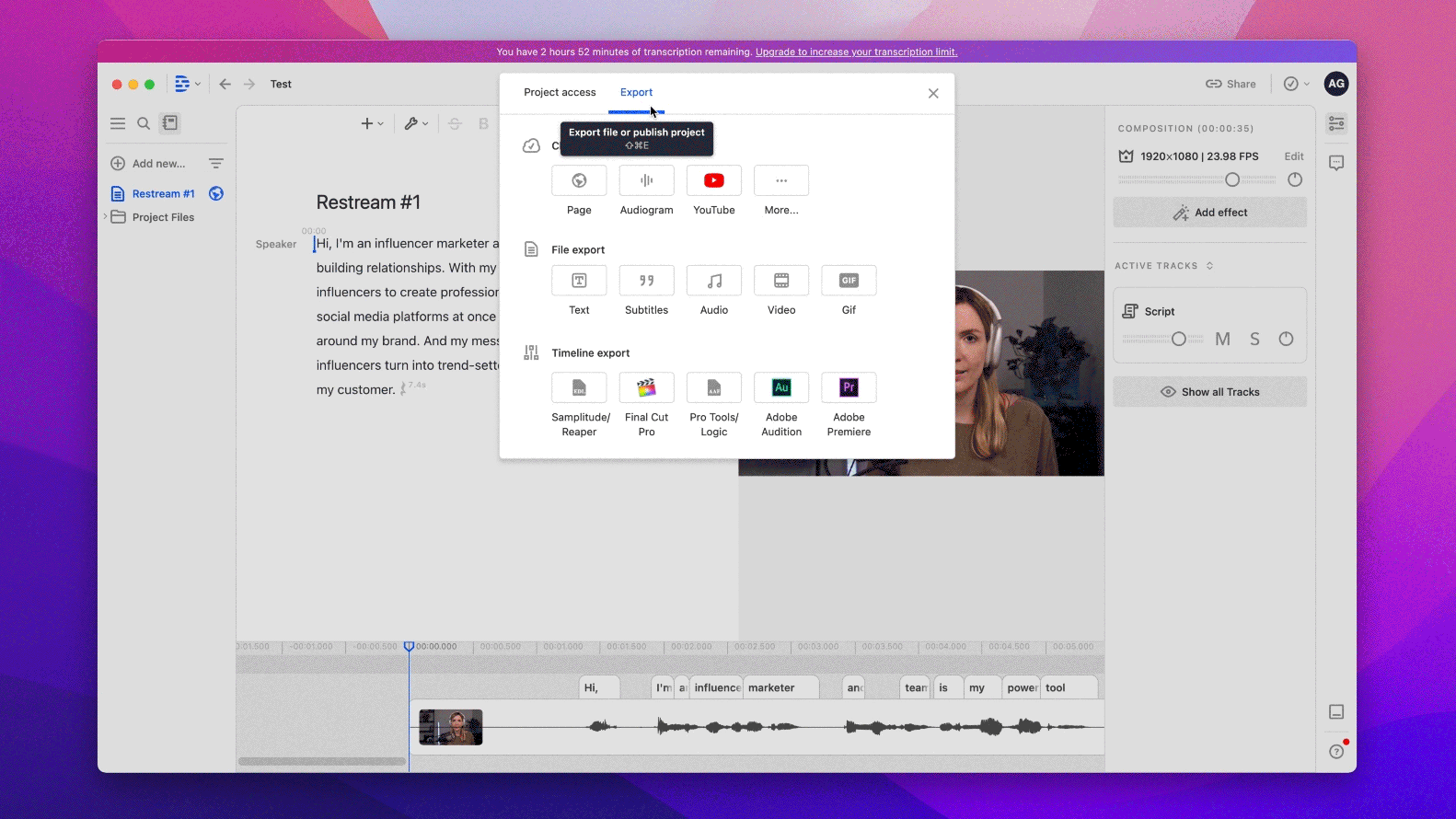 Or if you already have Restream open in your browser, click the import button on your Video Storage page, add your Descript video's public link, and press "Upload."
Now that your edited video is stored on Restream, you can schedule it to go live at the perfect time! Go to the Restream Events page to set up the date, time, and platforms where you want your video to broadcast.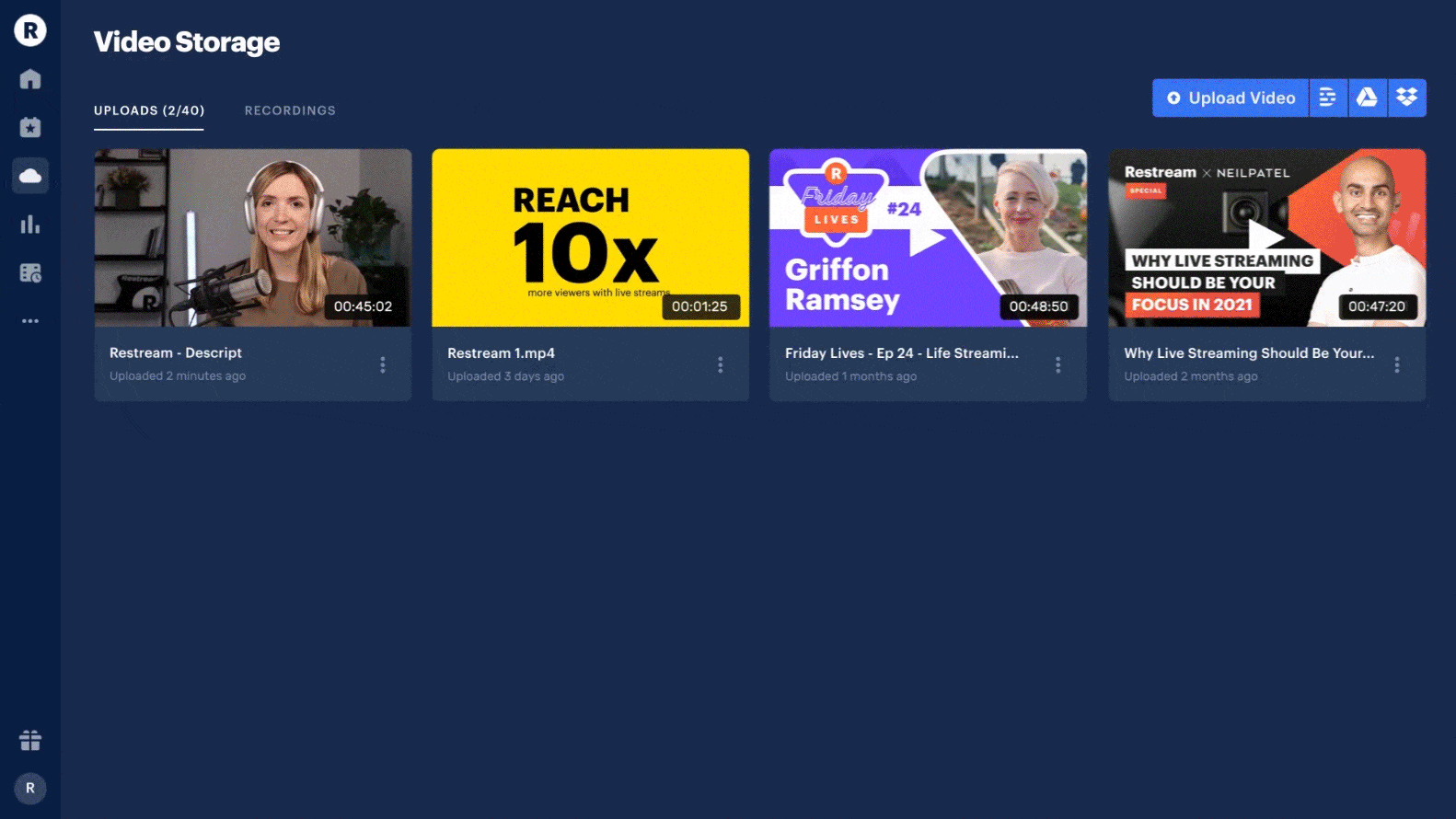 When your video goes live, you'll get all the benefits of live streaming, but with a flawlessly edited video that takes the pressure off you to go live!
BONUS: Boost engagement through chat
Now that you're not stressing about being on live camera, you'll be free to hop in the chat and hang out with your viewers while your edited video plays!
Without the pressure of multitasking, you can devote more time to interacting with your audience, answering their questions, and fostering your community. All of which leads to happier, more engaged viewers!
🤩 To make this absolutely special!
Watch a replay of our live stream with Descript to learn how you can get the most out of our partnership.
What you'll learn:
Expert tips for making pre-recorded content look and sound great
How to publish and export your content to Restream once it's ready for your audience
How to seamlessly integrate your pre-recorded content into a live stream
Wrapping Up
With Restream's new Descript integration you can get all the benefits of live streaming while skipping the stress of multitasking and needing to be fantastic on a live camera.