Consistency is one of the keys to successful live streaming. Showing up on time, every time, reassures viewers that you'll be there for them, ready with excellent content. But sometimes life gets in the way and you can't stream at your regular time. There are a lot of ways to solve this problem, but the easiest is to stream a pre-recorded video using Restream's upload and stream feature. This guide shows you how to set up pre-recorded videos to go live on Facebook, YouTube and any other live streaming platform.
The #1 live
streaming solution
Get started for free
What is Restream's upload & stream?
Upload and stream is Restream's simple yet powerful live streaming feature that allows you to schedule and broadcast your pre-recorded videos live. You can also stream your video to several top platforms at the same time. You can schedule a video to be simultaneously live streamed on, for example, Facebook, YouTube, Twitch, LinkedIn and Twitter.
With upload and stream, you can be away from your computer and still live stream. You can enjoy your days off from streaming while still broadcasting your content all over the world. You can also notify your viewers about your upcoming live events.
How does upload & stream work?
Restream's upload and stream feature is intuitive — even beginning streamers can use it. Follow these steps to schedule a live stream:
Edit and prepare a pre-recorded video you want to live stream. It could be any kind of video, from recorded live sessions or edited stream highlights to product ads.
Sign up or log in to your Restream account.
Click the Stream a Video File button.
Choose between uploaded videos or your stream recordings, or upload a video if it's not already been uploaded. Click Next after you choose a video.
Set the following information for your event:
- Title
- Description
- Date and time
- Thumbnail or cover (recommended size: 1280x720p)
Select the platforms you want your pre-recorded video to appear on.
Click Create Event.
That's it! Your pre-recorded video is scheduled to stream on the date and at the time you selected. If you want to make an announcement post about your upcoming live stream, you can also check the box next to Make announcement post. Currently, announcement posts are only available on YouTube, LinkedIn, and Facebook.
Important: To broadcast pre-recorded videos, you must have a Professional subscription plan or above.
Who can benefit from scheduling pre-recorded videos?
Whether you are a large corporation or a solo streamer, Restream's upload and stream feature helps you share your live content with the world. Gamers, beauty vloggers, musicians, public speakers, talk show hosts, churches, production companies, charities — all types of streamers can take advantage of upload and stream. We've made a list of some of the most common use cases so you can see how to make the most of it.
Taking a day off
There are days when you simply cannot live stream. You're not a machine, after all. Restream is the machine that will gladly do the job for you when you need it the most. Streaming a pre-recording video during your vacations and days off is the most reliable way to stay consistent.
Targeting different time zones
Restream allows you to target viewers depending on their time zones to make sure they are able to watch your streams. You can live stream at your local peak audience time and then upload the recorded version to Restream and live stream it later to cover other time zones.
Organizing your streaming schedule
You can easily take breaks between your streams any time you want. However, to keep things comfortable, we recommend creating an organized schedule of your streaming time and mandatory breaks. This results in an ongoing, automated and optimized flow of live content you and your audience will greatly benefit from.
Creating flawless video content
Pre-recorded videos have one great advantage over live content. Thanks to the thorough production process, you can create perfect video content just the way you want it to be. You no longer have to stress over the flaws and mistakes that happen during traditional live sessions.
Keep in touch with your audience
Our upload and stream feature also helps you notify your viewers about your upcoming live events. You get a shareable link to your scheduled live stream, which you can post on all your social media accounts. You can keep your audience updated on your live streaming schedule so they can adjust their plans and show up to your broadcast.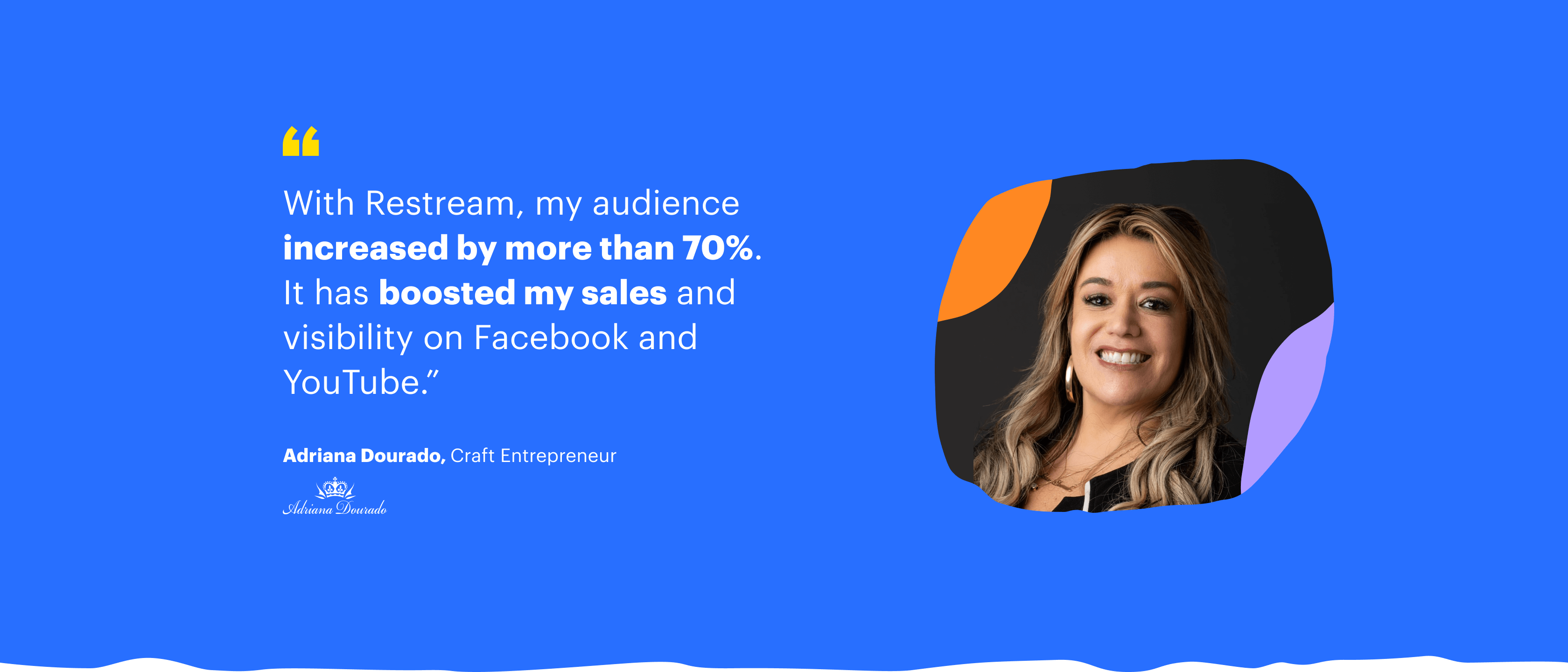 Restream Studio + upload and stream
Did you know that you can use our browser-based live streaming studio Restream Studio to record videos? Simply activate record-only mode before entering the studio, and you can film your video without going live on any channels.
You can use all of Restream Studio's awesome features, like playing local video files, adding custom graphics, sharing your screen, and much more, to create your video. When it's done, you can export it, edit it, and then upload it to Restream for a live broadcast later on!
Restream also partnered with video editing and transcription service Descript. You can export any recording from Restream video storage to Descript, which lets you create an editable transcription of your video, along with tons of other cool features.
So, you can use Restream Studio's record-only mode to film your video, edit it, and get the transcription with Descript, then use Restream's upload and stream feature to schedule the video to go live. What could be easier?
Restream creates amazing tools like Studio, analytics, chat, and upload and stream to facilitate your live streams and helps you both minimize the amount of time you spend on streaming and maximize your audience reach.
Live stream everywhere,
all at once
Get started for free
FAQs
How do I stream a pre-recorded video?
By using Restream's upload and stream feature, you can upload and schedule a pre-recorded video to go live on multiple platforms simultaneously. Read how to do it here.
How to schedule a pre-recorded video on Facebook?
All you need to schedule a pre-recorded video on Facebook is a Facebook account, a Restream account and a recorded video to upload. Learn how to connect your Facebook profile, page or group to Restream here and learn how to schedule streams in advance here.
How to live stream a pre-recorded video on YouTube?
You can go live on YouTube with a pre-recorded video using Restream. Learn how to connect your YouTube channel to Restream here and how to schedule streams in advance with Restream here.
Can you live stream a pre-recorded video for free?
If you want to live stream a pre-recorded video using Restream, you'll have to sign up for our Professional plan or above.
Wrap-up
Live streaming requires a lot of time and energy. Restream's upload and stream feature can help you conserve some of those resources. This simple and effective tool allows you to upload your pre-recorded videos and multistream them later to any number of your favorite platforms, like YouTube, Facebook and Twitch, at any date and time. With Restream, you can also schedule your upcoming live streams and notify your audiences across all platforms.
Some of the most popular use cases for the upload and stream feature include:
Live streaming during days off and vacations
Targeting audiences across different time zones
Organizing a robust streaming schedule
Creating flawless video content
Keeping in touch with your audience
To start scheduling pre-recorded videos, simply log in to your account and upload your first video. Don't hesitate to ask for help in our 24/7 Live Chat if you have any questions.