Intro
Every professional streamer knows there are many crucial components when it comes to successful live streaming. Today, we are talking specifically about the one you cannot grow your audience and build a community without — consistency. This factor means so much more than just a high number of streams per week. Consistency means your viewers can be sure you will be online on time.
Nowadays, the competition in live streaming is ruthless. In order to thrive under such tough conditions, we believe you should have full control over your streams. Surely, the stream quality should be top-notch to compete with the best. But consistency has proven to be as important in the long run. Restream Events is a perfect tool to help you put your competitors at a disadvantage.
What is Restream Events?
Restream Events is a simple yet powerful live streaming feature that allows you to schedule and broadcast your live streams or pre-recorded video content to 30+ top platforms at the same time. In other words, you can schedule an event or video to be simultaneously live streamed on, for example, Facebook Live, YouTube Live, Twitch, LinkedIn, etc. The best thing about Restream Events is that you can be away from your computer and still live stream.
We at Restream want streamers to have everything at hand. That's why we've created amazing tools like Studio, Analytics, Chat, and Events. Each of them facilitates your live streams and helps you both minimize the amount of time you spend and maximize your audience reach.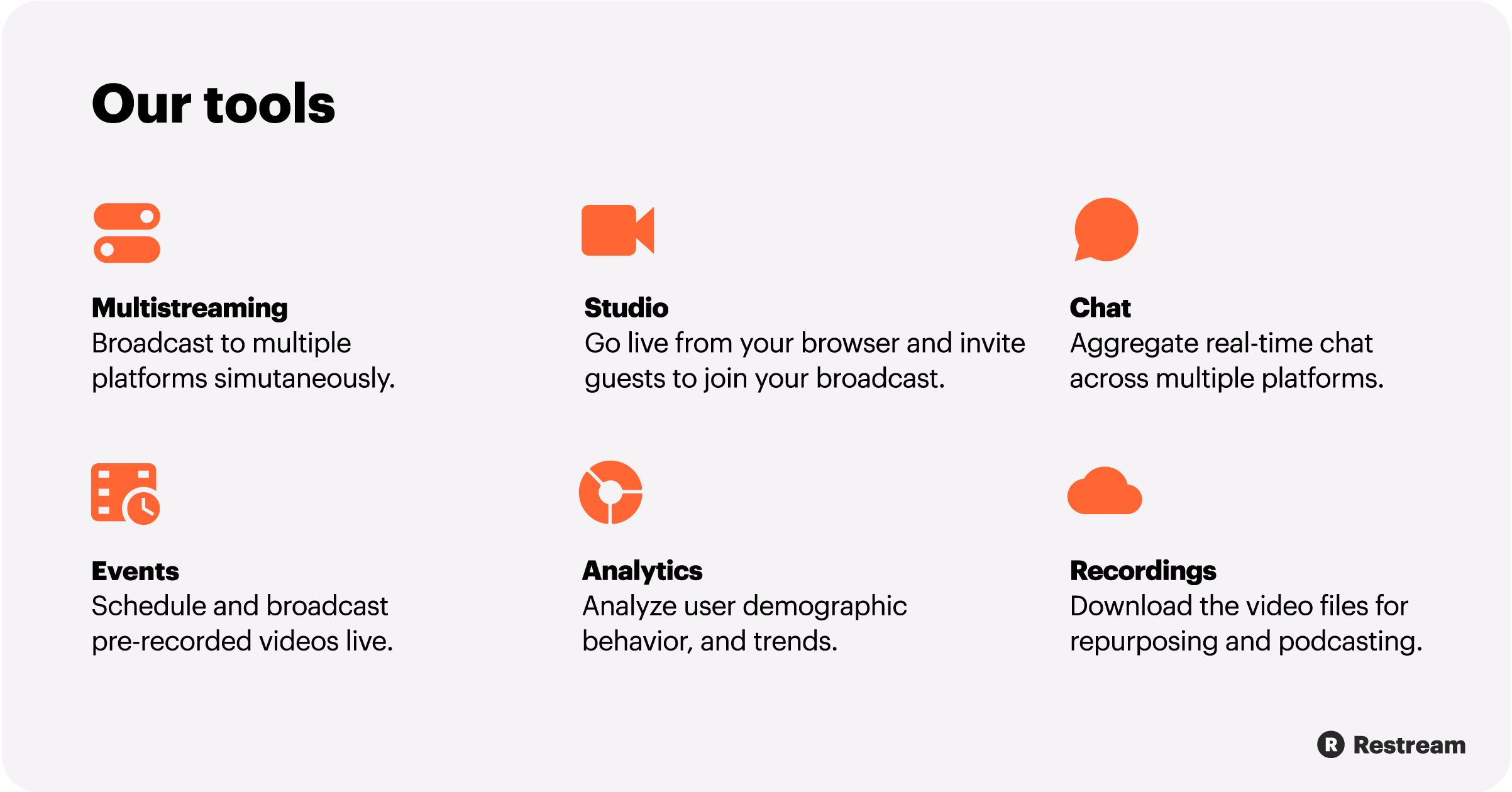 Restream Events, in particular, allows you to enjoy your days off of streaming while still effectively broadcasting your content all over the world. It also helps you to notify your viewers about your upcoming live events.
Read Next: Restream tools and features: Full guide 📍
How does Restream Events work?
We've tried our best to make Restream Events as easy to use as possible so anyone can intuitively understand every feature it has to offer. Let's quickly go through the process of using Restream Events.

Using Restream Events to schedule your pre-recorded videos:
Firstly, prepare a pre-recorded video you want to live stream. It could be virtually any kind of video: from recorded live sessions to edited stream highlights and product ads.
Then, sign up or log in to your Restream account. Click the Events button in your Restream dashboard. There you can schedule your recorded video.
Upload your video and choose the date and time when you want it to be streamed. Don't forget to add some catchy title and description.
The next step is to select the channels to stream to.
Simple as that! Now you can be sure your pre-recorded video will be streamed at the scheduled time.
Check our support guide for more detailed instructions on how to schedule a pre-recorded video.
Important note: Broadcasting pre-recorded videos requires you to upgrade your subscription plan to at least Professional.
Easy live streaming for everyone
Run professional live streams from your browser.
Get Started
Who can benefit from using Restream Events?
Whether you are a huge business corporation or a solo streamer, we've designed Restream Events to help anyone who shares their live content with the world. Gamers, beauty vloggers, musicians, public speakers, talk show hosts, churches, production companies — the list is virtually endless. Therefore, let's cover the most common Restream Events use cases.
🏝 Taking a day off
We all understand there are days when you simply cannot live stream. After all, we are not machines. Luckily, Restream Events is the machine that will gladly do the job for you when you need it the most. Live streaming with Restream Events during your vacations and days off is the most reliable way to stay consistent.
🕛 Turning your streams into a 24/7 live show
Did you know you could turn your live stream sessions into a 24/7 live show and stay in touch with your audience day and night? By using Restream Events you can do exactly that! You can either repurpose your old videos or simply loop your pre-recorded live session and truly maximize your audience reach.
🌎 Targeting different time zones
Restream Events allows you to target viewers depending on their time zones to make sure they are able to watch your streams. For instance, you can live stream at your local peak audience time and then upload the recorded version to Restream Events and live stream it later to cover other time zones.
⏱ Organizing your streaming schedule
With Restream Events you can easily take breaks between your streams any time you want. However, to keep things comfortable, we recommend creating an organized schedule of your streaming time and mandatory breaks. This results in an ongoing, automated, and optimized flow of live content you and your audience will greatly benefit from.
📹 Creating flawless video content
Pre-recorded videos have one great advantage over live content. Thanks to the thorough production process, you can create virtually perfect video content just the way you want it to be. Forget about all the annoying flaws and mistakes that happen during traditional live sessions all the time.
🤩 Keep in touch with your audience
Restream Events helps you to notify your viewers about your upcoming live events. You get a shareable link to your scheduled live stream, which you can post on all your social media accounts. This way you keep your audience updated on your live streaming schedule so they can adjust their plans and show up on your broadcast.
Wrapping up
Live streaming requires a lot of energy and time to achieve success. Hopefully, Restream Events can help you save up a little bit of those resources for yourself. This simple and effective tool allows you to upload your pre-recorded videos and multistream them later to any number of your favorite platforms, like YouTube, Facebook, and Twitch, at any time and date. With Restream Events, you can also schedule your upcoming live streams and notify your audiences across all the platforms.
We believe anyone involved in live streaming can benefit from using Restream Events. Some of the most popular Restream Events use cases include:
Live streaming during days off and vacations
Turning live streams into a 24/7 show
Targeting audiences across different time zones
Organizing a robust streaming schedule
Creating flawless video content
Keep in touch with your audience

To start using Restream Events, simply log in to your account and upload your first video. Don't hesitate to ask for help in our 24/7 Live Chat if you have any questions.