It seems like the whole world discovered live streaming during the 2020 pandemic — churches included. Houses of worship scrambled to find ways to stay connected with their congregations amidst social distancing and stay-at-home orders, and online church services took off. In April 2020, 22% of U.S. priests and pastors decided to live stream their worship service or sermon. Today, in-person services are back on but the appeal of virtual church hasn't fully died down. Modern churchgoers expect their churches to offer at least some form of virtual services and to embrace digital communications:
If your church has never live streamed before, it can seem like a big undertaking. In this guide, church leaders and volunteers can learn how to stream worship services and find out what streaming setup you'll need to get started.
The #1 live
streaming solution
Get started for free
Why live stream church services?
Staying connected with congregations and members in today's digital age is the biggest reason places of worship stream their services. There are several other advantages of broadcasting your services, including:
Engaging people who cannot attend worship in person
Being closer to the members of your parish and providing support wherever they are
Sharing inspiring live videos and encouraging more people to join your community
Bringing church to more people's lives
Strengthening your church community
Soliciting donations for further live video investment
One of the biggest benefits of live streaming for churches is growth. Dr. Matthew Stevenson, senior pastor at All Nations Worship Assembly, has been using live streaming for worship services for several years. He looks at it as a way to spread your message and grow your community, saying, "You never want to get comfortable with your current reach, and you always want to design a strategy for who else needs to hear."
If your church hasn't started streaming, now is the time to start. Churchgoers have come to expect digital communication experiences from their houses of worship.
Let's look at what it takes to produce live broadcasts so your place of worship can start reaping the benefits.
Church live streaming equipment and setup
To get started with live video, you'll need a basic streaming setup, such as:
Webcam or camera
Streaming software
Microphone
Laptop or smartphone
Good internet connection
The above are your "must-haves" that you can't really livestream without. After you've got the basic setup and become more familiar with live streaming, you may want to expand this list or add multiple cameras, mics and computers.
The best cameras for live streaming church services
To broadcast a good-quality video of your sermon or service, you'll need a camera that records in high definition (HD), featuring an HDMI output. This setup works if you have a small live streaming budget or don't need super-professional quality.
However, if you plan to go with high-end video production, we recommend you consider one of the top camcorders that capture video in 4K UHD (ultra high definition).
These are our top church live streaming camera picks:
You'll also need to choose which resolution you want to stream in. The video resolution you choose will directly affect the image size. In the high definition (HD) levels, higher resolution equals a larger and better-quality image.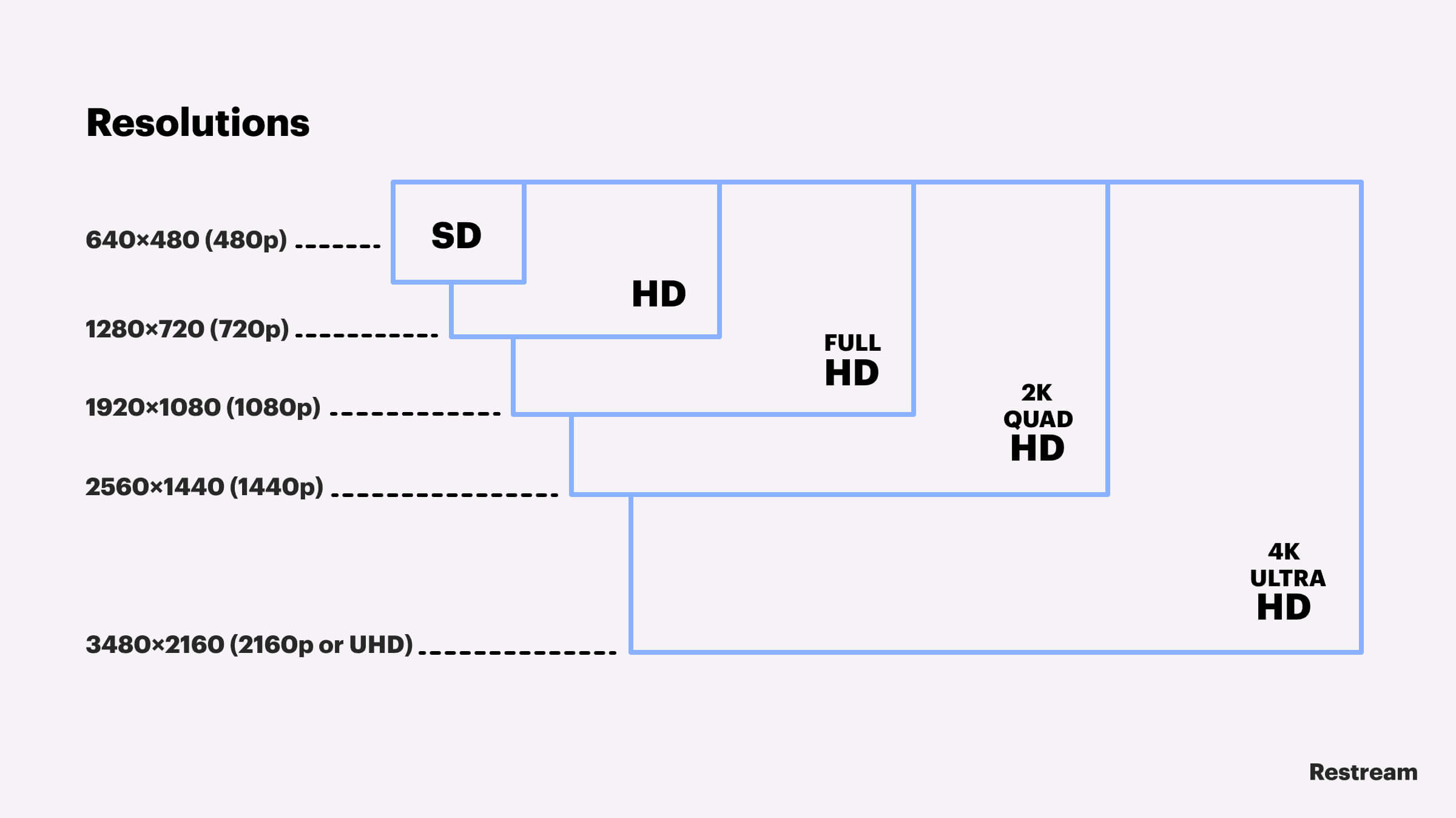 High-quality video is always recommended if you can do it, but your church members may encounter issues watching HD live video if they have slow internet connections. One option to avoid this problem is multistreaming, which lets you broadcast an HD video on one platform and an SD video on another, simultaneously. This way, viewers can choose the option that suits them best.
Streaming software for churches
Most social media networks let you live stream to your profile or page for free. You're limited to broadcasting on only one platform, though. You also have fewer options when it comes to customizing your live stream. If you want to broadcast to more than one streaming service at a time, you'll need streaming software like Restream.
Restream has several features that make it ideal for church live streaming:
Multistream to several social platforms and websites at once
Save a recording of your service to post on your website or send to your members
Add verses from scripture as captions on the live feed
Present a slideshow alongside the live feed
Stream with an extra camera for more than one angle
Lead small group discussions with members commenting and asking questions in the live chat
Add a QR code for a donation link to your church or a nonprofit you support
Create a social media event for your service or event beforehand so members save it and get a notification when you're live
Host your live stream on your church's website
Invite remote guest speakers to services and church events and have them appear on-stream live
Other streaming software you can try out for broadcasting your worship services and church events are:
BoxCast
Dacast
SermonCast
Wirecast
ProPresenter
Churchstreaming.tv
vMix
OBS Studio
Audio setup for church live streaming
A decent camera is important but audio quality is crucial for live worship services. You will probably already have your audio setup for the in-person service, but you'll need to ensure the people watching online can hear everything clearly too. You can connect your audio interface to your laptop and streaming software so at-home viewers can hear the service properly.
Laptop or smartphone for streaming church services
You'll need a device to run your streaming software and send your broadcast to live streaming platforms. For churches, a laptop or smartphone are the best choices, depending on your budget. Used wired internet, rather than wireless, is usually recommended for live streaming, however, so a laptop is more reliable than a smartphone.
Good internet connection
You need to ensure you have a solid internet connection if you want to stream live video. The upload speeds required for streaming differ depending on which platform you stream to and the type of content you're broadcasting. Check out our guide to streaming upload speeds to see if your church's internet connection is fast enough.
Other equipment for church live streaming
In addition to a camera and streaming software, there are several other accessories churches will need to go on air.

Tripod: Set your camera or webcam on a tripod or stable surface for the duration of the service. Nobody likes shaky videos.
Video lighting: If you hold services in person you already have lighting, but make sure it's adequate for capturing footage as well. Check out our video lighting guide for tips.
HDMI cable and extender: If you're using a camcorder, you'll need an HDMI cable and extender to connect it to the laptop running your streaming software.
Video switcher: Use a video switcher to switch between multiple cameras or video signals during the live broadcast. Check out our list of the best video switchers for streaming.
Monitor: Consider getting a second monitor for the live stream so you can check what the live video looks like to people viewing it in real time.
Which platforms should you live stream your church services on?
After you've set up your gear and your streaming software, you need to decide which platforms to stream your services to. Streaming to a church website is a common option, but many churches also use Facebook and YouTube. You should figure out where your members are most likely to watch you and stream to that destination.
Embed your live stream on your church website
Watching services live on a church website tends to be the most appealing option for churchgoers in the U.S. Members are most likely already familiar with your website, so the stream is easier to find and share. It also sends more traffic to your church website, where you can post a schedule of upcoming events, share updates and ask for donations.
With Restream Studio, you can send a live broadcast of your worship services directly to your website. You can set up your stream with our browser-based live studio, then simply copy and paste a video embed code onto your church website.
Watch our tutorial to see how to do it:
Facebook Live
Facebook Live lets you broadcast directly to a Facebook profile, page or group. It's a great option because it's free and so many people actively use it — Facebook has 2.89 billion monthly active users.
To use Facebook Live for church streaming, you will need a Facebook page. When you want to go live from a mobile device or a computer, simply select Create post on your page and then select Live. You don't need a third-party app to stream to your Facebook page, but if you want to customize your stream beyond the options available on Facebook or multistream to another platform at the same time, you'll need a third-party streaming tool like Restream.
Facebook also lets you schedule a live stream in advance, so anyone following your page will receive a notification about it. After you select Create post and Live, you can choose to either Go Live or Create live video event. Choose Create live video event and follow the steps to set up your scheduled live stream. You can also schedule a Facebook Live event using Restream.
YouTube Live
YouTube live streaming is another simple option that many churches take advantage of already. YouTube Live is free, though there are paid services available.
With two billion monthly active users (and even more who don't actually sign in to use their services), YouTube is a guaranteed way to reach your audience. The fact that users can access YouTube without signing in is part of why it has become so popular. It's not necessary to keep track of passwords or make sure your account is set for viewing services — all your viewers have to do is follow a link directly to your video.
To stream on YouTube, you will need a YouTube channel that is verified. To go live on mobile or desktop, simply select the Create button and then Go live. You can go live from the YouTube mobile app only if you have at least 1,000 followers. Otherwise, you can stream to your church's YouTube channel on desktop using either a webcam and YouTube's native streaming studio or a third-party encoder such as Restream Studio.
You can also create a live stream event in advance on YouTube. The easiest way to schedule a YouTube Live video is with Restream's events feature. Read our guide to scheduling live streams with Restream to see how to do it.
Multistream to several destinations with Restream
The choice between social media or your church website can be challenging since both have their pros and cons. But if you use Restream, you don't have to choose; you can multistream to several platforms at once.
Restream lets you broadcast your church service to YouTube, Facebook, your church website or any other preferred streaming platform simultaneously. Your congregation can interact with your church on the platform that is most convenient for them. Creating an account with Restream is free and you don't need any technical knowledge to link your Facebook or YouTube channels to your Restream account.
Live stream everywhere,
all at once
Get started for free
How to live stream a church service step-by-step
You've got your gear and you've picked your platforms. Now it's time to stream your worship service. We'll walk you through it, step-by-step.
1. Research and gather ideas
Have you ever watched a church live stream yourself? If not, go watch a few. While you're watching, take some notes on the setup and quality of the live video:
How many camera angles do they use?
How is the audio quality?
Is the live chat activated and are people participating in it?
How are captions and slides used?
Is the lighting quality good?
It will be much easier to plan your church's live stream once you have some ideas on how it should look and sound.
2. Write an outline or run of show
You probably already have an outline for how your service will go; you know approximately how long each portion will take. Now, simply add video and audio cues to that outline to create the run of show for your live stream.
Here's what to include in a live streaming church service run of show:
The duration of each segment of your service
Time stamps for when you change camera angle or switch to a different video source (such as an image or a slideshow)
Time stamps for when you switch between audio sources
Cues for any change in lighting
Cues for any time the speaker changes
Cues for captions or overlays you display over the live feed
Preparing a run of show in advance will help whoever is managing your live stream to stay on track. They'll know exactly how the service will go.
3. Set up your camera
Make sure all of your gear is set up properly, including connecting your camera and audio system to your streaming computer.
Depending on the type of camera you use, you'll connect it to your laptop via a USB or HDMI cable. If you're using a camcorder or DSLR camera, it'll be via HDMI; external webcams are typically USB. Once your camera is connected, you can add it as a source in your live streaming software.
Repeat this connection process for a second camera, if you're using one.
4. Connect your sound system to your streaming software
To get the audio going on your church live stream, you will most likely have to connect your audio system's soundboard to an audio interface, then connect the interface to your computer. Ideally, your sound board lets you put different audio sources into subgroups, so you can mix them in real time during the stream.
If you're using an audio interface, you'll need an XLR cable to connect it to your soundboard. Then you'll connect your audio interface to your PC via USB. Once it's all hooked up, you can add the audio interface as a source in your streaming software.
5. Prepare your live streaming software
Once you've added your sources to your live streaming software, you need to make sure you're broadcasting to your chosen destinations. If you're live streaming with Restream Studio, you can multistream to several channels at once. Simply add your destinations in your Restream account, then enter the live studio and start queuing up your slideshow, images, captions and other customizations.
6. Queue up your slideshow and captions
If you want to display captions or show slides during your worship service, you'll need to prepare them in your live streaming software. With Restream Studio, you can easily add a caption by typing the text you want to display and choosing a style. Then, simply toggle it on and off during the stream. You can import a PowerPoint presentation into Restream Studio as well, and toggle it on and off when you want throughout your stream.
You can also import and configure other customizations for your stream with Restream Studio, such as:
Importing a short video clip to play during the broadcast, such as a countdown timer
Displaying scrolling text at the bottom of the screen
Adding a custom background and church logo
Displaying a donation or other link on-stream as a scannable QR code
Get all of these extra elements ready to go in your streaming software before you start broadcasting.
7. Mitigate risks and malfunctions
Something can always go wrong with live video, but there are usually steps you can take to mitigate these risks:
Check your internet connection to ensure you have fast enough upload speeds. Use SpeedTest by Ookla to check. If possible, use wired internet instead of wireless when uploading live video.
Do a test run the day before with all the equipment you plan to use for your service. You can stream to an unlisted video on YouTube, stream to your website with a title like "Test stream" or simply make a recording.
Check your audio, then check it again. People won't be able to watch your live stream if they can't hear what your pastor or worship leader is saying.
Assign more than one person to run the live stream. Monitoring the quality of the stream, hitting all the video and audio cues, displaying captions and possibly monitoring the live chat if you have it available can be a lot for just one person. If you broadcast with Restream Studio, you can have more than one person signed into the same account, with both of you able to edit the same broadcast from separate devices.
Make sure the video and audio are synced before you start broadcasting.
Make sure you meet the live streaming requirements for your chosen platforms. On YouTube, for example, your channel must be verified before you can live stream to it.
Restart all devices and equipment before starting the broadcast. Make sure your PC is updated and you won't get any update alerts in the middle of the broadcast.
Have your laptop charger nearby in case the battery gets low; or better yet, keep it plugged in for the entire broadcast.
8. Run tests
Before you go live, do some rehearsals — especially if you're just getting your feet wet with video. Try to test your content in the same location and at about the same time of day that your live video will take place so you'll know how noise and light work for your video.
Look for any modifications you need to make before the real broadcast:
Is the pastor, worship singer, band and everyone who participates in the service clearly visible? Should the lighting be adjusted?
Are the video and audio synced up properly?
Is the audio clear and easy to understand? Is the noise from the worship band too loud and if so, can you turn that channel down on your mixer?
Does the internet connection stay stable throughout the entire stream?
How does the live video feed look and sound on the end destination?
PRO TIP: Record your test run and watch it back to help you understand how to improve pacing and troubleshoot audio or video issues that might come up
9. Let your members know where to watch
Ensure everyone knows where they can find the live stream of your service. If you're using social media or YouTube, you can create an event in advance. People can sign up for notifications about the event. If you're streaming to your website, send out a reminder to your email list with a link to the live video webpage.
You may decide to live stream your worship services every week. In that case, add a link to the live video to your church's calendar. If you're planning to multistream to several destinations using Restream, be sure to let your members know all the places they can watch your church live stream at.
10. Go live
When everything is ready you can finally hit that "Go live" button! Monitor the stream while it's broadcasting live using Restream's monitoring features. Ensure you have someone who is familiar with the equipment and streaming setup on hand to take care of any issues that may come up during the stream.
11. Post the replay of the service
When the live broadcast is over, you might want to download the recording and post it as a replay on your website, YouTube channel or Facebook page. If you stream to YouTube, the recording automatically gets saved and posted as a video on demand (VOD). Restream Studio also creates a downloadable version of your live broadcast that you can edit (if needed) and publish on your website.
How to make the most of your church live stream
Make the most of your church livestream by sticking to a few tips and best practices.
Customize your church live stream
Add your church's logo, a custom background and custom graphics to your live stream to make it your own. It also helps the people watching recognize it as your church's live stream. With Restream Studio, you can add all these customizations and more when you broadcast your worship services or church events.
Engage with the audience in the live chat
With live video, your audience can grow significantly. Make sure to engage with your online audience as much as your in-person audience. Use the chat and commenting functions to help online viewers feel included. If you multistream on several platforms with Restream, you can use our chat feature to keep track of chat conversations from each platform, all in one central hub.
Reach a bigger audience with multistreaming
Multistreaming broadcasts your live video stream simultaneously to multiple channels to help you get the most out of your live church service.
Mutlistreaming can help you spread your message as far and wide as possible. Dr. Matthew Stevenson says he multistreams because "certain platforms captivate certain audiences, but I want to reach out to and attempt to retain some from every platform possible."
Restream lets you stream your church services simultaneously to all your preferred channels, including your church website.
Live stream everywhere,
all at once
Get started for free
Promote on social media
Use your existing personal accounts, as well as your church profiles, to reach out to your audience. Let them know when you will be live streaming and which events they can look forward to in your posts.
PRO TIP: Make sure you promote your videos early enough so that your audience has plenty of time to schedule them in.
Consider including church members in your live stream to help motivate sharing. For example, you can invite your youth group to prepare a contribution or regularly host "guests" from your congregation. Members of your church who are included in the streaming process will do a lot of promotion for you.
If you use a social networking platform such as Facebook to broadcast your church services, you can use Restream's event planning feature to schedule an event with a custom link you can share on your church's Facebook page. You can also enable alerts that will send your followers notifications when your live video is about to start.
Get donations with QR codes
Add a QR code to your stream with a link to your donation page, church website, event calendar or the website of a charity you're partnering with. You can also use a QR during Bible study live streams and link to your online learning materials. Restream Studio lets you easily turn any link into a QR code that you can display on-stream during your live broadcast.
Be careful about music licensing
Most of the worship songs used during church services are copyrighted — meaning you need a license to perform and stream them online. The religious exemption pertaining to copyright only applies to worship services that take place at your church, not publicly live streamed services and not other church events like community picnics.
You can get a streaming license from providers like Christian Copyright Solutions, One License or Christian Copyright Licensing International (CCLI).
Create a program specifically for the live stream
Decide which programs in your church are the best fit for live video. You can probably get more value from adapting a program specifically for going live, rather than just running it as normal and sticking a camera in front. For example, the pastor may give a short, separate sermon directly to the camera and interact in real time with the congregation. These live stream sermons can be scheduled at times when the ideal audience is most active.
Schedule your live video
You can save yourself time and stress by uploading and scheduling pre-recorded videos to play as live videos. This benefit isn't available on most platforms, but it's offered in a few third-party tools, including Restream. Create an edited, polished video, then upload it to Restream and set a date and time for it to broadcast on your favorite platforms.
No matter what you decide to try, don't be afraid to take the first step. Even a little bit of authenticity through live video can go a long way toward building a vibrant online community around your church.
FAQs
What is the best way to live stream a church service?
The best way to stream a church service is to choose the right equipment and multistream to all the channels where your church members watch. Restream makes it easy to send your live church service to multiple platforms at once, including Facebook, YouTube, your church website and more.
How do I set up live streaming for my church?
To set up live streaming for your church, you'll need some basic streaming equipment (webcam, microphone, lights, computer or smartphone). You must also choose a platform to go live on. To start off, you can stream to your church's social media channels, such as Facebook or YouTube. Once you've gotten the hang of live streaming, you can upgrade to a bigger setup with more equipment and more streaming destinations.
How can I stream a church service for free?
You can stream a church service online for free on social media platforms such as YouTube and Facebook. If you want to broadcast your church service to YouTube and Facebook at the same time for free, you can use a multistreaming service such as Restream.
What equipment do I need for live streaming?
The basic equipment for church live streaming is a camera, microphone and a device to stream with. You could stream a church service with just a smartphone, but the quality won't be great. Consider getting one or more cameras, a switcher to help you manage your input sources, a laptop and streaming software.
What is the best church streaming camera?
The best cameras for live streaming church services are the Mevo Start, Panasonic 4K Cinema-Like Video Camcorder, Canon EOS 90D, Canon XA15 and Sony PXW-Z150. You can easily find a camera to suit your budget and streaming needs since there's a wide variety of webcams and cameras available for streaming.
How do I live stream a church service on YouTube?
To live stream your church service on YouTube, you need a verified YouTube channel. When you want to go live, select the Create button and then select Go Live. Then, follow the steps to create a live stream. Your settings will depend on your streaming setup and whether you stream on mobile, with a webcam or with a streaming software.
How do I live stream a church service on Facebook?
To live stream a church service on your Facebook page, access your page and navigate to the Create bar, just below the Create post field at the top of the page. Select Live. Choose to either go live immediately or create a scheduled live event. Set up your stream by choosing either a webcam and Facebook's native live streaming studio or choosing a streaming software. Finish editing the settings for your live stream and then go live.
Wrap-up
Live video streaming comes in very handy when you want to spread the word online about your church and encourage more people to join your community. Many churches have tried broadcasting and have seen fewer people leave the church as a result. Not only do they engage the members who cannot physically attend the sermons, but they also bring the church straight to people's hearts and inspire them to join.
Restream can be your church's live streaming companion. Going live with Restream Studio is so easy even volunteers with no live video experience can do it. You can fully customize your stream with Restream Studio, plus you can multistream to more than one platform — including your church website. Restream can help your church reach more people and spread your message.