Intro
Are you hosting a live-streamed event that will require multiple camera angles? Maybe you're an art live streamer who needs more than one camera to show off their skills. Using multiple cameras for your broadcast can improve the quality of your stream, making it more informative and engaging for viewers. Not to mention, it makes your stream appear more professional.
The easiest way to pull off a multi-camera stream is with a video switcher. If you've never heard of one or aren't sure which switcher to get, we've got a buying guide for you.
💬 What is a video switcher and why do you need one?
A video switcher is a device or software that allows you to switch between multiple cameras while live streaming. They also let you switch between scenes, launch different types of media, and adjust audio levels. When you have a multi-camera setup for your live broadcast, you want to be able to switch between each camera feed in real time and have more control over your broadcast. To do so, you need a switcher.
Using more than one camera for your live stream helps make it look more professional, especially if you have more than one person on your stream or you're broadcasting a live event. Examples of live streams that use multiple cameras include:
How does a switcher fit with your existing live streaming equipment? You still need cameras, mics, an internet connection, and an encoder to send your video signal to your live streaming platform. Some switchers have encoders built in, but others do video switching only.
⚙️ Software switchers vs. hardware switchers
Switchers can be physical devices or software. Both options have pros and cons, and the type you use will depend on your preferences and budget.
A hardware switcher is a freestanding device with buttons you can push to switch between video signals and input and output jacks to connect it to your video sources and PC. You plug your camera into your hardware switcher, with the most common types of cables being HDMI or SDI. Then, you plug your switcher into your streaming PC. You typically don't have to install or configure any software with a physical video switcher, which makes them easier to use than software. A hardware video switcher solution tends to be more expensive than a software one, however.
Software video switchers are cost-effective because you likely already have a PC for streaming — all you have to do is install switcher software on that PC. Encoding software such as OBS Studio and vMix have video switching options built in, so if you're already using them to stream, configuring multiple cameras is easy. These popular encoding software options are also free to install and download. The downside to software switchers is that the learning curve is a bit steeper.
In this article, we'll focus on hardware switchers because they're a popular choice for all kinds of live streamers and because there are plenty of options available on the market.
🤓 How to choose a video switcher
When you're looking for a video switcher, you should keep certain parameters in mind. You'll need to know what kind of input and output it uses, the power source, ease of use, and of course, the quality of the video. Let's look at these features in more detail.
Input
How many cameras or video input devices do you use? That's how many inputs your switcher needs. If you find a switcher you like, but it doesn't have enough ports to accommodate your camera setup, you can always rethink your angles to make it fit your switcher.
Output
Just as important as your video inputs are your switcher's outputs. With more outputs, you can send your signals to more destinations — something that comes in handy at large events rather than for a single streamer broadcasting from their home computer.
Ease of use
Video switchers are easy to learn how to use, although some are more complex than others. If you're the only one using your switcher, then you only have to worry about learning it yourself. If you have a whole team who will be using it at a large event, then you may want to ensure it's user-friendly.
Video quality
Video quality usually refers to the resolution and latency of the video. You want a switcher that can stream in at least 720p, although 1080p is preferable. Look for a switcher with low latency as well, so that the switch in between video sources isn't sluggish.
Effects
Many of the effects that come with switchers are geared toward musicians and DJs. A beats-per-minute function can sync up video transitions to your music, for example. Another useful one is the MIDI-input, which lets you switch inputs using electronic musical instruments. Other common effects geared toward general users are transitions, Picture-in-Picture (PIP), chroma key, and caption overlays.
Power source
Some switchers run on batteries, and others you have to plug in. Battery-powered switchers are more portable, but they need recharging and could die in the middle of your stream. Corded switchers are more reliable, but you have another cord to contend with.
Price
The price of video switchers varies depending on the number of input ports, video quality, and effects it has. As an independent streamer, a small theater, or church, you can probably get away with a switcher on the lower end of the price spectrum. Consider your budget and needs, however, before deciding whether a particular switcher is the right one for you.
🔥 Best video switchers for live streaming (hardware)
1. Roland V-8HD
Roland has been producing high-quality video equipment for a long time, and the V-8HD lives up to the name. The V-8HD is flexible as well, allowing up to eight video sources, including a game console, camcorder, smart device, and PC.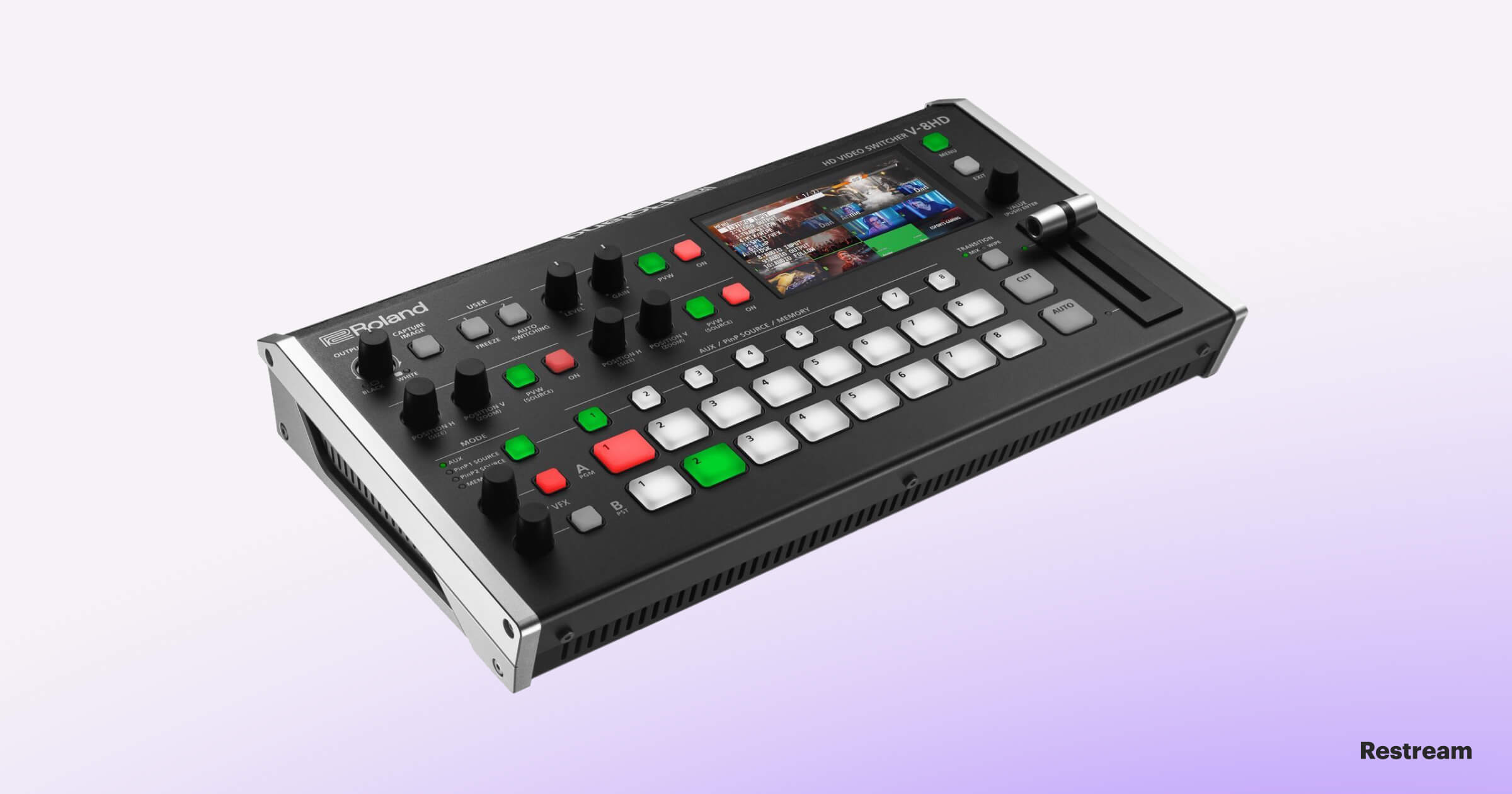 Features
8 inputs
Full HD support
3 outputs
All HDMI workflow
Pros
Five-layer effects
18-channel digital audio mixer
Lightweight and portable
Cons
Pricey
Steep learning curve
2. ATEM Mini Pro
The ATEM Mini Pro is small, lightweight, and easy to use. With four inputs and a built-in encoder, it's ideal for independent streamers or smaller productions.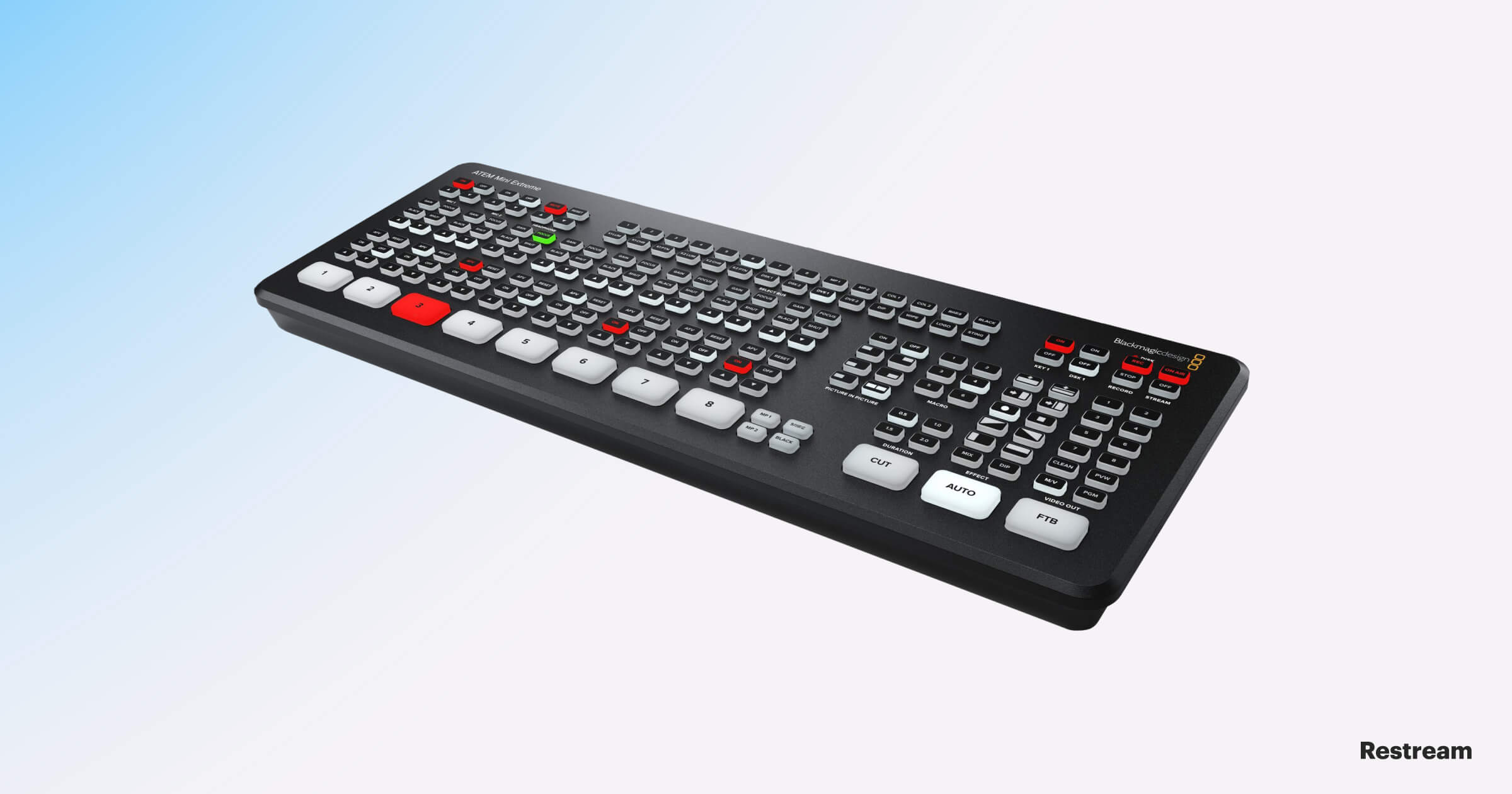 Features
4 HDMI inputs
2 USB Type-C 3.1 outputs
Supports 1080p
Pros
Encoder included
Easy to learn
Compatible with Mac and PC
Cons
No ISO to edit recording afterward
3. Elgato Stream Deck
A stream deck lets you control elements like lighting and mics in addition to your media and video sources. The Elgato Stream Deck is popular among live streamers because it integrates seamlessly with other Elgato streaming products and has video switching capabilities.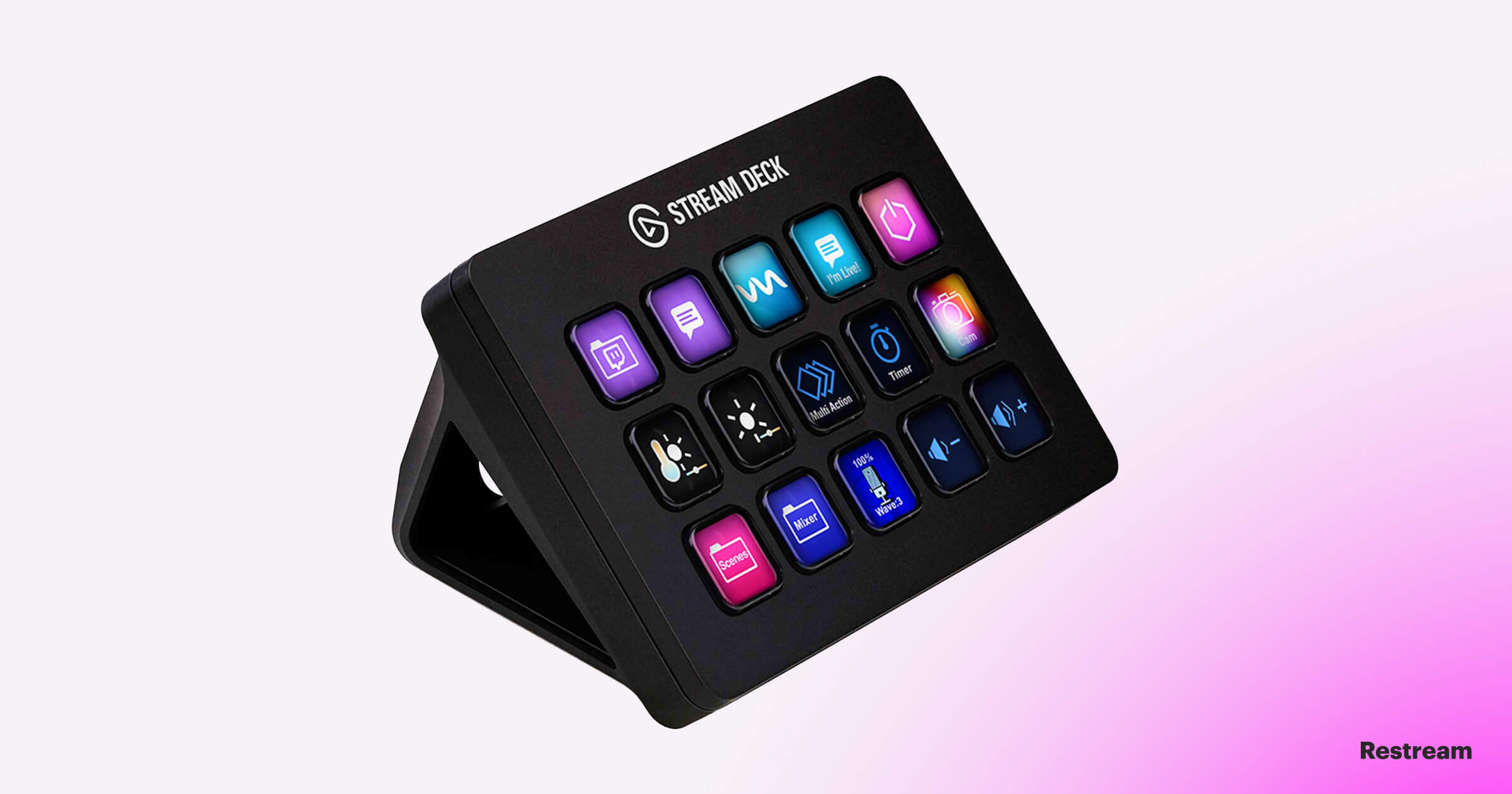 Features
15 customizable LCD keys
One input/output connection to Mac or PC via a USB 2.0 cable
Pros
Beginner-friendly
Extremely lightweight
Works with major streaming services
Cons
Relies on PC to execute commands programmed into Stream Deck
Read later: Top 6 microphones for live streaming in 2021
4. RGBlink Mini
If you want a foolproof video switcher without any extra bells and whistles, then you want the RGBlink Mini. The device only has nine buttons/knobs to work with and is one of the easiest hardware switchers to operate.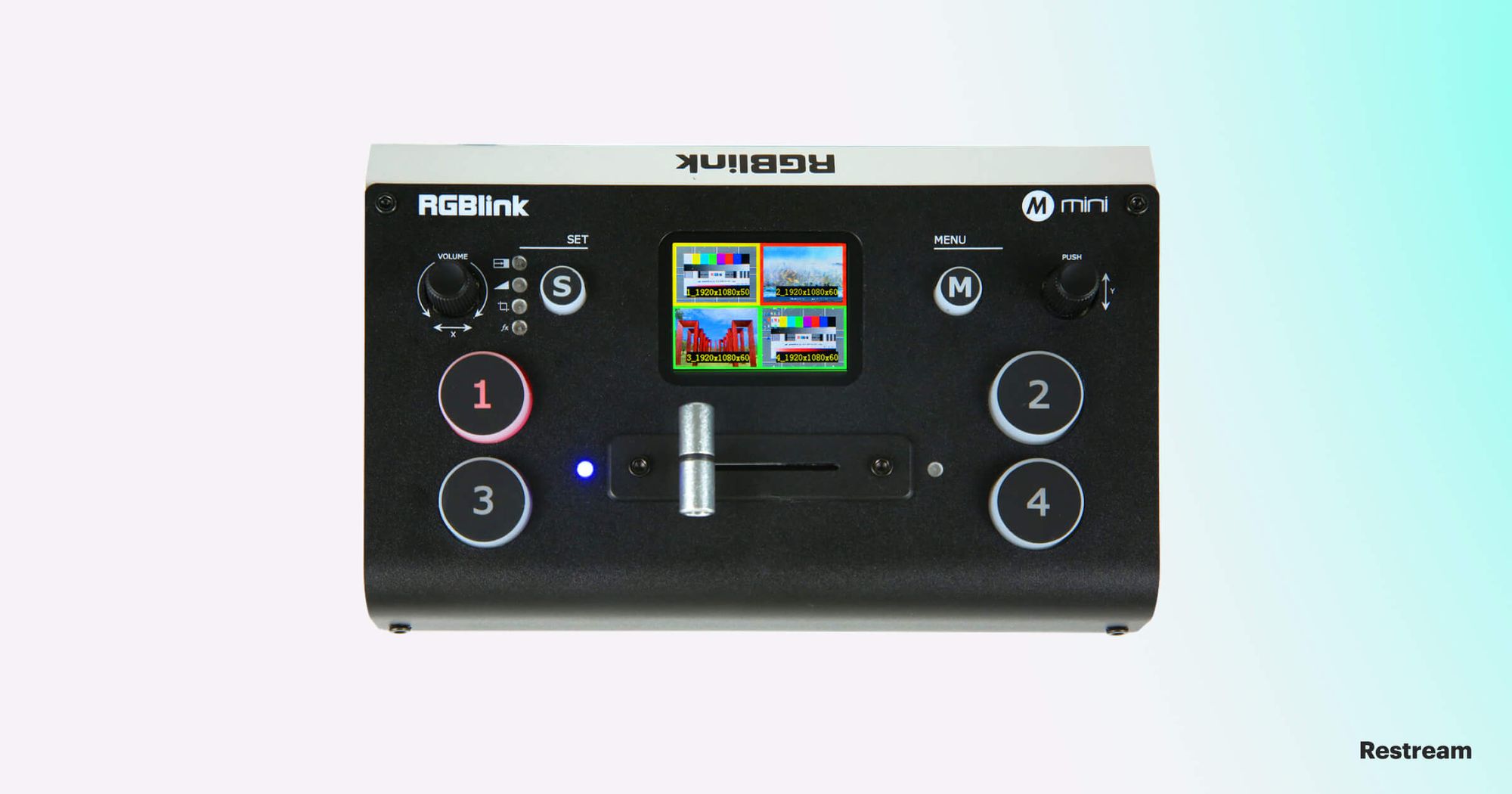 Features
4 HDMI inputs
1 HDMI output and 1 USD 3.0 output
T-bar for smooth transitions between sources
Supports PTZ (pan-tilt-zoom) camera
Pros
Large buttons for easy actions
Supports 1080p
PIP presets
Cons
5. Roland Professional V-1HD
The Roland Professional V-1HD, while small in size, is a professional-quality switcher with a built-in audio mixer, PIP, and green-screen effects. And with Preview/Program video switching, you can always ensure good results.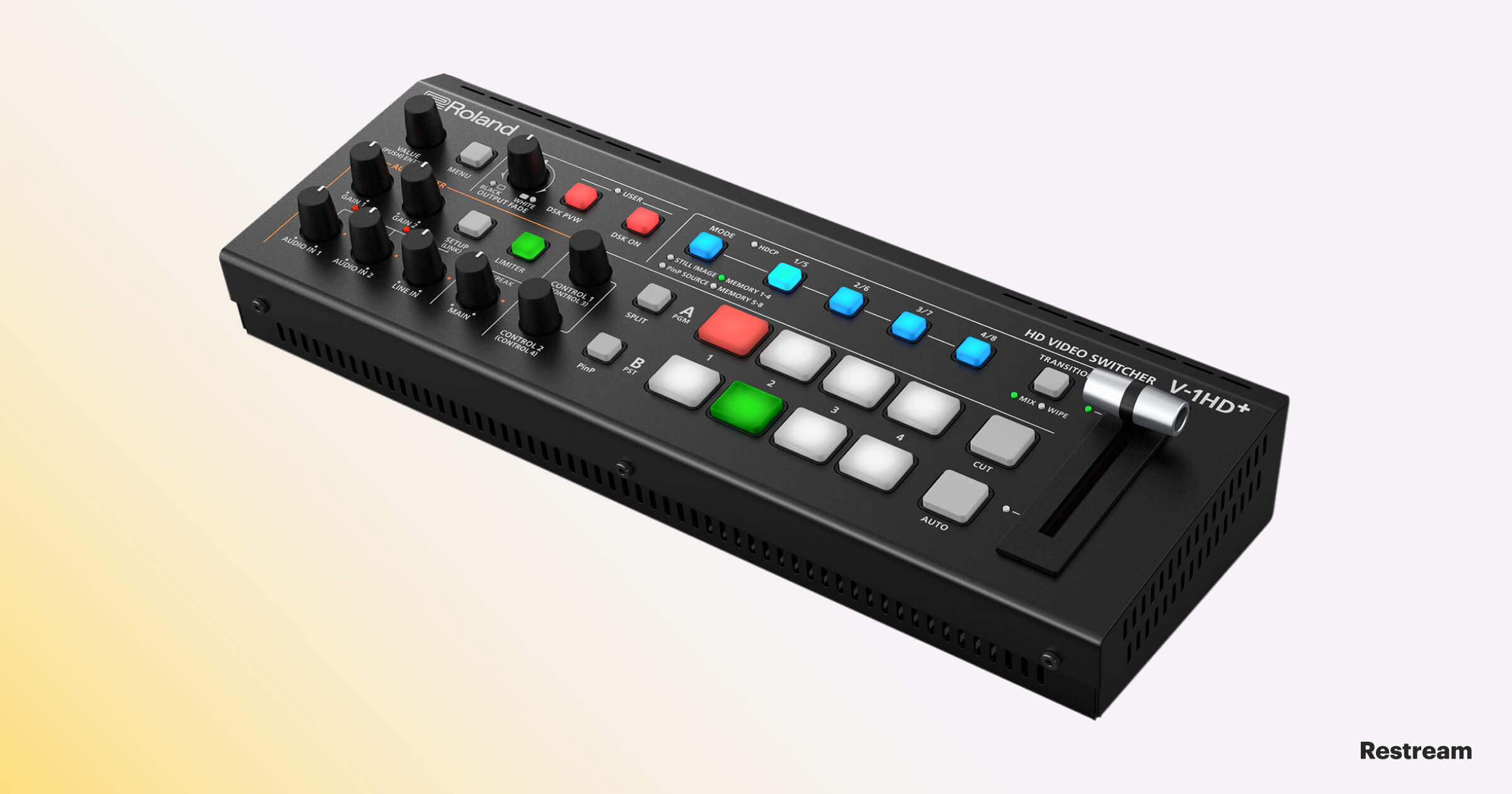 Features
4 HDMI inputs
Supports 1080p
2 HDMI outputs
Control from iPad
Pros
Simple interface
Two automatic switching modes
T-fader to manipulate transitions
Cons
Doesn't support DSLR cameras
Software sold separately
6. Sony MCX-500
Like the Elgato Stream Deck, the Sony MCX-500 comes with sleek LCD touchscreen controls you can configure yourself. It's a flexible switcher, working with Mac, PC, and tablets and having eight video inputs plus one title.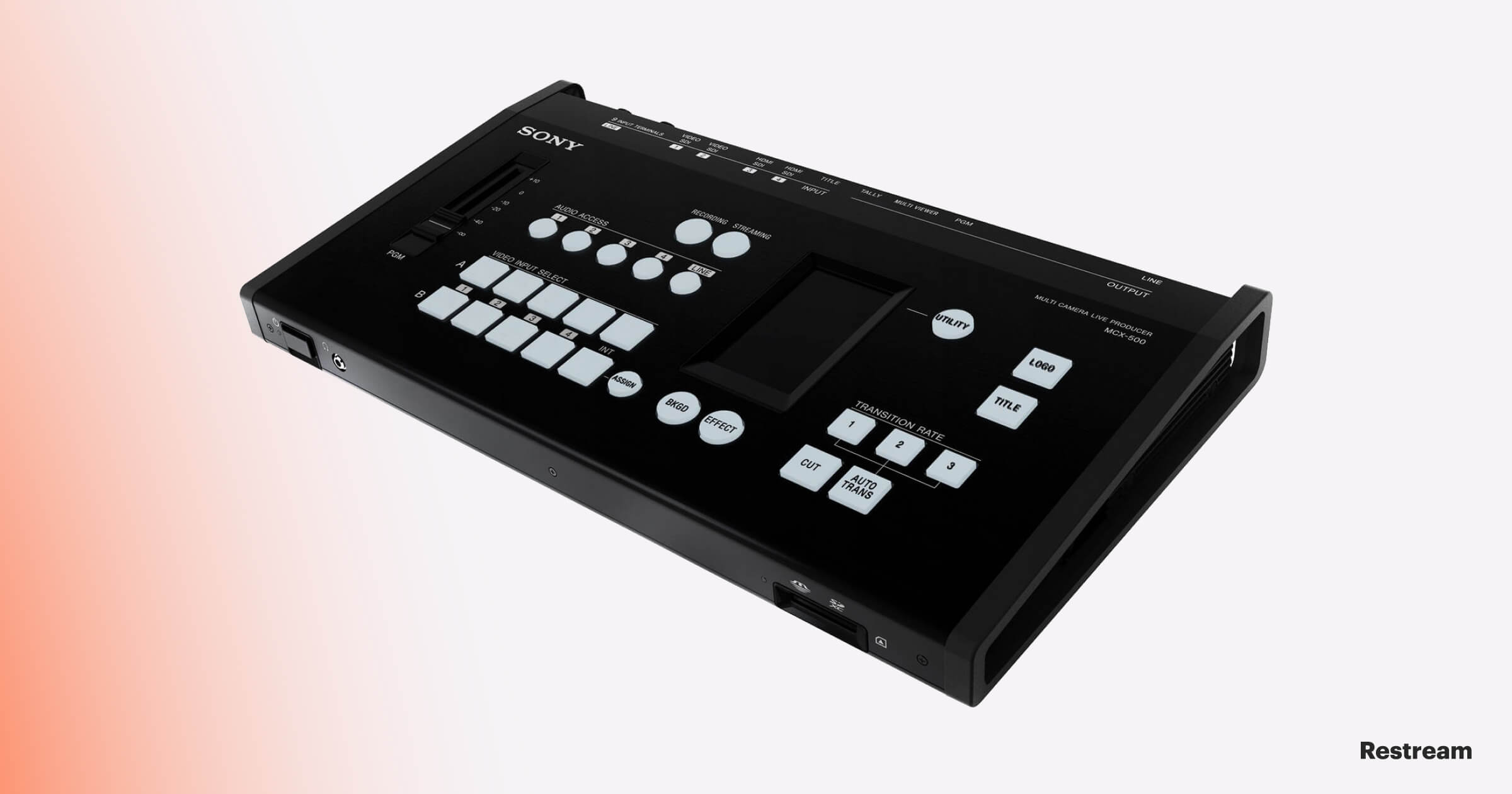 Features
3G SDI, HDMI, and composite video inputs
Effects like transitions, chroma key, title overlay, and PIP
Supports 1080p
Record broadcast to SD memory card
Five-channel XLR audio mixing
Pros
Integrates with Sony camcorders and PTZ cameras
Easy-to-use LCD touchscreen
Manual transition option
Cons
7. ATEM Television Studio HD
The ATEM Television Studio HD switcher by Blackmagic Design is designed for live video production. The all-in-one functionality of the ATEM television switchers brings you quality good enough to be on TV.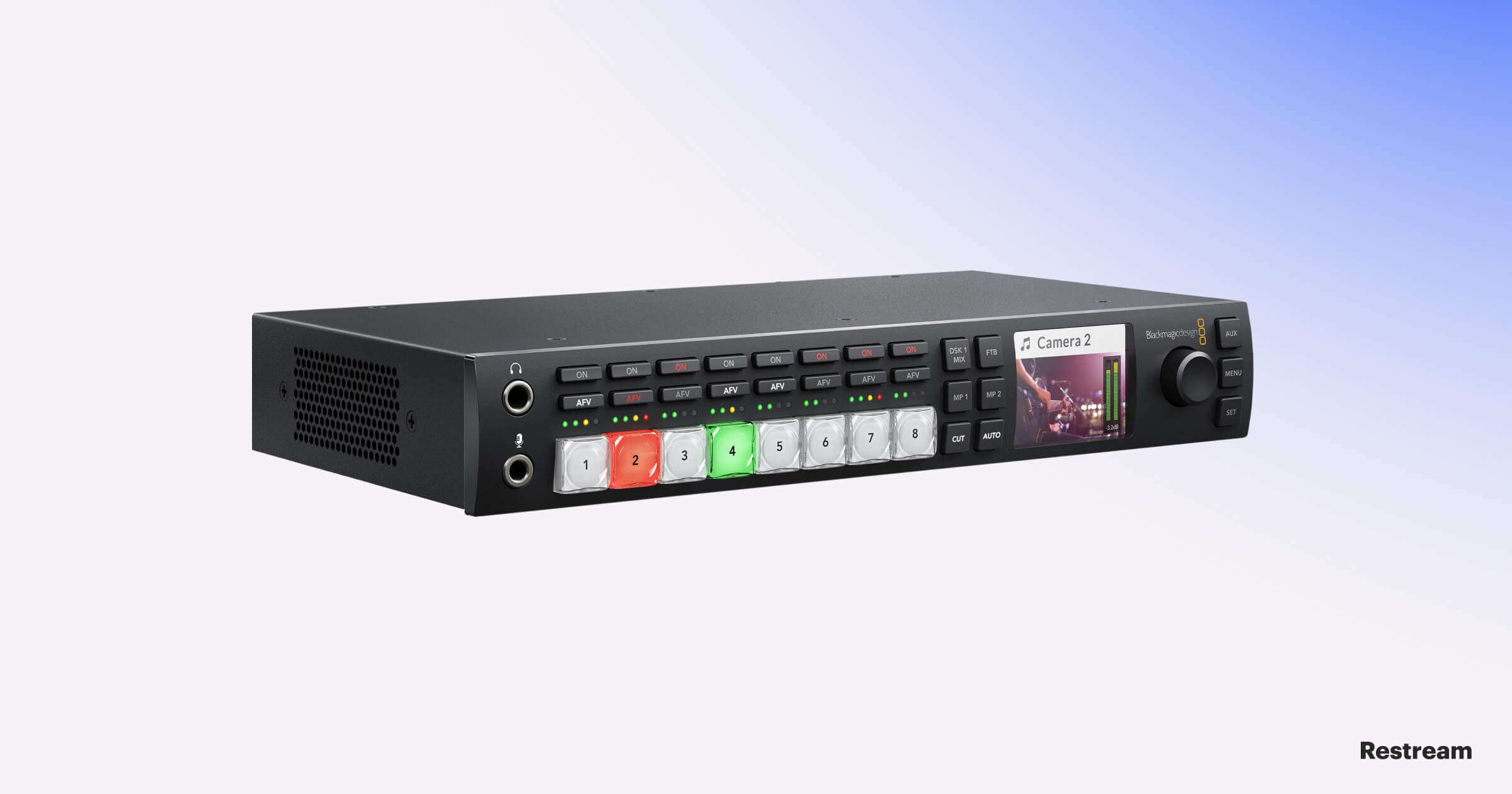 Features
4 SDI and 4 HDMI inputs
Supports HD video
Talkback audio
Pros
Lightweight and portable
Position, scale, and resize live video
Control Blackmagic Studio Camera remotely
Cons
Read later: 8 best webcams for 2021
8. Lumantek ez-PRO VS10
With the Lumantek ez-PRO VS10, you get ten inputs, which is more than most of the others on this list. It also has advanced multiview, PIP, and effects options so you can pull off an outstanding live broadcast.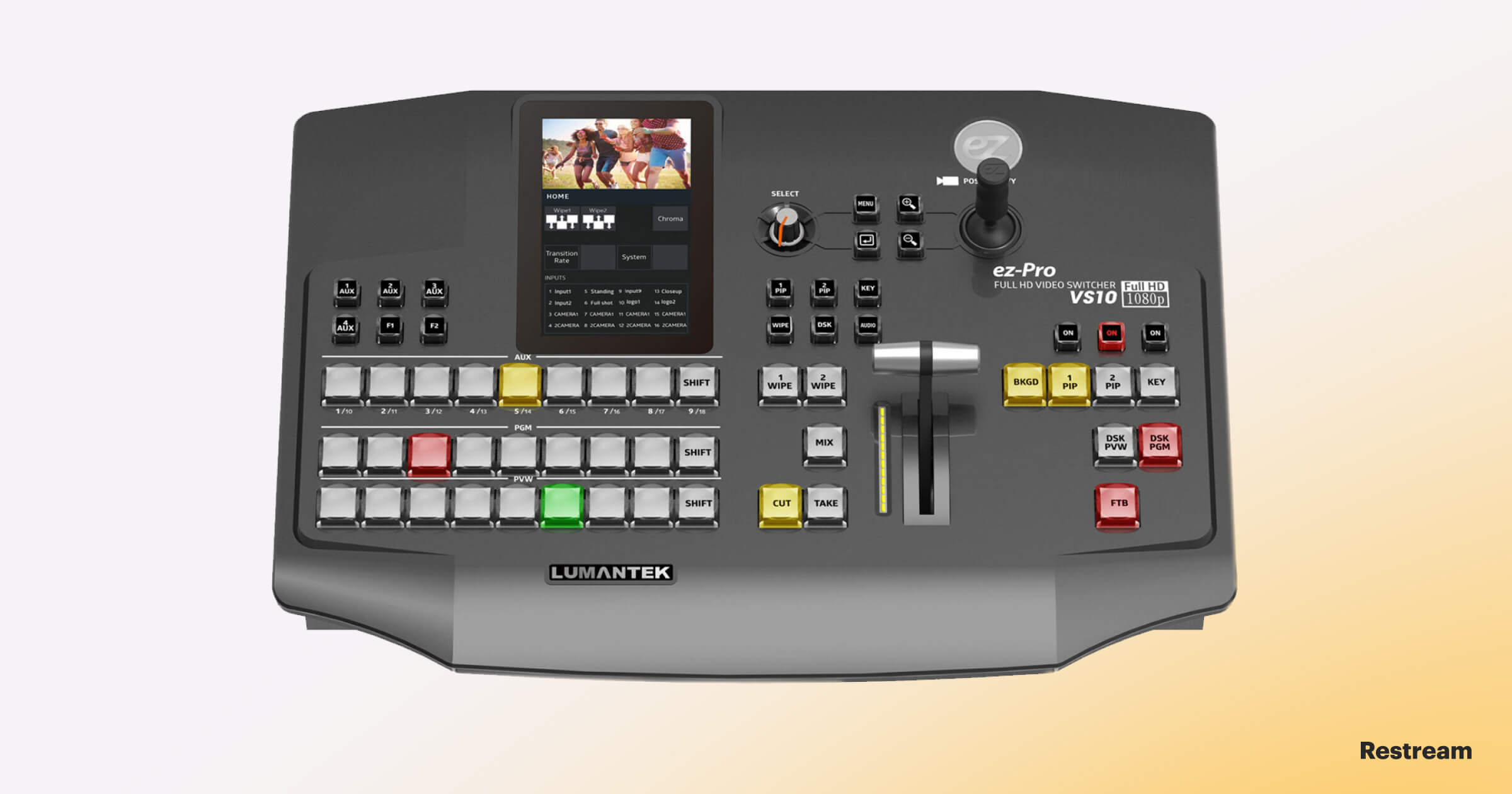 Features
8 SDI inputs and 2 HDMI inputs
6 SDI outputs and 2 HDMI outputs
Supports 1080p video
Pros
2 PIP capabilities
Quiet fan
All SDI inputs can take Fill & Key signals
You can configure your own layout
Cons
9. Ross Carbonite Black Solo
On the Ross Carbonite Black Solo switcher, everything is customizable. It's a budget-friendly option for those who want to assign their own inputs, outputs, buttons, format converters, and more.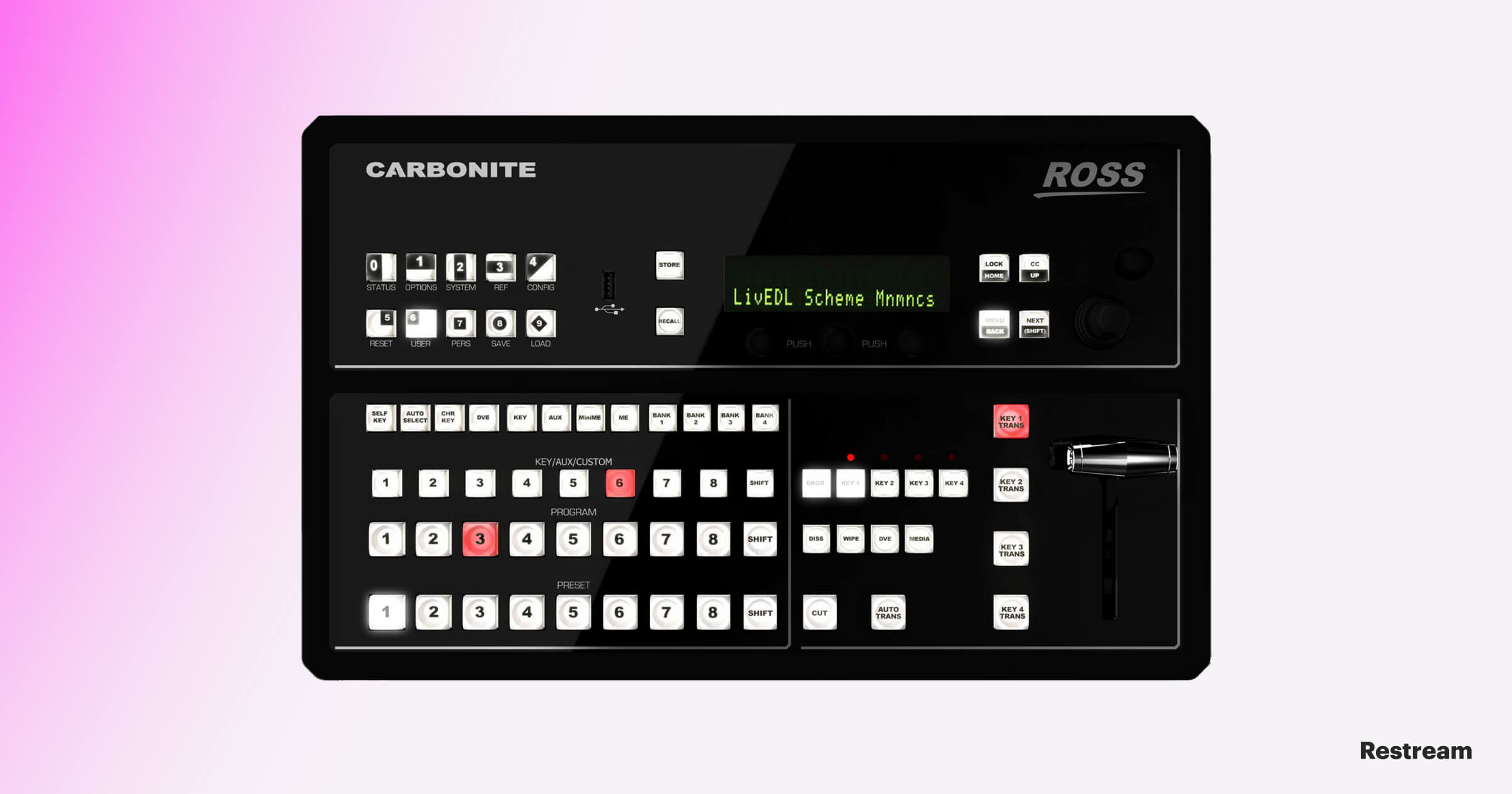 Features
6 3G-SDI inputs and 3 HDMI inputs
5 3G-SDI assignable outputs and 1 HDMI assignable output
Multiview assignable to any of the 6 outputs
Supports 1080p
Pros
Ships with graphics software license
2 Mini MEs with 2 keyers
Small, portable switcher
Video clip playout directly from connected USB-media drive
Cons
Limited features compared to other switchers in the same price range
👀 Software video switchers (if you really need one)
As we mentioned before, switchers come as software as well as hardware. If you think the former option would be better for you, then two we can recommend are:
OBS Studio: OBS Studio is encoding software that can function as a switcher. You can add multiple cameras or video sources on your OBS dashboard when you're setting up scenes for your live stream. You can place sources at different spots on your canvas or switch between them during your broadcast. You'll have to plug all your cameras into the PC or Mac you're running OBS on, however.
vMix: vMix functions similarly to OBS, but it's also an HD video mixer as well as live streaming software. You can add your camera and video sources to the software and seamlessly switch between them during your live broadcast.
👉 The ultimate live streaming solution for every content creator
If you want to create professional-looking live streams without any extra hassle, you can use Restream's range of live streaming products and tools. Our browser-based live studio Restream Studio lets you go live on multiple platforms at once and can be used with a multi-camera setup. You can also upload your own logo and graphics, play copyright-free background music, play local video files, share your screen, display a chat overlay, and much more.
For those streamers who are already comfortable using encoding software such as OBS, you can still use Restream — but for multistreaming. Broadcast your stream to multiple channels at once, such as YouTube, Facebook, Twitter, and LinkedIn, simply by connecting each account with Restream and then integrating Restream with OBS.
Let's wrap up
Using a video switcher can take the quality of your live stream from novice to professional. Most switchers are easy to set up and use and have a range of functionality that helps you pull off an engaging broadcast. If you're looking for a hardware switcher to take your streaming to the next level, any of the switchers on this list can help you get there!