Every streamer knows that stream quality is a crucial factor of a successful live stream. However, stream quality is about more than just a high-quality image and fancy overlays. When it comes to professional streams, audio plays a huge role too. Many viewers prefer listening to streams rather than actually watching them.
How do you get good audio quality? With an awesome microphone! There are tons of audio companies producing great mics, but all of them have pros and cons. This guide covers the technical features of microphones and reviews 10 of the best ones for live streaming.
Shure SM7B
Shure MV7
Audio-Technica AT2020
Blue Yeti USB
Blue Yeti X
Elgato Wave:3
HyperX QuadCast S
Razer Seiren V2 Pro
Rode PodMic
Samson Go
Remember that a mic is only one part of your setup. Read our guide to a basic streaming setup to see what else you need.
How to choose a streaming microphone
Here are five characteristics to consider when choosing a microphone for live streaming.
Frequency response
Frequency response is the range of voice frequencies your microphone can pick up. It's measured in hertz (Hz) and kilohertz (kHz), from the lowest frequencies to the highest. Typically, the golden standard for frequency response is from 20 Hz to 20,000 Hz. Anything lower or higher than these spectrum extremes is pretty much useless, as the human voice simply cannot produce such frequencies.
Condenser vs. dynamic
Microphones are either condenser mics or dynamic mics. The difference refers to the way the microphone itself is built, and how it converts sound into an electrical signal. One isn't superior to the other, nor is one type more expensive than the other. The right choice depends entirely on what you're using the microphone for.
Condenser mics: Condenser mics tend to be more sensitive than dynamic mics, giving them excellent sound quality. However, that sensitivity also makes them less durable than dynamic mics. They also have a higher potential for self-noise, i.e. the signal that the mic itself gives off. Condenser mics are usually best for studio environments.
Dynamic mics: Dynamic microphones are hardier than condenser mics and usually require less setup. They are less sensitive so they're more forgiving on the sound quality, and are better suited to louder environments. Although dynamic mics are versatile, they don't do as well with high-frequency sounds as condenser mics.
Polar pattern
A polar pattern, also known as directional property, is the inherent sensitivity to the direction of audio waves. Simply put, a polar pattern is the ability of a microphone to pick up your voice from different angles. The three polar patterns you need to know are cardioid, omnidirectional and bidirectional.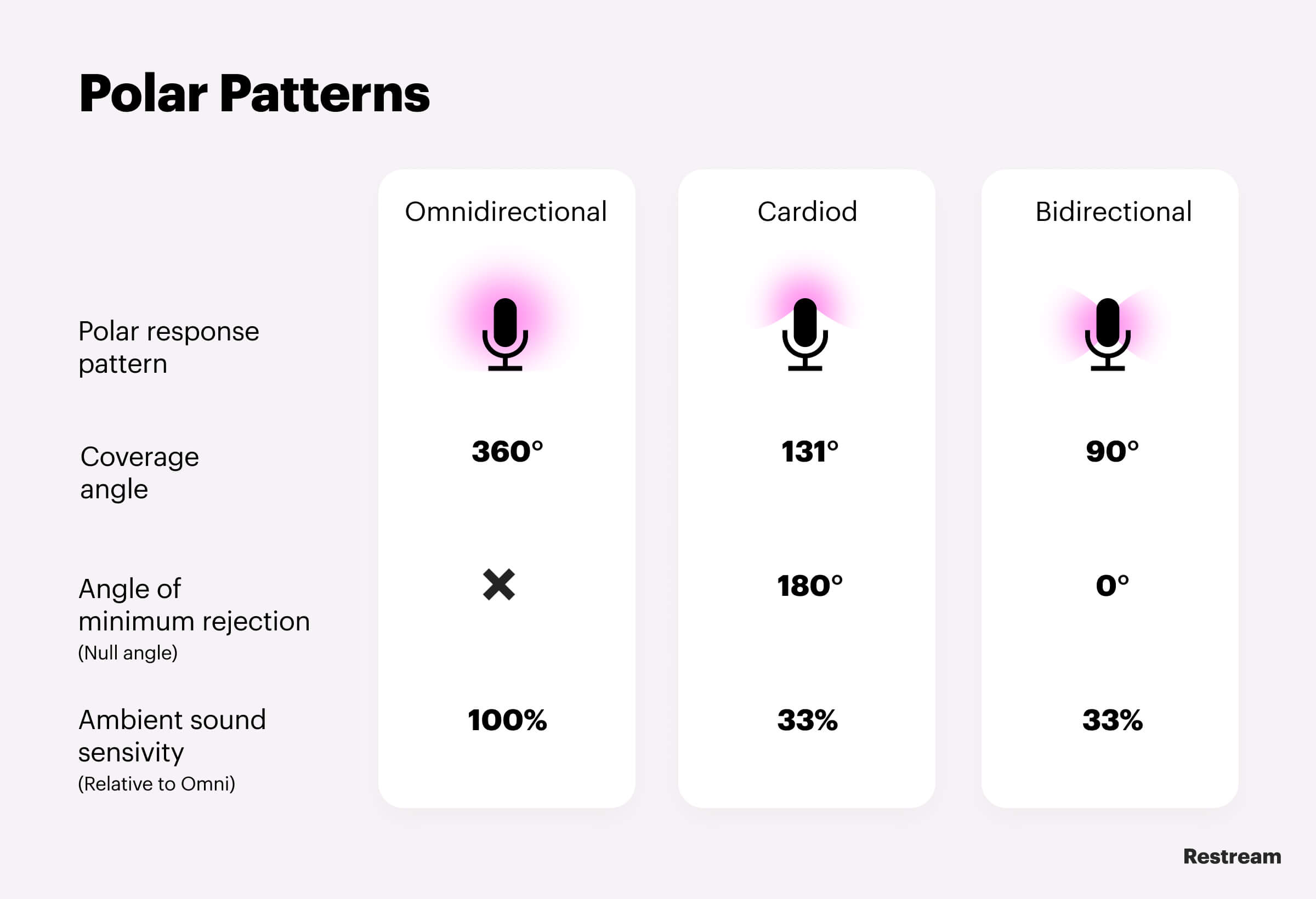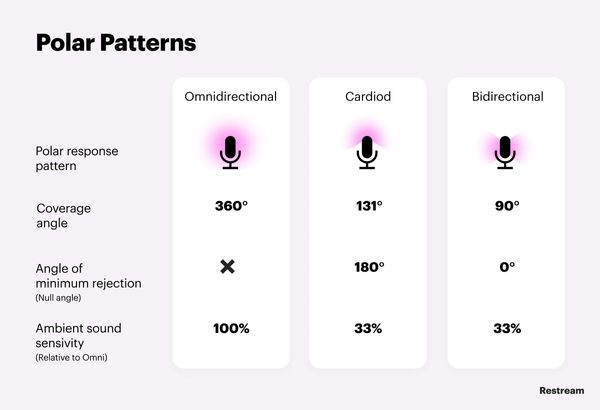 Cardioid polar pattern. A classic cardioid microphone picks up the sound from the front. Cardioid microphones isolate unwanted ambient sound, as well as any other unwanted sounds, from the back of the microphone. They are the most common choice for live streaming, as they block sounds such as a loud fan or the clatter of your mechanical keyboard. Cardioid subtypes, known as super-cardioid and hyper-cardioid, have narrower sound sensibility angles and a greater ability to reject ambient sound. However, it is harder to place and aim these microphones accurately.
Omnidirectional polar pattern. Omnidirectional microphones are equally sensitive to sound from every direction. This means they evenly pick up sound from 360 degrees. The bright side is that you don't need to aim an omnidirectional microphone at the source of the sound. However, it will pick up all undesired background noises along with your speech.
Bidirectional polar pattern. Bidirectional microphones have a so-called figure eight type of sound capture. This means a bidirectional microphone will pick up any sound from two sides: the front of the microphone and the back. A bidirectional microphone is especially useful for live streaming interviews, as it can pick up both your speech and your guest's.
Connection method
The two most common mic connection methods for streaming are XLR and USB, and they have some substantial differences. First, you cannot connect an XLR mic directly to your PC. You need to buy a mixer or audio interface to plug in an XLR microphone. With this additional investment, you'll get more control over the sound — thus better overall sound quality.
Second, XLR cables are more robust and durable than USB connections, so they last longer. This long life is reflected in the price, however, making XLR microphones the most expensive on the market.
Last, don't forget about TS/TRS/TRRS-based microphones. This connection method is used to plug your microphone into mobile phones, tablets and laptops. The sound quality of these microphones is usually worse than that of XLR mics. TS/TRS/TRRS microphones are, therefore, best suited for mobile streamers.
Pop filter
A pop filter, also called a pop screen or pop shield, is a noise protection filter for microphones. It's most often used in recording studios to eliminate any popping sounds that occur when the airflow bumps into the microphone. Applying a pop filter to your microphone results in the clearer sound of your voice on the viewer's end.
Best microphones for streaming
Let's look at some examples of microphones that are well suited for live streaming. These options accommodate different streaming needs and budgets.
1. Shure SM7B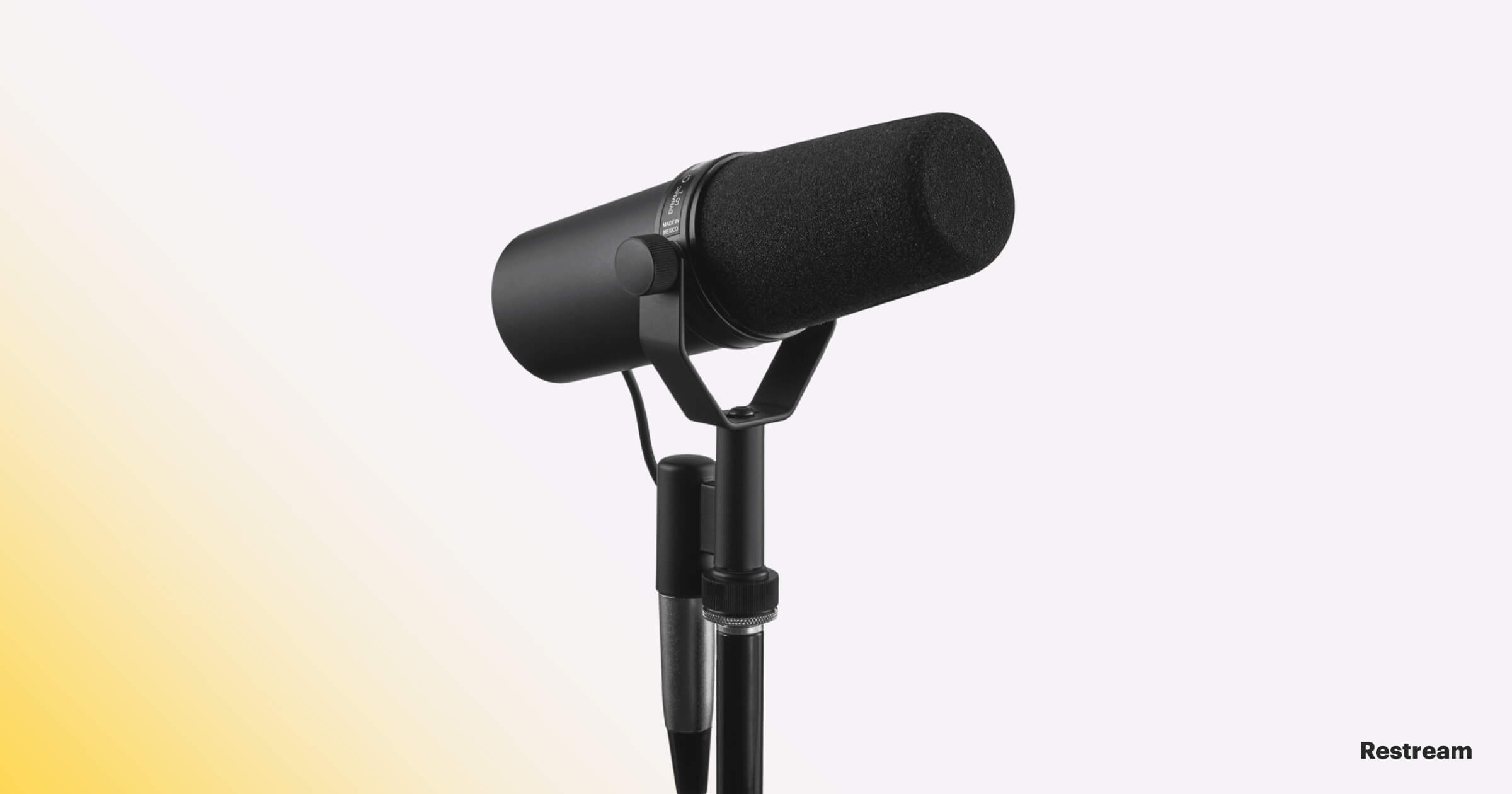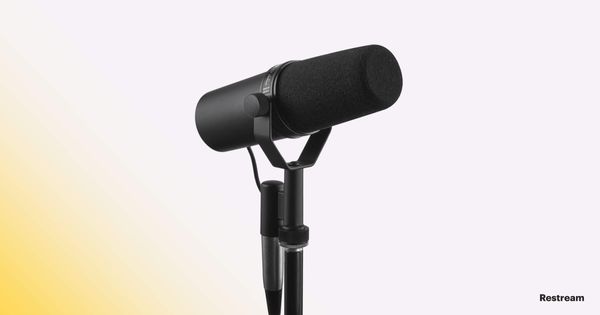 Shure is a legendary audio company that specializes in high-quality microphones. The Shure SM7B is a professional microphone for vocalists, which makes it an excellent choice for streamers, podcasters and talk-show hosts. Don't just take our word for it — lots of top streamers are using it, including Shroud, Tfue and Sodapoppin.
The SM7B's frequency response is so powerful that it can make up for broadcasting from a non-soundproofed room or studio. You can also choose between three frequency response settings to adjust your sounds to your needs. It's less sensitive to loud noises than condenser mics and even comes with a built-in pop filter. The only downside is that you'll need some other gear to use the SM7B, like a mic stand, XLR cable and audio interface.
Specs:
Frequency response: 50 Hz – 20,000 Hz
Polar pattern: Cardioid
Connection method: XLR (no cable included)
Pop filter: Included
Dynamic
Pros:
High rejection of background noise
Great durability
High-quality sound
Cons:
High price
Requires an XLR cable, audio interface (or mixer) and a stand
Price:
2. Shure MV7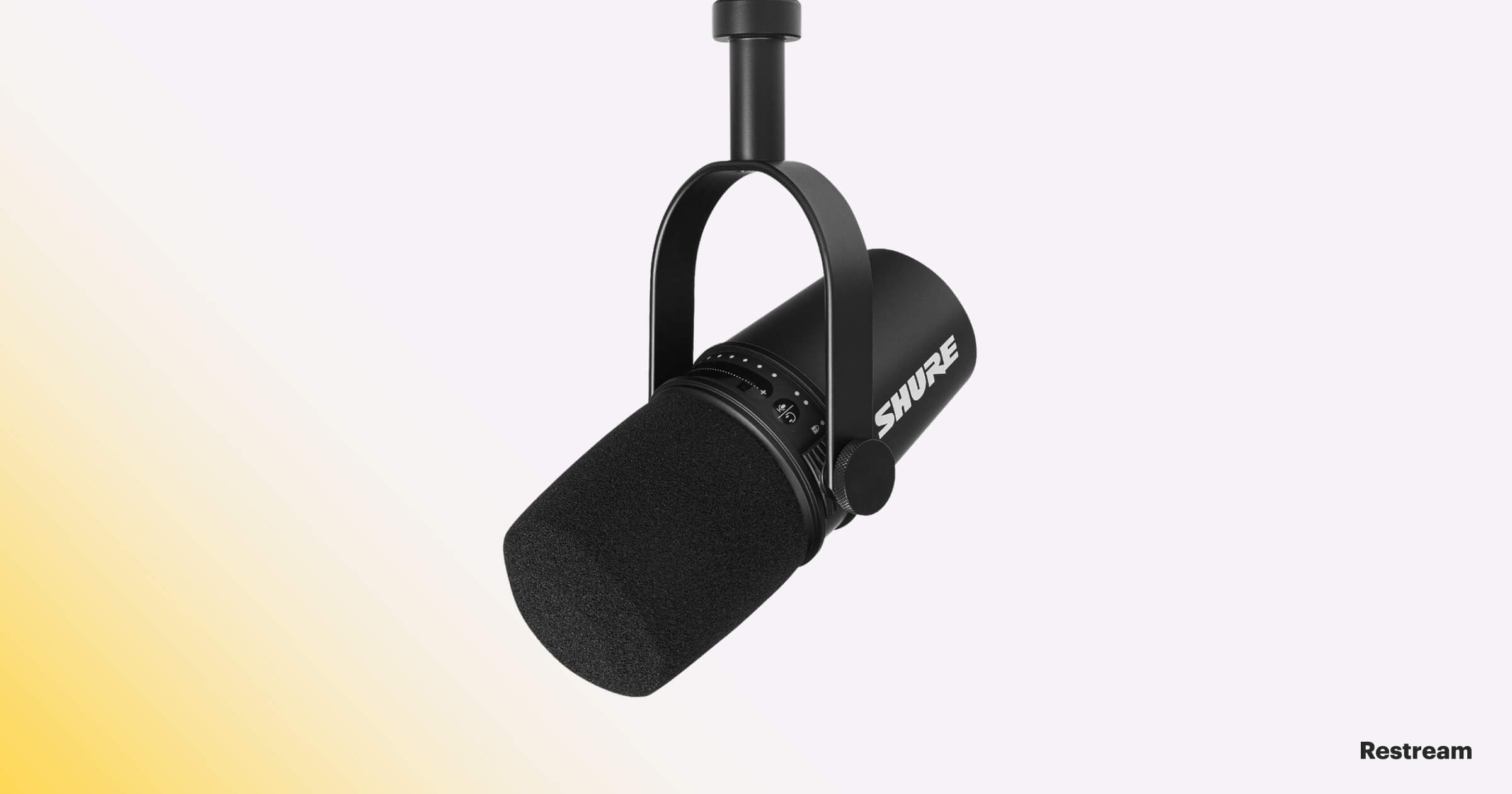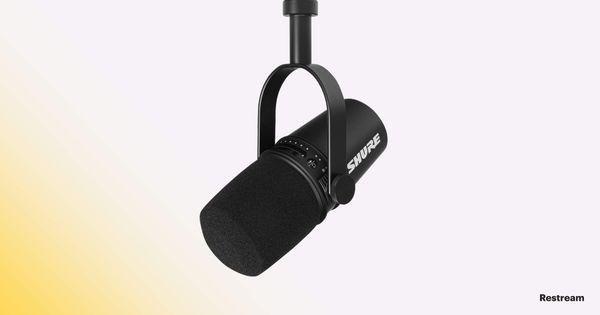 The MV7 is Shure's first USB/XLR hybrid, and it delivers on both quality and flexibility. It does an excellent job of isolating noise, making it great for at-home use. You can get professional-grade audio and record it on the go thanks to the Type-B Micro inputs that come with the MV7. One of the coolest features is that you can use the XLR and USB outputs at the same time
If you're a streamer or podcaster looking for a major audio upgrade, this microphone delivers. To get the most out of the MV7, you should also download the Shure MOTIV app to control your mic's settings. You can opt for manual mode to select everything yourself or choose from one of the three auto presets. If you're ready to upgrade to higher-quality audio on your broadcasts but don't need something quite as powerful as the Shure SM7B, the MV7 is a good choice.
Specs:
Frequency response: 20Hz – 20,000 Hz
Polar pattern: Cardioid
Connection method: USB or XLR
Pop filter: Not included
Dynamic
Pros:
Dual connection (USB or XLR)
Robust ShurePlus MOTIV software included
High-quality vocal audio
Cons:
Price:
3. Audio-Technica AT2020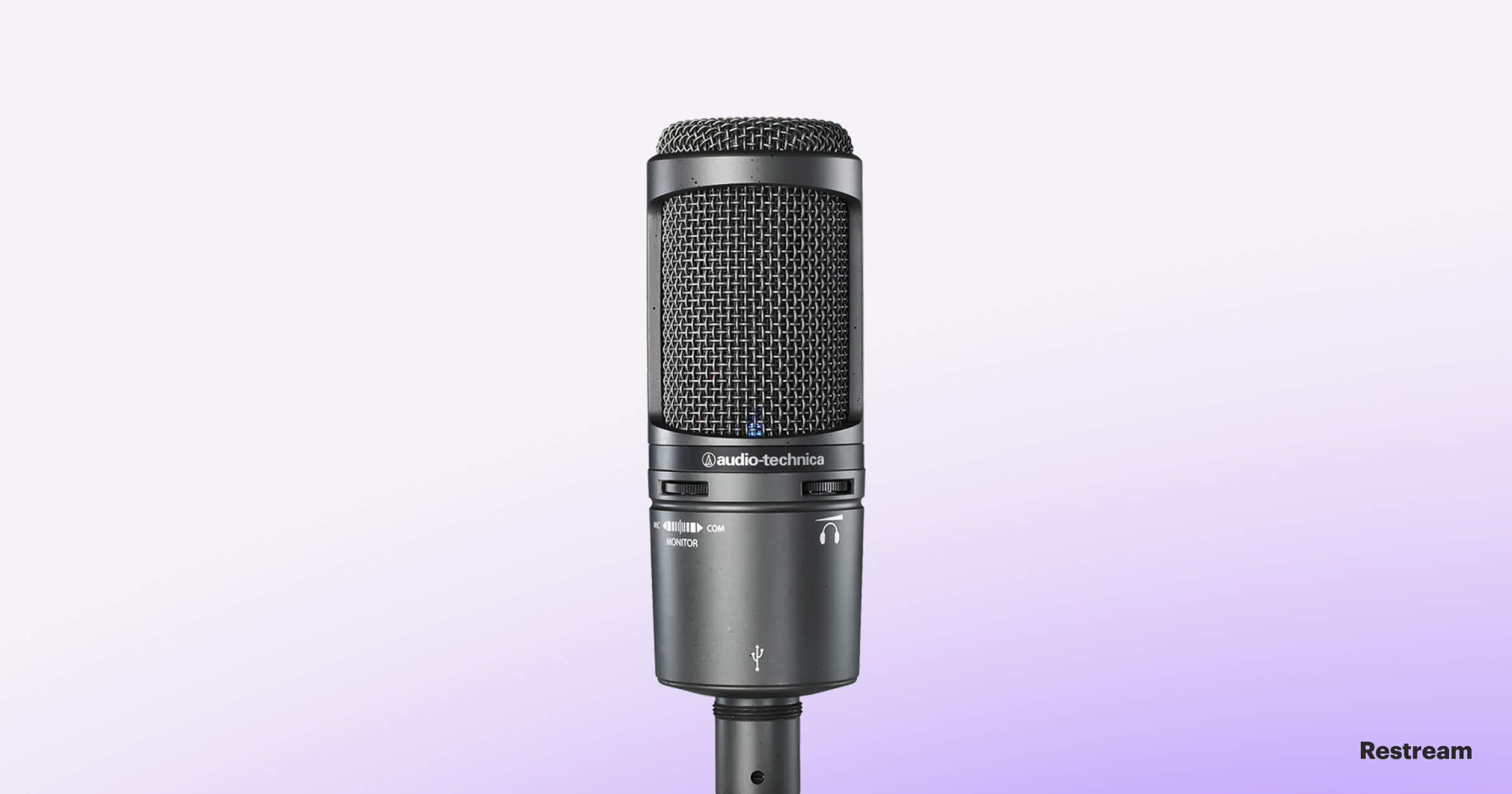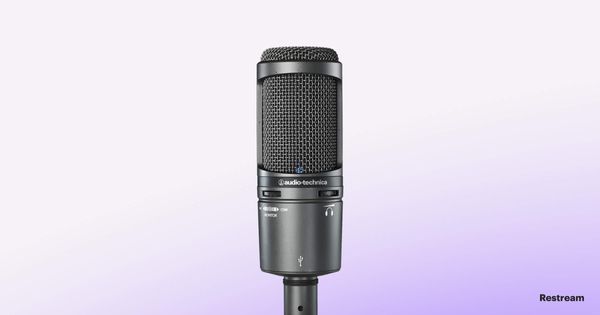 The Audio-Technica AT2020 is a good starter mic and a popular choice for content creators. It's affordable and easy to use — and a great introduction to the world of XLR mics. Top streamers like Ninja, Pokimane, Yassuo and Dr. DisRespect use these microphones. Since it's XLR, you'll need an audio interface and XLR cable to use it.
Audio-Technica considers this model a vocal mic, so it's made for speaking, singing and podcasting. It provides high-quality sound while taking in a variety of sound sources without distortion. One downside to the sound is the high level of self-noise, or signal that the microphone produces itself. It's higher than most other mics at this price.
Specs:
Frequency response: 20 Hz – 20,000 Hz
Polar pattern: Cardioid
Connection method: XLR (no cable included) or USB
Pop filter: Included
Condenser
Pros:
Reasonable price
Great durability
USB option
Cons:
No XLR cable included
USB version requires a pre-amp (an amplifier that converts the weak signal from the microphone into a stronger one to prevent distortion and background noise)
Price:
4. Blue Yeti USB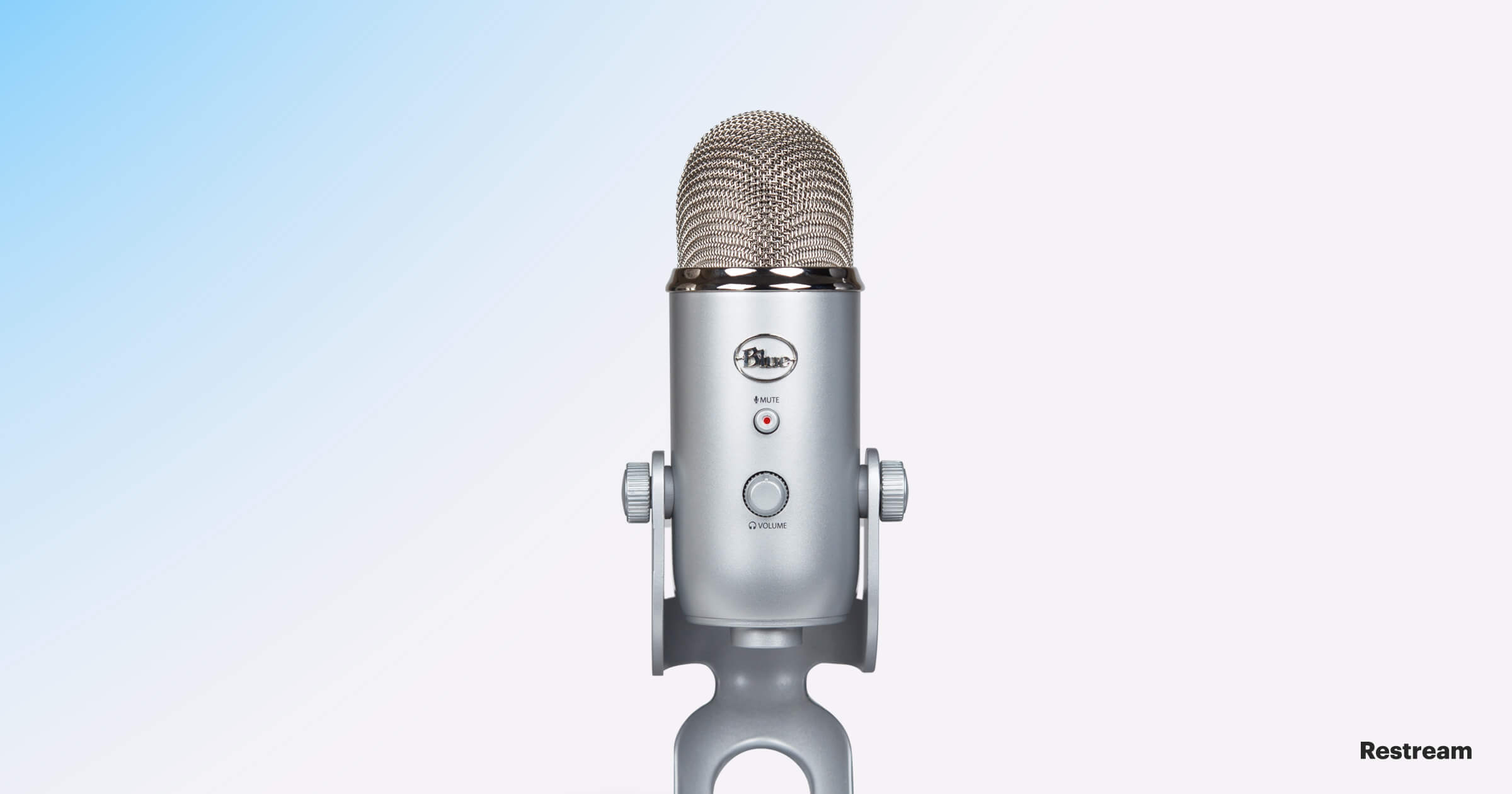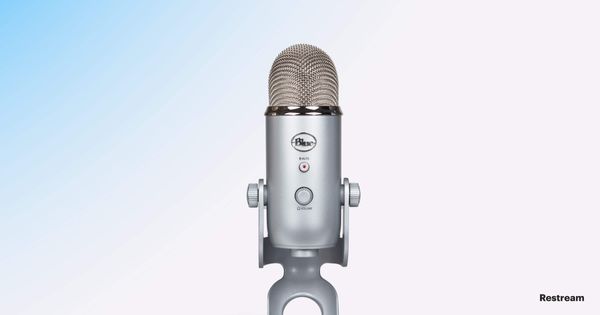 The Blue Yeti USB is often called a beginner mic and for good reason. It offers superior sound quality and affordable price compared to other USB microphones. Streamers like DrLupo and Myth are using the Blue Yeti USB.
The mic is easy to use since it doesn't require a stand and other cables. Moreover, you can switch between all polar patterns, from cardioid to omnidirectional. There's also a 3.5 mm headphone jack so you can hear how you sound as you speak into the mic.
Specs:
Frequency response: 20 Hz – 20,000 Hz
Polar pattern: Multipattern (cardioid, bidirectional and omnidirectional on your choice)
Connection method: USB
Pop filter: Included
Condenser
Pros:
Relatively cheap
Easy to connect
Polar pattern switcher
Cons:
Has to be kept strictly upright
USB sound quality
Price:
5. Blue Yeti X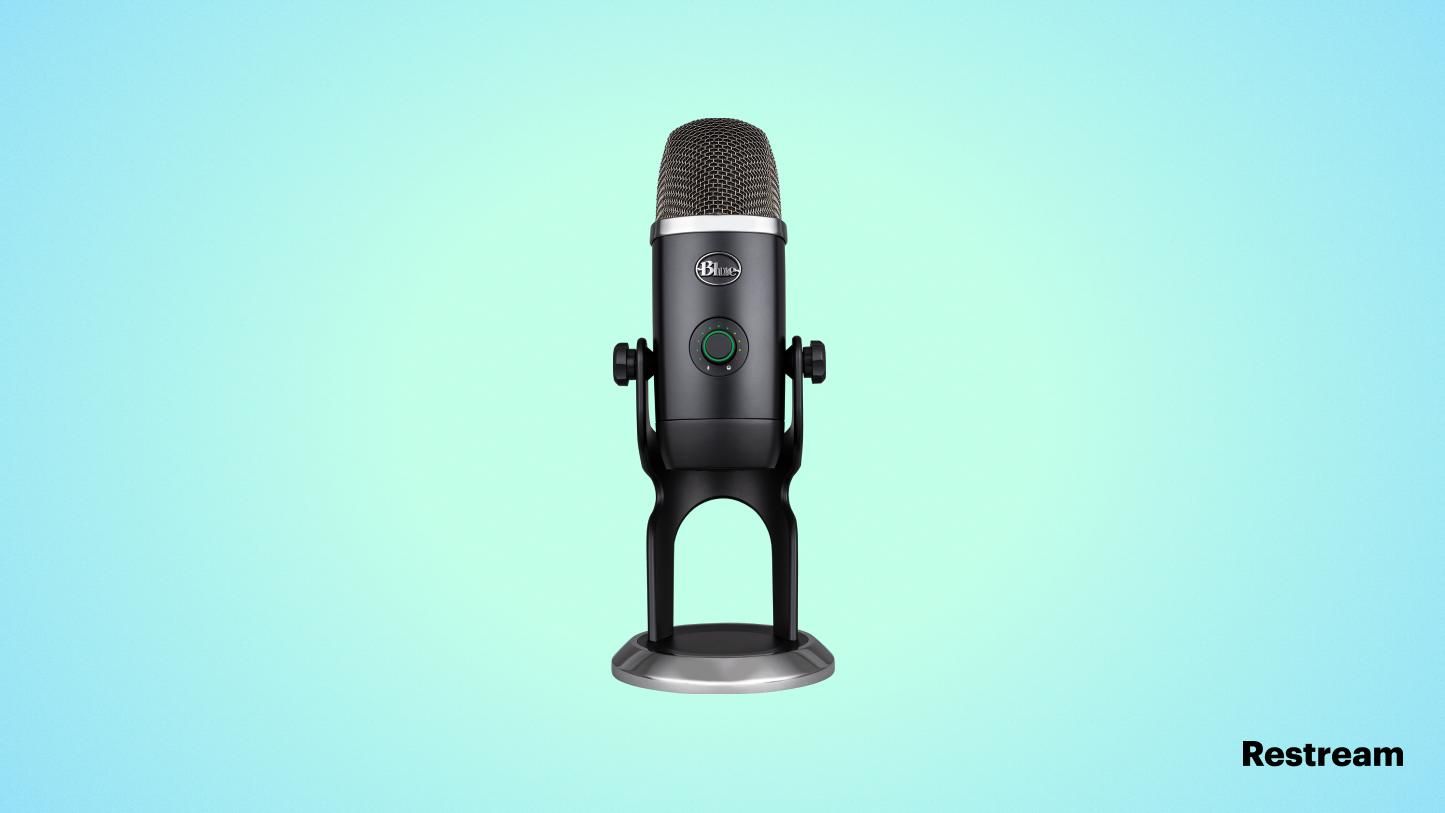 The Yeti is arguably Blue's most popular microphone and in 2020 they decided to take it up a notch with the Blue Yeti X. This USB mic improves the audio quality and design of the original Yeti, as well as adds extra features. Despite the new bells and whistles, it's still super simple to set up. You can also customize your sound when you use the Logitech G Hub software with your Yeti X mic.
The Yeti X has higher digital audio resolution than the original, and four condenser capsules instead of three. The design is also sleeker and you can control the Yeti X with a multifunction LED ring on the mic. For a slightly higher price, you can get more quality and control over your sound with the Yeti X than with the original Yeti. We included both on this list because they're both good options for live video broadcasters — the one you choose will depend on your budget and preferences.
Specs:
Frequency response: 20 Hz – 20,000 Hz
Polar pattern: Multipattern (cardioid, bidirectional and omnidirectional on your choice)
Connection method: USB
Pop filter: Not included (but Blue makes a universal pop filter for all their mics)
Condenser
Pros:
Lots of customization options
Sleek design with LED lights
Four recording modes
Cons:
Doesn't come with a pop filter
Not adapted for standard mic stands
Price:
6. Elgato Wave:3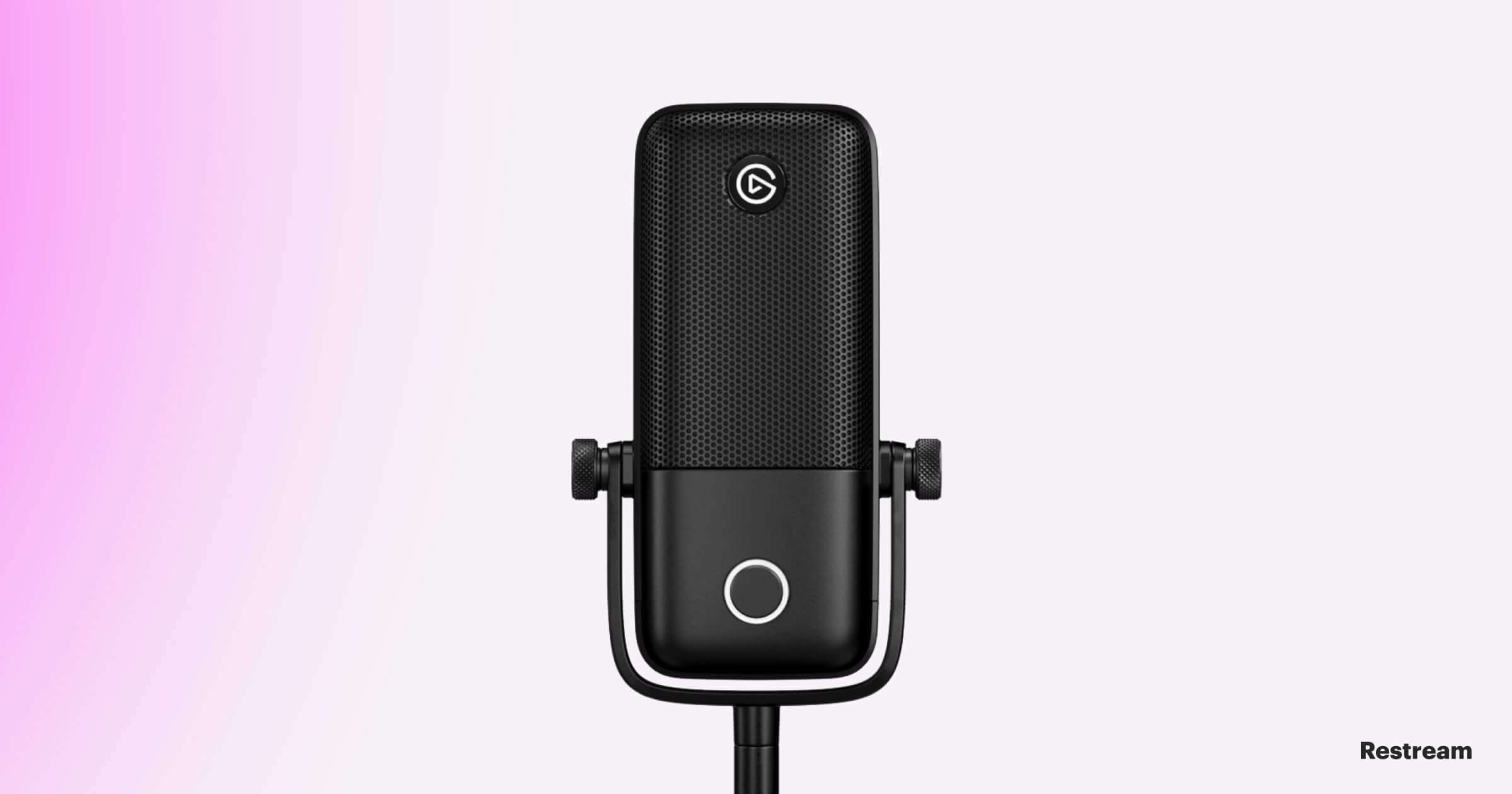 Elgato is a big name in streaming gear, so you can expect a microphone like the Elgato Wave:3 to be designed for live streaming. The biggest appeal of this mic is the Wave Link software that lets you mix up to eight channels of audio within your stream. The software is also beginner-friendly with an intuitive user interface.
The compact design and USB-C port make it ideal for sitting on your desk as you shoot live videos, interview remote guests or even record your podcast. The Wave:3 isn't as versatile as other mics, though, with only one polar pattern.
Specs:
Frequency response: 70 Hz – 20,000 Hz
Polar pattern: Cardioid
Connection method: USB
Pop filter: Included
Condenser
Pros:
Works well with other Elgato streaming gear
Clear audio
Digital mixing software
Cons:
Single polar pattern
Not very versatile
Price:
Bonus tip: On some occasions, a bulky microphone might not be a good option. Any form of live content where you're moving around a lot — webinars, stage performances, fitness classes — requires a more elegant solution: a lavalier microphone, also known as a lapel microphone, clip-on microphone or lav mic. You can learn more in our article about lavalier microphones.
7. HyperX QuadCast S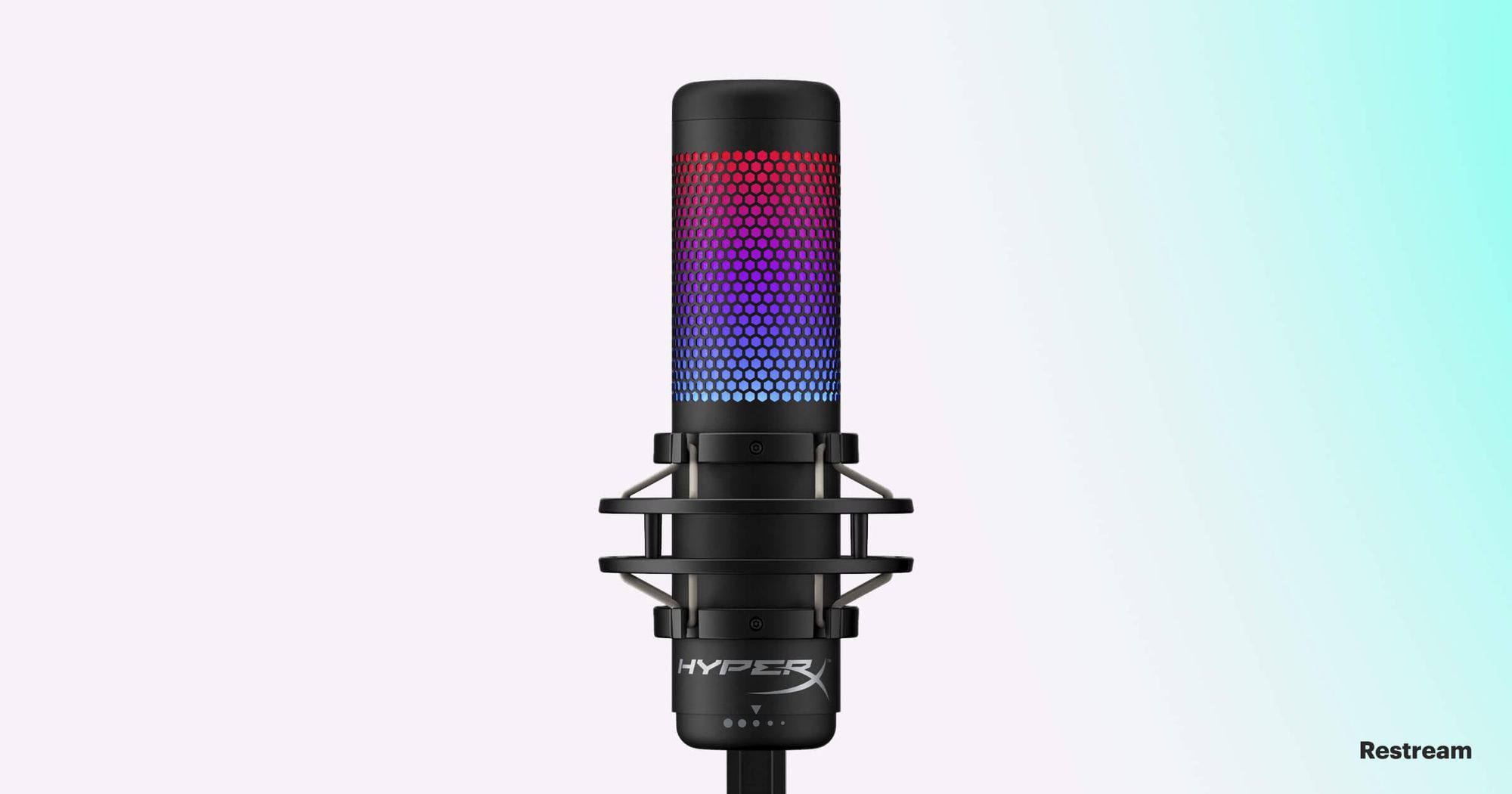 If you're a fan of fancy gamer gear, the HyperX QuadCast S might be the mic for you. It has a USB connection type, as well as a built-in pop filter. The QuadCast S is a slightly upgraded version of the HyperX QuadCast and the main difference is the LED lighting. Instead of the red-only light, you get a whole rainbow of colors.
The QuadCast S comes bolted to a shock mount, which helps keep external noises and vibrations out of your sound. You can't remove it from this shock mount, though, so you probably won't be taking it with you anywhere.
Specs:
Frequency response: 20 Hz – 20,000 Hz
Polar pattern: Multipattern (cardioid, bidirectional and omnidirectional on your choice)
Connection method: USB
Pop filter: Built-in
Condenser
Pros:
Built-in pop shield
Clear sound
LED lighting
Low price
Cons:
Boosts sibilant sounds (f, s, sh, etc.) a bit
Can't turn off the LED lighting
Not portable
Price:
8. Razer Seiren V2 Pro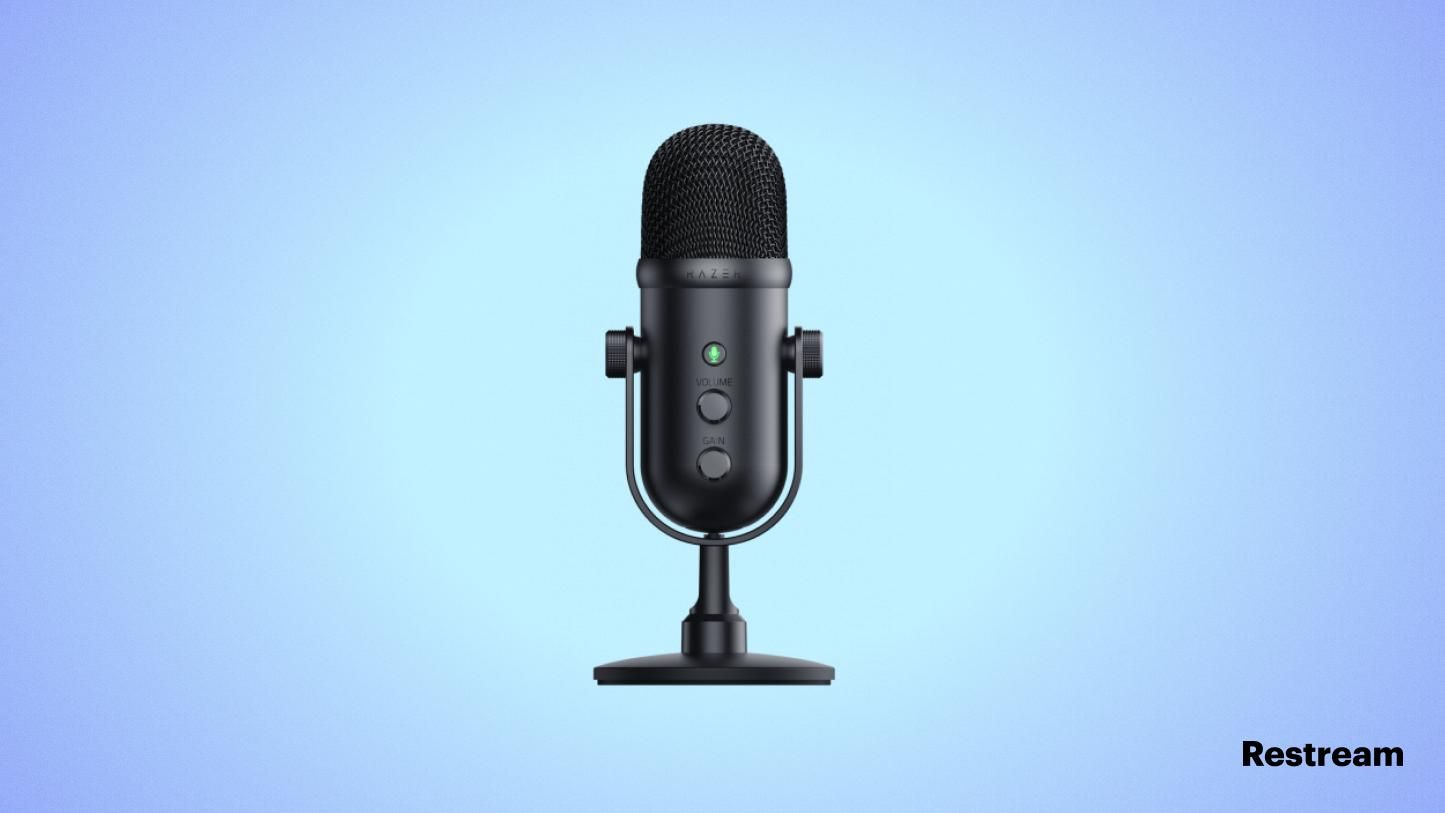 Razer's Seiren V2 Pro is a top-quality microphone that will give your streams a professional sound. It has a crisp, clear signal and allows for high-fidelity streaming. It comes with a sturdy desktop stand that keeps your mic in place and absorbs shocks too. To get the most out of this mic, you have to use Razer's Synapse software — which only works on PCs.
The Synapse software gives you full control over your mic's settings, but it can be a little finicky to set up. The Seiren V2 Pro offers stellar performance but it's not quite as plug-and-play as some of the other USB mics on this list.
Specs:
Frequency response: 20 Hz – 20,000 Hz
Polar pattern: Cardioid
Connection method: USB
Pop filter: Included
Dynamic
Pros:
Powerful Razer Synapse software
Durable mic stand with built-in swivel
Low-latency monitoring
Cons:
Razer Synapse doesn't support Mac
Takes a lot of setup to get the best sound
Price:
9. Rode PodMic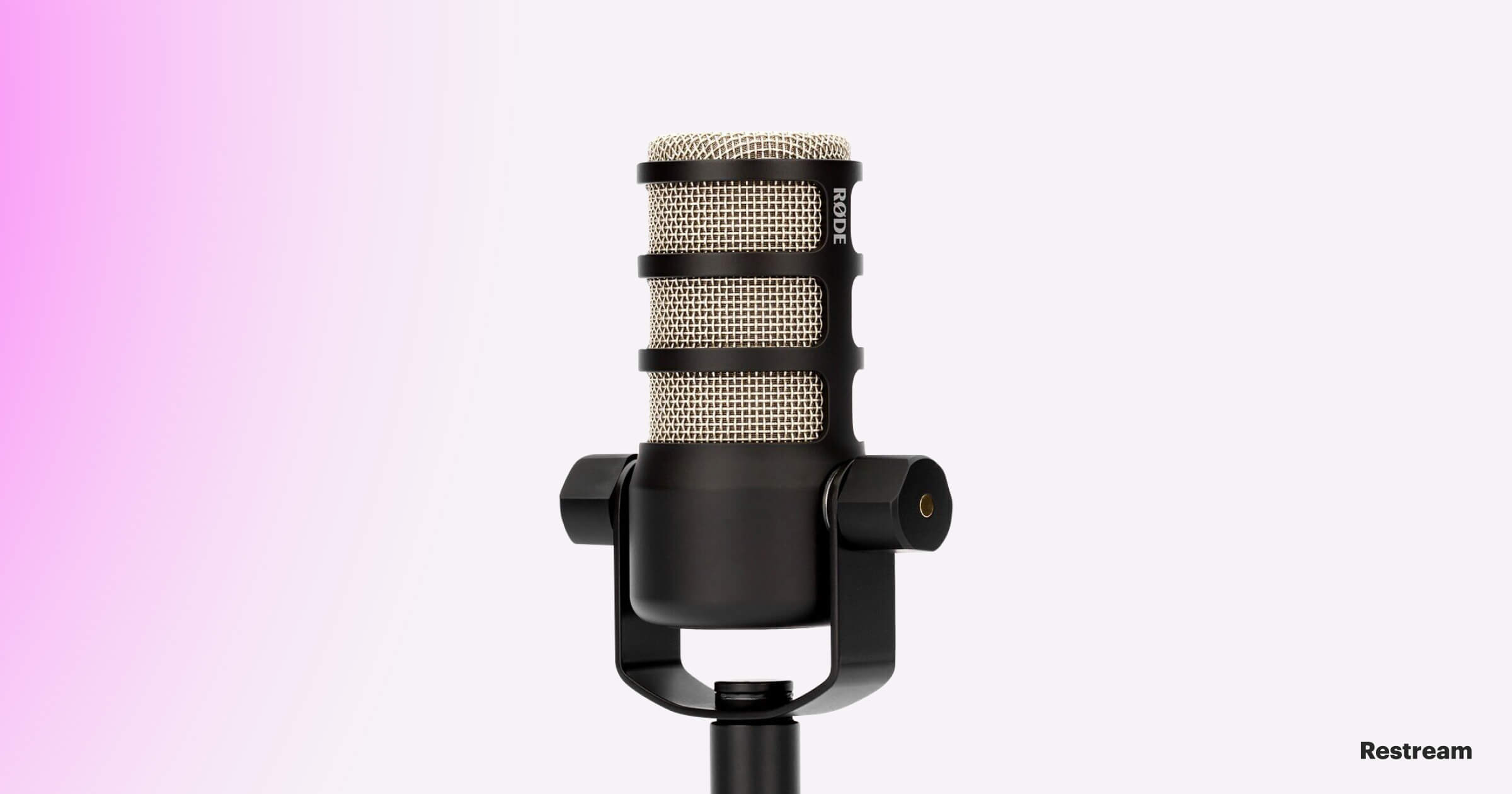 The Rode PodMic is a dynamic microphone designed for broadcasting from your desk. It excels at quieting all background noise, so you can tap on your keyboard or click your mouse as much as you want; your listeners or viewers will barely be able to hear it.
Despite the quality, which comes at a budget-friendly price, it's not quite as ready to use as other similar microphones. It's an XLR mic, so you need an audio interface to connect it to your computer. Since it has to be close to your mouth to pick up your voice, you also need a mic arm.
Specs:
Frequency response: 20 Hz – 20,000 Hz
Polar pattern: Cardioid
Connection method: XLR
Pop filter: Included
Dynamic
Pros:
Solidly built mic that holds a rigid position
Good for streamers or content creators who don't have a good recording environment
Affordable in comparison to quality
Cons:
No USB connection
Might need additional gain to sound good
Price:
10. Samson Go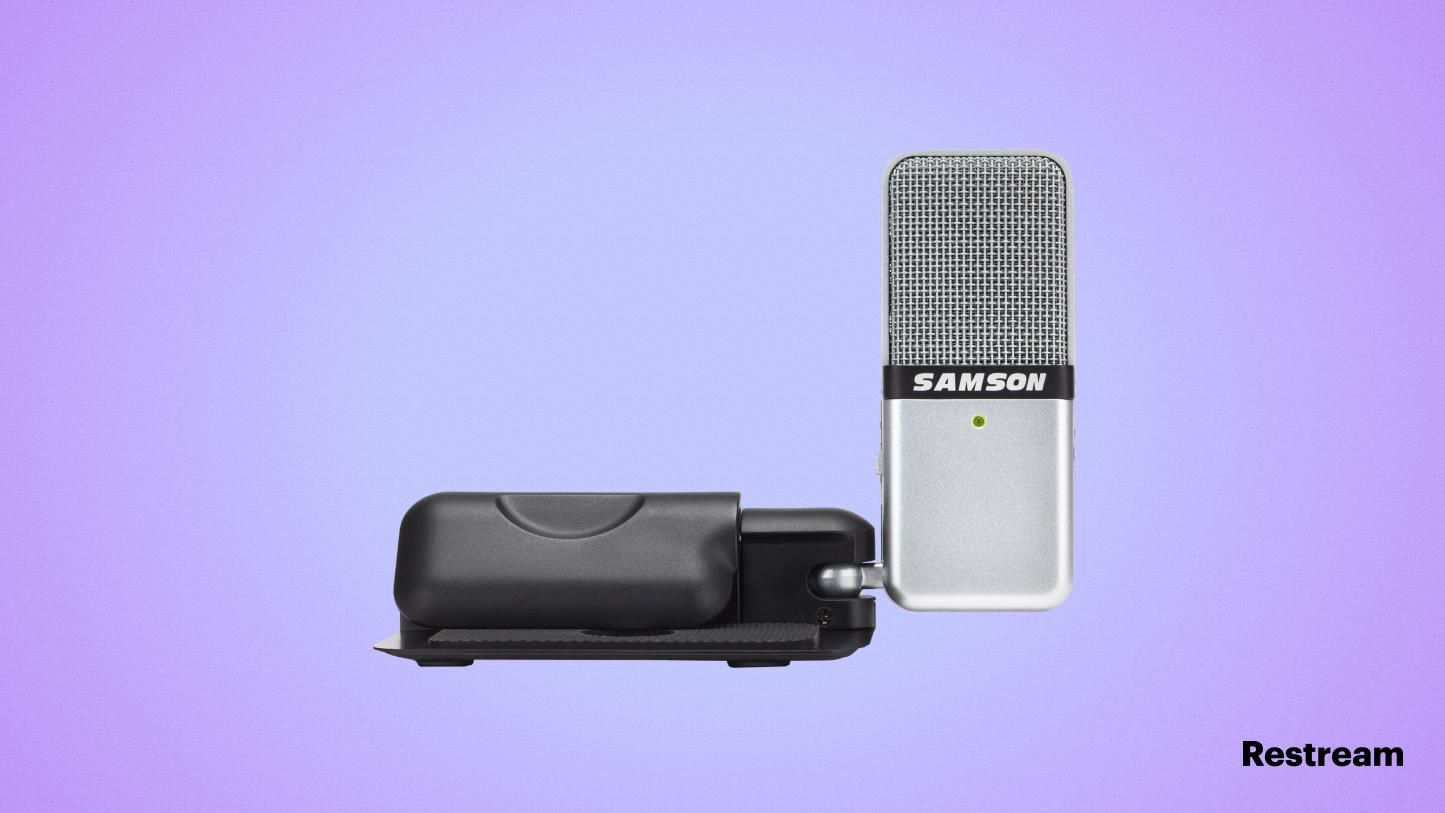 The Samson Go mic is more than a decade old but it's still a go-to for content creators, podcasters, gamers and even people doing frequent conference calls and webinars. It's truly a plug-and-play external microphone that you can start using with most streaming and audio software right out of the box.
With stripped-down features — and a stripped-down price — the Samson Go doesn't produce the highest quality audio. It'll pick up some background noise while it's on, but you can isolate the vocals a bit when it's in cardioid mode. And it'll outperform most built-in laptop mics.
Specs:
Frequency response: 20 Hz – 18,000 Hz
Polar pattern: Cardioid and omnidirectional
Connection method: USB
Pop filter: Not included
Condenser
Pros:
Ultraportable
Mac and PC compatible
Comes with carrying case and clips onto your laptop
Cons:
Entry-level mic with lower-quality audio
Price:
Let's recap
When it comes to the technical characteristics of microphones for streaming, you should look at frequency response, polar patterns and connection methods. Typically, the best streaming microphones have a 20 Hz to 20,000 Hz frequency response, a cardioid polar pattern, and an XLR type of connection. XLR requires an additional audio interface or mixer to connect the microphone, though.
Depending on your streaming needs and available budget, we listed 10 great microphones for you to choose from.