Intro
When you want to go live or host a webinar, finding the right streaming gear is only half the battle. You also have to ensure the environment you stream in is appropriate and non-distracting. Finding a good place to stream is harder than you think, so many streamers use green screens as a solution.
By inserting a virtual background on your stream, you don't have to worry about your messy bedroom or let viewers know you're streaming from a storage area. If you want to use a virtual background, you need a decent-quality green screen. In this buying guide, you'll learn how to choose the best green screen for your streams. We've also picked our several favorite green screen backgrounds.
What is a green screen?
A green screen lets you create virtual backgrounds or add special effects to your stream. Using chroma keying, you can key out the color of the screen, making your background "disappear." Then, you can use live streaming broadcast software or webcam software to add a virtual background.
🧐 Why are green screens green?
To use chroma key, your screen does not have to be green. Screens come in other colors, such as blue. Chroma keying involves keying out everything of a certain color that appears on screen. If you had a light brown screen, for example, it might key out the streamer's hair as well as the background screen. Green is used most often because it doesn't match most hair colors and skin tones. Just remember not to wear a green shirt on your broadcast when you use a green screen!
👀 Why do you need a green screen for streaming?
Streamers add virtual backgrounds to their broadcasts to make their streams appear more professional. If you don't have a dedicated studio for live streaming at home, you might find a green screen useful. Adding a virtual background lets you replace any settings that might be sensitive, messy, or simply too boring.
Some use cases for green screens include:
Gamers who want the "sitting inside the game" effect
Streams or tutorials that require full-screen screencasting
An amusing background to have fun with the audience
Maintaining consistency if you have to stream from different physical locations frequently
Display branding or calls to action (CTAs) in the background
For more info about how to use a green screen during a live broadcast, read our guide to chroma keying for live streams.
💡 Lighting a green screen
If you want to use a green screen, you have to ensure you are lighting your setup properly. The chroma key won't work if there is uneven coloration on your screen. You need to light your screen so that the entire thing appears as one hue. To do so, consider getting a back light, key light, and fill light to ensure even lighting. You can read more about how to set up lights for live streaming in our video lighting guide.
💻 Chroma keying and your CPU
Live streaming uses a big chunk of your PC's resources. Chroma keying requires even more. Make sure your computer is powerful enough to handle chroma keying for a live broadcast. If it's not, you can also switch from software encoding to hardware encoding to lighten the load on your PC.
How do you choose a green screen?
Although green screens are relatively inexpensive, don't just purchase the cheapest one you can find. You'll want to take some other considerations into account.
📏 Size
The proper size for your green screen depends on your camera. First, you need to decide how far away the camera will be from you and your background. Obviously, the further away you place it, the more of the green screen you can see. The camera's angle of view also helps you determine the right size for a green screen.
Most webcams have a wide-angle camera lens, meaning you can see a lot of the background behind you. You need a green screen big enough to cover this viewing area. Run some tests and measure the space you'll need to cover with a green screen. Hang a poster or sheet behind you to gauge your camera position and angle, then use those measurements to determine how big your green screen should be.
🧵 Material
The most important factor to remember when choosing a material for your screen green is that it should not be reflective. Muslin is a good choice because it's a dull fabric and easy to clean. It can be difficult to store or take with you, though, as muslin will show wrinkles and creases over time.
Spandex and nylon are good choices for a green screen because they stretch and don't wrinkle. The downside is that some spandex or nylon green screens will reflect light.
🔗 Stand
You need to mount your green screen on something, and sticking it to the wall behind you isn't always possible. You will need a stand — or you can purchase a screen that mounts on your desk chair. The stand should be sturdy enough that it keeps your green screen stretched tightly, allowing no wrinkles whatsoever. Some green screens are sold with a stand included; others are not.
🙌 Portability
Will you be able to leave your green screen up all the time, or will you take it down after each stream? If you plan to put it away once you're done, you need a screen that stores easily. One of the benefits of using chroma key is that you can take your background with you wherever you go. But if you plan to broadcast from different places, you need to be able to transport your screen without damaging it.
💸 Price
Most green screens aren't expensive, but cost is always relative — especially when you're a new streamer. You can find one for about $50, although some may cost much more or much less. Remember that a higher price doesn't always mean better quality. Choose a green screen that suits your streaming needs and judge based on the above criteria.
How to stream with a green screen
To use a green screen for a live broadcast, you will need to set up your scene and then ready the chroma key in your streaming software.
Here are a few tips for setting up your studio with a green screen:
Always get a bigger screen than you think you need
Put enough distance between the subject and the screen so there are no shadows
Place your screen, lights, camera, and subject and run a test beforehand
Remove all green or reflective items from the subject
You will also need streaming software or an app that supports virtual backgrounds. OBS Studio supports this function, as does Restream Studio. To use a green screen with Restream Studio, follow these steps:
Launch Restream Studio and click the gear icon to open the Settings.
Click on the Green Screen section.
Choose the color of your screen (Restream supports blue, green, magenta, or custom).
Upload or choose a virtual background. Upload images at 1920x1080 px for the best quality.
Inserting a virtual background is only one of the benefits of using Restream Studio to go live. You can also:
Restream makes live streaming intuitive and accessible, so you can focus on making great content.
Easy live streaming for everyone
Run professional live streams from your browser.
Get Started
Best green screens for streaming
Any of these seven background screens would be ideal for streamers of all levels, although some are more expensive than others. Others are more suited to photographers, but they still work well for live content creators.
1. Elgato Collapsible Chroma Key Panel
If you want a green screen you're certain will be big enough and easily stored, the Elgato Collapsible Chroma Key Panel is a safe choice. You can lock it into place with the X-frame and adjust it how you want, plus it's wrinkle-resistant. When you're done streaming, slide it back into its case and store it for later.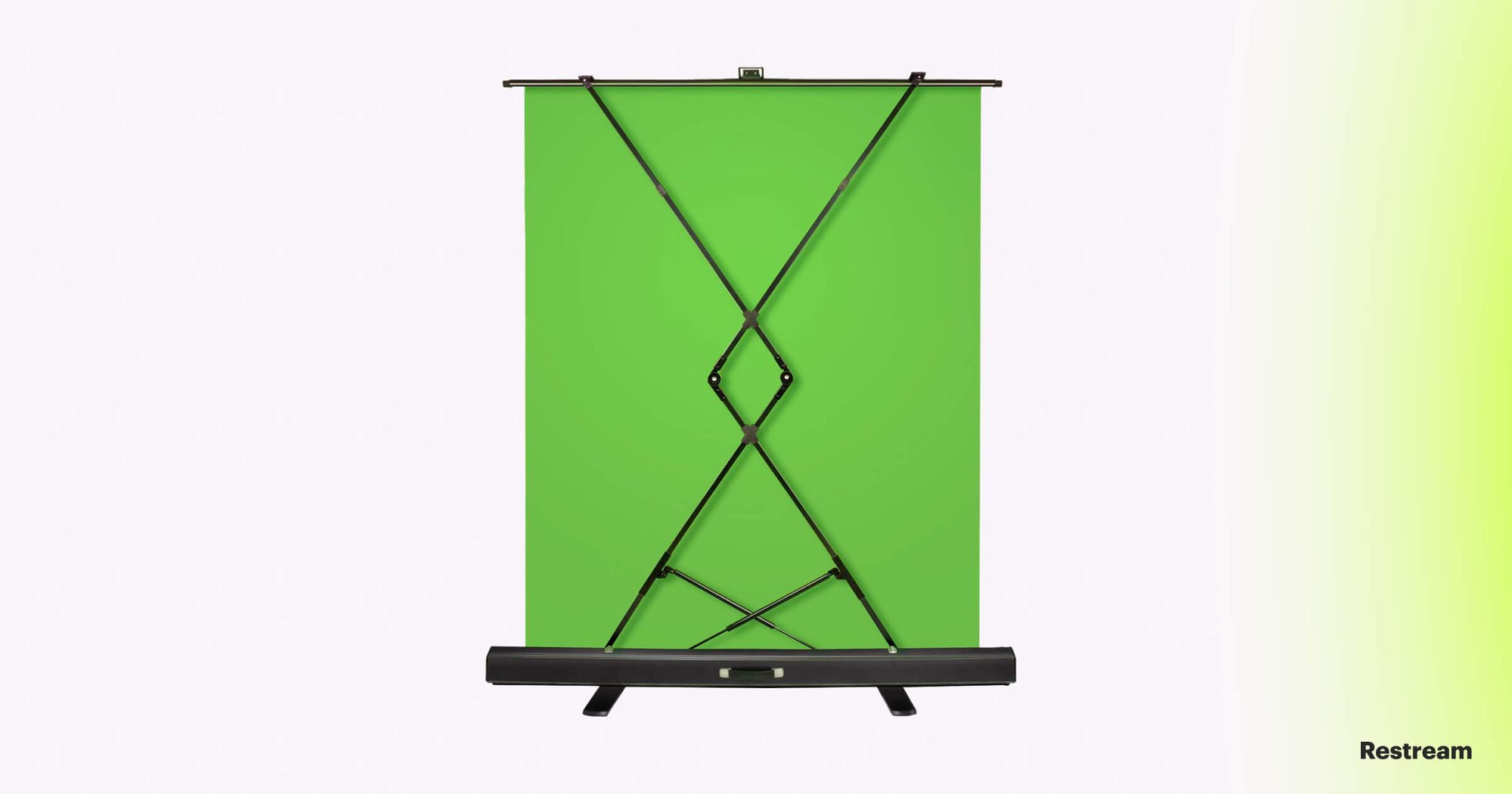 Dimensions: 58.27 x 70.87 in / 148 x 180 cm
Weight: 20.5 lbs / 9.3 kg
Material: 100% polyester
➕ Pros
Extremely portable
Easy to set up
Non-reflective, wrinkle-resistant material
Built-in X-frame
➖ Cons
A bit heavy
Pricey
The clips to close the case tend to be flimsy
2. Neewer Chromakey Double-Sided Backdrop
If you want a flexible color option for your screen, you have the Neewer Chromakey Double-Sided Backdrop. One side is green; the other is blue. It's collapsible as well, folding up into a disc you can store easily or carry with you. You will need a stand to hang it on; it does not come with one.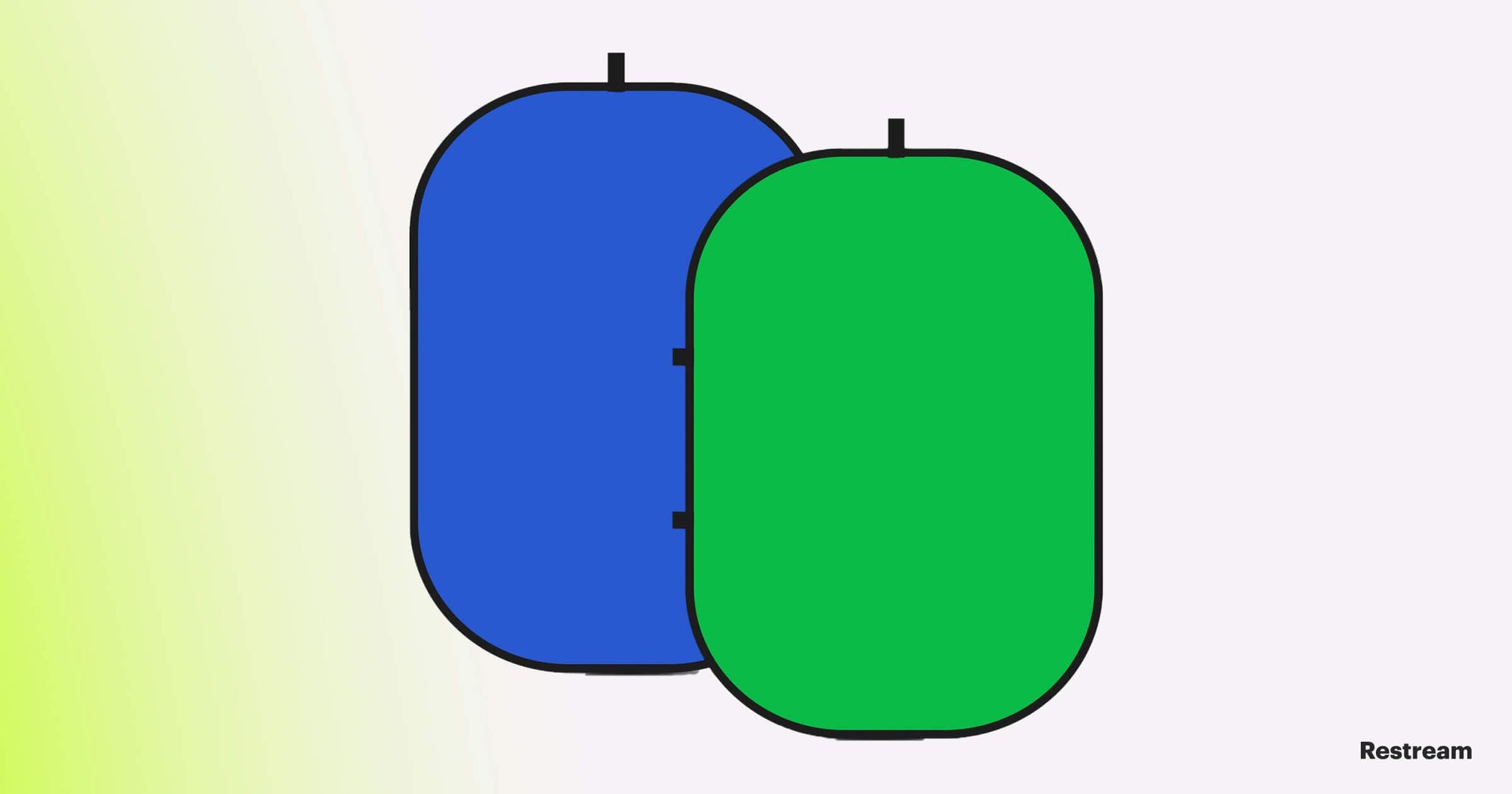 Dimensions (extended): 5 x 6.6 ft / 150 x 200 cm
Dimensions (collapsed): 24.8 in / 63 cm (diameter)
Weight: 17.31 oz / 490.73 g
Material: muslin
➕ Pros
Durable metal frame
Double-sided
Stretched tightly over frame for no wrinkles
Collapsible and comes with carrying bag
➖ Cons
Stand sold separately
Folding it back up can be tricky
3. Fancierstudio Green Screen Background
For a green screen that extends to and covers the floor, try the Fancierstudio Green Screen Background. It's a good deal for the price, as it also comes with a stand to hang it from and a carrying case for portability. The screen is nine feet long, and you can adjust it to the length you need as well. If you require a bigger screen, you can try the Fancierstudio Chromakey Green Screen Kit, which includes a 10- by 12-foot green screen along with umbrella lights.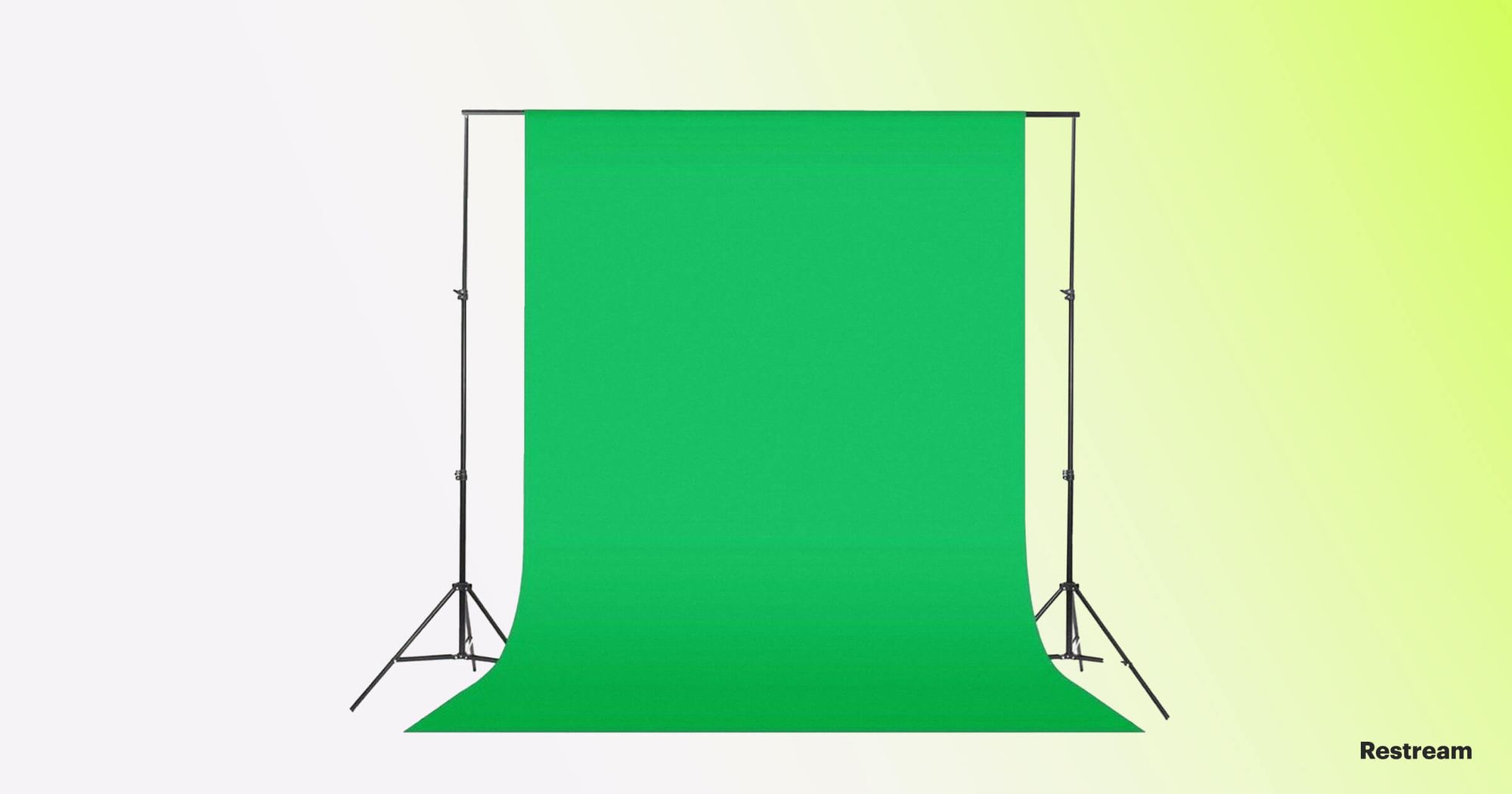 Dimensions (minimum): 3.5 x 4.5 ft / 106.68 x 137.16 cm
Dimensions (maximum): 6 x 9 ft / 182.88 x 274.32 cm
Weight: 11.3 lbs / 5.13 kg
Material: muslin
➕ Pros
Adjustable and covers the floor
Comes with frame and carrying case
Portable
➖ Cons
Not wrinkle-resistant
Screen doesn't always stay steady
4. LimoStudio Green Muslin Backdrop
The LimoStudio Green Muslin Backdrop is one of the most inexpensive on this list, so if you're on a budget, it's worth a look. It doesn't come with a stand or frame, however. The LimoStudio screen has a pre-stitched loop, so you can slide it onto a rod. It does come with clips, so you can clip it up when needed as well.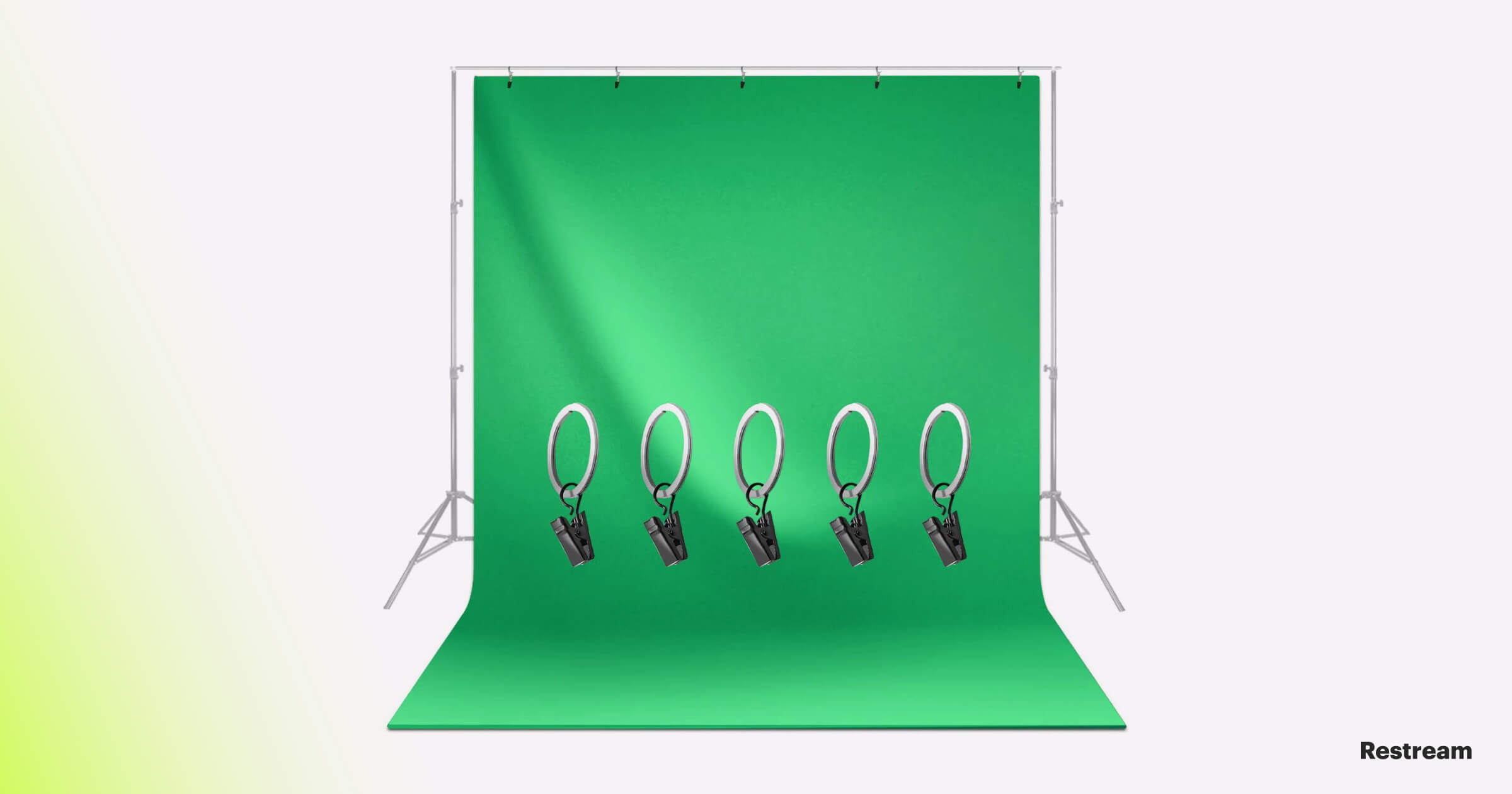 Dimensions: 6 x 9 ft / 182.88 x 274.32 cm
Weight: 1.25 lbs / 0.57 kg
Material: muslin
➕ Pros
Machine washable and able to be ironed
Inexpensive
Available in a larger size if needed
➖ Cons
Not wrinkle-resistant and requires a lot of ironing/steaming
No stand included
5. Webaround Big Shot Office Chair Green Screen
For gamers or streamers who mostly sit in front of their cameras, the Webaround Big Shot Office Chair Green Screen is a quirky solution. The screen is a large disc that slides over the back of your desk chair, forming a giant green halo behind you when you sit down. It also comes in other colors and various sizes to fit your background needs. The Webaround screen is collapsible and fits in a nifty carrying bag.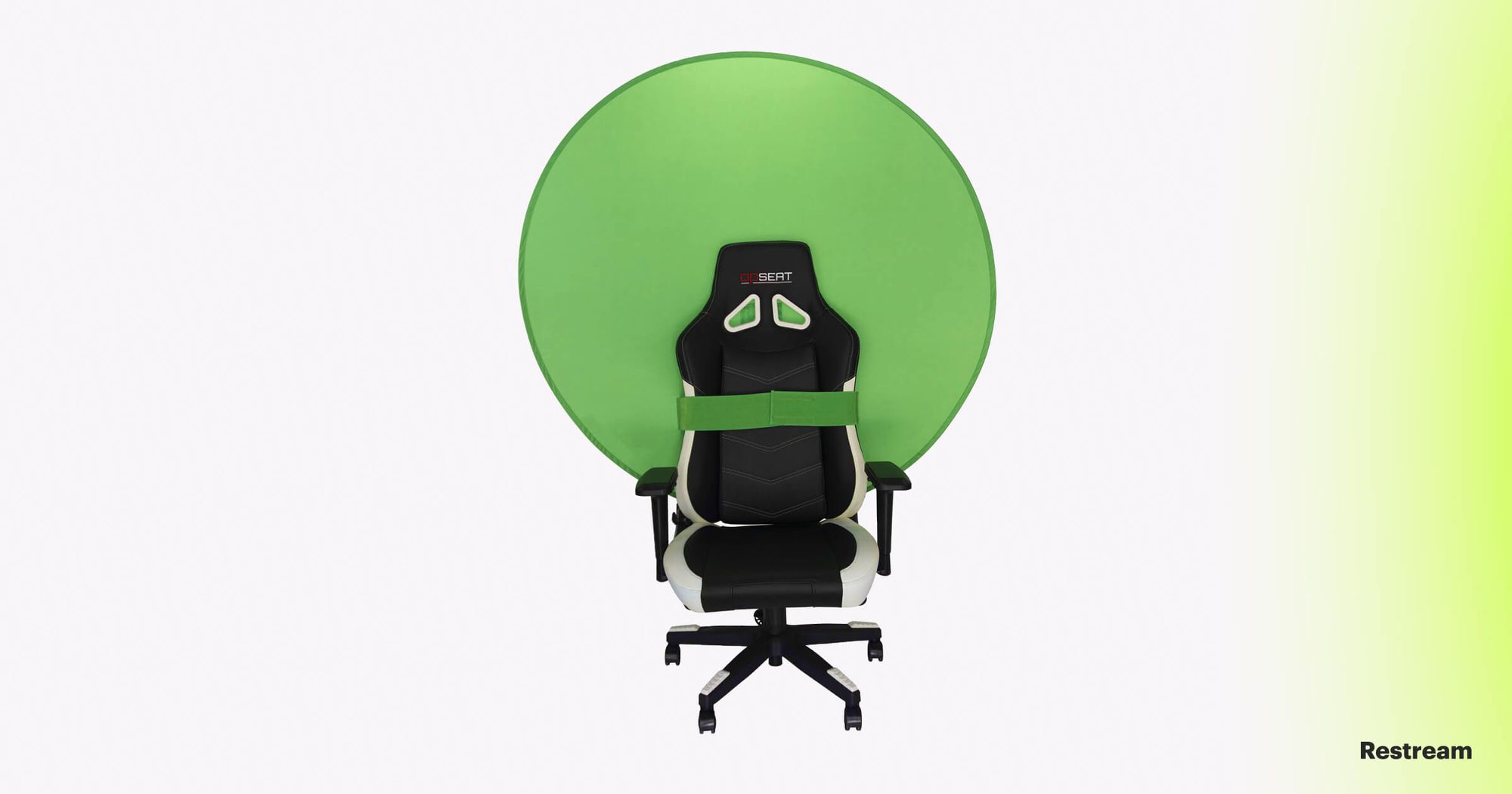 Dimensions: 56 in / 142.24 cm (diameter)
Weight: 1.8 lbs / 816 g
Material: polyester
➕ Pros
Portable and lightweight
Good for streamers with small studios or limited space
Material stays taut
➖ Cons
The green screen moves if you move
Only covers your immediate background
6. EMART Green Screen
For a green screen with ultimate portability and setup ease, try the EMART Green Screen. The carrying case doubles as a stand, with legs that swivel out to support it. You simply open it and drag it up into position, locking it in place at any height you prefer. Setup doesn't get much faster than that. The EMART screen uses high-quality materials, and the price reflects it; it's one of the priciest green screens on this list.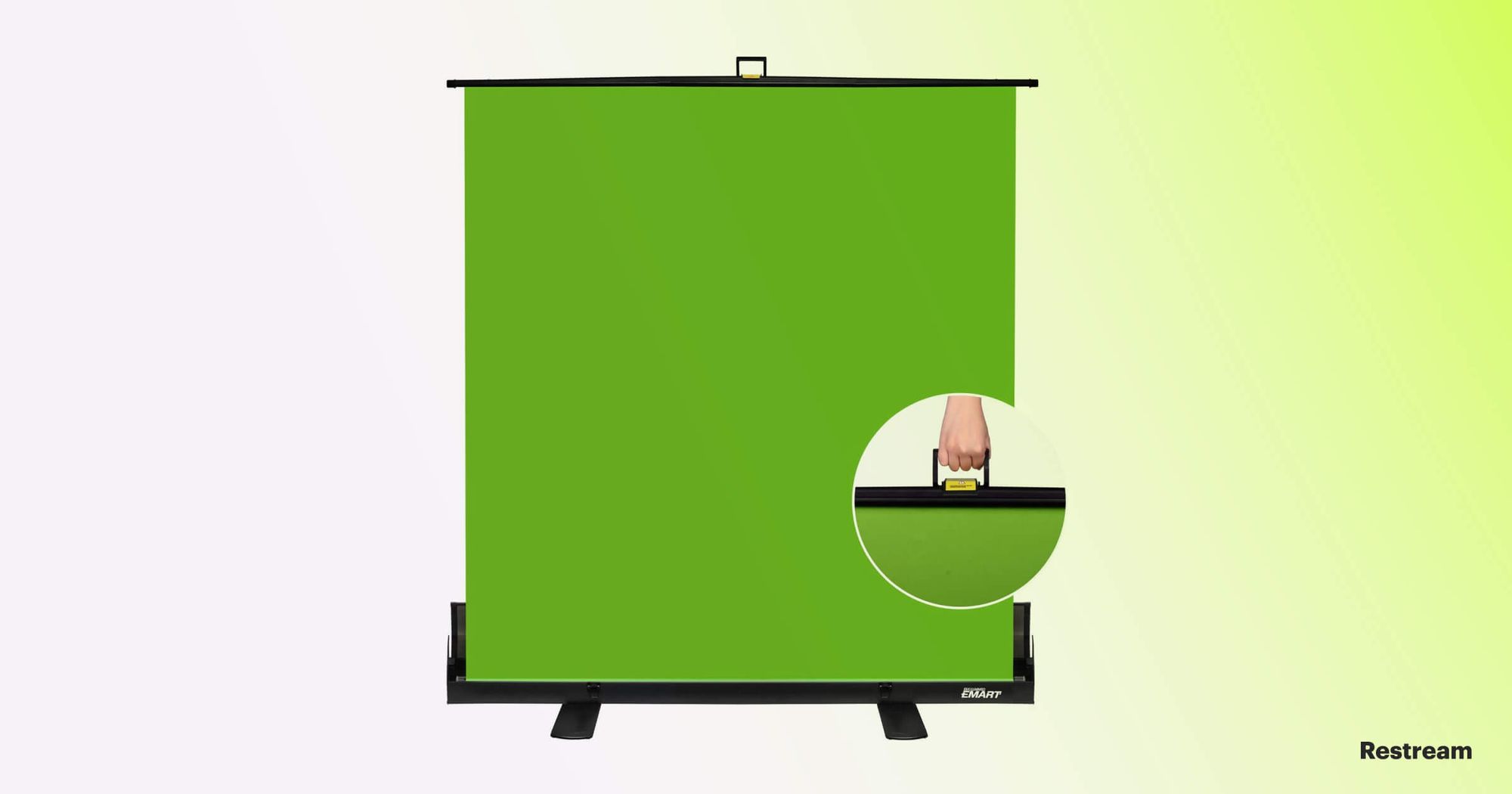 Dimensions: 61.02 x 72.44 in / 154.99 x 184 cm
Weight: 19.6 lbs / 8.89 kg
Material: muslin
➕ Pros
Quick setup
Non-reflective material
Designed for streamers and content creators
➖ Cons
Frame isn't so sturdy
Expensive
7. Fotodiox 2-in-1 Background
Collapsible, reversible, and portable — the Fotodiox 2-in-1 Chromakey Background is sufficient for most streaming needs. The screen comes with its own stand, which extends to seven feet high. You can change it out for blue or green, depending on your needs.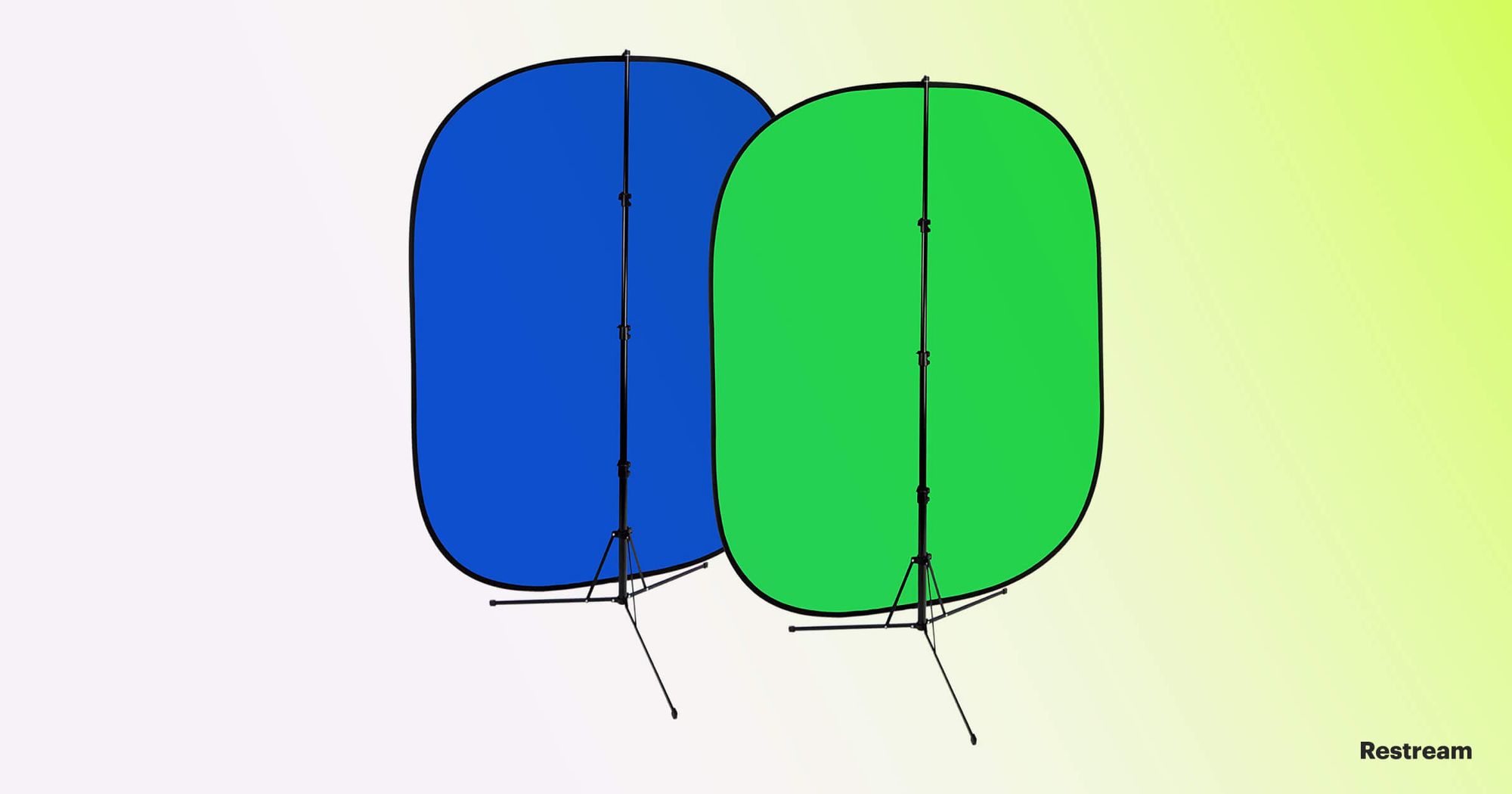 Dimensions: 5 x 7 ft / 125.4 x 213.36 cm
Weight: 1 lb / 453.59 g
Material: muslin
➕ Pros
Wire-frame stand included
Lightweight
➖ Cons
Small screen may not cover your entire background
Can be difficult to fold up for storage
Let's wrap up
Choosing the right green screen is about finding the best value for your needs. Think about what you will use your screen for before you start looking. As long as you have the proper lighting, just about any green screen made from high-quality material will get the job done.