Intro
Amazon is the world's biggest company, with $797 billion in market capitalizations. In the United States, it accounts for roughly 50% of all e-commerce, and it's quickly moving into the brick-and-mortar space. There are few things Amazon can't do. There's also plenty it allows users and sellers to do, including live streaming video with its new Amazon Live service.
Want to know how to live stream at Amazon Live? If you're a registered Amazon Seller, all you need to do is download the Amazon Live Creator app, and you've done most of the work. You can stream using your smartphone's hardware, or you can opt to use a discrete camera setup.
Of course, even if it was this easy to set up live streaming on Amazon Live, there are still lots of questions that need answers before you broadcast your first video. So let's see if we can figure out what exactly Amazon Live is and how to use it in the best possible way.
What is Amazon Live?
Amazon Live is Amazon's live streaming feature that allows Amazon Sellers to stream video content as a promotional or sales tool.
Amazon has a lot of experience in the video streaming market. Prime Video, also known as Amazon Prime Video, has been active in one form or another since 2006. It gives Amazon over a decade of experience with video-on-demand.
As far as live streaming is concerned, Amazon is present on the market through Twitch. It bought the live streaming platform in 2014, which has since operated as Amazon's subsidiary.
Amazon Live is something completely different from Prime Video or Twitch. It is a live streaming platform, and it also provides on-demand video of previous streams. But the platform has been released purely to let sellers use live video content as a sales tool.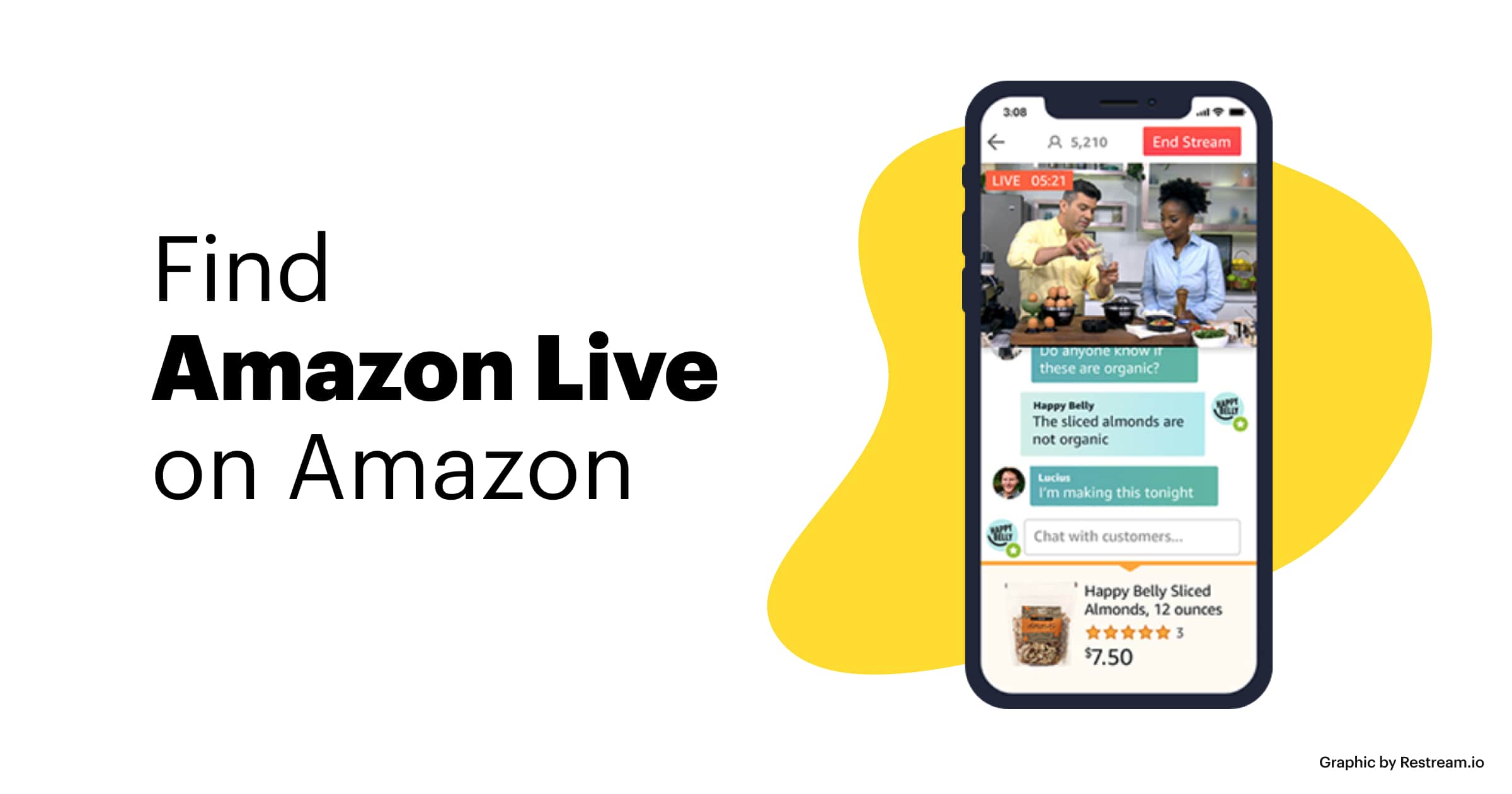 How to live stream on Amazon Live
Amazon Live isn't readily available to all users. It's a sales tool for Amazon sellers, after all. It's not a platform available to the general public in the way Twitch or YouTube is.
Before you start live streaming on Amazon Live, you need to make sure:
You are a professional Amazon Seller
You are registered in Amazon's Brand Registry
You have an iPhone, ideally, although an iPad will do
You have access to a strong and stable Wi-Fi connection
If you meet all the requirements, go to the App Store and download the Amazon Live Creator app. This app is all the software you need for the most basic streaming setup, and you can only get it for iOS. It's still unclear when we'll see an app for other operating systems.
After downloading the app, log in using your Seller Central or Brand Registry credentials. When you log in, there are a couple of things you can do:
Pick a brand – Before streaming, you need to choose the brand of the product that will be the topic of your stream. You need to have that brand registered with the Brand Registry.
Pick a source for the stream – It can be either the phone camera or an external camera. We'll cover the latter in a moment.
Add products to the live stream ­– Amazon Live is a sales tool, after all. It lets you add several products to the product carousel, which will display them during the stream.
Choose a name for the live stream – It's always best to go with something appealing and descriptive. Try to stand out.
Practice – Amazon Live gives you a chance to try out your setup in the Practice mode without having to worry about going live unprepared.
Schedule the stream – Amazon Live gives you an option to schedule a live stream. If you go ahead and do it, a notification will appear on Amazon Live about the upcoming stream.
Read Next: 10 best ways brands are using live streaming videos📍
Some of these are optional, like scheduling streams or using the practice mode. The others are necessary. When you go through all of them, you can push the button and start live streaming.
The stream might appear in several places. The Amazon Live page is one of them. The product's page is also a good possibility. Amazon also says the stream might appear "across various placements where Amazon customers browse," but it's not very clear what that means. Still, it's safe to say that, after you go live, your stream will appear somewhere your target audience will be able to see it.
How to live stream to Amazon Live using an external camera
The Amazon Live Creator app lets you pick an external camera as a source for the stream's video. Anyone who already streams live video knows this entails the use of encoding software. OBS Studio is a great and popular choice, and here's how you live stream to Amazon Live using it.
Step One — After you install OBS Studio, connect your external camera with your computer and choose it as a video source in OBS Studio.
Step Two — Open the Amazon Live Creator app and choose the external camera as the source option. You'll see a "get URL and stream key" button, and after clicking on them, you'll see the RTMP URL and the stream key.
Step Three — Enter the URL and the key into OBS Studio. After that, all you need to do is start the stream in OBS Studio, and then start it in the Amazon Live Creator app. When you're done streaming, end the stream in the app first, and then in OBS Studio.
The best thing about the option to use an external camera is that, with the RMTP URL and the stream key, you can use additional tools to expand your reach. For example, if you have a paid subscription to Restream, you can add the custom URL and key and stream, simultaneously, to multiple platforms.
Amazon Influencer Program
Amazon has announced a new affiliate program, which allows you to recommend products and get rewarded when customers buy them. You can promote products on Amazon Live via the Amazon Live Creator app. Simply download the app, adjust the settings, start live streaming, and grow your follower base! Or live stream to as many social platforms as you like, including Amazon Live, with Restream via Custom RTMP.
Live streaming on Amazon to promote your products is great, but imagine how many more potential buyers you could get if broadcasted to multiple platforms, like Facebook, YouTube, Twitter, and LinkedIn at the same time! With Restream Studio you can do that and much more in just a few clicks.
Restream Studio is a go-to streaming solution that allows you to create professional live streams with no effort whatsoever. You can broadcast in Full HD, invite guests directly to your stream, and add your graphic overlays, transforming an ordinary, inconspicuous stream into an engaging and memorable one. Restream Studio helps you create and grow your brand via the live streaming in a smart and easy way!
Easy live streaming for everyone
Run professional live streams from your browser.
Get Started
One of the biggest advantages of streaming to Amazon Live is that your followers on Amazon can be notified when you go live. Your live stream automatically appears on your influencer page when you start broadcasting. Grind your way up and increase your Amazon Live level to unlock more placements for your live streams, increase your audience reach, and earn more! Let's take a quick look at how the Amazon Influencer Program works.
You can check whether you are eligible for the Amazon Influencer Program or not when you have an account on at least one of the following social platforms: Facebook, Twitter, Instagram, or Youtube. Since there is no specific required number of followers, you can try to apply for the program to see if you qualify. Amazon is looking at your number of followers, as well as some engagement metrics on your social media.
After you join the Amazon Influencer Program, you will be able to create your own storefront with a vanity URL to promote all sorts of products on your live streams. You will get compensated when your viewers purchase your recommended products via the shop. The commission rates are somewhere between $1 and $10, depending on the product type. Keeping that in mind — influencers can earn from a few bucks to hundreds of dollars a month.
👉 Tip: You don't necessarily have to live stream directly to Amazon Live to earn money. You can simply place your vanity URL on your live stream on any other platform so your viewers can go shopping via your Amazon storefront.
Tips for successful live streaming on Amazon Live
Just like streaming on any other streaming platform, streaming on Amazon Live has its own set of unofficial rules and best practices. These are invaluable if you want to make the most out of your Amazon Live streams and stand out from the audience. Here are some tips you might find useful.
1. Stream with multiple people
This is a very important tip. Being in front of the camera and engaging the audience via chat at the same time is very difficult on Amazon Live. Luckily for you, you can have multiple people logged into the Amazon Live Creator app with your brand. They can handle chatting and switching between the products and the chat while you're in front of the camera. Also, you can add even more people directly to your stream via Restream Studio and host live interviews and Q&As.
2. Add the most important product first
The first product you add to the product carousel will get the most attention. It makes perfect sense to use the position to showcase a product, be it a bestseller or one you'd like to see sell more.
3. Have at least 5 Mbps upload speed
When live streaming video content, it's always a good idea to use the most stable internet connection you have. Usually, this means a physical connection to the modem. With Amazon Live, however, you're stuck with your iPhone and Wi-Fi. Still, you can at least make sure you have enough bandwidth – an upload speed of at least 5 Mbps would be a good start.
4. Always use the practice mode
Practice mode lets you choose who can watch your live stream. It pretty much lets you be the only person who sees what you do. That can be great if you want to check the quality of the audio and video before going live to an audience. At the very least, it will show you how good your internet connection performs when live streaming.
5. Use stabilization
If you really want to use your iPhone instead of an external camera, the very least you should do is use a tripod. The rule of thumb is to always go for the best production value, even if the value is only in using a tripod instead of holding a phone in your hand.
6. Live stream pre-recorded content
Amazon Live allows you to live stream pre-recorded content only in the sense that it doesn't prohibit it. You will have to use a third-party tool, such as the Restream Events, to do it. If you live stream pre-recorded content, you'll be able to devote your time to answering chat messages, handling the products in the carousel, and toggling promotion messages yourself.
7. Think about boosting your stream
There is an option to pay for a boost in reach for your live stream. This is something you should consider, but only after you case out the platform and learn the lay of the land. Boosting might be a waste of your money. However, it might also help you stand out from your competitors. You need to figure out which it is for you and the products you sell.
8. Think about adding the stream to your amazon store
Your stream could appear on your Amazon Store, but that's not something that happens by default. You need to contact Amazon at amazon-live-support@amazon.com and wait for them to get in touch with more details.
9. You can download your streams
Amazon Live will save your live streams after they're done. You can download them whenever you want from the "streams" section of the Amazon Live Creator app. Remember that you can edit the stream for highlights and use them in a new video.
10. You can continue chatting after the stream has ended
No need to keep the stream going if you're in the middle of a conversation with a customer. You can continue the chat even after you have closed the video stream. And if you were multistreaming via Restream Studio, you could chat with all your viewers from different platforms in one place thanks to the Restream Chat feature.
Conclusion
Amazon Live isn't a live streaming platform like the others you can use to market your products. For one, you need to be an Amazon Seller to be able to use it, but that's not the biggest difference at all.
As opposed to other more general platforms, Amazon Live has a theme. The content you stream on the platform has a goal. Whether you stream how-to videos, product demonstrations, a Q&A session, or product-launch promotional content, what you stream should help you sell more products on Amazon.