Intro
Whether you're starting your streaming career or simply wanting to update your gear, choosing the right webcam is crucial when it comes to viewer experience and, ultimately, your number of followers and subscribers. If you're thinking about investing in a new webcam, we've prepared a list of the 12 best webcams for streaming.
The #1 live
streaming solution
Get started for free
1. Logitech C922 Pro Stream Webcam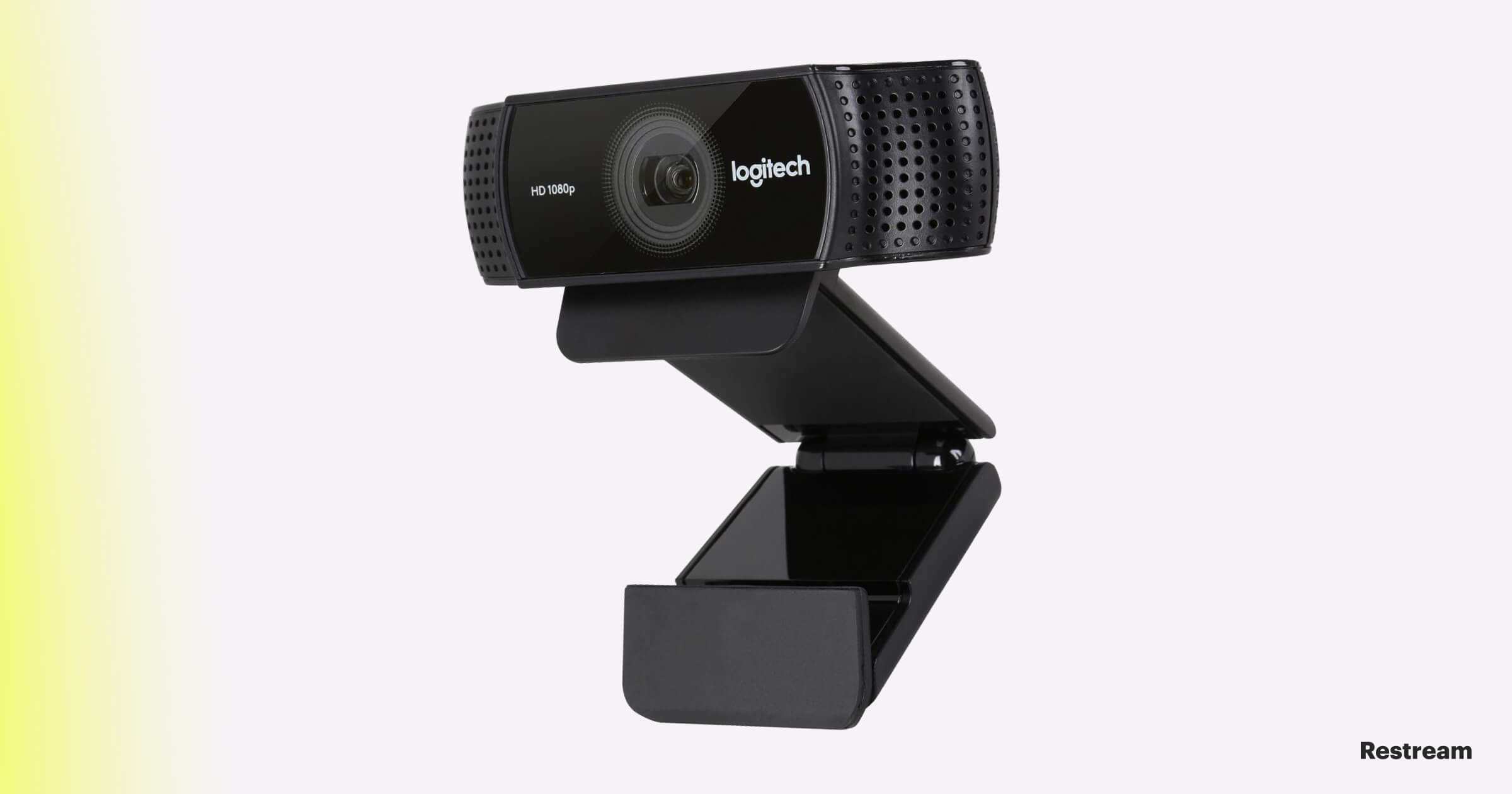 As a leading webcam manufacturer, Logitech continues to be a staple on "best webcam" lists year after year. When you look at their C922 Pro Stream model, you can easily understand why. You can stream in 1080p at 30 frames per second or in 720p at 60 frames per second.
The camera is equipped with two microphones for stereo recording, has good low-light performance, and comes with the versatile Logitech stand. The C922 isn't a flawless webcam, however. It doesn't have a privacy shutter to physically block the lens. The background-removal feature requires third-party software to use (so you're better off using a green screen).
Resolution: 1080p/30fps; 720p/60fps
Focus: Autofocus
Built-in mic: Dual omnidirectional
Connection type: USB A
Pros
Comes with a tripod
Has automatic light correction
Two built-in mics
Cons
No privacy shutter
Background removal requires third-party software
2. Razer Kiyo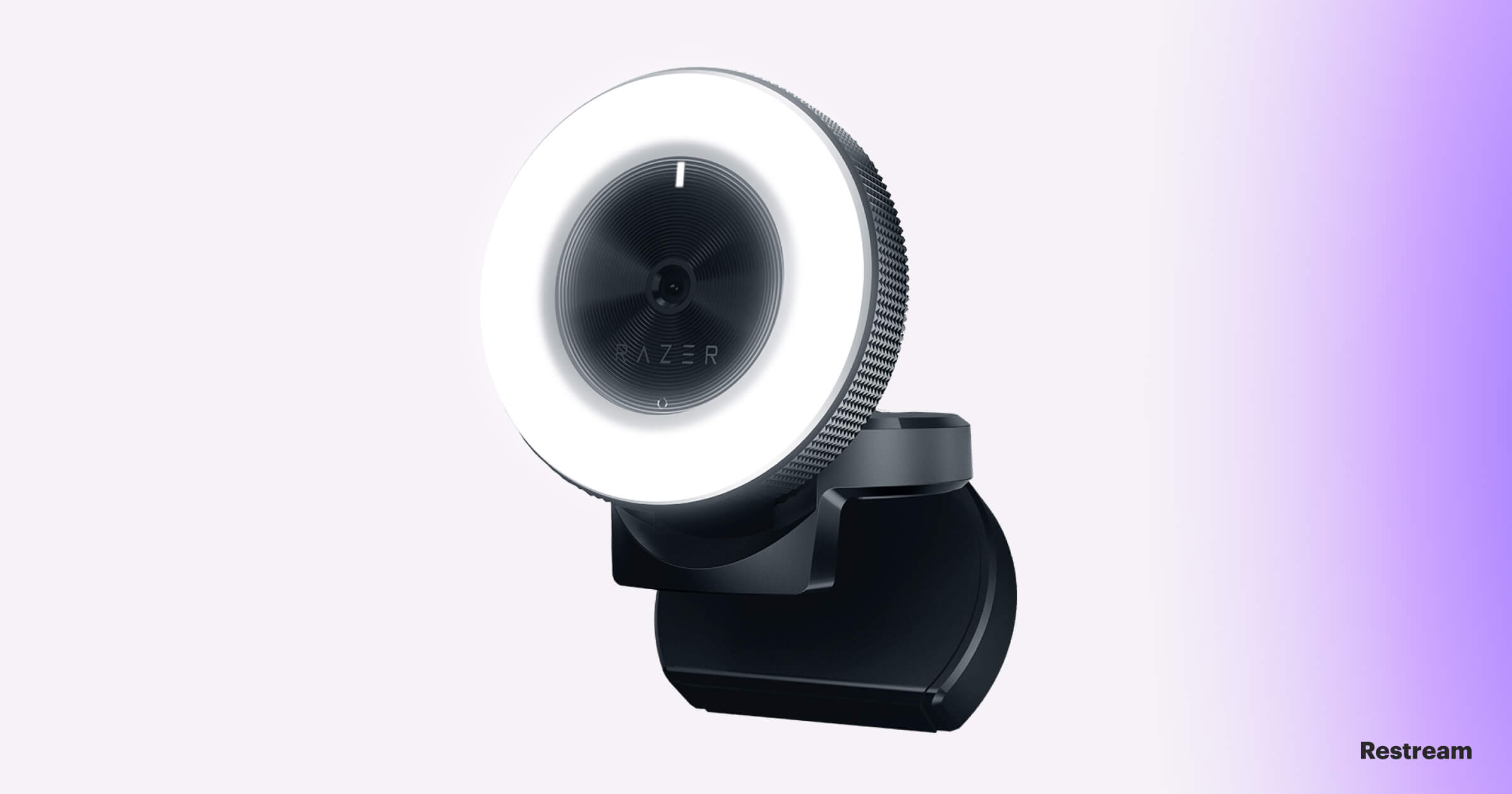 The most prominent selling point of the Razer Kiyo is, of course, the light ring. The Kiyo is a streaming camera through and through, on par with the Logitech C922 in many ways. It also offers 1080p streaming at 30 frames per second and 720p streaming at 60 frames per second. But the fact that it includes an adjustable light that can be bright enough to make a noticeable difference when streaming is a great bonus for the Kiyo. However, this webcam is also on the more expensive end of the spectrum for what it is, and there have been some reports of issues when used with OBS Studio.
Resolution: 1080p/60fps; 1080p/30fps with HDR
Focus: Autofocus
Built-in mic: Omnidirectional
Connection type: USB 2.0
Pros
Smooth video at 1080p/60fps
Optional HDR setting
Works well in low light
Cons
Pricey compared to other webcams in the same range
May have issues when used with OBS Studio
3. Mevo Plus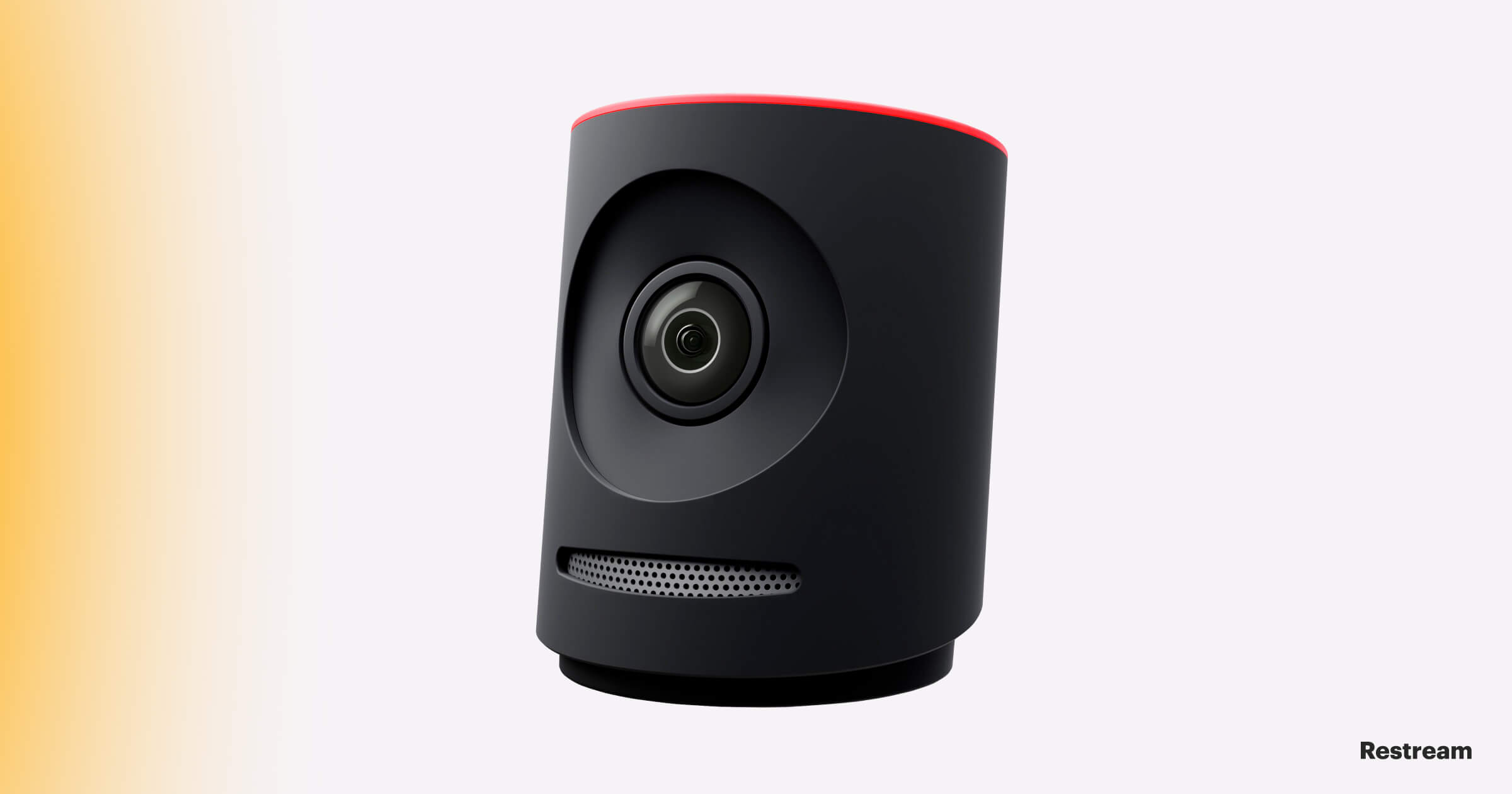 The Mevo Plus allows for on-the-go streaming. It's portable, produces high-quality video and has a nice power supply. Although it's a 4K portable webcam, the Mevo Plus only allows you to stream at 1080p. You can connect it to your mobile phone and stream with it for about an hour before you drain the battery. The Mevo Plus is compatible with lots of devices, and it has the connectivity options you'd expect to see on a laptop, let alone a webcam. The only downside to this little webcam is its price. For what it offers, however, it's hard to say the Mevo Plus isn't worth it.
Resolution: Up to 1080p for streaming
Focus: Fixed
Built-in mic: Dual analog
Connection type: USB
Pros
Portable webcam
Compatible with Android and iOS
Ample connectivity options
Cons
4. Logitech BRIO Webcam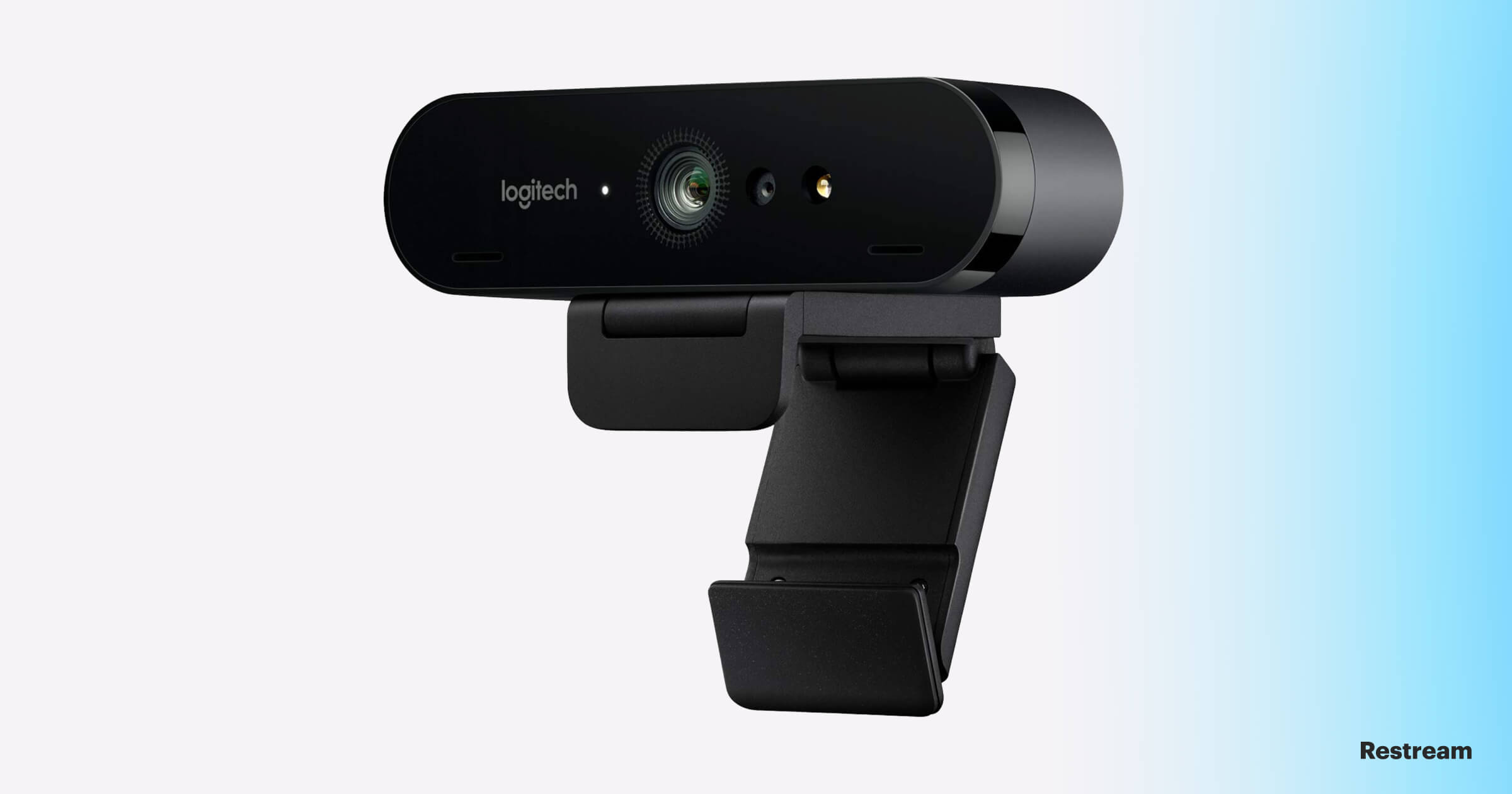 The Logitech BRIO is a 4K HDR webcam that supports streaming, recording and video calling in full quality. For 4K streaming, you get a maximum of 30 frames per second. But if you're willing to downgrade to 1080p, you can stream at 60 frames per second, which is no mean feat. Add the stereo mic and a 90-degree-wide field of view and you've got a super high-quality webcam for your super high-quality streams. The Brio is so good that it has no real downside. It is more expensive than your regular 1080p webcam, but that's expected given that it's a streaming beast.
Resolution: 4K/30fps; 1080p/60fps
Focus: Autofocus
Built-in mic: Stereo
Connection: USB A plug-and-play; USB-C (adapter required)
Pros
Film and stream in 4K
90-degree-wide and adjustable field of view
Facial recognition
Focus shift based on movement
Cons
Mounting clip is a bit awkward
5. AUSDOM AF640 1080p HD Webcam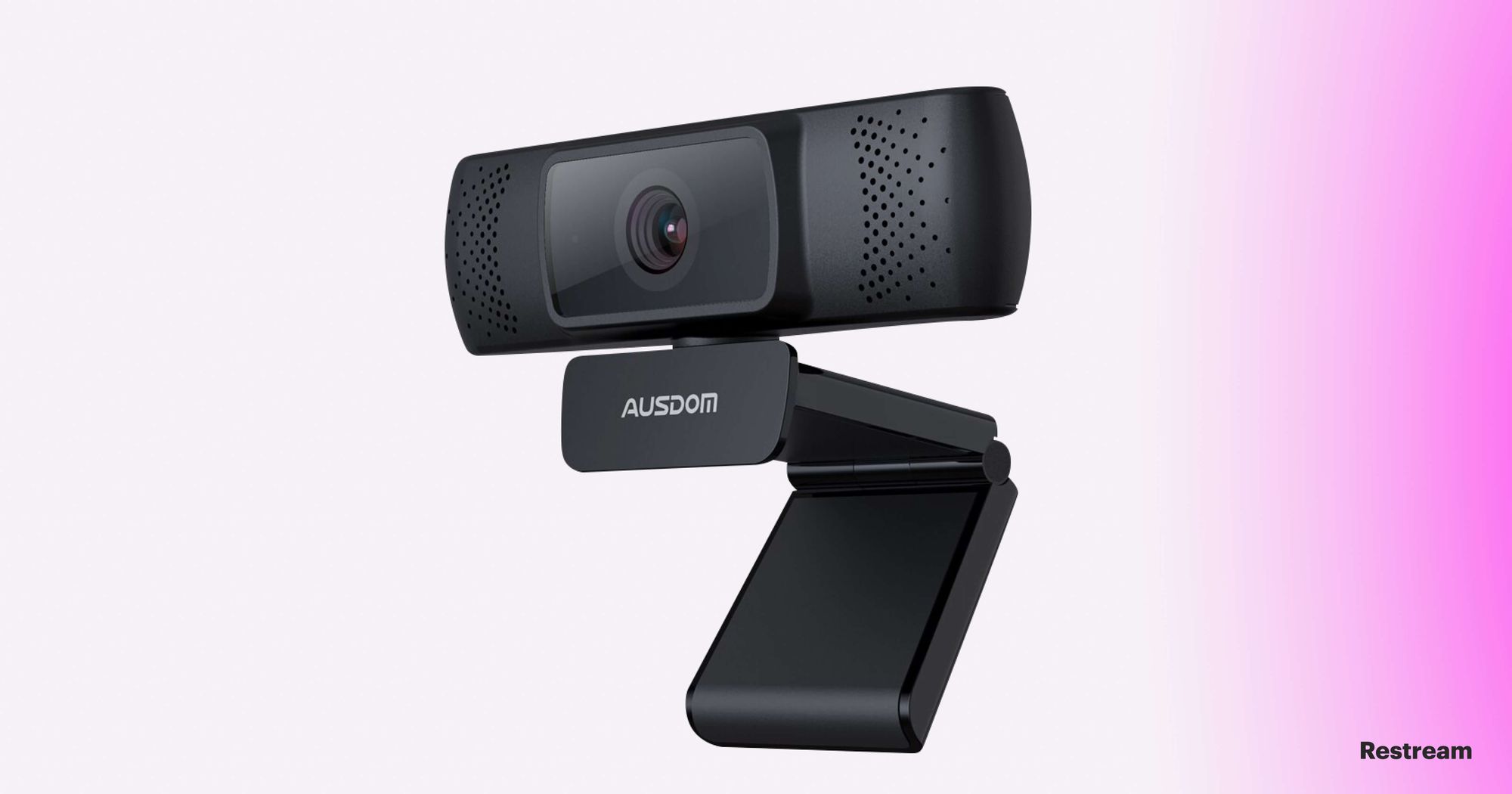 The Ausdom AF640 will work on most operating systems — including Android and Chrome OS — and let you stream 1080p footage. It comes with a built-in dual microphones with noise reduction, and the autofocus will keep you at the perfect focal length throughout your stream. With a 90-degree-field of view, it's ideal for anyone hosting online classes or lessons because it keeps you in frame no matter how much you move around. The downside is that the field of view is not adjustable, so it may show off more of your background than you prefer.
Resolution: 1080p
Focus: Autofocus
Built-in mic: Dual omnidirectional
Connection: USB
Pros
Compatible with Chrome OS and Android
Noise reduction
Cons
Field of view is not adjustable
Autofocusing is a little too noticeable
6. Microsoft LifeCam Studio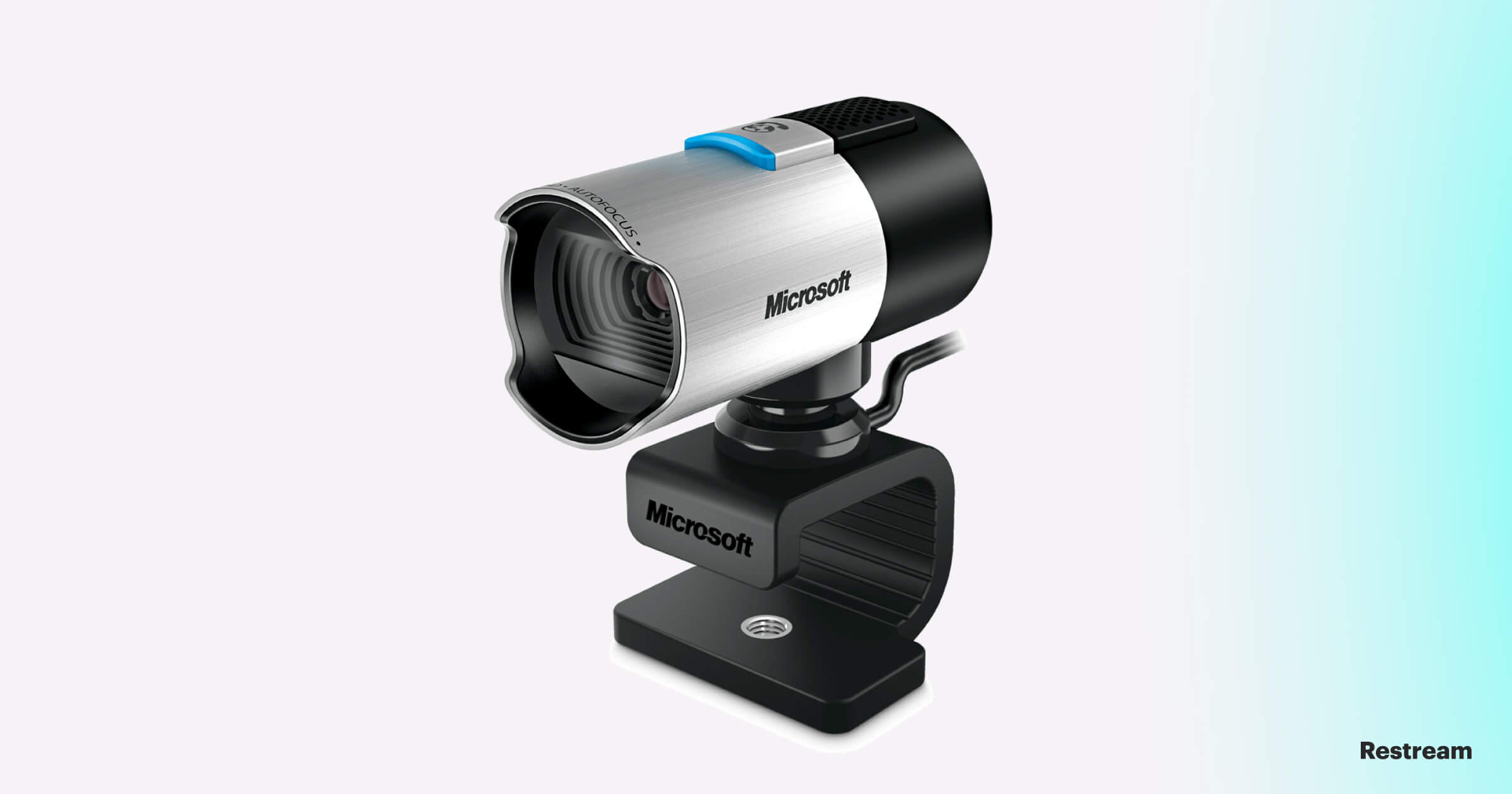 The LifeCam Studio is Microsoft's solution for professionals who need a high-definition web camera for daily use. It has a 1080p sensor, but it doesn't let you stream video at that resolution; it will only go up to 720p when streaming. Still, it has TrueColor technology, which should give your footage an even look, and a built-in high-fidelity microphone that is as good as built-in microphones get. All of it is packed in a durable aluminum body, as well. The obvious drawback of this webcam is the lower resolution when streaming. It'll also work only on Windows.
Resolution: 720p/30fps for streaming
Focus: Autofocus
Built-in mic: Omnidirectional
Connection: USB Type-A; USB 2.0
Pros
Recording, streaming and video calling
High-fidelity microphone
TrueColor technology
360-degree rotation
Cons
Lower resolution for streaming
Only compatible with Windows
7. Logitech StreamCam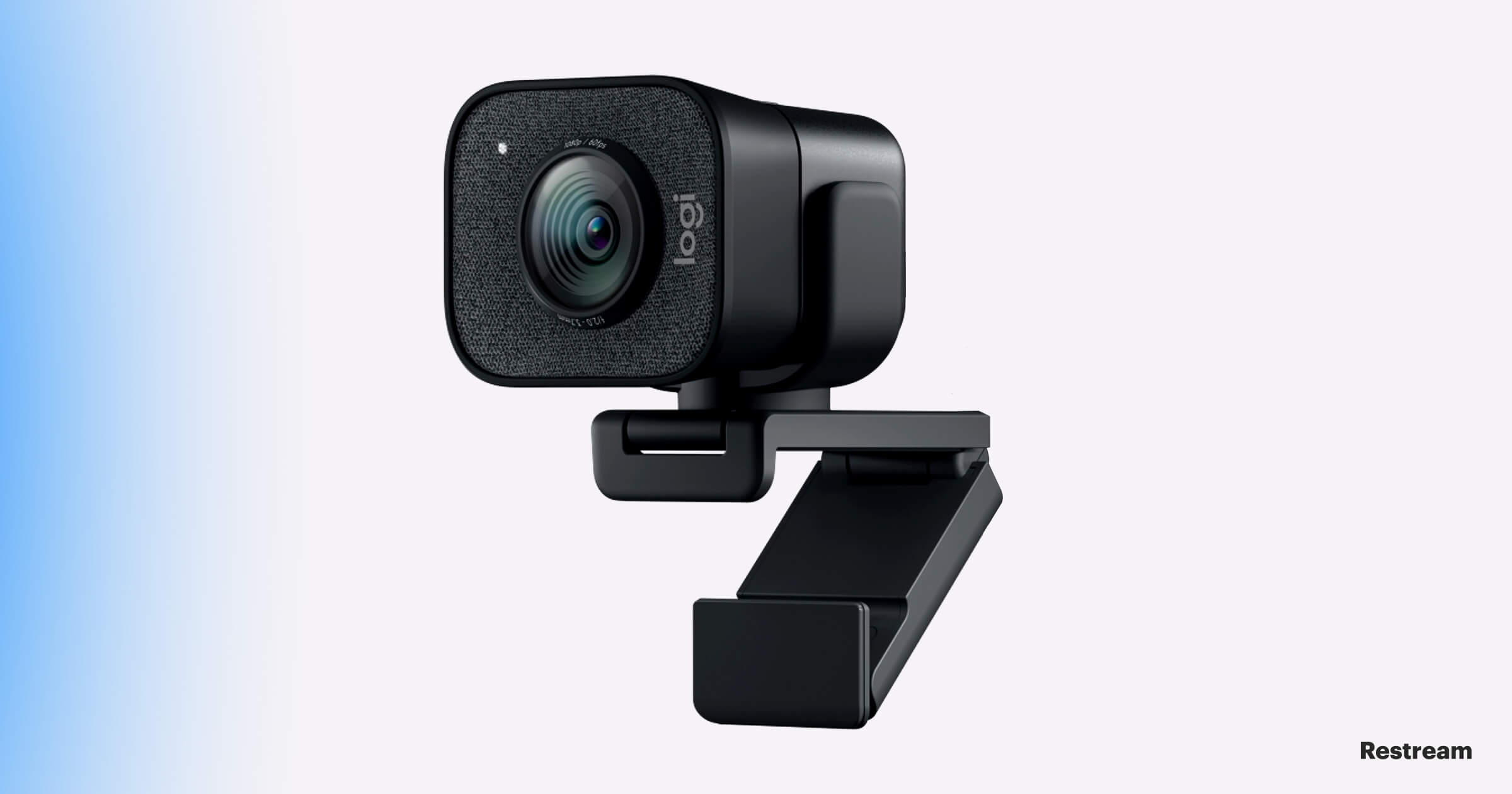 The Logitech StreamCam was built with streamers in mind. It has good video resolution with 1080p streaming and a frame rate of 60 frames per second. There's also the face-tracking feature that works well, and the awesome low-light performance with smart exposure. Everything about this webcam is smart, including the ability to switch between portrait and landscape modes by simply turning the webcam. It's not the cheapest webcam out there, but its focus on live streamers makes it money well-spent. The StreamCam is simply one of the best webcams for Twitch, YouTube, Facebook and other streaming platforms.
Resolution: Up to 1080p/60fps
Focus: Autofocus
Built-in mic: Dual omnidirectional; stereo or dual mono channel
Connection: USB 3.1 Gen 1 Type-C
Pros
Face-tracking feature
Superior low-light performance
Easily switch between portrait and landscape modes
Cons
The USB-C cable is a little short
8. Lumina Webcam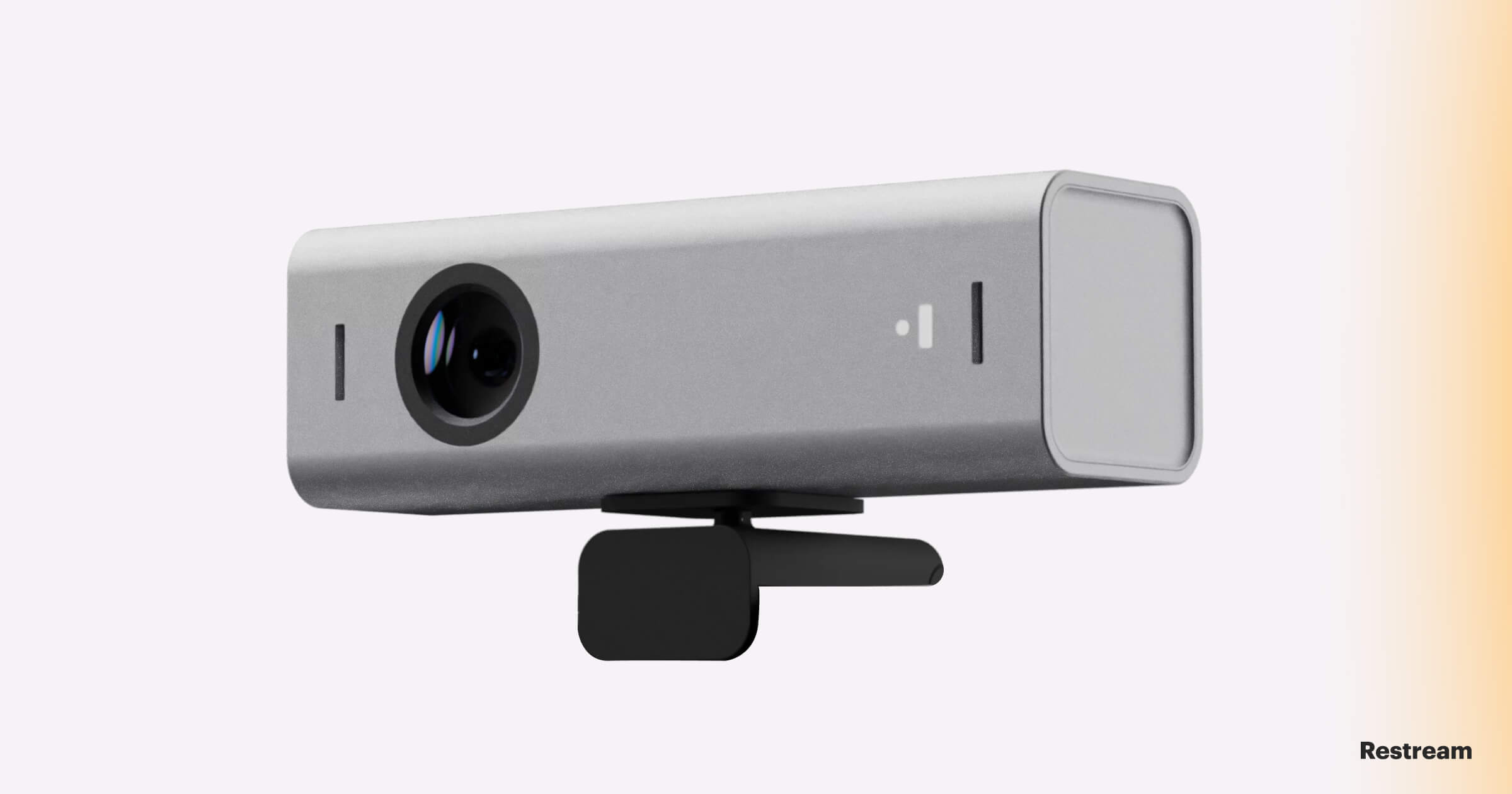 Lumina is looking to turn the webcam industry on its head. This AI-powered webcam automatically adjusts lighting, depth and background blur as you use it, so you look your best no matter where you are. It's also the first 4K, DSLR-quality webcam — without the hassle of a DSLR setup. With all those features, the Lumina webcam seems like it'd be one of the most expensive on this list by a long shot. But it's actually comparable to our other entries, considering its AI-powered functions.
Resolution: 4K/30fps
Focus: AI; configurable
Built-in mic: Dual stereo
Connection: USB Type-C
Pros
DSLR-quality video
AI-powered features
Quick setup
Cons
The UI in the Windows version of the AI software is a little clunky
9. Elgato Facecam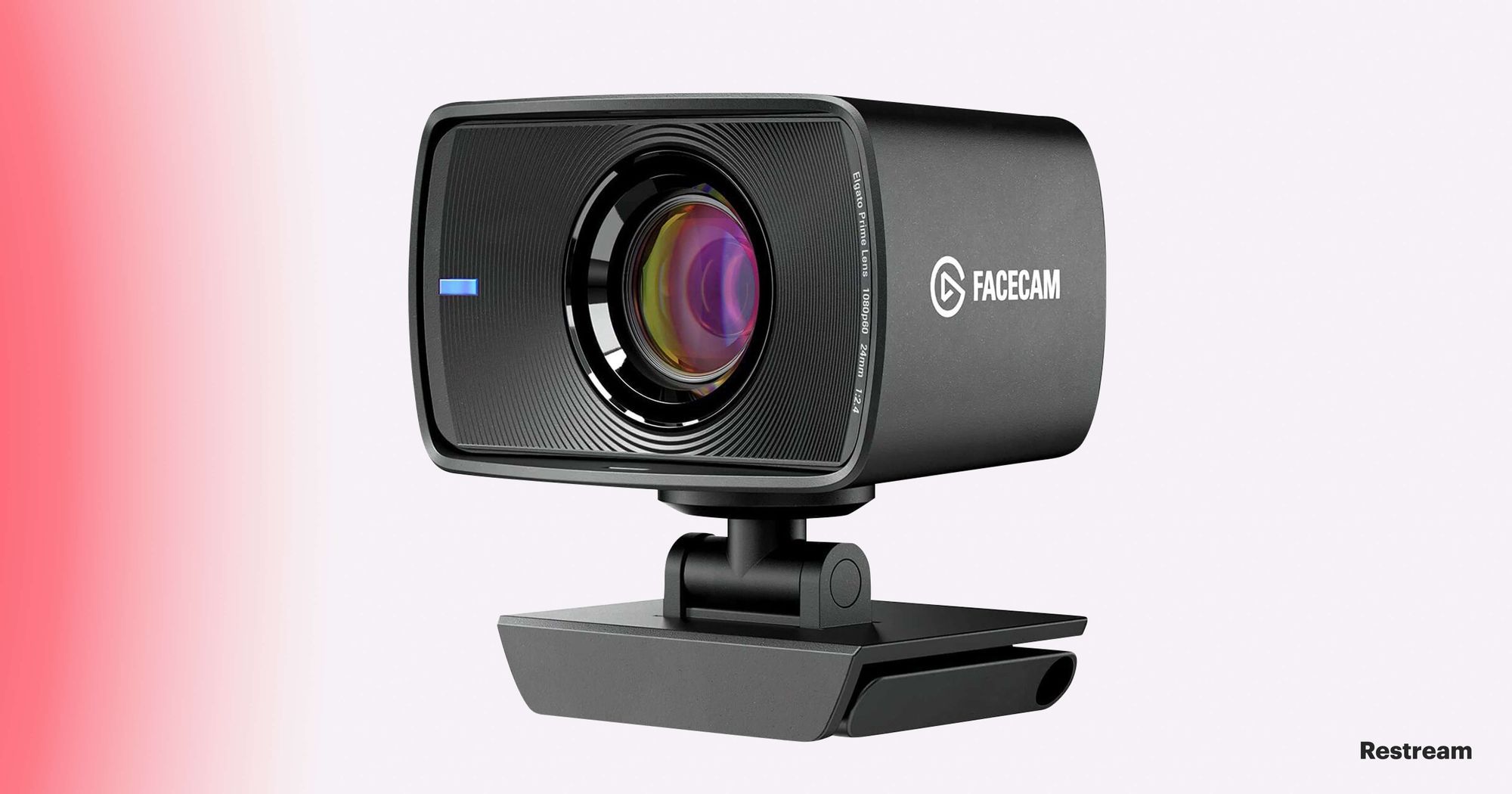 The Elgato Facecam is a more niche choice, catering very specifically to live streamers and YouTubers. It doesn't come with a built-in microphone or autofocus, as video content creators usually have no need for these features. It has gorgeous, user-friendly webcam software as well, making recording and editing videos that much easier. With the Epocam mobile app, you can also turn your phone into a second webcam.
Resolution: 1080p/60fps
Focus: Fixed
Built-in mic: None
Connection: USB-A 3.0 type C
Pros
Intuitive software
Integrates with other Elgato products
Adjustable claw-type mount
Cons
10. Dell UltraSharp WB7022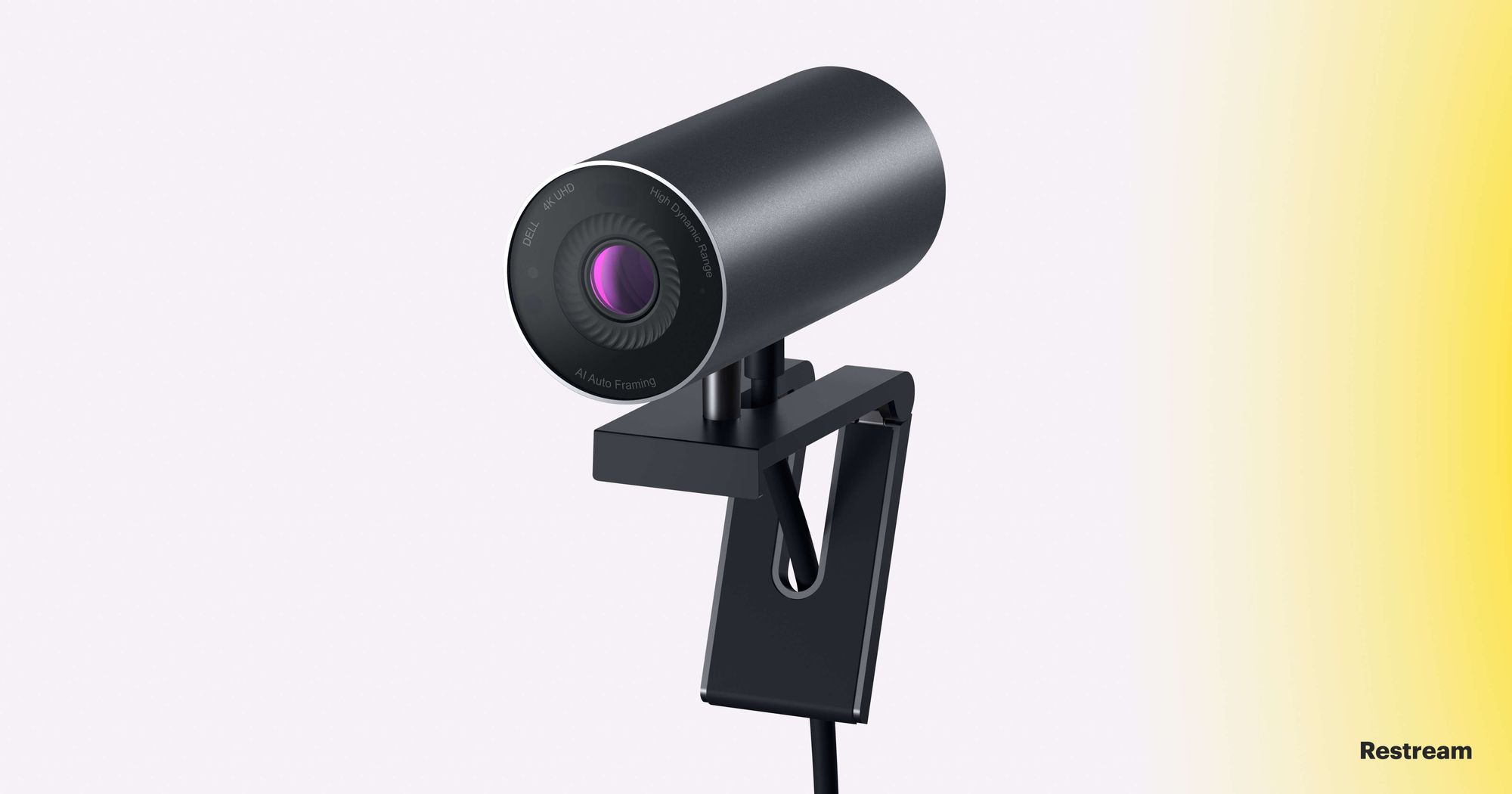 The Dell UltraSharp WB7022 competes with the Logitech BRIO as one of the best 4K webcams on the market. In addition to 4K streaming, you also get HDR support and AI-powered auto framing. With an adjustable field of view that goes up to 90 degrees, you can capture as much or as little as you want. What you gain in video quality you lose in audio with the Dell UltraSharp — there's no built-in mic. That's good news for content creators who usually have an external mic, but less so for those who want a nice webcam for conference calls.
Resolution: 4K/30fps; 1080p/60fps
Focus: Autofocus
Built-in mic: None
Connection: USB-C to USB-A
Pros
4K streaming
HDR recording
Good performance for poorly lit rooms
Cons
Starts getting hot after 20 minutes of use
Awkward stand
11. Logitech Mevo Start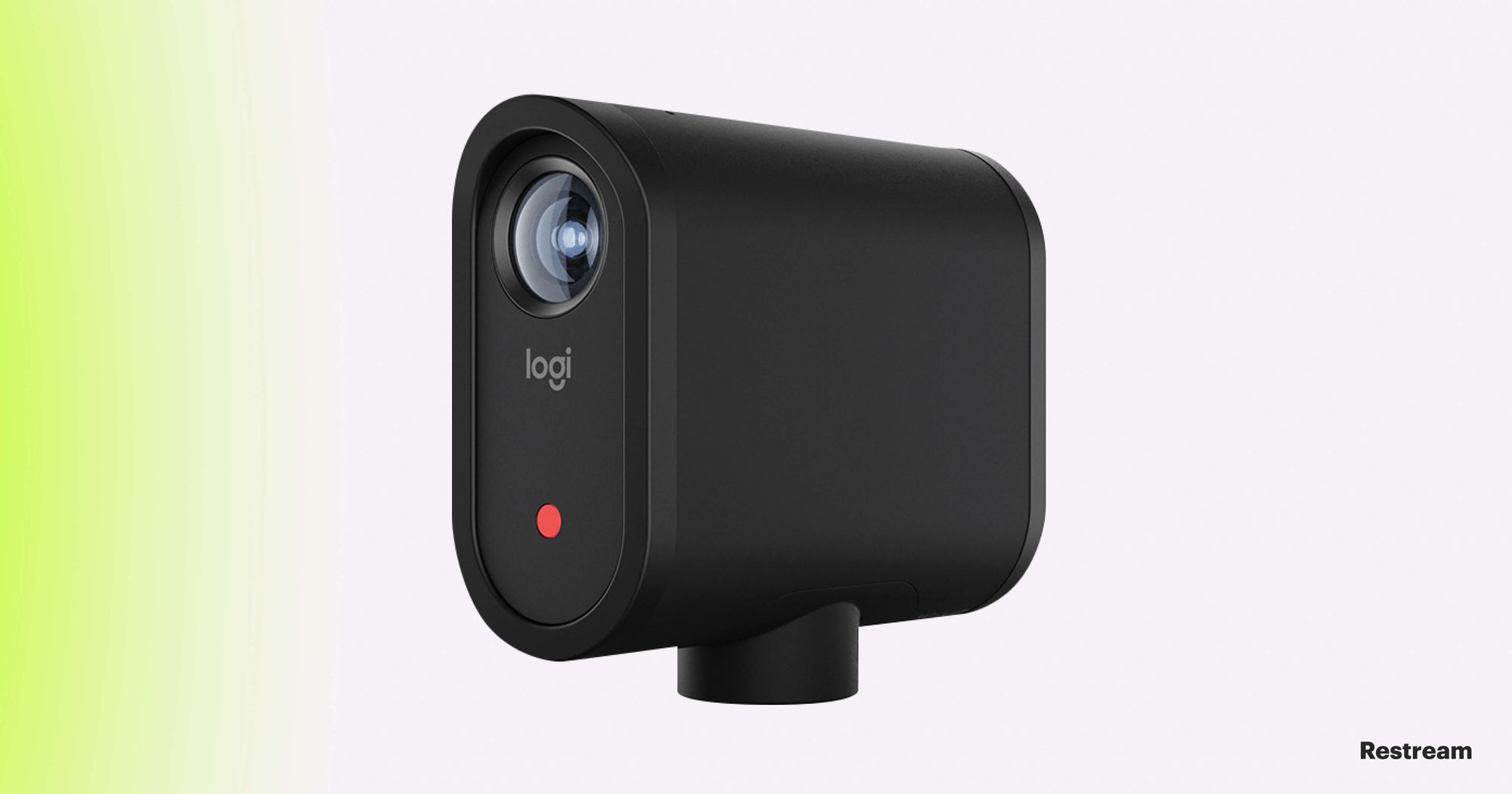 Taking the best features of a webcam and action camera and combining them into one, the Logitech Mevo Start is an ideal choice for event organizers who want to live stream their event. With remote, wireless streaming capabilities, you can easily set it up anywhere — and stream in 1080p at 30 frames per second. The Mevo Start also has several apps and features that allow you to pair it to other cameras, so you can switch between them during a broadcast. It doesn't match some of the other webcams on this list for quality of video, and some streamers and content creators might find the price tag a bit high for something they can recreate with other pieces of hardware and software.
Resolution: 1080p/30fps
Focus: Fixed
Built-in mic: Dual stereo/mono
Connection: Bluetooth 4.1
Pros
Wireless live streaming
Easy to operate
Can replace a sophisticated broadcasting setup
Cons
The many apps can be confusing
Can get too hot
12. OBSBOT 4K Tiny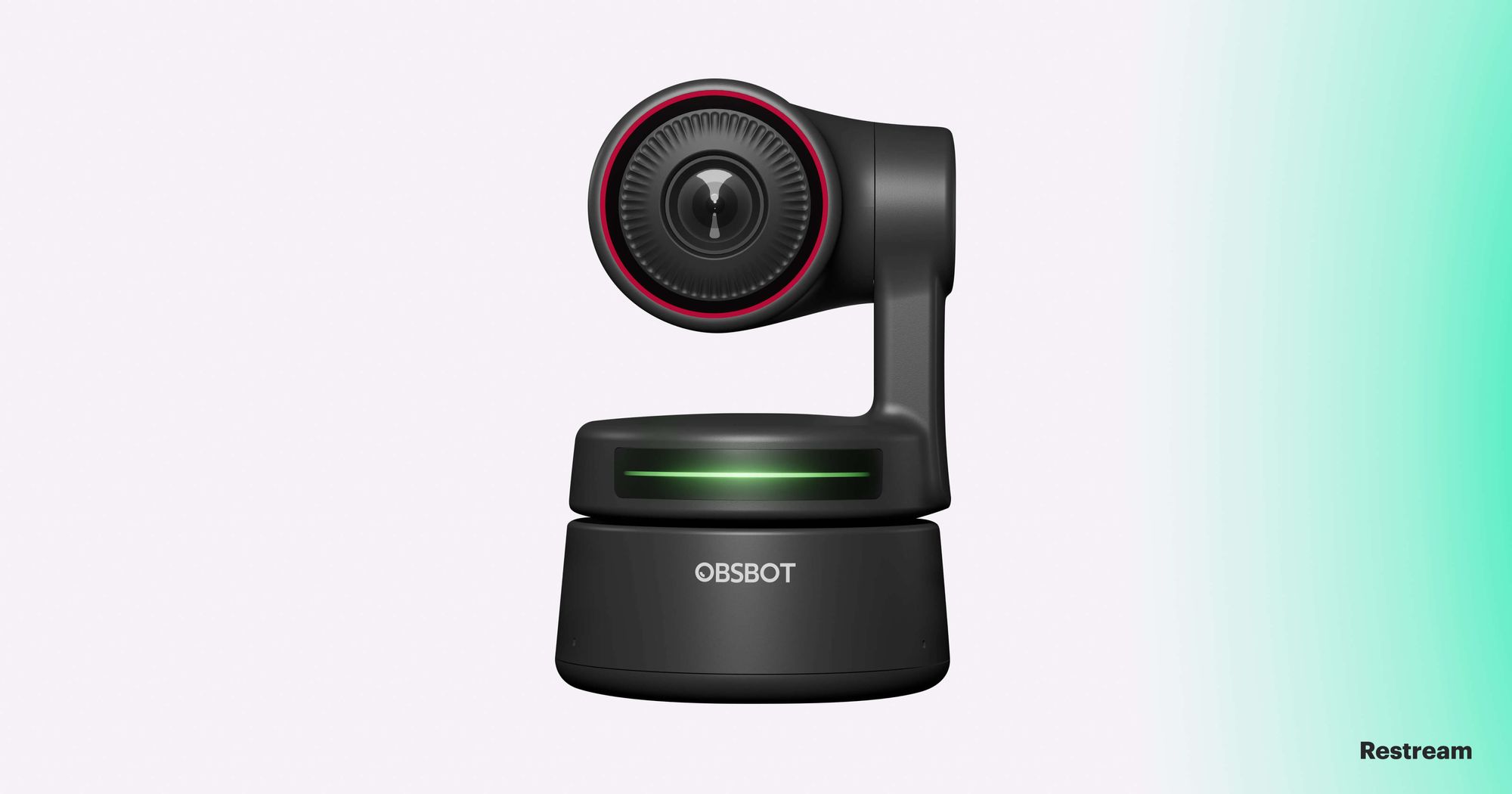 With the AI motion tracking, the OBSBOT 4K Tiny keeps you in frame no matter how much you move around, and it does so in 4K. This little webcam is exactly what you need if high image quality is important to you and you don't mind paying a little extra. Even the built-in microphone has decent audio, so you can sound good without needing an external mic. The software bundled with the OBSBOT is a little basic, and you can only stream in 4K at 30 frames per second.
Resolution: 4K/30fps; 1080p/60fps
Focus: Autofocus
Built-in mic: Dual omnidirectional
Connection: USB Type-C to Type-A
Pros
Awesome AI motion tracking
High-quality built-in mic
Cons
More interesting options
The webcam market is full of amazing, reasonably priced devices, so anyone can find one suited to their needs. If you aren't fully satisfied with the options above, consider the following best budget webcams:
AUSDOM 1080P HD Webcam
Logitech HD Webcam C310
Microsoft LifeCam HD-3000
Poly Studio P5
NexiGo 1080p Web Camera
Anker PowerConf C300
Each of these webcams costs less than $50, yet they provide good video and average audio quality.
⚡️  Pro hint: When you think about video quality, you should add lighting to the equation. You can still have outstanding quality with a mediocre webcam if your lighting is properly set. Remember, purchasing an expensive webcam doesn't guarantee you an amazing picture —  lighting does.
What else do you need to stream professionally?
A webcam is one of the most important pieces of equipment you need to stream professional broadcasts. But it's not the only thing you need. You should also consider the following gear:
Microphone: Not all webcams come with built-in mics, so investing in a nice one will up your production quality.
Solid internet connection: You need a fast connection to upload live video.
Headphones: You may not like the way you look with headphones on but you'll definitely dislike the way your stream sounds with too much echo.
Lavalier mic: Get mobile on your broadcast with a lavalier mic.
Computer: Some kind of device has to host your stream, whether a computer, smartphone or tablet.
Lighting: Good lighting makes even the cheapest webcams look better.
Streaming software: You need software that pushes your stream live to platforms like YouTube and Facebook.
Consider some of the following gear to really take things to the next level:
With the right gear and an intuitive streaming platform, creating professional-quality broadcasts is easy. Restream Studio lets you host engaging live videos and is super simple to set up. You don't need to download any software, either. You can stay in your browser and access all of Restream Studio's features:
Custom logos and overlays
Screen shares and split-screen streaming
Chat overlay
Live show recording
Guests and co-hosts
Captions and lower-third graphics
Full HD
Metrics on audience engagement
Copyright-free background music
Live stream everywhere,
all at once
Get started for free
Check out our full guide to Restream Studio to see how you can level up your live streams.
Wrap-up
There you have it — the mostly undisputed champions in the field of webcams. Although any one of them would work well for streaming, you should still invest some time into determining the best webcam for your situation.
To wrap up, we have:
The high-res webcam: Logitech C922 Pro Stream Webcam
The webcam built for streamers: Razer Kiyo
The streaming-on-the-go webcam: Mevo Plus
The best webcam for business streamers: Logitech BRIO
The webcam for Android and Chrome OS users: AUSDOM AF640 1080p HD Webcam
The webcam for higher-quality video conferences: Microsoft LifeCam Studio
The content creator's webcam: Logitech Stream Cam
The super high-tech webcam: Lumina Webcam
The webcam with streamer-specific features: Elgato Facecam
The best webcam for HDR recording: Dell UltraSharp WB7022
The best webcam for event organizers: Logitech Mevo Start
The best webcam with AI motion tracking: OBSBOT 4K Tiny
Some webcams will have price-driving features you simply don't need, while others will have features you find necessary. If you stream your content to multiple websites, you'll have to consider the requirements and limitations of all the platforms you use. Take your time, shop around, and make sure you're always streaming the best quality content you can, looks included.