Intro
Choosing the right webcam for your needs can be tricky, but what about selecting the right webcam software? If you've invested in an external webcam, then you'll want powerful, user-friendly webcam software to go along with it.
What should you look for in good webcam software?
The UI should be accessible, and it should integrate seamlessly with your webcam. Good webcam software will also allow you to record at high speeds, without crashing. It should also be able to handle several types of video file formats. Some webcam software is free, while others have either a monthly subscription or a one-time fee. You'll have to decide what works best for your budget.
With these characteristics in mind, let's look at the best webcam software for recording, editing, and live streaming.
1. Restream Studio
Restream Studio is an ultimate live streaming solution for professionals, content creators, and anyone in between. You don't have to download or install anything to use Restream Studio; all you need is a Restream account, webcam, and microphone.
Features:
Go live or record videos directly from your web browser
Add animations, transitions, lower-third graphics, and overlays all from the same tab
Screen sharing
Animated backgrounds
Copyright-free background music on an infinite loop
Play local video files
Broadcast simultaneously to more than thirty platforms including YouTube, LinkedIn, Twitter, and Facebook
Invite remote guests or co-hosts
Split-track recordings for each participant
Manage the live chats from each platform in one tab
Save recordings of your live streams
All of Restream Studio's features are available for both live streaming and recording video.
🤓 Pro tip: You can also connect other webcam software, like Snap Camera, to Restream Studio to enhance your videos further
Works with: Web browsers
Easy live streaming for everyone
Run professional live streams from your browser.
Get Started
2. Snap Camera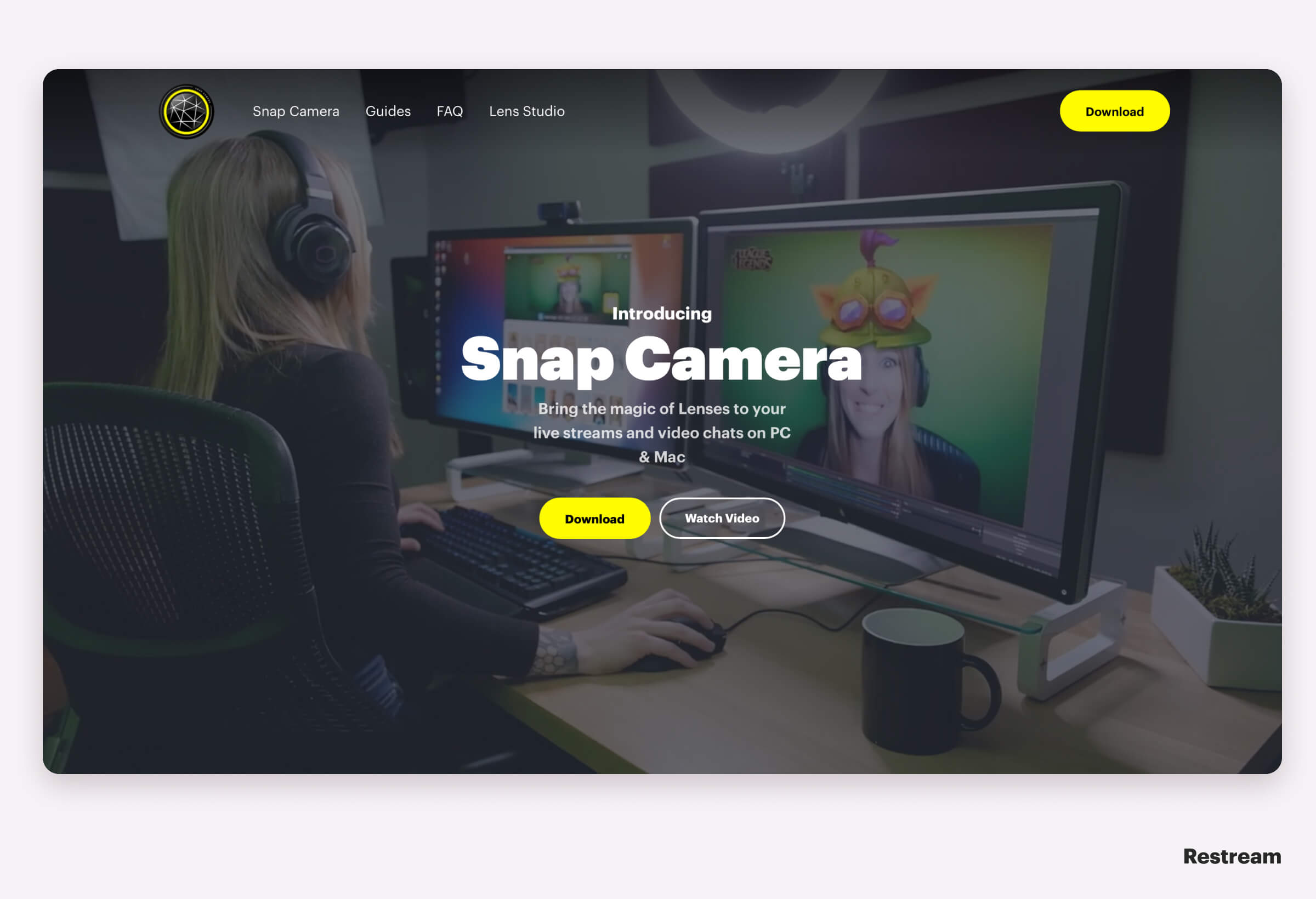 Wouldn't it be great if you could use Snapchat's filters, but on your computer? With Snap Camera, you can. Snap Camera also connects to Restream Studio; all you have to do is download Snap Camera, then select it as a source in Restream Studio.
Features:
Compatible with most apps that also use a webcam
Add fun filters to your video
Branded Snap Lenses from popular video games
Also has virtual backgrounds
Works with: PC and Mac
➕ Pros:
Easy to install and use
Works with most webcam software
➖ Cons:
Issues with the program running in the background or uninstalling
Occasional glitches when running at the same time as other webcam software
3. EpocCam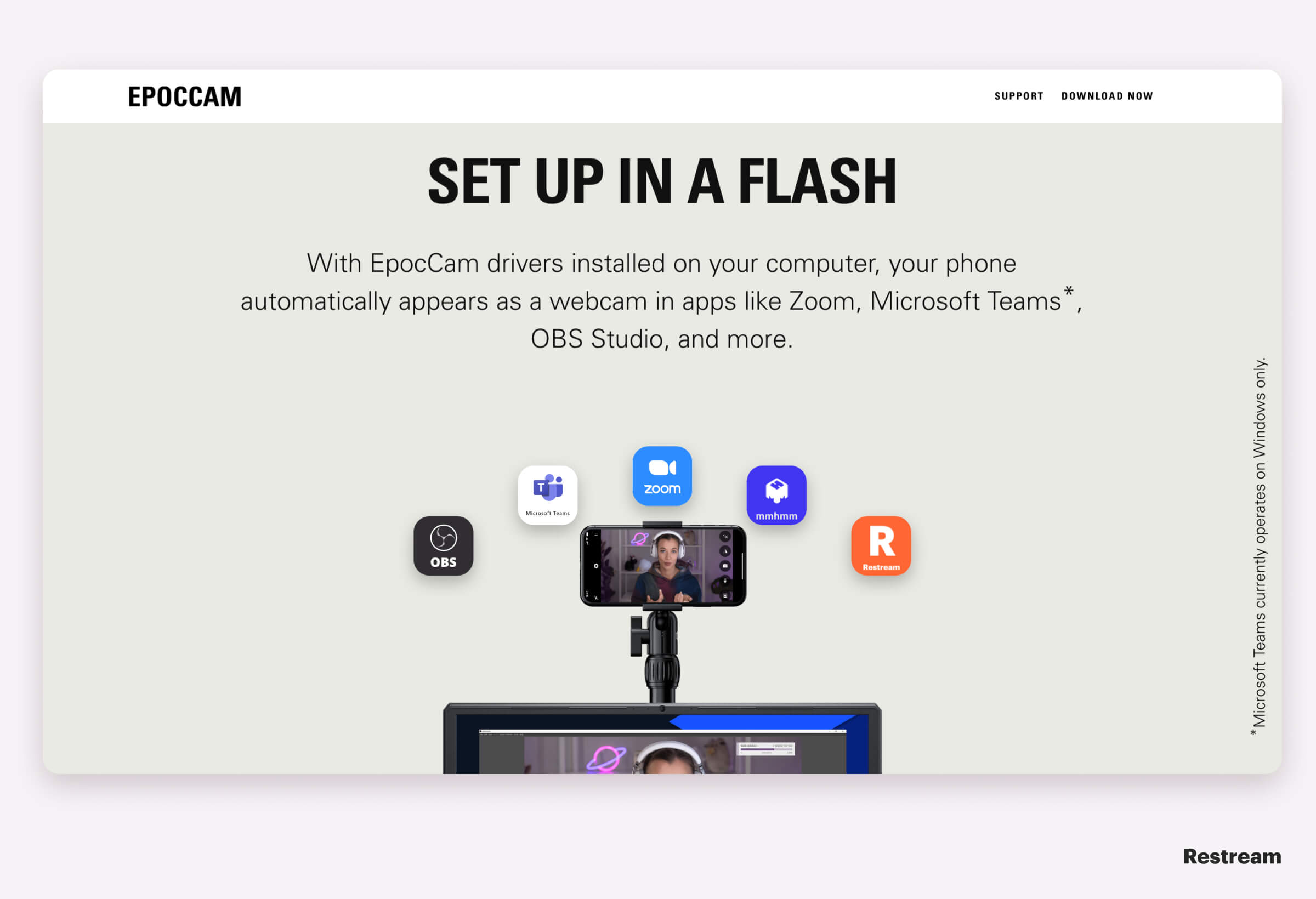 EpocCam from Elgato lets you turn your smartphone into a webcam. You install the software on your computer and the app on your smartphone. Then, the software recognizes your phone as a webcam with apps like Zoom, OBS Studio, and Restream Studio.
Features:
Phone connects to PC over Wi-Fi or USB cable
Manual focus
Wide-angle camera support
1080p quality
Virtual green screen
Works with: PC and Mac; Android and iOS
➕ Pros:
Lets you easily add another camera angle to your video
Use the forward-facing or outward-facing cameras on your phone
Utilizes phone flashlight for extra lighting if needed
➖ Cons:
Free version only offers 480p resolution
Tends to work better on iOS than on Android
4. Logitech Capture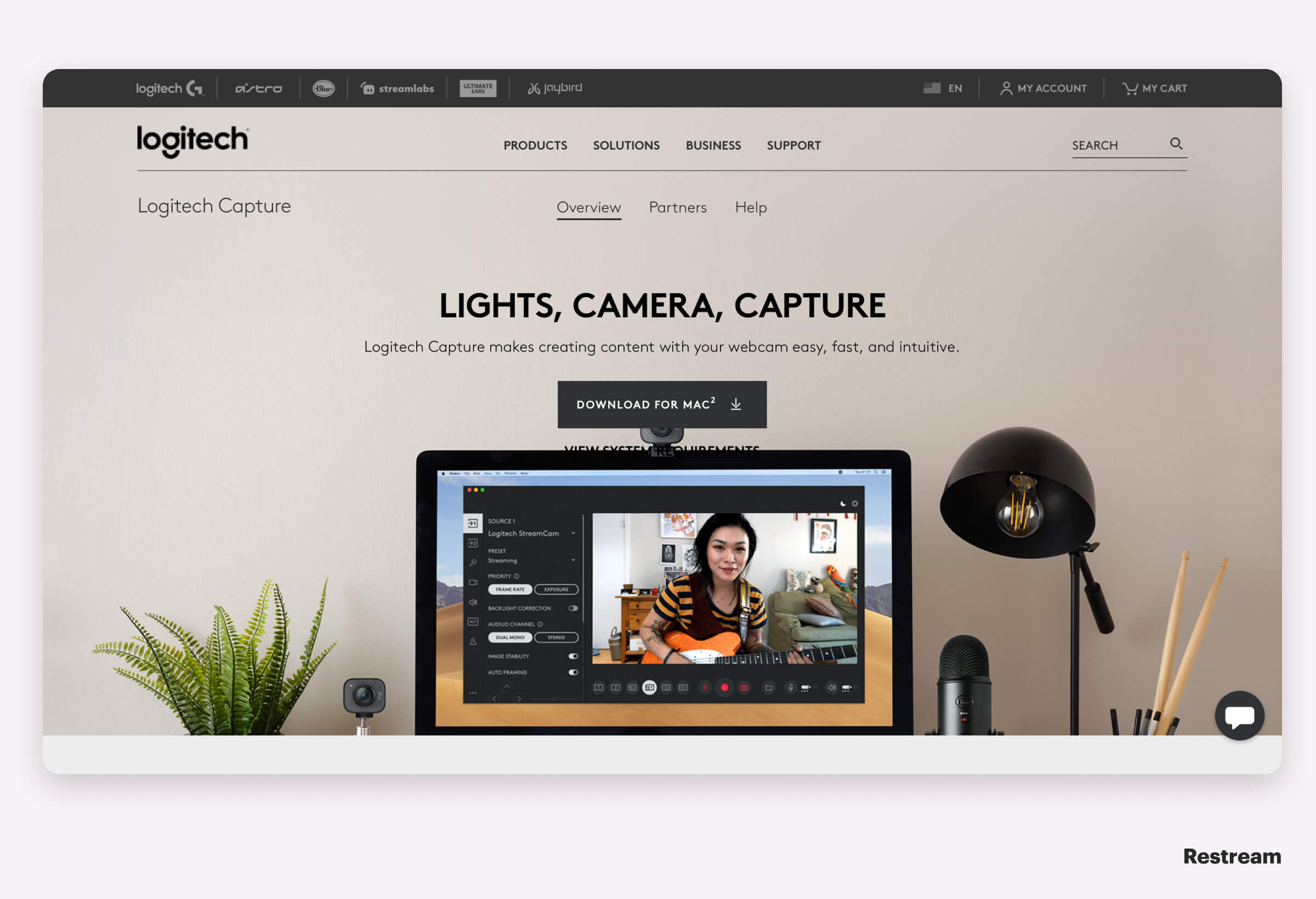 It's only natural that one of the leading brands for webcams would have their own webcam software. Logitech Capture is simple, powerful, and intuitive.
Features:
Only works with Logitech webcams
Connects to major platforms without needing an encoder
Record from multiple sources, but the software only allows a single audio input
Works with: Windows 10 and macOS 10.14, 10.15, and 11
➕ Pros:
Easy to use
Create videos in vertical 16:9 format
Free from Logitech
➖ Cons:
Single audio input is not ideal for gamers
Requires a Logitech webcam
5. ManyCam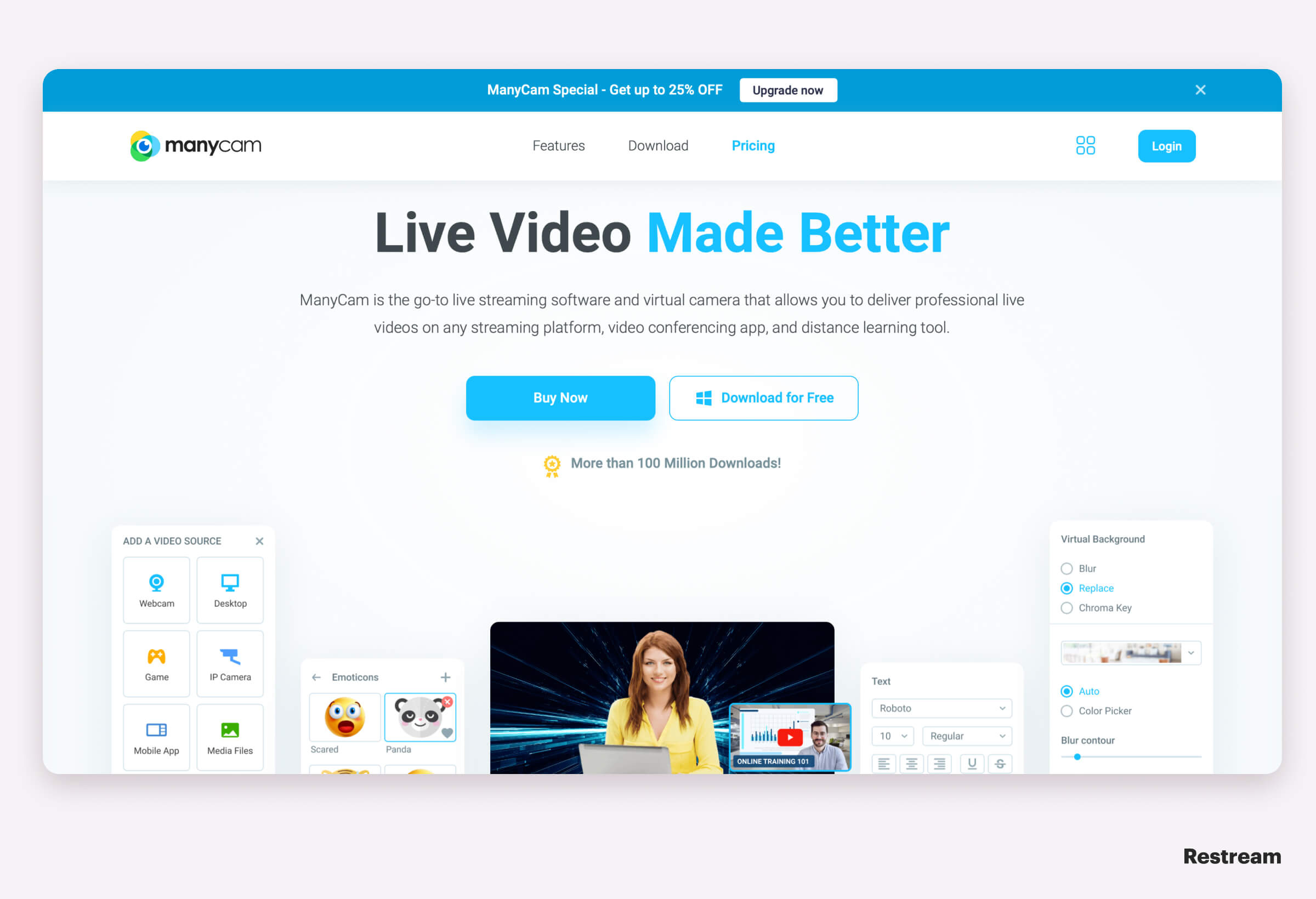 ManyCam is built for delivering better videos. A wide variety of features lets you do any kind of video, including presentations, webinars, classes, interviews, launch parties, giveaways, and more.
Features:
Live whiteboard to draw or scribble notes like a real classroom
Switch between multiple video sources when giving a presentation
Add overlays and lower third graphics to make your video more professional.
Works with: Windows 7 and above and macOS 10.11 or higher
➕ Pros:
Live stream in 4k (with paid versions)
Easy UI with drag and drop effects
Integrates with major live streaming and video conferencing applications
➖ Cons:
No light enhancement feature
6. SplitCam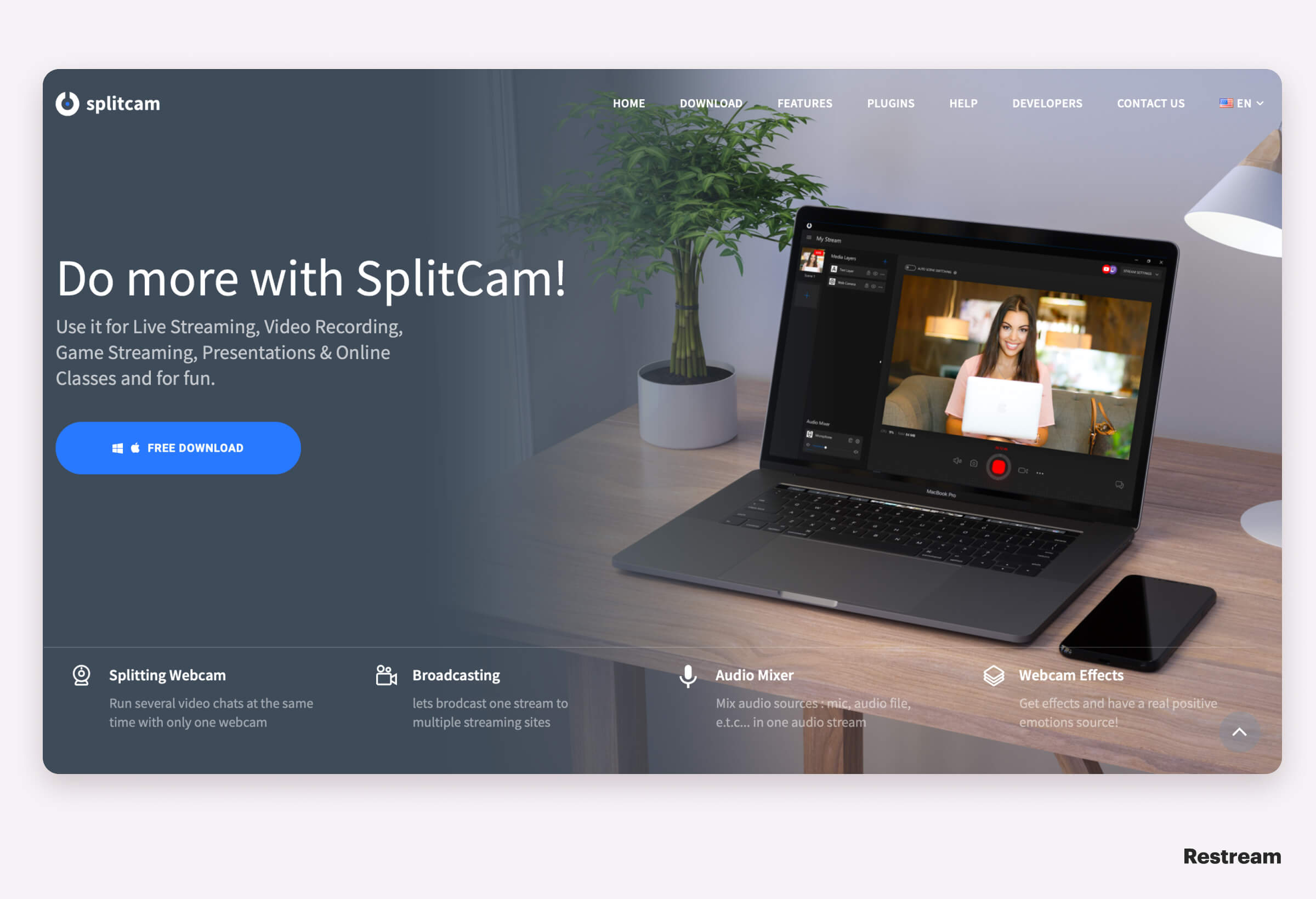 SplitCam's biggest selling point is using your webcam for several applications at once, or "splitting."
Features:
3D masks
Choose multiple video stream sources
Show a presentation, your desktop, or your video feed
Share to your favorite social channels live
Works with: Windows 10 and macOS Catalina or higher
➕ Pros:
Video splitting
4k streaming available
Free
➖ Cons:
Difficult to uninstall on Mac
Doesn't work as well with older PCs and processors
7. YouCam 9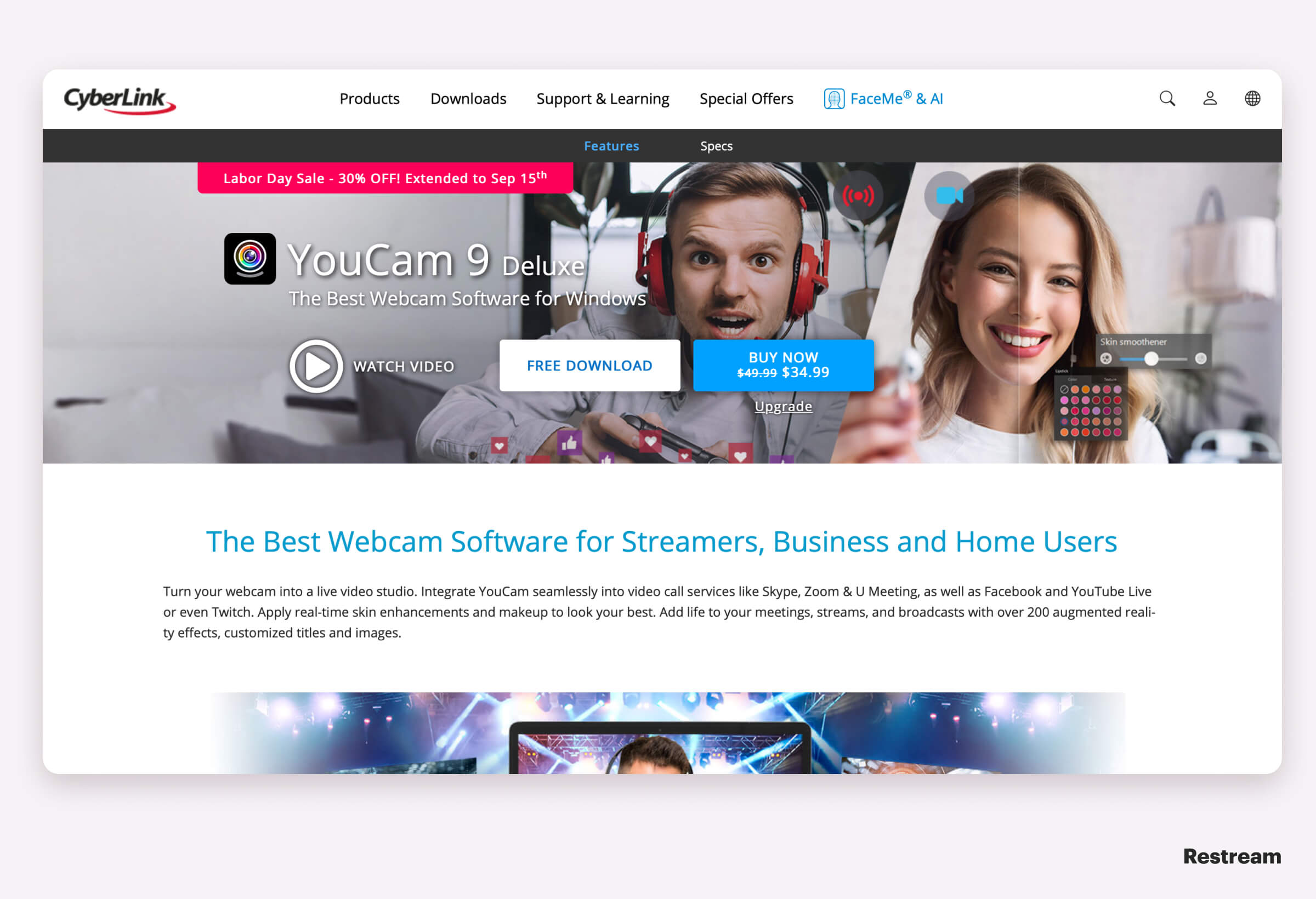 YouCam 9, by Cyberlink, is intuitive webcam software packed with features.
Features:
Increase the quality of your video through effects, including AR makeup and skin smoothing
Easy integration with Twitch, Facebook Live, YouTube Live, OBS Studio, XSplit, and Wirecast
Add customizable titles, filters, and animated emojis over your feed
Face-recognition login, so you don't have to worry about your webcam getting hacked
Works with: Windows 7 and above
➕ Pros:
Tons of augmented-reality, sound, and title effects
Accessible UI
Face-recognition login
➖ Cons:
Features are limited with free version
8. Debut Video Capture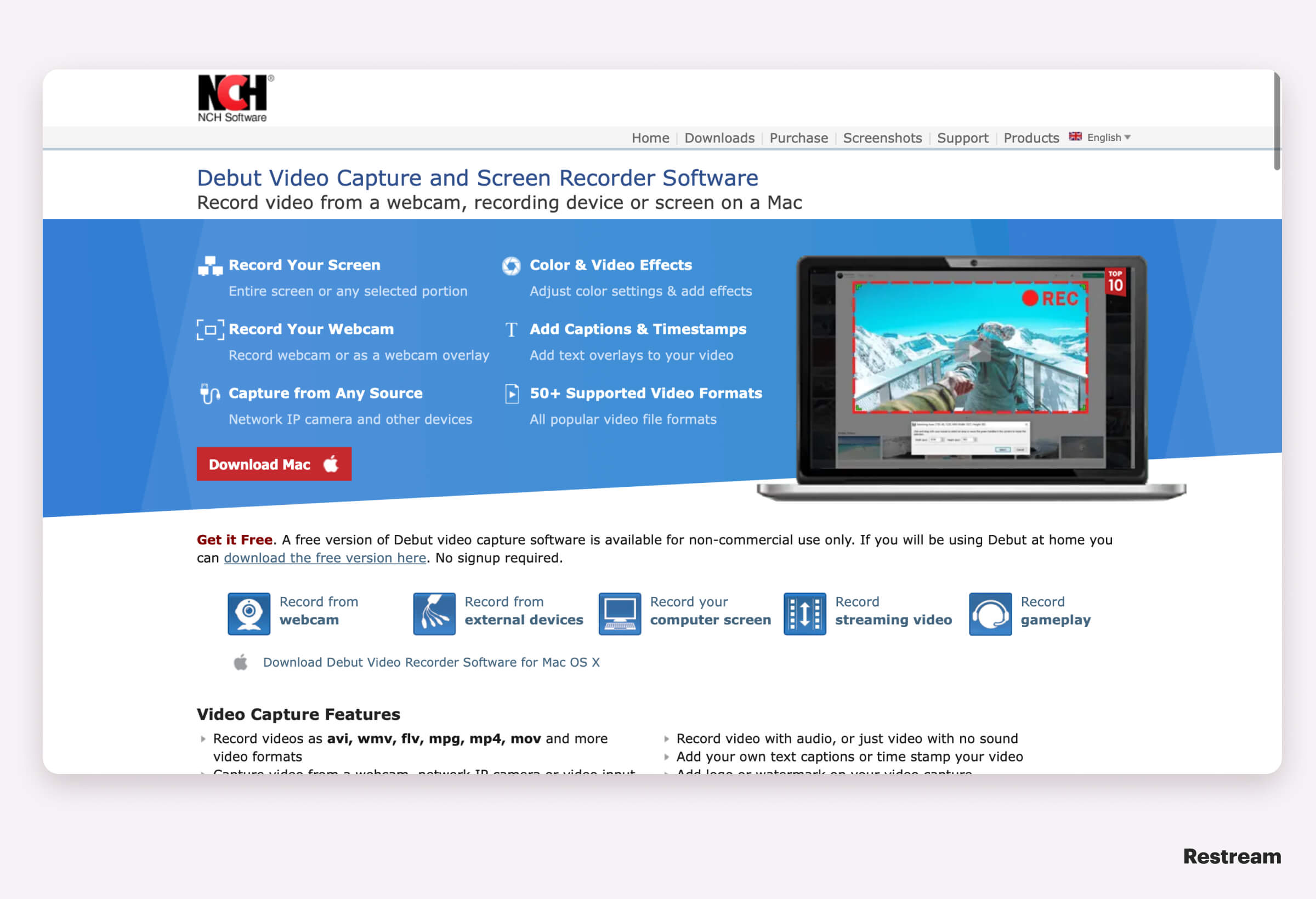 Debut Video Capture is free, but unlike other free webcam software, it offers decent features.
Features:
No watermark
No restrictions on features or special effects
Plenty of export options
Capture footage from your webcam, computer screen, or other sources without having to pay for a premium plan
Schedule recordings to set pre-recorded content to go live
Combine the screen recorder on your PC with the webcam feed to create an overlay
Works with: Windows Vista and above and macOS X 10.5 or above
➕ Pros:
All the features of paid webcam software for free
Schedule pre-recorded content
Screen recorder
➖ Cons:
UI looks dated
Not designed for recording games
9. Windows Camera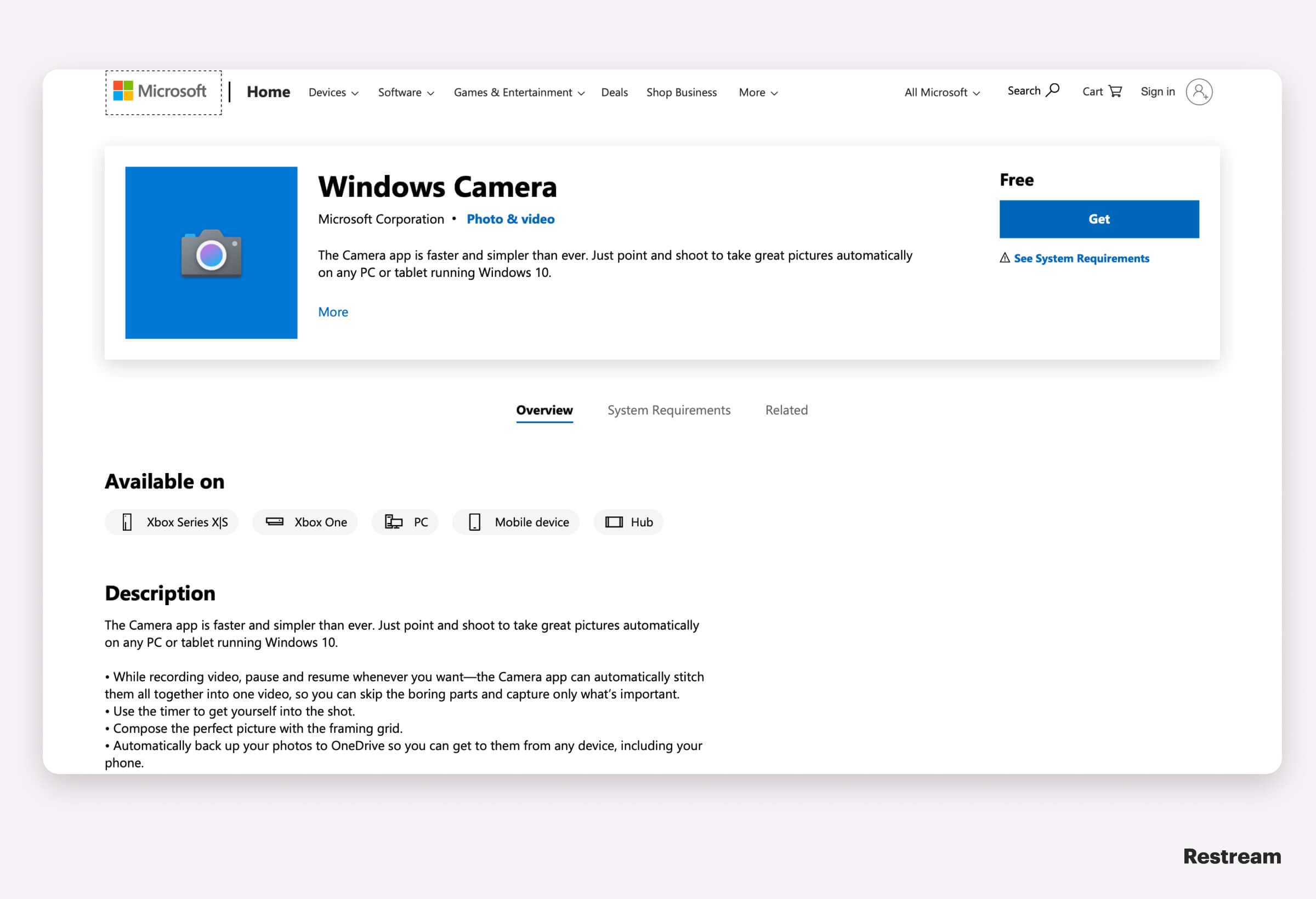 Windows Camera is the default webcam app that comes with Windows 10. While its features and functions might be basic, Windows Camera will still get the job done for live streaming, video conferencing, and recording videos.
Features:
Windows default; it's free and you don't have to install or download anything
Simplicity places it among the easiest webcam software to use
Use it to take photos and record videos in addition to capturing live video
Works with: PCs and tablets with Windows 10, Xbox Series X|S, Xbox One
➕ Pros:
Super simple to use
Great for beginners who want no-hassle webcam software
➖ Cons:
Lacks special effects and other features
10. GoPlay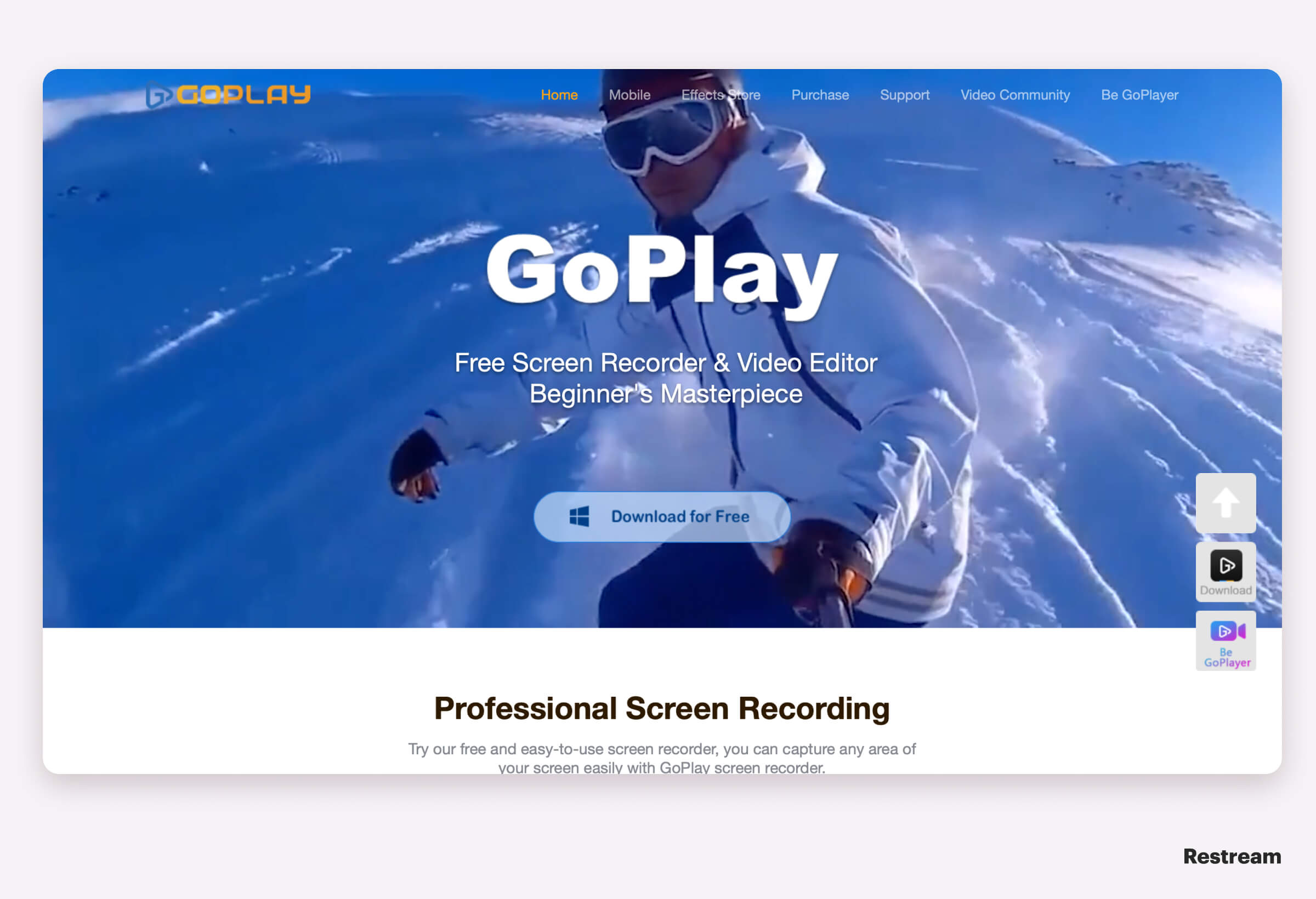 The GoPlay recorder and video editor are simple to use, with accessible options that gamers and other content creators will love.
Features:
Quick editing with a full library of video effects
Set a custom range for screen recording
4k resolution and 60 fps
Direct subtitle editing
Export to social media platforms
Record games, webinars, presentations, and more
Works with: Windows, Android, iOS
➕ Pros:
Subtitling feature
Picture in Picture recording
➖ Cons:
No free version available, free trial only
11. iGlasses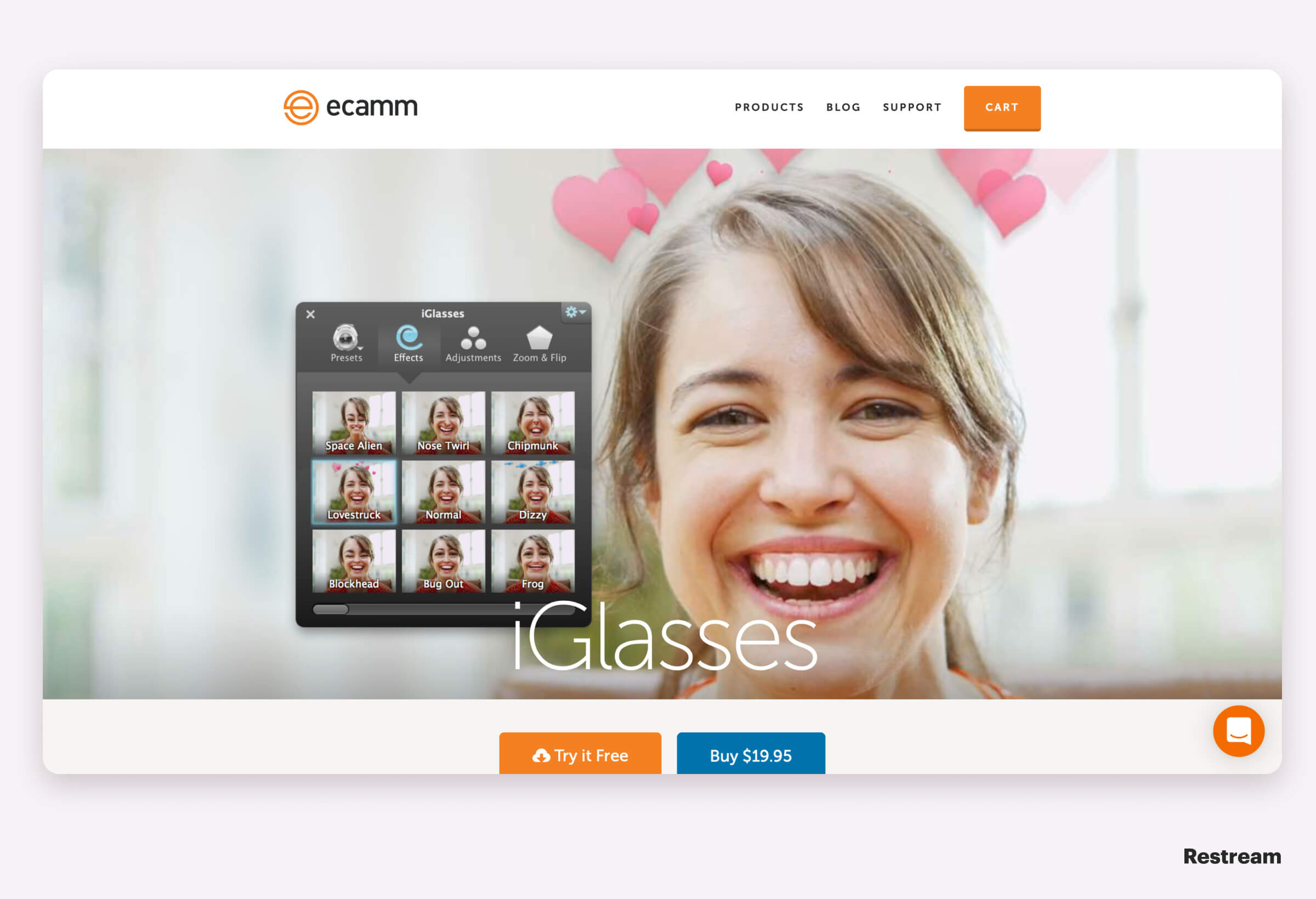 iGlasses by Ecamm is well-known for its virtual reality capabilities, allowing you to add real-time filters over your video feed.
Features:
Works on macOS and Google Chrome
Add filters, effects, and other adjustments when you're streaming or recording
Stream on Facebook Live, YouTube Live, Google Meet, or other web-based applications
Works with: macOS 10.12 or newer
➕ Pros:
Fun filters and 3D effects
Simple controls for digital pan, tilt, and zoom
➖ Cons:
Only available on macOS
Compatibility issues with Skype, FaceTime, and Photo Booth
No free version
12. Wondershare Filmora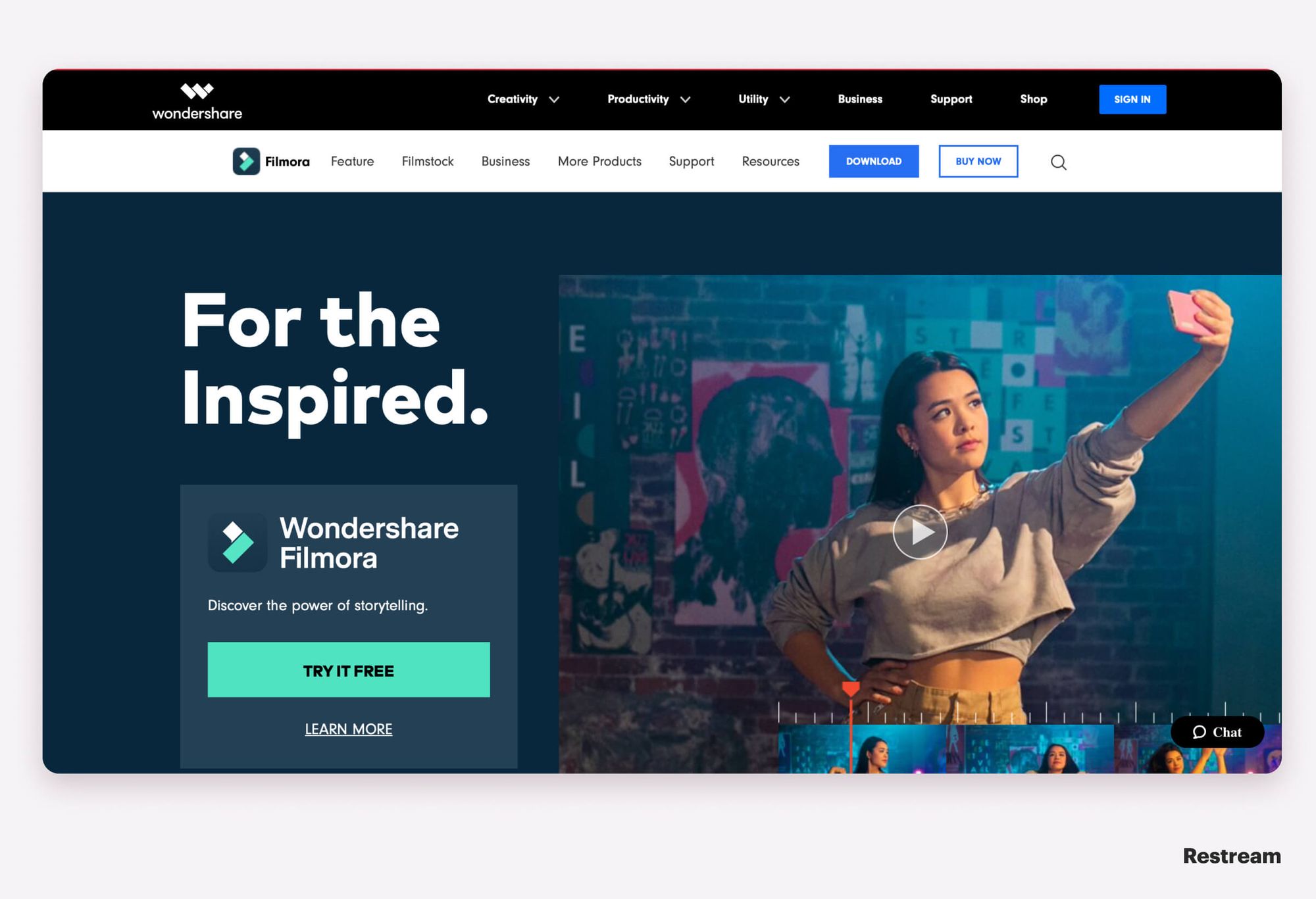 Wondershare Filmora is consumer-level video editing and webcam software that delivers professional-looking results. With advanced editing features usually reserved for filmmakers, this software will make your videos look high-quality — and it's easy to use.
Features:
Custom animations
Color correction settings
Speed control
Audio ducking
Split-screen effects
Geared toward creatives
Works with: Windows 7 and above and macOS 10.12 and above
➕ Pros:
Powerful film editing
Accessible UI
Supports most major file types
➖ Cons:
Let's wrap up
To create high-quality live videos, you need webcam software that keeps up with your needs. Any one of the options on this list is a good choice for live streaming, recording, and editing, but you'll have to consider which features you want before choosing. Finding your perfect webcam software will help you create amazing content!