Intro
Modern problems require modern solutions, and live streaming is no exception. Even though it has been around for more than a decade, it has only recently become mainstream. Today, every social media platform comes with a live streaming option — YouTube, Facebook, and even LinkedIn all have their own live streaming services.
The coronavirus pandemic hugely impacted the growth of the online video market. By 2027, the global live streaming industry is projected to reach around $184 billion. With so much growth, it can be hard for live streamers to keep up or stand out. Today, broadcasting to a single platform is simply not enough. As an individual content creator or business, you lose out on millions of potential viewers by streaming to only YouTube or only Facebook, for instance. Want to reach more viewers on more than one platform? Then you should start multistreaming with Restream.
💁‍♂️ TL;DR
In case you are new to multistreaming or live streaming in general, keep reading this article, as we explain what multistreaming is and how to take all the advantages of using it. However, if you are already familiar with multistreaming, simply jump over to the topic you're interested in down below:
👉 What are the benefits of multistreaming?
👉 Which content delivery networks to use for multistreaming
👉 Which multistreaming solution is the best?
🔥 Restream.io — your multistreaming companion
🔥 How to set up Restream.io for multistreaming
👀 What is multistreaming?
When streaming video, content creators use a content delivery network, like YouTube Live or Twitch, to spread their content to the people who use that network. Creators are usually free to use as many of these streaming websites as they want.
The only limitation is that you can't stream to as many destinations as you want at the same time. This problem is a significant hurdle for creators.
Let's say a content creator — a marketer, gaming streamer, artist, or religious streamer — wants to do a live Q&A session. Q&As are a highly engaging type of live content, so it makes sense to go live on every network the content creator uses.
However, if the content creator can stream live video to only one network at a time, they have a choice to make. They can either do a separate Q&A session for each platform, or they can do it live on only one platform and then publish a recording of the Q&A on every other platform they use. They must either sacrifice a huge chunk of time or fail to reach their entire audience in the most engaging way.
Multistreaming is the solution to this problem and many others. It's just like regular live streaming, except that you're streaming to multiple content delivery networks at the same time. So instead of focusing on a single network or setting up the tech to use multiple networks one at a time, you stream only once by simulcasting your content on multiple networks.
👌 What are the benefits of multistreaming?
Before creators were able to multistream, each network they used meant another broadcast they had to do. If you used YouTube, Twitch, and Facebook, for example, you had no choice but to publish three separate streams.
When content creators multistream, this stops being an issue. In addition to saving  time, creators regain the freedom to choose multiple platforms, without worrying about bandwidth or other constraints. This freedom is important to you as a creator because it lets you:
Use niche and mainstream platforms at the same time. Niche platforms are where your core community is. Mainstream platforms help you break out of your niche and reach a wider, more general audience.
Take advantage of the specifics of every platform. Facebook is renowned for its analytics and reach, while LinkedIn is known for the very specific audience it attracts. Reap the benefits of both by using them at the same time!
Explore emerging networks together with your audience. As new content delivery networks are introduced, a portion of your audience might start using them instead of one of the major networks. Thanks to multistreaming, you don't have to choose between emerging and established networks. You can use both.
Creators can stop trying to attract their audiences to a single platform. Rather than convince viewers to choose only one platform, creators can meet their audiences where they're at. Having a central platform to stream to all the time stops being so important.
Creators can get better results without significant new investments. It's possible to stream to multiple sites without a huge time or monetary investment.
Streaming to multiple sites opens a world of possibility to content creators. Whether their goal is to reach new audiences or stay in touch with specific segments of an existing audience on the platforms they prefer, multistreaming helps creators achieve it.
🤔 How to multistream
For someone who is already streaming content, going from regular streaming to multistreaming isn't difficult. Broadly speaking, there are two factors content creators should consider: the networks they are using and the multistreaming hardware, software, or service they plan to use.
There's no difference in capturing footage for multistreaming and for regular streaming. That footage, however, needs to be fed into hardware, software, or a cloud service that can then stream the content to several platforms at the same time.
What steps should creators take if they want to multistream video content online?
Set up accounts on multiple platforms that support streaming
Set up the multistreaming solution and connect it with the rest of the gear
Go live to multiple platforms
As you can see, the instructions are simple. You make a few decisions, set up the new gear, and you're ready to multistream. The decisions you make are important, but in some cases, like when choosing content delivery networks, multistreaming gives you room to experiment. For some multistreaming solutions, however, experimenting might come with a price tag.
🔗 Which content delivery networks to use for multistreaming
Content delivery networks come in many shapes and sizes. Some of them are social networks that have started their own live video streaming services, such as Facebook, Instagram, LinkedIn, and Twitter.
Then there are video hosting websites that specialize in live streaming, like Twitch or YouTube (although YouTube is technically also a social network).
There are also platforms that specialize in certain genres of content. Mobcrush has mobile gaming content, whereas Picarto and Mixcloud are designed for live streaming art. Some platforms are best suited for reaching an audience in specific geographic regions as well, such as VK, which is popular in Russia, and Afreeca.tv in South Korea.
Each of these platforms offers something different. Facebook, for example, has the biggest user base and the best audience-targeting tools you'll find. YouTube, on the other hand, allows for significantly better video quality, and people are increasingly using it as a search engine. Smaller platforms usually occupy a niche that makes them attractive.
Here are some examples of how you could choose your content delivery networks for multistreaming:
Stream to the platforms where you already have a follower base.
Cover only the big platforms, like Facebook Live, YouTube, and Twitter.
Cover a whole market — use YouTube, Twitch, and Facebook Gaming to stream gaming content, for example.
Use one or two big platforms, plus a niche network — YouTube and Facebook plus Picarto for a visual artist.
It takes some time to develop a following on these platforms, and only with a substantial follower base will you be able to see the full results from multistreaming. So while it's a good idea to mix and match a little, you also want to avoid wasting time and energy on a network that doesn't serve your goals. Pick a couple of good ones and focus on growing on them.
⚙️ Which multistreaming solution is the best?
There are three multistreaming solutions at your disposal. They are:
Hardware encoders with multistreaming capabilities. These are the most reliable options. The quality of the stream depends on the bandwidth of the internet connection. Plus, it can get expensive.
Multistreaming software. This option can be very demanding on the content creators' hardware. Bandwidth significantly affects the quality of the stream.
Cloud-based multistream platforms. This option effectively does away with any bandwidth or hardware requirements on the creator's side. The cloud platform handles all of it.
It's up to you to figure out which solution fits your needs the best. For most people who are new to multistreaming, however, cloud-based platforms might be the most cost-efficient; they don't add any new hardware or bandwidth demands. For all intents and purposes, multistreaming with cloud platforms is only as demanding as streaming to one delivery network. Plus, they are easy to set up and use.
🦑 Restream.io: your multistreaming companion
Restream.io has all the benefits that make cloud-based services a great choice for multistreaming. It allows you to simultaneously broadcast your live videos to all your favorite streaming platforms.
The full list of Restream.io features is extensive. The ones you'll definitely love the most are:
Full support for over 30 streaming platforms, including Facebook, YouTube, Twitch, Twitter, and LinkedIn. Multistreaming to supported networks is the most convenient and cost-effective way to increase your audience reach.
No-frills streaming solution with Restream Studio. A webcam and a browser are all you need to create professional live streams with Restream Studio. This powerful streaming suite comes with dozens of amazing features, including the ability to add guests to your streams, upload and play your own videos, customize your stream with overlays, watermarks, and background images, and play copyright-free background music during your stream.
Multi-chat support with Restream Chat. Read and reply to your viewers' messages across all streaming destinations in one place!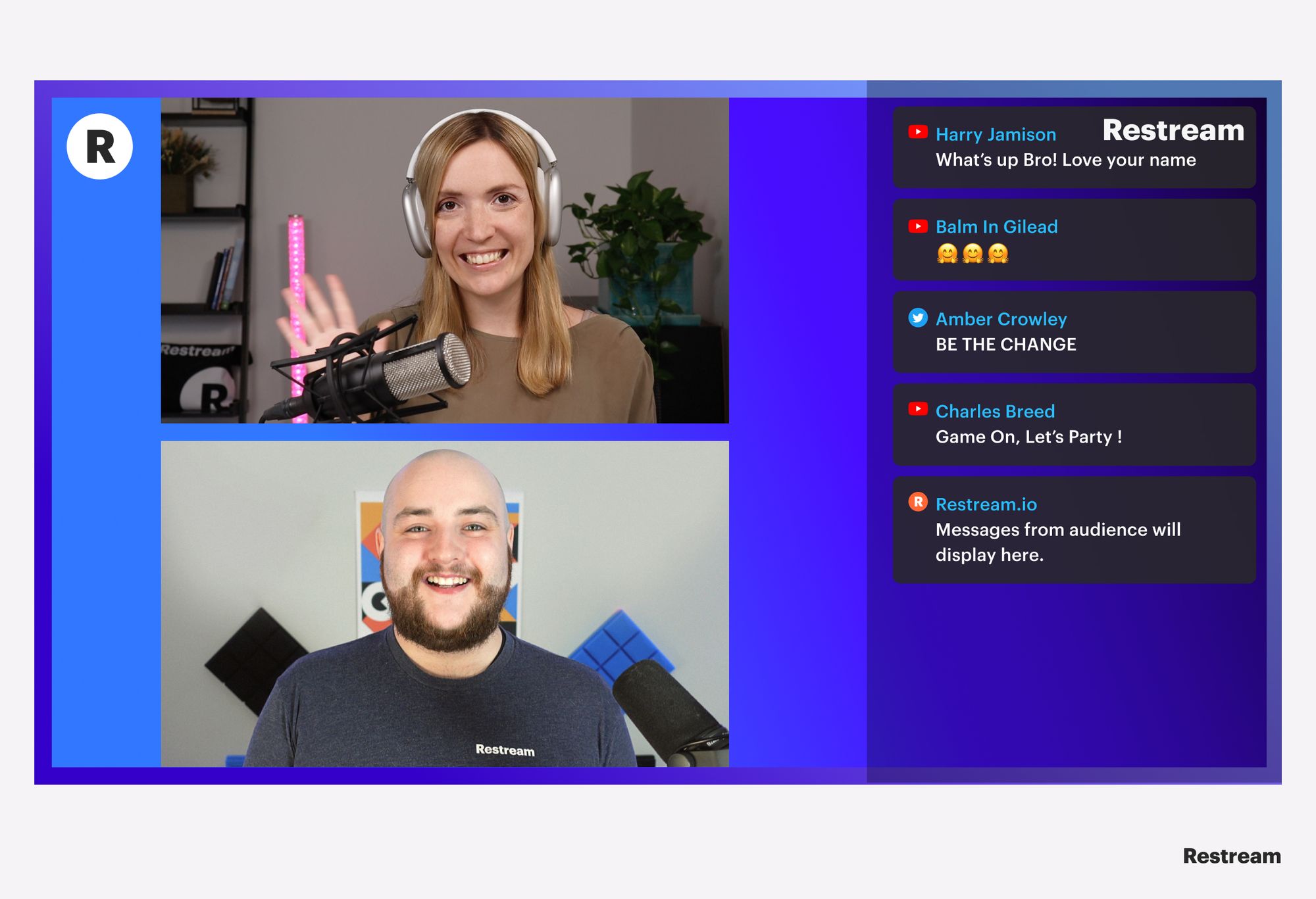 An ability to use networks we don't support. Restream does not limit you to our supported networks. You have the option to add the RTMP URLs and stream keys of platforms that don't integrate with Restream directly.
Unlimited streaming time at an unlimited bitrate. There are no limits to the quality or quantity of broadcasts, either.
Scheduling pre-recorded content to go live. Upload and schedule videos so you can take a day off, target different time zones, produce high-quality content, and manage your streaming schedule.

Advanced monitoring and analytics tools. When you need to know what's going on with your stream while streaming, Restream has your back! Furthermore, the analytics feature provides you with a simple yet effective way to assess your performance in order to make improvements.
Social alerts. Why not blast an alert to let audiences know about your upcoming live stream?
Scheduling your live streams with Restream Events. This feature allows you to schedule a live stream in advance and notify your audience about the upcoming event! With Restream Events, you can also set a custom thumbnail for the event and change the titles and descriptions for your live streams.
Earn money with the Restream Referral Program. Your friends get a $10 Restream Credit for registering via your referral link. After they upgrade to a paid subscription plan, you can receive up to $49, which you can later withdraw to your PayPal account!
For anyone new to multistreaming, Restream offers a whole suite of useful features that allow creators to multistream their content with few technical limitations.
🔥 How to set up Restream.io for multistreaming
Setting up Restream.io for multistreaming is super easy! All you need are accounts on the content delivery networks you wish to stream on and an account on Restream. You might also need an encoder if you want to have even more control over your streams. Restream works with the most popular encoders, including OBS Studio, XSplit, and more.
From the Restream dashboard, click on the "add channel" button. Pick one of the supported content delivery networks. Choose the automatic setup and let Restream gather all the information it needs. Repeat this step for every platform you want to add.
You'll also notice that Restream lets you pick a server — it's best to choose the one closest to your location. Right under that menu, you'll see a Restream RTMP URL and stream key. You'll need to enter those into an encoder just like you do when streaming to a single network.
⚡️ To learn more, check out our guide on how to get started with Restream
🤩 How to use Restream Studio
The easiest and most direct way to multistream is with Restream Studio. If you've set up Restream for multistreaming, the Studio allows you to go online without having to use an encoder in your setup. All you need is a webcam, a Restream account, and a web browser, and you'll be able to multistream within minutes.
You can do more than just multistream, too. Restream Studio allows you to use Restream's Chat feature easily while streaming in the Studio, for example. Here's what else you can do with Restream Studio:
Invite guests directly to your stream and host interviews, Q&As, webinars, etc.
Upload and share videos with the audience on your stream.
Share your screen with the viewers.
Add custom captions to effectively promote your brand.
Live stream in Full HD (1080p).
Add your Restream feed as another source in your encoder with RTMP Source.
Upload custom graphics for logos, overlays, and backgrounds.
Display a chat overlay on your stream so all viewers across all platforms can keep up with the conversation.
Use split-track recording to create a polished podcast from your live stream recording.
Play copyright-free background music that sets the perfect tone for your live stream.
Record your live streams and repurpose them later to attract more audiences.
While Restream Studio puts you in the driver's seat as quickly as possible, it also gives you easy access to some options that control the look of your stream.
⚡️ To learn more, check out our guide on Restream Studio.
Final thoughts
The answer to the question of why to choose multistreaming is so obvious that no one is asking it anymore. The remaining questions about multistreaming — most notably the "how" and "where" — are more relevant to you as a content creator. These questions require good answers.
"With Restream" and "wherever you want" are two of the best answers you'll find to the "how" and "where" of multistreaming. Restream offers a reliable and convenient multistreaming service with unbeatable features and an easy setup. If you know which content delivery networks you want to use, you only need to make an account with Restream and you'll be ready to broadcast whenever and wherever.