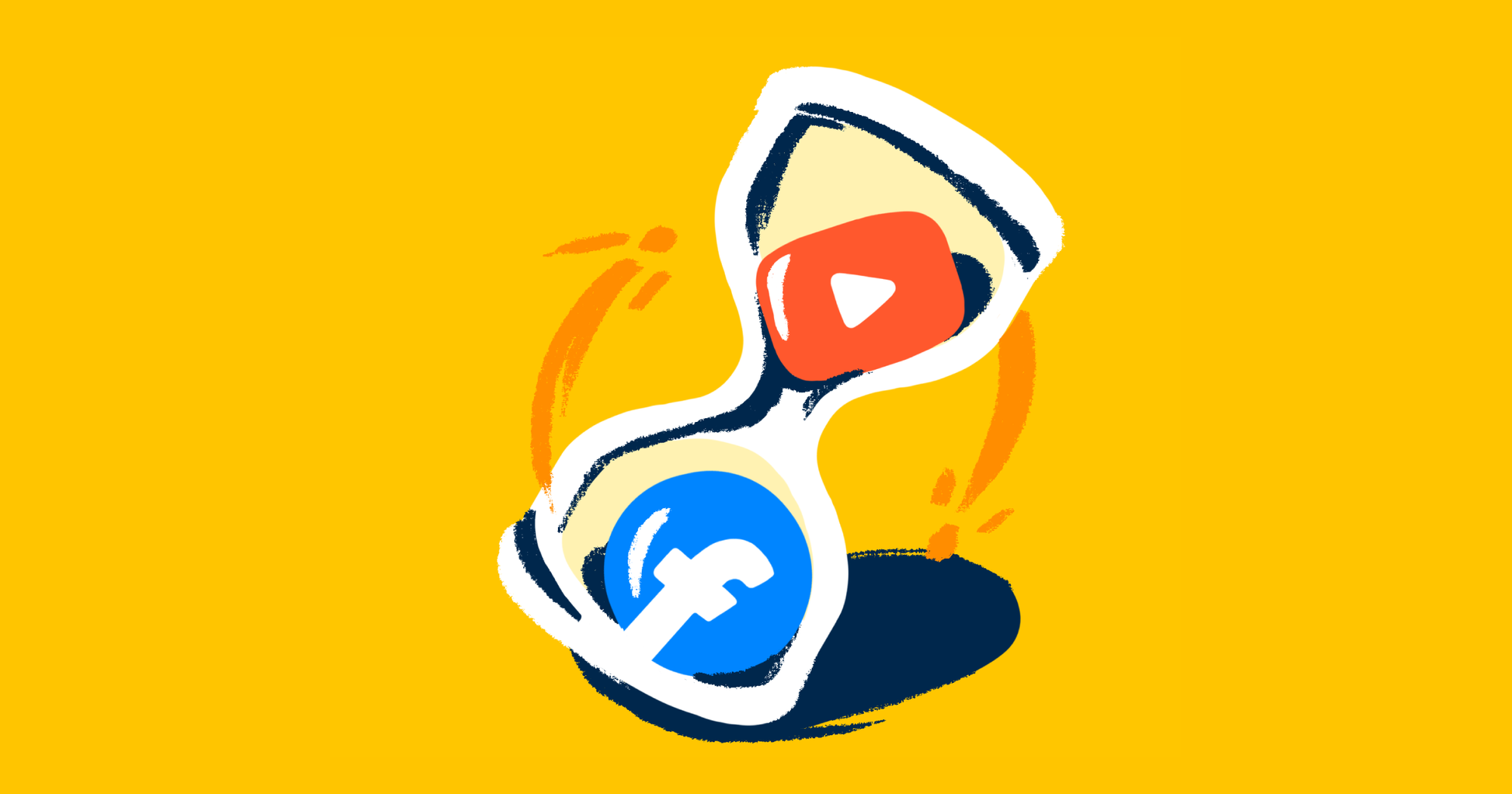 Facebook and YouTube are two of the three most popular websites in the world. Both have a live video streaming service, so it's no wonder so many people are interested in learning how to stream to Facebook and YouTube at the same time. It only makes sense to save time, double the audience, and do it all at once.
But how does one stream to Facebook and YouTube at the same time? It's not that hard if you already know how to stream to one of these websites. You just need a piece of specialized software, hardware, or a cloud service that will take your stream and deliver it to multiple platforms.
As simple as it might sound, however, streaming to multiple websites isn't like regular streaming. The very choice of platforms — Facebook and YouTube in this case — needs consideration. The choice of multistreaming product or service is crucial. If you want to know everything there is to know about how to simulcast on Facebook and YouTube, keep reading.
What do you need to multistream to Facebook and YouTube?
If you want to stream to multiple websites, the very first thing you need to do is make sure you have accounts on those websites. Facebook allows you to stream directly to your profile or page. YouTube asks you to enable the live streaming feature before you're able to use it.
Next, you'll need to get your hands on some gear or software that has multistream capabilities. Your options include multi-channel physical encoders, multistreaming software, and cloud services. Each choice has its own pros and cons, with cloud services usually being the best, budget-friendliest solution.
The next step is connecting a multistreaming device or service with your streaming platforms. Depending on your choice of multistreaming gear or service, this can be as easy as logging into a social media platform or as hard as trying to figure out a fairly sophisticated piece of hardware.
Once you're done with it, you're ready to start multistreaming. Of course, you can get much better results from your streams if you understand why it's a good idea to simulcast to these two platforms. Let's see why Facebook and YouTube are such a good choice.
Why stream to Facebook and YouTube at the same time?
Out of the many combinations of social networks and video platforms, using Facebook and YouTube is a particularly good one. Both have a wide appeal, as evident from their popularity. But they are also two places where people can reach niche communities with their content.
The power you get when streaming content on these platforms simultaneously is a combination of the following factors:
Access to 2.6 billion monthly active users worldwide on Facebook
A decent demographic representation of users on Facebook
Audience Insights — Facebook's first-in-class audience intelligence tool
YouTube is the world's second most visited search engine, conveniently owned by the world's premier search engine, which has some clear benefits for SEO
Access to two billion monthly active users on YouTube, including the elderly
A platform built around video as a form of content
Monetization options
Both platforms also give you the tools to stay in touch with your follower base and grow it. Using Facebook Live and YouTube Live is a smart choice because it covers all the important aspects for content creators, including promotion, growth, networking, and monetization. That's pretty much all you need.
How to pick a multistream solution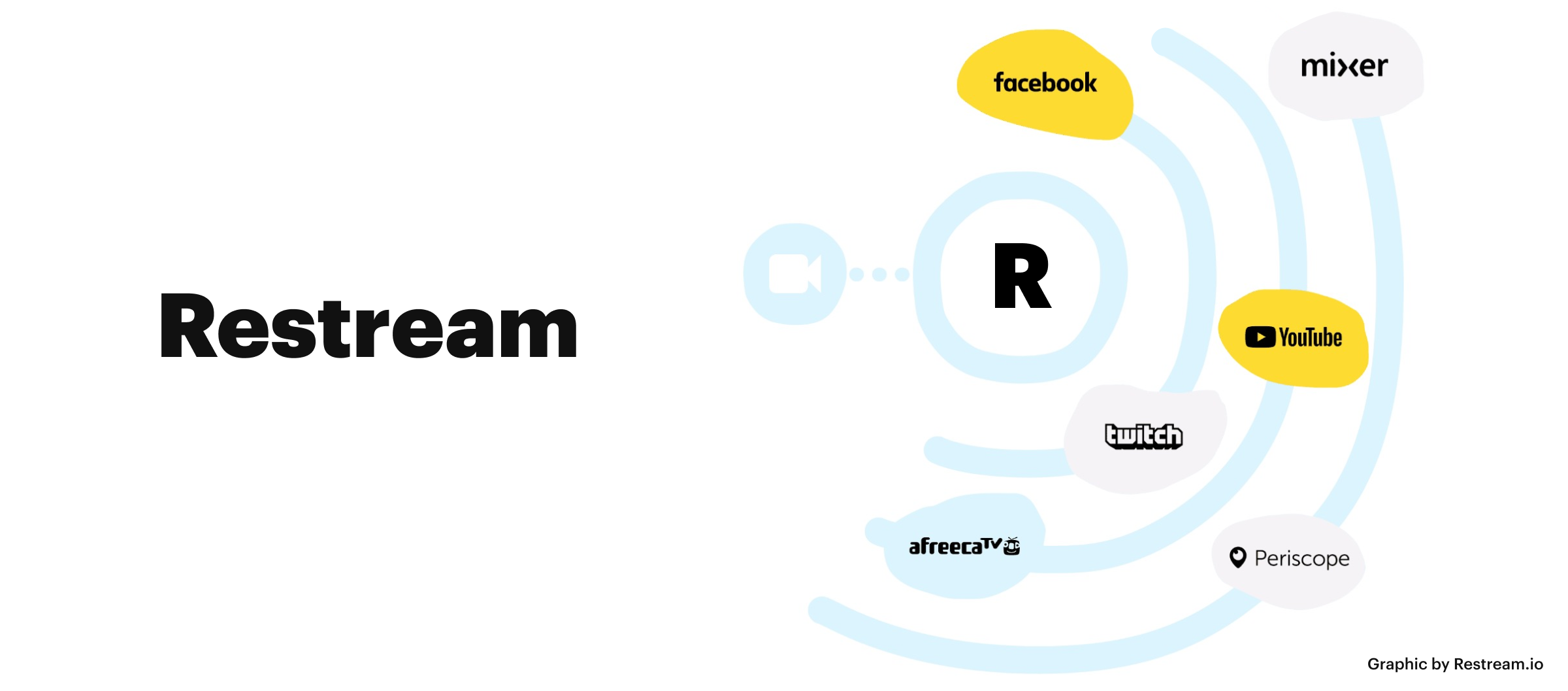 Usually, you would need to make at least a modest investment in gear, software, or services to create a multistreaming setup. You only need to choose one, but you need to choose well. The choice matters, and not just because it might come with a hefty price tag.
If you want a quick solution to this dilemma, here it is — pick a solid cloud service. Each of the options comes with pros and cons. With a physical multichannel encoder, you get the best performance for a high price and a steep learning curve. Software solutions are less expensive, but they can be incredibly demanding on your hardware when you multistream. Additionally,  both will need a lot of bandwidth.
A cloud service is great because it's easy on your hardware and has lower bandwidth requirements. You're basically streaming content to that service. The service then streams to Facebook and YouTube. Your hardware and bandwidth need to handle only that one original stream; the service handles the rest.
How to stream to Facebook and YouTube at the same time using Restream
Restream.io is a cloud-based multistreaming service. It's easy to set up and use, so you won't have any problems with getting it to work, and because it's compatible with many popular encoders, you can use it with the encoder you already have.
Restream is the ideal example to showcase why choosing a cloud-based service is the best way to multistream. It has recently started offering Facebook Live support for free, so it's perfect for streaming to YouTube Live and Facebook Live at the same time.
Start multistreaming today.
Reach a wider audience by streaming to multiple platforms simultaneously.
Get Started
The procedure for setting up a multistream with Restream is very simple:
Create a profile, then click on the "add channel" button
Connect your Facebook Live and YouTube Live profiles with Restream
Next to the list of channels, you'll see an RTMP URL and stream key, which you should copy into OBS Studio or your encoder of choice
In your encoder, set up the stream parameters to your liking
After you've set everything up in your encoder, and you've made sure that both Facebook and YouTube are set to "on" in Restream, you're done. When you want to stream, press whatever button you usually press in your encoder, and you'll go live to Facebook and YouTube at the same time.
Restream Studio — streaming to Facebook and YouTube made easy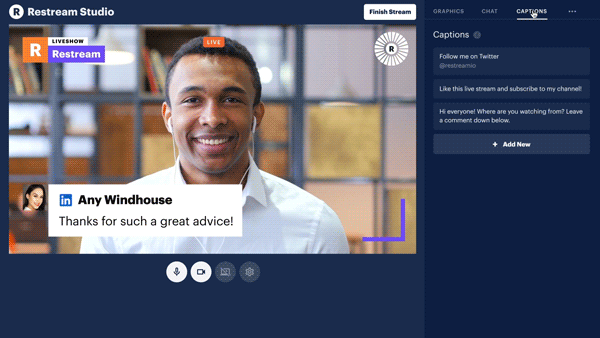 If you want to multistream without an encoder, you can do so with your webcam and browser. Restream Studio is Restream's newest feature. It lets you live stream to all of your connected channels without installing OBS Studio or any similar software.
In that case, you'll only need to perform steps one and two listed above. Next, you need to connect your webcam to your computer and navigate to the "Live Studio" option in Restream's right-hand side menu.
Once there, you'll be able to:
Add captions that will be visible in your stream
Add a logo, overlays, and background visuals
Set the titles and stream descriptions
Toggle the destinations on and off
Read all the chat messages in the same window
Restream Studio also has some additional features you can use to make your Facebook and YouTube multistream richer in content. For example, you can share your screen with the viewers, which can come in handy. Studio also lets you invite guests into your streams.
Conclusion
If you stream to Facebook and YouTube at the same time, you can make the most out of all the great things these two platforms have to offer. You can have Facebook's reach and YouTube's video quality, or YouTube's SEO friendliness and Facebook's audience metrics. You don't need to choose just one set of benefits.But to be able to get all of that, you need to pick the right kind of multistreaming solution for your situation. In most cases, a cloud service will be the best choice, with Restream being the best among cloud services to use. With it, you'll be multistreaming to Facebook and YouTube like a pro in no time, without breaking a sweat.