Intro
Looking for the best live streaming platform to promote your brand and connect with your audience in 2021? We've compiled a list of the 12 best live video streaming services worth looking at.
Before we dive in, what is a live streaming platform, and what features should a good one have?
A live streaming platform is a website, application, or software that allows you to broadcast live videos. When you upload a video to the platform, viewers can watch it in real time.
What makes a good live streaming service? At the very least, the service should provide video hosting and video content management tools. It should also provide basic embedding tools, analytics, and monetization.
All the platforms on our list also have a social component or are part of a social media platform. This allows other users to follow you or subscribe to your channel so they can get notifications when you're live.
The live streaming services we chose are also free to use, though some have paid premium plans.
Let's look at the top 12 free live streaming platforms for 2021.
1. Restream
There are so many great streaming platforms available today that it can be difficult to choose just one. But what if you weren't limited to one platform? When you multistream with Restream, you can go live on more than thirty platforms at once.
Restream is free and easy to use. All you need to get started is a Restream account. You can add channels such as Facebook, Twitch, LinkedIn, Twitter, YouTube, and Mixcloud, and your broadcast will upload to each platform simultaneously.
You can widen your reach and let viewers watch you on their preferred platforms.
Restream is packed with features to help you multistream successfully. Restream Chat lets you manage all the live chats from each platform you're live on in one window. Restream Events lets you upload pre-recorded videos and schedule them to go live. Restream Analytics also gives you robust data on viewership, aggregated from each platform you broadcast to.
With Restream Studio, you have the power of a live streaming encoder without having to install any software. Add guests or co-hosts to your stream, use premade graphics and overlays (or upload your own!), and share your screen all in one browser tab.
Check out our guides on our tools and features to learn more!
Multiply your views and engagement
Reach a wider audience by streaming to multiple platforms simultaneously.
Get Started
2. YouTube Live
YouTube tops our list of live streaming services for its sheer number of users — two billion every month. With so many people from across the globe and from different age groups, YouTube is one of the most universal live streaming platforms you can choose. YouTube found that channels featuring a weekly live stream get up to 40% more subscribers as well.
In addition to this wide access to viewers, YouTube Live also provides powerful analytics on your live videos and offers monetization options. Since YouTube is also a video storage platform, it saves each of your live streams so users can watch the replay whenever they want. YouTube Live also has a native chat function so viewers can send messages to you and each other throughout the stream.
YouTube Live is best suited for…well, just about anyone. The platform is home to both individual content creators and organizations from multiple industries.
The downside to YouTube Live is its size. There are so many creators on the platform that making your live videos stand out could be a challenge. Also, YouTube Live is free, but you will be subjected to the revenue share policy if you start monetizing videos.
Who to watch on YouTube Live
IMPACT's Website Throwdown
NASA Live
Bloomberg Global News
Mr. Beast
Dude Perfect
Want to start streaming on YouTube Live? 👉 Read our ultimate guide to get started.
3. Facebook Live
Like YouTube, Facebook is a social media behemoth, with a global base of 2.7 billion monthly active users. Also like YouTube, Facebook appeals to several demographics with Millennials being the largest group of users.
With Facebook Live, you can build on a network of established users, especially if you're already active on the platform. Key features include monetization options, broadcasting live from desktop and mobile, analytics, editing recorded versions of live videos, live chat, and scheduling live streams. You can go live from a personal profile, page, or group.
Some of the downsides of Facebook Live are the limits on how long you can stream and restrictions on monetization.
Who to watch on Facebook Live
Tastemade
iHeartRadio
Martha Stewart
Mashable
👉 Read our live streaming guide to Facebook Live to learn more.
4. LinkedIn Live
LinkedIn is no longer just a professional networking site; it's now a full-fledged content creation platform. You can find articles, videos, and live videos from influencers, brands, and other professionals in your industry. Nine out of ten executives say LinkedIn is the first website they'd visit for professional content. Plus, the average LinkedIn user has twice as much buying power as the average internet user.
LinkedIn Live's features include live chat and moderation tools, as well as analytics. You can also create an event on LinkedIn and stream directly to it. LinkedIn Live lets you save previous live streams as recordings.
Who should use LinkedIn Live? Any professionals who want to promote an event, take others behind the scenes of their companies, recruit new employees, establish industry authority by interviewing experts, or demonstrate expertise with tutorials and seminars.
LinkedIn Live's features are more limited than live streaming on other social media platforms, plus you have to apply for approval before you can start going live on LinkedIn. The platform also offers no monetization options.
Who to watch on LinkedIn Live
Hootsuite
MIT
Vimeo
Nutanix
Pfizer
Digital Trends
👉 Get started on LinkedIn Live with our ultimate guide.
5. Twitter
Twitter's former live streaming service Periscope was discontinued in March 2021. But live streaming on Twitter is still possible, and users can share live video directly from their Twitter profiles. Twitter might not be as large as Facebook or YouTube, but live streamers will still have access to 187 million daily active users.
Twitter Live is available through the app and on desktop, but you'll have to use Twitter's Media Studio Producer with live streaming encoding software on desktop. You can also connect with Restream. When you go live on Twitter, you can also share a link directly to the stream, making it much easier for your audience to find it. Before you start a new broadcast on Twitter, you can invite a friend to co-host the live stream with you as well.
Like other social live streaming platforms, Twitter has a live chat function, and streamers can assign chat moderation to one of their viewers. You can also monetize your live videos on Twitter, subject to the platform's eligibility requirements and advertising policy.
Who to watch on Twitter Live
6. Twitch
You can't mention live streaming platforms without covering Twitch. The live streaming service started out catering to gamers but expanded exponentially to other categories in 2020. In Q4 of 2020, 5.4 billion hours were watched on Twitch globally.
On Twitch, you can upload live videos and store previous broadcasts for replay. Twitch also has the most robust chat feature of all the major live streaming platforms. Live streamers can create custom emotes for their chat, manage audience participation with bots, and receive subs or gifts. There are several ways to monetize live videos on Twitch, including subscriptions (subs), badges, gifted subs, emotes, donations, and ads.
If you're a gamer, Twitch should be one of the first platforms you consider. If you're not a gamer, there still may be an audience for your content. The Just Chatting channel exploded in popularity in 2020, and other channels like IRL, music, and art are also popular.
With its several monetization options, Twitch is a great way to earn income for live streaming. But you have to be a Twitch Partner or Affiliate to qualify.
Popular live streamers on Twitch
Ninja
Shroud
TSM_Myth
Tfue
Summit1g
Ready to start streaming on Twitch? 👉 Read our ultimate guide.
7. TikTok Live
As a video-based platform geared toward virality, TikTok presents a great opportunity for live streamers. Although short video clips dominate TikTok, there's still space for live video creators to find an audience. If your content is for Gen-Zers (under 25 years old), then a presence on TikTok will be a huge benefit to you.
If you have followers on TikTok, going live can establish a greater presence on the platform. Most videos are under one minute, so going live for 30 minutes can help your profile stand out. Live videos aren't recorded, which can make your content seem more exclusive as well.
Not everyone can go live on TikTok. Only accounts with 1,000 or more followers have the capability. Also, monetization options (virtual gifts) aren't available unless you are 18 or older.
Who to watch on TikTok Live
Charli D'Amelio
Addison Rae
Bella Poarch
Zach King
Will Smith
Read Next: 20 Fun Things to Do on a Live Stream 📍
8. Instagram Live
Instagram is no longer just for sharing photos with your friends. You can find on-demand and live videos from your favorite brands and influencers on the platform too. In fact, Instagram captures 13% of all live stream viewers on social media.
Between Stories, IGTV, and live video, Instagram offers plenty of opportunities for live streamers to share content. When you go live on Instagram, your followers will get a notification so they can tune in. Instagram will also save your live streams to IGTV so anyone can watch the replay later. Instagram Live also features a live chat function and allows you to bring guests onto your live stream with you. Monetization options include in-stream ads and donation badges ranging from $0.99 to $4.99.
Currently, you can only go live on Instagram from a mobile device, through the app. If you want to use Instagram with an encoder, you'll have to use a third-party service to get the RTMP link and key.
Who to watch on Instagram Live
Kerry Washington
John Mayer
Martha Stewart
Jasmine Star
👉 Learn how to use Instagram with Restream.
9. Clubhouse
As a live audio-only platform, you wouldn't think Clubhouse would make a good home for live streamers. But Clubhouse is the perfect place for streamers to have direct conversations with their followers. For those just starting out, Clubhouse can be a less intimidating way to get used to live broadcasting, as you only have audio to worry about. The platform's popularity has skyrocketed, going from two million users in January 2021 to ten million just four months later.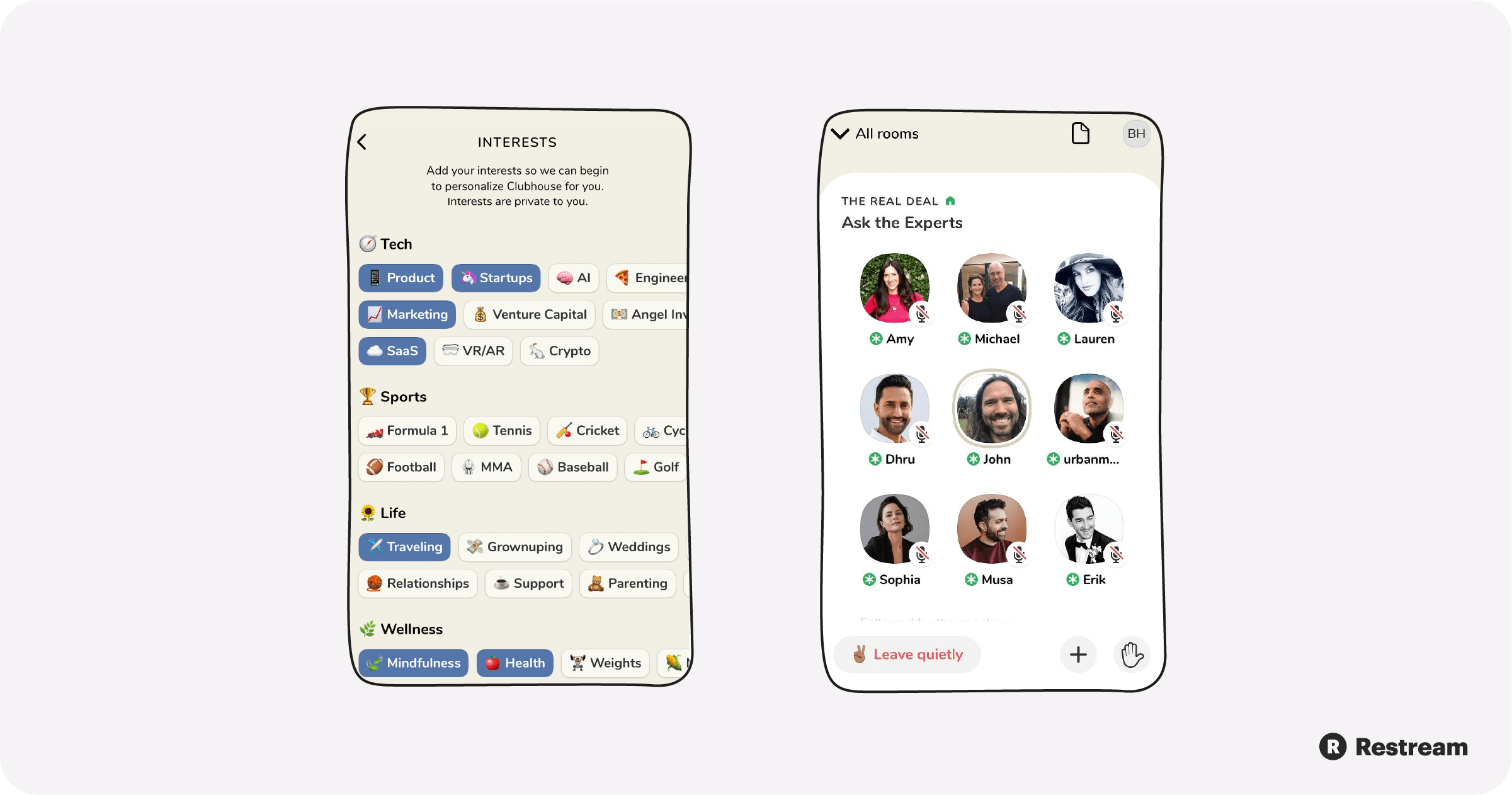 On Clubhouse, you can start a room, and other users on the app will see it on their feeds and can join your room to listen. With this format, you can plan an event on Clubhouse ahead of time and promote it by sending out the link. The variety of events that take place on Clubhouse is impressive, from seminars to Broadway musical performances. The app also recently rolled out Clubhouse Payments, which allows users to send tips and donations to their favorite creators.
Clubhouse does have a few limitations, however. Currently, it's only available on iOS, and you can only broadcast from the app. It's also invite-only, so you either have to know somebody who's already on Clubhouse or join a waiting list.
Who to follow on Clubhouse
Oprah
Jared Leto
Drake
Chris Rock
Lupe Fiasco
Elon Musk
👉 Learn how to live stream on Clubhouse with our guide.
10. Mixcloud
Mixcloud is a live streaming platform for audio creators. Live music, radio shows, DJ mixes, and podcasts are the most common types of content you'll find on Mixcloud. Although Mixcloud has a fraction of the users that YouTube, Facebook, or Instagram have, it still has 20 million monthly listeners.
Mixcloud has licensing agreements with major record labels, so creators hosting radio shows can play their favorite artists' music without worrying about copyright issues. The platform will also archive all of your live shows so fans can watch them again later. If you want to create live content at all related to music, then you can find an audience on Mixcloud.
Mixcloud has better monetization options than other platforms on this list, allowing listeners to subscribe to creators' channels for a small monthly fee. The downside to the live music and radio platform, however, is that creators must subscribe to Mixcloud Pro, which costs $15 per month. You can start with a free three-month trial to see how you like it and build a fanbase before you have to start paying the fee.
Who to listen to on Mixcloud
John Digweed
XLR8R
Sasha
Nicole Moudaber
Jrocc
Mr. Scruff
👉 Read our ultimate guide to Mixcloud to get started!
11. YouTube Gaming
For a while, YouTube hosted a separate platform for gamers to compete with Twitch. But since most creators were using regular YouTube to post gaming content anyway, YouTube Gaming got subsumed into YouTube and is now just another category on regular YouTube. Even though it's "just a category," users watched 100 billion hours of gaming content on YouTube Gaming in 2020, ten billion of which were live streams.
If you're a gaming content creator who isn't fond of Twitch (or would like to multistream), YouTube Gaming would be a solid choice. Live streaming on YouTube Gaming is the same as going live on YouTube, with the same features available.
Who to watch on YouTube Gaming
FGTeeVC
Jelly
Flamingo
Robin Hood Gamer
ItsFunneh
LazarBeam
What do you need to know about YouTube Gaming before you start streaming? 👉 Read our guide to find out.
12. Facebook Gaming
Like YouTube, Facebook has a dedicated gaming section for its live streaming service. And like YouTube, gaming is one of the top-performing live stream categories on Facebook. Facebook Gaming may be a good place to start for new live streamers who don't want to compete on Twitch. Although, Facebook Gaming grew exponentially in 2020, jumping from 1.09 billion hours watched in 2019 to 3.1 billion in 2020.
Gamers on Facebook have all of Facebook Live's tools and features at their disposal. You can schedule live streams, manage the chat, monetize streams, and get analytics.
Who to watch on Facebook Gaming
Alodia Gosiengfiao
Stone Mountain 64
Kristine Santamena
Thinnd
Gina Darling
Get started on Facebook Gaming with our full guide.
Let's wrap up
Choosing a live streaming platform is no easy task. New streamers have many factors to consider. One platform isn't better than another — they all have different features, audiences, and technical aspects. A live streaming service that works for one person or brand may not be the best choice for another. Always take your unique needs into account, and remember: when you're having trouble choosing, there's always multistreaming!