Intro
Twitch has long been a source of inspiration for those who are passionate about playing games and chatting with like-minded people or those who have just gotten bored with their nine-to-five jobs. This streaming platform allows broadcasters to take part in things they really love, improve their skills, and build a strong community of gamers, all while earning money. It can add some pocket change to your monthly salary, which is a pleasant bonus for a hobby, or you could even make enough to pay your bills.
The Twitch partnership program now makes it possible for regular broadcasters to earn their living by what they are doing well — streaming. One of the leading streaming platforms now offers its users a chance either to become Affiliates or to enter their partner program, both of which involve higher paychecks. Both of the programs are available worldwide and allow streamers to:
Collect revenue by allowing users to subscribe. All subscription parameters, together with a global subscriber emote, will be at the Affiliate's disposal. Subscriber emotes are special badges that users get after paid subscriptions.
Make money by enabling Bits to Cheer and encouraging viewers to support them without leaving the platform. Bits refer to goods the viewers can purchase and use in chat to encourage the streamer.
Earn on game sales. When playing a game that is available for purchase, the Affiliate can help a sale and receive a commission.
"The Twitch Affiliate Program puts qualified streamers one step closer toward the dream of making a living from their passions." — Twitch
Sounds tempting, doesn't it? But, what Twitch Affiliate requirements do you have to meet to apply for the partnership? Let's see.
🤔 How to become a Twitch Affiliate
Twitch is currently searching for broadcasters who aren't yet partners but meet the specified Twitch partnership requirements. If it's your first day on the streaming platform, the list may seem intimidating. However, qualifying for the program is still achievable through some work and dedication. Here's what experienced Affiliates recommend you do to reach the criteria much faster.
To get your first 50 followers on the streaming platform, keep playing the games you like. Communicate with people who are involved in the same community on different social networks, be it Twitter, YouTube, or any other. Make sure you use a single brand name across all communication channels, so users can easily find and follow you.
To reach a minimum of 500 total minutes in seven unique broadcasts, spend at least two hours streaming.
To gain three or more simultaneous views for the past 30 days, consider inviting your friends and family members to follow you and watch the streams. Keep the viewers engaged by interacting with them, and ask leading questions, such as whether they like your content.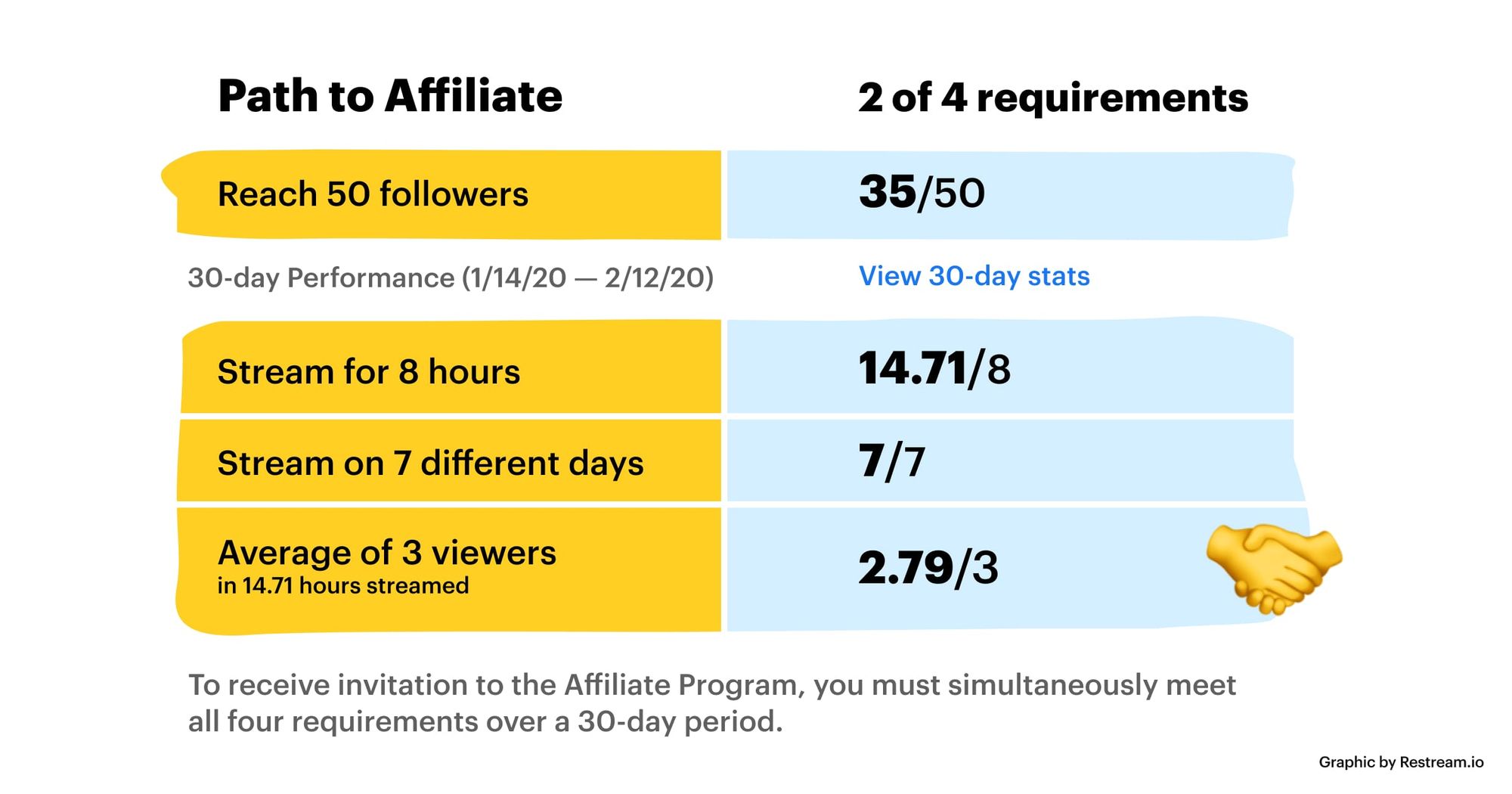 Once you reach the required milestones and become eligible for the partnership, right after the invitation sent via email and in the notification area on twitch.tv, you will be taken to the Preferences tab appearing on your Creator Dashboard, where you will be asked to provide some details and take a few actions. Besides submitting general information, you will have to sign the agreement and complete Royalty and Service Tax Interviews together with the Tipalti form, specifying your preferred payment option.
With all the steps completed, you can finally call yourself an Affiliate.
What's next? You get two good options. Either take the most out of the Affiliate program, continuing to play your favorite games and earning your lunch money in the process, or try harder to meet the Twitch Partner requirements and get ready to level up.
Once you're prepared to work toward the desired status of the partnered streamer, consider the few factors below, which are likely to make you qualified to participate in a more lucrative program.
👀 How to get partnered on Twitch
Compared to the Affiliate program, Twitch Partner has no as straightforward criteria and requires much more effort to participate. A few factors influencing estimation include:
Content. Twitch welcomes everyone who creates high-quality content — be it games, music, art, or talk shows — and gathers the large community around the channel.
Simultaneous views. The higher the viewing level of your channel, the more likely you are to receive an invitation to become a partner. Twitch calls attention to how you interact with your followers on different social networks as well.
Stream frequency. Streamers who want to participate in the partnership are expected to go live a minimum of three times a week at the same scheduled time.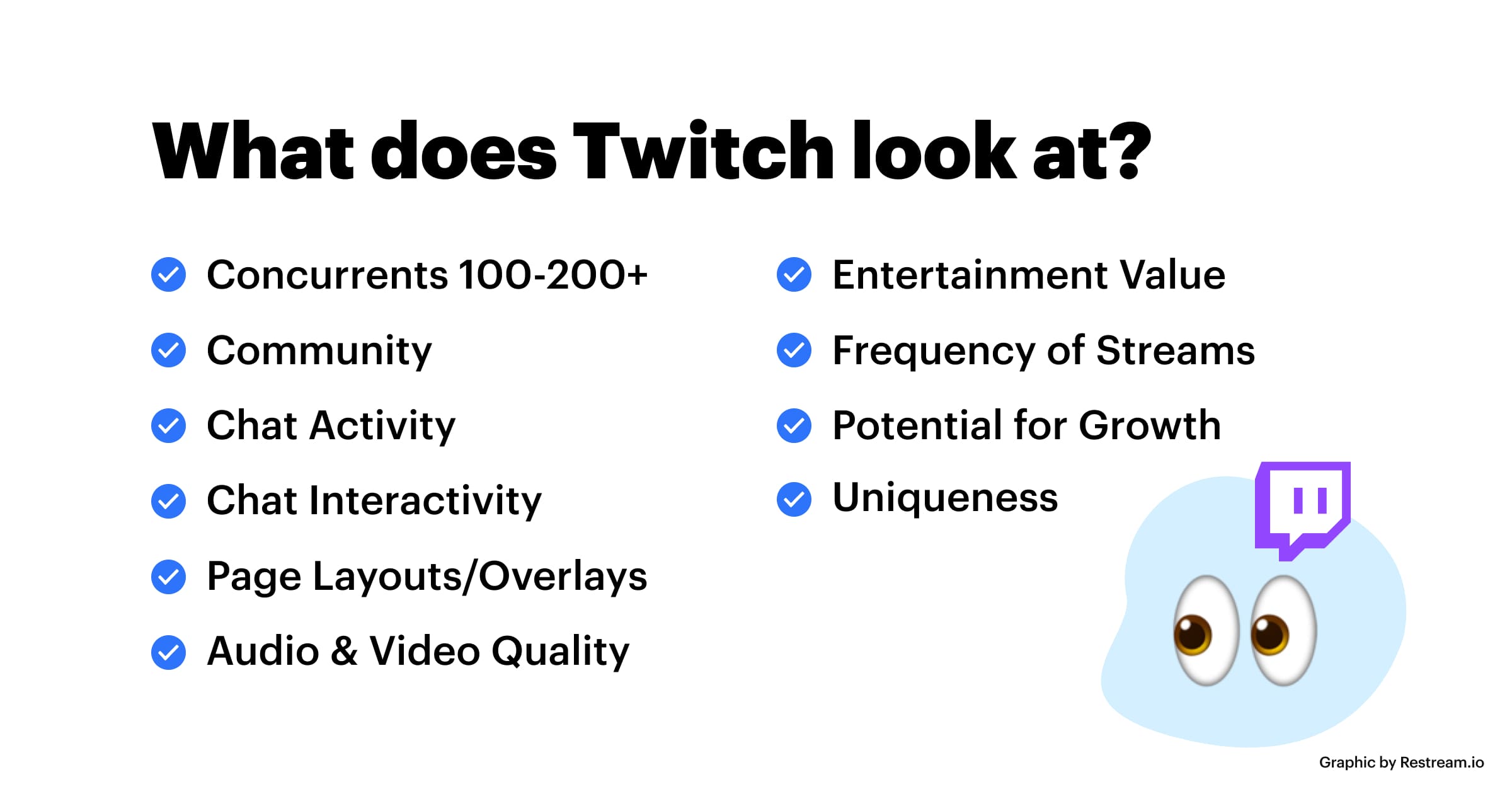 Although there is no universal recommendation on how to become a Twitch Partner and you never know when you will get invited, you can still keep in mind the above-mentioned factors and follow some tips from skilled streamers that will inch you one step closer to your professional streaming career.
So, you've started the process and asked Twitch to consider your candidacy, but you have been denied. This is not a reason to lose heart. Rather, it's an opportunity to develop.
Improve your skills. After the rejection, ask Twitch how you can make your broadcast better. Follow Twitch Creator Camp to hone your skills.
Improve your broadcasting quality. Feel free to leverage tools that will make your life easier and help you improve the stream quality, including its overlays and graphics. You may also want to apply elements that will let you connect to your viewers and entertain them.
Learn from other streamers. Watch how they interact with the audience during the broadcast, how their overlay and panel below the stream look, and what they do on their other social channels. The more you watch other experienced broadcasters, the faster you can create your own style and become qualified for a partnership.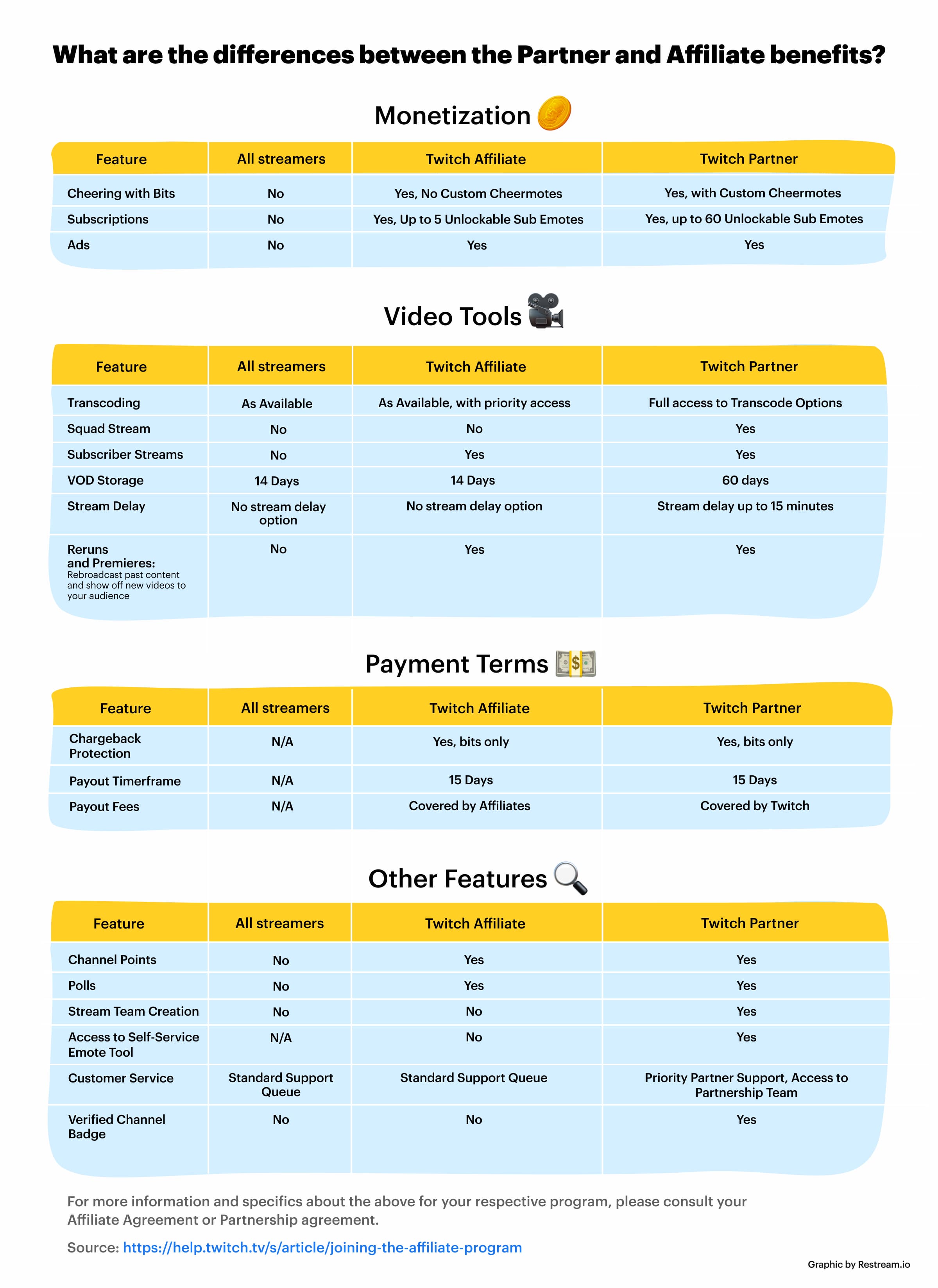 🦑 Using Restream as a Twitch Affiliate
After becoming a Twitch affiliate, you'll be faced with a tough reality: Twitch's exclusivity policy stipulates that all of your live content is subject to a 24-hour exclusivity period during which you won't be able to publish it anywhere else online.
In other words, you cannot multistream directly once you become a Twitch Affiliate. However, this doesn't mean Restream, a multistreaming tool, stops being useful to you. Quite the contrary.
There are a couple of very strong reasons you should keep Restream a part of your streaming toolkit even after you've become a Twitch Affiliate:
You can still use Restream to stream on Twitch. Restream might be a multistreaming service, but it's more than capable of delivering your stream to one platform only.
With Restream Events, you can broadcast your Twitch videos after the exclusivity period. Once the 24 hours pass, you are free to upload those vids to Events and broadcast them on other platforms.
Restream Studio allows you to easily create pro live AMAs, Q&As, and behind-the-scenes for your viewers outside of your regular streaming schedule.
Restream might help with muted VoD downloads. Twitch will sometimes remove the audio from your videos when you download them. You can mutlistream to Twitch and an unlisted YouTube stream, then use the YouTube video with the Restream Events later.
The awesome Analytics are still there. Restream's tool for stream analysis is as powerful as it ever was, and it's available to Twitch Affiliate streamers who stream through Restream.
You can still use the Chat. If you're used to using the Restream Chat, you'll be happy to know that it looks and feels just as good when you use it for one channel alone.
If you've formed your streaming habits with Restream, there's no need to stop using it just because Twitch doesn't let you multistream your content anymore. There's so much more to the multistreaming service, and so many different creative ways it can support you while you're racing ahead to Twitch Affiliate success.
Let's wrap it up!
Twitch, as the world's leading live streaming platform with millions of active users, allows broadcasters to not only play games or go live with any other content and chat with like-minded people, but it also now provides an easier way to make a living on what broadcasters love the most. Twitch Affiliate is a program that rewards everyone who regularly goes on air and has ongoing interactions with their viewers.
If you want to gain a more profitable Twitch partnership, Affiliate is a great interim stage. As an Affiliate, you have an opportunity to improve your skills, build a large community around your Twitch channel and other social media websites, and become one step closer to making a career as a professional streamer. Likewise, you can choose a multistreaming service like Restream to help you increase your cross-platform engagement and contribute to your growth.