Live streaming is a big industry, and some of the most successful streamers earn a ton of money from full-time streaming careers. You don't have to bring in millions of dollars in revenue each year to be a successful streamer, though — nor do you have to be a gamer to attract large numbers of viewers.
To see what it takes to become a popular streamer, we put together this list of lucrative streamers from the gaming, music, lifestyle, and art niches. For each, we included details on how they grew their channels and lessons you can learn if you want to build an extensive audience for your live videos.
🎮 Gamers
1. Ninja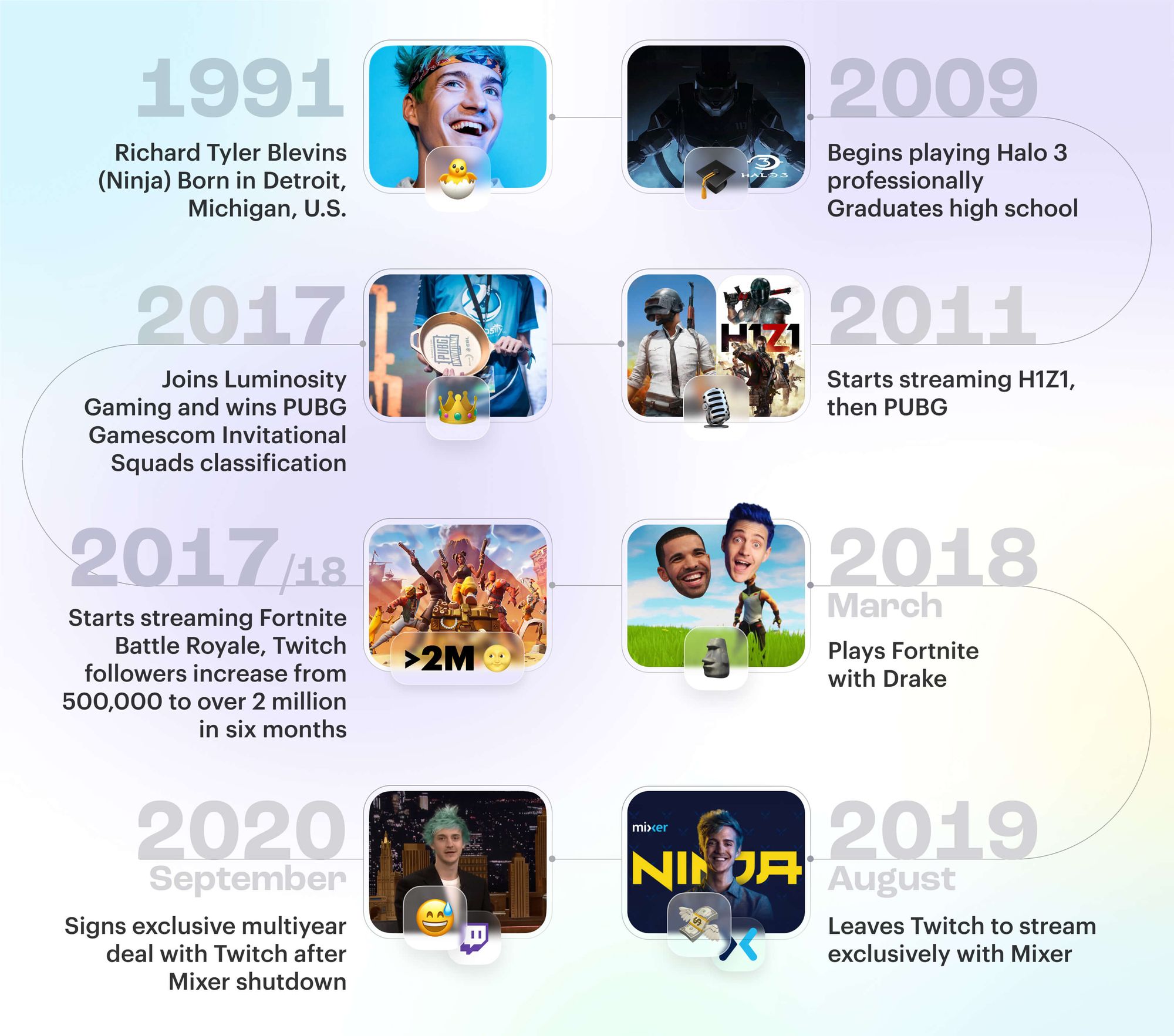 Tyler Blevins, a.k.a. "Ninja," is arguably the most well-known streamer on the web. He has one of the most popular channels on Twitch with over 17 million followers, a YouTube channel with 24 million subscribers, and an estimated net worth of $25 million. He's most famous for streaming Fortnite content, but he's also played League of Legends, Z1 Battle Royale, and Apex Legends.
Blevins started streaming in 2011, but he's been a professional gamer since 2009. He played Halo 3 with professional teams, eventually moving to PlayerUnknown's Battlegrounds (PUBG) and winning a PUBG invitational in 2017.
Notable events, achievements, and controversies
First Twitch streamer to surpass three million followers
Broke Twitch's record for most concurrent viewers of a single streamer: 667,000 during his live stream with Drake (The record has since been broken by other streamers.)
Won the Game Award for Content Creator of the Year in 2018
Won the Shorty Award for Twitch Streamer of the Year in 2019
First e-sports player to be featured on the cover of ESPN The Magazine
Criticized heavily for using the n-word on his stream while rapping to the song "44 More" by Logic (He later apologized.)
Previously refused to stream with women because he wanted to avoid dating rumors but has since softened that stance
Key takeaways
Although his switch to Fortnite helped grow his channel, Blevins also attributes his meteoric Twitch growth in 2018 to making more "family-friendly" content. He molded himself into a streamer and e-sports pro whom young kids could look up to. One of the biggest takeaways from Blevins's career is that being in the right place at the right time definitely pays off, but putting in the work to better understand your audience will bring you even more success.
2. Shroud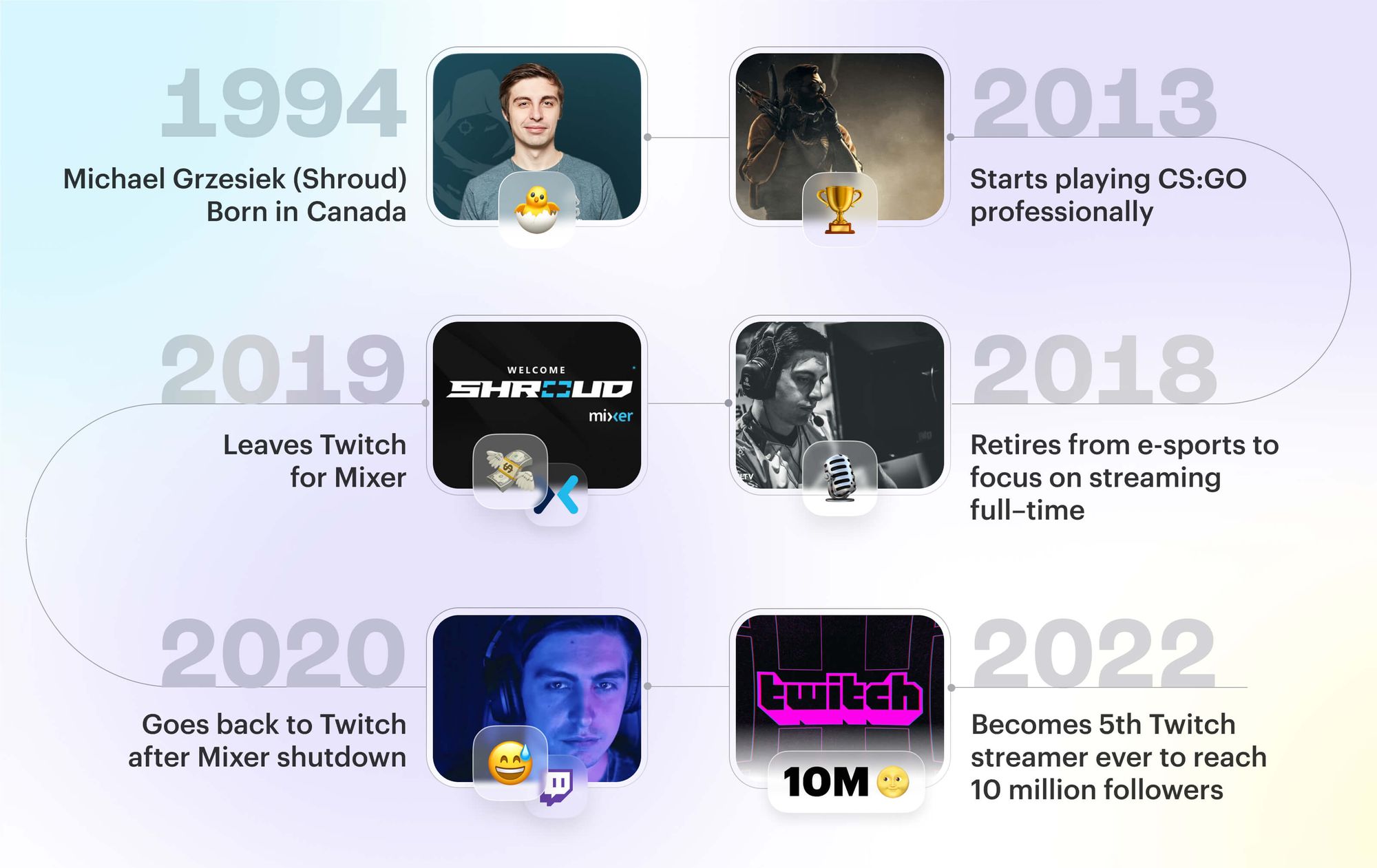 Michael Grzesiek, a.k.a. "Shroud," is a Canadian streamer and YouTuber with over 9.9 million followers on Twitch and 6.81 million subscribers on YouTube. Like Blevins, Grzesiek started his career as a professional e-sports player, playing Counter-Strike: Global Offensive (CS:GO) in 2013. He played on various teams for CS:GO until 2017, when he retired. Up until that time, he'd been casually streaming — since 2018, he's focused on streaming full-time.
Grzesiek reached 100,000 subscribers on Twitch in March 2019, then decided to switch to Mixer later that year. In 2020, when Mixer shut down, Grzesiek returned to Twitch. Since becoming a full-time streamer, he's expanded his content beyond CS:GO and streams Valorant, Apex Legends, and other games.
Notable events, achievements, and controversies
The Game Awards' Content Creator of the Year in 2019
First place in the ESL Pro League Season 4 Finals
Key takeaways
Grzesiek, like Blevins, made a name for himself by publishing content primarily for just one game. Being a variety streamer can make things interesting, but there's something to be said for becoming an expert in one particular game, especially if it's a popular one. If you choose to focus on one game as a live streamer, you'll either have to be good at it — like e-sports-level good — or find an interesting hook to draw in an audience.
3. Pokimane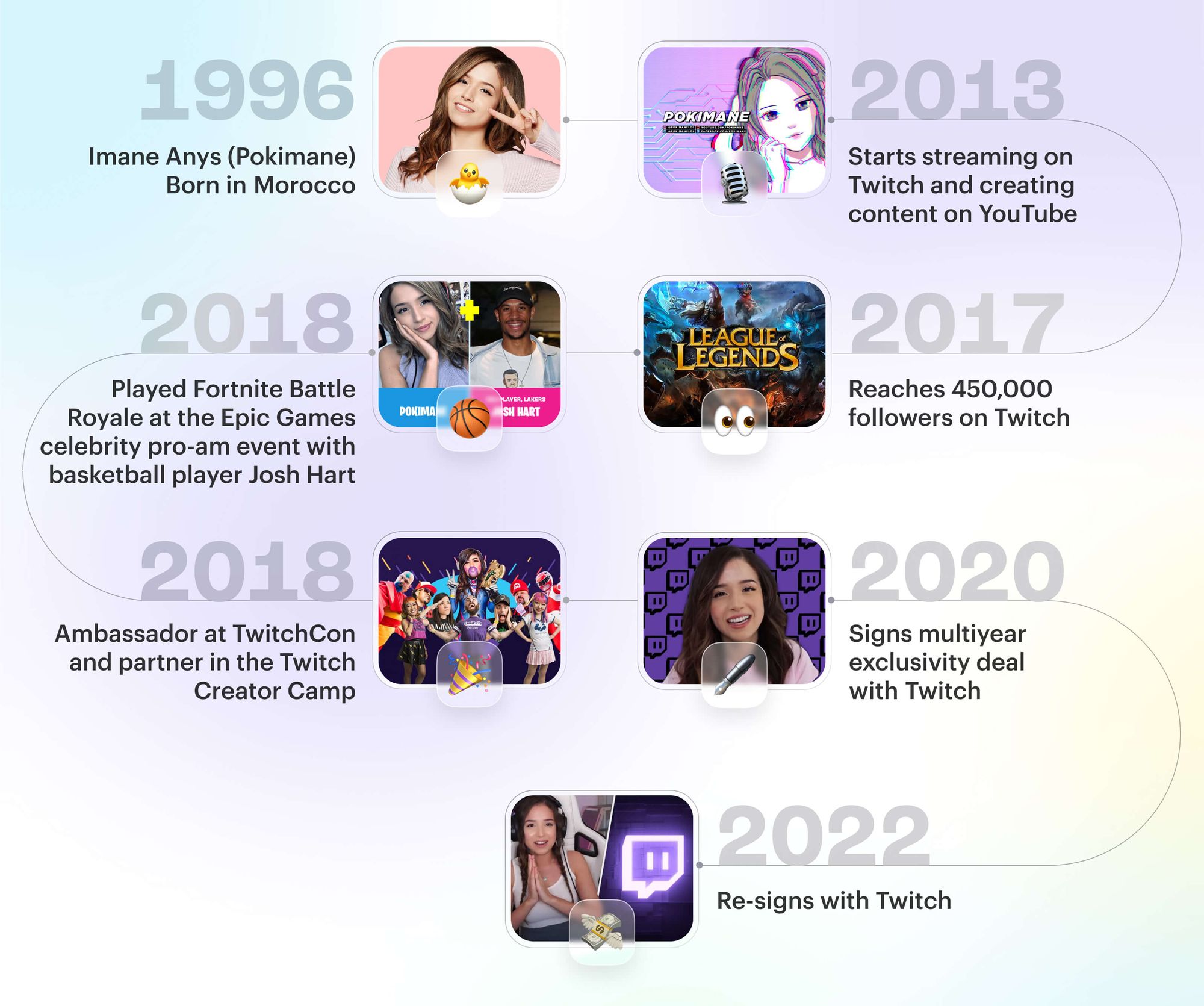 Imane Anys, a.k.a. "Pokimane," is a popular Twitch streamer and YouTuber who plays Fortnite, League of Legends, Valorant, Minecraft, and Among Us. She's also one of Twitch's top female streamers, with 8.9 million followers. Anys started streaming in 2013 after she reached the Platinum rank in League of Legends. By 2017, she became one of the 100 most-followed Twitch streamers.
She's since partnered directly with Twitch, first helping host the 2018 TwitchCon event and later signing a multiyear deal with Twitch. Anys also collaborated with U.S. representatives Alexandria Ocasio-Cortez and Ilhan Omar, along with other popular streamers, to stream Among Us for a get-out-the-vote initiative in 2020.
Notable events, achievements, and controversies
Shorty Awards' Best Twitch Streamer of the Year in 2017
Co-founder of Offline TV, a social online entertainment group
Named to the Forbes 30 Under 30 list in the Games category in 2021
Appeared in Bella Poarch's "Inferno" music video as a cameo in 2021
Highest-earning woman on Twitch according to a leaked Twitch income data report in 2021
Feud with streamers JiDion and Ninja over JiDion's alleged harassment of Pokimane and her viewers and his subsequent ban from Twitch
Key takeaways
Anys doesn't have a background in professional gaming, although she's talented at the games she streams on Twitch. She also draws viewers with her commentary, and her fans love her laid-back, conversational style. Anys is a good example of someone who's turned her streaming success into business success, co-founding Offline TV and helping launch a talent management and brand consulting firm. Anys's streaming career shows that some viewers care more about making genuine connections and having fun conversations during streams, rather than watching someone compete in games at a high level.
4. xQcOW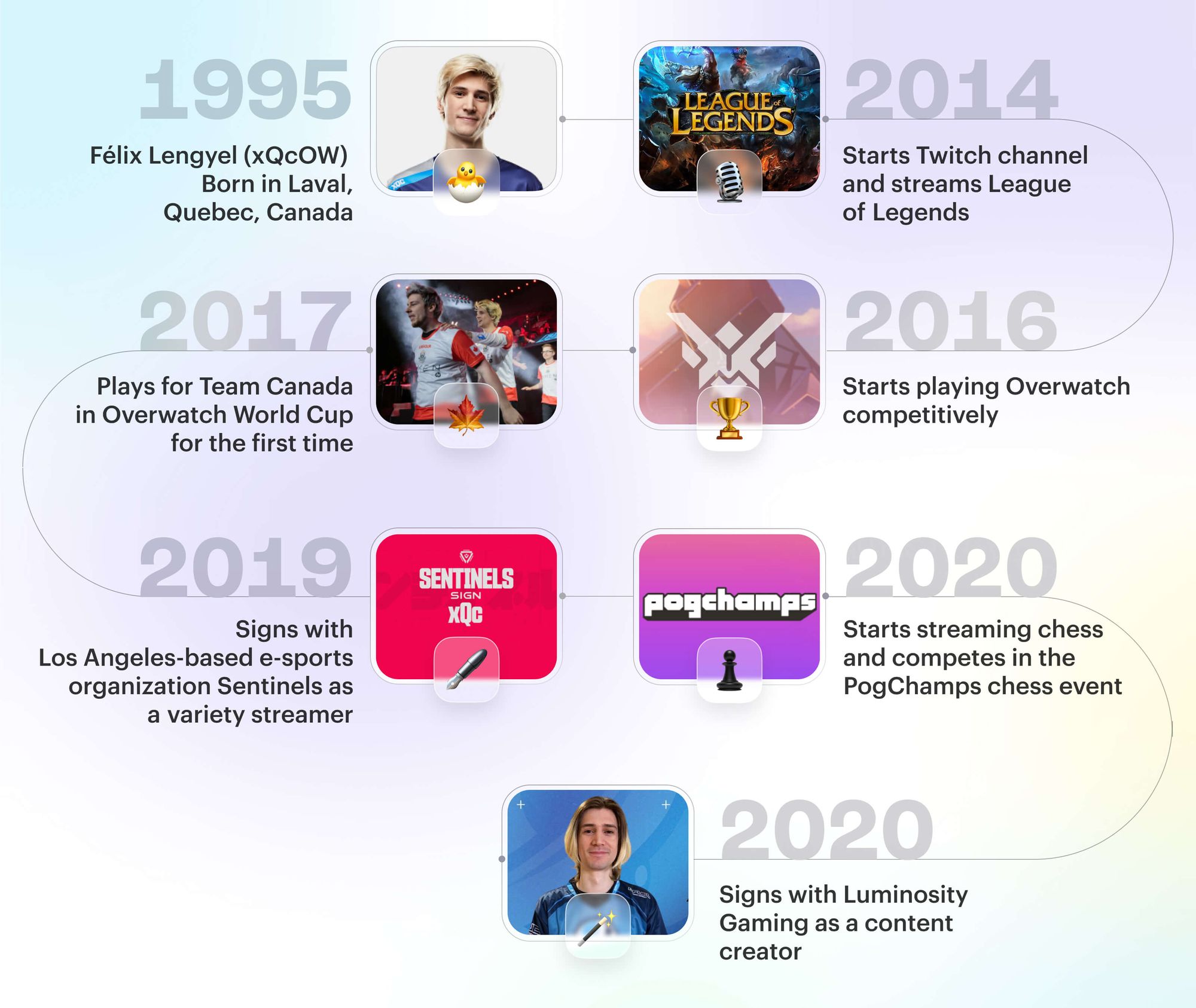 The Twitch streamer known as "xQcOW" or just "xQc," Félix Lengyel, has spent most of his career as a competitive Overwatch player. He's also become one of the top streamers on Twitch and, according to Twitch Metrics, is the most-watched streamer on the platform as of February 2022. Lengyel's streams regularly pull in about 60,000 viewers, and his daily sessions last about nine hours. His Twitch channel has ten million followers, and his YouTube channel has 1.96 million subscribers.
He started playing Overwatch semi-professionally in Montreal, Canada in 2016, but he's been active on Twitch since 2014. During his three-year professional gaming career, Lengyel played for several teams, including Team Canada for the 2017, 2018, and 2019 Overwatch World Cups. He now streams full-time on Twitch for the e-sports organization Luminosity Gaming, and he's moved away from Overwatch to become a variety streamer.
In 2020, Lengyel started streaming chess on his channel and collaborated with Grandmaster Hikaru Nakamura to produce a stream together. Due to Lengyel's popularity, his chess play has helped make the game more popular on Twitch and YouTube.
Notable events, achievements, and controversies
Named most valuable player at the 2017 Overwatch World Cup
Reached current all-time peak in viewers (222,720) and total unique viewers in one stream (1,971,819) on April 9, 2020
Among the 0.006% of League of Legends players to receive a permanent ban for negative behavior
Banned from Twitch more than once for showing adult-themed content and stream sniping
Key takeaways
Lengyel is one of the few professional gamers who's managed to hit it big as a streamer, and he reigns as one of Twitch's top content creators. His story shows that making "family-friendly" content like Ninja's channel isn't a necessity to get viewers. If you're going to start bending the rules, as Lengyel has done a few times, you should have a pretty big audience first.
5. Tfue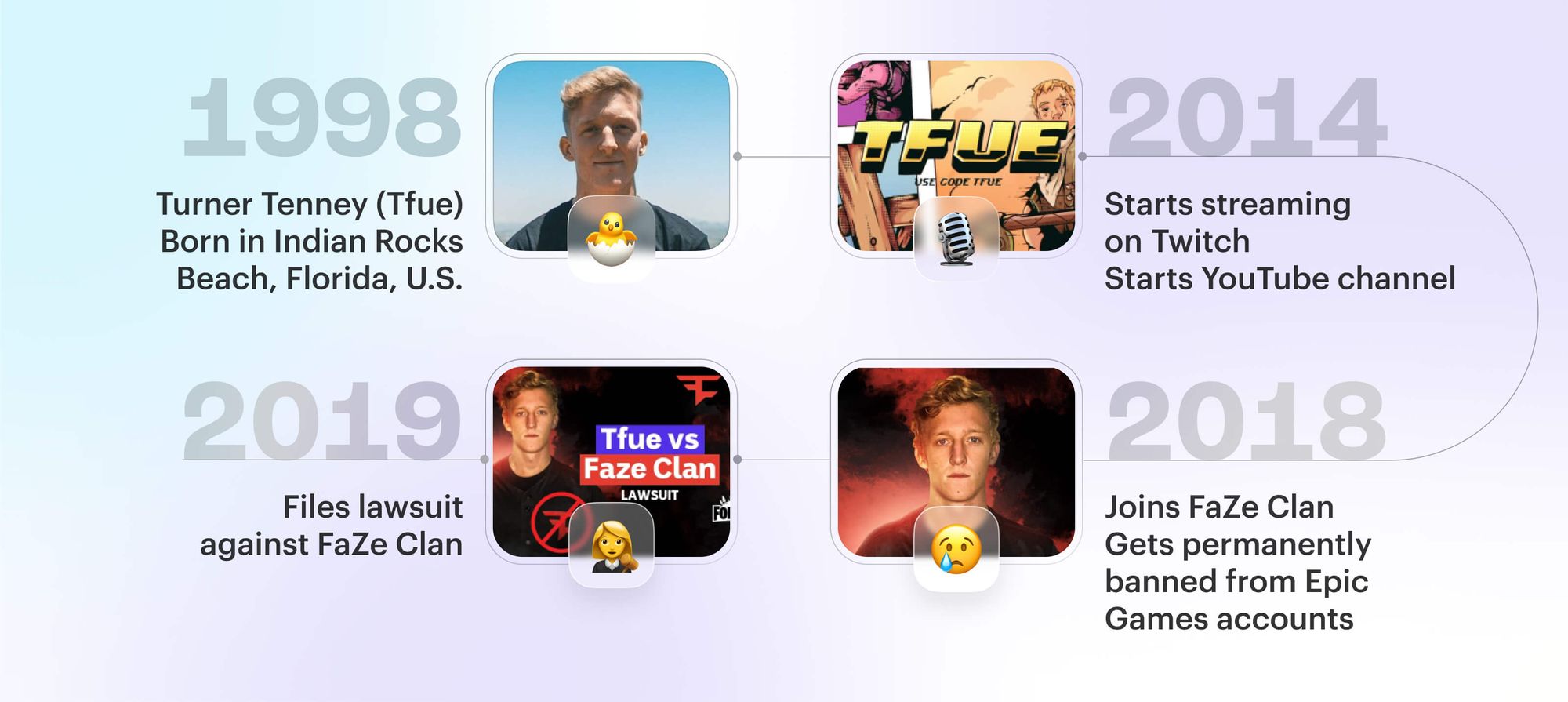 Turner Tenney, known online as "Tfue," is a top Twitch streamer with 10.8 million followers. He also has an impressive YouTube presence with 12 million followers. When he started streaming in 2014, he played Call of Duty, Destiny, and H1Z1, but he later switched to Fortnite. In 2018, he joined a professional e-sports organization, FaZe Clan, to play Fortnite competitively.
Since becoming a popular gamer and streamer, Tenney's been involved in his fair share of controversy. In 2018, he was banned from Twitch for 30 days for using a racial slur and later that year was permanently banned from all his Epic Games accounts for buying and selling accounts (which is against the company's terms and conditions). In 2019, Tenney filed a lawsuit against FaZe Clan claiming they pressured him to engage in underage drinking, gambling, and dangerous stunts. FaZe Clan responded by filing their own suit, saying Tenney violated the terms of his contract by disparaging the company and then trying to form a rival organization.
Key takeaways
Most of the available info about Tenney's streaming career covers his controversies, but the stories don't overshadow the fact that he's one of the biggest streamers on Twitch. Although the lives of big-time streamers seem glamorous, all the notoriety can be challenging to deal with too.
Easy live streaming for everyone
Run professional live streams from your browser.
Get Started
🎵 Musicians
6. Drake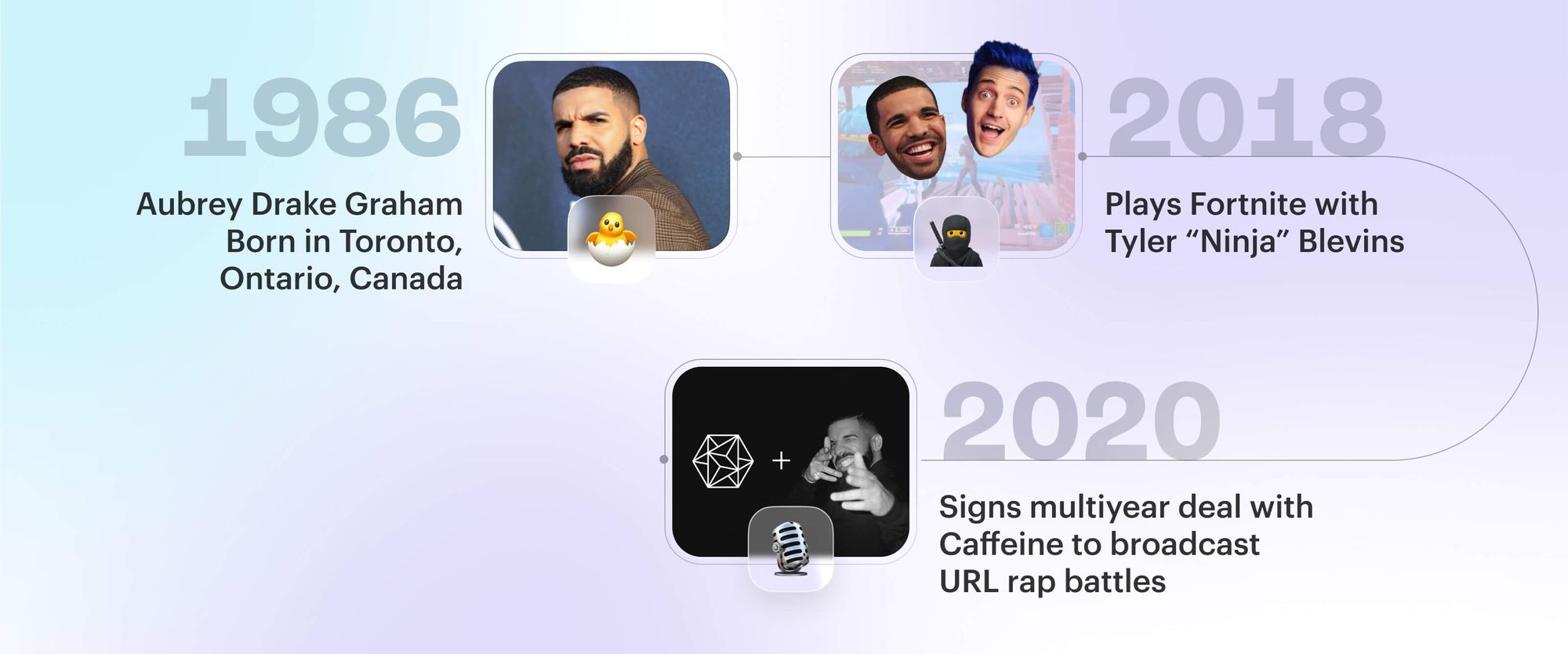 Popular musician and rapper Drake was famous before he started streaming, but we're less interested in how he started his music career and more so in how his streaming career came about. Apart from appearing in a 2018 stream with Ninja to play Fortnite, Drake's live streaming efforts have focused on broadcasting rap battles from the Ultimate Rap League (URL) on the streaming platform Caffeine. He signed a multiyear deal with Caffeine in 2020 to help make URL more accessible to fans. Drake also has a personal channel on the platform that he streams to from time to time.
7. The8BitDrummer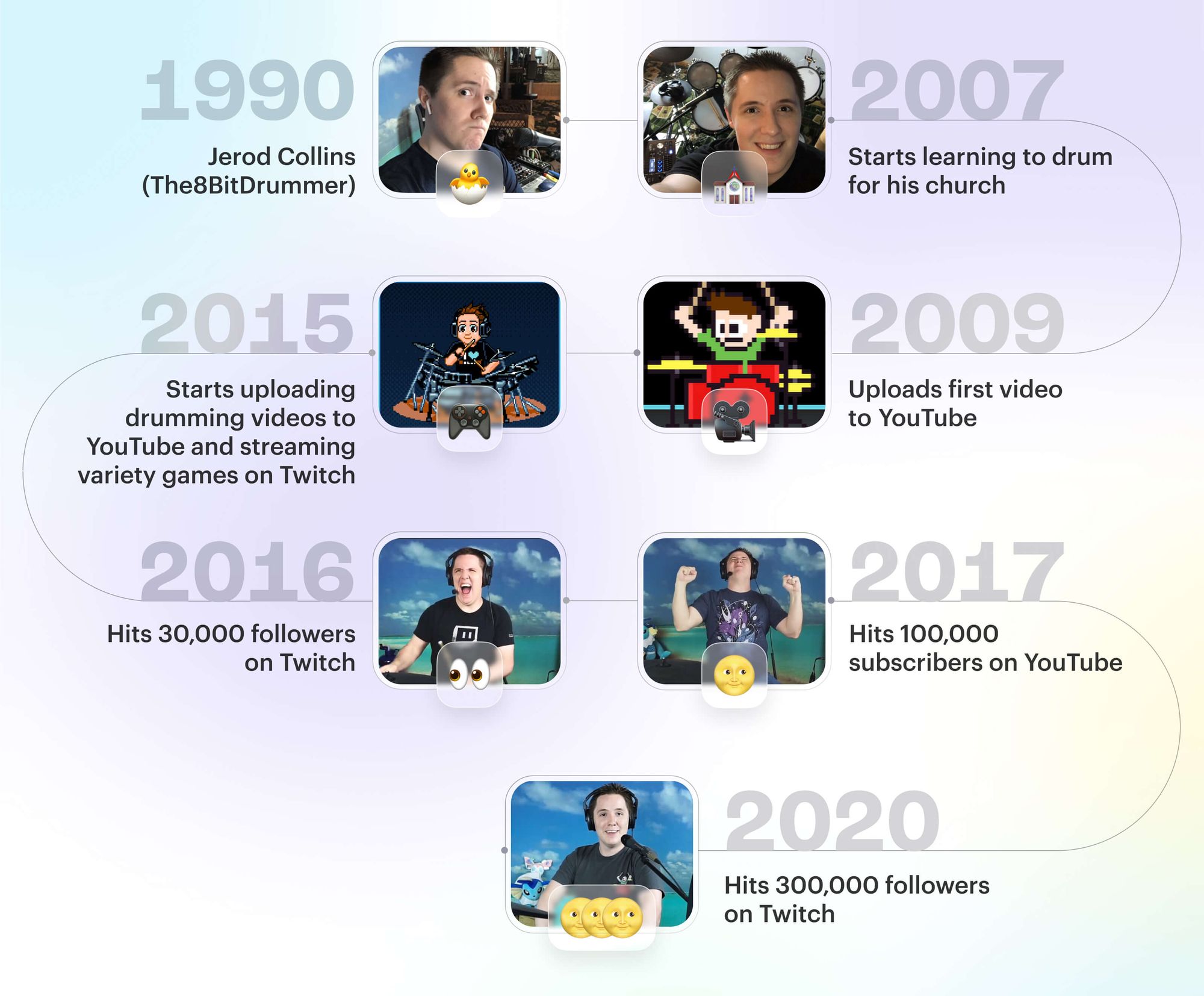 Jerod Collins, who goes by "The8BitDrummer" on Twitch, is a popular music streamer with over 387,000 followers. He also has a YouTube channel where he posts highlights from his streams and co-hosts a podcast with three of his friends. On YouTube, Collins has 873,000 subscribers. On his streams, which usually run for three hours, he drums along to songs requested by viewers. Collins has been drumming since 2007, when he learned to drum by playing in his church's band. In 2015, he started streaming variety games on Twitch and managed to get a Twitch partnership within one month. Eventually, he started streaming drumming sessions, and that's the main focus of his channel now.
Key takeaways
Viewers love watching Collins's streams for his fun, positive attitude and, of course, his killer drumming skills. His Twitch success shows that you can find your audience when you stream about something you're good at. The ability for fans to request songs also adds an interactive element that makes his streams more engaging.
8. Darude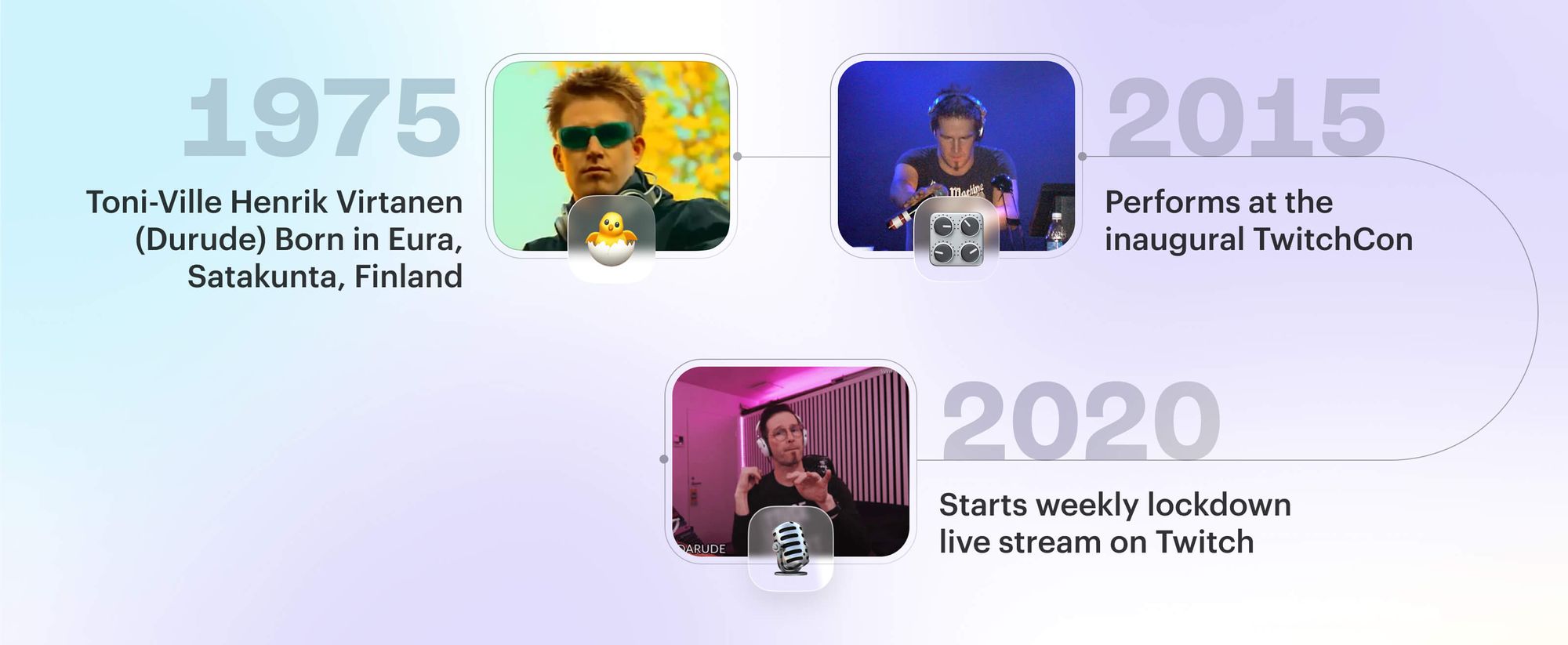 Finnish DJ and artist "Darude," a.k.a. Ville Virtanen, is another popular musician who's found a new way to connect with fans via live streaming. Darude's platinum-selling hit single Sandstorm launched him to fame when it was released in 1999. He also won several awards from the Finnish Grammys, German Dance Awards, and others.
Darude started regularly streaming on Twitch in 2020, and he hosts three weekly shows where he takes calls and interviews while playing and discussing music. On his YouTube channel, where he has 420,000 subscribers, Darude reposts one of his weekly live shows to watch on replay.
9. Sintica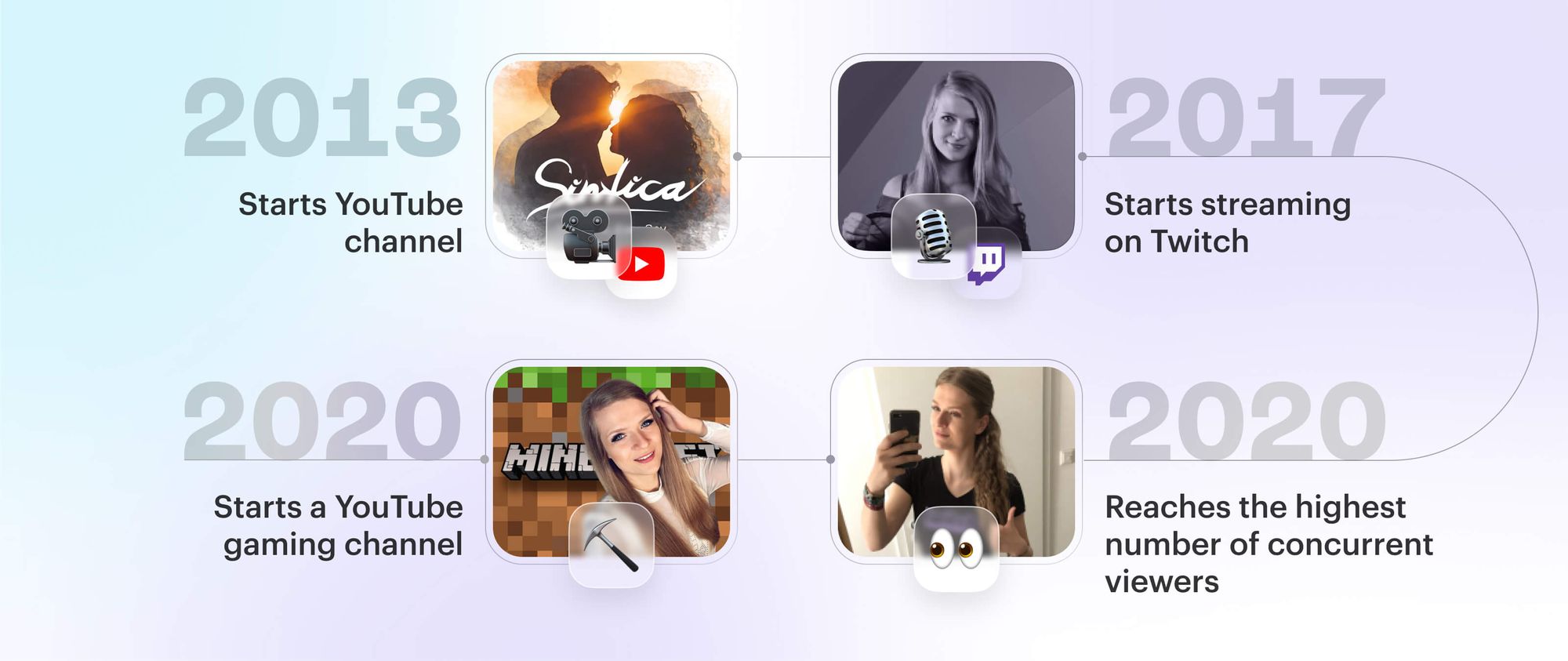 German DJ, musician, and music producer "Sintica" is one of the most popular female music streamers on Twitch, with over 270,000 followers. Sintica's first name is Anika, but she hasn't released her last name publicly. She also keeps her background, age, and family under wraps. On her Twitch channel, Sintica streams DJ sets often, as well as Just Dance and Just Chatting videos. She also has a YouTube channel with over 11,000 subscribers and a YouTube channel for gaming with more than 3,000 subscribers.
Since not much is known about her background other than that she works as a DJ and music producer, it's hard to know how she first got into streaming. According to Twitch Tracker, Sintica's highest recorded number of concurrent viewers was 16,364 in 2020, and in the last three months her channel has averaged 2,800 viewers.
Key takeaways
One lesson new streamers can take from Sintica is that you don't have to divulge details about your personal life to be a successful streamer. You can create an online persona and still build an engaging, dynamic community around it.
10. Pianoimproman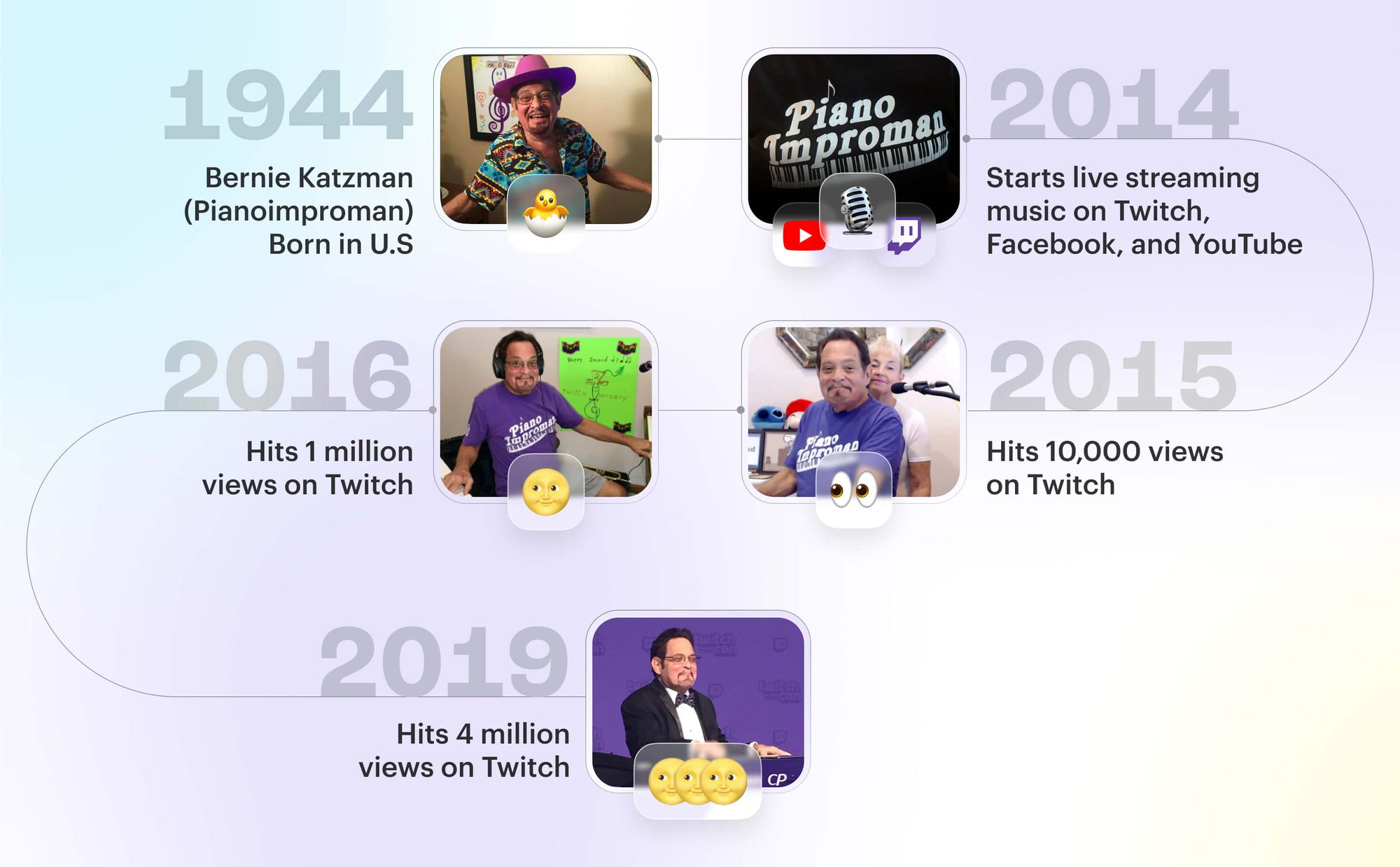 Bernie Katzman, a.k.a. "pianoimproman," is a piano player who streams regularly on Twitch, Facebook, and YouTube. As a master of improvisation, Katzman takes song requests from viewers and hosts themed nights where he plays a particular genre. His Twitch channel has 189,000 followers, and his YouTube channel has almost 20,000 followers.
Katzman is a trained pianist who attended the Juilliard School and taught piano for over 30 years. In 2014, at 69 years old, Katzman started live streaming music with his wife Mindy as the stream's moderator. The couple also stream about food, cooking, and healthy eating. On the Pianoimproman website, you can even buy Katzman's albums and the couple's cookbooks.
Key takeaways
Katzman brings viewers to his streams because he's a talented pianist, but he also has a fun, big-hearted personality. It's clear both he and his wife Mindy love what they do and want everyone to have a good time on their stream. It goes to show that if you're having fun, your viewers will too. Also, you're never too old to start streaming.
🤩 Lifestyle
11. Maya Higa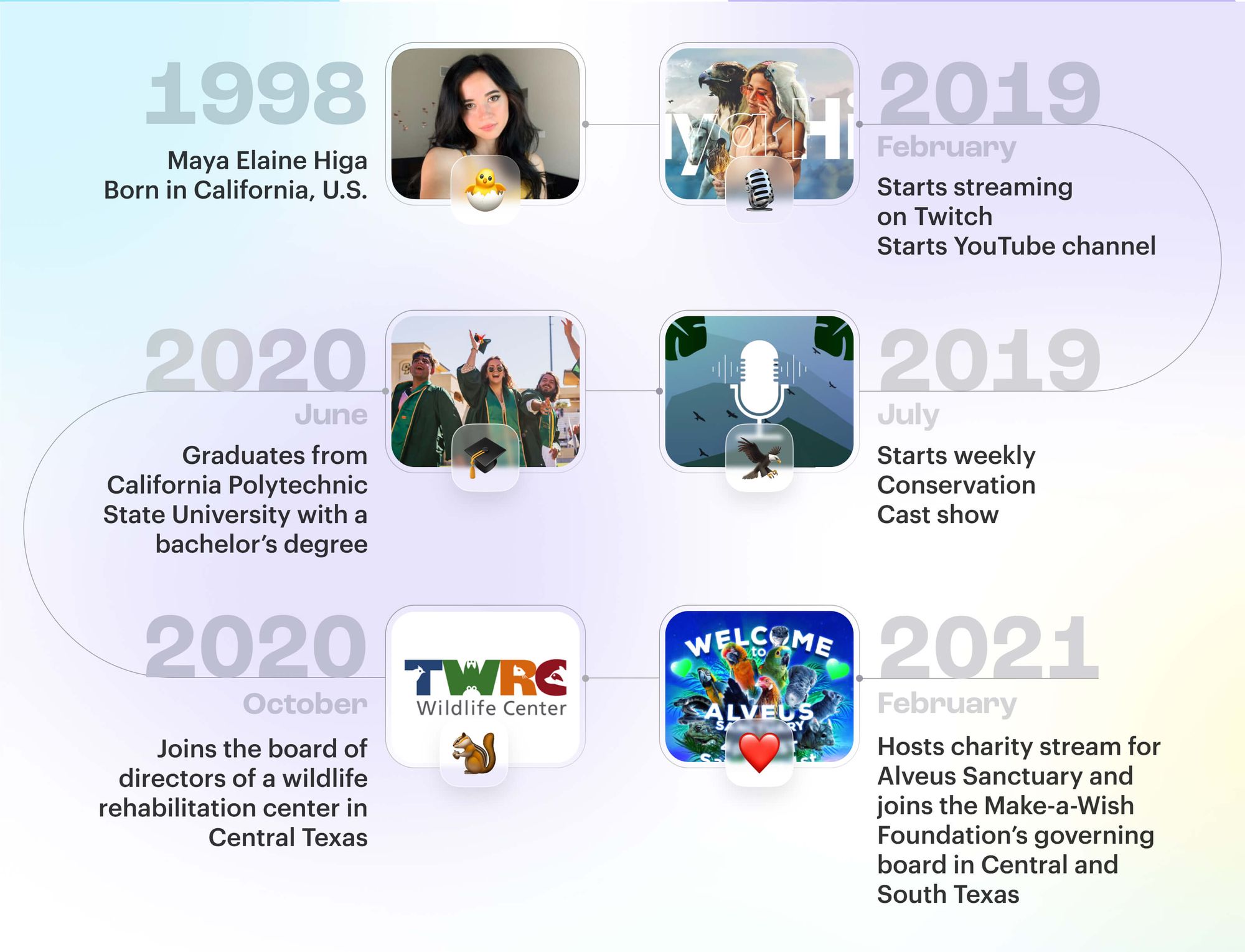 Maya Higa is one of the biggest non-gaming streamers on Twitch. She's a conservationist and wildlife rehabilitator, and on her weekly show, Conservation Cast, she teaches viewers about wildlife protection. Higa is also heavily involved in charity work. She uses Conservation Cast to raise money for various conservation organizations. She did a 21-hour stream to raise $578,000 for the wildlife sanctuary she founded in Austin, Texas, the Alveus Sanctuary.
Higa started streaming in 2019 about various subjects, including falconry. Her channel caught a lot of attention after she brought a juvenile red-tailed hawk onto her stream and it went viral. She also gained media attention after holding a charity stream for a local homeless coalition. Today, Maya's channel has 602,000 followers.
Key takeaways
Maya Higa has become the poster child for lifestyle streaming, and her success shows the importance of finding an unfilled niche with your live video content. Like many of the other streamers on this list, Higa's built a community of fans by pursuing a passion and doing what she loves.
12. Kitboga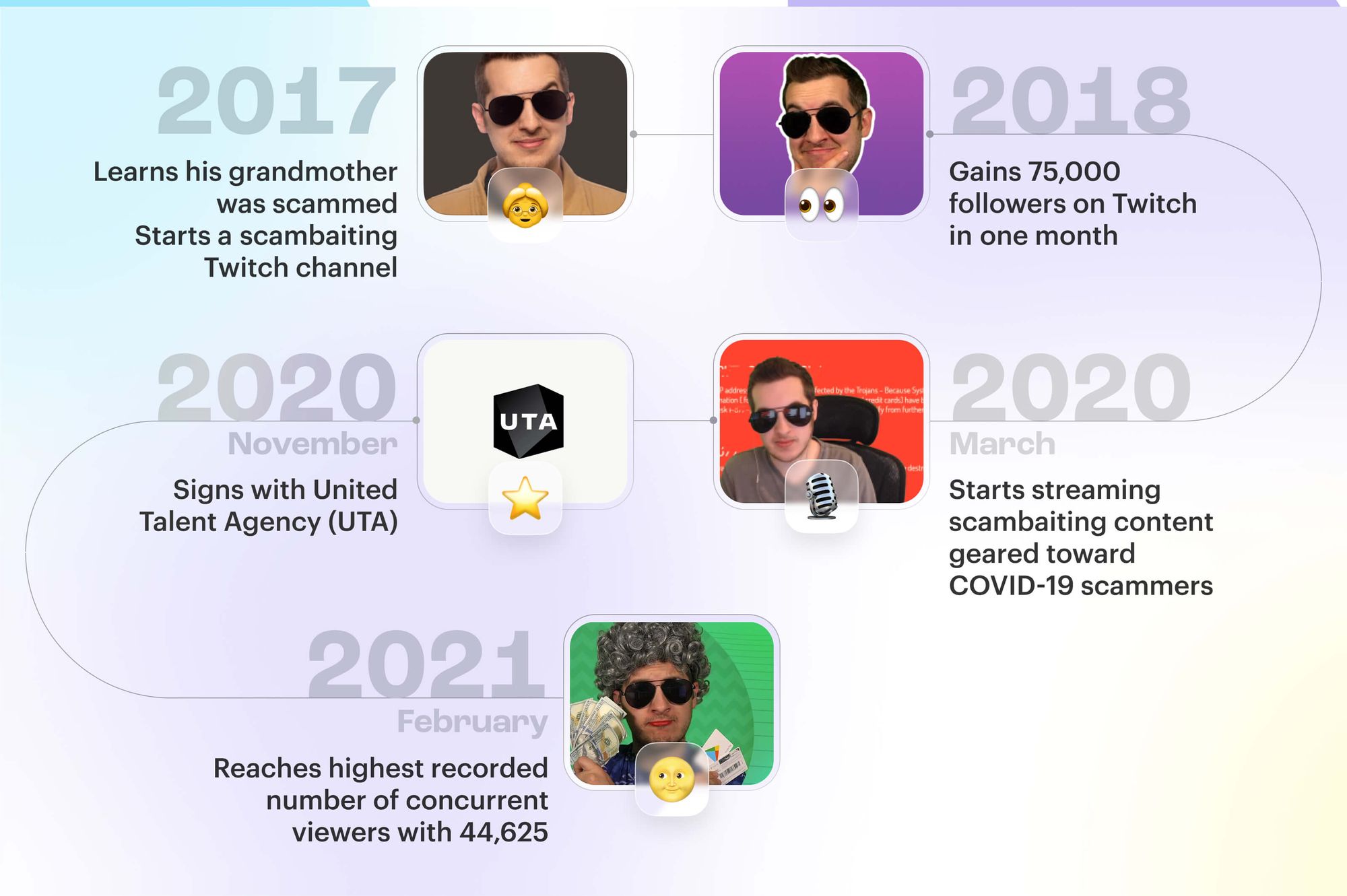 Kitboga is another lifestyle streamer who became popular by streaming about his passion. On his Twitch channel, he runs live "scambaiting" sessions during which he pretends to fall victim to an online or over-the-phone scam and wastes the scammers' time with foolish antics. Given that his scambaiting content relies on him pretending to be various characters to trick scammers, Kitboga keeps his personal details, like his real name, private.
Why scambaiting? He got the idea of going after scammers in 2017 when he learned his grandmother had been the victim of multiple scams targeting older adults. He styled his live videos after existing scambaiting videos on YouTube. At first, only his friends watched him on Twitch, but within a few months, his viewer numbers grew. Now, Kitboga's Twitch channel has over one million followers, and his live videos average about 5,000 viewers.
Key takeaways
Kitboga uses his background in software engineering to make entertaining live videos about scammers. But from the beginning, his content has aimed to educate viewers as well. He wants people to know these scammers exist, and he helps provide the tools to deal with them on his occasional instructive streams. He's gained a following not just because his videos are fun to watch, but also because he's relied heavily on the community to help develop some of the tools and safety precautions he uses on-stream. His channel is a great example of incorporating your community into your live content.
13. AustinShow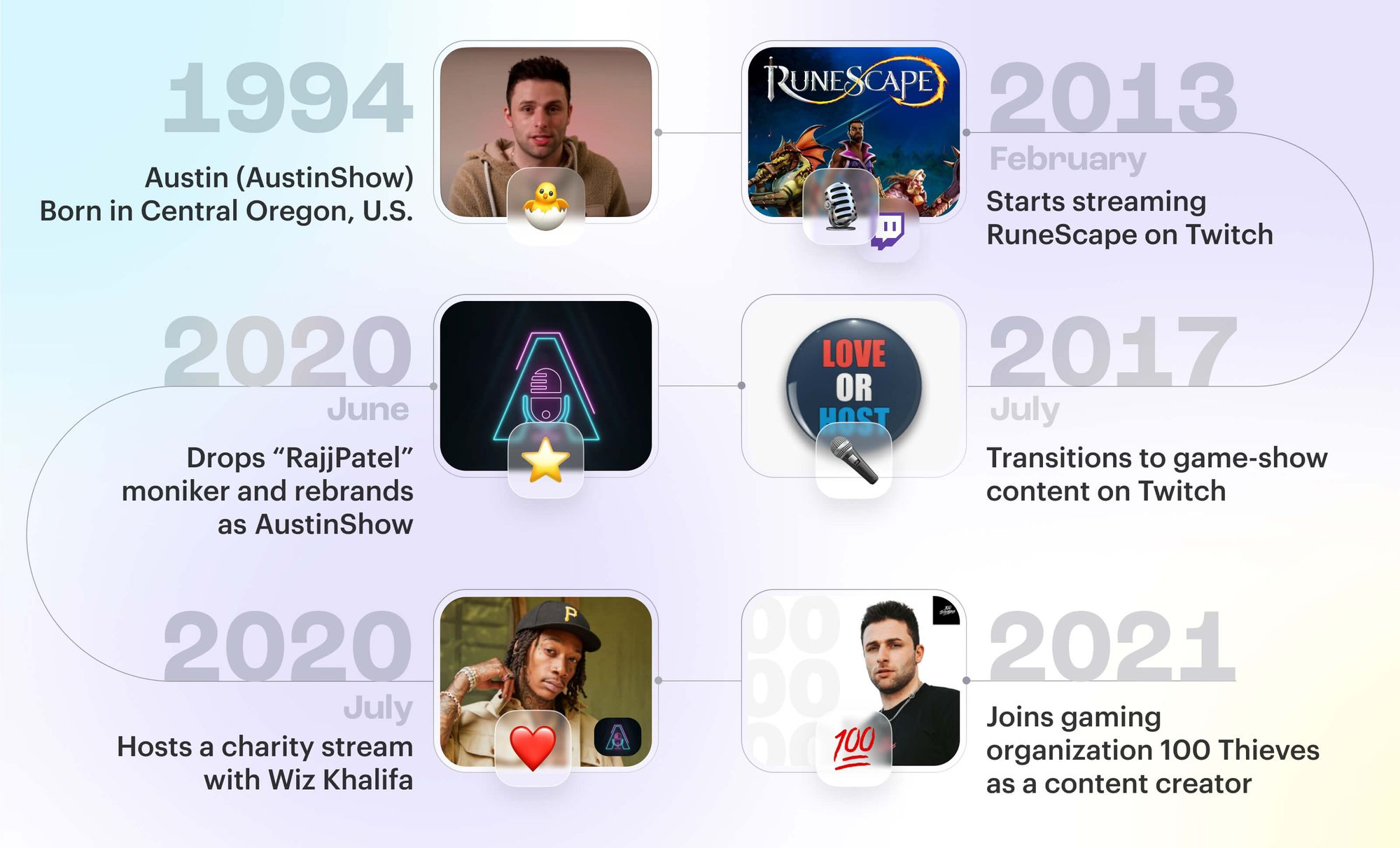 Twitch streamer AustinShow is well known for his talk and dating shows featuring famous streamers. He started out playing RuneScape on Twitch in 2013 and used the name "RajjPatel." Later on, Austin moved away from gaming to create a dating show, first named The Rajjchelor and later renamed Love or Host. He also started a debate show, Rajj Royale, later renamed The Royale. He changed his Twitch name from RajjPatel in 2020 and now brands all of his content with his first name, Austin.
In addition to Love or Host and The Royale, Austin also streams a game show called Name Your Price on Twitch. He's had some controversy with his live shows, like popular streamers getting hit with temporary Twitch bans for statements made on his show. AustinShow is still a huge success, though, as the channel has 1.5 million followers and averages more than 40,000 viewers per stream.
Key takeaways
AustinShow taps into what viewers love about Twitch — the raw authenticity of live streaming. People tune in because it's like reality TV, and not the scripted kind on traditional television. Austin has said he wants to further develop the reality genre on Twitch, and his wild talk shows and game shows certainly make their mark.
🎨 Art and creative
14. KayPikeFashion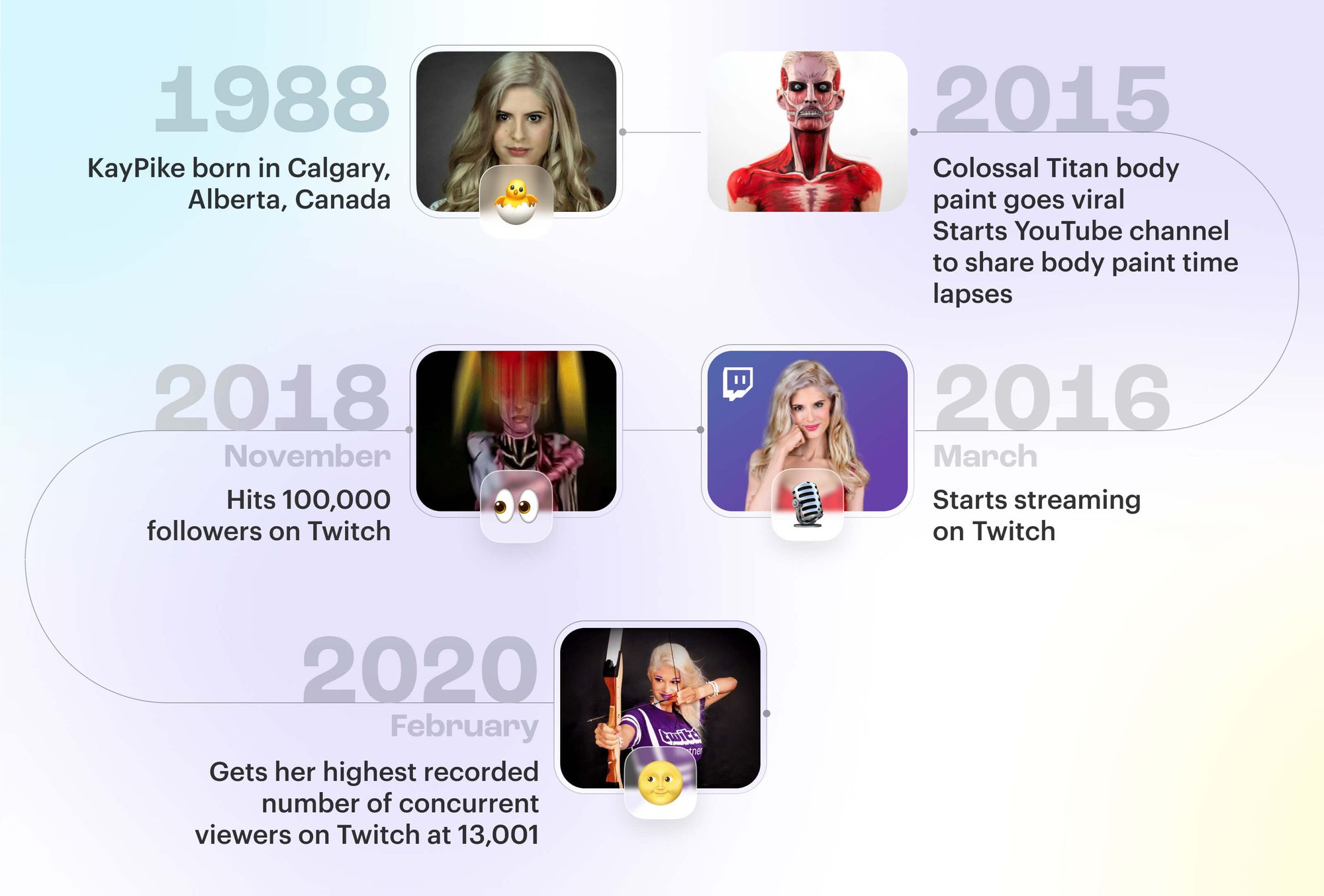 Kay Pike is an artist who uses her own body as her canvas. On her channel, KayPikeFashion, she live streams the process of covering herself in body paint to transform into characters from games, TV shows, and movies, in addition to characters of her own making. Her designs are extremely intricate, taking weeks to plan and between ten and fourteen hours to execute. Pike's live videos on Twitch usually run about three to four hours, letting her give viewers a preview of the work it takes to create her artwork. Pike has always loved art and got her start in cosplaying at conventions across Canada. A medical condition prevented her from being able to sit and sew costumes for hours, so when she was introduced to character body paint — which she dubbed "cospaint" — she found a new outlet for her love of character costumes.
Pike's Twitch career goes back to 2015, when her Colossal Titan body paint went viral and was featured across major news outlets in North America and Europe. Shortly after, Twitch approached her about starting a live streaming channel where she shows off her creations. With 160,000 followers, Pike's Twitch channel is her full-time job.
Key takeaways
One lesson you can learn from Pike's success is how to incorporate multiple social media channels into your branding. Although her Twitch channel is her main focus, Pike is also active on YouTube, Twitter, and Instagram. She repurposes her content for each channel, sharing three-minute highlight videos on YouTube, short clips on Twitter, and edited still images on Instagram.
15. DyaRikku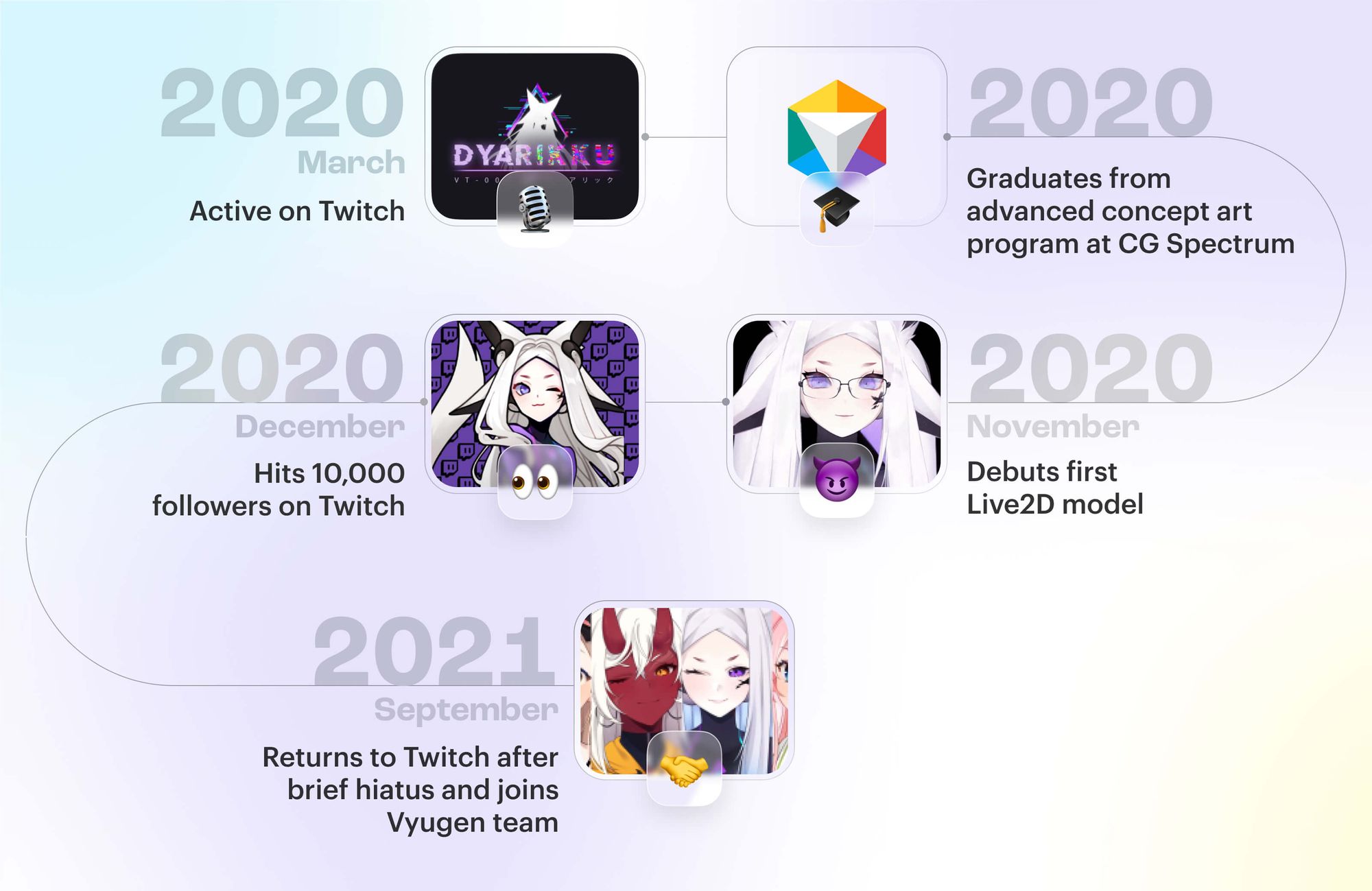 DyaRikku is a popular artist on Twitch and part of a growing trend for online creators: VTubers (virtual YouTubers). A VTuber and streamer creates videos using a virtual avatar to represent themselves with the help of motion capture technology. If you tune into one of DyaRikku's streams, you'll see the artwork she's working on and a glitched fox character in the corner that represents her. Using a virtual avatar on your stream without showing your face seems like it might distance you from your audience, but DyaRikku's fans seem to like it, as she has over 86,000 followers on Twitch.
The digital illustrator and Live2D animator started streaming on Twitch in 2020. Shortly after debuting her first Live2D model, she hit 10,000 followers. In September 2021, DyaRikku returned to Twitch after a brief hiatus and joined the Twitch team Vyugen. She supports herself with her Twitch and Discord channels and also works as a full-time, freelance artist who takes commissions.
Key takeaways
Many successful VTubers are artists, like DyaRikku. If you're an artist considering becoming a streamer, you don't have to create a virtual avatar, though. The lesson you can take from DyaRikku's success is that you should stream in a way that makes you feel comfortable. If you're not, streaming won't be as enjoyable for you, and your viewers will be able to tell.
Let's wrap up
There's not a single path to success when it comes to building a community around your live content. Although all the streamers on this list might come from different backgrounds or specialize in various niches, they all have one thing in common: engaging with viewers and creating content consistently. When you first start out, it can be hard to keep creating live videos each week or each day, especially when you have so few people watching.
If you want to get thousands of views per stream someday, you have to stick with it. Don't forget to make your live stream a fun and welcoming place for viewers. Engage with your fans both on-stream and on social media platforms to grow a loyal community around your brand.