Music has always been with us, shoulder to shoulder. We've enjoyed the brightest moments and made it through the darkest times together. Music can unite nations, bring peace, and inspire desperate and hopeless people. That's why music doesn't leave us in these modern times. With the development of live streaming technologies, musicians now have an opportunity to share their art with people all over the world. Isn't it somewhat magical?
In this article, we are talking about one specific focus: live music streaming. We will cover the more basic stuff for the beginners, as well as discuss some serious and challenging topics like how to monetize the live stream and what platform to choose. If you want to learn how to share your live music with the world or make your live stream more exciting and attractive to new audiences, we will gladly help you out. Stay tuned.
The #1 live
streaming solution
Get started for free
Setup for streaming live music
The very first question that pops in your mind is probably about streaming equipment. But, even if you are new to live streaming in general, the answer shouldn't perplex you. All you need is your PC, preferably a webcam, your music production equipment, and a streaming app (like OBS Studio, for instance). That's the bare minimum, assuming you have a stable internet connection.
Now, let's talk more about your options here. The better the PC you have, the smoother your live stream can be. Live streaming does require lots of resources from your machine. However, the operating system is pretty much irrelevant. It can be Mac, Windows, or even Linux. In some cases, though, a simple smartphone can do the job.
As for a webcam, you want to make sure the picture quality is good enough for you. Pro live streamers tend to invest in more expensive professional cameras. However, every musician understands that sound always comes first, doesn't it? Therefore, you may focus on having a good microphone to channel that beautiful voice of yours — or perhaps the majestic sound of your guitars.
The next step on the menu is the music production equipment. Well, you probably know what you need better than anybody else does. Some top stars live stream right from their luxury studios, whereas other musicians simply do it with an acoustic guitar and nothing else. It's totally up to you to decide where to stand on this scale.
Finally, you need to choose your live streaming software. The most popular ones are OBS Studio and Streamlabs OBS. The latter has more exciting features to offer, including donation alerts, custom overlays, integrated chat, etc. Both of these apps are absolutely free and require no specific knowledge to install and go live.
Summing up all of the above, the basic live streaming setup is:
Device to live stream from (PC or smartphone)
Webcam and mic
Music production equipment
Live streaming app
How to prepare for live streaming
Thorough preparation is the key to success. Although nobody can stop you from going live and improvising everything, your viewers might not appreciate all the upcoming fails. Here are some steps you may want to consider before hitting that "live" button.
Think over your set
Let's say you have a bunch of songs you want to perform. A good idea would be to think of them as the pieces of one big puzzle. You could even create something reminiscent of a story. A well-planned set also alleviates unnecessary stress.
Pay attention to your appearance
Looks are important. Not only does a good look attract more viewers, but it also emphasizes the level of your commitment and respect. Therefore, make sure you look the way you would like to present yourself to the world.
Warm up before going live
Another great idea is to warm up a little bit right before going live. Depending on the music you produce, you might want to do some vocal exercises or play your instruments for a few minutes. Stretch those chords and fingers!
Make sure everything is set
The final and most important preparation step is to double-check that everything is okay. Make sure the equipment works smoothly and you look and sound great, and test it offline. It is essential to know what your viewers will see and hear.
How to monetize live music streams
Live streaming wouldn't gain such popularity if you couldn't make money with it. There are many ways for musicians to monetize their live music streams. Let's cover some of the most popular and profitable ones.
1. Donations and fan subscriptions
With each passing year, online donations become a more and more reliable source of income for live streamers. Partly, it is due to the growth of the live streaming market. Regardless, people are willing to tip the artist online. However, that's not the only way a live streamer can make money. Paid fan subscriptions can also add to your income.
2. Ad revenue
Well-established live streamers become partners or affiliates with the major platforms like Twitch, Facebook, YouTube, etc. Platforms have different requirements you should meet before you are eligible for a partnership. After you become an affiliate, your live streams can roll ads, which your audience views. This is essentially how monetization works. The more views your live streams have, the more money you get.
3. Simplified partnerships
Because of the COVID-19 pandemic, musicians can now use some new revenue opportunities. For instance, Bandsintown allows you to qualify for a simplified Twitch affiliate program for absolutely free. There's some good news for SoundCloud artists as well. The music platform has teamed up with Twitch to help artists get the Affiliate status much easier and quicker.
4. YouTube Super Chat
Let's say a live streamer has 1,000 viewers watching them performing their music. With so many people on the channel, the chat can go absolutely nuts. It can be barely possible for the streamer to interact with the audience. That's where YouTube's Super Chat comes to the rescue. Viewers can pay to leave pinned comments so that the artist can read them more easily. The game is simple: the more you pay, the more characters you can use and the longer your comment stays on the screen.
How to choose a streaming platform
Finally, we've come to the most important part of the deal, which is choosing the right streaming platform. Nowadays, there are dozens of cool platforms, but only a few are particularly great for musicians. These are YouTube Live, Facebook Live, Instagram Live, Twitch, and Twitter. Without further ado, let's briefly describe each of them.
YouTube Live
We start with YouTube Live. Why? Well, because it's the biggest one. As many as 85% of teens in the US use YouTube regularly. Every single popular artist, one way or another, appears there. YouTube Live constantly grows and attracts more people. Musicians are no exception to this. Due to the COVID-19 pandemic, hundreds of artists, like Dua Lipa and Ben Gibbard, are giving live home concerts, streaming Q&A sessions, and simply video blogging here and there.
Facebook Live
Apparently, Facebook is actively trying to compete with YouTube for the number-one spot. And due to the recent troubling COVID-19 situation, Facebook is really doing a great job at keeping up with YouTube. James Corden's #HomeFest, Billboard Live At-Home concerts, Armin van Buuren's DJ sets, and many more events are hosted by Facebook Live. Now is simply the best time to join the party and be heard.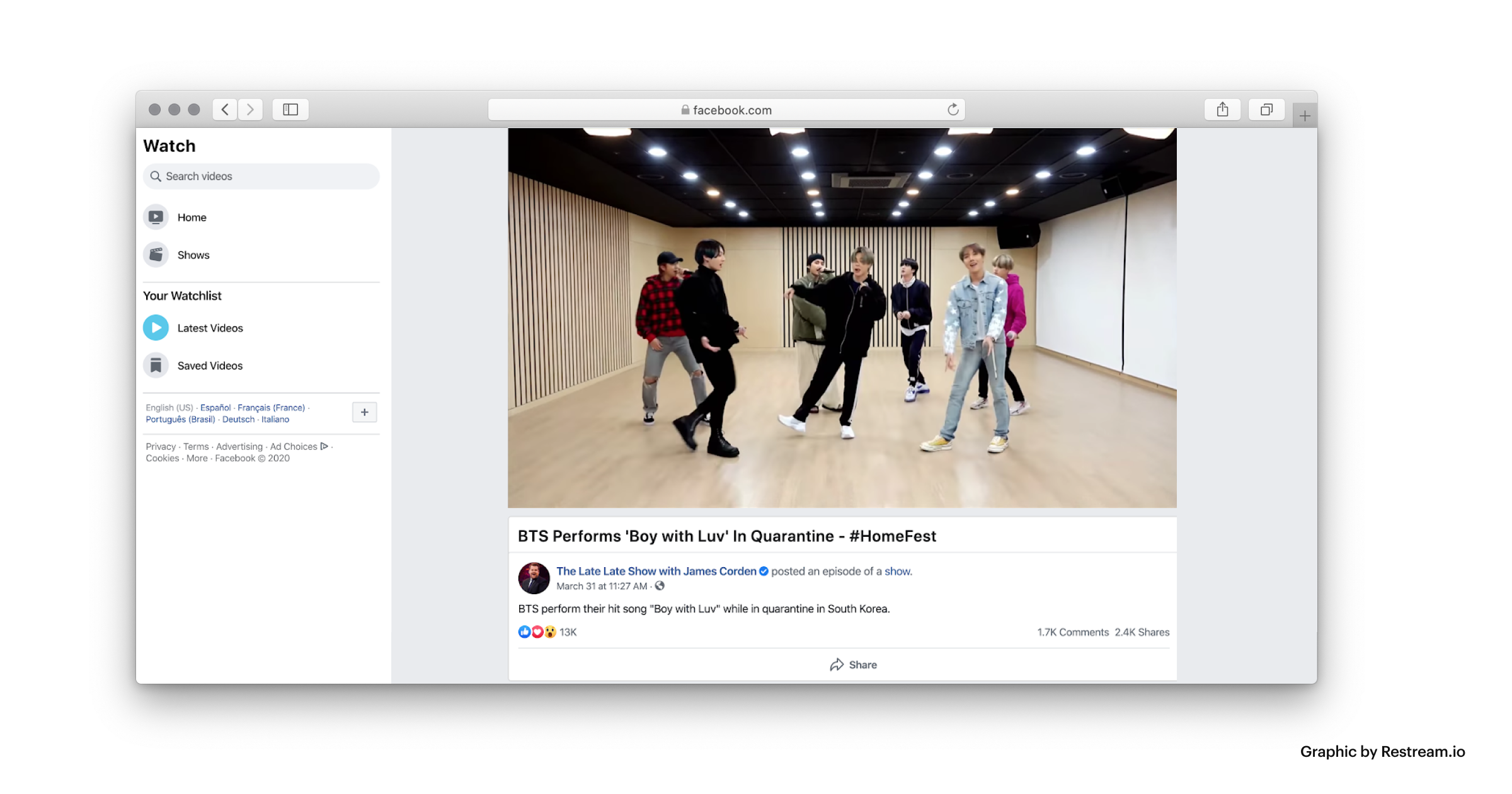 Instagram Live
To be honest, Instagram Live has already blown the market. So far, the platform is absolutely dominating with world-class performers like Coldplay, John Legend, and Pink giving at-home mini-concerts. What is the reason behind this? Well, probably because live streaming on Instagram Live is the simplest thing to do. You take your smartphone, tap a few buttons, and you're live!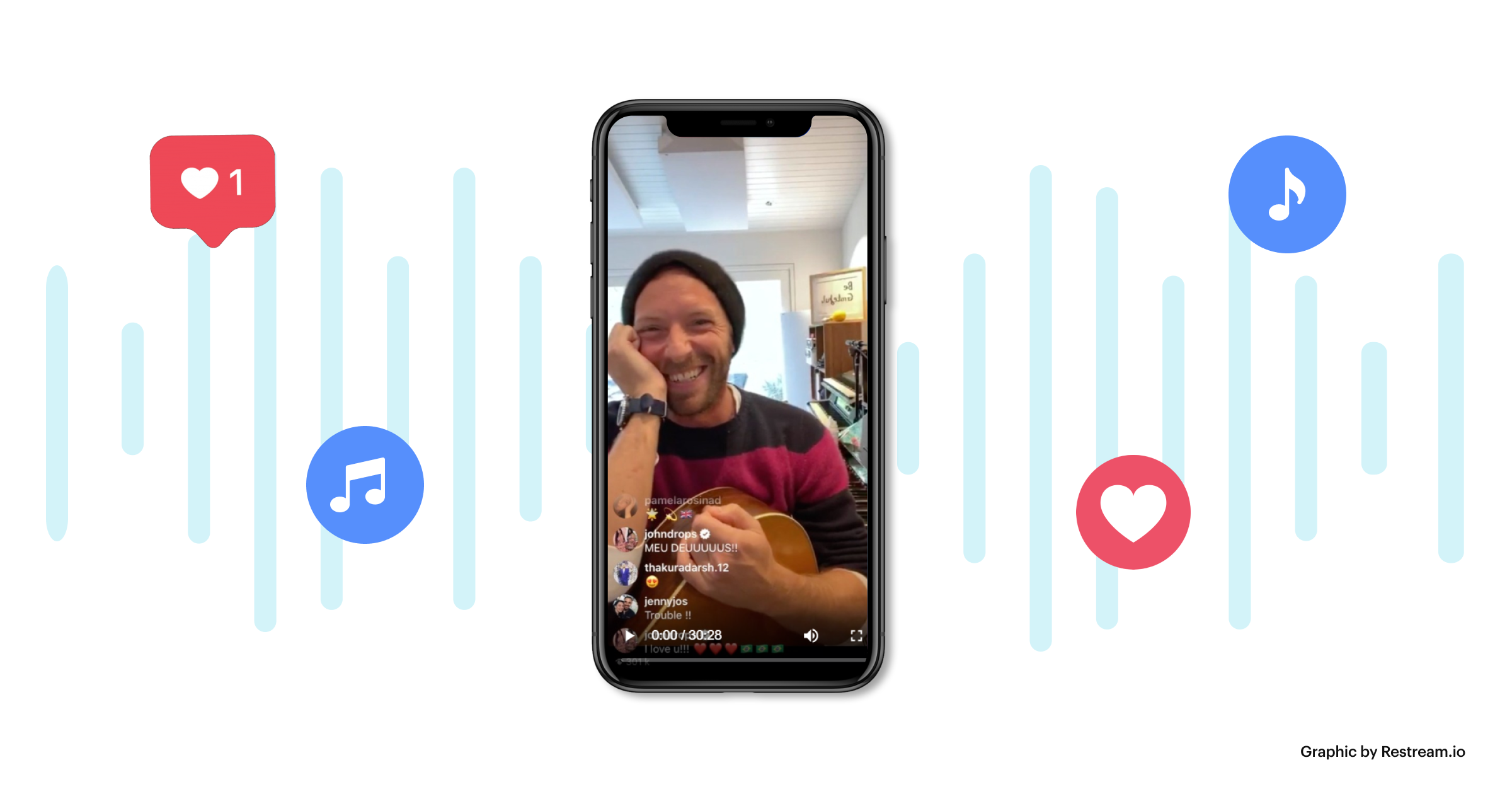 Mixcloud
This next brand new streaming platform is especially great for musicians concerned about the current copyright law state. Since Mixcloud has licensing agreements with the music titans like Universal Music Group, Warner Music Group, and Merlin Network, you can forget about the unfair claims, muted sound, and other copyright issues. On Mixcloud, you can easily live stream your DJ sets, podcasts, radio shows, and other audio-focused content.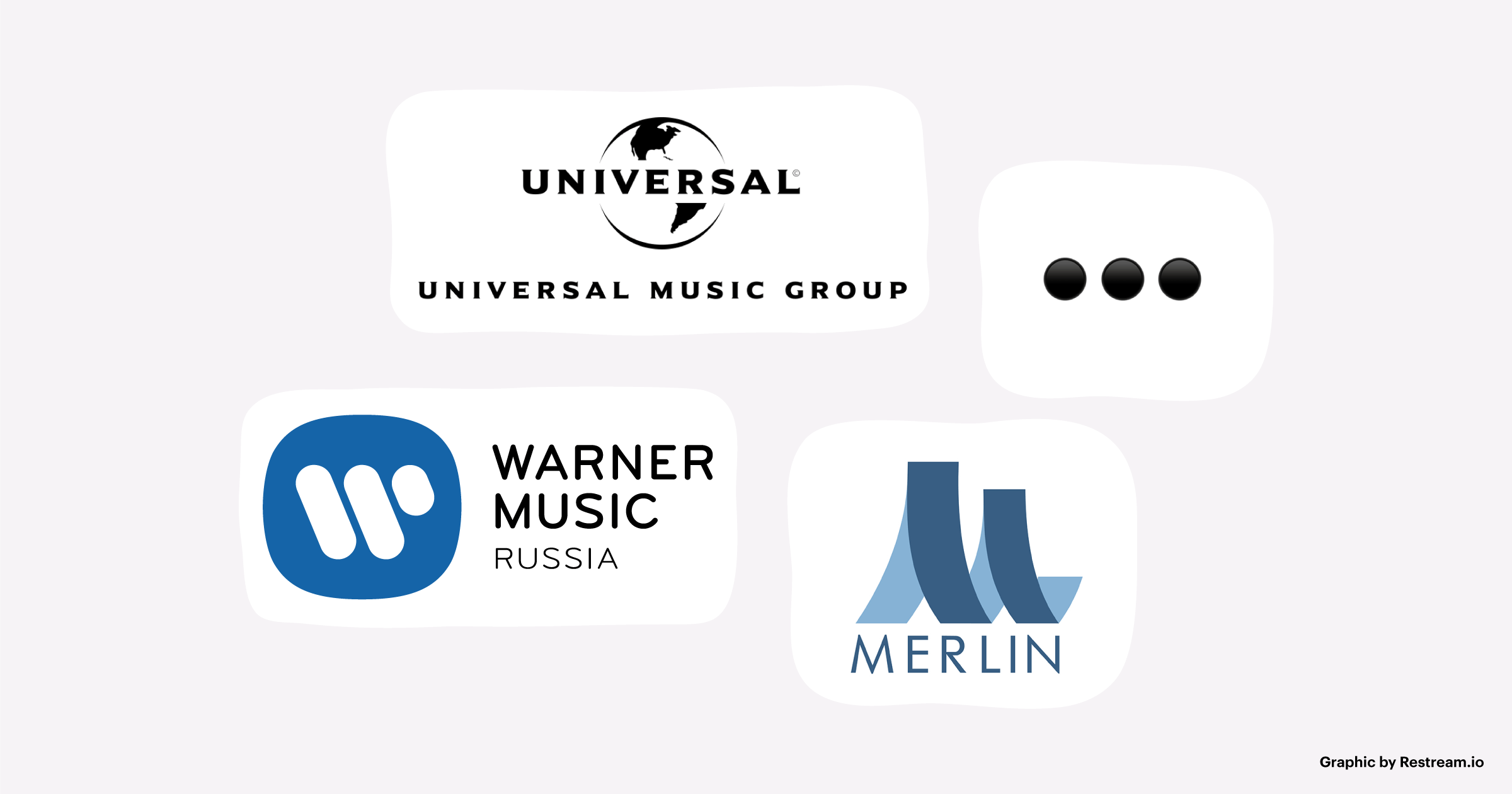 Twitch
Another great platform for live streaming your music is Twitch. Though originally designed for live streaming video games, today's Twitch is a wonderful place for broadcasting nearly anything, including music. Diplo, Morgan Page, Laidback Luke, and many more top-notch artists often live stream on this platform. Twitch is especially great for newcomers showcasing their talents, whether you are writing your own music or doing covers.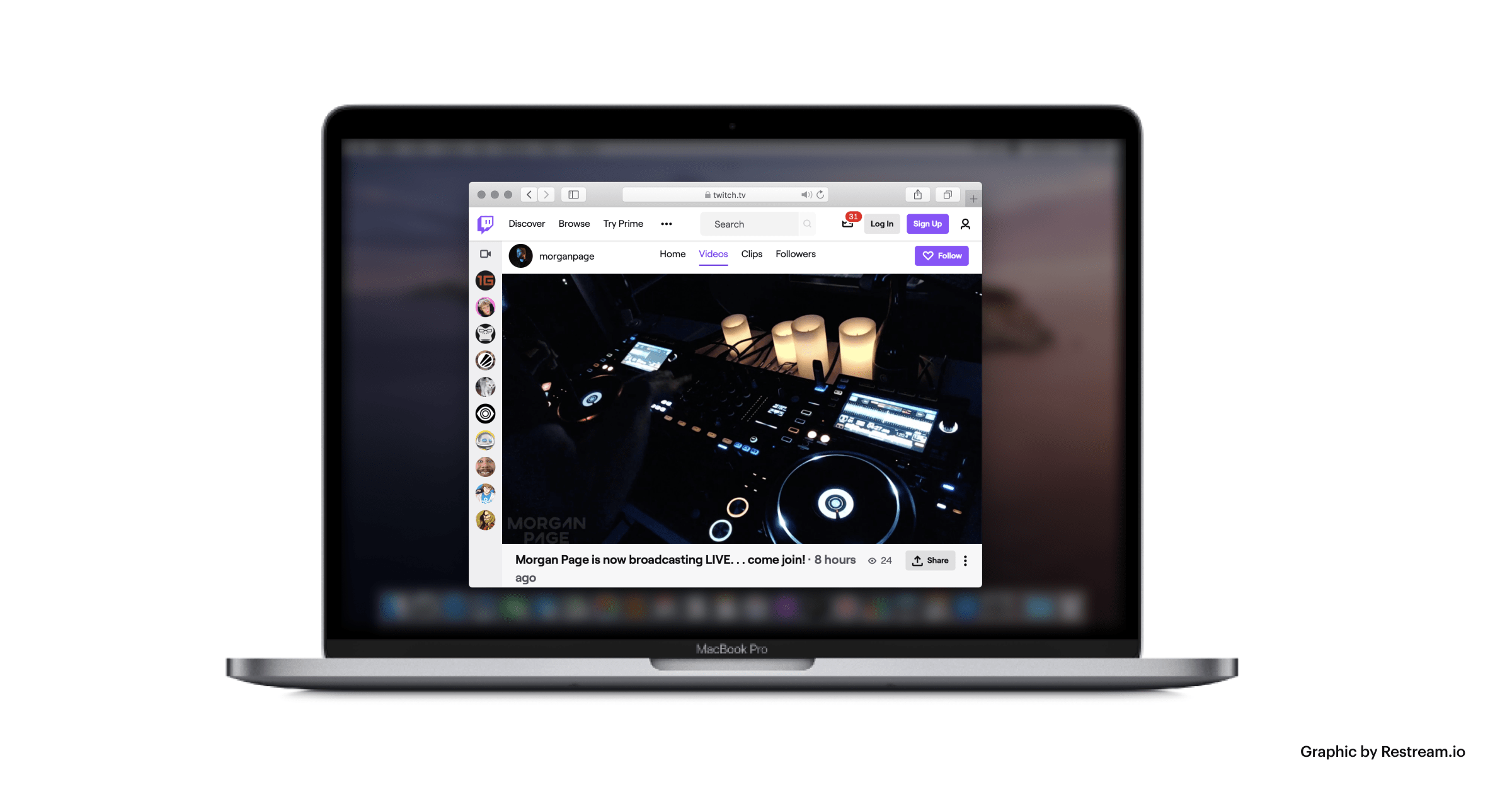 Twitter Live
Do you have hundreds of followers on Twitter? Then, it's a no brainer to live stream your music there! One of the biggest advantages of using Twitter as your streaming platform is the amount of people constantly trying to find some entertainment. It is a great place for starters as well as for experienced musicians. For instance, Mike Shinoda scoped his "Corona Jam" via Restream.
And now, to the most interesting part. You don't necessarily have to choose a platform to live stream on. How come? Restream Studio allows you to choose from more than thirty social channels to multistream, including the ones we've described above. Moreover, you don't need any third-party apps, as you just stream from your browser!
Wrapping everything up
Hopefully, you've read all of the above. But in case you're lazy and want some quick answers, here's the TL;DR. To start live streaming your music, you need the following streaming equipment: a PC or smartphone, a webcam and microphone, your music production equipment, and a live streaming app. The most popular ways to monetize your live streams include donations and subscriptions, revenue from ads, simplified partnerships, and tips in YouTube Super Chat.
And finally, there are five leading streaming platforms for musicians: YouTube Live, Facebook Live, Instagram Live, Twitch, and Twitter. Luckily, you don't even have to choose anything. By using Restream Studio, you can multistream on every single one of them and even more!
You now know everything you need to start sharing your music online with the whole world. Best of luck to you. Keep on dreaming!