Intro
Humans have been trading with each other for ages. The simple idea that you can produce something and give it to some other person in exchange for something they produce has led to currencies and the development of literally every country on the planet. Although the world has changed drastically in recent decades, trading still remains the most powerful force in the financial world.
The invention of the Internet has really opened up thousands of new opportunities for sellers and ways to engage buyers. Nowadays, arguably the most promising marketing strategy includes live streaming products over the web. Just last year, live streaming sales reached 14% of all sales. Let's meet the future and learn how anyone can make business, improve reputation, and increase sales on online platforms like Amazon Live, Facebook Live, YouTube Live, etc.
What can one sell live?
Because it's still new and developing, live streaming allows you to experiment with your choices and go for absolutely unique types of products to sell. Typically, people sell things like clothes and apparel, jewelry, cosmetics, all sorts of accessories, books, etc.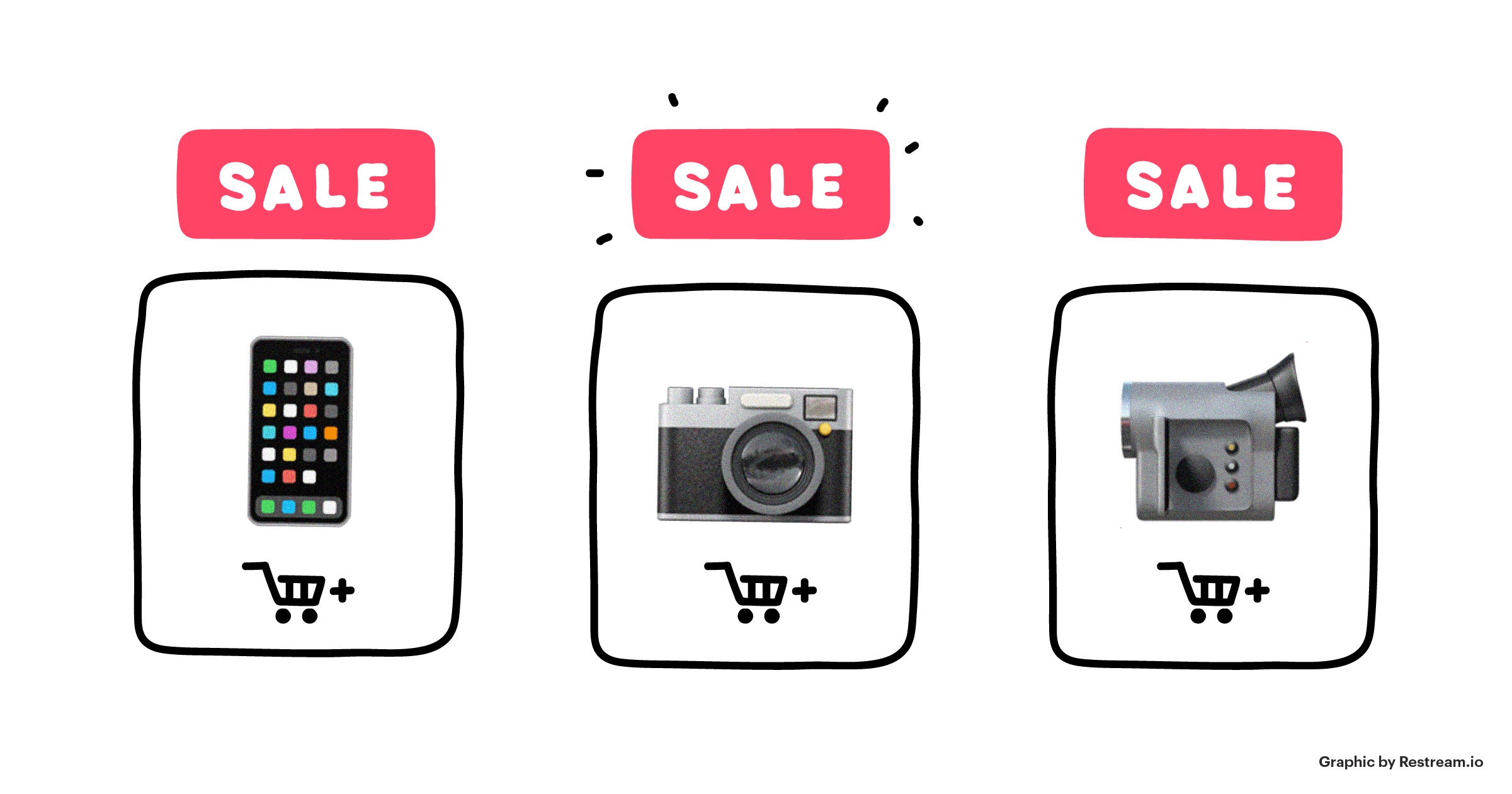 It is highly recommended to have your samples on hand. You cannot rely on just photo previews and mockups. One good practice is to assign numbers to your products to easily track the orders. This also makes it so much easier for your viewers to buy the items you are selling.
What are the benefits of selling on live streams?
Thanks to the live streaming nature, live sales have some incredibly attractive advantages compared to traditional selling tools. Let's look at some of the most impactful benefits of selling via live streams.
World-wide audience
Social platforms like Facebook, Amazon, YouTube, and Twitter allow you to gain access to millions of people each day basically for free! And what's even more important, you can reach audiences from all over the world, increasing the chances of people becoming interested in your product.
Direct connect with buyers
Live streaming helps you to connect with your viewers in a unique, straightforward, real-time fashion. You can engage sales via direct communication with the viewers and boost your reputation. This way, promoting your products becomes much easier. Your potential buyers can get all the information right away and make a simple and fast decision.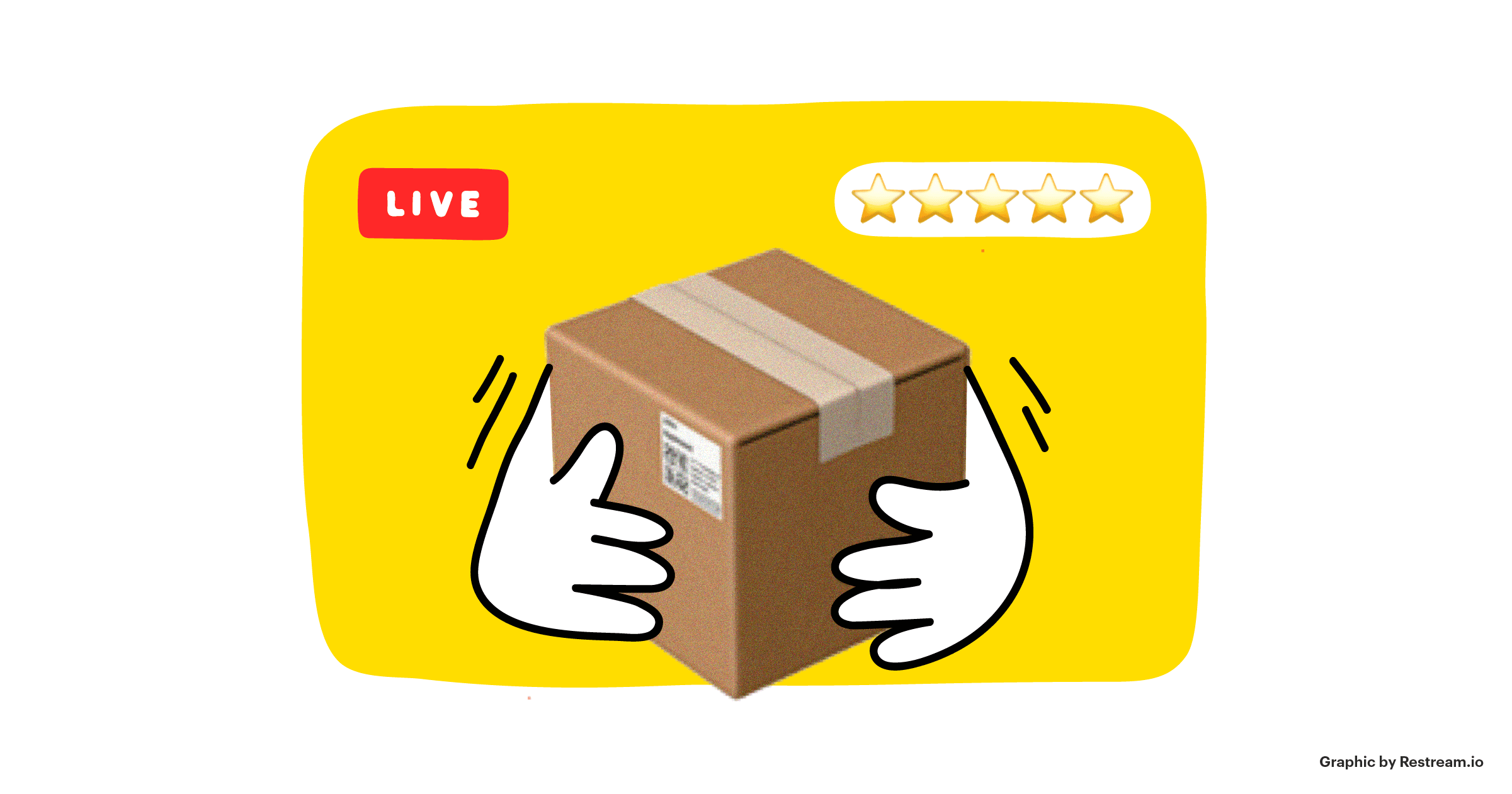 Cost-efficiency
One may think that video production requires huge expenses. However, in reality, live video production is by far the cheapest strategy. Of course, you can invest in your live videos by purchasing expensive tools and hiring sound engineers or video editors, thus increasing the production level. But you don't necessarily have to — you can determine your own budget.
Read later: How businesses can drive sales with live video streaming📍
3 successful live sale retailers
Starting your own selling campaign in live streaming can seem tricky or challenging. Let's look at three amazing stories of retailers that achieved success in selling their products via live streams. Hopefully, you can get inspired by them, gain confidence, and start believing in your own abilities.
1. Benefit Cosmetics
What started as small live videos for just around 5K viewers later transformed into an incredibly popular, insightful live beauty show. Benefit launched their weekly "Tipsy Tricks with Benefit!" back in 2016. Anyone could ask beauty-related questions and receive some advice from professionals. The show quickly gained interest all around the world and helped the company boost sales in no time.
We can learn a few things from Benefit's story. Firstly, the Q&A format can be very engaging and facilitate channel growth much faster. The second point is that consistency matters. The company has rigorously been producing new live content every week.
2. The Funky Fairy
The Funky Fairy is a small, family-run business that makes custom, personalized gifts for children. The owner, Vicky Stewart, decided to make a limited-inventory live sale on Facebook Live. She displayed personalized backpacks for kids, which anyone could purchase online. The first video had more than 7,000 views. She ran a few more similar live sales, and thanks to this, she managed to increase sales rapidly.
3. Purple
The mattress brand Purple has managed to create arguably the most boring live video ever, and with that — the wittiest marketing bomb. The idea of the live stream was to film a girl constantly yawning and brushing her hair. This would make the viewers sleepy and think of mattresses. You might think it is a ridiculous idea, but it worked! The video gathered thousands of views and generated tons of sales for the company.
Where to sell your products
Nowadays, there are many live streaming platforms where you can sell your products. The most popular, however, are Facebook Live, Amazon Live, YouTube Live, and Twitter. These platforms have the largest audiences, making it easier for you to find your buyer. Let's go through some specifics when choosing the live streaming platform.
👉 Facebook Live
Selling via Facebook Live is an incredibly easy and effective marketing solution for several reasons. Firstly, Facebook Live has arguably the most user-friendly interface for retailers. Live sales require you to have a specialized Commerce Account, which will grant you more protection and open new features in your Facebook account. And with the help of the Facebook Catalog feature, you can manage your shop in just a few clicks.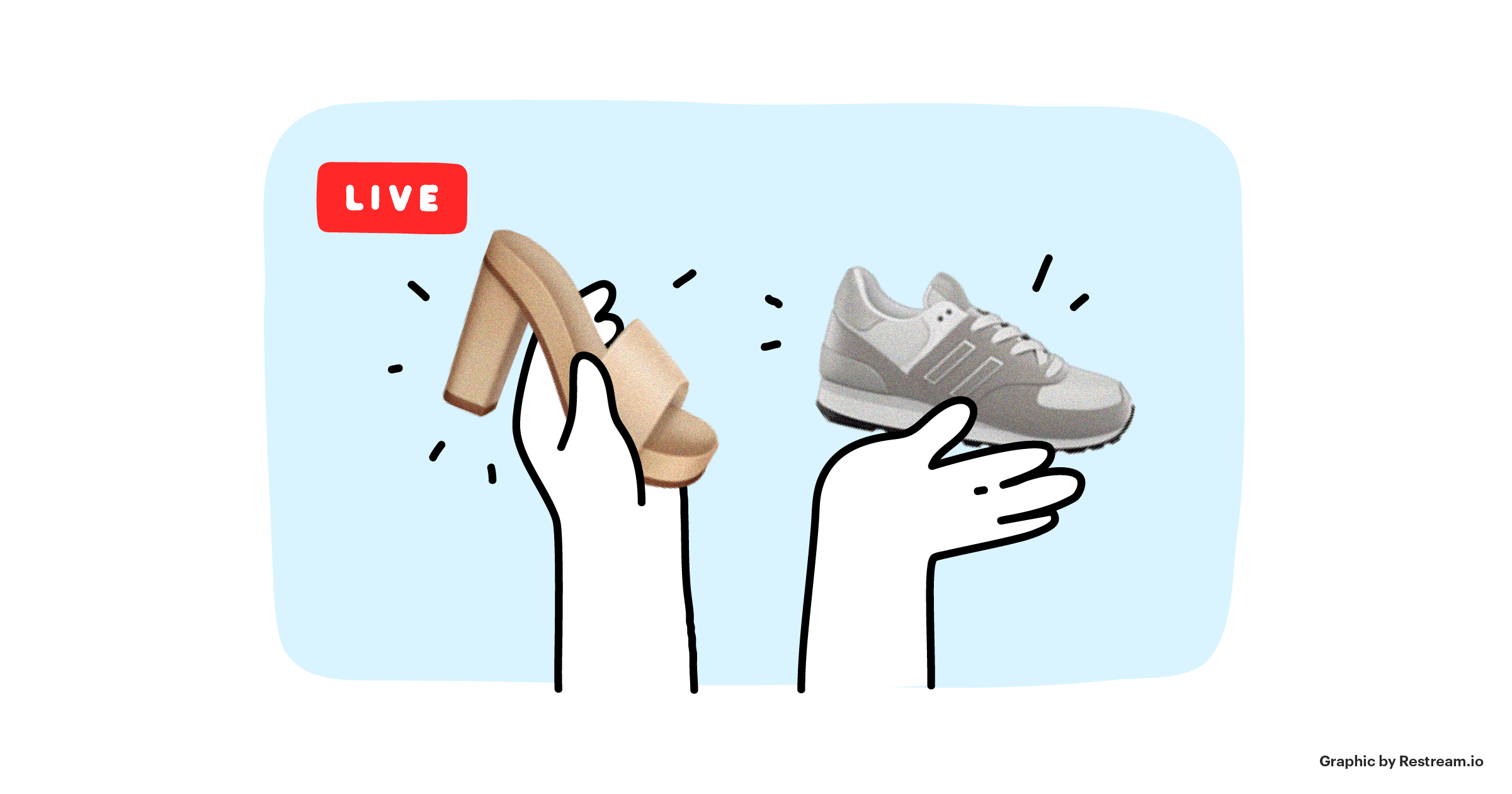 Facebook Live allows you to stream from your desktop or smartphone. This basically means you can make live sales from any place in the world. Speaking of the world, Facebook provides you with the biggest audience from all over the planet, ready to buy more stuff. Usually, people sell clothes on Facebook Live, at least far more often than jewelry and cosmetics.
👉 Amazon Live
You know it. We know it. Millions of people buy on Amazon. Half of the ecommerce market belongs solely to Amazon! But did you know it is also possible to sell your products via live streams? However, to be able to do so, you need to make sure you have already become an official Amazon Seller and are signed into Amazon's Brand Registry.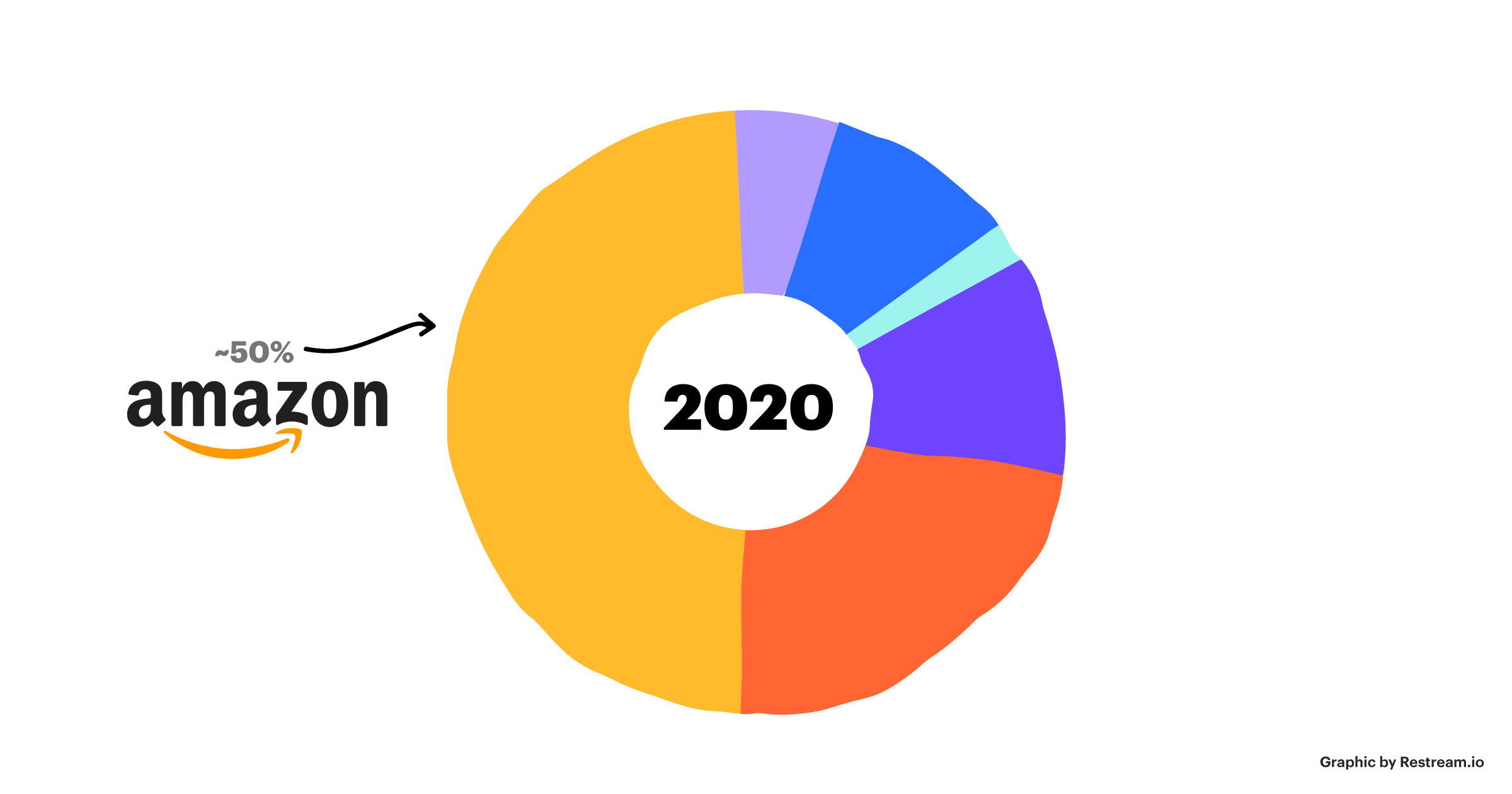 After you are all set with the prerequisites, you can start using the Amazon Live feature on your desktop or smartphone. Amazon Live allows you to add several items to the product carousel, which will be displayed on-stream for your viewers. You can apply for the Amazon Influencer Program and receive tons of cool perks, like your own Amazon page with a unique URL or the ability to earn money for advertising other goods.
👉 YouTube Live
Although YouTube Live isn't really designed to facilitate live sales, you can rather easily open your live shop, due to the fast growth of live streaming in general. YouTube gives access to more than 2 billion users. Needless to say, you have to be prepared to face a rough competition, since the platform hosts anyone: gamers, retailers, artists, and other content creators.
Building your army of shopaholics on YouTube can be a bit more challenging, as the platform hasn't optimized the interface for such goals. Also, it requires minimal knowledge of keywords and tags to at least have a chance to be found by viewers. Generally speaking, we would recommend using YouTube Live as an additional platform for your live sales.
👉 Twitter
Lastly, we wanted to mention Twitter's live streaming platform. Twitter is a home for millions of live streams of all kinds of types and themes. However, we are talking about this platform in the last place for a good reason. You see, it's relatively tough to build and grow your shopping community. More often than not, you would need additional tools, like a Facebook group or some Instagram posts to attract buyers.
One of the fastest ways to start selling things on this platform is to build your audience elsewhere and then start live streaming for them on Twitter. You can make live Q&As or just prepare some useful tips for your viewers. Overall, the goal is to advertise your product just like you would in real life. Remember, you can have real-time communication thanks to live streaming!
Multistream with Restream
There is always a better option! Instead of choosing one platform to concentrate your energy on, you can maximize your audience reach by live streaming to all of them at the same time! Thanks to the multistreaming feature, you can simply start your live stream as usual, and Restream will send it over to your chosen platforms, including Facebook Live, YouTube Live, Amazon Live, and Twitter. Imagine how many more people would be able to find your stream!
Restream is a go-to live streaming solution with lots of useful tools and features in its arsenal to make your live streams professional and engaging. One tool that is particularly great when it comes to live sales is Restream Events. It allows you to schedule your pre-recorded live videos and automatically broadcast them on your streaming platforms at the scheduled date. This way, you can ensure people living in different time zones are able to watch your live sessions.
Multiply your views and engagement
Reach a wider audience by streaming to multiple platforms simultaneously.
Get Started
Tips to become successful at live sales
In case you have just begun selling clothes on Facebook or anywhere else, don't worry if things do not go your way. We've gathered some of the most effective practices for you to become a god of live sales! Here's how you can greatly improve your views and sales:
1. Provide high-quality live content 🔥
Most viewers do not tolerate low-quality live streams, and most certainly aren't going to buy a damn thing. You need to make sure both your video and audio are good. There are certain factors that impact your live stream quality. First off, you need to have a stable and fast internet connection. Also, a decent webcam and lighting are mandatory. A solid microphone is also a must-have. Luckily, that's about all you need to set up a high-quality live stream.
2. Use storytelling 📣
Viewers like to establish personal connections with live streamers. Use this to your advantage! Tell them your story and show your uniqueness. It is important that your viewers attach to your brand via emotions. And live streaming is the best tool to do that.
3. Focus on your products 👀
One frequent mistake sellers make is that they focus way too much on the brand and do not show how actually good or useful their products are. Make sure to have samples to be able to show your viewers how to use your products. If you are selling clothes, show your audience how to wear them. If you are selling cosmetics, show different makeup styles on air!
4. Communicate with your audience 🗣
Don't forget that real-time communication is the very first reason live streaming has become so popular! Try to engage your viewers, answer their questions, and make them feel as if you are there exclusively for them. Invite other guests to your stream and host useful and entertaining discussions with your audience. You can easily do it in Restream Studio!
5. Use clickable links 🔗
Another huge drawback for buyers is a tough purchase process. Make sure you provide your potential buyers with clickable links. Put yourself in their shoes — you wouldn't want to waste hours trying to find the way to buy something.
6. Share your streams on social media ☝️
Do you have an Instagram account? Then why haven't you shared your live streams there yet? The thing is, you simply cannot make it through an incredibly tough competition without some social media marketing. Share your live streams on Facebook, YouTube, Twitter, Instagram… In other words, your goal is to make sure your content is exposed as much as possible!
Let's wrap up
Anyone can start selling things online with the help of live streaming. Considering the growth of the live streaming market, people all over the globe have already started using this strategy. One can sell basically anything on live streams: from apparel and cosmetics to jewelry and books.
You can start selling on one of the most popular platforms, like Facebook Live, Amazon Live, YouTube Live, and Twitter, or simply multistream on all of them at once with Restream. This way, you can ensure your live streams will be viewed by as many potential buyers as possible!
To become successful at live sales, we recommend you follow some simple and effective tips. Firstly, make sure your stream is properly set up and the quality is great. Then, try to be active and communicate with your audience. Show them how your products work and tell your personal story to establish a strong connection. Don't forget to use clickable links to make the purchase process easier and share your live stream on all social media afterward. Good luck in the field of live sales!
Don't hesitate to use our 24/7 Live Chat if you have any questions.