Intro
Live streaming has already become one of the most popular forms of entertainment. What started as a promising service for video gamers quickly turned into an undertaking that can be interesting and useful for nearly anyone. This is especially true due to the coronavirus pandemic that has impacted the world drastically. Today, people live stream practically everything, including activities like cooking, singing, drawing, body painting, crafting, etc.
In this article, we are focusing on the art world. Here, you can learn how to start live streaming, which streaming platform you should choose, and how to make your stream successful and grow your audience. So, without further ado, let's skip the cutscene and jump straight into the action.
How to start live streaming your art
Depending on your platform choice, your streaming setup might differ a bit. However, in general, you will need a device to stream from, a webcam and microphone, a fast and stable internet connection, and a streaming platform to broadcast your content on. To sum up, the typical streaming equipment includes:
Personal computer or a mobile phone that supports live streaming
Tripod (for mobile phone users)
Stable internet connection with an upload speed of at least 5 Mbps
Streaming platform (YouTube Live, Twitch, IGTV, etc.)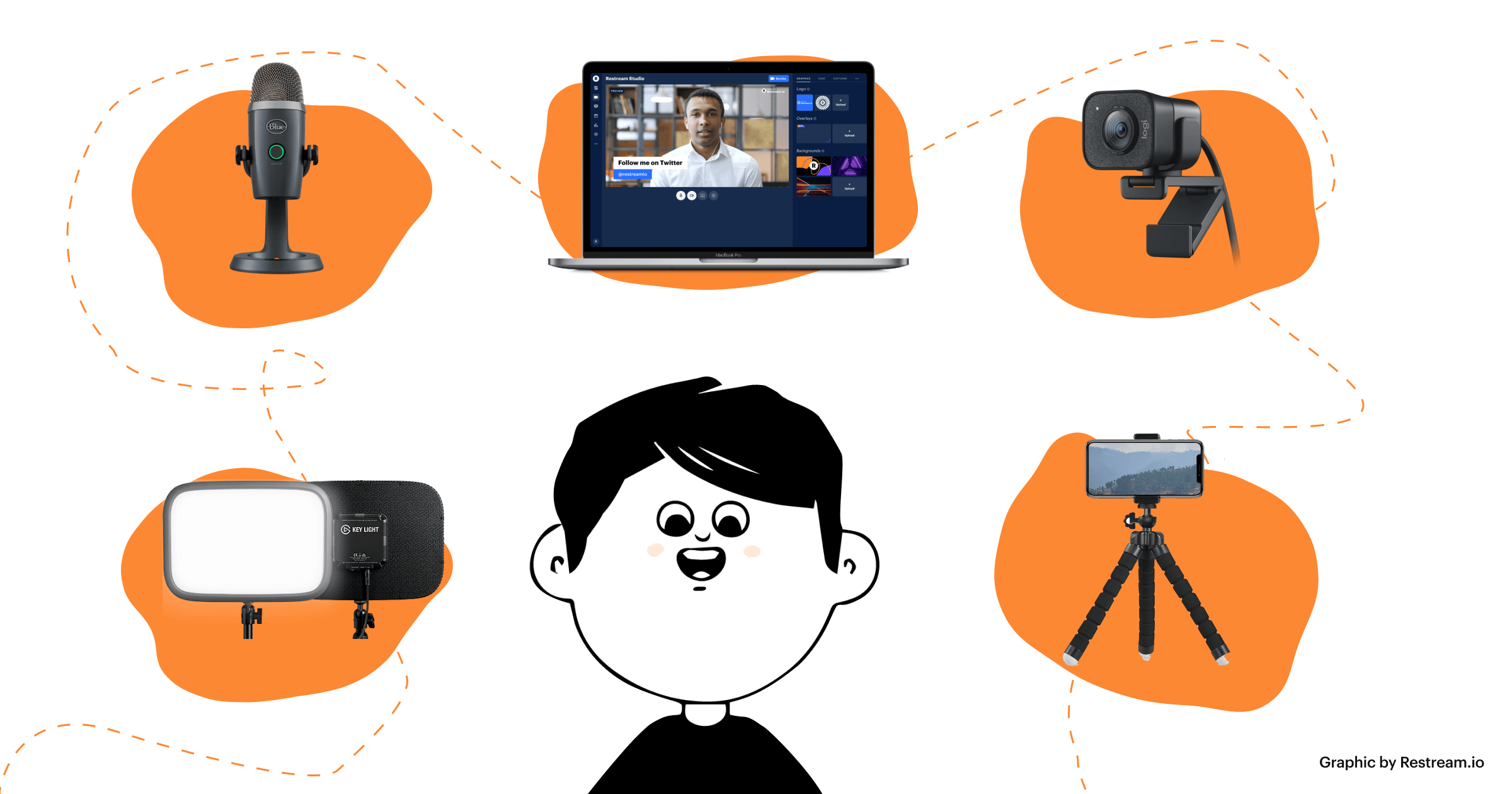 Of course, you might also consider improving your stream's quality by investing in some additional equipment. For instance, you could buy a ring light or light panel to make sure your lighting is perfect. And if you want to make your stream more entertaining and show your commitment, you can use a green screen.
Besides having a proper streaming setup, you need to understand your streaming goals. We recommend you come up with a clear vision of your channel, as well as your strategy. Before choosing the streaming platform, make sure you know what you'll be doing on streams.
Read Next: 8 helpful tips on how to be more confident on camera 📍
What streaming platform to choose
Nowadays, there are already more than enough streaming platforms to choose from: YouTube Live, Facebook Live, Twitch, Amazon Live, etc. But what makes these platforms especially great for artists? Well, first and foremost, it is the community aspect. People constantly interact with each other in chat, sometimes creating pure chaos. That's why live streaming wins almost all the time. Live human interaction is the key to entertainment.
Below, we discuss the most fitting live streaming platforms with the biggest art communities to broadcast your talents all over the wall.
YouTube Live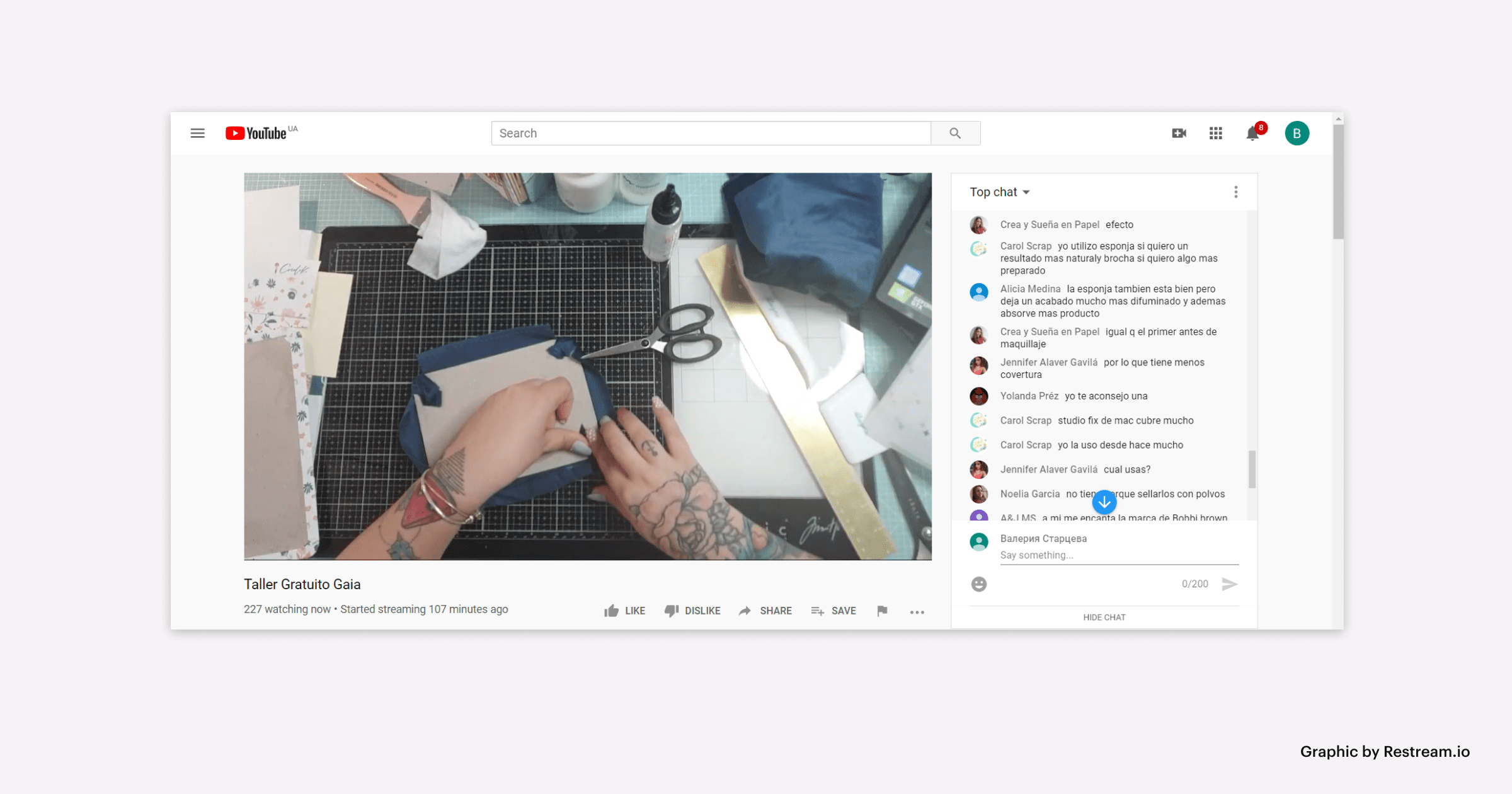 Who doesn't love YouTube? Most videos get uploaded on this platform one way or another. However, YouTube's live streaming part is yet to conquer the world. Unfortunately, there's no category for art and creativity. However, there are two main advantages of using YouTube Live.

Firstly, it's super easy to get started. You don't need any third-party apps and can live stream simply via your phone. Moreover, you can improve your stream with the help of additional tools and tricks. Secondly, if you already have videos posted on YouTube, it is very convenient to grow your audience there rather than just from scratch.
IGTV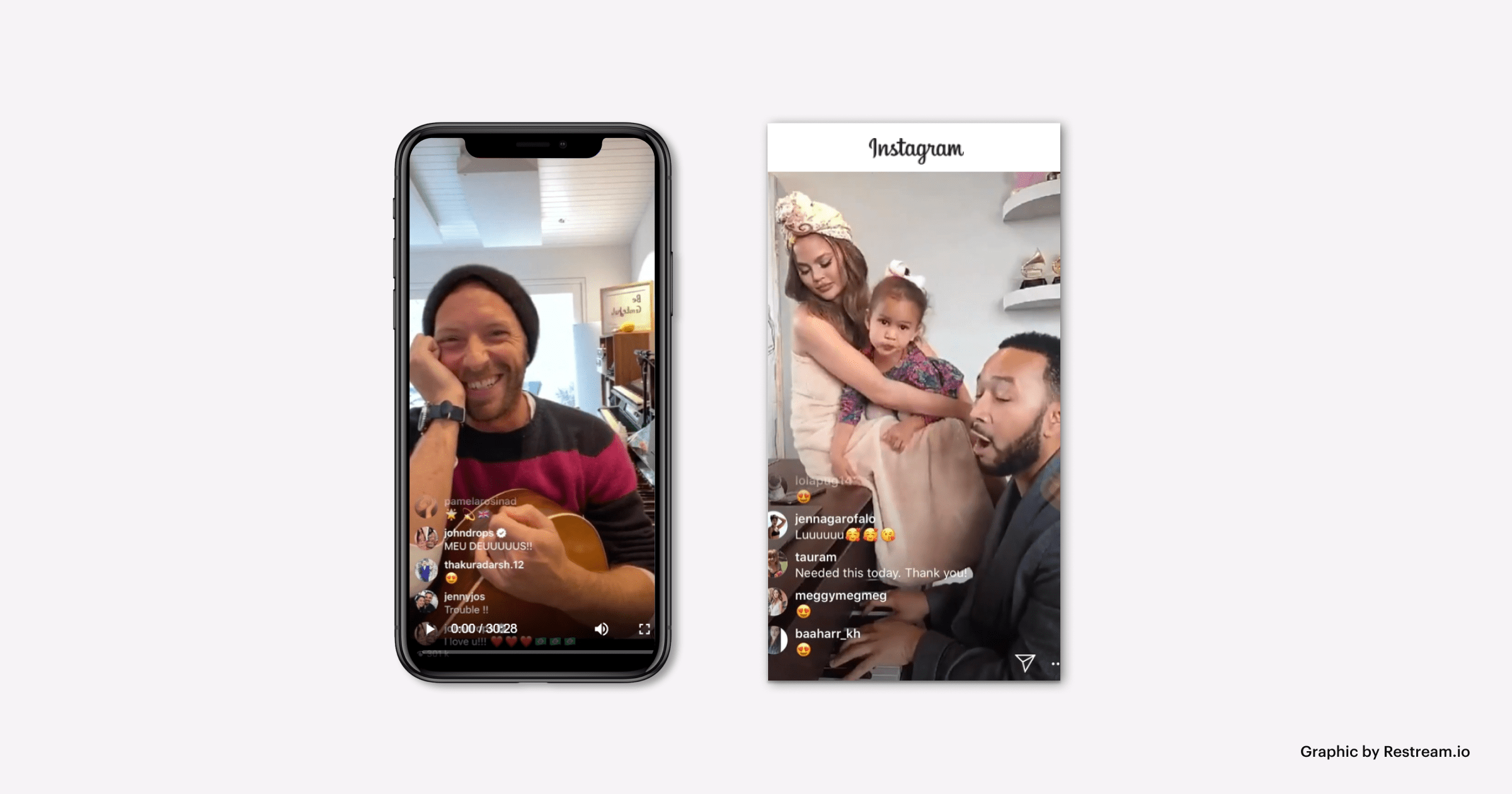 Another social media that deserves your attention is Instagram. YouTube's little brother has added the live streaming option as well. Many famous artists, like Coldplay and John Legend, have tried out this feature. Unfortunately, IGTV only supports mobile phones, meaning you cannot make your live streams look polished and professional. Also, your live streams do not save automatically – you would need to reupload them or save as a replay.
Of course, IGTV has some pros any artist could benefit from. Firstly, using IGTV is amazing for on-the-go or spontaneous live streams. Simply tap your mobile phone's screen a few times, and you are live! The second reason IGTV is worthy of your attention is the community that is constantly surfing for funny and creative videos, as well as new art in general. Don't forget to add some hashtags, and the audience will find you.
Twitch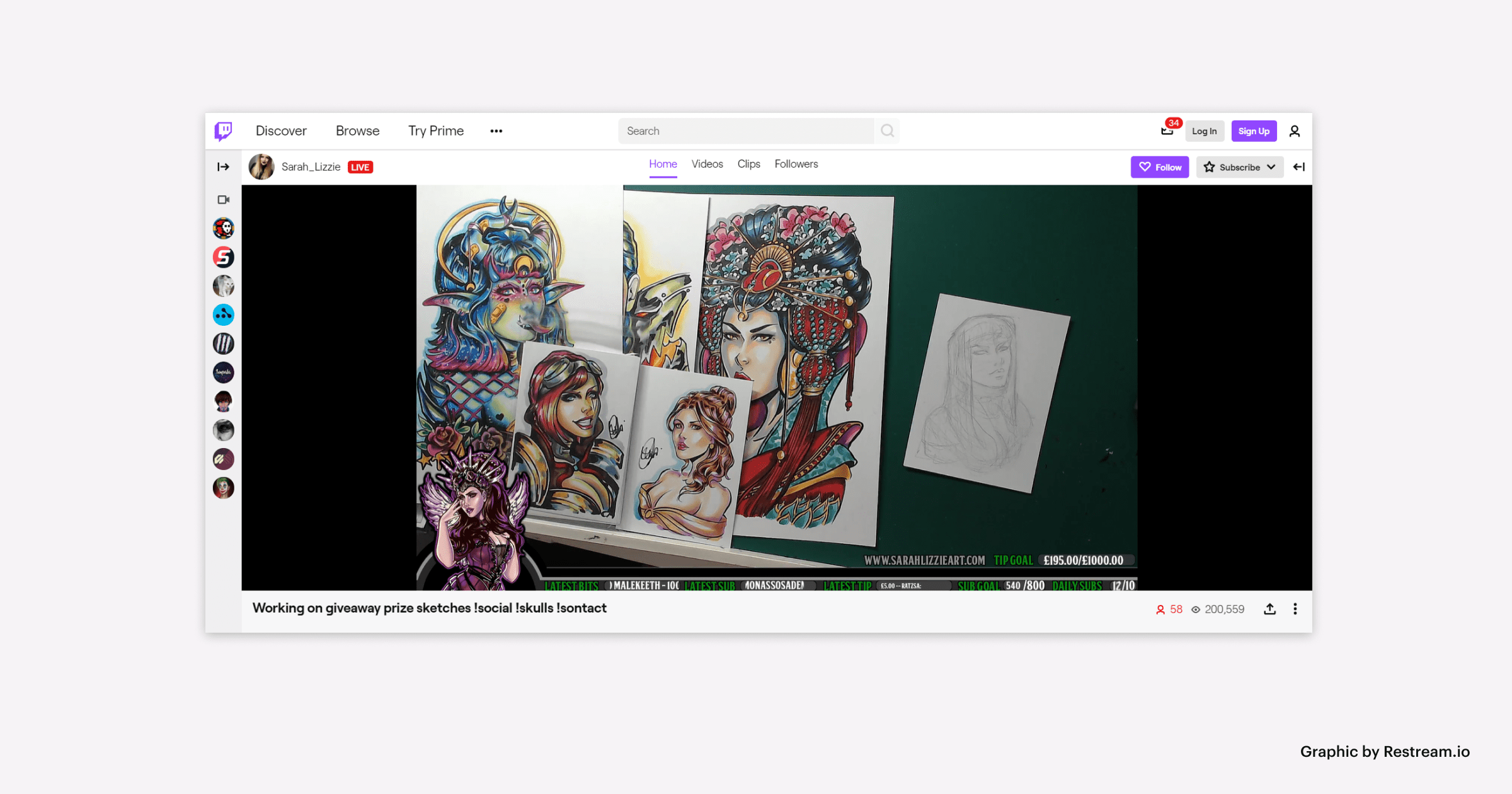 Yes, Twitch is more than just a platform for live streaming video games. Today, Twitch is the home for not only gamers but also for creative people. Unfortunately, the Art category is still growing, and Twitch doesn't support it as much as video gaming, which makes it probably the only minus. But hey, you can easily turn it into an advantage. The growing category aspect means more space for new creators, so you could quickly make it to the top of the list.
Twitch has amazing live interaction opportunities. Your viewers can write questions in your chat, expressing their thoughts regarding your art, or simply communicate with each other. Moreover, it is really clear how to monetize your live stream on Twitch. People can donate money, pay for subscriptions, or tip with Twitch's own currency, called Bits. If you are going to work, you might as well stream on Twitch for fun. Why not?
Twitter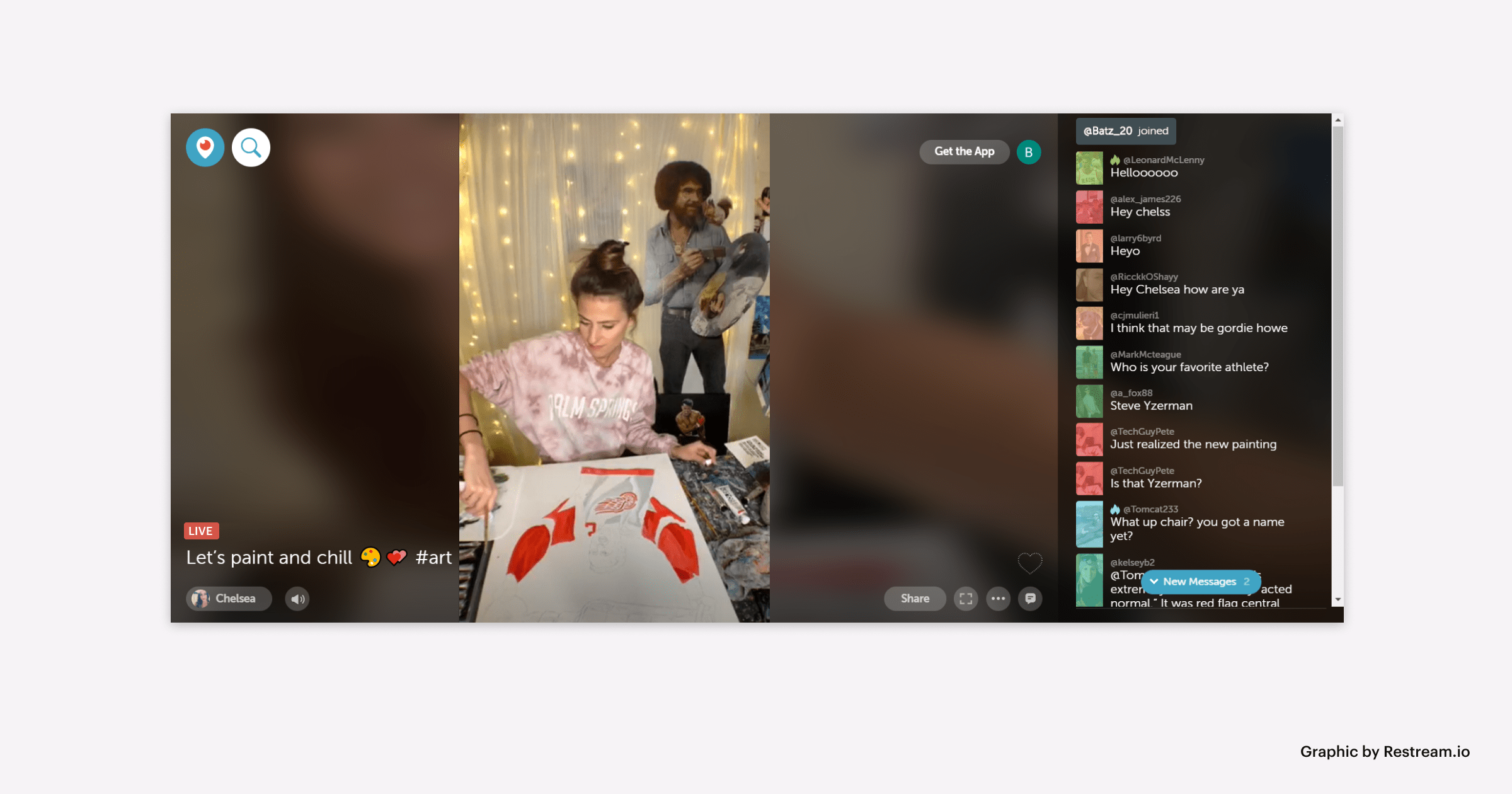 Another amazing option for any artist would be Twitter. This amazing platform allows you to stream literally from anywhere. Unfortunately, there are some serious disadvantages when using Twitter. The first one is that you might find it really difficult to search for good art channels. And the second one, as a consequence, is that growing your audience without advertising is close to impossible.
Picarto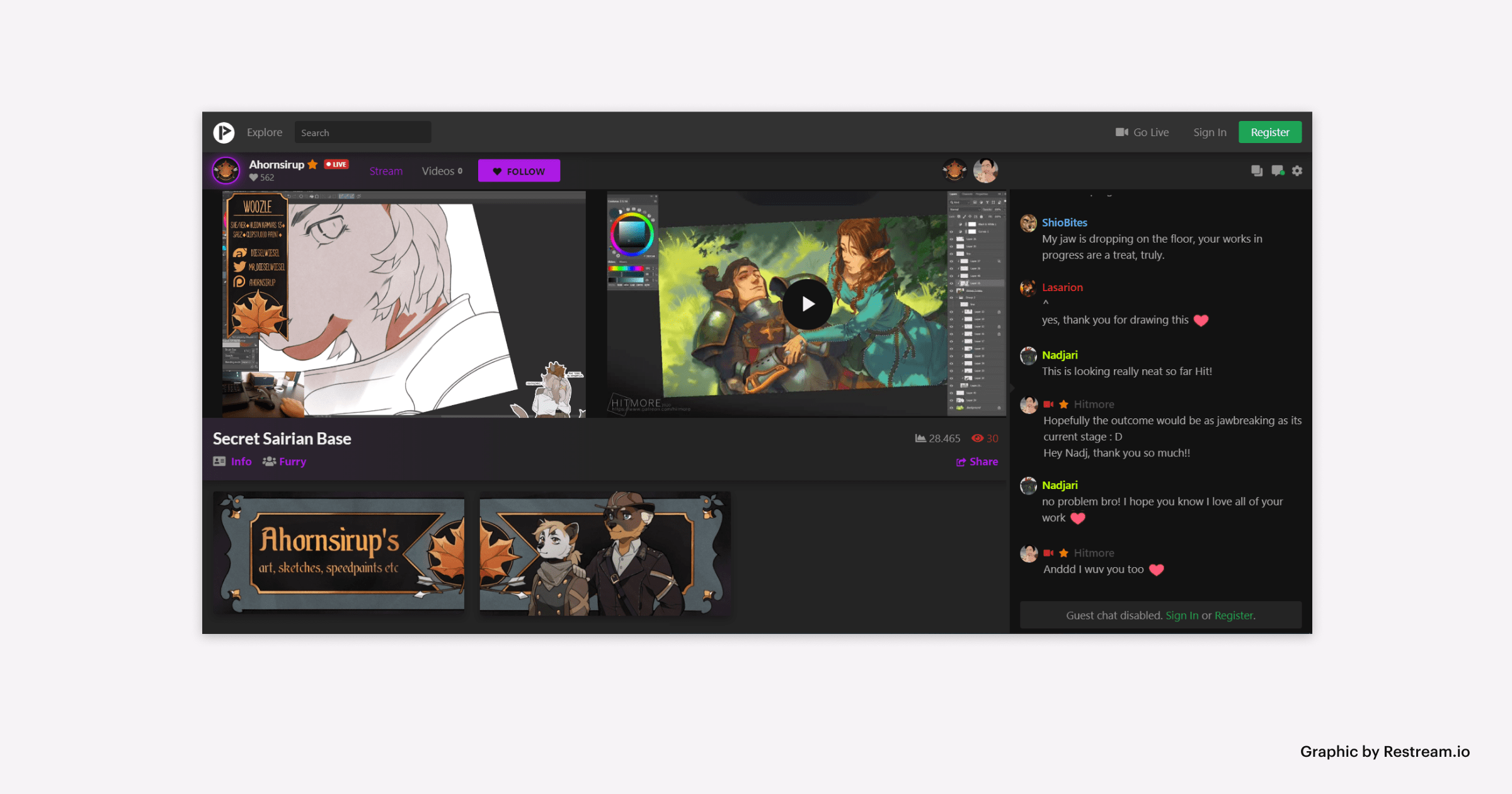 Lastly, we would like to mention Picarto. This small but promising streaming platform is fully optimized for broadcasting your art. Picarto is a cozy house created specifically for artists. Unfortunately, the audience on the platform is not very large. However, Picarto just might be the best choice to get a new experience.
Two other honorable mentions include streaming platforms like Facebook Live and Amazon Live. Use Facebook Live if your main audience is there. And Amazon Live is good for selling your art. In general, these platforms are not really optimized for art live streaming.
Restream
Let's say you can't choose a platform to live stream on. Or perhaps you want to live stream on every one of them. In this case, you are more than welcome to try out Restream Studio. This simple yet powerful service allows you to broadcast your live videos on 30+ streaming platforms. Multistreaming can help you maximize your reach and stream your art to as many people as possible.
Easy live streaming for everyone
Run professional live streams from your browser.
Get Started
How to make your art stream successful
Now, let's move onto the most important stuff. You may be an incredibly talented or even highly professional artist and still have close to no viewers. Today, the ones who invest in advertising and promotion the most achieve the best results. But first things first, here's a short tip list on how to make your art stream popular.
✅ Come up with a plan
A well-thought plan can provide a sense of confidence and stability. Everything starts with a plan, and live streaming is no exception. Think of the points like the purpose and format of your live channel, how long your art streams should last, what you want your audience to do while watching your streams.
✅ Schedule your live streams
It is also recommended to come up with a stream schedule and stick to it. Remember, consistency matters as much as frequency. However, we understand that sometimes you simply cannot stream at the scheduled time. That's why we've got a special service for you to try out. Restream Events allows you to live stream your pre-recorded videos on 30+ streaming platforms! This super simple tool allows you to stay connected even when you are offline and notify your audience about your upcoming live streams.
✅ Promote your stream
You can't develop your channel and grow your audience without promotion. Moreover, a successful strategy requires you to be creative. Draw something cool, take a photo of your crafts, or make a short video teaser and post it on every social media. Tell the world about your stream, but don't expect fame and glory right away. Be grateful for every viewer, subscriber, or follower. Keep on promoting your live stream and keep the creative fire inside burning.
✅ Encourage communication
Live streaming has gained its popularity thanks to the live interaction between content creators and their viewers. That's why your personality matters a lot here. Art streaming is something where you can express not only your skills but also yourself in general. Engage with your viewers and organize Q&A sessions. Help your future fans fall in love with you.
🙌 Wrapping things up
Live streaming presents with lots of bright opportunities for any artist to express their talent. Multiple famous platforms, like YouTube Live and Twitch, with thousands of people hungry for new amazing content creators, are waiting. You don't even have to choose one specific platform to stream on. Restream Studio allows you to share your art on every streaming service.
👉 Learn more: Restream Studio: Everything you need to know
To begin your journey as an art streamer, you should make sure you have your streaming equipment and plan ready. Don't forget, both physical and mental preparations are incredibly important for your success. For more information, you can visit our Help Center. We wish you good luck and fast growth!