In the last several years, the popularity of live streaming has skyrocketed, and the industry is now expected to be worth $223.8 billion by 2028. For most of that time, live streaming belonged primarily to gamers and business streamers. But the COVID-19 pandemic in 2020 drove a record number of people to live streaming, and other genres quickly became more popular.
One of these newly popular niches is art streaming. Although artists, designers, crafters, and other creatives have been live streaming for a while, this genre didn't carve out a significant chunk of live streaming hours until the pandemic. Now, you can find content creators posting live videos of almost anything artsy, from drawing and painting to crafting and 3D modeling.
In this article, we are focusing on artists and creators who want to start streaming. We'll cover:
How to start streaming your art
Which platforms are best for art streamers
How to make your art streams successful
The #1 live
streaming solution
Get started for free
How to start live streaming your art
Depending on your platform choice, your streaming setup might differ. However, in general, a typical streaming setup includes:
Personal computer or mobile phone that supports live streaming
Webcam
Microphone
Tripod (for mobile phone users)
Stable internet connection with an upload speed of at least 5 Mbps
Streaming platform (YouTube Live, Twitch, Instagram, etc.)
You might also consider improving your stream's quality by investing in some additional equipment. For instance, you could buy a ring light or light panel to raise the visual quality of your stream. And if you want to make your stream more entertaining or dynamic, you can use a green screen.
If you're an artist who's new to live streaming and wants more tips on how to broadcast, then the Restream blog is the place for you! Check out some of our helpful guides about all things live streaming:
Setting goals and building a content strategy
In addition to having a proper streaming setup, you need to understand your streaming goals. These goals could include getting a certain number of followers, streaming on a regular schedule, building a community around your art, earning income from streaming, or simply boosting exposure to your work.
Come up with a clear vision of your channel and map out your strategy. Ask yourself:
What will I be doing on my streams?
What do I want people to know about me and my artwork?
What kinds of viewers am I hoping to attract? How old are they, where do they live, what are they interested in, etc.?
If I was a viewer watching my own channel, what would I find helpful?
Answering these strategy questions will help you decide what your channel is about, whether it's you creating your art, discussing art and other artists, or giving art tutorials.
Choose a streaming platform for your art
You have a lot of choices for streaming platforms nowadays: YouTube Live, Behance, Facebook Live, Twitch, Twitter, and others. But what makes these platforms ideal for artists wanting to share their work?
Each platform has a community aspect. People constantly interact with each other in chat, starting conversations and carrying on discussions. Live human interaction is the key to engaging entertainment.
Let's look at the most fitting live streaming platforms with the biggest art communities to broadcast your talents.
1. YouTube Live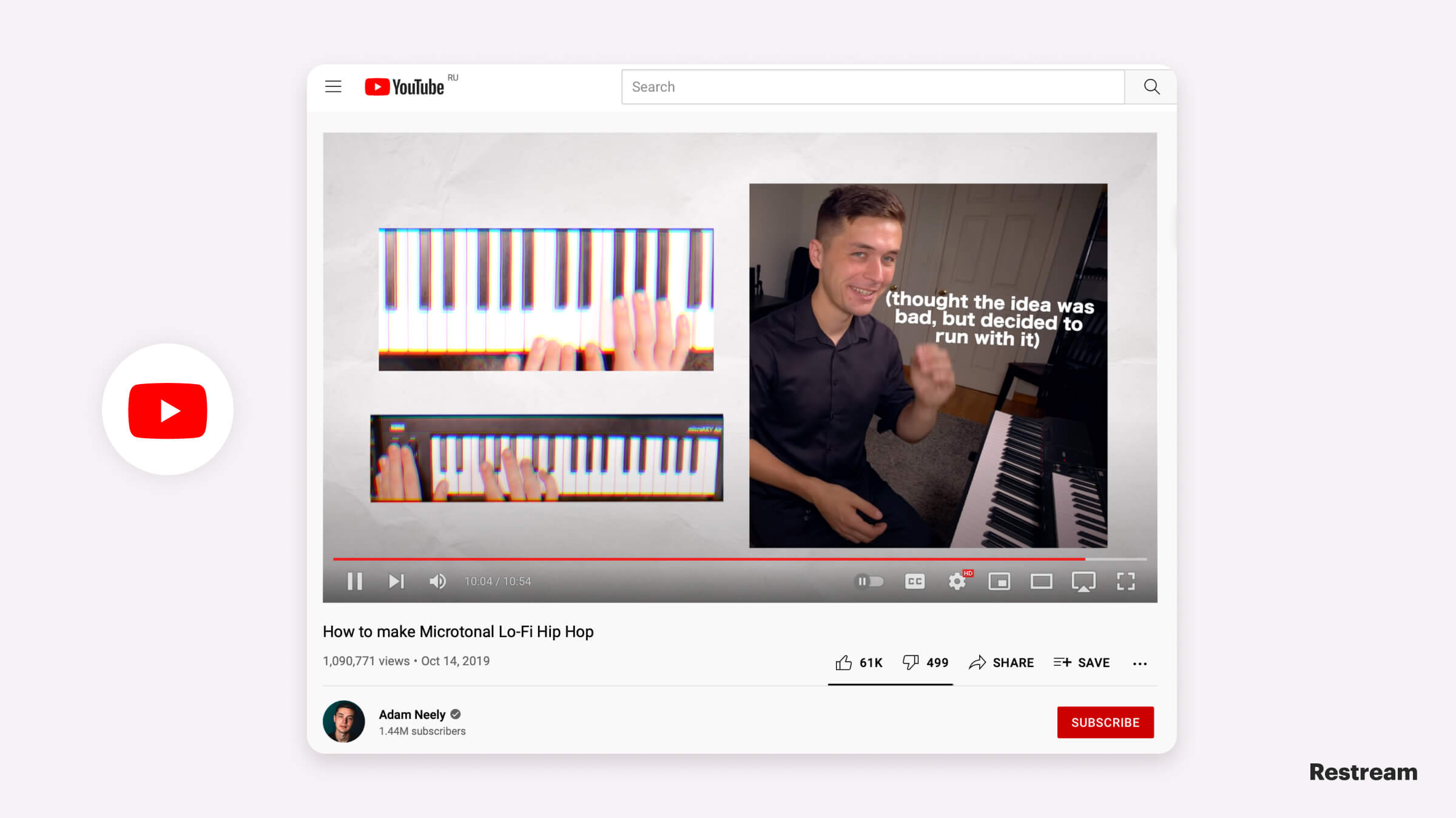 YouTube is the largest video hosting platform in the world and the second largest for live video. Unfortunately, YouTube Live has no category for art and creativity. But there are still two advantages to using YouTube Live.
Firstly, it's easy to get started. You don't need any third-party apps or streaming software and can live stream via your phone. Secondly, if you already have videos posted on YouTube, it is very convenient to grow your audience there rather than start live streaming from scratch.
Read later: The ultimate guide to YouTube live streaming 📍
2. Instagram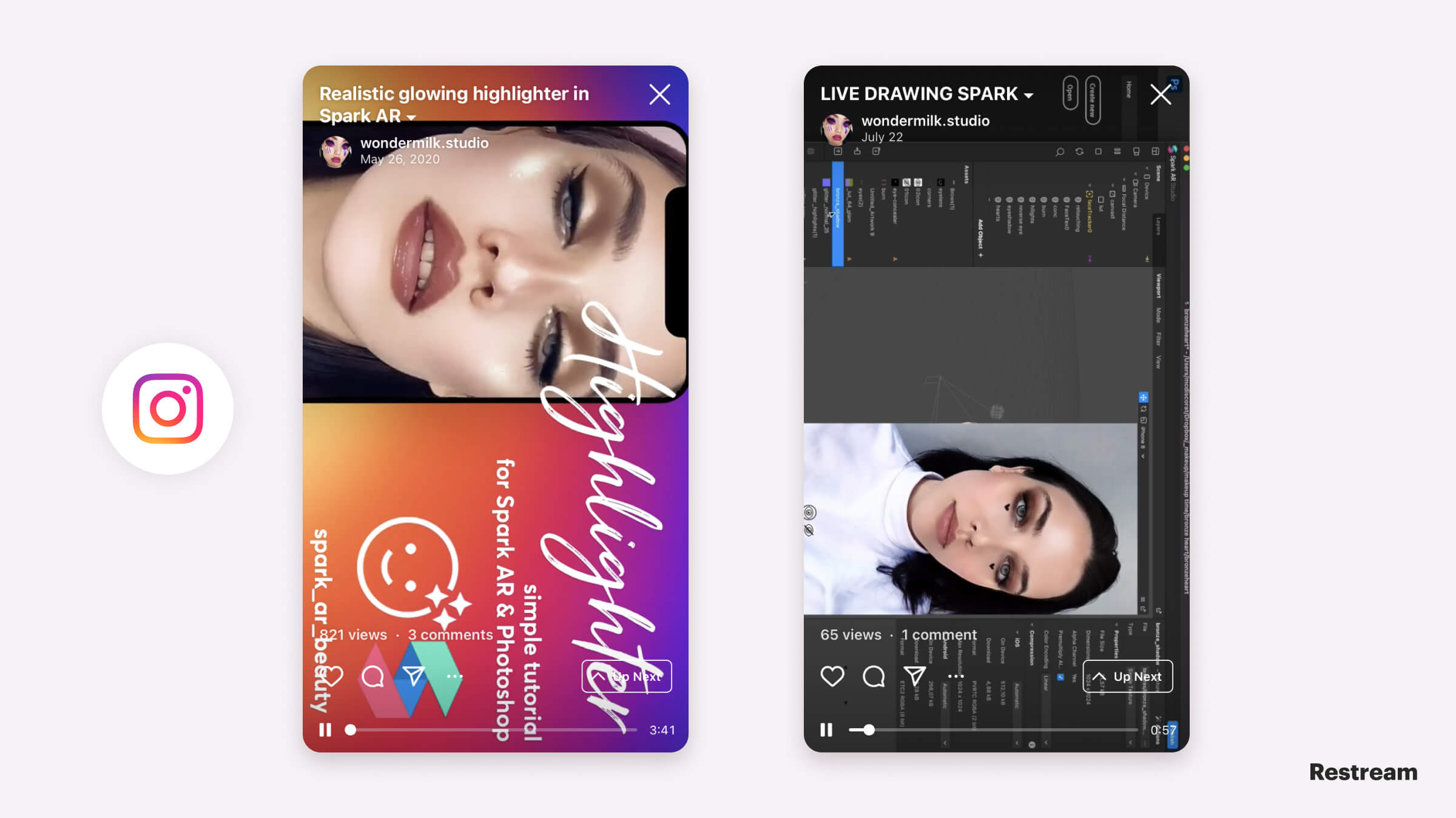 Another social media platform that suits artists and creatives is Instagram. The platform has live streaming capabilities that many famous artists, like Coldplay and John Legend, have tried out.
Instagram live streaming has a few pros for artists too. It's perfect for spontaneous live streams, if you want to broadcast on the go.The second reason Instagram Live is worthy of your attention is the community that is constantly surfing for funny and creative videos, as well as new art in general. Don't forget to add some hashtags so your audience will find you.
Read later: Go live on Instagram with Restream 📍
3. Twitch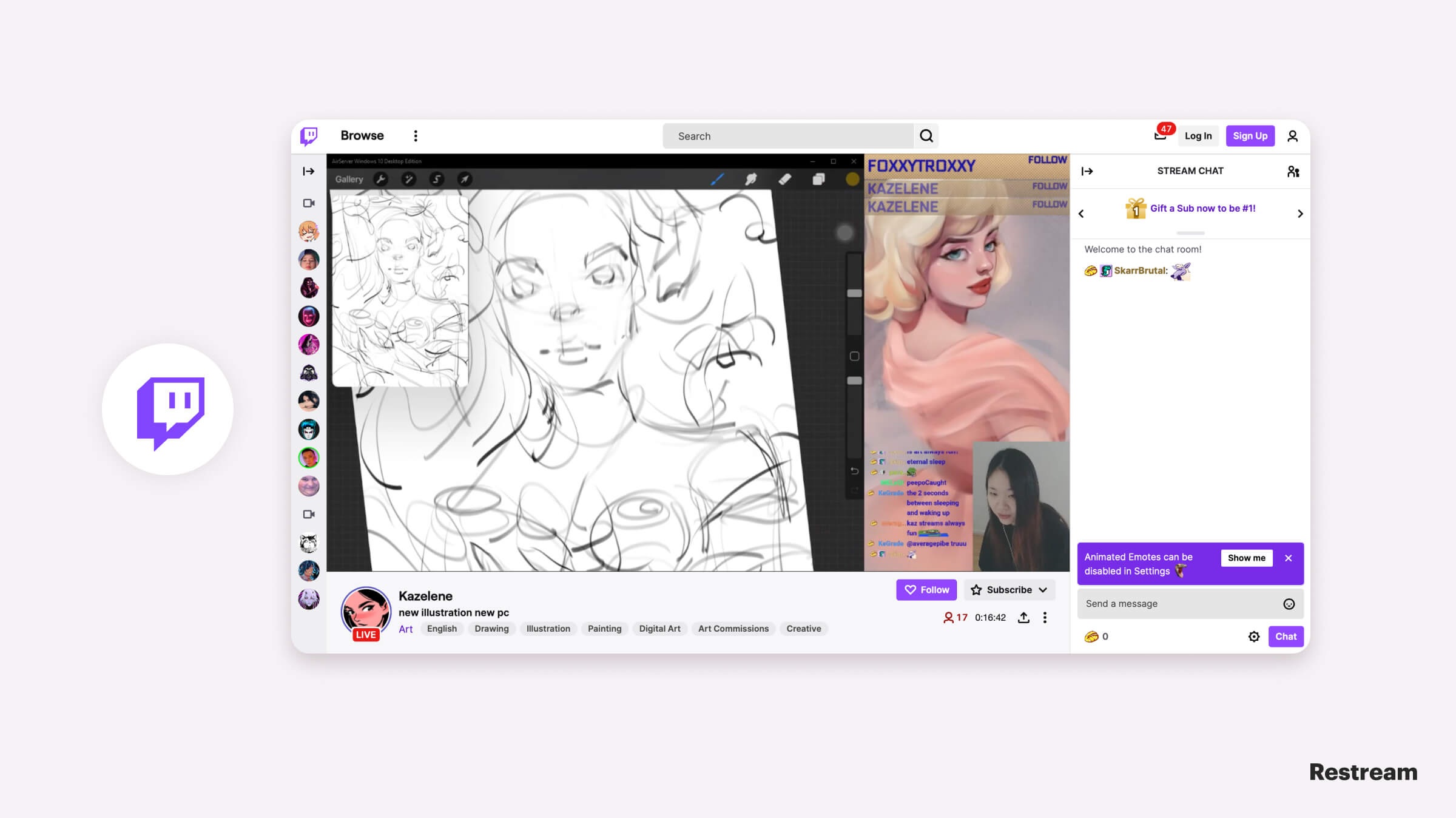 Yes, Twitch is more than just a platform for live streaming video games. Today, Twitch is the home of not only gamers but also creatives, podcast hosts, and more. Twitch has categories for Art, Makers & Crafting, and Podcasts & Talkshows, all of which could be a good home for your art streaming channel. These categories weren't so popular when Twitch first introduced them, but now the Art category regularly gets over 12k viewers!
Twitch has amazing live interaction opportunities as well. Your viewers can write questions in your chat, expressing their thoughts regarding your art, or simply communicate with each other. Twitch also has accessible monetization options for streamers. People can donate money, pay for subscriptions, or tip with Twitch's own currency, called Bits. If you are going to work on your art, you might as well stream on Twitch.
Read later: How to stream on Twitch — The ultimate guide📍
4. Twitter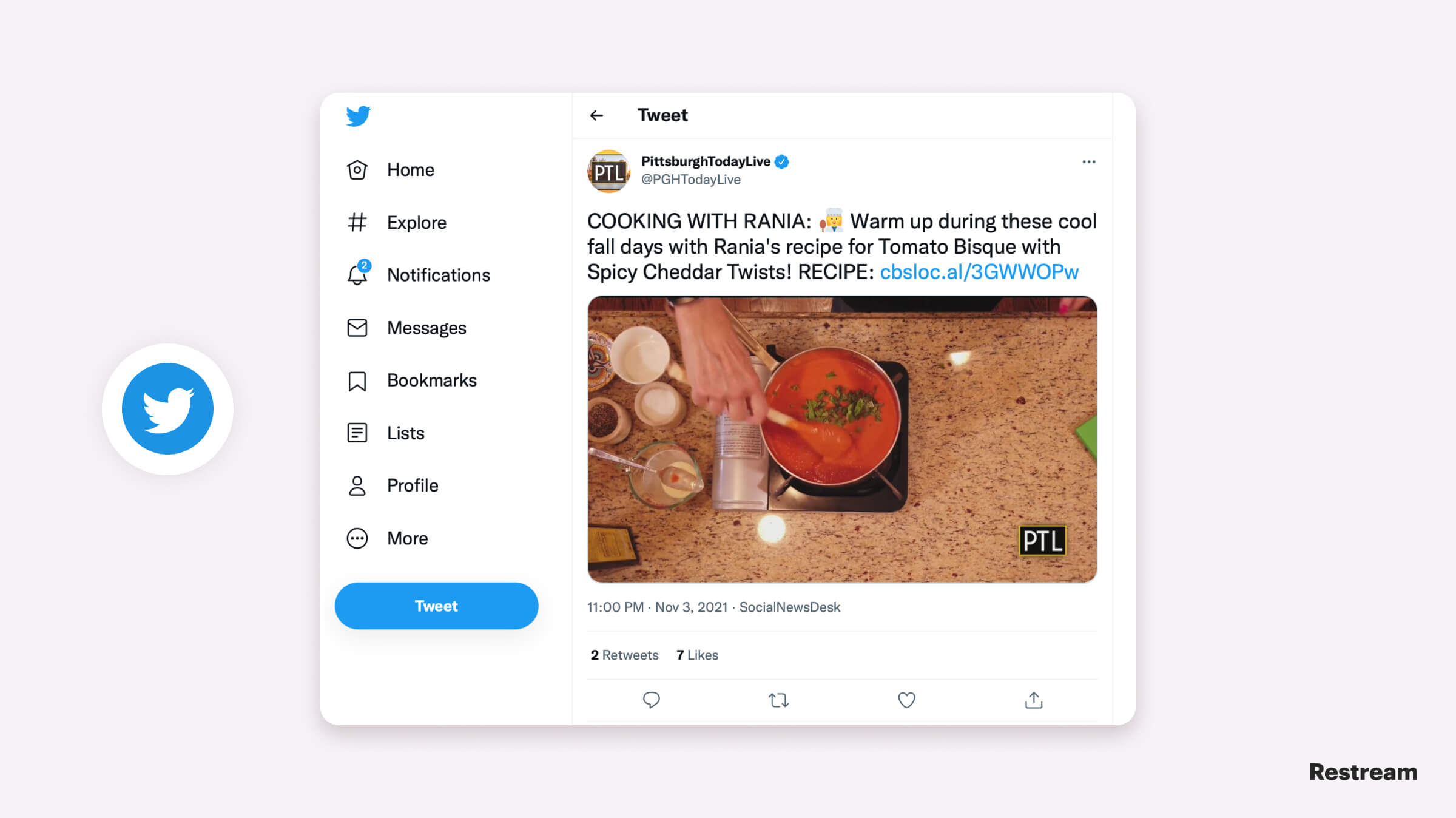 Another option for artists is Twitter. The appeal of Twitter is that you can stream from anywhere. If you're completing artwork on location, for example, you can do a quick live broadcast to update your followers. Unfortunately, there are some serious disadvantages when using Twitter. The first is that you might find it difficult to make space for your art streams on a platform that favors breaking news and commentary. The second disadvantage, as a consequence, is that growing your audience without advertising is close to impossible on Twitter.
Read later: The ultimate guide to Twitter live streaming 📍
5. Picarto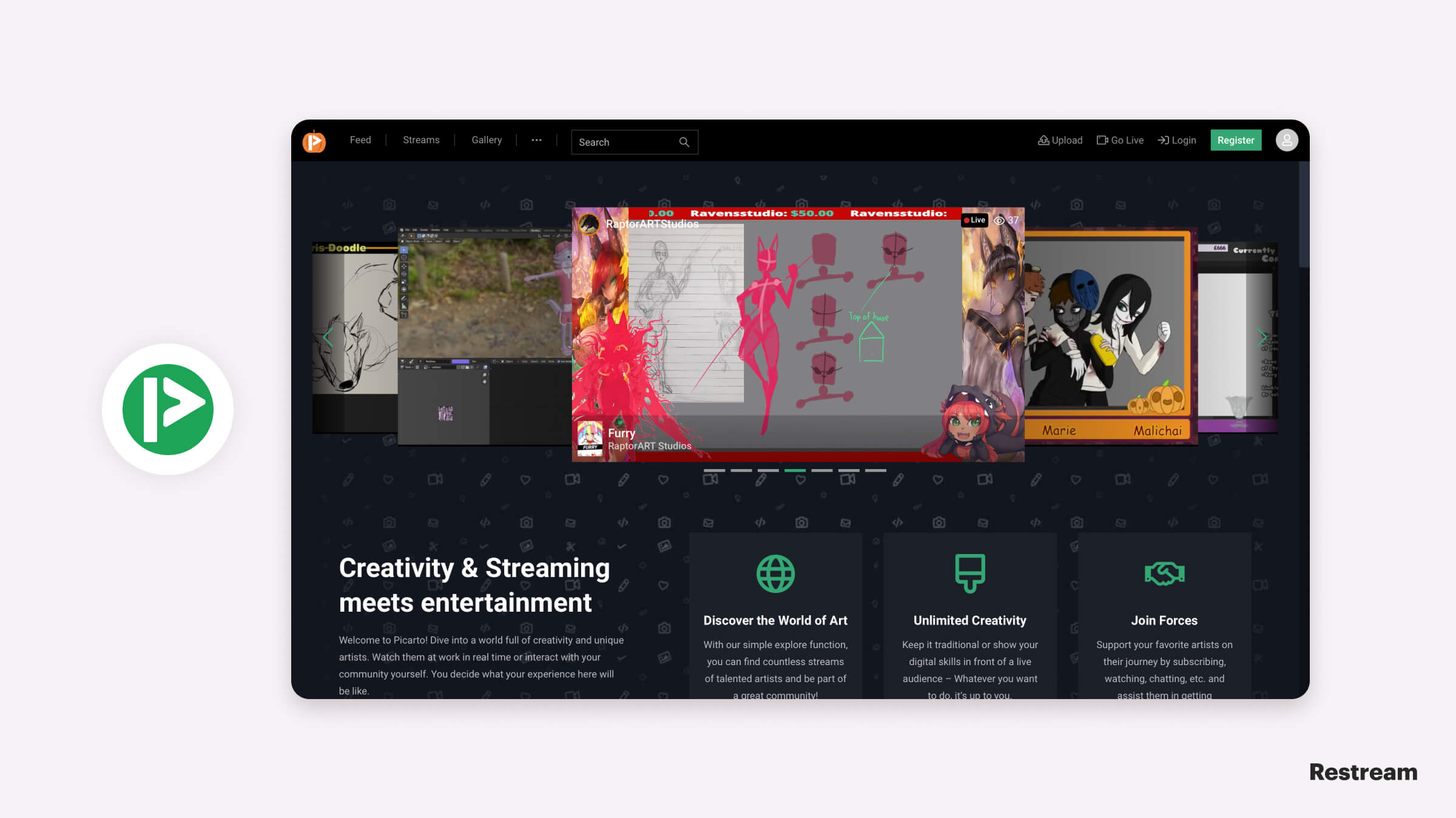 Picarto is a streaming platform fully optimized for broadcasting your art. It's a community of art streamers, where you can share your art, create a gallery, or connect with other artists. Like Twitch, Picarto puts channels in different categories, including Music, Drawing, 3D Modeling, Cartoons, Game Development, Education, IRL, and more. Unfortunately, the audience on the platform is not very large. Picarto could be the best choice for you to gain experience as a beginning streamer, however.
6. Behance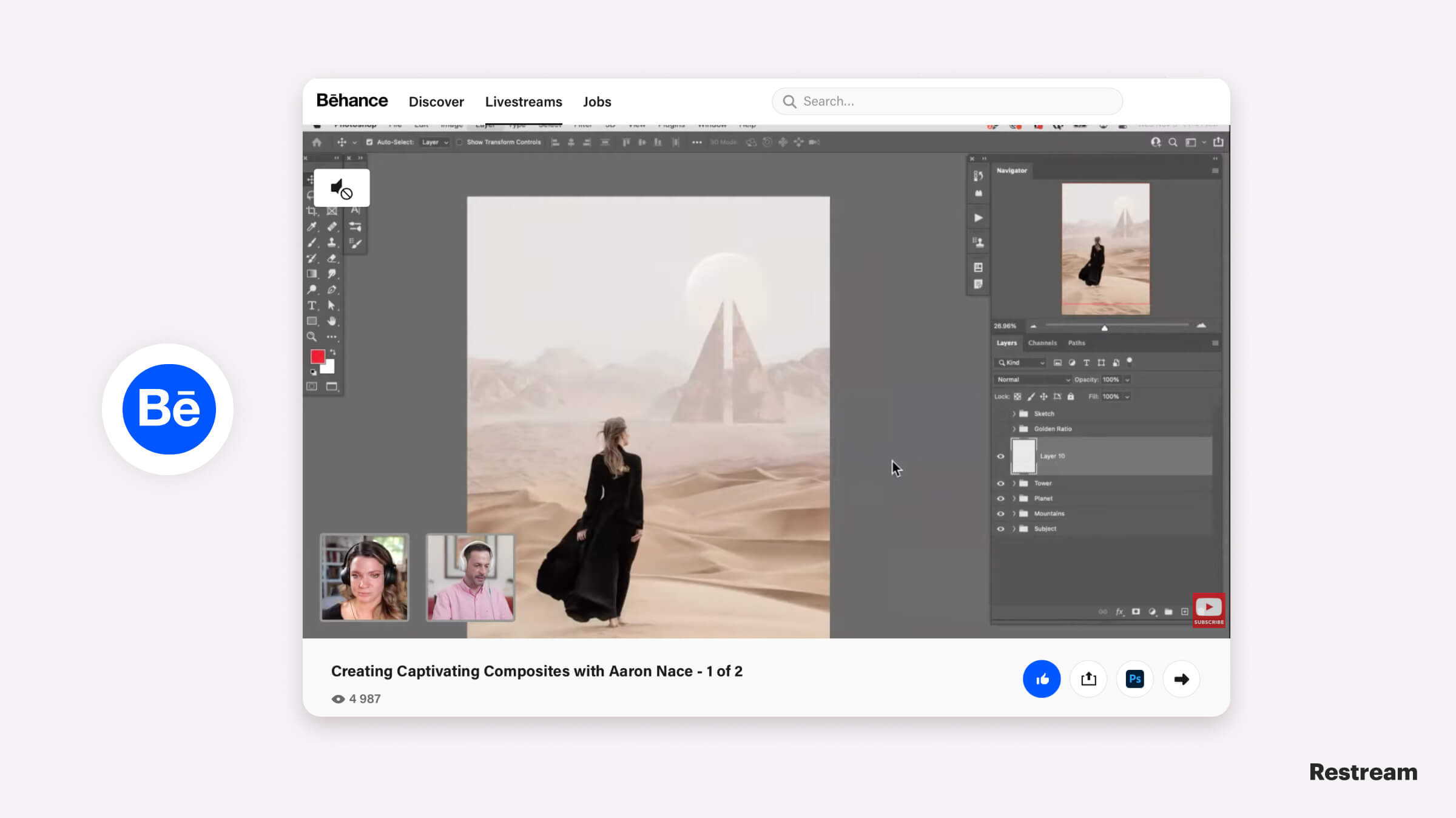 If you want to stream to a platform dedicated solely to creatives — and potentially tap into a wider audience — then Behance should be your choice. Behance is a social network from Adobe, where designers and creators can showcase and follow each other's work. Adobe added a live streaming function to Behance in September 2021, so creators could start posting live video content on the platform.
The downside to streaming with Behance is that you need a third-party streaming solution if you don't plan to stream from the Photoshop or Illustrator apps on an iPad. But, as a creative community of ten million members, Behance could be a good foundation for your art streaming, and it may be easier to attract viewers.
Read later: How to live stream on Behance
Two other honorable mentions include Facebook Live and Amazon Live. Use Facebook Live if you already have an audience there, and Amazon Live is optimal if you plan to sell your art.
Multistream with Restream
All of the above-mentioned streaming platforms have advantages for artists. So why do you have to choose just one?
To stream to multiple platforms simultaneously, without needing any extra hardware, try Restream. This simple yet powerful tool allows you to create beautiful live videos and broadcast them to your favorite social channels. Multistreaming can help you maximize your reach and stream your art to as many people as possible. Plus, you can use our live studio to broadcast directly from your browser, without having to use any software. With Restream Studio, you can play local video files, share your screen, add copyright-free music, invite friends to streams, and much more.
Live stream everywhere,
all at once
Get started for free
How to make your art stream successful
You are probably starting an art streaming channel because you want viewers. It takes more than planning a stream and choosing a platform to become popular, however. If you want to make your art streams successful — and even generate income from them — then you need to keep some of the following tips in mind.
1. Come up with a plan
Your idea might just be switching on a webcam every time you paint, draw, or do your work. That's a good start for an art live stream, but it might not be enough to keep people watching. Will you explain what you're doing as you work or provide fun commentary and take questions from the live chat? Think about your live streams before you start them, including what you hope to accomplish and how long the stream will be.
It's also a good idea to make an outline of your stream before you hit that "go live" button. You don't have to script everything, just jot down a basic structure with topics you want to touch on.
2. Practice confidence on camera
If you're not used to being on camera or filming yourself, now's the time to get comfortable. You might not plan to show your face on your broadcasts, focusing instead on your hands or just sharing your screen. But adding a webcam feed showing you, as you sit at your desk or stand in front of your easel (or wherever you're perched to do your art), goes a long way for connecting with fans. They're watching for you just as much as for your work!
Record yourself doing some practice sessions and rewatch to see how you do. You can even use Restream Studio's record-only mode to practice and see what your stream will look like with a logo, background, chat overlay, and other streaming features enabled.
If you need more tips on building confidence for live streaming, check out our guide.
3. Schedule your live streams
Develop a stream schedule and stick to it. Viewers are more likely to follow or subscribe if they can rely on you to post regular content. Keeping your streams at the same time every day or every week also makes them easier to promote. Remember, consistency matters as much as frequency.
However, we understand that sometimes you simply cannot stream at the scheduled time. That's why we developed Restream Events. This tool allows you to live stream your pre-recorded videos on more than thirty streaming platforms simultaneously! It frees you up to interact with your audience more during the stream.
4. Promote your streams
Nobody will know you're streaming if you don't tell them about it! It's almost impossible to grow your audience without promoting your streams. Post about them on social media, send out an email newsletter, talk about them on your podcast — whatever channels you have, let people know.
Also, a successful promotion strategy requires creativity. Draw something cool, take a photo of your crafts, or post a short video teaser. Tell the world about your stream — but don't expect viewers to come flocking right away. Be consistent with your streams and keep up the promotion. Always be grateful for every viewer, subscriber, or follower as well. For more tips on promoting your live stream, read our guide. If you're interested in monetizing your art live stream, we have a guide for that too.
5. Encourage communication
Live streaming is popular because it allows content creators to interact with their viewers directly. That's why your personality matters a lot. With art streaming, express not only your artistic skills but also yourself.
Engage with your viewers by organizing Q&A sessions or AMAs (Ask Me Anythings). Dedicate a stream to taking viewers behind the scenes of your workplace or studio, showing them all the tools you work with. Play games or host contests and encourage viewers to participate. Help your future fans fall in love with you.
Let's wrap up
Live streaming presents a bright opportunity for any artist to express their talent. Multiple platforms, like YouTube Live and Twitch, with thousands of people hungry for new content creators, are waiting. You don't even have to choose one specific platform to stream on. Restream Studio allows you to share your art on every streaming service.
To begin your journey as an art streamer, you should make sure you have your streaming equipment and plan ready. Don't forget, both physical and mental preparations are incredibly important for your success. For more information, you can visit our Help Center. We wish you good luck and fast growth!