Live streaming has blown up in a big way — as many as 80% of consumers prefer watching live videos, rather than reading web articles. By the year 2027, the live streaming video market is estimated to be worth at least $184.3 billion. Need more numbers to be convinced? Check out our must-know live streaming stats.
With this much projected growth, every major social platform has joined in. Today, you can stream everywhere — YouTube, Facebook, LinkedIn, Instagram, Twitter, Twitch, and more. The choice of platform depends mostly on the type of content you are producing. For example, most gamers prefer streaming on Twitch, whereas business-related content is in high demand on LinkedIn. Instagram is great for influencers, and Facebook hosts tons of small business and entertainment content.
But what do people stream on Twitter?
In this guide to live streaming on Twitter, we will answer the most commonly asked questions and walk you through using this platform. We'll also describe some additional options to help you grow your audience ten times faster.
👀 What is Twitter Live?
Twitter's live streaming feature allows you to go live from anywhere, whenever you want, via your mobile device. You can transform your mobile phone into an on-the-go live streaming station. How cool is that?
Twitter rolled out live streaming with Periscope back in 2015. Periscope quickly turned into the top mobile streaming platform, with around two million active daily users and more than 350,000 hours of streamed video per day at its peak.
Periscope usage declined, however, as more social platforms introduced live streaming. Twitter discontinued Periscope as a separate service in March 2021 and officially discontinued use of September 2021. Now, Twitter users can only go live directly from their Twitter profiles, either on mobile or desktop.
Before we dive into how to live stream on Twitter, what's so great about live streaming on this platform and what should you keep in mind before broadcasting?

Twitter Live features
Live streaming on Twitter has several advantages that make it stand out from other platforms:
Interaction options. When watching your live stream, viewers can send hearts and easily interact with you via chat and comment sections. Live communication is one of the crucial components of live streaming.
Location. You can tag a location when you set up your live stream on Twitter, so viewers will know where you're streaming from. This also helps Twitter deliver your live video content to users' Explore tab in your area.
Stream saving option. After the live stream is over, you can save it on your mobile device to then post it online as a usual video.
Inviting guests. Broadcasters can invite up to three guests to join their live videos at one time. You can invite others to your live stream before it starts, add them after it's begun, or allow guests to add themselves.
Stream editing. Your broadcast will automatically be posted as a tweet when you go live. You can make light edits, however, using the Twitter mobile app. You can change the title, thumbnail, and image.
Time stamps. Twitter allows you to add a custom starting point to your live broadcasts, so viewers don't have to watch the entire session if you only want to draw their attention to a certain part.
Twitter Live disadvantages
Like every streaming service, Twitter Live also has downsides that users are less than thrilled about:
Privacy issues. If you have protected tweets, you cannot go live on Twitter. There's no way to live stream only to your followers or a select audience on Twitter.
Less popular with content creators. Content creators don't necessarily flock to Twitter like they do to Facebook, YouTube, Twitch, and LinkedIn. But that doesn't leave Twitter without a niche of its own — there are live streaming opportunities for journalists, media organizations, and anyone else sharing breaking news and live event coverage.
Limited monetization options. For monetizing video, Twitter only gives streamers two options — adding pre-roll ads or one-to-one sponsorships.
Media Studio Producer isn't open to all. To go live on Twitter from a laptop or desktop computer, you need a third-party encoder and access to the Media Studio Producer. However, only certain Twitter users are allowed to see their Media Studio, and those without access are limited to mobile live streaming only.
What is Twitter Live used for?
Both businesses and individuals can benefit from live streaming to Twitter. You can take advantage of Twitter's mobile app to share some unique and unplanned content with the world. And thanks to the available communication tools, you can easily and effectively interact with your audience in real time.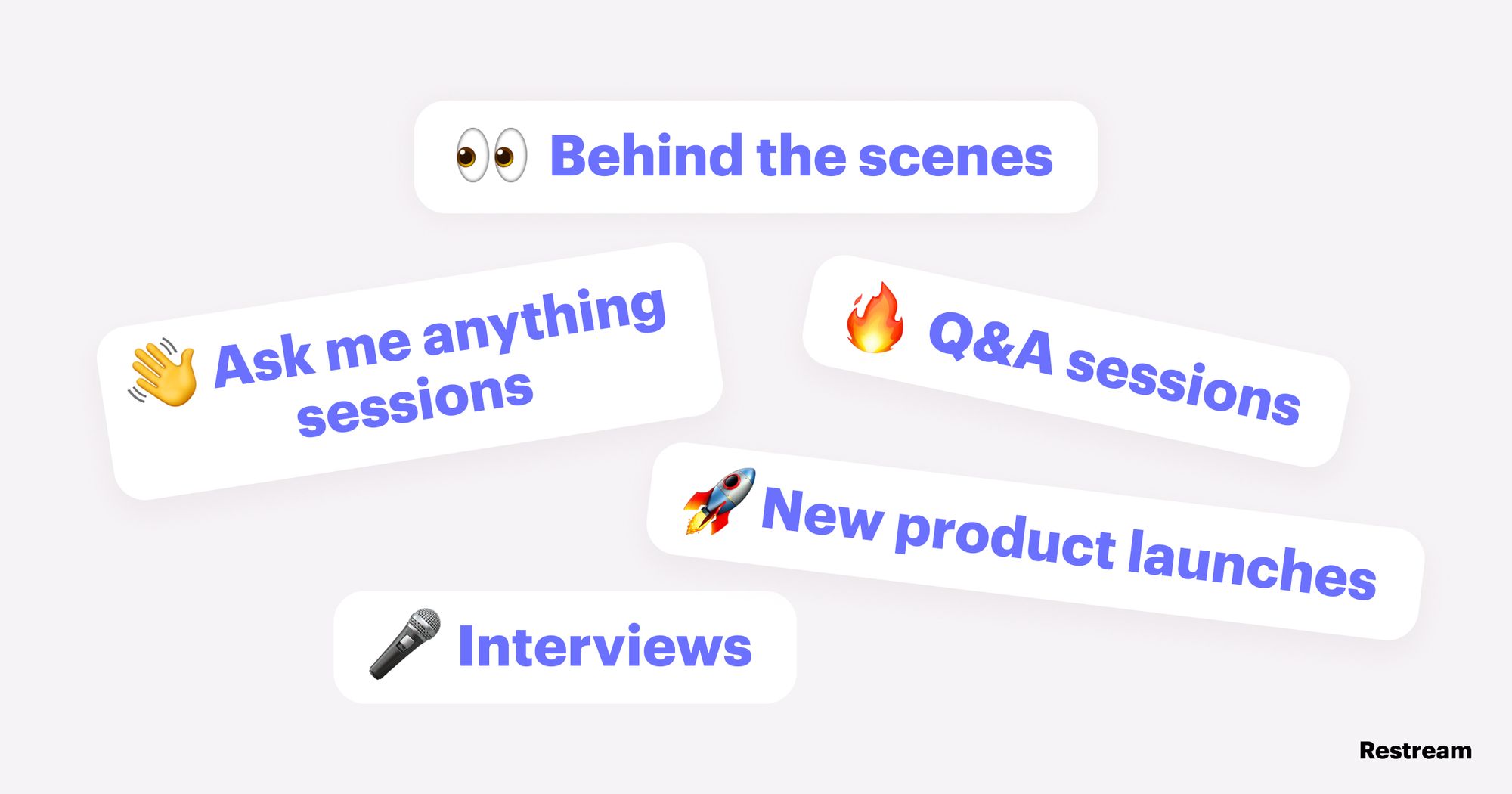 Twitter is also the best place to report your live news and build relationships with your audience in a more straightforward fashion. Live videos evoke more trust and interest in viewers than pre-recorded content. Great content ideas for Twitter would be live Q&As, interviews, AMAs, or event coverage. Businesses can showcase a new product or take the audience backstage as well.
🤓 How to go live on Twitter
Currently, you can broadcast on Twitter via an Apple device (iOS 11+), an Android device (Android OS 5.0+), or on desktop with Twitter's Media Studio Producer and third-party encoding software. You can watch live streams on mobile or directly from your browser. There are some other cool options at your disposal, which we will describe later on.
Twitter Live for mobile users
Up-to-the-minute broadcasts are what Twitter is best used for, so you should know how to go live from your mobile device. For mobile live streaming, the steps are simple:
Launch the Twitter app and go to the composer.
Tap the camera icon.
Tap "live" at the bottom.
Tap the microphone in the top corner to do an audio-only broadcast.
Write a description of your live video, which will appear as a tweet.
Add a location if you want your viewers to know where you're streaming from.
Tap "go live." Your live video will appear in your followers' timelines and on your profile as a tweet.
Twitter Live on your desktop
Although mobile streaming is an excellent way to capture breaking news events as they unfold in real time, broadcasting on Twitter from your laptop or PC can also help you connect with viewers. Twitter does not have a native live streaming studio for web browsers, however, so you'll need a third-party streaming solution, such as Restream Studio.
It's a go-to live streaming solution that allows you to broadcast your content live on multiple platforms at once. Let's say you want to stream to Twitter and Facebook at the same time. You can use Restream Studio to quickly go live on both these platforms, plus more than 30 others.
What can you do with Restream Studio?
Share your screen or local video files with the audience
Have up to ten participants on your stream
Host professional podcasts or interviews
Add your own logos and graphics
Play copyright-free background music
...and more. You also don't need to download any software — Restream Studio launches directly from your web browser.
So how do you live stream to Twitter with Restream Studio? Here are the steps:
Log into your Restream account (or create one if you haven't yet).
Go to your Restream dashboard and select "Add Destination."
Click the "Connect Twitter" button.
Authorize Restream to access your account. You're now connected!
Return to the Restream dashboard.
Click on the "Live Studio" button on the left-hand side.
Launch the Restream Studio and configure your settings. Add a camera and microphone source, share your screen, send guest invitation links, etc.
When you're ready, click the "Go live" button and your broadcast will appear on Twitter!
Media Studio Producer is how Twitter users go live with encoding software such as OBS Studio or Streamlabs OBS, but it's only available to certain Twitter users. If you use Restream Studio, however, and connect your Twitter account to Restream directly, you can bypass this hiccup and stream to Twitter from a web browser!
🤩 How to make your Twitter streams look amazing
If you want your live streams to stand out on Twitter, the quality of your broadcasts has to be top-notch. We've got some of the most effective tips to help you achieve new heights on Twitter Live.
1. Get a tripod or selfie stick
A big turnoff for viewers is a shaky video. Solve this problem by stabilizing your live videos with a tripod or selfie stick.
2. Center yourself in the frame
This tip seems obvious, but it's easy for some streamers to forget. Try to keep your face just above the center of the screen so the comments on the bottom do not cover it. Also, work on your angles — nobody wants to see your nostrils.
3. Interact with your audience
Live streaming allows you to communicate with your audience in real time; use it to your advantage. Talk to your audience, answer their questions, and react to their hearts. Keep the conversation going and give viewers a reason to keep watching.
4. Pay attention to live comments
Comments from your viewers aren't useful sometimes, especially from trolls. However, you may also find helpful information in the comment section, like positive feedback or constructive criticism of your content. So keep an eye on your comments!
5. Create your streaming schedule
Although Twitter is a perfect place for spontaneous live events, making a schedule can be beneficial too. Streaming regularly helps you grow your audience and attract new loyal viewers. This is especially true if you want to stream on multiple platforms at the same time.
Read later: Fun things to do on a live stream 📍
🤑 How to promote and monetize a Twitter live stream
Now that you know how to create high-quality streams for Twitter, you can promote and monetize them. The platform has two promotion options, but there are ways to make money from Twitter live streams using third-party tools. Check out our pro tips!
1. Promote on other platforms
Even if you go live on Twitter, you should still let your Facebook, LinkedIn, and YouTube followers and subscribers know, especially if you multistream with Restream! You can also use Restream Events to schedule your live stream and create an event for it on each social platform.
2. Hashtags are still relevant
At this point, the words "Twitter" and "hashtags" are synonymous. Make use of the fact that millions of people search via hashtags. Come up with some trendy hashtags that describe your stream, and let people from all over the world find it!
3. Reuse your Twitter videos
After the stream has ended, you have the option to download it and reuse it later on. This opens hundreds of amazing opportunities. You could repurpose your videos and create absolutely new content: stream highlights for YouTube, postcards for Facebook, GIFs, still memes for Twitter, or an audio-only version for a podcast.
4. Multistream with Restream
What's the fastest way to increase your stream audience? With Restream, you can broadcast your live content to as many platforms as you want and maximize your audience reach. Simply start your live stream with Restream, and we will send it to all your selected platforms. YouTube, Twitch, Facebook, Twitter, LinkedIn, and many more — we've got them all!
5. Affiliate marketing
You can add links to tweets, even if they're live videos. Use this space to add an affiliate link, and direct your viewers to it to promote products or services. Before you can attract companies and make affiliate deals, you'll need to build up your audience, however.
6. Join Twitter's Amplify program
Twitter has two live video monetization options: Amplify pre-roll and Amplify sponsorships. You must be accepted into the program before you can use either. The pre-roll option lets advertisers run ads as pre-rolls on your live content, and the sponsorships option lets you set up one-to-one partnerships with advertisers.
Final thoughts
Live streaming on Twitter can be great if you already have a lot of followers. You can notify your followers of your live stream with a simple tweet. However, it can be challenging for a beginner to pursue their streaming career on this platform. The limited monetization options and lack of access to Media Studio for all users don't make it easier either.
In general, a good idea is to live stream on Twitter in addition to other top platforms, including YouTube, Facebook, LinkedIn, and Twitch. In addition to multistreaming, Restream offers a variety of great tools that can help you improve your streams, from insightful Analytics to a professional live video Studio. With Restream by your side, you can maximize your audience reach, attract more viewers, and grow your live streaming presence on Twitter.