Intro
There's only a handful of websites that can get you access to a quarter of the whole of humanity. With its over two billion users, YouTube is one of them.YouTube's audience has an appetite, too — they consume over a billion hours of content every day. That's as good a reason as any to add yours to the mix.
But you shouldn't stop there. You should consider adding YouTube live streams to your content offering. If viewer engagement is what you want, learning how to go live on YouTube should be among your top priorities. This article will tell you everything you need to know to get started.
👀 What are the benefits of broadcasting to YouTube?
The best answer to the question of why to go through the trouble of learning how to do YouTube Live is staring you in the face: it's live streaming, and it's on YouTube. Both give you interesting options and benefits, and they're a great combination to help you achieve a variety of goals — including business ones.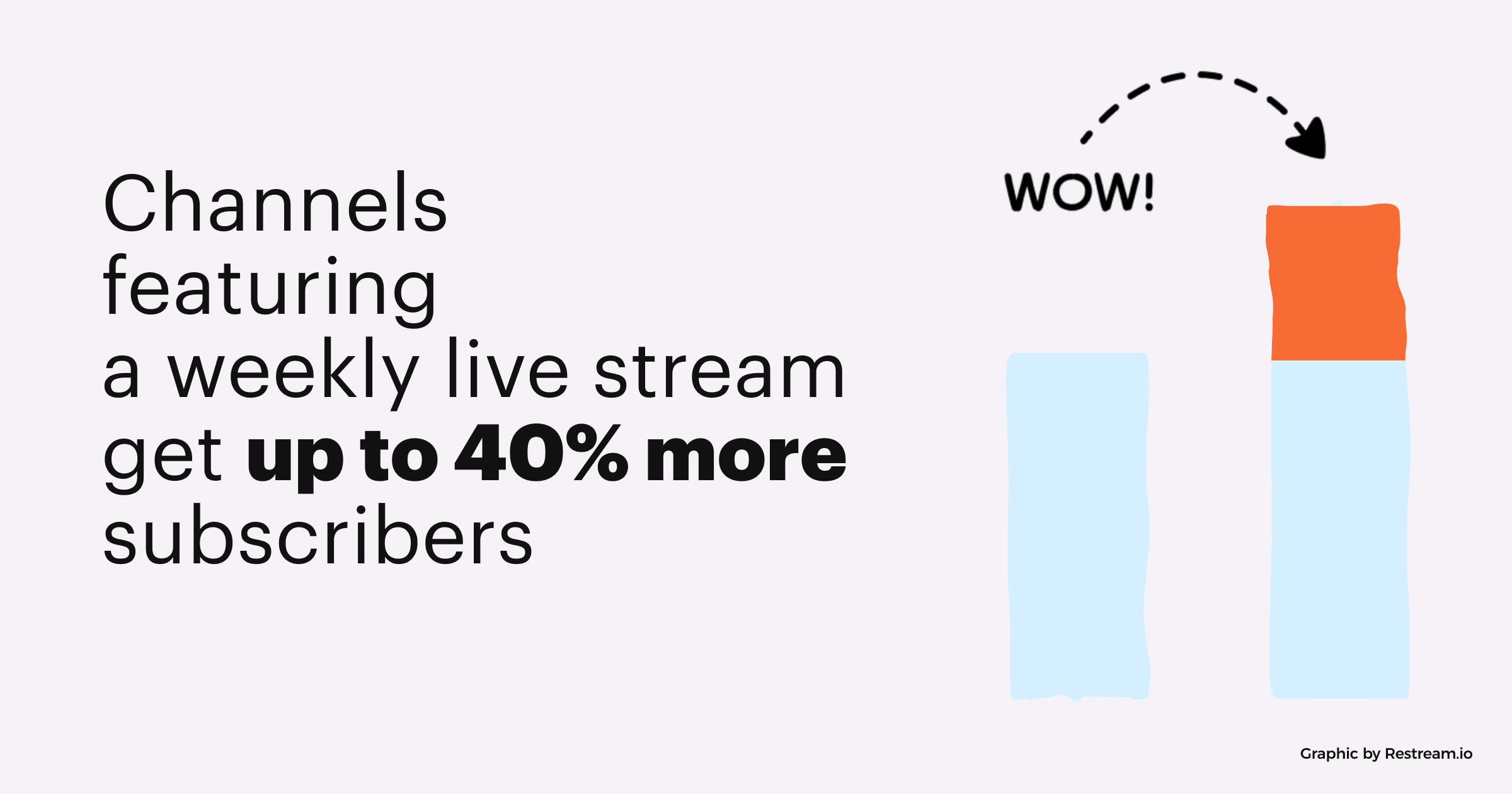 As a form of content, live-streamed video gives businesses plenty of reasons to start creating it.
Some of the things live broadcasts have going for them are:
Good penetration. Live video isn't an obscure type of content no one likes to watch. Two-thirds of people who own internet-enabled devices have seen it, and half of them are increasing their live video consumption.
Increased audience engagement. Live streams are typically paired with chat options. This allows the viewers to engage with one another, but also gives the content creator a unique chance to interact with the audience for a highly engaging experience.
A boosting effect on channel subscriptions. YouTube has found that channels featuring a weekly live stream get up to 40% more subscribers, and the viewers spend up to 70% more time watching the content.
Attention-grabbing capabilities. On average, a live stream will keep people interested and watching three times longer than on-demand video. The longer they stay, the more time you have to engage your viewers.
Sounds great, right? But that's just one half of the awesomeness of a YouTube broadcast. You see, most social networks have a live streaming service. YouTube, however, stands out as one of the most interesting places you can live stream video.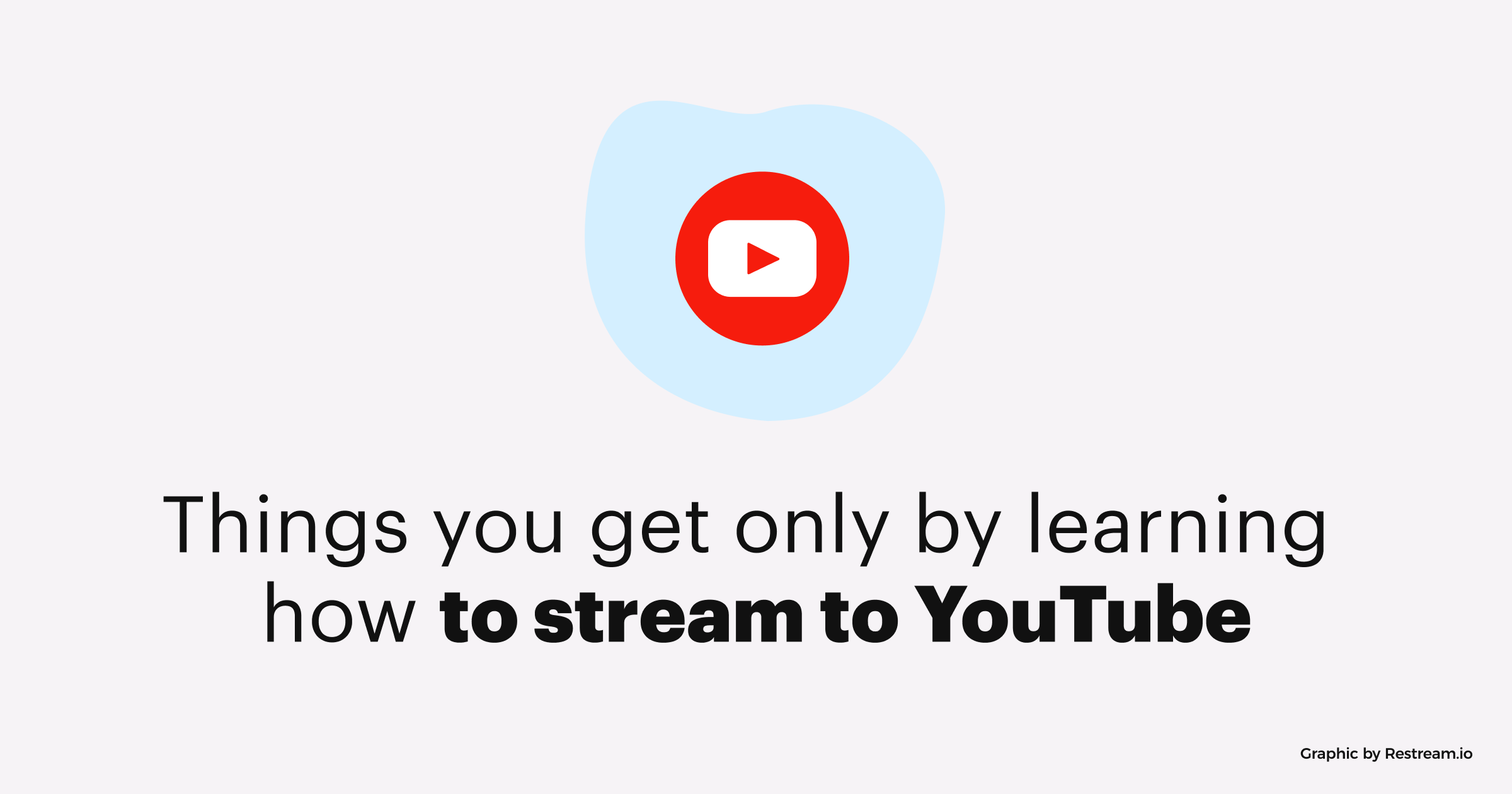 Some of the interesting things you get only by learning how to stream to YouTube include:
Access to an audience in the critical stage of the buying cycle. YouTube has gone on record saying that over two-thirds of its users watched YouTube in an effort to find help when making a purchase decision.
The ability to dazzle with high-quality video. Out of all freely available platforms, YouTube offers the best live streaming video quality with 4k @ 60fps live streaming. If you've got the best gear, YouTube's the place to show it in action.
Content for your display ads. If you're using the Google Display Network for advertising, you can show your live stream in display ads. Besides freeing you from having to create banner images, this feature also helps you promote your live stream.
Reusable content. YouTube is a video storage platform that offers live streaming capabilities. Once your stream is done, it becomes available on-demand, and you can repurpose it for anything you want — from commercials to blooper or highlight reels.
In the end, you should know that learning how to broadcast on YouTube doesn't preclude you from learning how to broadcast on other platforms, too. With a little knowhow and a helpful tool, you can even stream to YouTube and other websites at the same time. So, you can add non-exclusivity to the list and work it to your advantage.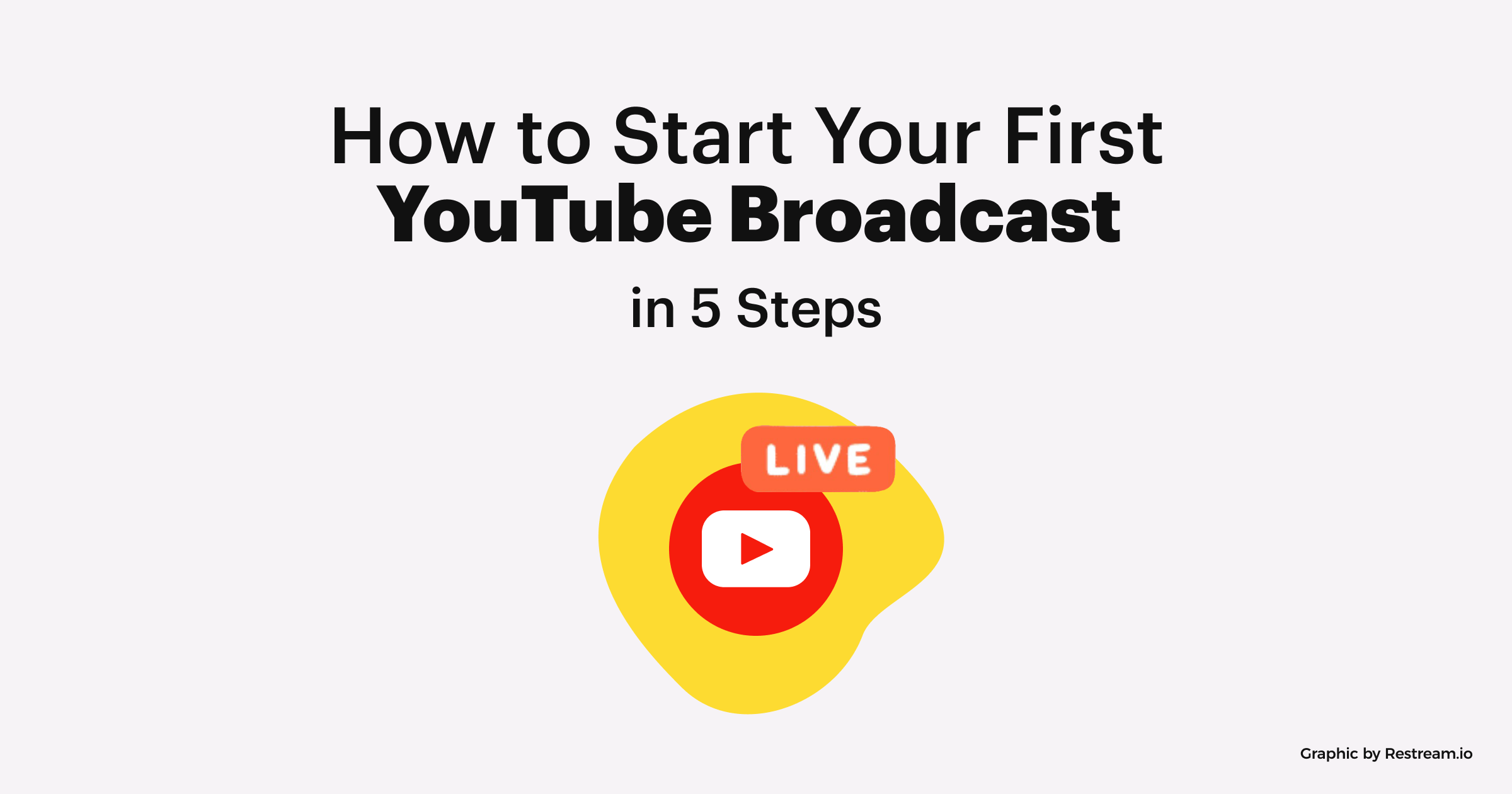 😎 How to start your first YouTube live stream in five steps
Going from whatever role you have in your organization or daily life to a content producer probably looks more daunting than it really is. The important thing to remember is that live streaming is very much live. Preparation can go a long way towards eliminating on-air mistakes and making you feel comfortable.
To make it even easier to learn how to broadcast on YouTube, and then to learn how to become good at it, we've divided the process into five steps. They should be an integral part of a live streaming process. It all starts with — establishing a place to stream to.
1. Create a YouTube channel
The first step is also the easiest. YouTube is an Alphabet service, after all, and they are in the business of making it as easy as possible to sign up and use their services. Here's what you need to do:
Create a Google account. Everyone has at least one of those these days, but if you don't — don't worry. Just go here and follow the instructions.
Log into YouTube. Your Google account, the same you'd use for Gmail, gets you into YouTube.
Create a new channel. Click your avatar in the upper-righthand corner and choose the "my channel" option if you don't have any channels yet.
Add a new channel if you already have one. Do it from here. You can create an account for your brand, or simply pick a Brand Account if you've been added to one as a manager.
Enable live streaming. It's not enabled by default — you have to do it manually from the account features panel.
After a short waiting period, you'll be able to live stream to your YouTube channel from a desktop device. If you want to learn how to live stream to YouTube from a mobile device, you'll have to wait until you get at least 1,000 followers.
2. Decide on the contents of your YouTube live streams
Content creation is very important and a bit tricky. It's important because the ability to create engaging content that's helpful, fun, or otherwise valuable to your viewers is something that will make or break a YouTube channel. It's tricky because that kind of content isn't easy to make.
You'll gravitate towards specific types of content to achieve business goals. Live reaction videos might not be as useful to you as other types of content, such as:
Behind-the-scenes live streams, a type of content that works great for showcasing company culture, allowing access to diehard fans, and humanizing a business.
How-to live streams and product demonstrations, which both work great as standalone content or as part of a product launch promotional effort.
Product launches, especially if you make exclusive events with interesting attendees — you can have interviews, demonstrations, and even games with prizes during the stream.
Flash sales live streaming, because flash sales and live streams work incredibly well together, and you can bet that YouTube will venture more into e-commerce in the future.
Add interviews, Q&As, AMAs, and content co-ops with influencers and brand ambassadors, and you'll have a never-ending list of content types you can use.
But remember — elaborate content ideas require a bigger investment in gear. If you want to cover a big event, for example, you will need a multi-camera setup.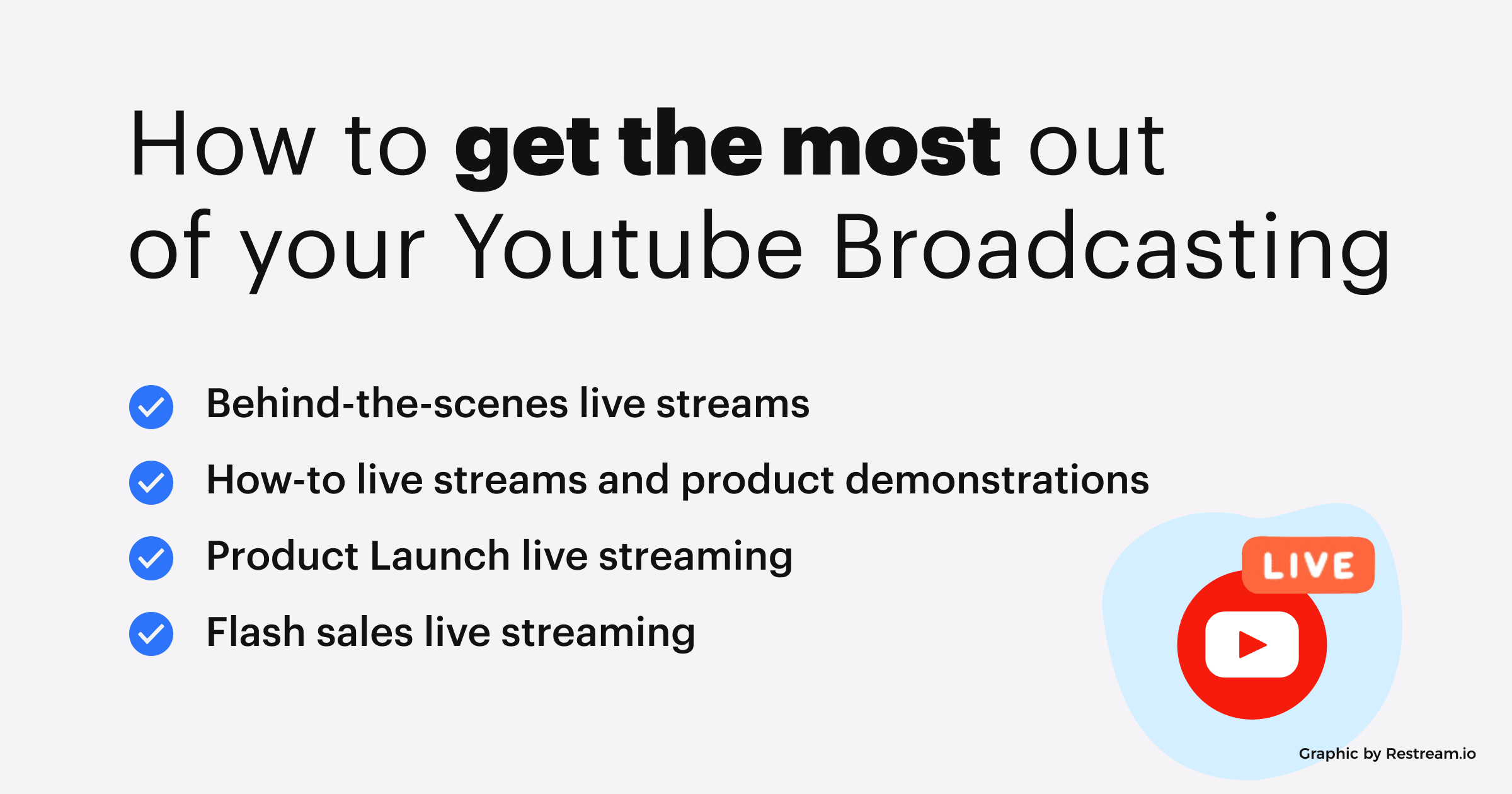 3. Understand the gear for live streaming
For live streaming to YouTube, the cheapest setup requires a webcam, a computer, and a YouTube channel. However, the only way low production value goes unnoticed is if the content has an unnaturally strong hook. It needs to be viral as hell if you want people to look past bad video and crappy audio.
It's easier to make a decent video than a viral one. A versatile setup that will take you where you need to go should include:
A good camera: DSLRs, camcorders, and action cameras are great choices for live streaming if you want high-quality image and the option to move the camera.
A tripod, stand, or mount: Handheld cameras require a steady hand, but static shots require good stands and tripods.
An external microphone: Built-in microphones can be fine, but you want more than "fine" when it comes to sound quality. Or your audience does, and it's their opinion that matters.
Capture cards: Cameras, other than webcams, need capture cards to capture the footage. External audio needs capture cards, too, if you're not plugging it into cameras.
Encoders: Hardware encoders are expensive but efficient, while software encoders are sometimes free but need a good computer to run them. Either way, you need an encoder.
An internet connection: You'll need an upload speed that can support the quality of your stream while leaving a nice safety buffer to avoid choppy streaming.
Multistreaming service: You can broadcast to YouTube and other social platforms at the same time.
Multiply your views and engagement
Reach a wider audience by streaming to multiple platforms simultaneously.
Get Started
With this, you have everything covered: a video input, an audio input, capture, an encoding solution, an internet connection, and a channel for streaming.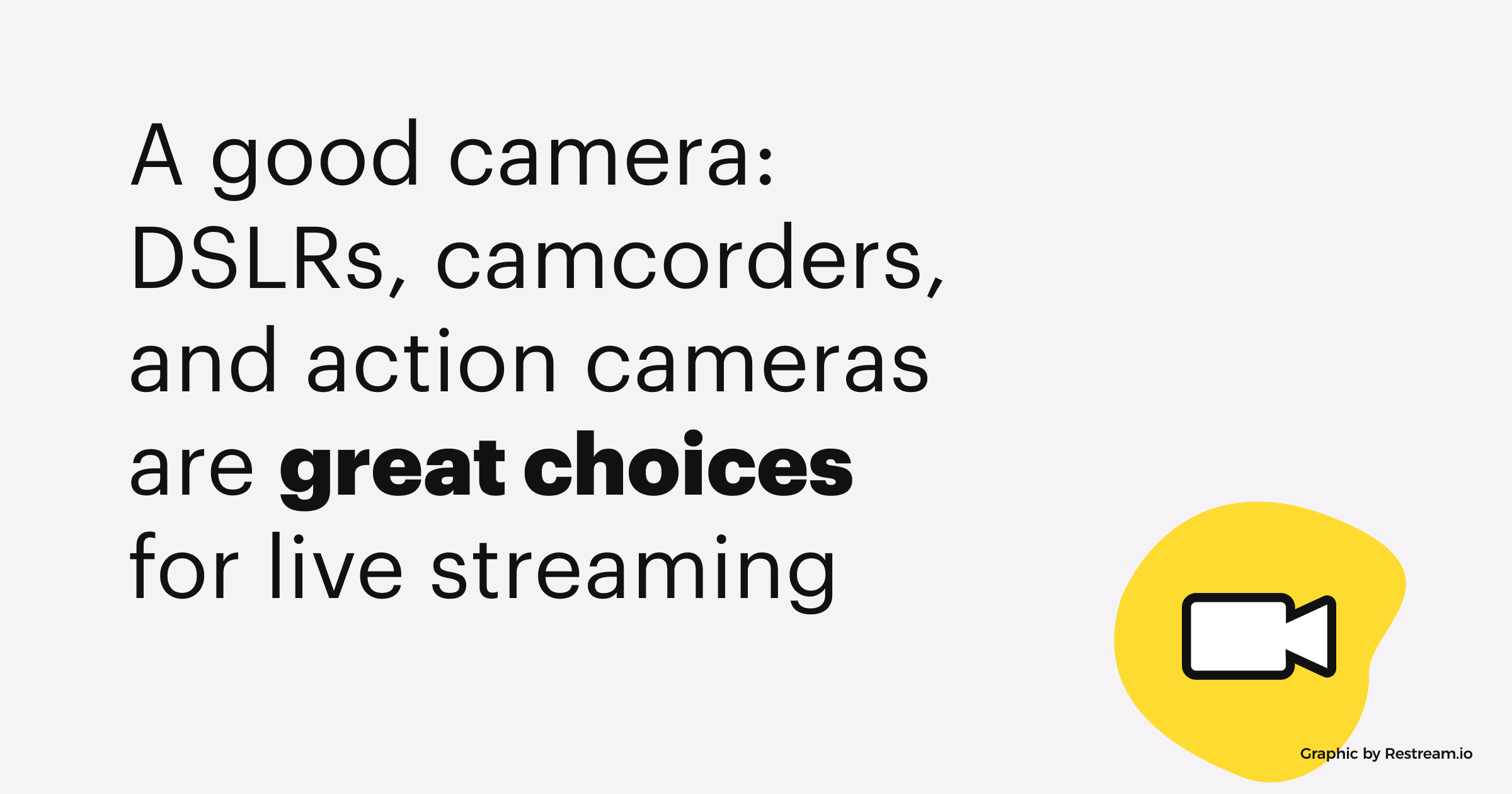 4. Take care of the promotion and production tasks
Congratulations! You've successfully thought up a YouTube broadcast and gathered the gear you'll need to get it on air. Now's the time to start doing the work that will enable your live stream to appear in front of the people. Also, the work that will ensure there are some people to appear in front of.
The things you might want to do in this step include:
Let people know about your YouTube broadcast. Getting influencers, journalists, and opinion makers on board to spread the word about your broadcast would be awesome. Either way, use your social media. Maybe even take out ads if you plan a big live stream.
Check out the venue where you'll be broadcasting. If it's your office — great, you won't have to travel far. But if you're live streaming an event from a venue, you want to check for internet availability, camera placement locations, and a spot for your command center.
Make a final list of gear you'll need and bring extra cables. You should have everything you need to handle a mid-stream equipment failure. A backup camera would be nice to have, as well as a spare microphone. At the very least, get the cables.
Create a set if you need one. In some cases, your office floor is all the setting you need for a video. However, having a green screen close at hand would give you some interesting options. Remember that regular streams need to happen at the same location, though.
Set up all the gear. Cameras and microphones connect to the respective capture cards, which in turn connect to the encoder or, more likely, a computer. Make sure the encoder recognizes your gear and that it's connected to YouTube, either directly or via Restream.
By the end of this step, you should have everything in place for your live stream. Still, you should finish this step way ahead of the time you need to go live because what follows is an important step in the process. How important? So important that it warrants three exclamation marks.
Read later: Video lighting: Everything you need to know📍
5. Test everything!!!
Before going live, you absolutely have to make sure that everything works the way it's intended. You should always suppose that something will go wrong and leave yourself enough time to fix it before the stream. Here are a couple of things you should test:
Upload speed. You should be aware of the upload speed you'll be using well before this step. However, you should also test whether there's something sapping it before the stream, such as peer-to-peer connections or too many devices on the network.
Gear connectivity issues. If something's wrong with how the gear is connected or set up, you want to know about it sooner than later. Test your stream in private mode and troubleshoot any issues before you go live for real.
The script (or any other guidelines for the stream). Make sure all stakeholders are okay with the script of the live stream. This is extremely important with brands' YouTube broadcasts when messages need to be in line with the brand identity and values.
If there's anything else that's keeping you worried, check it and test it before the stream. There's very little room for mistakes once you're live. But if you stick with these steps, you should know how to broadcast to YouTube decently from the start. And you'll only get better with time.
🚀 Tips to help you go live to YouTube like a pro
Looking for more ways to make your live YouTube broadcast great? That's the spirit! Here are some good, solid, tips that will help you hit the ground running with your broadcast:
E-N-G-A-G-E. Don't ignore the audience. YouTube Live lets you communicate with your audience directly. This is the reason live streaming is an engaging type of content.
Mind the battery levels. Plug in your gear if it's possible and convenient. For the gear you can't plug in, make sure to fully charge the batteries before going live. Bring spares.
Monitor the live stream. It's great if you're able to see what your audience is seeing. Get someone to join the stream and feed you important information about the quality. They can also moderate the chat while they're at it.
Get some media training. The person who'll appear the most in your YouTube broadcast should have at least some training in front of the camera. It'll help them appear more relaxed and natural.
Go live when your audience is online. It would be great if it's also a good time for you. But put the audience first in case of conflicting schedules; otherwise, your YouTube broadcast won't have many viewers.
Never, ever forget to give audio quality a look-over. Audio quality influences the quality of your content to a ridiculous degree. Don't lose viewers to bad audio — get a good mic and learn how to use it.
Multistream. Don't limit yourself to one platform. YouTube is awesome, but if you have a following on other networks too, it might be better to multistream to different platforms that are convenient to your followers than to try to haul the audience over to YouTube.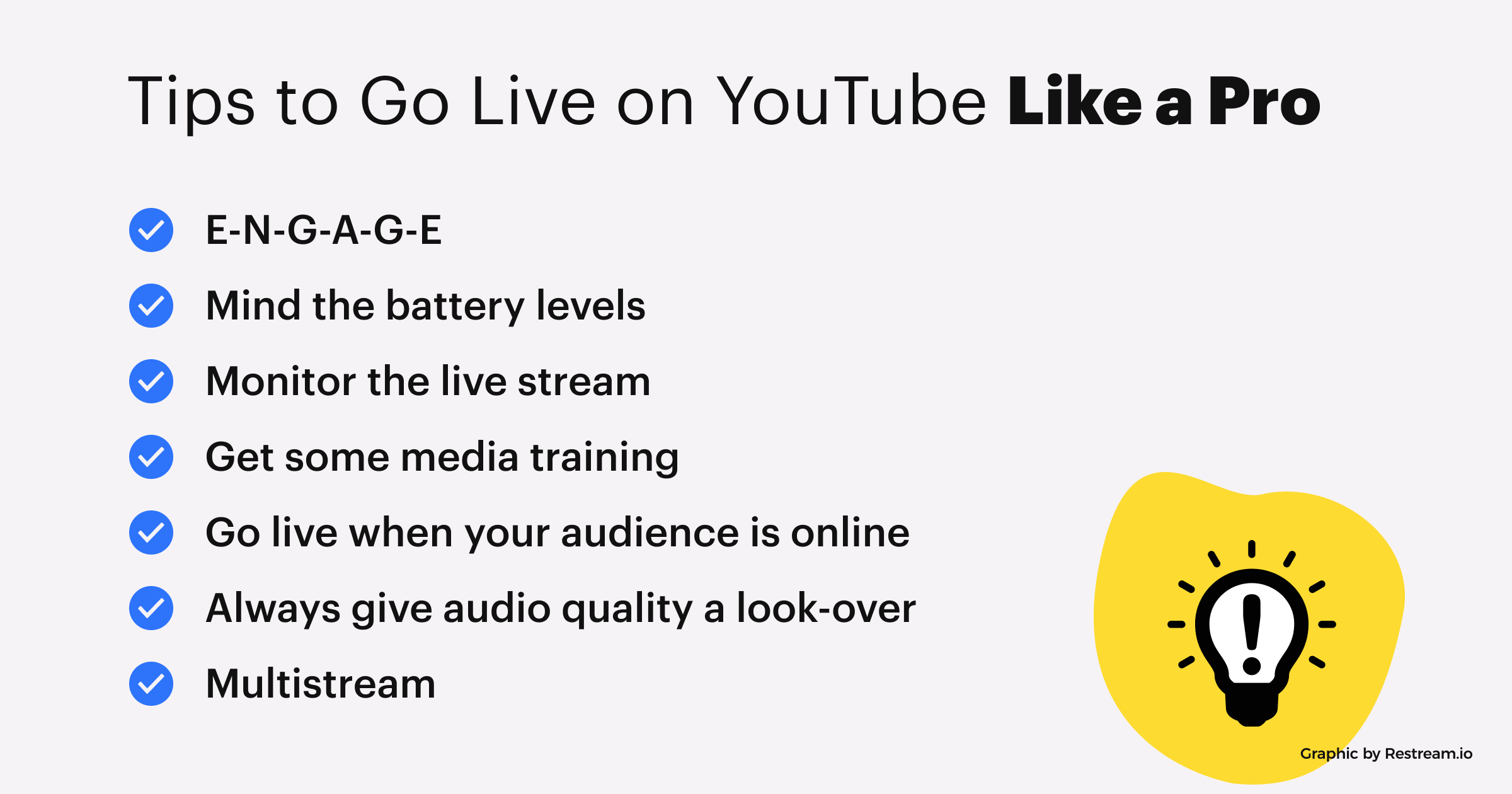 ⚡️ How to multistream to YouTube Live with Restream Studio
Restream Studio is a live streaming software that has everything you need for creating professional broadcasts on multiple platforms at the same time. It allows you to live stream directly from your browser, without any third-party apps. With Restream Studio, you can easily add guests to your live streams and host engaging interviews and Q&As.
The software has lots of customization options to make your stream truly unique and an inbuilt cross-platform chat to read and reply to all the messages in one place. Let's go through the simplest instruction in your life and learn how to start streaming to YouTube via Restream Studio:
Create your Restream account and log in into it.
Select streaming channels you would like to add. In this case, it's YouTube.
Connect Restream to your YouTube account.
Go to Restream Studio and simply hit the Go Live button when you are all set!
Check out the video guide below that explains how to live stream to both YouTube and Facebook with the help of Restream Studio:
Your live streaming companion
simple, professional, reliable
Get Started
💫 Conclusion
While content is the king, video is the hottest type of content. Live-streamed video is the most engaging type of video. If you don't use this type of content, you lose lots of possibilities to attract, engage, and convert your audience better. So if you're looking to dip your toes into live video streaming, you should know that you've made a good choice with YouTube. Broadcasting on the second most popular website in the world can work out great for your business. So give it a try, and use multistreaming as an amplifier and a backup.