Intro
There's more to LinkedIn than cold-calling and networking — it's a bona fide content platform seeing two million pieces of new content published on it every day. 45 percent of people who consume that content are in upper-level positions. Nine out of ten executives say LinkedIn is the first website they'd visit for professionally relevant content.

And when LinkedIn does something strange, such as waiting until 2019 to launch their own live streaming service, LinkedIn Live, it doesn't lose any of its appeal.
On the contrary, LinkedIn users are embracing LinkedIn Live. The social network's data shows that live videos get 24 times more comments than native videos, as well as seven times more reactions. People are paying attention to live video on LinkedIn.
If you're looking for a nuts-and-bolts guide that will help you bank on that attention, you're in the right place. In this guide you will:
✅ Learn about the prerequisites for streaming to LinkedIn
✅ Navigate the process on desktop and mobile
✅ Get ideas for platform-appropriate content
✅ Learn the dos and don'ts of LinkedIn Live
Ready to dive in? Let's start by going over the prerequisites for live streaming to LinkedIn.
What do you need to stream to LinkedIn Live?
When you're streaming live video for professional or business purposes, doing it off the cuff might not be the best course to choose. Premeditation is even more important with LinkedIn than with other platforms because this social network's live streaming service has an unusual mix of requirements.
To be able to live stream to LinkedIn, you need to:
Get the social network's approval. Streaming to LinkedIn Live isn't available to everyone, even if you're already a member. You need to apply for access either by filling out an online form (if you want to stream as a LinkedIn member) or by arranging it with your LinkedIn Marketing Solutions rep (if you want to stream as a page).
Choose a third-party broadcasting tool. You will need a tool to broadcast to LinkedIn. Restream became one of the first supported tools back in May of 2019 when it partnered with LinkedIn. This guide will cover live streaming to LinkedIn using Restream and its services.
Have the necessary gear. If you're new to streaming, reading our streaming guide will be a great first step into learning about setting up gear. You'll also be able to stream to LinkedIn Live from your smartphone. This guide will cover both desktop and smartphone live streaming.
There's no particular order for meeting these requirements. However, it would be best to postpone any big investments in gear until LinkedIn gives you the thumbs-up. If LinkedIn is the only platform where you want to stream, do everything in the order we've listed here.
The different ways you can live stream to LinkedIn with Restream
Restream facilitates live streaming with various gear setups, from desktop and mobile devices to multiple platforms at the same time. This gives you the flexibility to do impromptu live streams on the go, live stream a conference with a multi-camera setup, or live stream with nothing but a computer and a webcam.
Thanks to Restream's partnership with LinkedIn, you can easily start multistreaming to your personal or company page along with other streaming services. Are you ready to try out the fully integrated Linkedin Live as a brand new supported platform?
All you need is to connect your LinkedIn and Restream accounts. Here's how:
1. Log into Restream
Logging into Restream will bring you straight to the dashboard, where you can add channels and manage where you want to stream a particular event.
2. Click the "add channel" button
Doing this will bring up the list of platforms Restream supports, a useful directory for other places to which you may want to consider streaming.
3. Pick "LinkedIn Live" from the list of available channels
This will lead you to a window where you have to click on the "Connect LinkedIn" button in order to link the account with Restream. You'll be prompted to log into LinkedIn if you haven't already.
4. Give permission to Restream to access your account
After that, you'll only have to pick which account you want to stream to: your account or a page you moderate (if there is one).
With the last step done, you've officially gone halfway towards being able to stream — you've connected the streaming service with the streaming platform.
The next couple of steps will vary significantly depending on the type of gear you want to use. We'll walk through three popular gear setups: webcam, desktop with one or more cameras, and mobile.
Restream Studio: streaming to LinkedIn Live with just a webcam
The simplest solution for live streaming to LinkedIn requires nothing but a webcam, a computer, and a web browser. It's called Restream Studio, it's incredibly simple to use, and it's the perfect solution if you want to quickly go live or stream with a single-camera one-shot setup.
If you want to live stream to LinkedIn Live with the Restream Studio, you should:
1. Go to Restream's dashboard
You'll notice a "Live Studio" option in the left-hand side menu of the screen. Click on it.
2. Set up the audio and video sources
You'll be prompted to grant Restream access to your camera and microphone.
3. Choose the visuals
Restream Studio lets you set captions, backgrounds, overlays, and logos for your stream.
4. Start the stream
Pressing the "go live" button will start your live stream to LinkedIn Live.
5. Press the "finish stream" button when you're done
The "go live now" button turns into "finish the stream" when you go live. Pressing it ends your stream.
Easy live streaming for everyone
Run professional live streams from your browser.
Get Started
Streaming to LinkedIn Live from a desktop computer
Any desktop setup that uses an input that's more advanced than a webcam will require you to add an encoder into the mix. There are two types of encoders: software and hardware. Since software encoders seem to be more novice-friendly in terms of difficulty of use and pricing, we'll explain how to use them.
Open Broadcaster Software (OBS) Studio is an open-source encoder and one of the most popular pieces of streaming software. Here's how you stream to LinkedIn Live using it and Restream after you've connected all your gear:
1. Connect OBS Studio with Restream
There are two ways you can connect OBS with Restream: automatic and manual. Choose the one that's more convenient for you.
2. Add audio sources in OBS Studio
You can find them by choosing "settings" from the main window and clicking the "audio" tab in the menu that opens.
3. Add video sources
You'll find them by clicking the "+" in the "sources" box. Add "video capture card" to set the camera feeds as a source.
4. Choose the resolution and bitrate
Go to the "video" tab in the settings and enter your desired resolution (from 360p to 1080p) and bitrate (from 1500 kbps to 5000 kbps or more).
This is the basic OBS Studio setup. You can go for more in-depth settings when you're comfortable with it. These four steps will, however, connect everything to get you ready to press "start streaming" and launch your broadcast to LinkedIn.
Read later: Top 7 powerful reasons to multistream with Restream 📍
Streaming to LinkedIn Live from a mobile device
Just when you get used to OBS Studio and want to take the show on the proverbial road to live stream from a mobile device, you find out that you can't — at least not with OBS Studio, because the application doesn't have a mobile app.
Fret not, however, as there are other tools you can use. Restream supports pretty much any app that uses RTMP streaming, so you'll have plenty of options.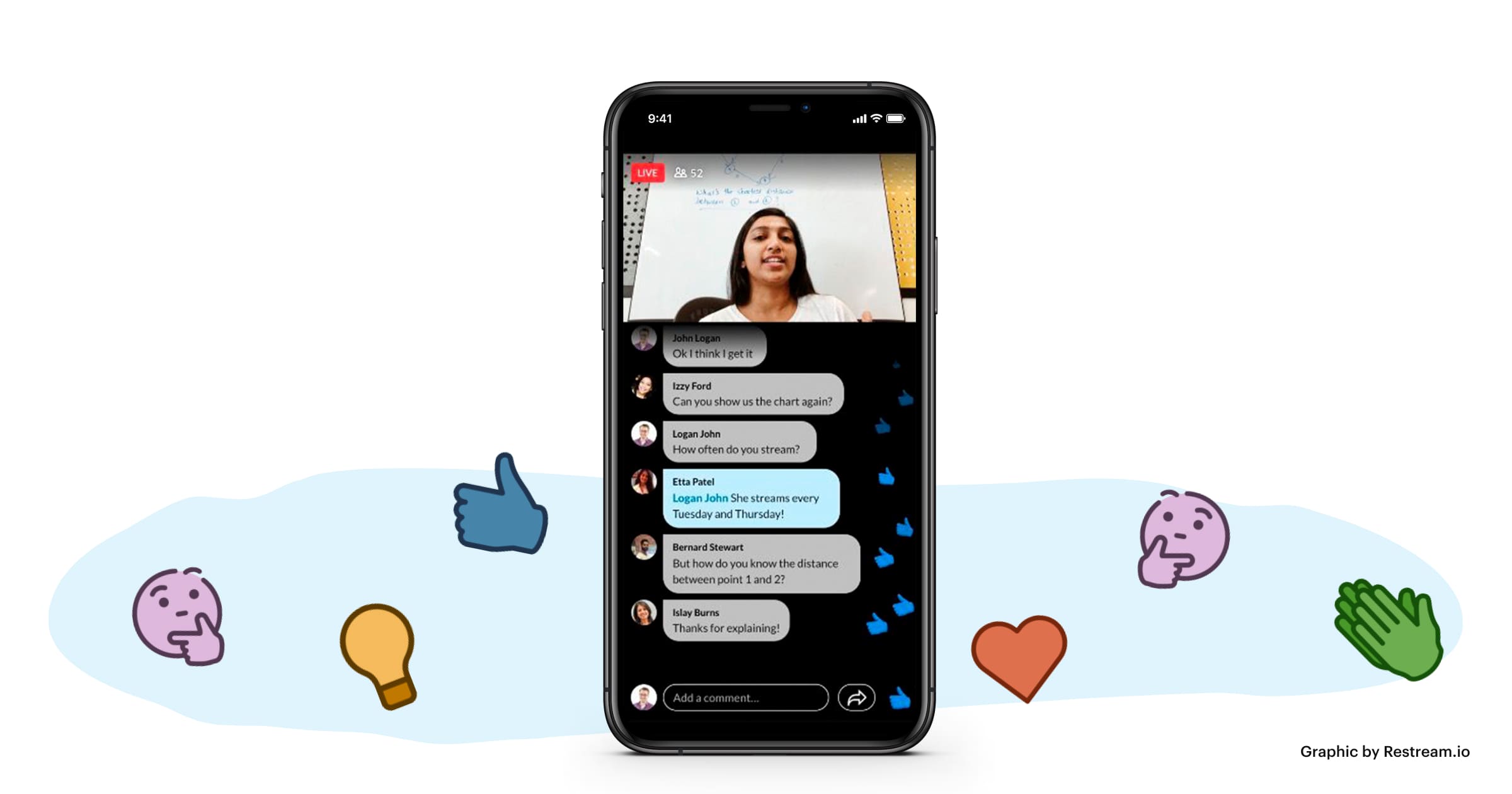 Streamlabs and Larix are two good choices, whether you have an Android phone or an iPhone. With both, connecting them to Restream might be more challenging than the actual streaming. Here's how you do it:
1.Navigate to where you can add connections in the app
In the Streamlabs app, find "streaming platform" in the settings. In Larix, it's "connections," and you can also find it in the settings.
2. Navigate to the Restream dashboard on your phone
You want to pick the best server for your location and copy the RTMP link.
3. Go back to the streaming app to paste the RTMP link
In Streamlabs, choosing the "streaming platform" option will bring up the field where you can select your platform. Pick "custom RTMP server" and paste the link to it underneath.
In Larix, clicking on the "+" icon while in "connections" will enable you to connect the app to the platform. Name the connection "Restream" and paste the RTMP in the "URL" field.
4. Retrieve the stream key
Head back to the Restream Dashboard, where you'll find the stream key. Copy it.
5. Paste the streaming key in the app
In Streamlabs, you should paste the streaming key right underneath the RTMP link.
In Larix, you paste it in the same field as the RTMP link. Paste it after the last "/" without a space in between.With that, everything is connected, and you are ready to go live on LinkedIn from your mobile device. Before you go live, make sure you've selected LinkedIn as your destination in the Restream dashboard. Because Restream is a multistreaming service, LinkedIn doesn't have to be the only platform you're streaming to at any given time.

Tips for streaming to LinkedIn Live
Even though LinkedIn is a newcomer to the live streaming market, it's been around long enough for people to figure out the best practices for using it this way. Throw in a mix of good-old advice streamers have gathered from other platforms, and you should be set to go live. Let's see what you should and shouldn't do on LinkedIn live.
1. Set goals for your streams
This is really Marketing 101, but it bears repeating every time you start working with a new type of content: every single piece of content you produce needs a goal behind it. That means your live streams, too, should be guided by a goal.
Here are two simple reasons why every stream should be in line with a goal. One is that goals determine what kind of live stream you should create, as different content helps achieve different goals. The other is that, if you have a goal, you can also determine a KPI and measure the success of your stream.
2. Use platform-appropriate content
LinkedIn is a very specific platform, and it caters to an audience that has specific desires from it. In short, people come to LinkedIn for business- and career-related content. You'd be hard-pressed to find someone live streaming entertainment on LinkedIn.
If you're short on ideas for the types of content you can stream to LinkedIn Live, here are a few:
3. Test everything
The middle of a live stream isn't a good moment for your camera's battery to run out. It's not a good time to learn that you don't have a good upload speed for streaming either. And let's not mention how bad it would be to discover that your stagefright extends to online broadcasts while you're doing one.
These are the things you should know before you start a live stream. You should test your preparedness, your gear, and your bandwidth before you go live. A live stream is a bad time for surprises.
4. Spread the word in advance
You should give people a chance to learn about your live stream beforehand so they can plan to watch it. It's a much better strategy than relying just on the people who happen to be online at the time you're broadcasting.
Even if you choose to stream only to LinkedIn, you should still mobilize all your communication channels to spread the word about your stream. Social media, newsletters, guest posts — whatever you can access will contribute.
5. Look as good as you can
You know that appearance matters. Every person who's ever had a job will tell you it's not just about knowing the part — it's about looking the part, too. On LinkedIn, that means one thing: you have to look professional during your live stream.
On other social networks, an unkempt, just-got-out-of-bed look might do just fine. On LinkedIn, it won't. You don't have to go as far as to wear a tie for your streams, but you should look respectable and appropriate for your industry.
6. Create professional online events
Another cool feature Restream provides is LinkedIn Events. It allows you to create, schedule, and host professional online events, as well as easily invite and keep in touch with your attendees. LinkedIn Events is a great tool to build a new community, grow your business, or share your skills with the world.
7. Don't go live every day
Daily streaming is unnecessary. Don't go out of your way to prioritize live streaming when you have other important business-related tasks to attend to.
If you're serious about live streaming to LinkedIn, make a streaming schedule that takes into account your other activities. Even if you have the time, think about appearances and opt for a more spread-out streaming schedule.
8. Multistream!
Here's some advice that can save you lots and lots of time: you don't need to limit yourself to streaming to one platform at a time. If you have content you'd like to stream to other networks besides LinkedIn, you can. It's easier than you think.Restream, the broadcasting tool you're using to stream to LinkedIn Live, is also a multistreaming tool. All you need to do is connect other platforms with Restream, and the next time you have content to live stream, make sure those platforms are toggled on. It's really that easy.
Restream, the broadcasting tool you're using to stream to LinkedIn Live, is also a multistreaming tool. All you need to do is to connect other platforms with Restream, and the next time you have content to live stream, make sure those platforms are toggled on. It's really that easy.
Conclusion
Live video is a form of content that's getting more and more attention. There are few other types of content that are as immediate, available, and engaging as live video. Every social network knows it and offers live streaming services. Even the last holdout, LinkedIn, caved in when it released LinkedIn Live.
For you, that means you can serve content to your professional network in a new and interesting way. Because it's still LinkedIn, though, you'll have to make sure to post content that's appropriate for the network. And once you get the hang of it, you can start multistreaming with an additional click or two using Restream.