Professional live streaming with Restream Studio is easy — you log in, add platforms to stream on, and start your broadcast. Simple as that! However, in some cases, weighty live streaming production requires you to have additional software to elevate your product to the next level.
But is it possible to use Restream Studio with other streaming software? The short answer is yes, and it's called the RTMP Source feature. Stay with us to learn everything about this new update to Restream Studio.
What is RTMP Source?
RTMP Source is a new feature that allows you to connect your streaming software like OBS, Zoom, vMix, XSplit, and others to Restream Studio. Basically, it allows you to take full advantage of using both Restream Studio and a third-party software of your choice.
How does it work? Your live stream goes from Zoom or OBS Studio to Restream Studio, where it gets redirected to your chosen streaming platforms, like Facebook and YouTube.
How is RTMP Source useful?
With the RTMP Source feature, you can use all the benefits of Restream Studio and the third-party live streaming software to help you take your live streams to the next level. Thanks to RTMP Source, Restream Studio's full arsenal of features will be available to you:
Multistreaming can help you reach as many audiences as possible.
Easy and versatile visual customization — branding, logos, custom overlays, and backgrounds.
The ability to upload and play your own videos as pre-rolls or short stream breaks.
Custom captions to create convertible CTAs.
Chat Overlay to make your live streams even more engaging.
Invite guests directly to your streams and host live interviews and Q&As.
Screen sharing to showcase your presentations.
🔥 RTMP Source use cases:
You can unlock the unlimited guests feature. Restream Studio allows you to invite up to ten guests onto your stream. However, by connecting Zoom to your Restream Studio with the RTMP feature, you can host up to 1000 participants!
Also, you have the ability to live stream Zoom phone calls in Restream Studio with your invited guests.
Anything you can do with Zoom is available with the RTMP feature. You can make the most of your live streams when combining Restream Studio's power and Zoom's functionality: virtual backgrounds, whiteboards, App Marketplace, and more.
You can use all the unique and professional features from software like vMix, xSplit, or OBS Studio that you need for your live streaming production. For example, you can run OBS through Restream Studio and easily change lower thirds, apply additional visual effects, and always have your branding on regardless of the camera source.
By connecting two cameras, you can use the RTMP feature as a fallback for your live streams. This way, you can ensure the broadcast stays live in case something goes wrong. The multi-camera setup also allows you to easily switch between scenes during your live streams and make your broadcasts even more engaging.
Who can benefit from RTMP Source?
Everyone looking to combine Studio's functionality (including the ability to multistream, lots of amazing overlays, captions, and custom logos, the cross-platform chat, and more) with Zoom, OBS Studio, or other streaming software can benefit from using the RTMP Source feature. More specifically, it would be incredibly useful for:
The RTMP Source feature allows you to have more control over your live streams and to broadcast to multiple streaming platforms at the same time with your favorite live streaming companion — Restream Studio.
How to activate it
You can activate the RTMP Source feature with a single button click in your Restream Studio. This feature is available for our company plans only: Premium, Business, and Enterprise packages. Currently, you can only add one RTMP Source into your Studio with our company plans. However, greater customization is possible with our Enterprise plans; please contact us to learn more.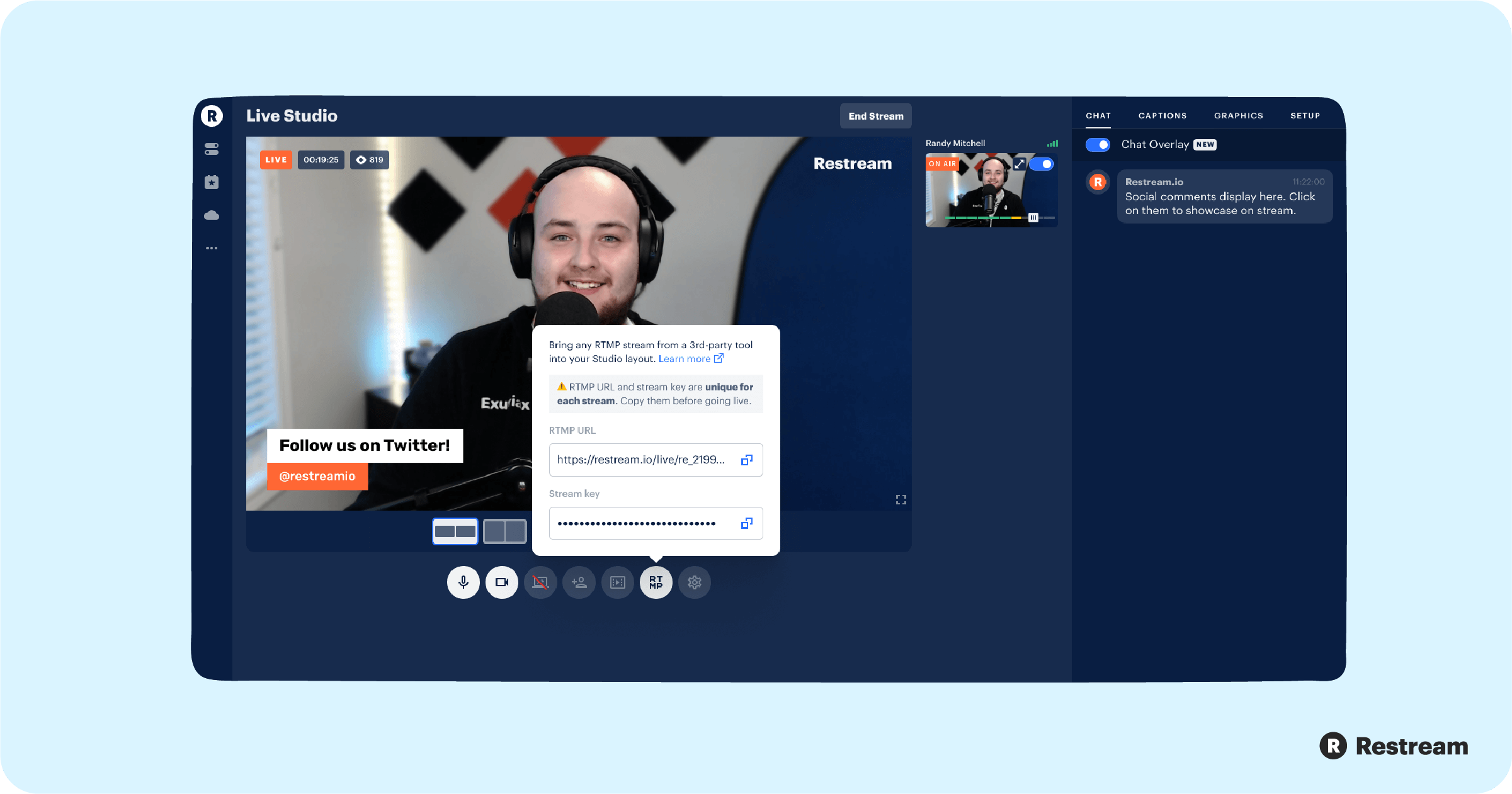 When you have upgraded your subscription plan to either Premium, Business, or Enterprise, go to your Restream Studio account, click the RTMP Source button below the stream preview, copy the RTMP URL and stream key, and paste them into the corresponding boxes in your software. Keep in mind that you should copy the unique RTMP URL and stream key each time you use this feature. Let's quickly recap the activation instruction:
Log in to your Restream account or create a new one if you are a new user.
Upgrade your subscription plan to one of the following: Premium, Business, or Enterprise.
Add streaming platforms in your Restream dashboard.
Enter Live Studio and click the RTMP Source button below the stream preview.
Copy your RTMP URL and stream key, then paste them into your chosen streaming software.
Go live to establish the connection with your Restream Studio.
👉 Check out our support article to learn how to use the RTMP feature.