Repurposing your live streams can be quite challenging. And it gets even harder when it comes to Q&As, interviews, and talk shows with multiple participants. Why? Because editing such recordings can become a real nightmare, especially when your guests constantly talk over each other. That's why we came up with an elegant solution to this problem — split track recording! This feature allows you to record and download each participant's audio separately. Keep reading to learn more about this amazing update.
👀 What is split track recording?
Split track recording is a great new addition to Restream products. Restream Studio now offers separate audio track recordings of every participant in the stream. What does this mean? After you end your live stream in Restream Studio, you will be able to download the recorded audio track as separate files. Thanks to this feature you can later edit the audio and make it just the way you want it — clean and professional.
😎 What's so cool about split track recording?
Have you ever found yourself thinking something like: "Man, I wish I could somehow clean up this mess and keep this part of the audio..."? Good news! You can now work with separate audio tracks from every participant, which makes it so much easier to make further editing or repurposing.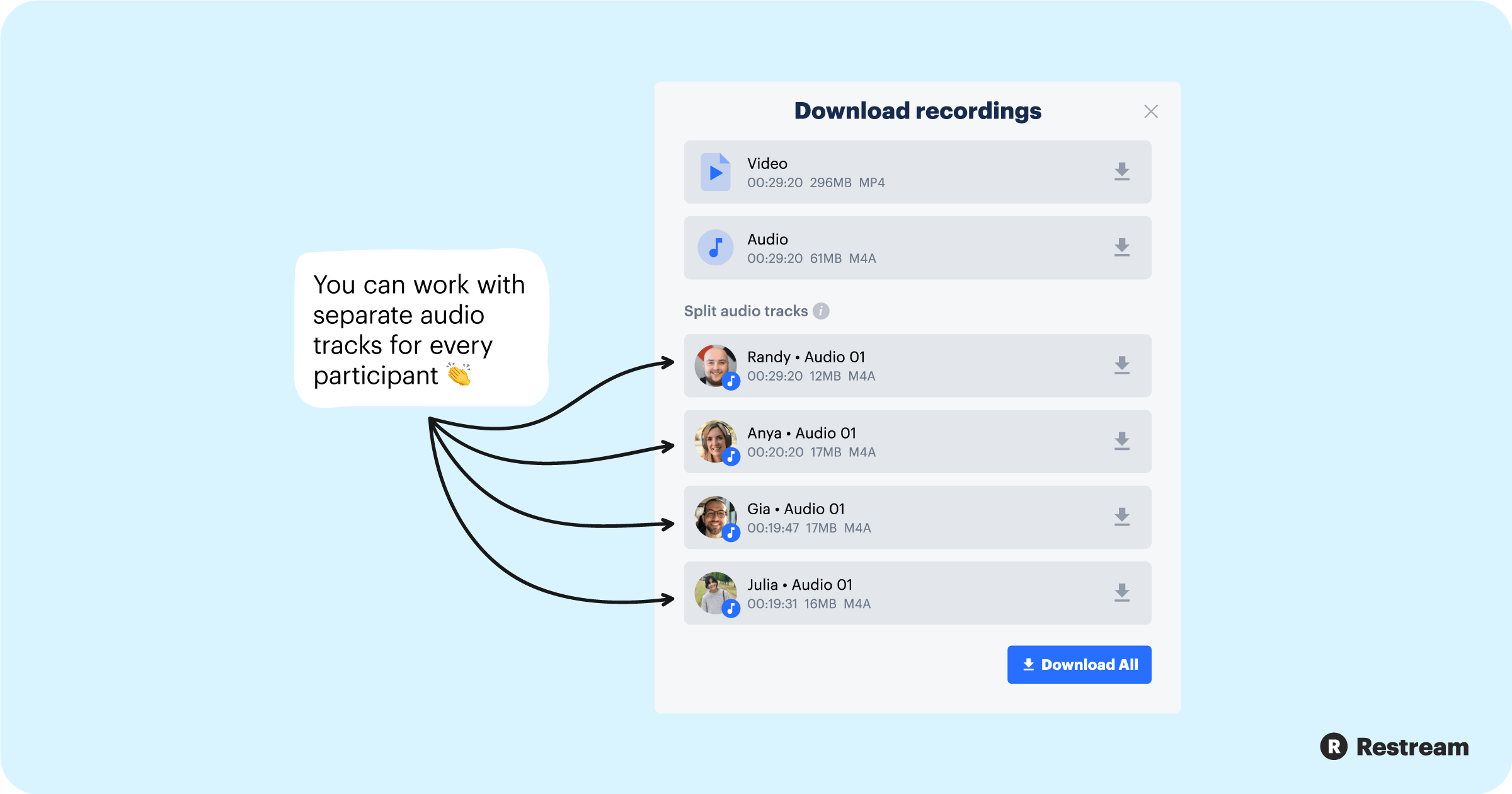 Split track recording can also help you master and mix the recorded audio of your live stream and eliminate the issue of different sound properties. Because, you know, your guests may have different microphones and live streaming setups. You can dereverb one participant's audio recording and compress the other one to make it more pleasant for your viewers' ears. In other words, the split track recording feature allows you to polish your audio and make it perfect!
👉 How to activate split audio recording
Enabling the split track recording feature is super easy. In fact, you don't even have to turn it on. It is already enabled in our Professional subscription plan. After you end your live stream, you can simply click one button and download the recordings. Here's how you can do it:
Click Enter Live Studio in your dashboard
Invite your guests to the stream
Start live streaming when you are all set
Finish your live stream by clicking the End Stream button
The Download Recordings option will appear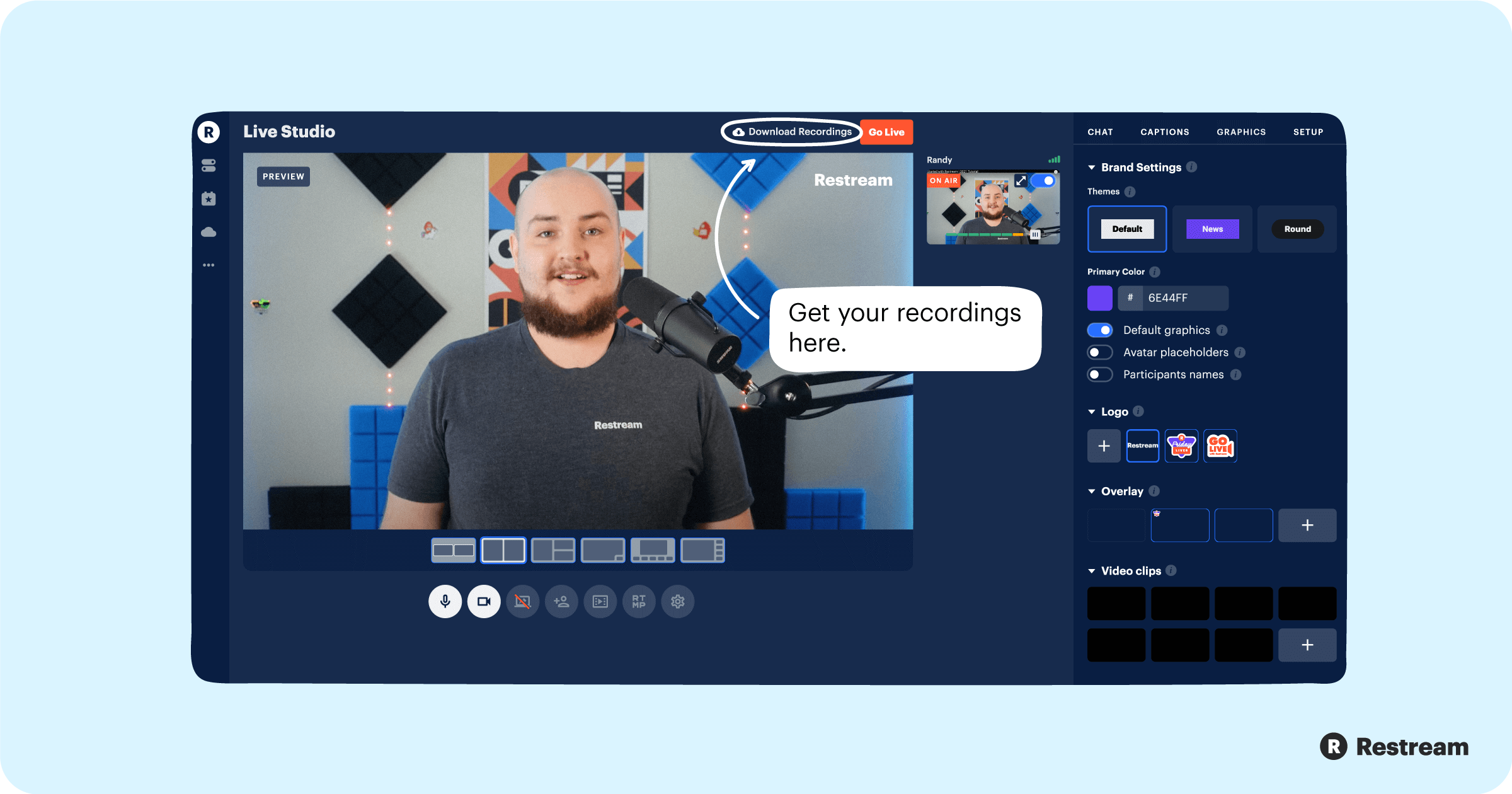 You can also access all recordings afterward in your Video Storage as shown in the GIF below. Please, keep in mind, split track recordings work only with live streams created in Restream Studio.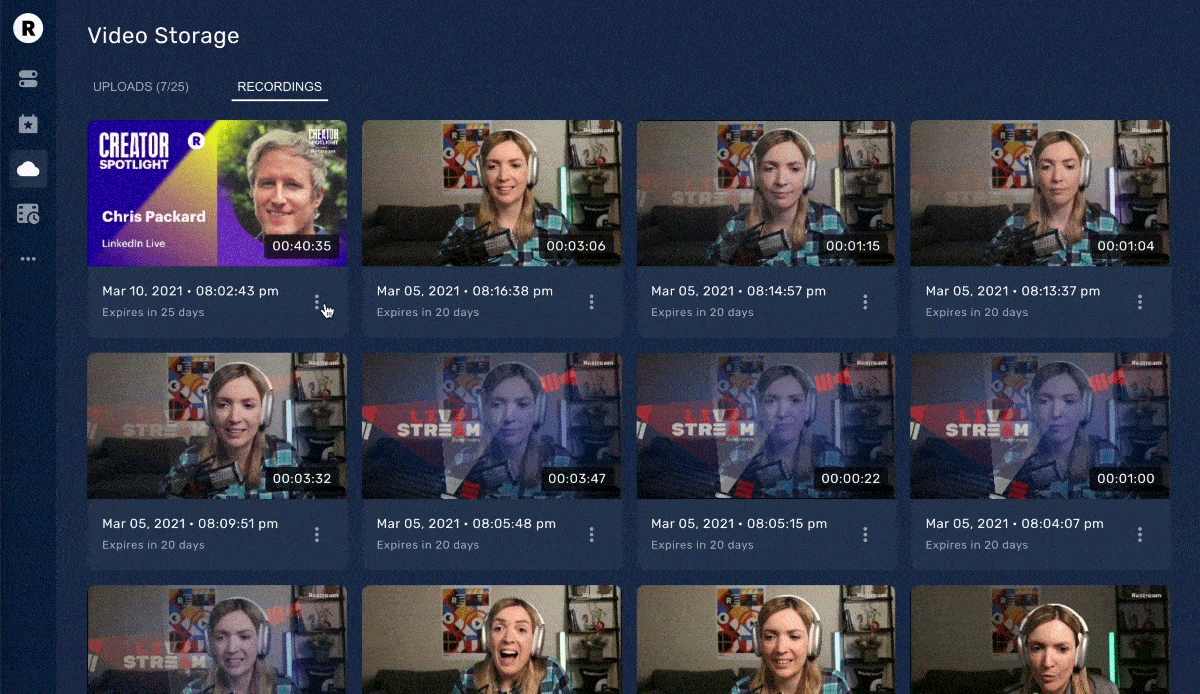 🙌 Who can benefit from it?
The split track recording feature is an amazing tool for any users who work with audio, but this feature is most valuable for podcasters and interviewers. It allows you to edit your content much easier — working on separate tracks instead of the one, where it feels like nothing can be done with it.
Bonus tip: The professional repurposing of your live streams becomes at hand with the split audio recording feature. You can turn your recorded live streams into high-quality podcasts, create engaging teasers for your social media, and produce amazing highlights of your shows. And with Restream Events, it's even easier to reach your audience. You can upload and schedule your edited content to be live streamed on the selected platforms.
Do wish you could get separate audio tracks of your stream participants? Restream Studio now supports split track recording. Go live and try it now!