Here's a good reason to learn how to live stream conferences online: this can help you achieve diverse goals. Want to make money from your conferences? Live streaming can help. Want to get it in front of as many people as possible, without spending a lot of money? Multistreaming is the solution for you.
Best of all, it's easy to do. We've come a long way from the times when broadcasting conferences was a difficult and expensive endeavor. You can rent all the equipment you need, and you can learn how to live stream an event right here if the event in question is a conference.
Why learn how to live stream a conference?
There are many, many reasons for conference live streaming. Remote participation is getting easier to pull off well. The rise of transportation expenses, in terms of impact on the participants' budgets (as well as the environment), is pressing hard on attendees. Not to mention the scheduling issues and the comfort factor watching content from home brings — it all adds up to a need for more remote-friendly experiences.

That's just a start, though — there are easily more reasons for streaming conferences than against it. Consider these, for example:
You get more attendees. The more options you give to people who want to attend, the more attendees you'll have. Streaming conferences removes all geographical requirements — the whole world can be in your audience.
Virtual attendance has a good conversion rate. If your goal is to physically fill more seats in future conferences, you should know that on average 23% of this year's virtual attendants will be physically present at your conference in the next two years.
Virtual attendance is an in-demand alternative to physical attendance. Almost half of the people cite a budgeting issue as a reason to attend virtually. A quarter would cite schedule conflicts, and an eighth would cite the lack of time to travel. This makes virtual attendance a desirable alternative if you don't want to alienate a large share of your potential audience.
A wide virtual attendance is easier to plan for. Instead of having to organize several physical events at different locations and at different times, you can save resources, time, and effort by making it possible for interested parties to join the conference via a live stream.
Streaming = recording. Usually, when you live stream an event, the platform you use either records it automatically or gives you an option to set up an automatic recording. The conference footage you get this way can become invaluable educational material, not to mention that you can use it for promotional materials for next year's conference.
Live streaming is great. Not only is live streaming easy, affordable, and accessible, it's also an incredibly engaging form of content presentation. The people who view the live stream of your conference will be able to interact in real-time via live chat. By using platforms such as Zoom with multistreaming services, you can get great results.
Broadcasting a conference is a viable solution to at least some of the problems that come with organizing or attending these events. The way tech's been developing, with the rise of AR and VR, live streaming conferences is only going to become more relevant and useful. Learn how to live stream an event before you become the only organizer or promoter in your industry who still hasn't figured it out.

How to successfully live stream your conference
The fact that live streaming isn't difficult doesn't mean you can't do it wrong. You can make your conference appear like a professionally live-streamed event, even if you're not a professional producer.
If you want to achieve high results and reach the biggest possible audience with your live stream, you'll need specific tools and services.
1. Define your streaming platform
Targeting is always better than shooting blindly and hoping you connect to someone interested in your event. There are many platforms you can use to reach an audience with your conference stream, and some are better for reaching specific audiences than others. You should know which platform is good for what kind of audience.
Here's a handy way of thinking about different kinds of streaming platforms:
Universal platforms — great for reaching any audience, whether they are broad or niche. These are the most popular platforms, such as Facebook, YouTube, and Twitter.
Educational platforms — let you develop and usually charge for your content. These platforms include DaCast and Panopto.
Business platforms — if you want to reach a business audience, or if you want to push branded live-streamed events, LinkedIn and Instagram are good options.
Gaming platforms — the gaming audience is on the rise, and you can find them on platforms such as Twitch and Mixer.
Visual arts platforms — for the visual arts niche, the best place to go is Picarto.
Alternatively, you can live stream to your own website. If you choose to do this, however, you should be prepared to work towards attracting the audiences that usually hang out on social or live streaming networks.
Read later: How to stream to LinkedIn Live using Restream 📍
2. What gear do you need?
Whether you're renting gear or using what you have, your options will be the same. Streaming an event usually requires multiple cameras and multiple audio sources. Consequently, you'll need capture cards that can handle multiple cameras.
Here's what a live streaming setup usually looks like:
Video and audio sources: These are the cameras and microphones you'll need. Again, pay attention that you'll need a couple of each if you want to cover a conference well.
Capture cards: The devices that capture the video and audio signal coming from the sources.
An encoder: This can either be a dedicated hardware device, which might also double as a capture card, or a software solution you install on a personal computer.
Channel for output: A platform where you'll be streaming to. You'll need a stable internet connection with a good upload speed, too. If the venue doesn't have one, you'll have to create your own hotspot.
There are some nuances to this setup. If you're choosing a hardware encoder, for example, you'll have to get a separate switcher to switch between video inputs.
With free software encoders, you'll probably be able to handle at least two cameras and the switching for them. If you want more cameras in your setup, you'll have to look for a professional-grade software encoder.
3. Use multistreaming to reach a wide audience
Multistreaming is broadcasting your live stream to several platforms at the same time. When you multistream, you're using a piece of hardware, software, or usually a cloud service to distribute your live stream to multiple platforms.
The benefits of multistreaming include:
Time-efficiency. You only need to stream once to get your broadcast to several streaming websites or platforms.
It lets you play to different platforms' strengths. Every platform offers something special. If there are several platforms with appealing specialties, stream to all of them.
Mixing the niche and the mainstream. A niche community can use a niche platform as well as a mainstream one. With multistreaming, you can stream to both simultaneously.
No additional bandwidth requirements. If you're using a cloud multistreaming service, you don't have to invest in additional bandwidth. If you can stream it to one website, you can stream it to them all.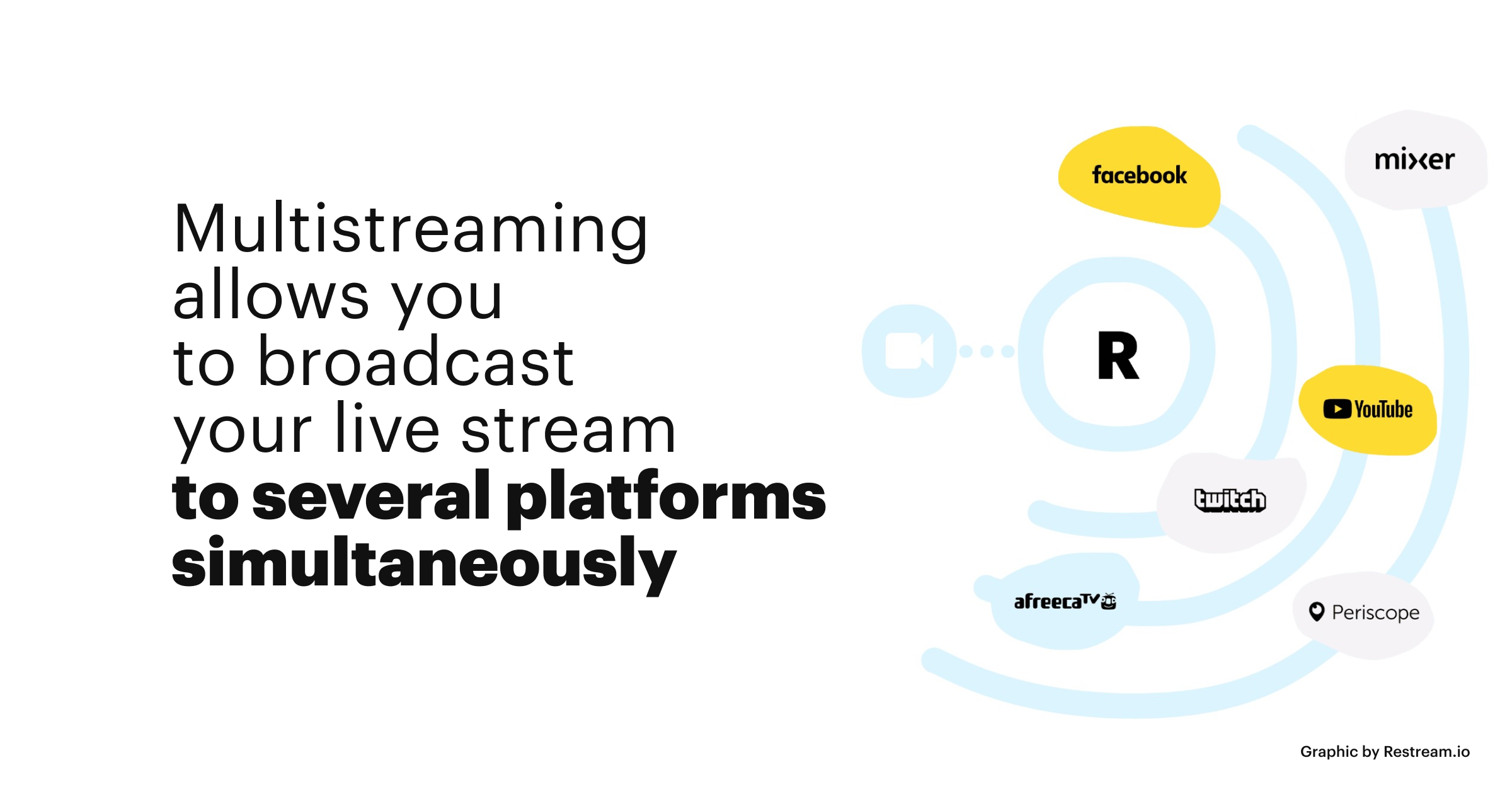 Multistreaming has the potential to help your conference reach a wide new audience. That's why multistreaming has a place in the handbook for the successful live streaming of conferences — but only if you choose a good tool.
4. Use a reliable (Multi)Streaming tool
If your goal is to reach as many people as possible with your live video conference, the tool you're supposed to use for it should pass a couple of tests. It should be relatively inexpensive, easy to use, and provide consistently good service.
Restream offers all that and more. As a multistreaming solution, Restream benefits you by:
Facilitating broadcasts to any of over 30 supported websites — popular websites like YouTube, Twitch, Facebook Live, and all the custom websites you want to add manually.
Being extremely reliable and quick — as attested by the thousands of people who use it to multistream their content.
Being easy to set up and use — you don't need any additional hardware for it, and the setup takes literally minutes.
Affordable to use — start using it for free, and then advance to paid plans as your needs change or expand. You get unlimited streaming time at unlimited bitrate either way.
Giving you advanced options — whether it's the ability to set up alerts or the awesome Events tool that lets you live stream pre-recorded content, Restream has it.
Being available on the device you want — multistreaming services for Mac systems are scarce, but Restream is one of them.
Overall, Restream should provide you with plenty of options, even if you don't want to use it for multistreaming. If you want to cast a wide net, Restream will be your reliable multistreaming partner for your live stream.
If you're in a pinch and you need to set up live streaming of your conference quickly, Restream Studio lets you multistream with nothing but a webcam, a computer, and a web browser. You can set it up in minutes, go live to multiple platforms, watch over the chat rooms on each, and add graphics and captions to your live stream.
👉 Learn more: Restream Studio: Everything you need to know
5. Make a Test Run
The first lesson about live streaming a conference is that you should do a test run before you start the broadcast. The second lesson is that you should not do the test at the last possible minute. Give yourself time to fix the things that can go wrong.
For the test, you should do a test stream to your platform of choice after setting it to "private." Look for any buffering issues, bad sound quality, and audio-video syncing issues. Fix any issue until you're sure it's taken care of — don't hope that it will go away on its own or simply "be alright." And with that, you'll be ready to go live!
Key Takeaways
Live streaming isn't the future of conferencing and similar events — it's already here. People are increasingly choosing virtual attendance instead of being physically present. As an event organizer who wants to plan conferences, you should use this trend to your advantage. Live stream conferences and reap all the awesome rewards of a world where physical presence matters less every day.
The best of all is that you can plan it and do it all on your own. You can rent all the gear you need. You can use this guide to help you set everything up. When the time comes to go live, you can multistream your event to the widest possible audience. For the multistreaming part of the plan, you can always rely on Restream to have your back.