Live streaming has already become one of the most prominent forms of entertainment and communication. This is especially true during the COVID-19 pandemic. While staying at home, people still want to meet their friends and be active to stay sane. Therefore, live streaming is the way to go!
The world continues its dive into the live streaming ocean. Every day, people do fitness with their coaches, showcase their art, fundraise for charitable causes, play video games, and even learn to dance. And they do all of it online! Live streaming dance lessons has especially become the latest trend. We are here to help you start live streaming your dance classes. In this article, you will learn what the essential streaming setup is, where to broadcast, and how to make your live stream better.
Famous dancers who live stream their classes
Nowadays, anyone can go to the best parties and dance classes while wearing PJs and having absolutely no makeup. One of the top dancers around the world, Ryan Heffington, allows people to dance with him as if they were right in his studio. The two-time Grammy Award nominee shares his skills for more than 4,000 people three times a week via Instagram Live.
Dance Church is another wonderful example of live streaming dance classes. Founded by Kate Wallich, Dance Church used to offer dance classes in four big cities: New York, Portland, Seattle, and LA. However, due to the pandemic, the classes went fully online. Arguably, that's even better, as now the classes can be attended by more than 10,000 dancers from all over the world!
Could you have imagined that one day anyone would be able to learn ballet while staying at home? The contemporary ballet dance school Balletx has also moved their classes to Instagram Live due to the coronavirus situation. The classes are completely free and only require a person to follow the school's Instagram profile.
Essential streaming equipment
For all you starters out there, live streaming is super easy, and it doesn't require you to have any additional devices. Basically, all you need is a computer or a smartphone to stream from. However, you can also buy a GoPro camera to achieve maximum quality while broadcasting outdoors. If you are using a PC, you also need a webcam and a microphone. And, of course, make sure you've got a stable internet connection.
Additionally, you might need a streaming app, like Streamlabs OBS or OBS Studio. And for those who want their streams to look more professional, it is recommended to invest in lighting and other features, like a green screen, tripods, etc. Finally, you can bring your live stream to a new level with Restream Studio and broadcast on multiple platforms all at once directly from your browser. With that being said, let's sum up all of the above.
Things you definitely need:
PC or smartphone
Stable internet connection
Accounts on your preferred streaming platforms
Streaming application
Things that are not necessary but can be helpful:
Lighting gear
Tripod for your smartphone
Green screen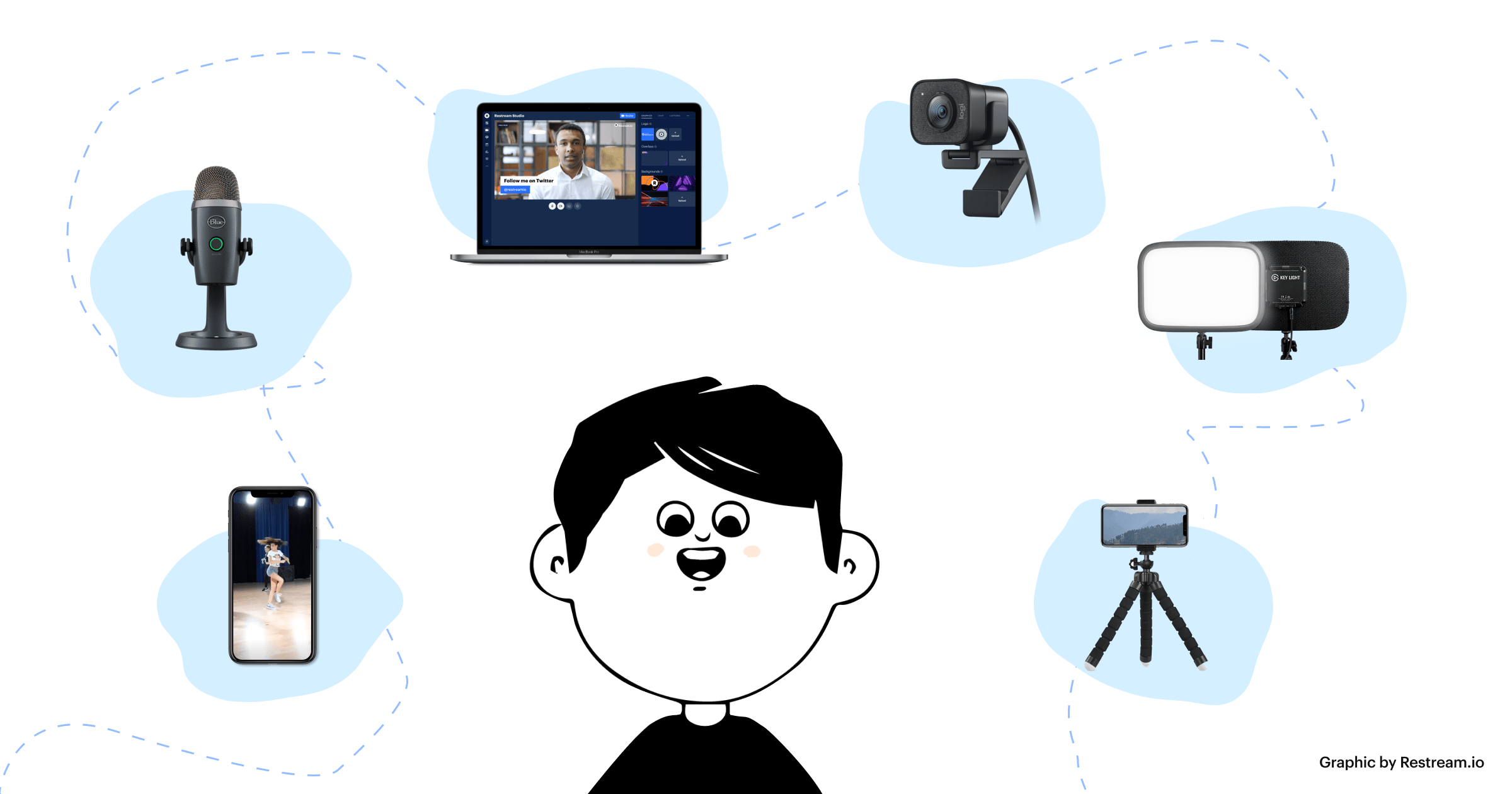 Platforms to live stream on
Now let's move to the more practical stuff. Today, there are dozens of streaming platforms, but which one should you choose? For instance, you could be streaming on Amazon Live or Twitch and have like two viewers. But that's not going to work, is it? Here are some of the most suitable streaming platforms to broadcast dance classes on:
Instagram Live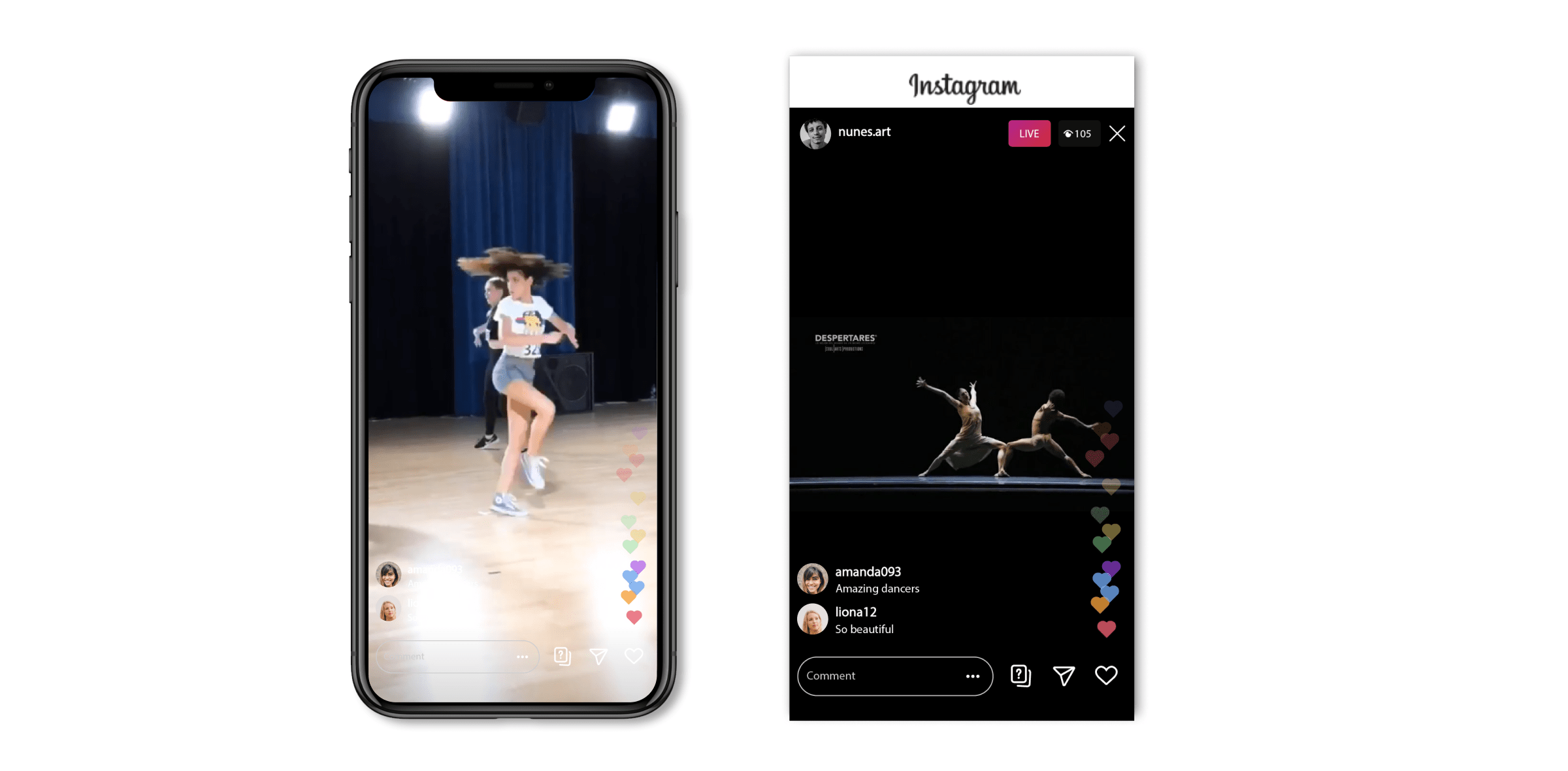 As you can see, lots of dance schools and teachers have chosen Instagram Live for their online dance classes. There are two main reasons for that. The first is that it is super easy to start live streaming with Instagram. All you need is your phone and Instagram profile. In the matter of literally two clicks, you can go live from any place. The second reason is the audience. More than 500 million accounts are active every day!
YouTube Live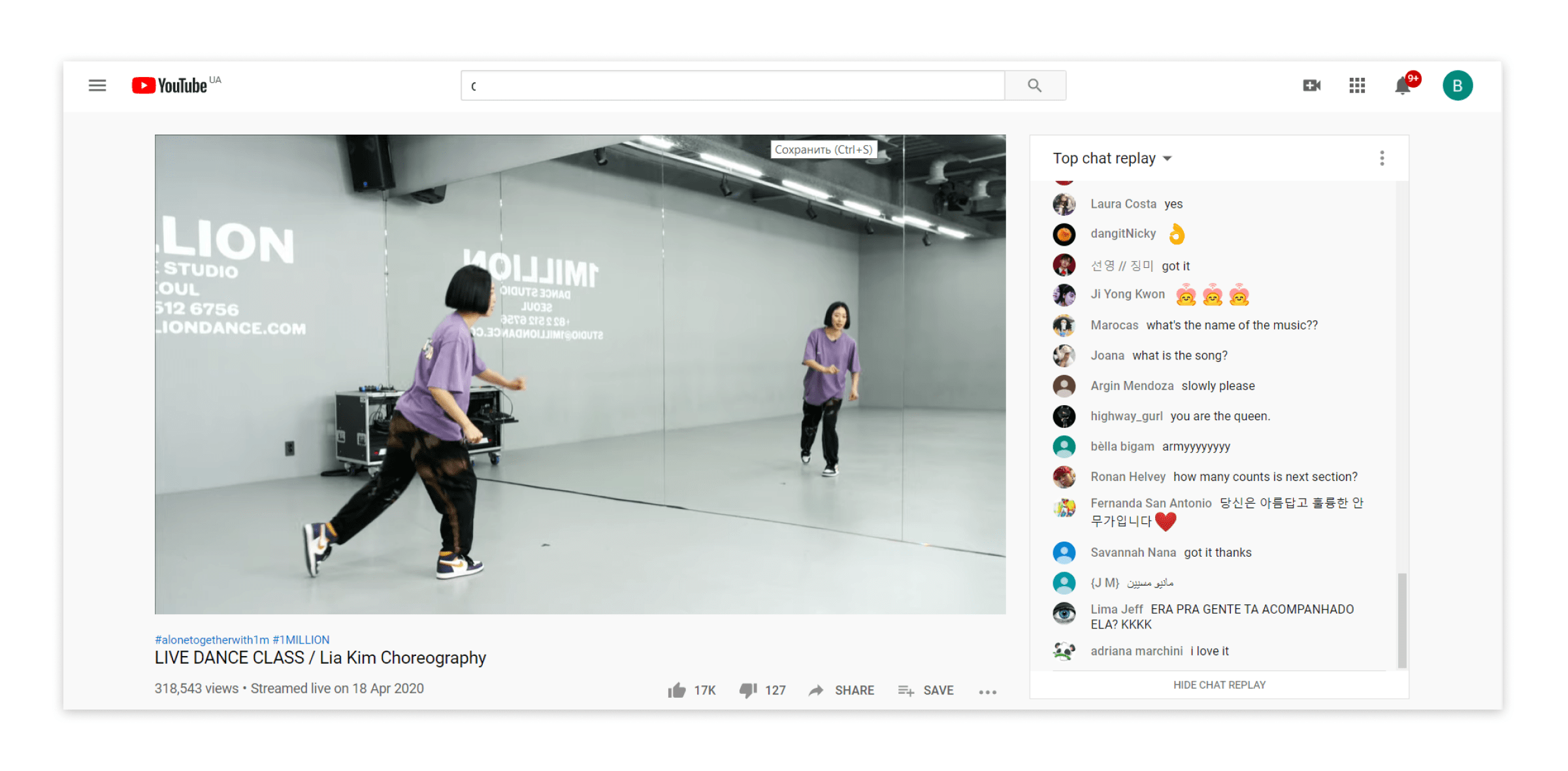 Youtube Live is also an amazing streaming platform for dance classes. It has tons of advantages: a huge audience, high-quality content, easy and clear monetization tools, etc. Moreover, most videos end up on YouTube one way or another. Therefore, live streaming directly to the platform just might be the right choice.
Facebook Live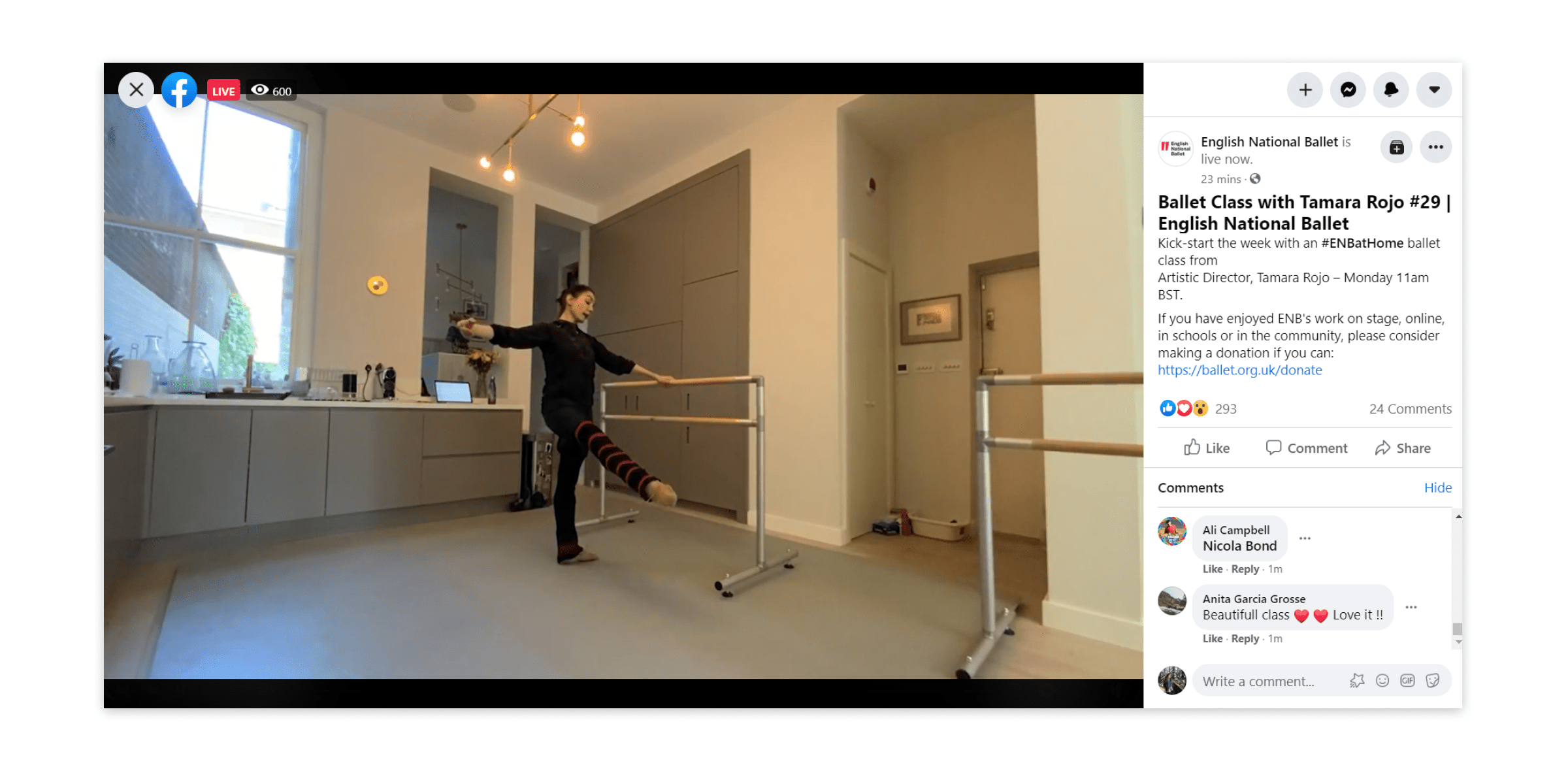 Although Facebook Live isn't really optimized for live streaming dance classes, it would be useful for those who have already established their audiences there. The main issue with Facebook is that your live videos can get lost among other people's content, including pre-recorded videos. That's why Facebook Live is mainly suitable if your audience is used to it.
Zoom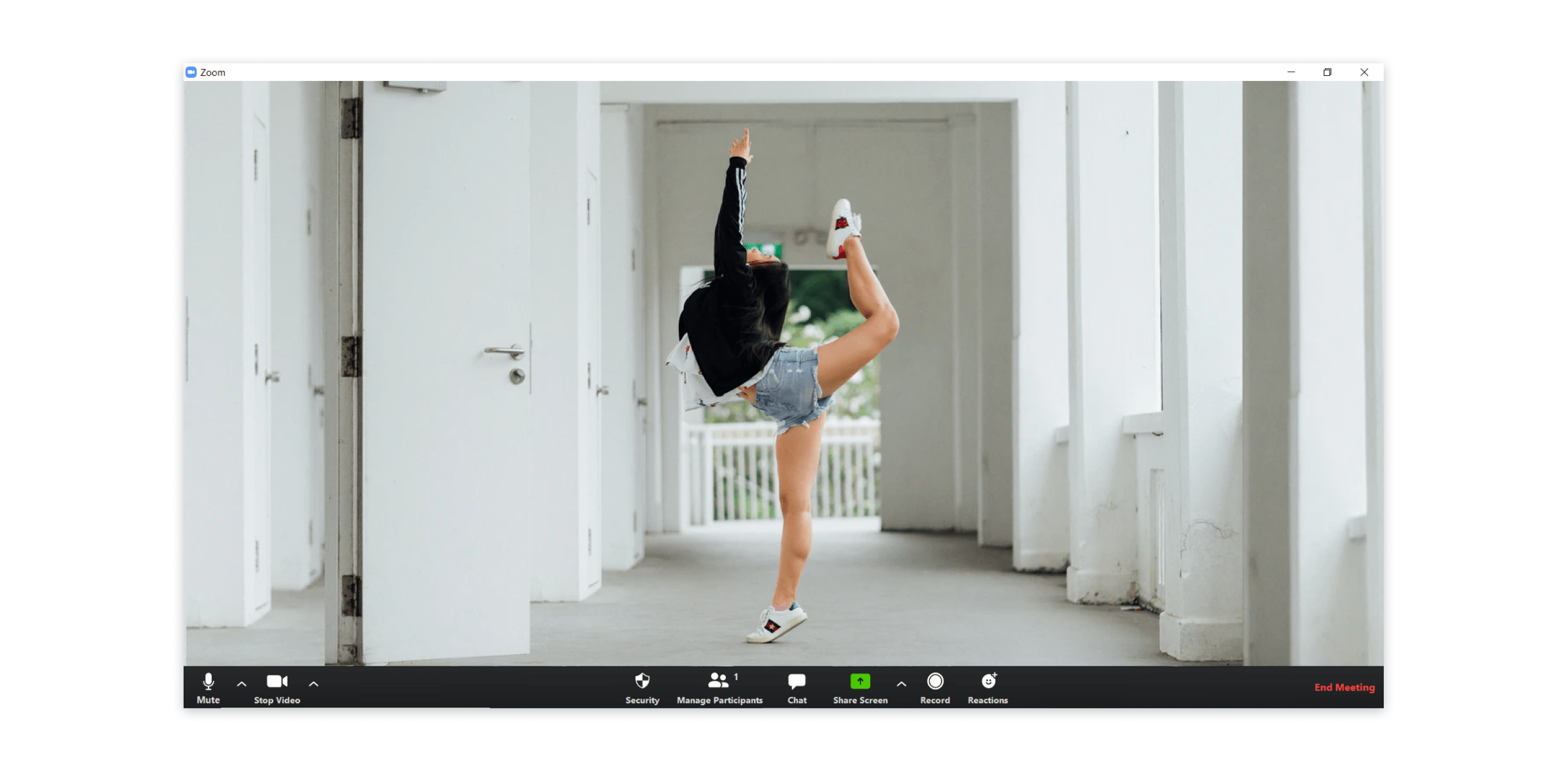 Zoom has become extremely popular for virtually every type of live content. People organize live meetings, broadcast webinars and presentations, and live stream classes, including fitness and dance classes. One of Zoom's key features is that you can create a meeting for your clients only and lock the meeting to prevent any unwelcome guests from interrupting your dance class. And with a few additional steps, you can multistream your classes on many different platforms all at once using Restream.
Twitter Live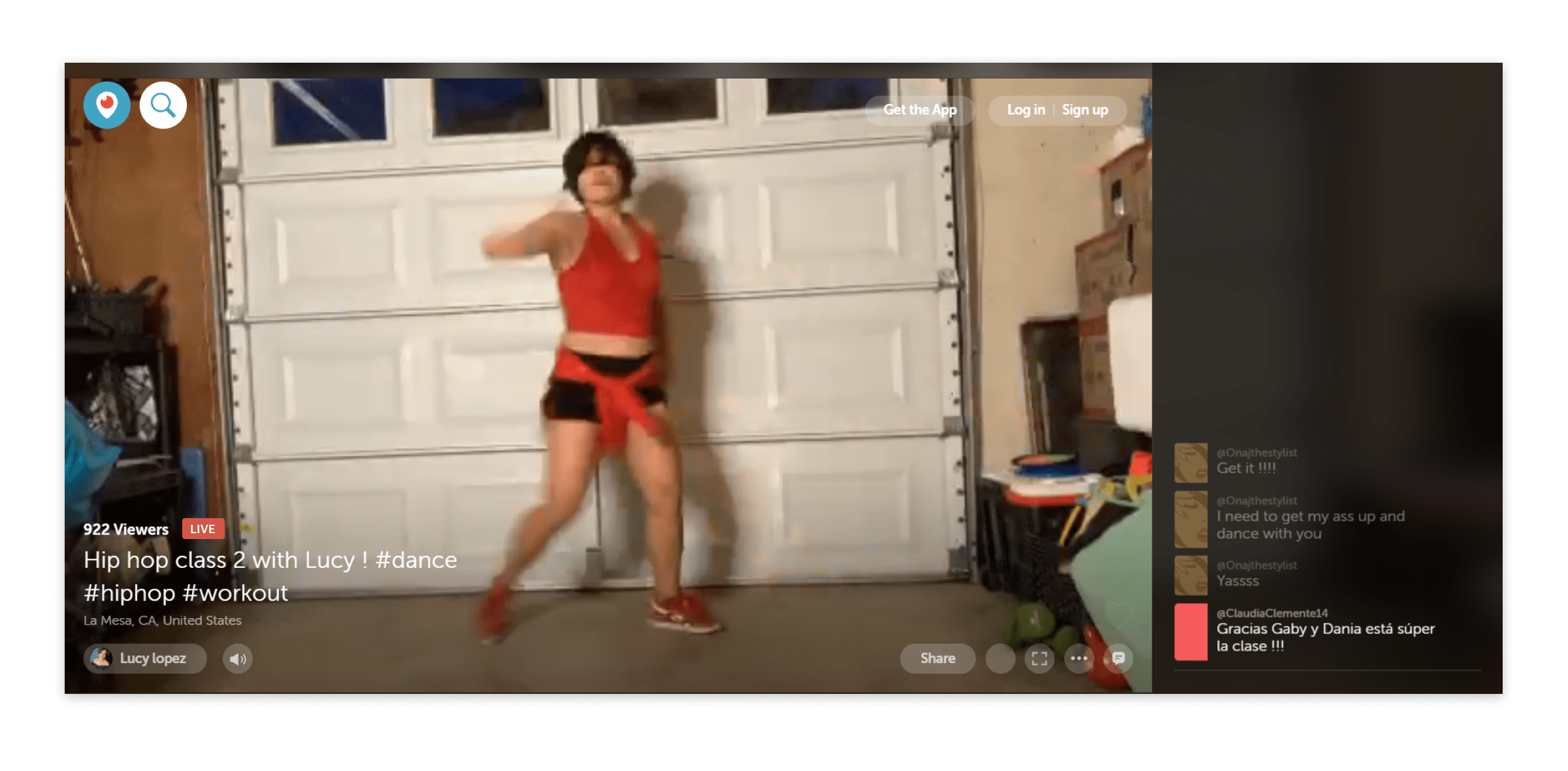 Last but not least, Twitter is pretty much similar to the streaming platforms above. You can easily broadcast your live content directly on your Twitter page. This option is especially viable if you are looking for some easy ways to go viral. The platform has millions of users searching for new live streams each day. Moreover, Twitter is a social media, which means you can effortlessly build and grow your audience through the like & share system.
Read later: Fun things to do on a live stream 📍
Ways to improve your live classes
Finally, we would like to share some recommendations on how to make your online dance classes look more professional and attractive. Here are some simple and helpful steps anyone can follow.

Let's wrap up everything
Hopefully, you realize that live streaming is super easy after reading this article. To start broadcasting your live dance lessons, you need basic streaming equipment that includes a PC/smartphone, a webcam with a microphone, and a stable internet connection. You can improve your stream's quality by investing in lighting and special effects.
Before going live, you should choose a platform to stream on. Many dance teachers and schools prefer Instagram Live, YouTube Live, and Zoom. However, other honorable mentions include Twitter and Facebook Live, of course. One more awesome tool at your disposal is Restream, which allows you to choose from more than thirty social channels to multistream. Contact our support center for more info and help if needed.