Intro
If there's one camera that's synonymous with an outdoorsy and adventurous lifestyle, it's the GoPro. We have GoPro cameras to thank for countless photos and hours of amazing footage of everything from snorkeling to skydiving, from small activities to the biggest public events.
GoPro has managed to move 30 million units in their ten years of doing business, but they are always looking to broaden their horizons and find new ways to win the market. GoPro consistently offers new services and products, like their subscription-based cloud storage service.
Now, you can also use GoPro to live stream footage from your activities or events.
👀 GoPro streaming: the good and the bad
GoPro makes action cameras, and they excel at what they do. However, a GoPro camera can't stream on its own, which is why you need to pair it with a smartphone that has the GoPro app installed or use a third-party platform. For mobile device users, a full GoPro streaming setup would include the camera as the source, the app as the encoder, and the smartphone as the processing computer.
The benefits of using GoPro for streaming include:
Great image quality. If you want to shoot outside under bright light, GoPro will provide quality footage with an awesome color balance.
It's small and highly portable. GoPros are smaller and lighter than regular cameras; you can easily carry one in your pocket.
It's rugged and waterproof. Your phone can't take a beating like a GoPro camera can. Plus, you can use the action camera near (and in some cases under) water.
The wide angle. It captures a larger field of view and offers an action-cam esthetic that people expect from adventure footage.
Endless wearability and mountability options. You can wear a GoPro camera for point-of-view shooting or mount it on your bike, a tripod, or anywhere else.
GoPro has some great advantages, but live streaming with one has its drawbacks, too:
Limited device support. Currently, the GoPro app only supports live streaming on the HERO7 Black and later.
Limited platform support. The app comes with native support for YouTube and Facebook, and RTMP support for select platforms including Twitch and DouYu, but it lacks support for some obvious platforms, such as Instagram.
Poor low-light performance. The cameras weren't really designed for capturing low-light footage, so live streaming at night and from some indoor events might affect the quality.
Clearly, live streaming with GoPro has its limitations. You can't do much about the low-light performance, but you can bypass other limitations, including the device and platform support issues.
But first, let's see how you can use your GoPro camera and its smartphone app to start streaming action footage right away.
👉 How to live stream with the GoPro app
Before  setting up your stream, you need to do some prep work. First, install the GoPro app; it's available for iOS and Android. Next, connect your HERO7 Black GoPro camera (or a later model) to a Wi-Fi network.
If you don't have a Wi-Fi network, you need to create a personal hotspot with your smartphone and connect your camera to it. Then, pair your camera with the GoPro app.
After you connect your camera to the internet and pair it with your app, follow these steps:
Pick the platform. Open the app and scroll the options all the way to the right, past video and photo, until you get to a "set up live" button. You'll see a platform icon in the lower right-hand corner — click on it to choose between Facebook Live and YouTube.
Set up the live stream. You will need to log into your Facebook or YouTube account and give the GoPro app access, connect to Wi-Fi or a personal hotspot, set visibility, write a description, choose the resolution, and decide whether you want to save your stream to an SD card.
Go live!
If you want to live stream to a platform other than Facebook Live or YouTube, you will need to:
Find and copy the platform's RTMP URL. You'll usually find them in the streaming options on your platform of choice.
Paste the RTMP URL into the GoPro app. From the app, select RTMP instead of Facebook Live or YouTube. You'll see a field for entering the URL and the stream key. Make sure the URL ends with a "/" after you've pasted it.
Copy the stream key. You'll find it at the same place on your platform as the RTMP URL.
Paste the stream key into the GoPro app. Paste it right after the "/" following the URL, no spaces needed.
You should now have the URL and the key in a single line. And that's all there is to it — you're ready to stream to the website of your choice, if GoPro supports it.
Read later: Fun things to do on a live stream 📍
📷 Using your GoPro as a webcam
The GoPro cams HERO8 and HERO9 Black support direct live streaming for macOS and Windows users. All you need to start live streaming is your cam, a microSD card reader, a USB-C cable (usually comes with the camera), and your computer. Let's dive into the quick tutorial:
Set up your point of view with the GoPro mounts. Every existing GoPro mount is compatible with all GoPro cameras, so you can get creative and come up with new and interesting angles.
Download and install the latest firmware and software for your HERO8 or HERO9 Black. You can learn how to do it in the official guide. After the installation is completed, a GoPro icon should appear in the status bar.
Connect your GoPro cam via the USB-C cable. A blue dot should appear on the GoPro icon, confirming it is successfully connected and set to Webcam Mode.
Select your GoPro as your default camera for live streaming. Go to the GoPro app and choose the Show Preview option to check that everything's working properly.
🤩 How to live stream using the Live4 app
People who have an earlier model of the GoPro camera than the HERO7 Black can't benefit from the new live streaming feature. Even the company's best-selling camera, the HERO5 Black, doesn't have native live streaming support. To go live with the earlier models, you need a third-party application.
The Live4 app supports GoPro cameras all the way back to the HERO3 White. The only exceptions are the HERO 2014, which doesn't have Wi-Fi, and the Fusion, which isn't supported yet.
To live stream from GoPro to Facebook Live using the Live4 app, you need to:
Log into your Facebook account from the Live4 app.
Turn your camera's Wi-Fi on and connect your smartphone to it.
Go back to the Live4 app and tap the "let's get started" button.
You're all set to start broadcasting. You'll see a preview of the camera and a big red button you have to press when you want to start streaming. Just be mindful that your cell plan supports your streaming habit — this method of GoPro live streaming uses your cellular data.
As of July 2021, the app only supports streaming to Facebook Live. But Live4 and Restream have partnered up to let you multistream with your GoPro. Not only will you be able to stream to several other websites, you'll also be able to stream to them at the same time. When you multistream, you can always be on the platforms your audiences like to use.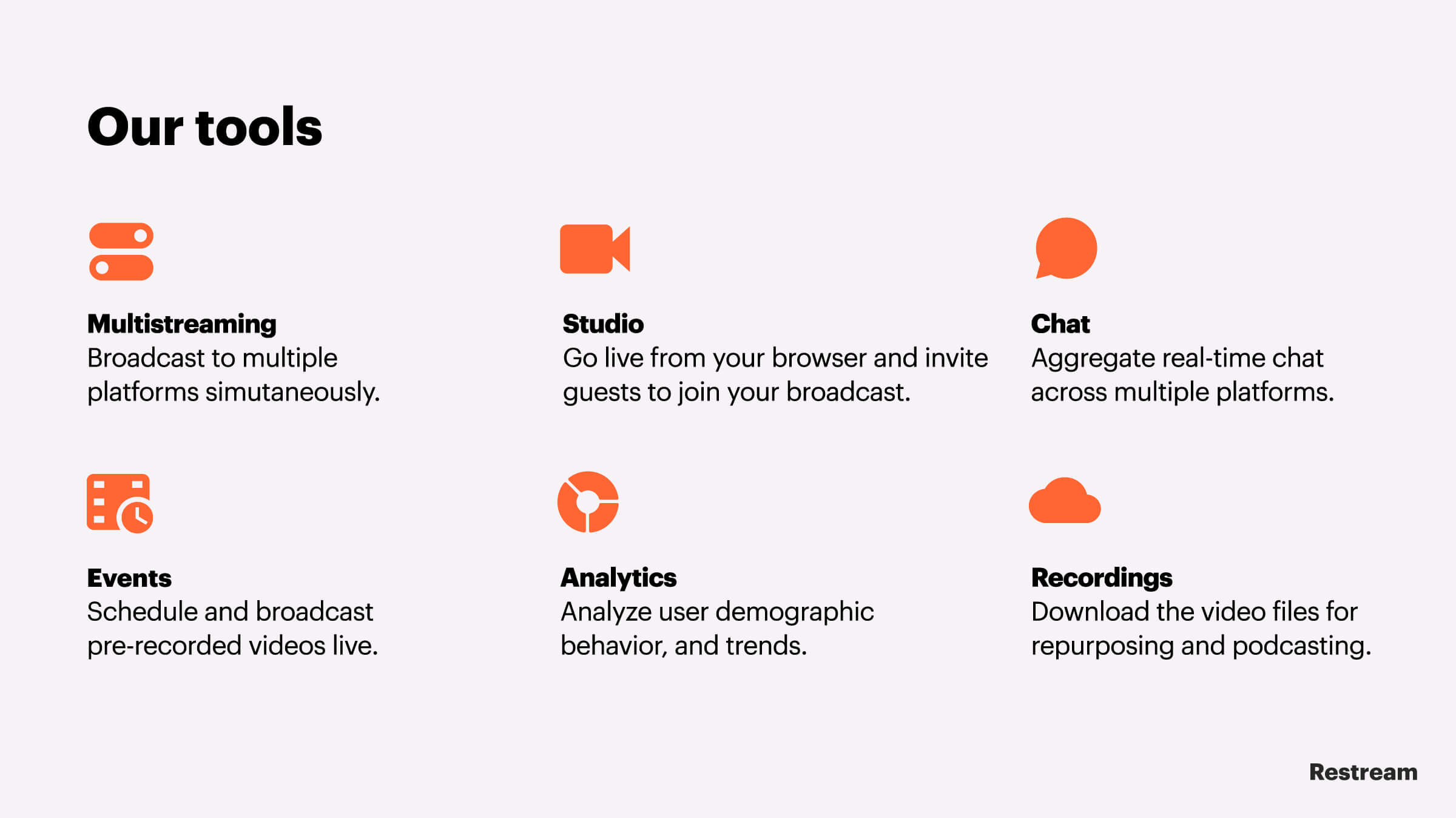 Let's wrap up
GoPro cameras have a lot to offer for people who want to showcase their outdoorsy lifestyles. The addition of live streaming to GoPro's offerings has been very welcome. The drawback is that only two models support it — but the Live4 app can help with that problem. Thanks to the collaboration with Restream, you will also be able to live stream from your GoPro camera to many other websites, simultaneously. That's when you really start seeing the benefits of live streaming.