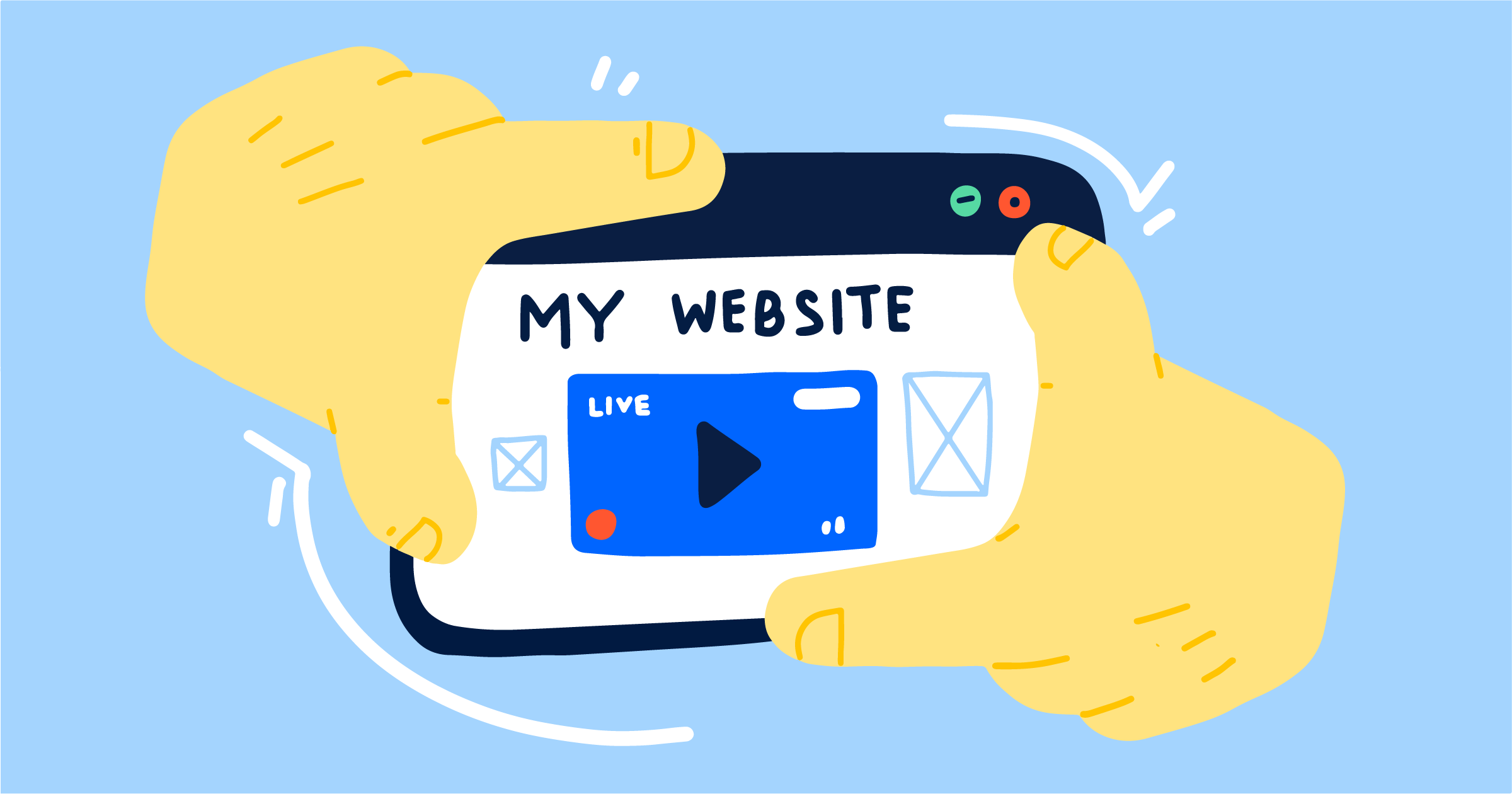 Among all the channels you can use to stream live video, it's easy to overlook your website. People go to live streaming platforms like Twitch or YouTube to watch live video. They also regularly see streaming videos on their Facebook feeds. Pretty much every place where people hang out online has a video streaming option. Usually, it's easier to figure out how to use them than to learn how to set up live streaming video on your website
Still, there's no reason why your website shouldn't have a streaming video option. If you're already streaming videos on other platforms, doing it on your website should be a piece of cake. If you know things such as how to fine-tune the timing of your stream, you can easily have a successful streaming session on your website. But if you're relatively new to streaming and you want to do it on your website from the start, here's what you'll need to do.
How to set up live streaming video on website
Setting up a live streaming video on your website isn't too difficult, but it's still complex. There are a couple of steps you need to go through if you want to set up a live stream and embed it into your website.
If you need a checklist of the things you need to set up a live stream and embed that live stream in your website, it might look something like this:
Plan the content of your stream. Spontaneity usually isn't your friend when it comes to live streaming. Embedding your stream doesn't change anything – you still need to know what you're streaming about beforehand.
Set up your recording hardware. This means having figured out both video and audio sources so that you get the best possible audio and video quality. Pay special attention to audio, because people overlook it easily.
Set up the encoding options. The encoding software is where the magic happens – the place where your audio and video signals get encoded and sent to the video hosting platform. It's important to understand encoders if you want to know how to set up a live stream
Check the status of your internet connection. Uploading requires speed and stability. You should prepare to maximize both before you start live streaming. An unstable internet connection can ruin your live stream.
Prepare the website, or platform, that will host your stream. Facebook, YouTube, Twitch – anything of these options is better than hosting your own live stream video.
Embed the live stream to your website. The final step that requires you to rummage around the video hosting platform for some code, and then paste it into your website's code.
Piece of cake, huh? Don't worry, we'll talk about these steps in more detail. It will become much clearer in no time. Let's start – from the beginning.
The idea — where it all begins
Video content doesn't come into being just because someone can make it. Content creation is an investment of time and money, so it deserves a little planning at least. Even if all you want to do is live stream an event on your website, you have to think it through.
A good place to start is your motivation — what do you want to achieve by streaming video on a website? Is there a certain goal the video should fulfill? Different types of live video content are better suited for achieving different purposes.
Product demonstrations and how-to videos, coupled with time-limited coupon codes, are great for increasing sales. AMAs are great for boosting engagement, increasing your reach, and improving your brand recognition.
From there, you can move on to the things you'll need for production, from both technical and technological angle. But always remember that when thinking how to set up a live stream, content ideas should always be on your mind. They are very important.
The recording hardware
There's no reason to be worried about your ability to get your hands on some video recording gear. Most of us carry a smartphone in our pockets, and that can be an easy entry into the world of streaming.
Not a good entry, though. It's important that you focus on quality as much as you can. It's hard to get quality streaming by using a smartphone.
Video recording hardware exists on a spectrum that has cheap webcams on one end, and high-end professional cameras on the other. Anything in between will do. So GoPros, camcorders, and even DSLR cameras will work. Some people use drones to capture and stream video, so maybe consider that as an option.
Remember that the quality of the device has a huge impact on the quality of the video in the stream. Any option that's not built specifically for streaming will require a capture card if you want to use it for live streaming. Also, keep in mind that cameras have built-in microphones that might not do a good enough job. If audio is important, use an external microphone. You can still run it through your video recorder to avoid any syncing issues.
The encoding software
The recording hardware captures the content, but it's the encoding software that packs it into a format suitable for streaming. You can also use encoding hardware and avoid having to use a computer but encoding hardware can be prohibitively expensive. Streamers, vloggers, and video content creators tend to rely on software encoding.
Probably the best choice for a beginner is to use an open-source encoder. OBS Studio is among the most popular options, as is the Streamlabs OBS. These encoders are free and come with more than enough options to ensure a good video stream. If you really want to spend money, you can invest in paid encoding software, or you can just use Restream GoLive and stream with only a webcam and a browser.
The internet connection
If you want to stream pre-recorded video on your website, you don't have to worry a lot about the bandwidth at your disposal. For live streaming, however, the bandwidth of an internet connection plays a crucial role in the quality of the stream.
You need an internet connection to transfer content from an encoder to a server. The amount of data you can transfer per second depends on the upload speed of an internet connection. Once the content reaches the server, the upload speed of your connection stops being important, and the viewers' download speed starts determining the quality of the video. In both cases, faster is better.
The video hosting platform
The rule of thumb says that it's a bad idea to host your own video content on your website's server. Video content takes up a lot of space, making it an expensive endeavor for most hosting options. Plus, hosting one's own video isn't nearly as reliable as using hosting platforms.
The most popular video hosting platform in the world is YouTube. The service you would use to stream live video on a website with YouTube is called YouTube Live. Twitch is another good option for anyone who wants to stream live video to their website.
Social networks nowadays are video hosting platforms in their own right. Facebook Live, for example, combines the incredible reach you have with the world's premier social network with live video streaming capabilities. Periscope is Twitter's live streaming product, and it's often the platform of choice when you want to stream via your mobile phone.
You'll only need to pick one of these to be able to easily stream video on your website. However, that doesn't stop you from streaming on more video hosting platforms to maximize the reach of your content. Using a tool like Restream.io is an easy way to multistream across several platforms.
The website
You have something you want to stream. The video recording gear is there, as is the encoder. There's an internet connection available with plenty of upload bandwidth, and you've settled on which video platform you want to use. You're about to do the last step — embed the video on your website.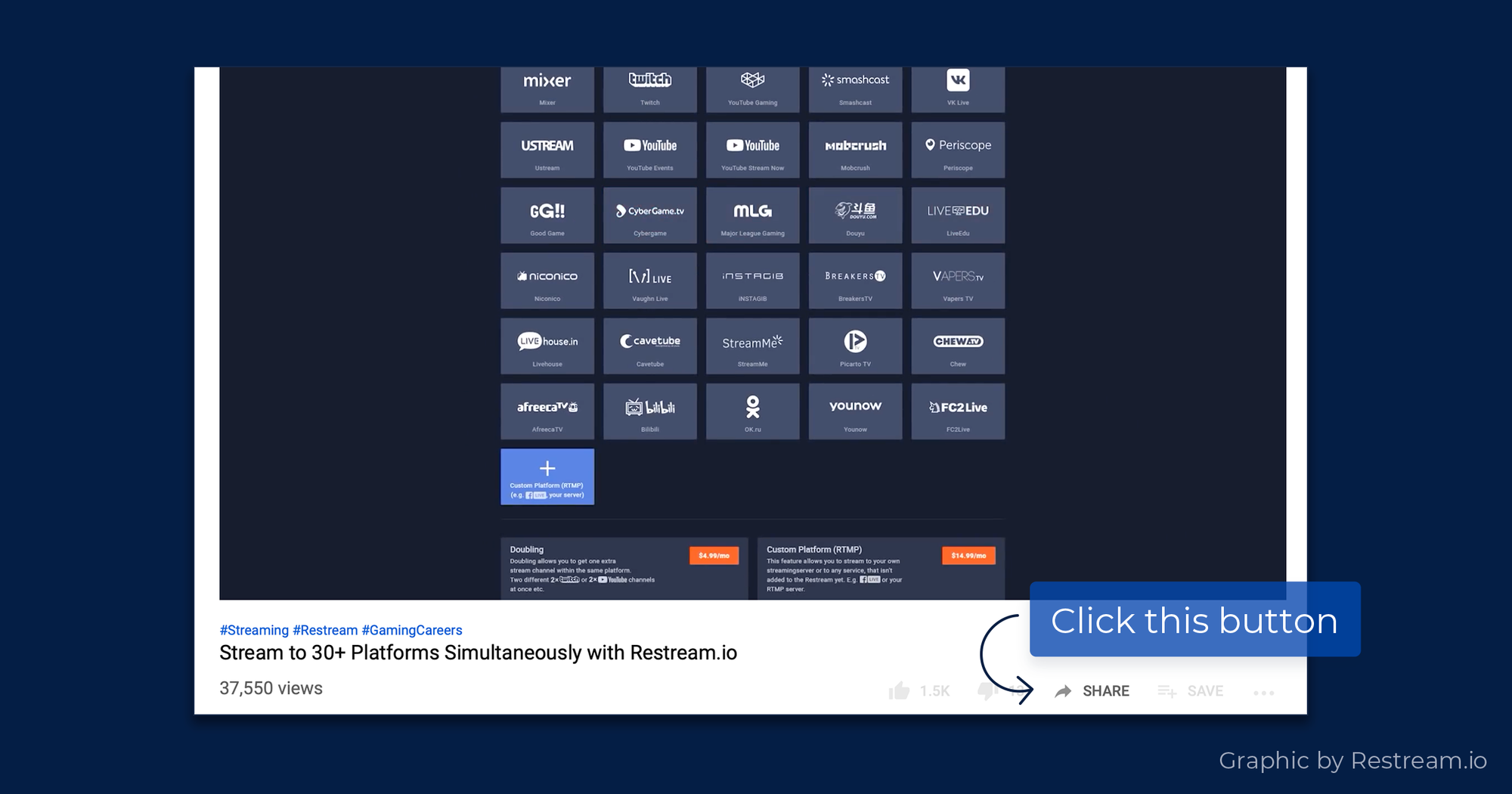 Embedding isn't a difficult process usually, as it consists of pasting the code onto a page on your website. It's not something that would warrant calling the website administrator — it's that easy.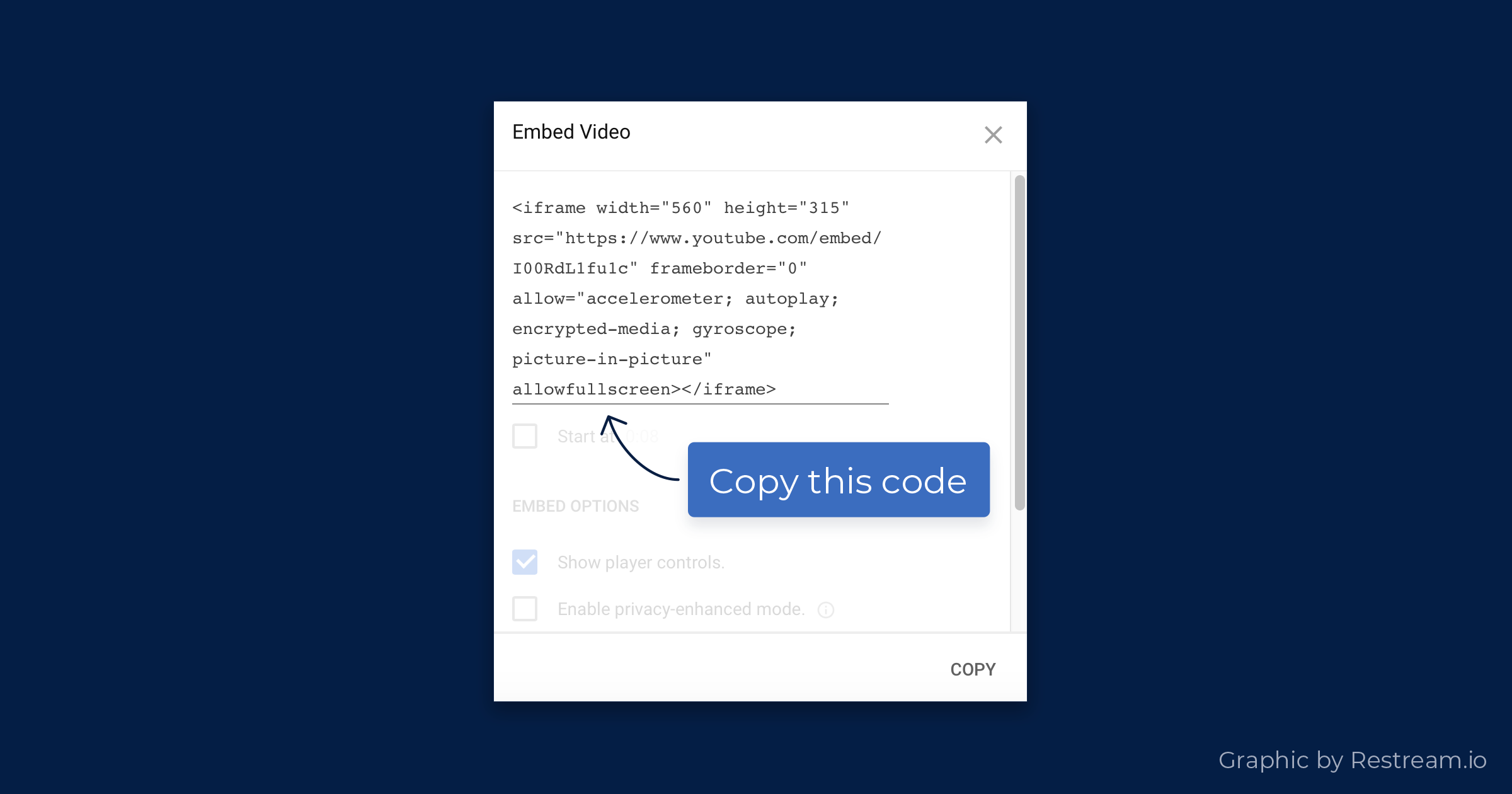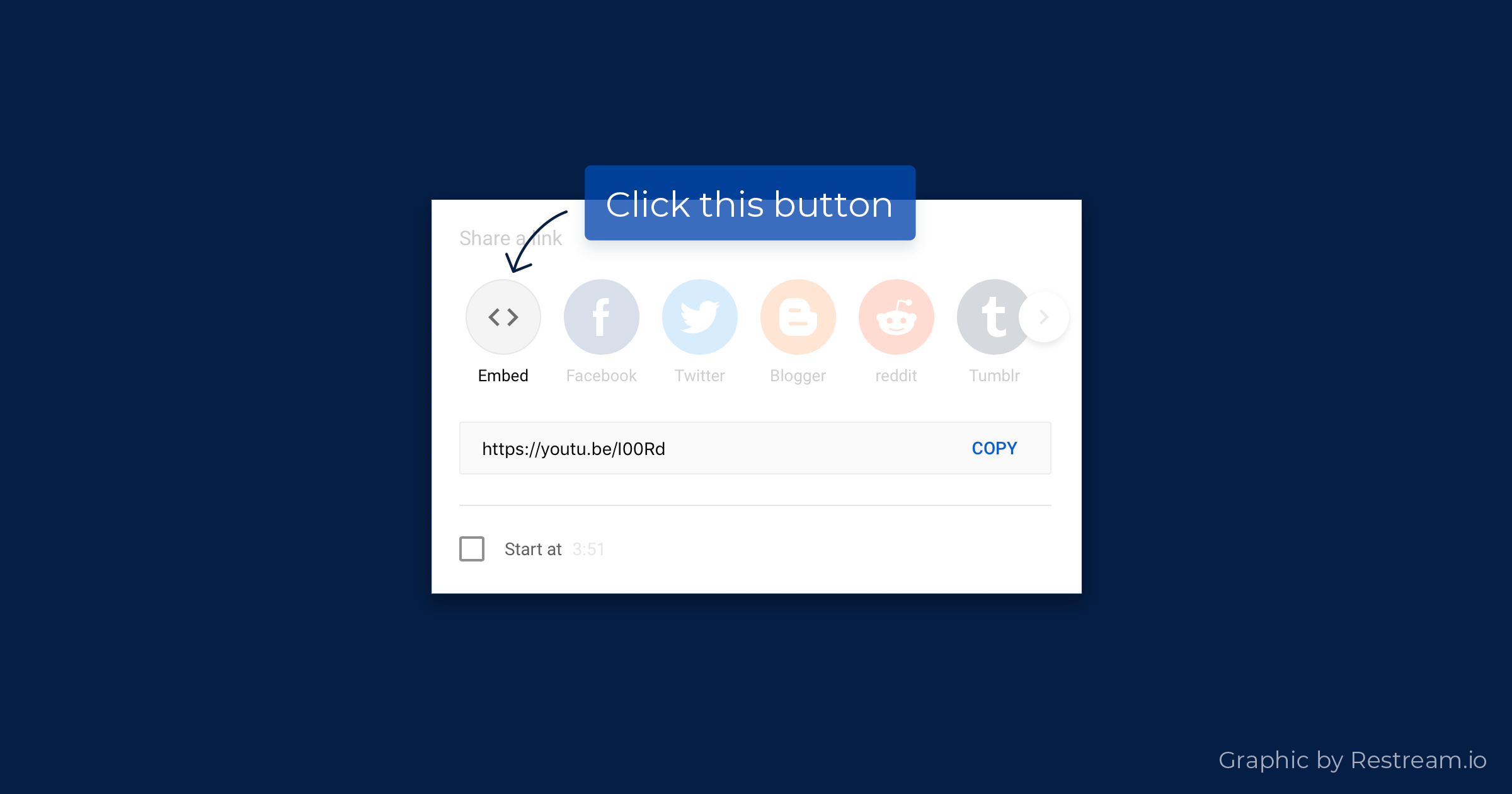 The tricky part, however, is to get that embed code. YouTube Live is simple enough, as all you need to do is share the live event and then click on "embed" to get to the code. Periscope will publish the code on your Twitter account. Facebook will have to jump through a hoop or two to set up the stream and get to the code.
Once you get the code and copy it on a page from your website, the work is done. People will be able to watch the stream on the hosting platforms as well as the website. Depending on how you've set up the networks or Restream, you could be able to keep the content after the live stream is done and make it available to your website's visitors.