Intro
Meet Restream Referral Program, a fantastic way to share multistreaming tools with your friends while earning rewards.
🤑 Get money when your friends upgrade
When invite your friend to Restream, they will receive $10 Restream Credit after they complete their first stream. Furthermore, you can earn up to $49 when your friend upgrades! It's a win-win situation, isn't it? After you receive the money, you can withdraw them directly into your PayPal account.
🔗 Share the referral link
Invite your friends to multistream with you by sharing your individual referral link. To share on social, click the Facebook or Twitter buttons to create quick posts.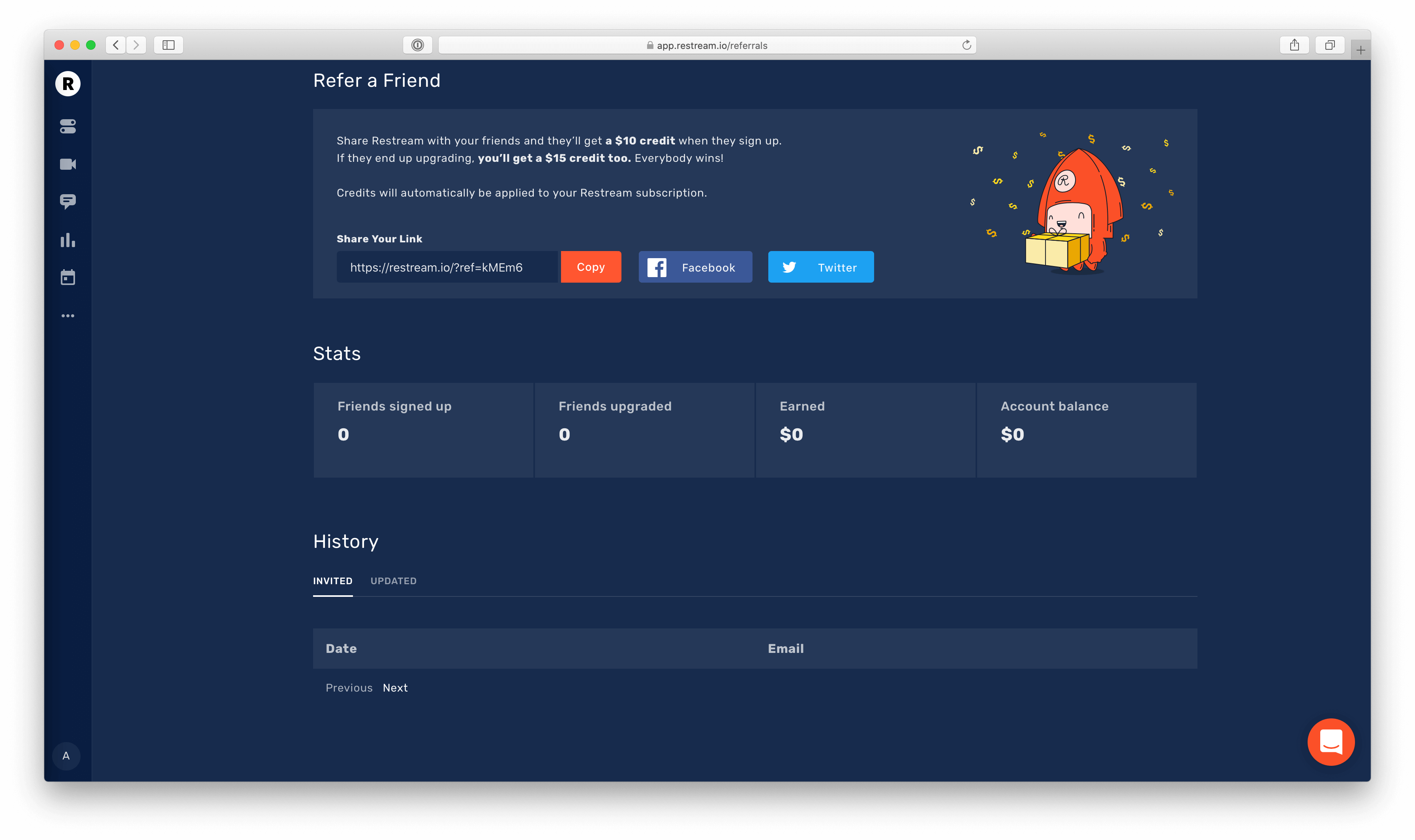 Note: Your friends must use this specific referral link for both of you to be eligible for rewards.
📈 Track your stats
Log in to your account to see how many friends have already signed up and upgraded their accounts.
Well, aren't you lucky? You've found our special promo code! It allows you to experience the amazing Restream features for 7 days absolutely for free. Custom graphics, stream recordings, video storage, and much more is waiting for you. Bonus: we also give you a 25% off your first upgrade just because you are awesome!
👉 Here is your special promo code link.
🙌  Become our partner
The Restream team will closely monitor the top performers of our referral program. If you bring a lot of new streamers to our community we will reach out to you with our special collaboration offers. This includes the opportunity to cash your Restream credits out once you bring over 200 new users*, brand ambassador status, and sponsorships!
*Terms and conditions apply
💫 Conclusion
Your friend gets $10 Restream Credit after completing their first live stream on Restream via your referral link.
You, in turn, can get up to $49 when your friend upgrades. You can later withdraw the money into your PayPal account!
Easily share your affiliate link and track your progress in growing the Restream community.
Be the top performer of the program to cash out your rewards and get exclusive partnership offers.
Multiply your views and engagement
Reach a wider audience by streaming to multiple platforms simultaneously.
Get Started