Video content has been having its heyday for a while now. We know that 92% of marketers who use video believe it's an incredibly important marketing tool. Why? The recent research shows 80% of consumers prefer watching a live video to reading a blog post. With 72% of businesses who use video opting for explainer videos, this format is the most-created type of video content.
Live streaming, however, is a whole different beast than creating and editing videos. You can see all its difference right there, in its name — it's live. While the ability to do reshoots and fix flaws in the editing stage might have been enough to convince you to give regular video a try, the lack of those options in live video is noticeable.
But when you look at the live streaming numbers and the audiences some of these streamers tend to pull, you cannot help but wonder — what is it about live streaming that makes it so attractive and how can your business benefit from it? We're here to answer those and similar questions.
The #1 live
streaming solution
Get started for free
What makes live streaming different from regular video?
The fact that live video isn't a prerecorded video viewers can watch at their disposal has several implications. You don't have as much room to make mistakes, as you won't be able to edit them out in post-production. Pre-production is much more important because everything needs to be set and ready the moment you decide to go live.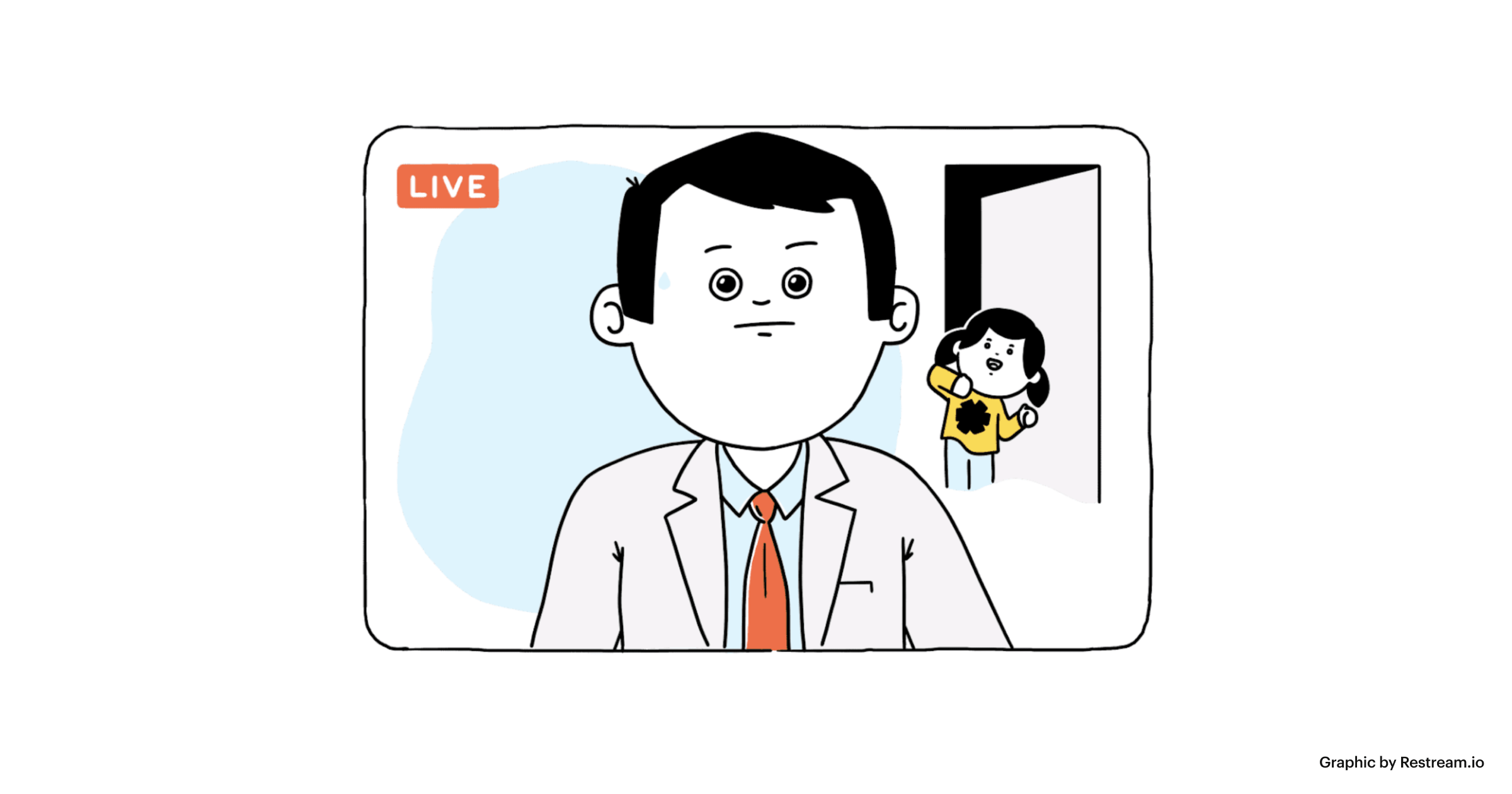 But the key difference between live video and regular video-on-demand isn't in the production method — it's in the way audiences respond to these types of content. People like to engage with live video. The key to the success of many high-profile live streamers is in their use of the ability to engage back, turning the live stream into an interactive experience.
How expensive is it to start live streaming?
Live streaming might require an upfront investment if you want to start doing it on a professional level right away. Keep in mind that you don't have to — there are plenty of live stream content forms you can create with nothing more than the camera you have on your phone.

So let's say that you want to have a streaming setup with a camera, a microphone, and a computer that handles the encoding. You can get a decent webcam for less than $100, a high-end webcam for a couple hundred, or a DSLR for close to $1000. An entry-level microphone can cost under $100; high-end will cost around $500. As for the computer, you can probably get away with getting one for under $500, or splurge ten times as much. And that's without mentioning optional gear such as lighting, green screens, or even hardware encoders.
What are the budget and high-end options, to show the range?
Budget options include affordable gear in a basic setup — a webcam, a computer, and a software encoder. You'd get some customization options, your video could be of decent quality, and you'd be able to stream to multiple websites at the same time.
On the other hand, you can get professional-grade cameras, pair them up with professional-level external encoders and a high-end, paid live streaming platform. The reasonably priced option would set you back a couple of hundred dollars. The high-end would cost you in the thousands.
What's the quickest way to get into live streaming?
If you want to get into streaming as quickly as possible, all you need is your webcam and Restream Studio. You won't need to set anything up, and you'll have access to all you need right from your browser. It's a reasonably priced solution that still looks good and only requires a webcam and the Restream Studio.
Some of the benefits you get by using Restream Studio include:
Access to graphics options that include overlays, logos, and backgrounds
The ability to use captions — maybe to add a call-to-action
A chat window where you can monitor what your viewers are saying
Invite guests to your live streams and host live interviews for your audience
All of these functionalities were designed to get you streaming as quickly and easily as possible.
Do I need to be tech-savvy to start live streaming?
It certainly helps, and you'll have plenty of opportunities to learn along the way. But you don't need to be extraordinarily tech-savvy to get started with live streaming. Solutions such as the Restream Studio were designed to make live streaming as user-friendly as possible.
In general, if you know how to create an account with an online service, plug in a camera, and do an online search, you should be fine. But as you start venturing into new and interesting things, such as using a green screen, you'll have plenty of resources to learn from.
Do I need to hire extra personnel for live streaming?
A live stream can be a one-person operation. But it can also be a team effort. It depends on the type of content you plan to create and how complex of a streaming setup you want to use. If you have multiple cameras, for example, and you want to switch between them during live streaming, you'll need someone to handle that for you.
But even if you're using a one-camera setup, you could still use someone to watch the chat for you. Most streaming platforms have a chat option — one of the major draws of live streaming — where the viewers can interact with you. It's always a good idea to keep an eye on what's going on there, so think about getting someone to help you with it if you're too busy during the stream.
Where can I live stream?
There are a couple different types of streaming platforms. Some are social networks first and simply have a live streaming service in their content offering, like Facebook, Twitter, and LinkedIn.
Then you have video platforms that offer streaming as a service. YouTube didn't start as a live streaming platform, but it is now one of the most popular places to go for live streaming, even for businesses. Streaming-first video platforms include Twitch and DLive.
Finally, there are professional grade live streaming platforms you should consider using if you're live streaming corporate videos or if you want to charge your viewers for entry.
Live stream everywhere,
all at once
Get started for free
Where do people watch live streams?
Your live streaming audience closely matches your social media audience. If you're using a specific social network to reach potential customers, chances are you'll want to live stream your video there, too.
People watch live streams everywhere, so you might as well start streaming on a social media platform where you have the biggest presence. You should be aware that multistreaming is an option, too. If you think you should go after customers on several networks at the same time, you can go ahead and do it.
What place does live streaming have in my content strategy?
If your whole content strategy is centered around building as much engagement with consumers as possible, live streaming should be front and center. Otherwise, live streaming is at its best when assigned specific roles that go well with the potential benefits. For example, a good use for live streaming would be to broadcast an event that unfolds over the last hour of a countdown, be it for a special deal or a product or service launch — especially if what you're offering is purchasable online.
What are the major benefits of live streaming?
The major benefits of live streaming vary depending on the way you're using it. For example, if your live streaming efforts are turned towards your customers, benefits could include everything from increased engagement to better customer retention through increased loyalty.
In Asian countries, most notably in China, shopping has become embedded with live streaming, creating what's called "live commerce." While the efforts to adopt these models in the Western markets are still mostly in development, live commerce demonstrates how live streaming can have a direct influence on sales numbers — if done right.
Businesses can also use live streaming to communicate with their employees. Live streaming channels can be useful for onboarding, training, and just general employee support. In that case, the benefit of live streaming is that it's a two-way channel for the timely provision of critical support.
What kinds of content can I create?
You can broadcast a wide variety of content during your live streams. In general, you should try to align the content you're creating with a specific goal you want to achieve. In that case, you can live stream:
Behind-the-scenes content when you want to give people a closer look into your business, a product, or a campaign. This type of content can go a long way in humanizing your business.
Events, giving all the people who couldn't attend in person a chance to feel like they're a part of it. It's an inclusive practice that demonstrates openness.
Product demonstrations, which is a type of content people love to see. If you have a great product and you've managed to drum up some interest in it, demo streams can really increase your sales.
Q&As, which work well only if there's enough interest in what your business does or in you as an entrepreneur. This type of content works great for getting engagement numbers up and building a community.
Of course, you're not limited to these types of content. As you get better with live streaming, you can start seeing what works and what doesn't, and maybe even break ground on new types of content businesses can live stream.
What are some specific use cases of live streaming for businesses?
Live streaming is a viable type of content for both internal and external communication. Internal use cases include:
Live streaming of shareholder reports and announcements
Company-wide meetings where every employee can attend
Live streaming of events with special speakers to geographically dispersed teams
Onboarding, training, and on-the-spot employee support
For external communications, live streaming can be viable for:
Product launches and other events that are preceded by a build-up
Sharing educational content, be it a how-to, a product demonstration, or a webinar
Launching exclusive offers that are available only during the live stream
Community building, with types of content that foster communication
This list gives you only a few ideas about the endless possible use cases for live streaming. It isn't definitive, and we encourage you to experiment with it.
What are some live streaming hacks I should know?
The biggest live streaming hack is to utilize the power and convenience of multistreaming — live streaming to multiple platforms at the same time. With Restream Chat, you can even monitor the chats from several platforms in the same window, making it a lot easier to keep tabs on what's going on in the room.
However, as far as the content is concerned, you'll simply need to create audience-appropriate content that serves your purposes; there's no way around it. The same goes for the setup — going for the budget setup is a viable option, but you'll still need a decent upload speed to be able to deliver a smooth streaming experience.
Conclusion: Why should entrepreneurs consider live streaming?
Engaging content has become an integral part of a successful online marketing strategy. While there are still forms of marketing that don't rely on it, they are becoming increasingly limited — even short ads feature optimized text content.
And as the popularity of video content continues to rise, so will the potential of live streaming. It's an audience-driven form of content that enables communication between the creator and the viewer, and it owes a lot of its appeal to that interactivity. That's why it's useful, and that's why audiences love it. Plus, thanks to multistreaming, there are few limits to how many people you can reach with a single streaming session.
Live stream everywhere,
all at once
Get started for free