Intro
A product launch is a critical moment in your product's lifecycle. It takes a tremendous amount of work to make it perfect. That's the prep work you do, the contingencies you plan, and all the resources you pool. You focus it all on one single event, and you still need to get as many eyeballs as possible on a new product launch for it to pay off. That's where live streaming comes in.
From this article, you'll discover how to leverage live streaming to maximize reach. Expert marketers are already doing it. Big brands are doing it, too. So why aren't you?
How they live stream new product launches in the big league
Let's kick off by learning from some of the greats. Live streaming is a common part of marketing strategies for product launches, so there's no shortage of brands that include live streaming in the product launch campaigns. Big brands seem to be heavily invested in live streaming:
Apple built global anticipation before the WWDC18 event and then delivered on it by allowing fans worldwide to watch the event via a live stream.
Google's hardware product launches are also a global event, and that's how Google treats them — it live streams the Made by Google events for the whole world to see.
Chevrolet opted to launch the 2017 Bolt EV in front of the fans — the ones at CES and the ones watching on their devices — using live streaming to forge connections.
GoPro and REI launched the HERO4 together from REI's Seattle store, going so far as to host a live Q&A. That's how you engage audiences.
New Balance launched the 880V4 running shoe with a red-carpet event and then used live streaming to bring that event into specialized stores and homes of viewers.
From tech giants to car manufacturers and apparel companies, you can find examples of live streaming of product launches, updates, or announcements in many industries. These companies do it for a simple reason — it works.
What makes live streaming so effective?
Live video streaming of product launches isn't the only use case for live streaming in business and marketing. Whenever you need digital content that motivates engagement, your mind should immediately turn to live streaming. Here is why live video is such an effective type of content: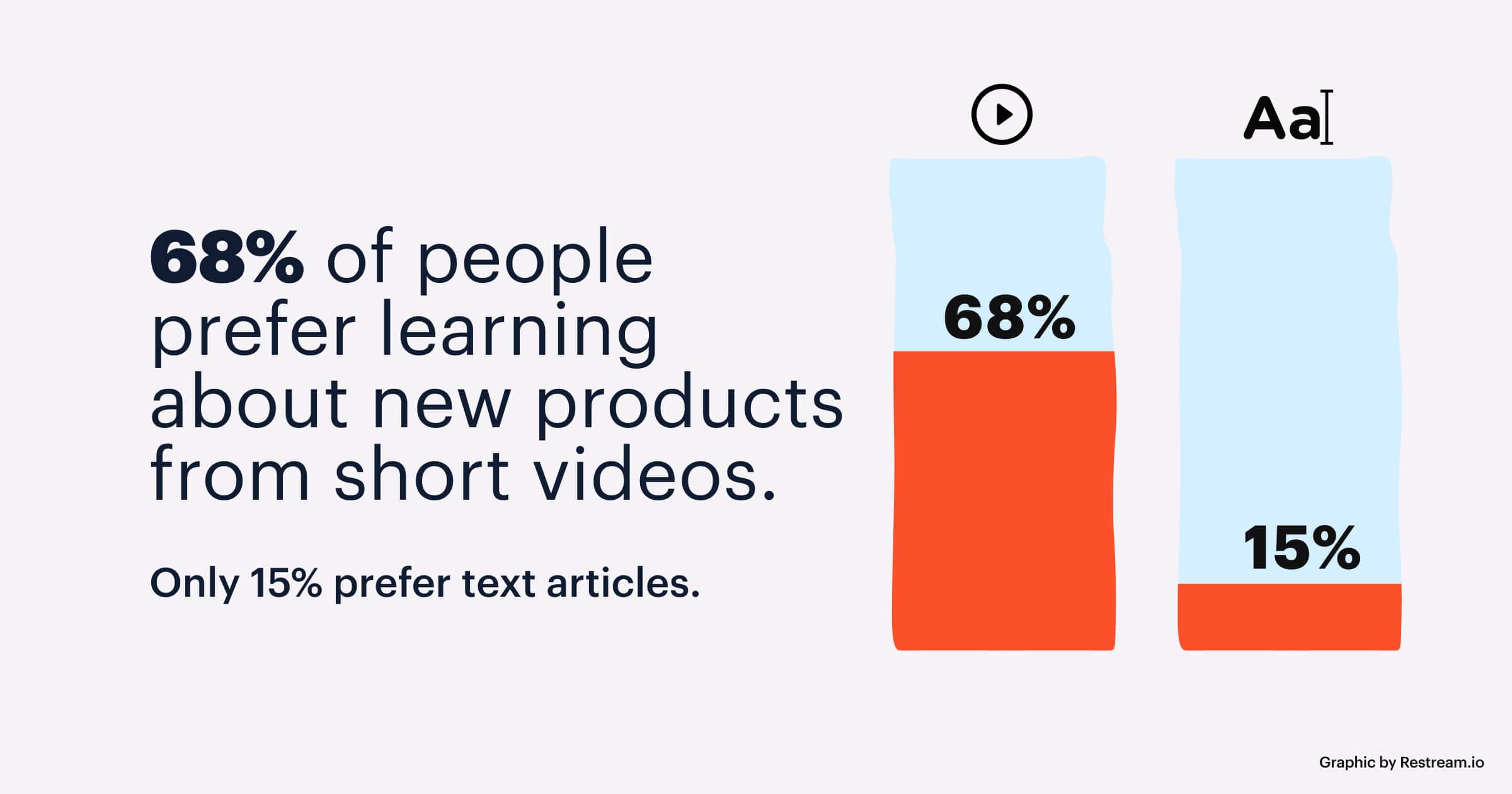 Add the fact that live streaming video production has a low barrier to entry, and you can see why live-streamed video is so popular. The abundance of live-streaming platforms and websites doesn't hurt, either.
Read later: 20 Fun Things to Do on a Live Stream 📍
Go where your audiences are
The choice of platforms is a serious question. You have to match the product with the right kind of audience if you want the product launch to succeed. You can't do that without understanding the social networks and video streaming platforms where your audiences gather.
But who has the time for a deep dive into streaming platforms and social networks, right? Here's a cheat sheet, instead.

Platforms with the Broadest Reach
When you want to cast a wide net with the live stream of your product, you want to stream to the platforms that are not specialized and have the most audience. Your go-to choices are:
Facebook Live — the biggest social network in the world that also offers live streaming. It's the place to go when you want the biggest reach in most countries, as well as globally.
YouTube Live — the largest platform for on-demand video. Owned by Google, it's a great choice thanks to a mix of benefits from organic and paid advertising.
Twitter — the social network where audiences like to communicate with brands. A perfect choice is you want to have a conversation.
For Business and Events
If you're primarily targeting other businesses, you can opt for a more specialized platform. Also, if your primary audience is interested in events, there's a platform for that, too:
LinkedIn Live — the favorite platform of B2B marketers is still the perfect place to reach a business or professional audience, and now you can do it with live video.
Instagram Live —  the very fact that Instagram is so influencer-heavy means that you'll have no trouble finding one to live-stream your event on the platform.
For Gaming
The gaming content industry is booming. Even platforms such as Facebook and YouTube are racing for their piece of the cake. But if you want to reach an audience on a gaming-first platform, here are your choices:
Twitch — the oldest streaming platform around, Twitch boasts the most hours of live-streamed content watched and a growing non-gaming audience.
Facebook Gaming — the new gaming section on Facebook Live, which continues to rise in popularity among gamers seeking lighter competition.
Regional Audiences
Facebook, YouTube, or even Twitch might be the websites you'd use to reach a global audience, but for some regions, you must take another route. Your reach some audiences by using the platform that's only popular in their country, and a handful of others at most:
VKontakte (VK) — the most popular website in Russia, serving as an alternative to Facebook. Also popular in Belarus and Kazakhstan.
AfreecaTV — the South Korean live streaming platform.
DouYu — a Chinese live-streaming platform.
Kakao TV — a live-streaming service provided by the South Korean Kakao Corporation.
How to stream to several platforms simultaneously
By now, you might be thinking: why box yourself in with streaming to only one platform? There are so many people you could engage. If only you had a way to cost-effectively stream your product launch to multiple platforms at the same time.
Easy live streaming for everyone
Run professional live streams from your browser.
Get Started
That's what Restream is for. As a cloud service that lets you multistream, it offers many benefits that will give your product launch a strong wind in its sails:
Support for over 30 platforms, including Facebook, Instagram, LinkedIn, Twitter, and many others.
No additional requirements — it's as easy as streaming to one website.
Access to advanced tools that help you schedule your streams or handle chat.
Access to advanced analytics, to show you how well your stream went.
No cap to the bitrate of streaming time, apart from those posed by the platform.
Restream will help you maximize your reach and engage all the audiences you have on different social networking platforms.

Some tips for a great product launch
You could be live streaming your product launch to one website or several of them — either way, the product launch will need your all if you want it to be successful. It doesn't start when the cameras start rolling. It doesn't stop when they stop. Here are some tips for the pre-, during, and post-launch.
Things to do before the product launch
Prepare your brand ambassadors. Influencers, journalist, and opinion leaders can do an incredible job in creating hype for the launch if you give them enough time.
Warm-up your audience. Even the biggest brands don't do surprise launches. Create a pre-launch campaign in social media to boost awareness and pre-orders.
Send pre-launch materials to the press and influencers. Don't count on them stumbling upon your pre-event campaign. Take charge and send specially-made materials to them beforehand.
Let people order early. Here's a page from Apple's playbook: take pre-orders. They will boost sales in the first couple of weeks following the launch.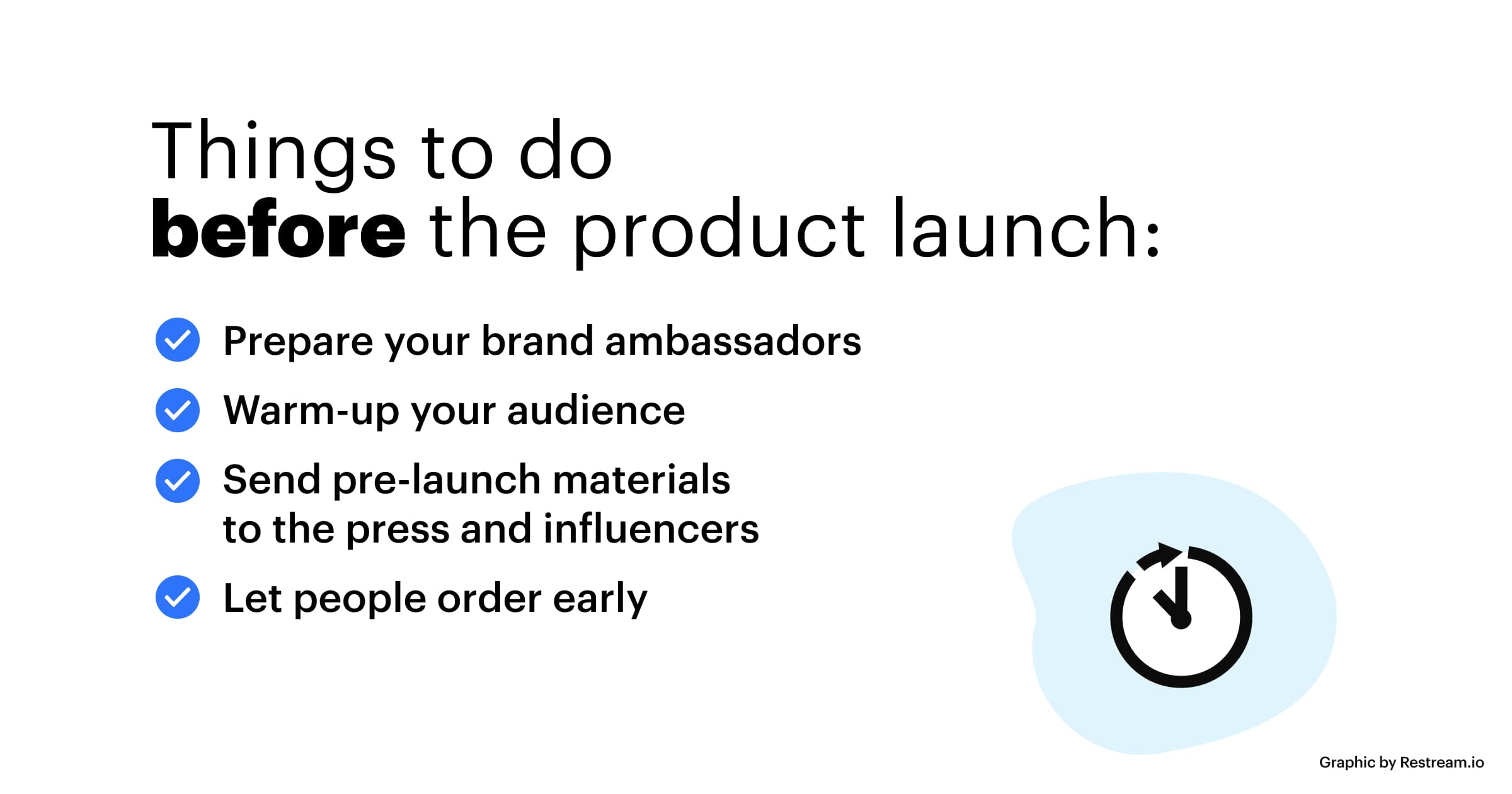 Things to do during the product launch:
Go all-out. Your launch is an event. It's a frontpage story. Give it the production value it deserves, alert the media, get the head of the company involved.
Live stream your launch. Pick the right platform for your audience, and tailor your message so that you maximize the reach and impact of your stream.
Give exclusive access to people who watch your live stream. Early-bird access can help the event's conversion rates, and it might also boost loyalty.
Give discounts to people who answer questions about your product. Improve audience engagement and boost sales at the same time. Thanks to live streaming, everyone can join.
Do random giveaways to your audience. Keep them on their toes. They might stick around longer if there's a chance they'll get something for free.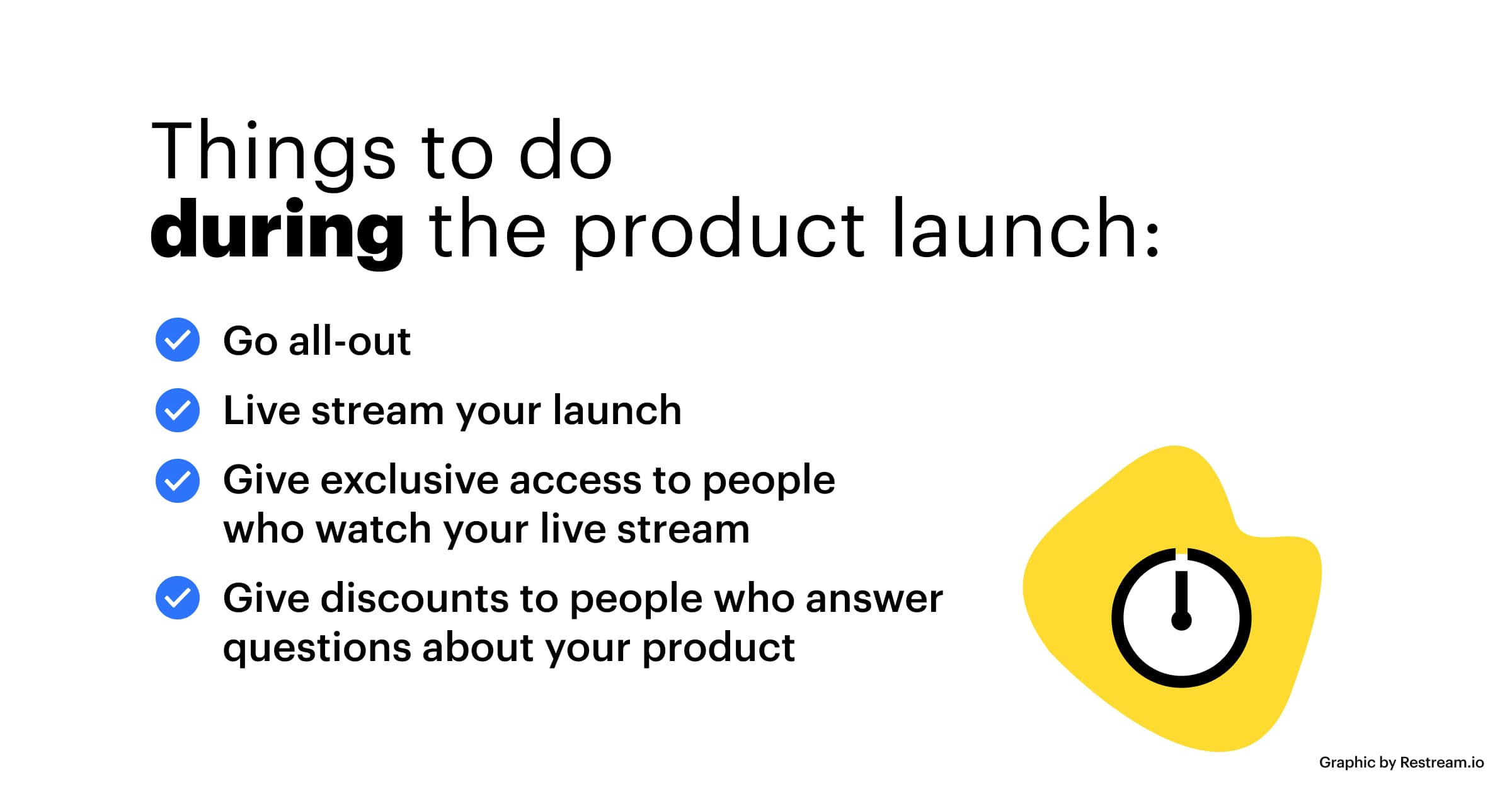 Things to do after the product launch
Start an upselling campaign. It's sales 101 — when they show they're willing to buy something, you try to sell them something else.
Follow up on your leads. You shouldn't wait too long before you start your remarketing campaign or send out the email campaign for lead nurturing.
Invest in retention. Take your customers' feedback into account for future offers. Develop a reward program to boost loyalty. Make customers feel valued.
Use the video from the live stream. Most platforms will save the video for you. You can publish an edited version online, and use chunks of it in your advertisements.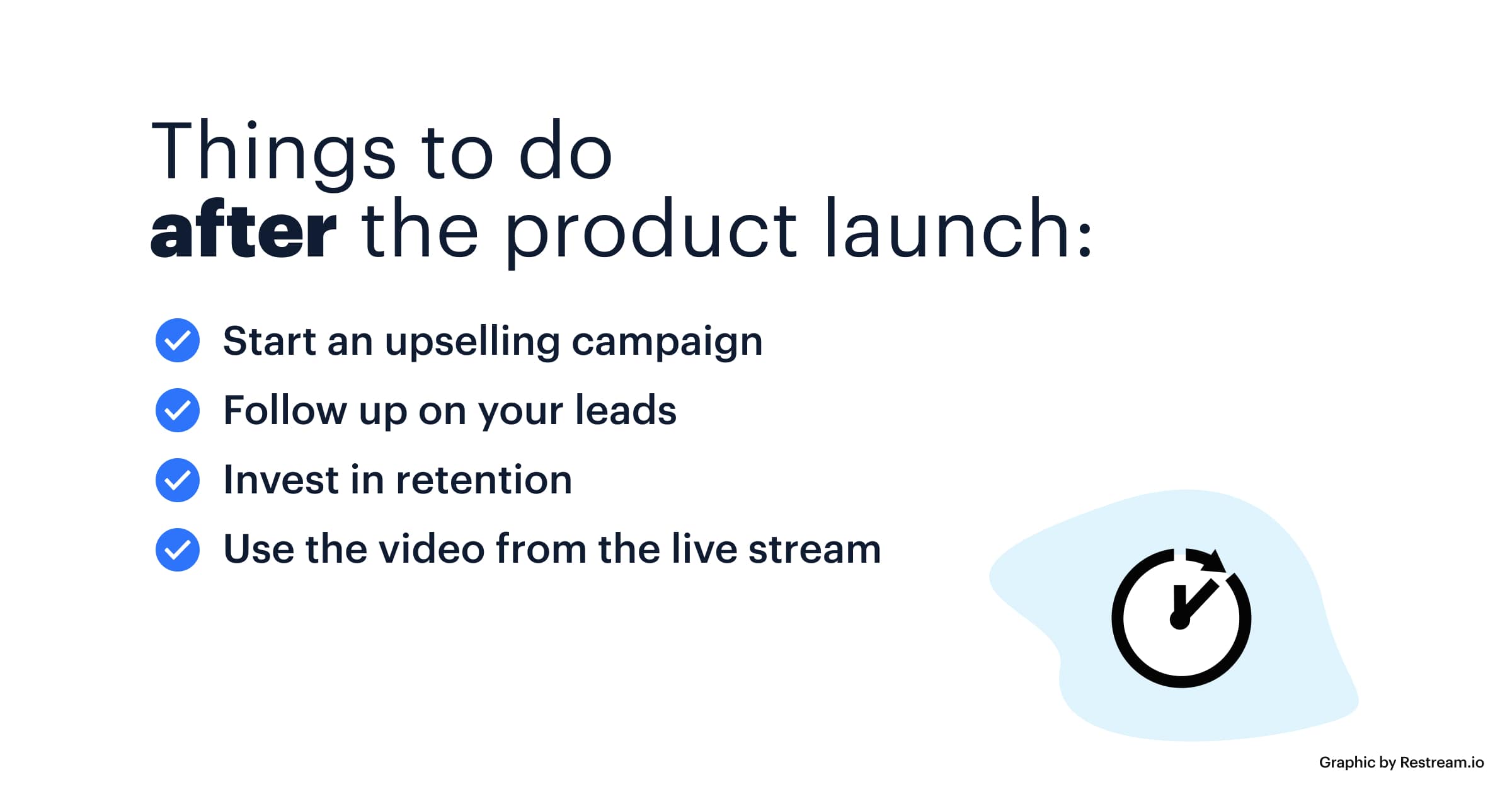 With product launches, every bit of preparation you do will affect the event and the post-event period. Everything you do or fail to do during the event will affect the aftermath of the event. Start thinking about the launch early, and you go at it like a champ from day one.
Conclusion
Think about the product you want to launch. Think about how much it matters to your business, how much of your business' success rides on a good launch and strong early sales. This is something marketers, salespeople, and businesspeople have in their mind's eye day in, day out.
Now let's see if you're ready to make some decisions that will help your product launch run better. You might decide to:
Follow in the footsteps of great brands like Apple and go the extra mile to connect with your audience.
Use live video content because it's so much more engaging than any other type of content.
Pick your live streaming platform carefully, because there's no point in being where your audience isn't.
Follow every tip and best practice and do every trick in the book to ensure your product launch runs like clockwork and delivers great results.
These are good decisions. These are the choices you can make that will help you achieve your goals. But there's one more thing about live streaming a product launch that you're forgetting:
If you're doing it only on one platform, you're not serving yourself nor your audience. When it comes to live streaming your new product launch, the way to do it right is with Restream.