One of the most controversial occasions in the world of live streaming will certainly have a huge impact in the long run. Therefore, we want to highlight the changes and keep you updated. Wait! Don't you know what happened? Sadly, Microsoft has given up on Mixer. The company announced the shutdown of its live streaming platform.
But what about all the pro streamers who had contracts with Mixer? Well, oddly enough, Microsoft made a deal with Facebook to offer partnerships to all their live streamers. Now you will be able to see some of the most popular Mixer streamers making content on Facebook Gaming. But does this mean Facebook Gaming will finally be able to compete with Twitch? Let's just say we would press X in L.A. Noire. Nonetheless, we want you to decide for yourself.

Let's look at Facebook Gaming under the microscope and highlight its pros and cons. Learn how to stream on Facebook Gaming, if you've decided to give it a try. We will cover some essential topics for you, including the basic equipment to stream on Facebook Gaming, ways to monetize your stream, and some pro tips on how to make your gaming channel successful.
Microsoft's 300 IQ strategic plan or the biggest blunder?
Microsoft might have actually made a huge investment in the future. How come? In case you didn't know, their upcoming Project xCloud will allow you to stream your favorite Xbox games directly from the cloud via your mobile phone or tablet. A Wi-Fi connection, a compatible mobile device (Android 6.0+), and an Xbox controller would be enough for xCloud.
Unfortunately for Microsoft, their promising tactic to win the Twitch audience by luring top live streamers like Ninja and Shroud hasn't worked out. Regardless, such a huge corporation simply cannot step aside. The audience numbers on Mixer weren't enough to achieve any sort of success with xCloud — Mixer had only 2% of the pie at best.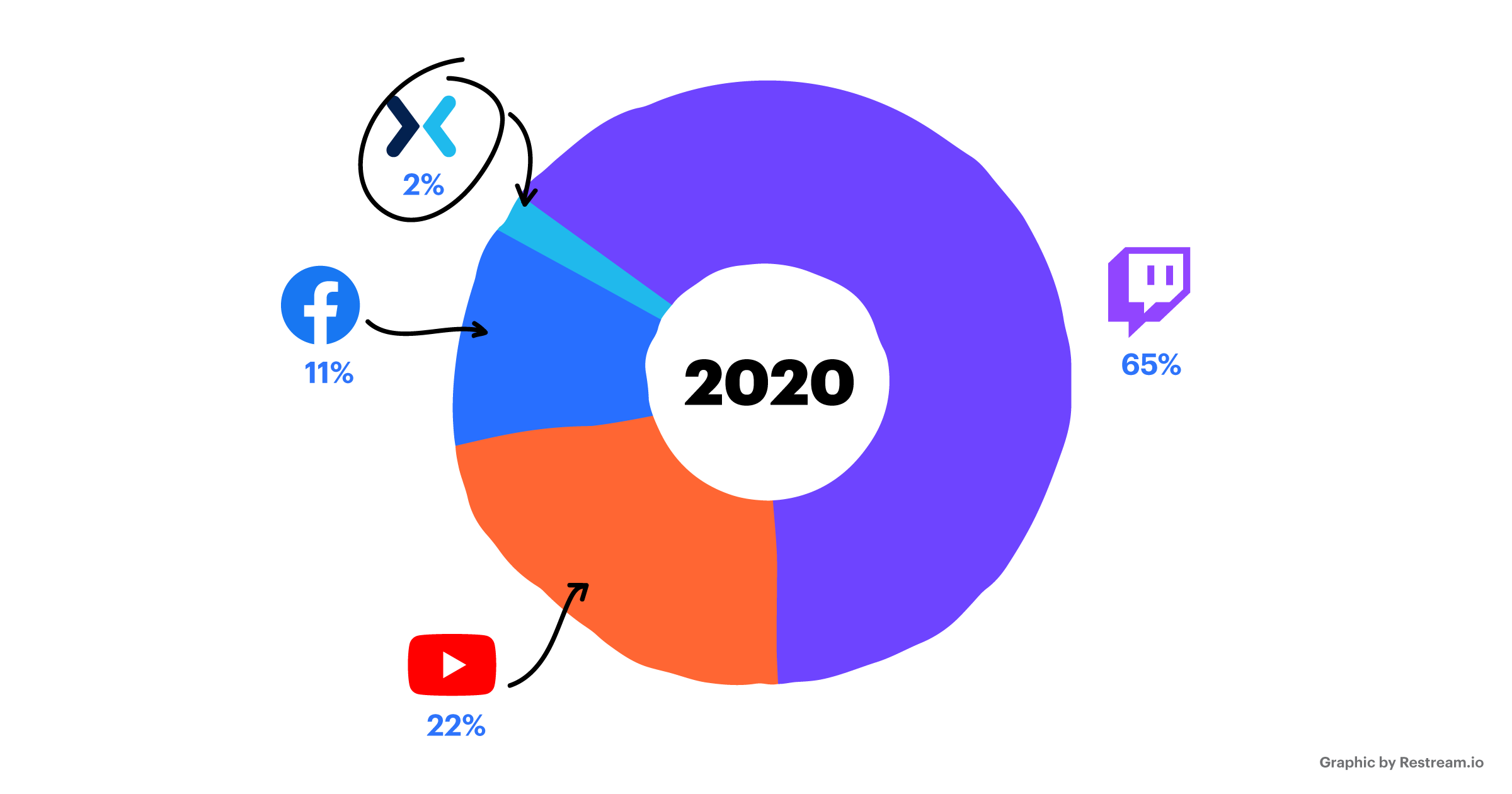 Therefore, teaming up with Facebook Gaming will allow Microsoft to gain more viewers substantially, as well as attract newcomers. "To better serve our community's needs, we're teaming up with Facebook to enable the Mixer community to transition to Facebook Gaming," according to Phil Spencer, head of gaming at Microsoft.
Ever heard of Facebook Gaming?
Although launched in June 2018, it seems that Facebook Gaming has just started to make those baby steps and develop the platform. Little by little, the community has been growing more and more with the advent of top personalities and streamers, like Ronda Rousey, Jeremy "Disguised Toast" Wang, Gonzalo "ZeRo" Barrios, and many others.
Advantages of streaming on Facebook Gaming
When we think of Facebook Gaming, first of all, we see an opportunity. The partnership with Microsoft has already brought a ton of attention, which will inevitably result in decent growth of the community due to the transition from Mixer and other platforms like Twitch and YouTube. That's where new streamers can win by committing to Facebook Gaming.
Promotion possibilities. One of the obvious pros of Facebook Gaming is the ability to reach the potential audience you already have on the most popular social media platform. Before the stream you can easily create a quick post to let your friends know you are going online. Moreover, since it is Facebook, your viewers can simply share your posts and help you grow your community.
Great VR opportunities. As Facebook owns Oculus, live creators can easily set up their streams and broadcast some exclusive games in the virtual reality mode. When it comes to VR, we are pretty sure Facebook will get the lion's share of viewers. Therefore, if you are interested in VR games, Facebook Gaming is just the place for you.
Partnership perks. If your channel has become popular enough, you can apply for the Facebook Level Up program. It allows you to live stream your games in Full HD at 60 FPS and offers you custom support, as well as some other cool perks. You will have access to fan subscriptions and Facebook Stars, a special currency that allows you to monetize your stream directly from fan donations.
Facebook mobile streaming. Last but not least, Facebook Gaming allows you to live stream your favorite games from your Android phone in just a few taps. Download the app, give the permissions, add the game, and go live! The live stream will instantly appear on your connected account — a personal page or a public group.
Disadvantages of streaming on Facebook Gaming
Like any other streaming platform, Facebook Gaming has some drawbacks. Whether you are going to choose Facebook as your gaming haven or not, you should first take a look at the following cons of streaming there.
Having to pay for ads. Unfortunately, the platform prioritizes live streamers who pay for ads, which means you might need to spend some money just to have the ability to compete with others.
No-nickname zone. Unlike other streaming platforms, Facebook Gaming doesn't allow viewers to use nicknames. Viewers are logged in under their real names, which can pose a threat to them due to lots of scammers and tricksters. For streamers, this means less audience reach and engagement.
Questionable UI. Many people simply do not like Facebook's user interface. This is especially true for the younger generation. Because Facebook is the oldest social media platform, many teenagers view it as a place for parents. And, well, parents mostly do not enjoy video games as much as their kids.
What do I need to start streaming on Facebook Gaming?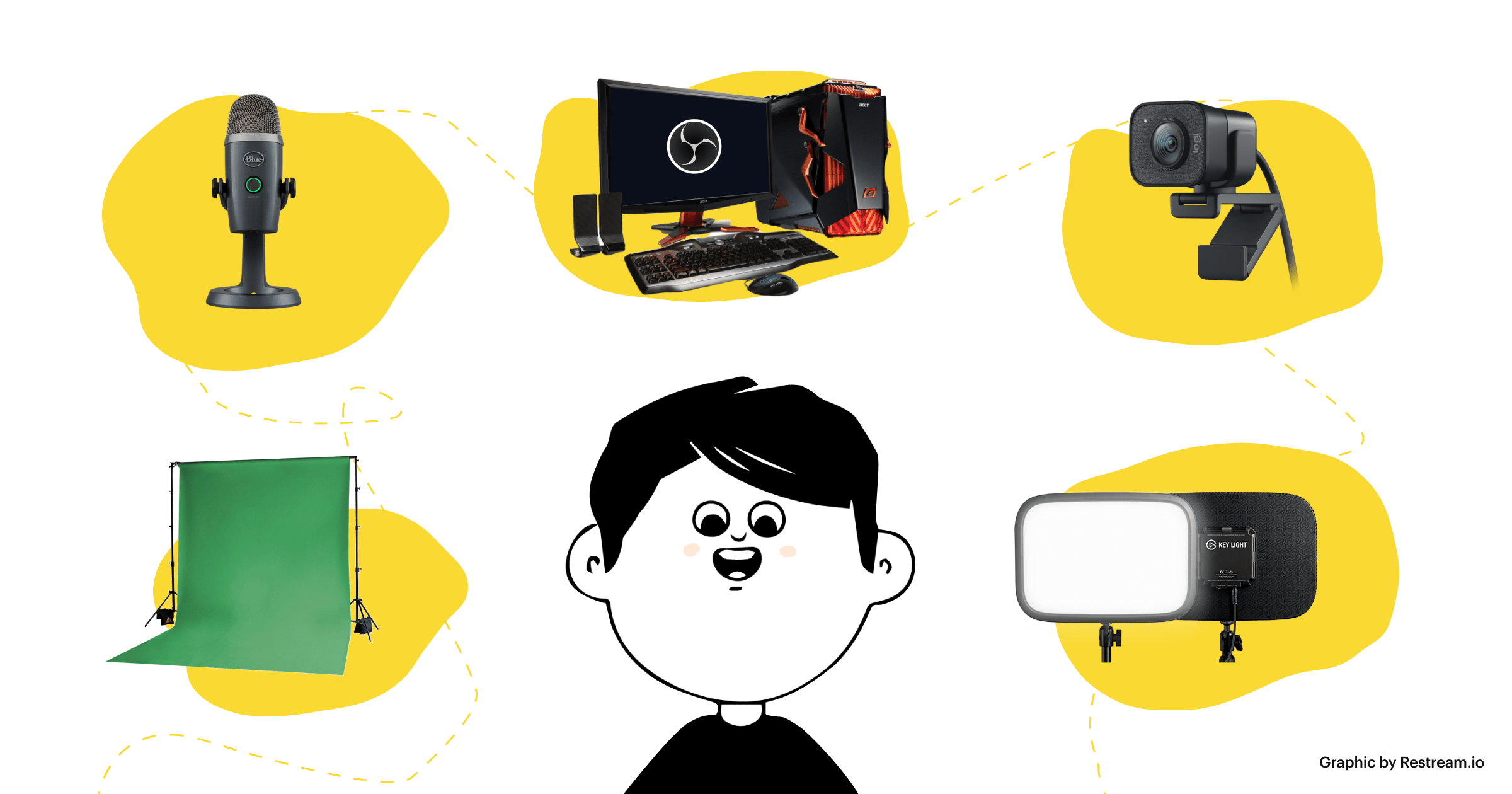 Let's say you are willing to give Facebook Gaming a try. Then you should learn your live streaming options. First things first, every streaming platform requires basic gaming equipment. This typically includes the following components:
A strong computer that is able to pull off the load from both video games and live streaming
A stable and fast internet connection (The recommended upload speed is around 5 to 6 Mbps.)
A webcam with a built-in microphone (If you want top quality, go for a USB or XLR microphone.)
The latest streaming software, like OBS Studio, Restream Studio, xSplit, etc.
Aaand that's about it 🙌
When it comes to Facebook Gaming, there's nothing else needed to start streaming right away. However, as we've already mentioned, you can use your mobile phone to live stream from.
Read later: Most useful live streaming tools and resources 📍
How to go live on Facebook Gaming
Going live with Facebook Gaming is super easy. Just follow the steps below, and you'll be streaming your games in no time.
Facebook requires video creators to set up a gaming page in order to join Facebook Gaming. Simply follow this link — https://www.facebook.com/gaming/pages/create — and fill in the required info to create your gaming page.
Click Create live video and choose your newly created gaming page as a place where you will post your live stream.
The next step is to copy and paste the Facebook stream key and stream URL in the settings of your streaming software.
Start streaming from the streaming software. You will be able to see the preview of your stream.
Go to your Facebook Gaming creator page and tag the game you are playing. Also, don't forget to add a description of your stream.
Finally, just hit that Go Live button.
Live streaming with Restream
When it comes to live streaming to Facebook Gaming, Restream.io can offer you that and so much more. First off, you can choose a bunch of other platforms and broadcast your live content to them simultaneously. Just imagine starting your streaming career on Facebook, Twitch, Twitter, and YouTube all at once.
We at Restream have many cool features to help you grow your brand super fast. Restream Analytics allows you to monitor the performance of your streams, whereas Restream Studio can help you start a quick live session and invite guests directly to your stream! And with Restream Events you can broadcast your pre-recorded live streams and give yourself some well-deserved time to rest.
To start multistreaming to Facebook Gaming and other platforms via Restream, create your Restream account first.
Then add Facebook to the streaming channel list in your Restream dashboard. There, you can also add other preferred platforms, like YouTube and Twitch.
Copy the stream URL and stream key in your Restream dashboard and paste them into the streaming software of your choice — for instance, OBS Studio.
Start streaming from the streaming software.
You can update both the title and description of your stream in your Restream dashboard.
Also, you can switch on and off any platform at any time.
Multiply your views and engagement
Reach a wider audience by streaming to multiple platforms simultaneously.
Get Started
How to monetize your live stream
Now that you are all set and hyped up for streaming, let's jump to the most important part of the deal — money. Below, you can learn the available ways to monetize your live streams on Facebook Gaming.
Level Up program
Level Up is an official affiliate program that allows you to live stream in Full HD and unlocks access to fan subscriptions and fan donations in the form of Facebook's special currency called Facebook Stars. It also provides custom support.
Your channel must be popular enough to be eligible to apply for Level Up. Along with some other requirements, you should have at least 100 followers, live stream video games on two days in the last two weeks, and be 18 years of age or older.
PayPal
The good-old PayPal allows you to receive donations from your viewers in a straightforward fashion. PayPal takes away just about 3% of each transaction, which means almost everything goes right into your wallet. You need to earn at least 10,000 Stars to be eligible for monthly payments on Facebook, whereas your PayPal money is available to you at any time.
Donation alerts
You can also use a donation alert tool to encourage your fans to send you money. After receiving a donation from your viewer, it will be displayed on the stream. Such alerts can be fully customized, making it possible to add even more engagement to your channel. Two of the most popular donation tools for Facebook Gaming are Nerd or Die's alerts and DonationAlerts.
Sponsorships
Sponsor deals are a great additional monetization tool for streamers who have already achieved popularity. Top gaming brands like Corsair, Alienware, and Razer offer the most popular live streamers sponsorships to represent and advertise their products. How does it work? A brand will pay a streamer to promote their products.
Even starters can sometimes land sponsorships. It is important, however, to show your commitment. Check if your stream looks clean: the graphics are applied neatly and the description is both engaging and informative. Also, make sure any brand can easily contact you. This might mean leaving your DMs on Twitter open.
Useful tips on how to become a successful Facebook Gaming streamer
There are things you should be doing, and then there are things you absolutely shouldn't. If you are willing to grow and prosper on Facebook Gaming, we've got some helpful tips for you.
1. Stream consistently
If you want to become good at something, you have to be consistent with your efforts. Consistency is the most vital factor for live streaming in particular. When you think of the top-notch streamers, each of them invests a lot of time in their jobs. Yes, if you want to achieve success, you have to view live streaming as the biggest project you are working on. Not to mention the fact that you simply cannot build a community without consistent streaming.
2. Communicate and engage
Live streaming is great for multiple reasons, but the one that stands out is the ability to communicate with your audience in real time. So use this to your advantage. Showcase your amazing personality through active communication with your viewers. But don't be awkward — just keep the flow smooth and natural.
3. Remind people to share
Unlike the two points mentioned above, this one is mostly applied exclusively to Facebook Gaming. Since Facebook Gaming is primarily a social network, you can easily multiply your audience just by asking your viewers to share your stream posts. It's in the nature of Facebook to like and share, so don't be shy to politely remind your audience to do it from time to time.
4. Multistream
Since the Facebook Gaming audience is rather small, to say the least, why not stream elsewhere? Multistreaming with Restream allows you to broadcast to many different platforms at the same time without needing to choose one to commit to. You can live stream games on Facebook Gaming, as well as on other top platforms, including Twitch, YouTube Live, Twitter, etc. This allows you to attract more audiences and grow much faster.
Want more live streaming insights and tips? You are welcome to our 👉 Discord channel, where hundreds of like-minded people share their experience. It's like Reddit, but faster!
Final thoughts
Will Facebook Gaming thrive? We believe it has a decent chance in the long run. And you can surely be a part of this run. Streaming to Facebook Gaming is pretty easy and actually can be profitable. This is mainly due to the competition on the platform being relatively small, especially in comparison to Twitch.
All you need to start streaming on Facebook is your computer (or Android mobile) and a stable internet connection. It is also advised to have a good webcam and a microphone to be able to actively communicate with your audience. Finally, you should install something like OBS Studio to professionally stream video games. You can also use Restream Studio to quickly create a new live session in a Q&A format with your viewers.
To monetize your live streams on Facebook Gaming, you should apply for their Level Up program. Also, use PayPal with donation alerts, especially in the beginning of your streaming career. And don't forget to keep your stream neat to impress any famous brand that might stumble across and offer you a juicy sponsorship.
We wish you best of luck! Stay tuned for more knowledge in the world of live streaming.