Intro
Today we're here to talk about the best streaming tools and resources to help you improve your live streams and gain more viewers. Whether you're streaming gaming sessions, fitness classes, webinars or something else entirely, the more people watching, the more money you can potentially make. The best way to maximize that potential is to put out top-quality streams, so without further ado, here are the most useful streaming tools for beginners and professionals.
What are live streaming tools?
Simply put, live streaming tools are the things you need to broadcast a live stream — the basics include a camera, a computer, and some kind of software (like Restream!) to connect your stream to the social platforms of your choice.
What's needed to start live streaming?
For the most basic live stream, you really only need a few things: a camera, a computer or mobile phone, and an internet connection. However, by adding just a few additional items to your toolkit, you can seriously uplevel the quality of the content you put out. To get started, make sure you have:
Best resources for live streaming
When it comes to live streaming, the resources are endless — and sometimes overwhelming. Consider this your cheat sheet of all the most popular and helpful apps and resources you might need as a streamer, from graphic tools to organizational solutions.
🎨Tools to enhance stream visual elements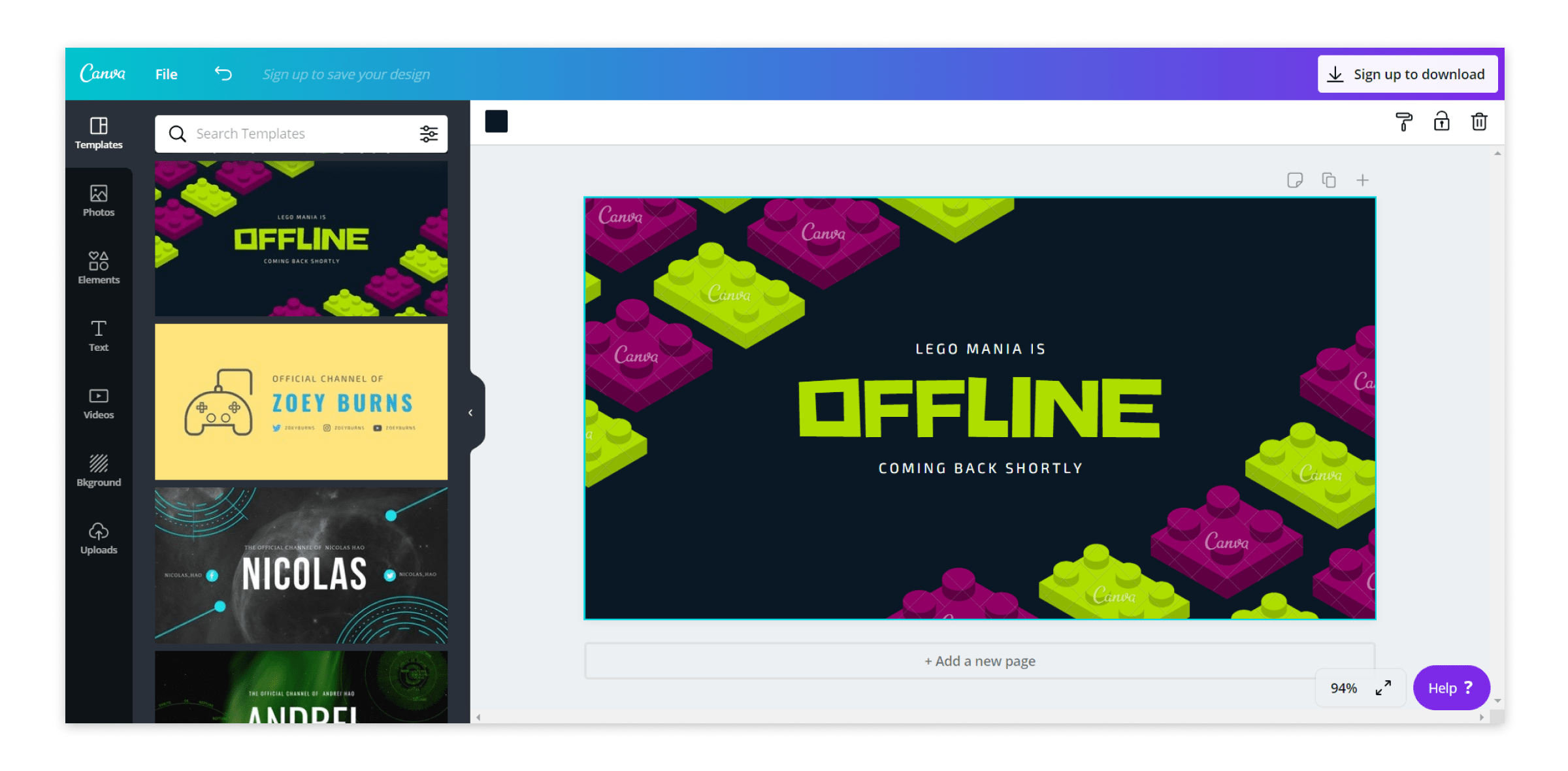 First off, let's talk about what visual elements are. When we talk about visual elements, we mean all those fancy overlays, panels, alerts, deck icons, logos and banners you see on your favorite streamers' channels. Simply put, tools for visual elements allow you to customize both your stream and brand as a whole.
Visuals by Impulse
Nerd or Die's not-so-little brother, Visuals by Impulse, also offers dozens of free panels, stream deck icons, overlays, notification buttons and more. If you can't find something in the Nerd or Die store, try Visuals by Impulse. New designs are added weekly. Plus, Visuals by Impulse has premium content available when you are ready to fully commit to streaming.
Canva
Live streamers often use other visual elements, like thumbnails, banners, posters, etc. You can create these in Adobe Photoshop, of course. But let's face it — that's a pretty tall order for newbies. Canva is your personal Photoshop master and a shortcut to creating your brand's unique look. With the help of this powerful resource, you can design your own logos, thumbnails, banners, posters, and flyers to promote your stream on social media. Furthermore, it offers a cute meme generator for some spicy content.
Nerd or Die
Free Twitch panel makers, alert makers, stream overlays, YouTube thumbnails and deck icons — Nerd or Die has it all. Every gamer should at least try out this amazing resource. When it comes to visual effects, Nerd or Die provides both quality and simplicity. However, you can always splurge on some exclusive visuals.
There are dozens of other amazing streaming tools for visual elements. If the ones above don't pique your interest, consider the following ones:
🎵 Tools to improve stream audio quality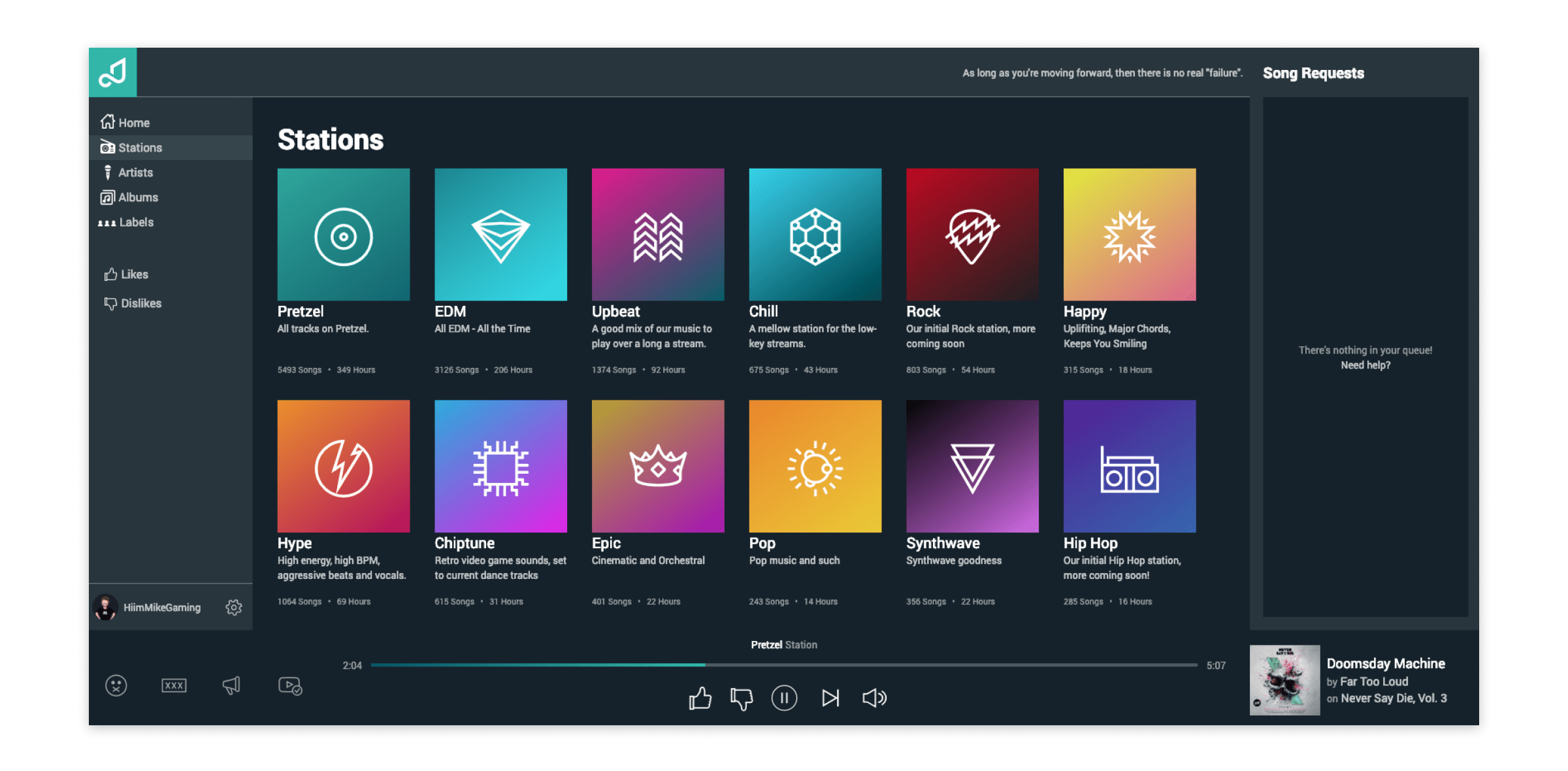 When it comes to live stream quality, don't underestimate the importance of audio. Few people can tolerate poor sound on streams. Here are some incredibly simple and powerful tools to help you find amazing, royalty-free background music, spice up your alerts with unique sound effects, and, of course, set up your audio correctly.
Voicemeeter
When it comes to stream quality, audio plays an incredibly important role. Voicemeeter allows you to set up your audio properly to ensure maximum quality. This audio device mixer can help you connect all your audio sources together. Moreover, you can edit the sound with the help of a full parametric equalizer.
Pretzel
The next stop is background music for your live streams. We all know how frustrating the copyright system can be. Using music on live streams can be a nightmare. You can get in trouble just by streaming your Spotify playlist. Pretzel is a wonderful library that offers DMCA-safe music. No more copyright strikes and muted videos.
NCS Music
Another great option for streamers is a record label called NCS Music. The service provides tons of royalty-free music to make your streams unique and entertaining. NCS Music is free for content creators to use on YouTube and Twitch. You just have to credit both the artist and track, as well as NCS Music.
Freesound
Freesound is a platform where people upload different sound effects. This sound library is absolutely free to use. You can change your default alerts and choose practically any sound you want instead, from thunderstorms to passing trains.
💸 Tools to monetize your streams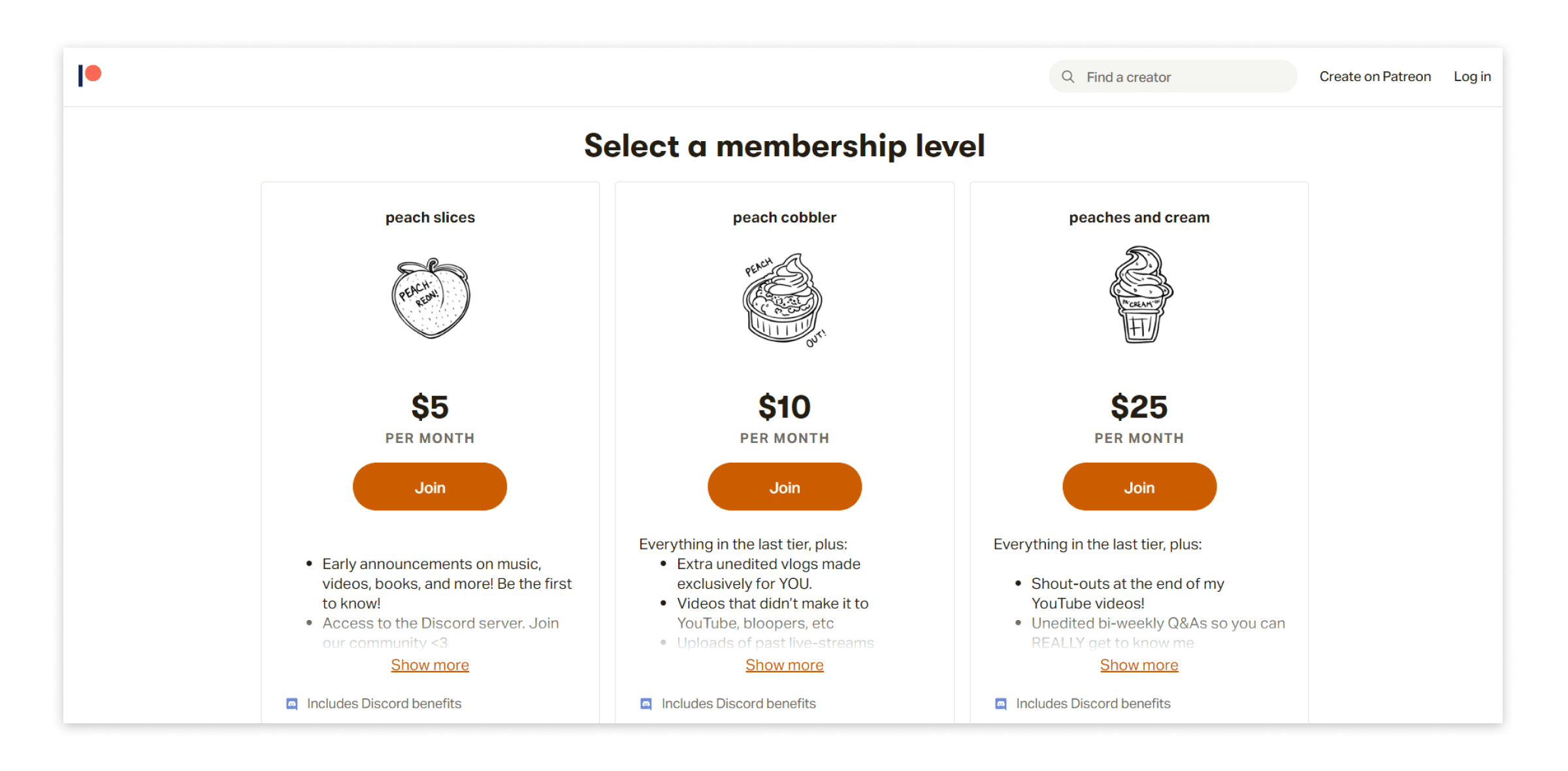 No martini — no party. The same applies to making money from viewer donations in your live streaming career. Here are some of the most popular streamer tools to help you monetize your live streams.
DonationAlerts
One of the most popular donation tools, DonationAlerts, is a simple yet engaging tool, which allows you to earn money from your live streams. When you receive a donation from your viewer, it gets displayed on your stream. This alert can be customized to increase the quality and interactivity of your live content. Nowadays, there are many similar resources you can use to set up donations on streams, including Muxy, TipeeeStream, etc.
PayPal
One of the most common forms of income for new streamers is PayPal. The streamer gets 92% of every donation. And the best thing about this method is that the funds are immediately available to you. On the other hand, if you're  a Twitch affiliate, you can receive their currency called "bits." It's slightly more expensive for your viewers though, since Twitch takes around 28.5% of each donation. Your viewers pay the fee. Moreover, Twitch earnings aren't available immediately.
Amazon Associates Program
The Amazon Associates Program that enables you to earn money by advertising all sorts of things. For instance, you can place ads for your keyboard, headphones, or even other gear on Amazon. You will receive commission from the sale for each viewer who follows the advertisement and successfully purchases the item. Unfortunately, you have to be a Twitch affiliate to be able to use this tool.
Patreon
Lots of streamers use Patreon to receive donations from their fans. This is literally the easiest way to make money for live streamers. However, keep in mind that only around 2% of creators manage to earn more than $1,000 a month. To get started, all you have to do is register and set up your Patreon page. Next, make sure your viewers can see the link to your Patreon page. Your income is based on how many paid subscriptions you get.
📈 Stream analytics tools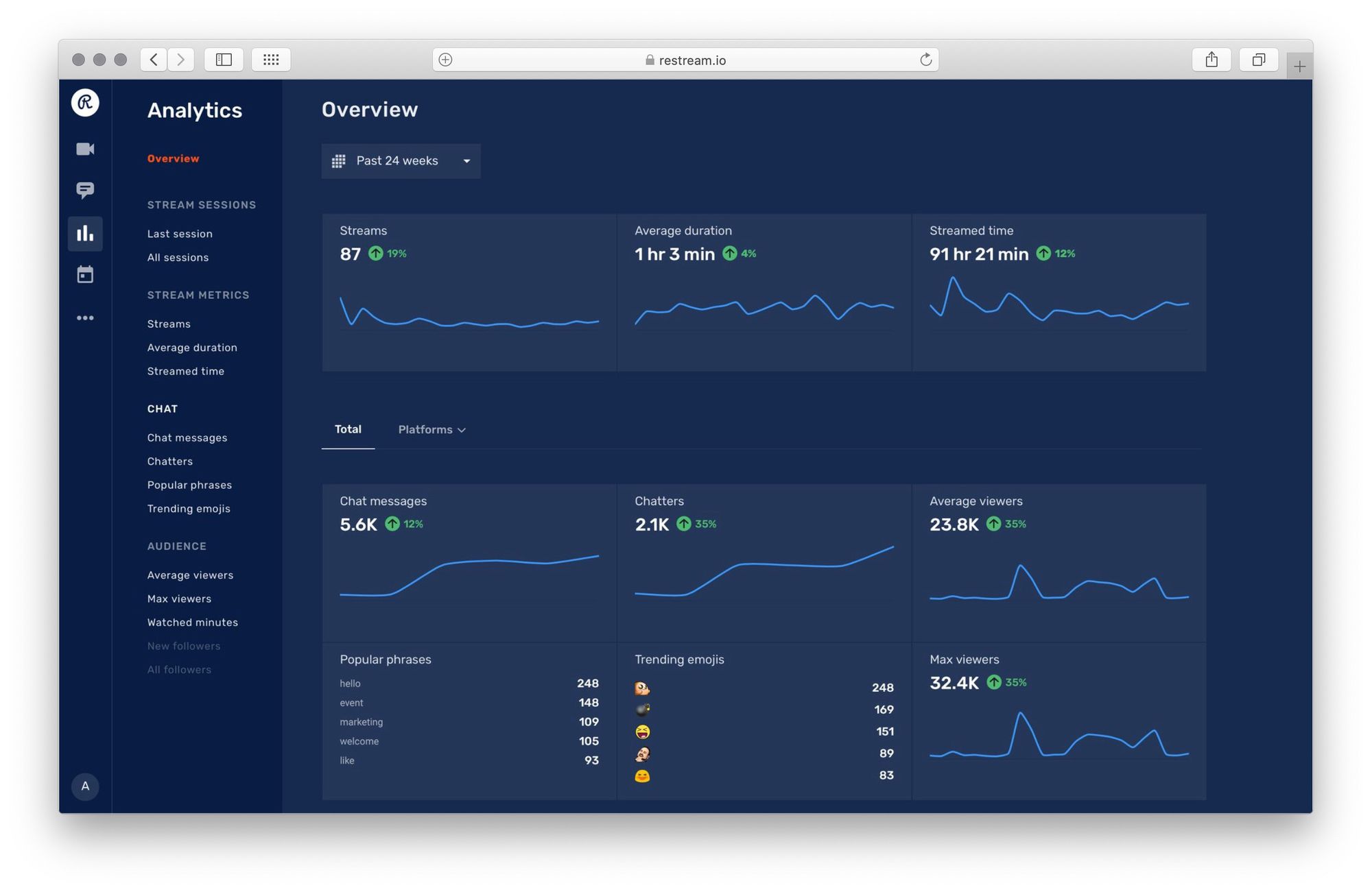 Your viewer count is just one of many streaming metrics you can use to analyze your performance. For example, some tools allow you to monitor the most popular games and streamers, whereas others can get helpful insights on your streams.
SullyGnome
Surely, some streamers don't bother paying attention to statistics. However, we believe streaming data can open new opportunities. SullyGnome (for Twitch) allows you to dive into the world of streaming trends. You can learn who the top streamers are, as well as what games are on the rise. Analyze the competition and choose your pathway to streaming success!
Twitch Tracker
The name Twitch Tracker speaks for itself. It has everything SullyGnome has and more. The smooth, user-friendly interface allows you to research with pleasure. Moreover, one great feature that makes Twitch Tracker stand out is the ability to compare different streamers. Just visit the website and search for the data you are interested in. Simple as that!
Restream Analytics
Looking for a one-stop shop? Simply multistream your live content on popular streaming platforms all at once. Then, you can analyze your performance on each platform from one central place. Restream Analytics provides you with a set of the most useful stream metrics: from average duration and streamed time to average viewers and watched minutes. Moreover, Restream Analytics allows you to learn what drives your viewers by analyzing peak time and chat trends.
👁 Tools to go live
Streaming software allows you to transfer your live video to streaming platforms, like Twitch, YouTube and Facebook. Also, such live streaming apps allow you to have more control over your stream quality.
OBS Studio
The first and most popular streaming software, OBS Studio, has already become kind of iconic. Most streamers have used it at least once and many are still using it for good reason. OBS Studio is a free-to-use and fairly simple app, which allows you to go live on streaming platforms like Twitch and YouTube. FYI, Restream is fully integrated in OBS Studio, which means you can easily multistream to several platforms all at once.
OBS.Live by StreamElements
OBS.Live is a  super-optimized add-on by StreamElements, specifically designed for gaming and IRL streaming. It integrates your Twitch, YouTube and Facebook chats into OBS. This streaming tool provides you with quick access to StreamElements chatbots, overlays and tipping alerts. With OBS.Live, you can control your alerts directly from OBS and give your chatbot a unique name to suit your stream better.
Restream Studio
Let's say you're tired from gaming and want to have a quick IRL live session with your viewers. Restream Studio is the simplest way to do it. You can stream directly from your browser or mobile phone. Also, you can use your overlays, logos and background images, invite guests to the stream, and share your screen with the audience.
And that's just the tip of the iceberg. For more information, check out our guide.
Other great tools to go live include:
🛠 Tools and resources to improve your stream
Lastly, here are a few helpful streaming tools that can help boost your stream and attract more viewers. Whether you're a beginner or a professional streamer, you can use these tools to increase your performance.
Discord
Back in the day, gamers used to communicate via TeamSpeak and other simple tools. However, Discord has become the top choice. It has an amazing, user-friendly interface, as well as strong security features. You can create or join servers, share your screen while talking to your friends, and enable some cool in-game integrations. At Restream, we have a Discord channel where you can join our community and learn some helpful tricks or share your experience.
Stream Deck Mobile
Stream Deck Mobile transforms your smartphone into a mini-workstation. With Stream Deck Mobile, you can easily integrate your favorite streaming tools and platforms, like OBS, Twitch and YouTube on your phone. When live streaming, you can instantly trigger any command without switching tabs or using extra monitors. You can customize and add up to 15 buttons.
Restream's Upload and Stream
After you've edited your stream highlights video, you have two options: simply post it on social media or broadcast it on streaming platforms. Upload and Stream allows you to live stream your pre-recorded videos at a scheduled time. This can be especially helpful when targeting audiences from different time zones. For instance, viewers in Europe may not be able to see you live streaming from California due to the huge time difference. You can stream content on multiple platforms, including YouTube, Facebook, LinkedIn, Twitch, etc., all at once!

Pulsoid
A fun and simple widget, Pulsoid, allows you to display your heart rate to entertain your viewers. Perfect for playing horror games! Also, you can monitor your heart pulse when live streaming sports events or fitness classes. Or perhaps you are prone to raging and your BPM skyrockets after some random card crushes your master plan in Hearthstone. There are many other fun things to do on a stream, all for the sake of your viewers' entertainment.
Trello
Starting a successful streaming career requires thought and planning. You need to have a content plan and schedule for your live streams to attract and keep followers. That's when Trello might come in handy. Trello is a wonderful organizational tool that allows you to organize your goals and manage your tasks. Successful streamers often have a lot of people involved in the process. With Trello, you can assign tasks to any member of your team and keep everything under control.
Notion
Having trouble keeping track of your notes and tasks? Notion does everything Trello does and more! It is an all-in-one workspace where you can add notes, collaborate with others, manage your projects, plan ideas and control their implementations. You can even create your own wiki with hundreds of content layers.
Google Drive and Dropbox
Cloud storage services, like Google Drive and Dropbox, have become irreplaceable. With their help, you can back up your videos, highlights or memes and quickly retrieve them whenever you want. Streamers can upload recorded live sessions to reuse later. Cloud storage is especially important for transferring files between your team members. Let's say you want to create a short highlight of your stream. The quickest way is to upload and share the recorded stream with your video editor via Google Drive or Dropbox.
FAQs
What tools do I need for streaming?
You'll need some basics: a camera and microphone plus a computer or mobile device. Beyond that, the equipment you need depends on what kind of stream you have. You may want to consider investing in tools to help with organization, monetization and visual enhancement. Software like Restream can help you multistream across social platforms.
What are some free streaming resources?
Check out Nerd or Dive for visual resources. Try Pretzel, NCS Music or Freesound for royalty-free music and sound effects.
Do I need an audio mixer to stream?
You don't need an audio mixer to stream, but it's a good idea to use one. We recommend Voicemeeter. Most people won't stick around if your stream has bad audio quality, so you'll be doing yourself a favor.
Do I need an encoder for live streaming?
Encoders convert video files into formats that are compatible with streaming destinations like Twitch or YouTube. If you're a gamer, you may want to consider a hardware encoder, because it frees up your computer to use more resources running games. For other types of streaming, a software encoder (AKA streaming software) may work just fine (plus they're usually pretty simple to use).
Easy live streaming for everyone
Run professional live streams from your browser.
Get Started
💪 Let's wrap up
Professional live streaming does require a few additional tools and resources. Luckily, many of them are free and easy to use. Let's quickly go through our list of the most helpful streaming tools:
Check out Nerd or Die, Visuals by Impulse, Canva and Placeit for visual elements, like overlays, thumbnails, banners, etc.
Pretzel, NCS Music, and Freesound offer royalty-free music and sound effects, whereas Voicemeeter allows you to set up your audio properly.
DonationAlerts, Patreon, and Amazon Associates are amazing and simple resources to help streamers make money. Don't forget about good old PayPal.
Try using Twitch Tracker, SullyGnome and Restream Analytics for statistics research.
OBS Studio, OBS.Live by StreamElements and Restream Studio are highly functional solutions for live streaming.
Other helpful tools that can increase your performance include Discord, Trello, Notion, Google Drive, Dropbox, Pulsoid, Stream Deck Mobile and Restream's Upload and Stream.
We hope you found this article both interesting and useful. You can check out our other articles on live streaming or contact our support team via 24/7 live chat if you have any questions.