If you want your live videos to be high-quality and engaging, it doesn't take a lot of extra work. You can easily make your streams more professional by using the right tools, gear and software. We won't get into gear and equipment here, but you can take a look at our guide to the best streaming setup for live video to learn more about that. In this article we'll discuss streaming software and apps, multistreaming tools, live shopping apps, chat and communication tools, analytics tools and more that will make it easy to create professional-looking live streams.
The #1 live
streaming solution
Get started for free
1. Software tools for live streaming
Of course, you can't go live without a proper live streaming software. Tools like Restream Studio and OBS Studio give you control over your stream, letting you customize it to your preferences.
Restream Studio
Restream is a cloud-based live streaming software that lets you easily create professional-looking and engaging live videos and broadcast them to multiple platforms simultaneously. You can add your own logo and custom graphics to your stream, invite remote guests to join you and even schedule pre-recorded videos to broadcast live. The best part about Restream Studio is that you don't have to download anything — you can do it all straight from your web browser.
OBS Studio
OBS Studio is also a popular choice for live streaming software because it's free to use and customizable. OBS works with most major streaming platforms and allows RTMP streaming so you can connect lesser-known platforms too. OBS is compatible with Windows, Mac and Linux so you can use it no matter what your setup is. You can also use the Restream plug-in so that you can multistream from OBS to several platforms simultaneously.
Although OBS has some advantages, it's also got a steep learning curve if you've never streamed before. There's no official customer support to help you out either, since it's open-source. Unlike Restream Studio, you also have to download OBS to your computer and it uses some of your machine's resources to stream and record live video.
2. Multistreaming tools
Why stream to one platform when you can stream to two, or three or four? When you send your live broadcast to multiple places at once, you have the potential to multiply your audience.
With Restream, you can choose from over 30 live streaming platforms and social media networks to stream to. If you want to stream to a platform that doesn't integrate with Restream, you can still connect it using RTMP. You can use browser-based Restream Studio for going live on multiple platforms at once, or if you prefer using OBS Studio for streaming, you can multistream with Restream's plug-in.
Live stream everywhere,
all at once
Get started for free
3. Monetization tools
Looking for a way to make money with live streaming? You can venture into live shopping and sell your products or affiliate products on-stream. You can also use other monetization tools to get donations, subscriptions and more.
DonationAlerts
One of the most popular donation tools, DonationAlerts, is a simple yet engaging tool, which allows you to earn money from your live streams. When you receive a donation from your viewer, it gets displayed on your stream. This alert can be customized to increase the quality and interactivity of your live content. Nowadays, there are many similar resources you can use to set up donations on streams, including Muxy, TipeeeStream, etc.
PayPal
One of the most common forms of income for new streamers is PayPal. The streamer gets 92% of every donation. And the best thing about this method is that the funds are immediately available to you. On the other hand, if you're a Twitch affiliate, you can receive their currency called "bits." It's slightly more expensive for your viewers though, since Twitch takes around 28.5% of each donation. Your viewers pay the fee. Moreover, Twitch earnings aren't available immediately.
Amazon Associates Program
The Amazon Associates Program enables you to earn money by advertising all sorts of things. For instance, you can place ads for your keyboard, headphones or even other gear on Amazon. You will receive a commission from the sale for each viewer who follows the advertisement and successfully purchases the item. Unfortunately, you have to be a Twitch affiliate to be able to use this tool.
Patreon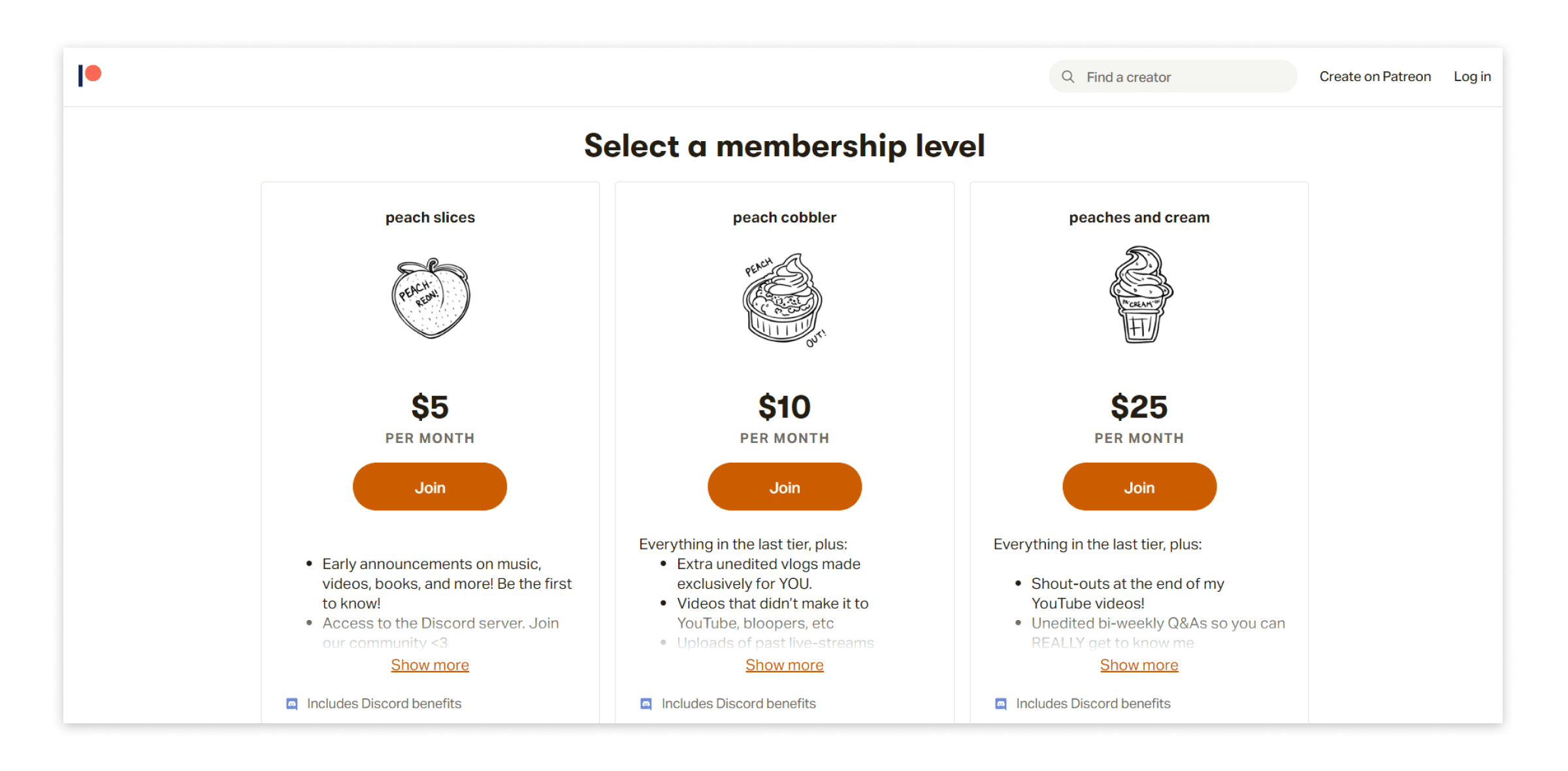 Lots of streamers use Patreon to receive donations from their fans. This is literally the easiest way to make money for live streamers. However, keep in mind that only around 2% of creators manage to earn more than $1,000 a month. To get started, all you have to do is register and set up your Patreon page. Next, make sure your viewers can see the link to your Patreon page. Your income is based on how many paid subscriptions you get.
4. Live shopping tools
Turn your live stream into a shopping spree for your viewers with a tool that helps you do live shopping. You can promote your own products or affiliate products. These tools make it easy to add products to your stream and for your viewers to purchase them.
YouTube Live
You can tag products on your YouTube Live stream or put products on your channel's "shelf." YouTube also lets channel owners create stores to make the shopping experience more seamless for your viewers. If you don't want to make a store on YouTube, you can also integrate with Shopify.
Amazon Live
If you want to start streaming live shopping events, what better platform than the world's largest online marketplace? Amazon Live lets you add any products from the Amazon catalog to your live video's carousel, whether they're your own products or an affiliate's. One advantage of using Amazon as your live shopping tool is that your viewers are already primed to make a purchase — that's what Amazon is for!
Restream live shopping
When you use Restream's live shopping tool, you can add links to your or your affiliate's products as a scannable QR code — so your viewers can head to the website and make the purchase without leaving your stream. You can turn any URL into a QR code, including your personal website, a donation page or any other link you want to share with your viewers. They'll be able to see on-stream whenever someone scans the code too, so you can generate more excitement.
5. Tools to engage with your audience
You want to make sure your viewers have a good experience on your stream. Letting them easily communicate with you is crucial. Get tools that help you level up your live chat and ensure your audio is crystal clear, so they can always hear your lovely voice when you're speaking with them.
Restream chat
If you are multistreaming on several platforms at once, you're going to have several live chats to manage, right? Wrong. With Restream's chat client, you can combine all your platforms' live chats into one window. You can even add it as a plug-in on OBS or your favorite streaming software. For some platforms, like YouTube, your viewers can even see chat messages from other platforms in their YouTube chat and send messages to each other. How cool is that? The coolest part, though, is being able to manage all your viewers on all your platforms with the same tool.
Discord
Before Discord, there wasn't a good way for gamers and streamers to speak to each other in real time. Discord's user-friendly interface and strong security features have made it a top choice for streamers to connect to other gamers and to their viewers. You can create or join servers, share your screen while talking to your friends, and enable some cool in-game integrations. At Restream, we have a Discord channel where you can join our community and learn some helpful tricks or share your experience.
6. Tools to improve your live stream quality
If you want viewers to keep coming back to your stream, you should ensure the quality is decent. Improving audio and video can improve the overall experience for your viewers. These tools help you enhance your stream quality.
Voicemeeter
When it comes to stream quality, audio plays an incredibly important role. Voicemeeter allows you to set up your audio properly to ensure maximum quality. This audio device mixer can help you connect all your audio sources together. Moreover, you can edit the sound with the help of a full parametric equalizer.
Freesound
Freesound is a platform where people upload different sound effects. This sound library is absolutely free to use. You can change your default alerts and choose practically any sound you want instead, from thunderstorms to passing trains.
Speedtest by Ookla
A poor internet connection can be your stream's downfall. Nobody will want to stick around if your live video is constantly buffering. So before you go live, check your connection speeds with a tool like Speedtest. It'll let you know how fast your upload and download speeds are. Aim for upload speeds of about 50 Mbps.
7. Streaming analytics tools
Your viewer count is just one of many streaming metrics you can use to analyze your performance. For example, some tools allow you to monitor the most popular games and streamers, whereas others provide helpful insights on your streams.
Restream analytics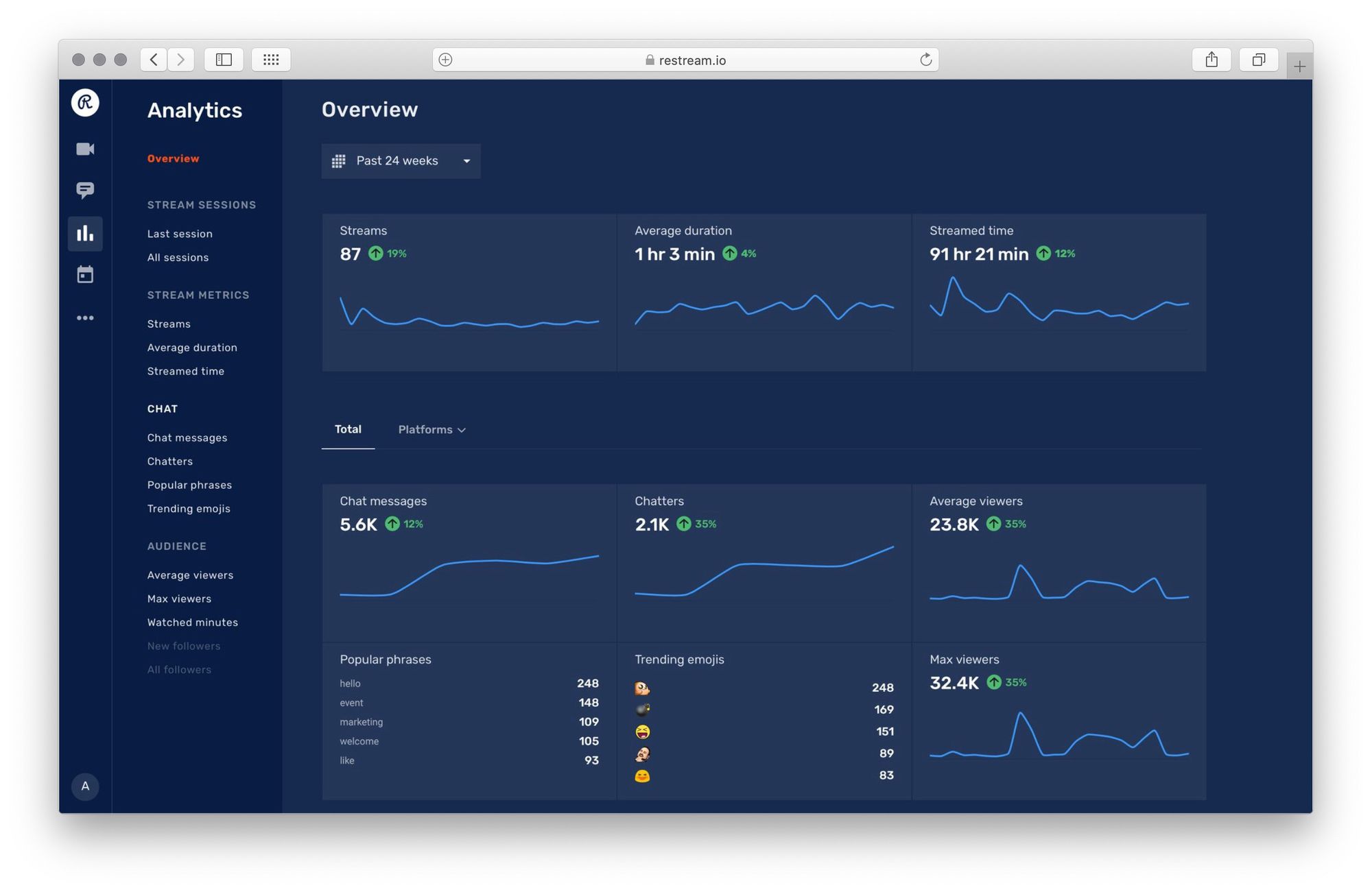 Looking for a one-stop shop? Simply multistream your live content on popular streaming platforms all at once. Then, you can analyze your performance on each platform from one central place. Restream analytics provides you with a set of the most useful stream metrics: from average duration and streamed time to average viewers and watched minutes. Moreover, you can learn what drives your viewers by analyzing peak time and chat trends.
SullyGnome
Tracking your streaming data and paying attention to statistics can open new opportunities. SullyGnome (for Twitch) allows you to dive into the world of streaming trends. You can learn who the top streamers are, as well as what games are on the rise. Analyze the competition and choose your pathway to streaming success!
TwitchTracker
The name TwitchTracker speaks for itself. It has everything SullyGnome has and more. The smooth, user-friendly interface allows you to research with pleasure. Moreover, one great feature that makes TwitchTracker stand out is the ability to compare different streamers. Just visit the website and search for the data you are interested in. Simple as that!
8. Tools for stream graphics
Tools and apps for visual elements let you enhance your stream by creating custom graphics. You can create a logo or branded image for your channel and use it on all of your streams to help reinforce your identity to your viewers. It also helps them find you on other platforms, like social media.
Canva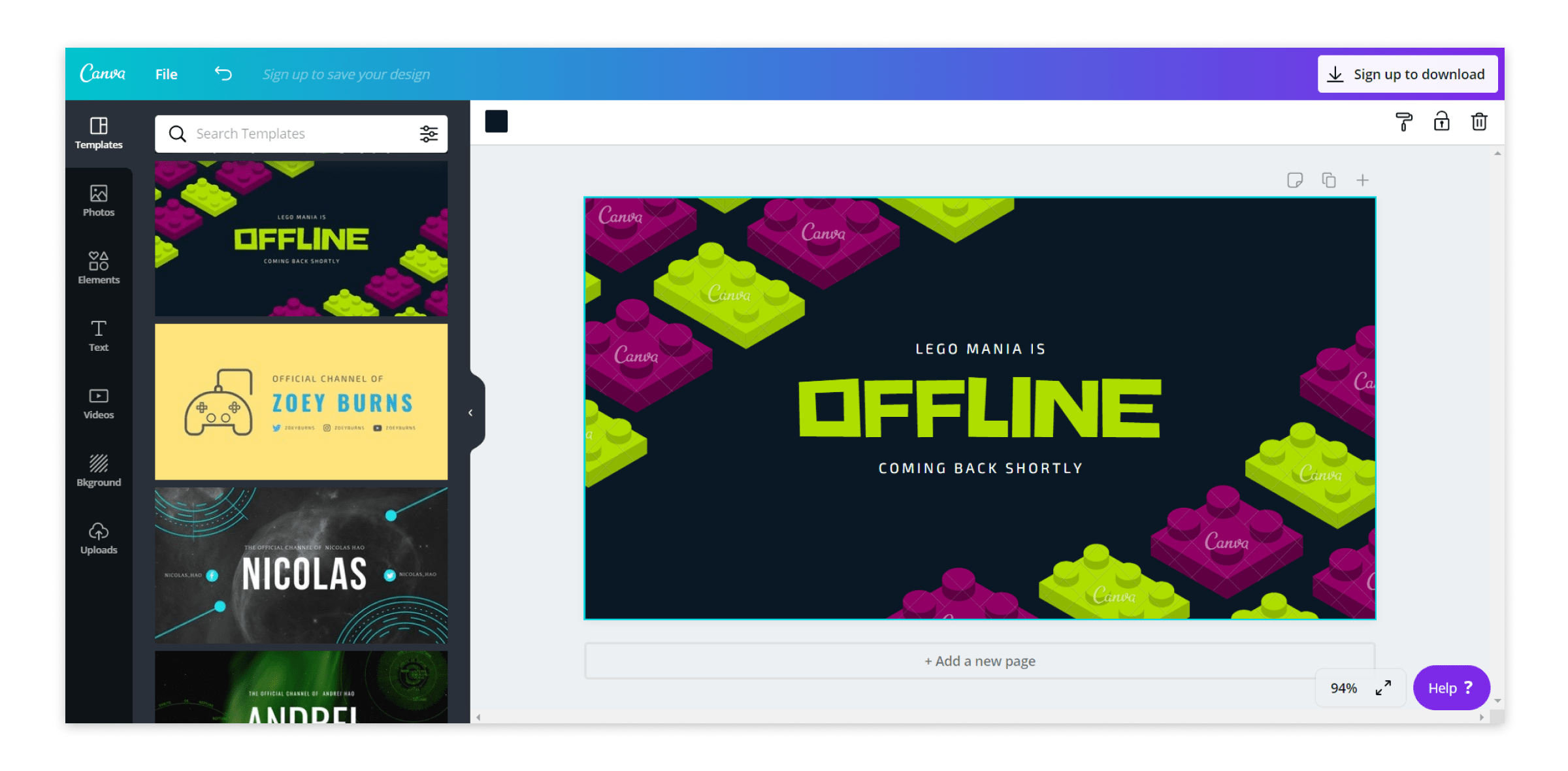 Live streamers often use other visual elements, like thumbnails, banners, posters, etc. You can create these in Adobe Photoshop, of course. But let's face it — that's a pretty tall order for newbies. Canva is your personal Photoshop master and a shortcut to creating your brand's unique look. With the help of this powerful resource, you can design your own logos, thumbnails, banners, posters, and flyers to promote your stream on social media. Furthermore, it offers a cute meme generator for some spicy content.
Nerd or Die
Free Twitch panel makers, alert makers, stream overlays, YouTube thumbnails and deck icons — Nerd or Die has it all. Every gamer should at least try out this amazing resource. When it comes to visual effects, Nerd or Die provides both quality and simplicity. However, you can always splurge on some exclusive visuals.
Visuals by Impulse
Nerd or Die's not-so-little brother, Visuals by Impulse, also offers dozens of free panels, stream deck icons, overlays, notification buttons and more. If you can't find something in the Nerd or Die store, try Visuals by Impulse. New designs are added weekly. Plus, Visuals by Impulse has premium content available when you are ready to fully commit to streaming.
There are dozens of other amazing streaming tools for visual elements. If the ones above don't pique your interest, consider the following:
If you want the easiest way to add stream graphics, you can go live with our browser-based streaming software Restream Studio. You can add default graphics or upload your own and insert them directly onto your live stream.
9. Tools to record and schedule live streams
One of the best ways to promote your stream and attract more viewers is to post short clips from your previous streams. Having a tool to record your live videos and even schedule pre-recorded streams to go live comes in handy.
Restream's Upload and Stream
After you've edited your stream highlights video, you have two options: simply post it on social media or broadcast it on streaming platforms. Upload and Stream allows you to live stream your pre-recorded videos at a scheduled time. This can be especially helpful when targeting audiences from different time zones. For instance, viewers in Europe may not be able to see you live streaming from California due to the huge time difference. You can stream content on multiple platforms, including YouTube, Facebook, LinkedIn, Twitch, etc., all at once!
OBS Studio
OBS is a powerful broadcasting software but you can also use it to record videos. It's particularly useful for doing screen recordings, such as capturing gameplay for gaming streamers. You can also use it to make a recorded version of your live video to upload and distribute to your followers after the stream has ended. You can even export your stream recording to a video editing software and make short clips to post on YouTube, Facebook, Instagram, TikTok and other social media platforms.
10. Tools to stay organized
When you start hosting more professional streams, you'll have a lot of assets to keep track of: graphics, stream ideas, stats and analytics and more. Keep everything in one place and don't get overwhelmed by using one of these organizational tools.
Trello
Starting a successful streaming career requires thought and planning. You need to have a content plan and schedule for your live streams to attract and keep followers. That's when Trello might come in handy. Trello is a wonderful organizational tool that allows you to organize your goals and manage your tasks. Successful streamers often have a lot of people involved in the process. With Trello, you can assign tasks to any member of your team and keep everything under control.
Notion
Having trouble keeping track of your notes and tasks? Notion does everything Trello does and more! It's an all-in-one workspace where you can add notes, collaborate with others, manage your projects, plan ideas and control their implementations. You can even create your own wiki with hundreds of content layers.
Google Drive and Dropbox
Cloud storage services, like Google Drive and Dropbox, have become irreplaceable. With their help, you can back up your videos, highlights or memes and quickly retrieve them whenever you want. Streamers can upload recorded live sessions to reuse later. Cloud storage is especially important for transferring files between your team members. Let's say you want to create a short highlight of your stream. The quickest way is to upload and share the recorded stream with your video editor via Google Drive or Dropbox.
FAQs
What tools are typically used for streaming?
For live streaming, you need streaming software, such as Restream Studio. To make your streams more engaging, you can also use tools for multistreaming (like Restream), creating stream graphics (such as Canva), or communicating better with your audience (such as Discord).
What equipment do I need to start live streaming?
To start live streaming, you should have a camera, microphone, computer and streaming software. You can go beyond this basic streaming setup and add other gear like a capture card, lighting, audio mixer and other equipment when you want to take your live videos to the next level.
What are the best software tools for live streaming?
The best software tools for live streaming are Restream Studio and OBS Studio. You can read our reviews of the best streaming software for more suggestions.
Let's wrap up
Professional live streaming is easy if you have the right tools and resources. With tools like Restream Studio, DonationAlerts, Discord, Voicemeeter, TwitchTracker, Canva, Trello and more, you can improve your stream's quality, monetize your videos and build better connections with your audience.