Intro
Whether you are a pro live streamer or just a beginner, you already know how important your stream design is. Overlays, logos, alerts, and banners create a unique image and show your dedication to your stream's branding, which attracts more viewers. Luckily, there are tons of amazing tools that can help you create the perfect graphics, including live stream overlay creators and banner makers.
We'll take you through the best tools and resources to help you make custom banners, overlays, and other assets for your live stream in this guide.
👀 What are the main design elements of a video stream?
People rarely remember streamers with no logos and basic overlays. Before we get into the tools to help you make these graphics, let's go over the main design elements that help enhance your live stream:
Overlays
Banners
Panels
Alerts
Logos
Watermarks
1. Overlays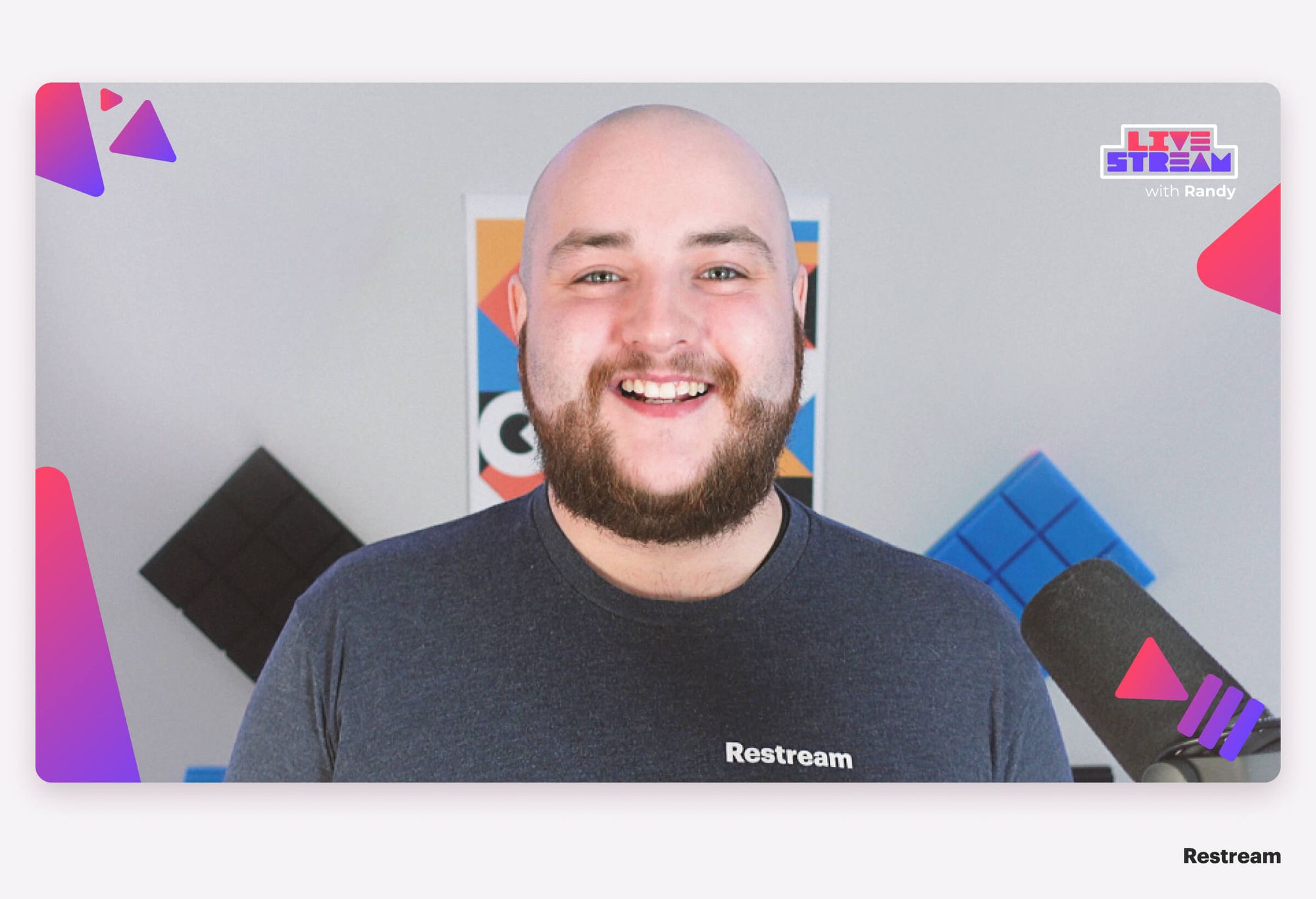 An impressive custom overlay is a key to success, especially for gamers. Your live stream overlay is a layout on the screen your audience sees. Stream overlay creators allow you to add rectangular, triangular, or circular shapes and adjust their size and position. Overlays can even be animated, although these may cost you some money to create.
2. Stream screens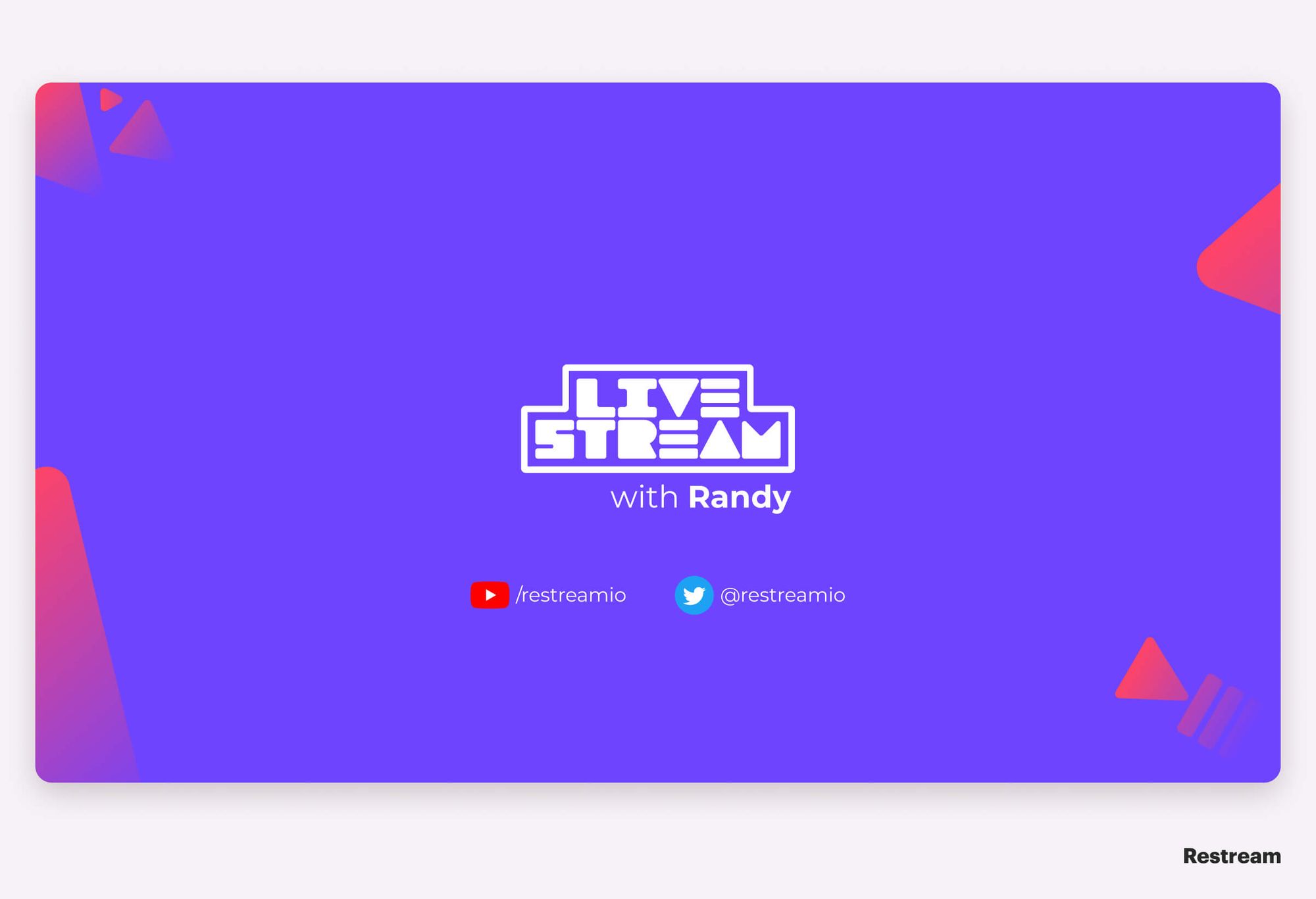 A stream screen, also known as a cover image, is typically a 1200 x 380px image your audience sees when you are AFK (Away From Keyboard) or offline. Viewers only see the banner and nothing else. These cover images can be used to give your viewers crucial information about your live stream, like your schedule, partnerships, and content info. A stream banner lets you  present yourself.
3. Channel banners
On most live streaming platforms, you can add an image that appears at the top of your channel page. This channel banner is a prime opportunity to show who you are, what your channel is about, and what you can offer to viewers. Your channel banner should have a style consistent with your other visual elements, especially your panels.
4. Panels

Panels are the most informative elements of your live stream design. They typically sit below or to the side of your feed, on your stream channel's webpage. They allow your viewers to learn more about you and your live stream with categories like:
About
Live stream rules
Sponsors
Social media links
Equipment
Tips and donations
5. Alerts
Many streamers use generic animated pop-ups from their live streaming software, but wouldn't it be cooler to create unique alerts with some catchy sounds? Alerts are used to highlight new followers, subscriptions, tips, donations, hosts, and much more.
6. Logos

A live stream logo helps users find your channel among the hundreds of others. It is a unique and straightforward way to describe yourself and your brand. Your logo should be visually appealing, versatile, and appropriate so you don't get into any trouble with it.
7. Watermarks
A watermark is like your logo, but it's embedded in your live video. It's usually small and located somewhere in the corner so it doesn't interfere with the stream. People use watermarks for copyright reasons and to help viewers identify the streamer.
Read later: Live streaming graphics — how to create overlays, logos, and more 📍
⚙️ Tools to make overlays, banners, panels, and more
Now that we know all the design elements, how do you make those custom overlays and alerts? It requires some creativity, but the process is easy if you pick an app to handle all the technical and challenging aspects for you.
The following tools are some of the best for creating custom live stream elements.
👉 Canva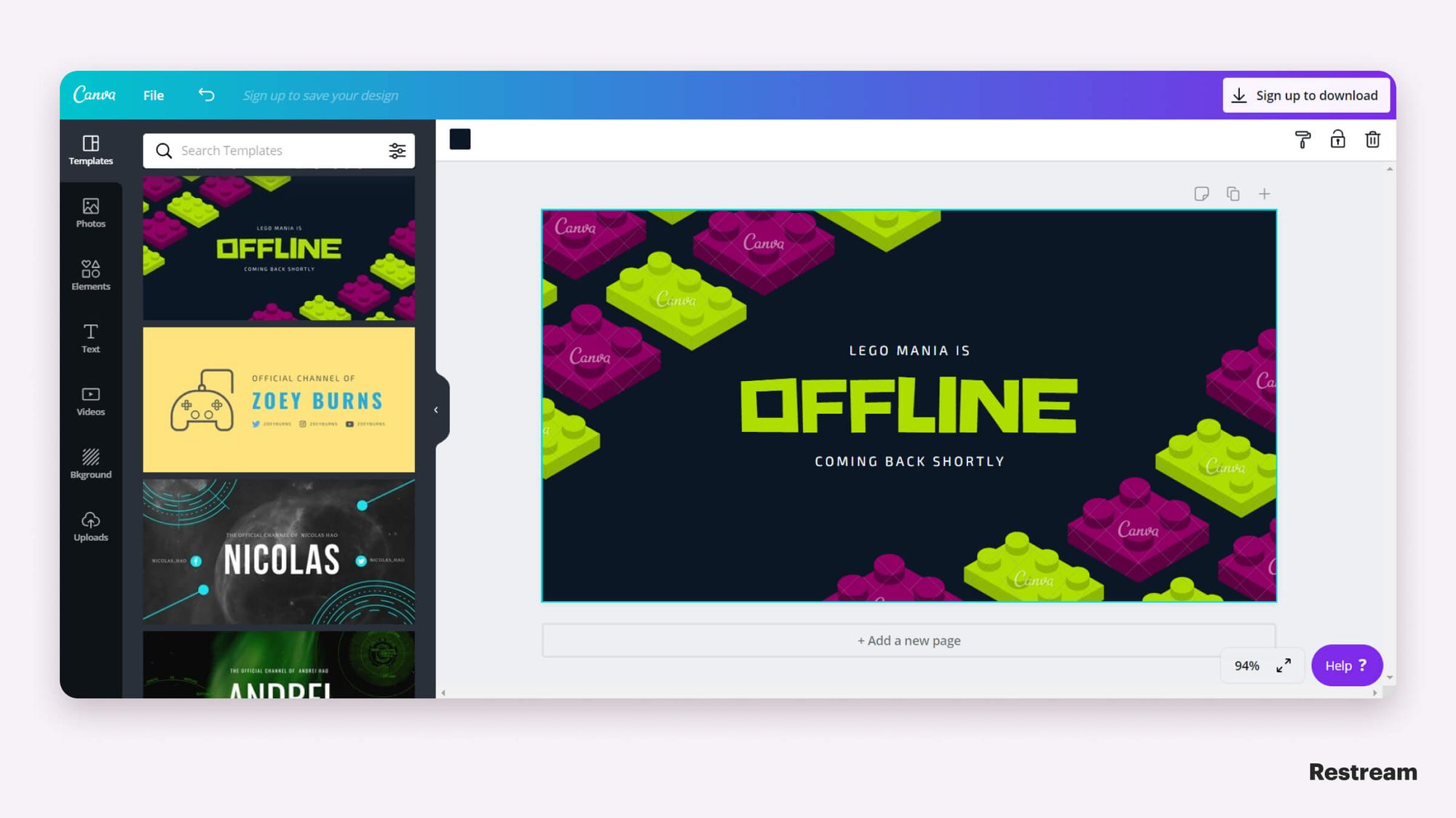 Canva allows you to create beautiful designs for nearly anything. It has hundreds of free templates for banners and logos ready to use. Design skills are not required for Canva, so it is suitable for everyone. Some templates require a paid Canva Pro subscription to customize. Also, you can only export designs as GIFs or MP4 videos with Canva Pro. Free templates are available, however, and you can customize them as much as you want and download your design when you're done.
👉 Snappa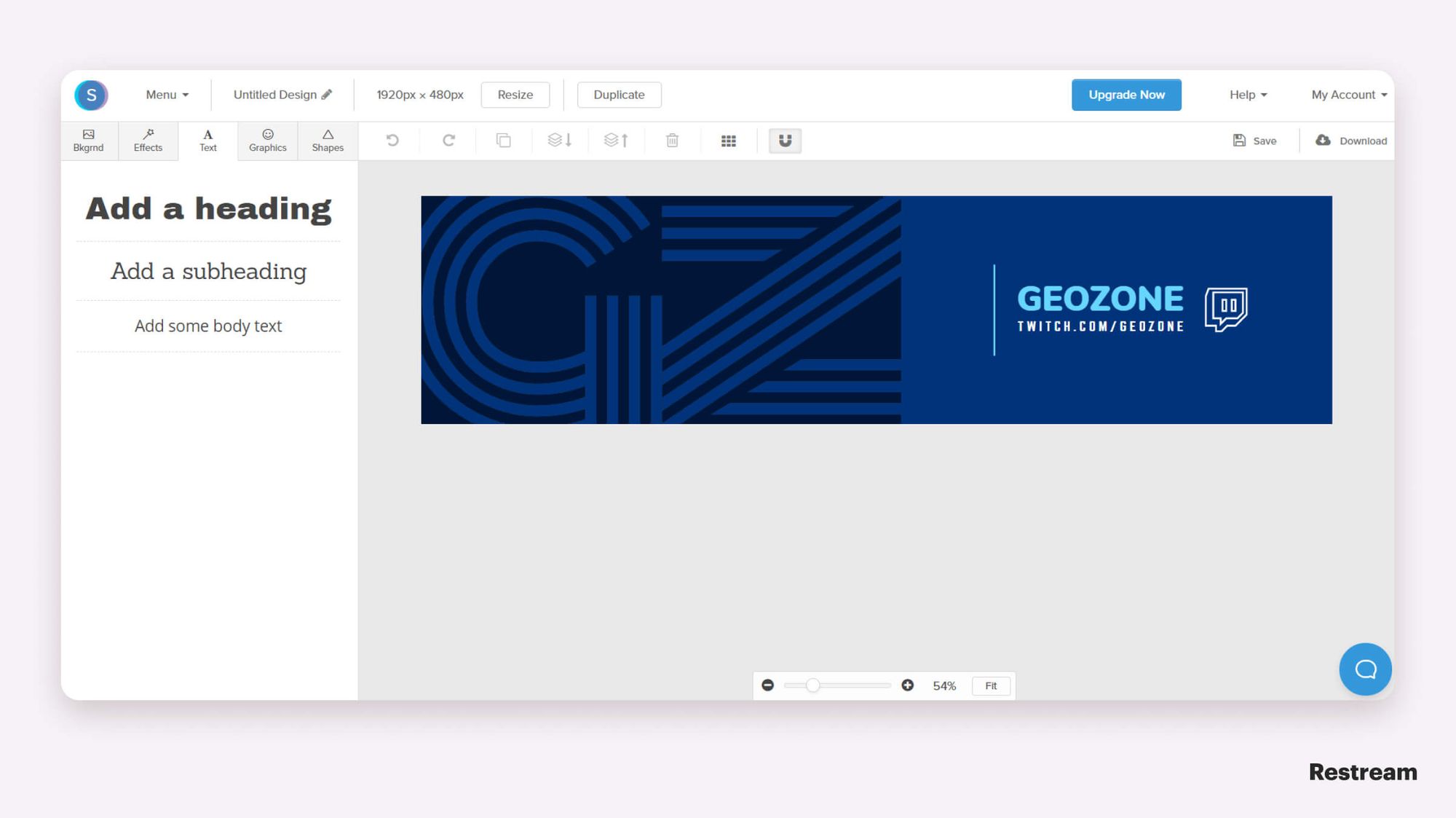 It turns out graphic designers are a thing of the past — or at least Snappa suggests so. The service offers an enormous image library, hundreds of banner templates, and the most popular banner dimension presets. With Snappa's help, you can repurpose your banners in just a few clicks. Plus, they have awesome guides on how to use their services. Snappa's free option is more than enough to make a unique, memorable Twitch banner.
👉 Crello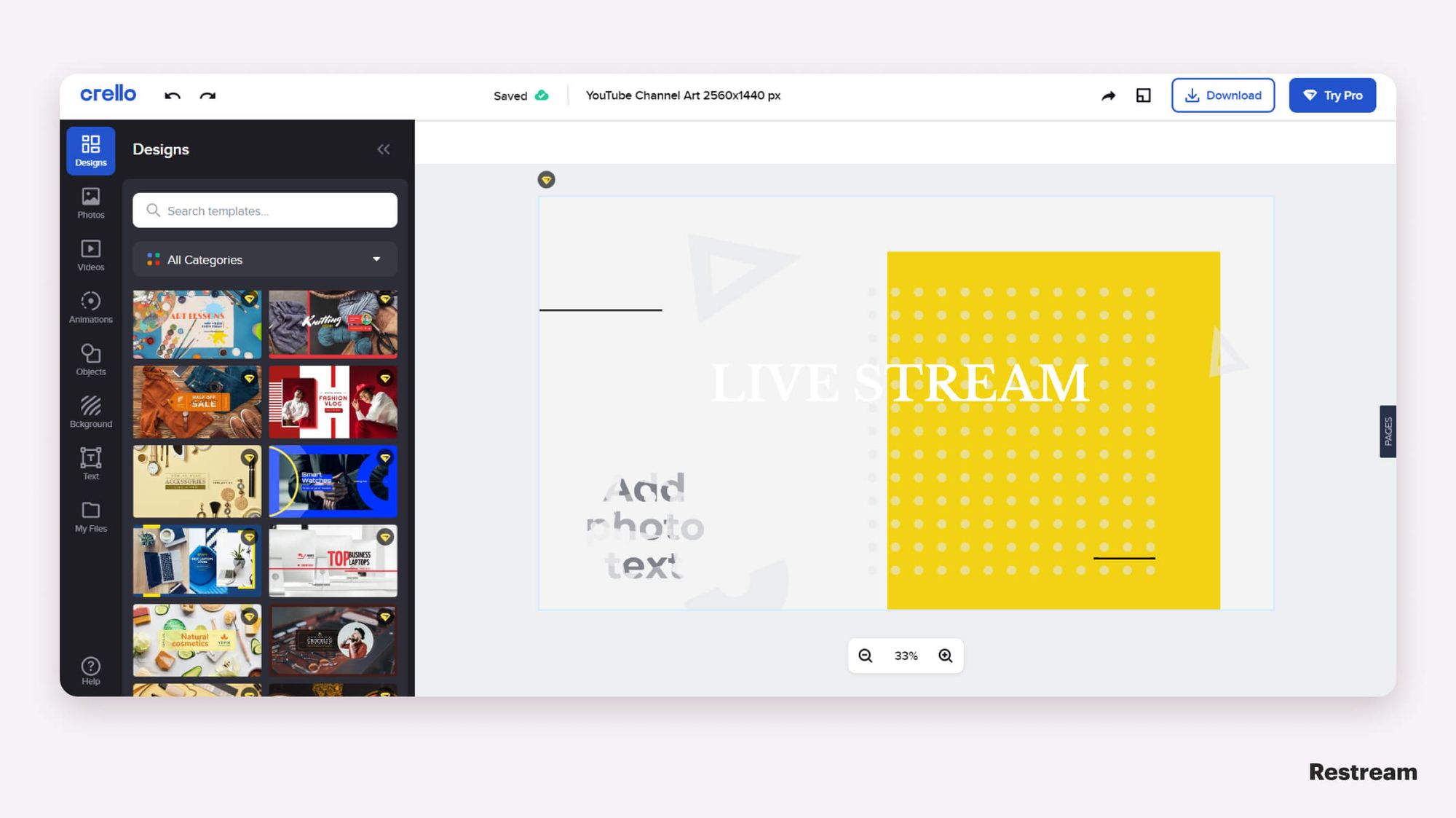 Crello's templates are specifically designed for YouTube, Twitch, Facebook, and other similar platforms. Two words describe Crello: professionalism and diversity. Free users have access to more than 30,000 fantastic banner templates and a whopping 140-million-image library. Anyone can upload their unique fonts and pictures as well.
👉 Adobe Spark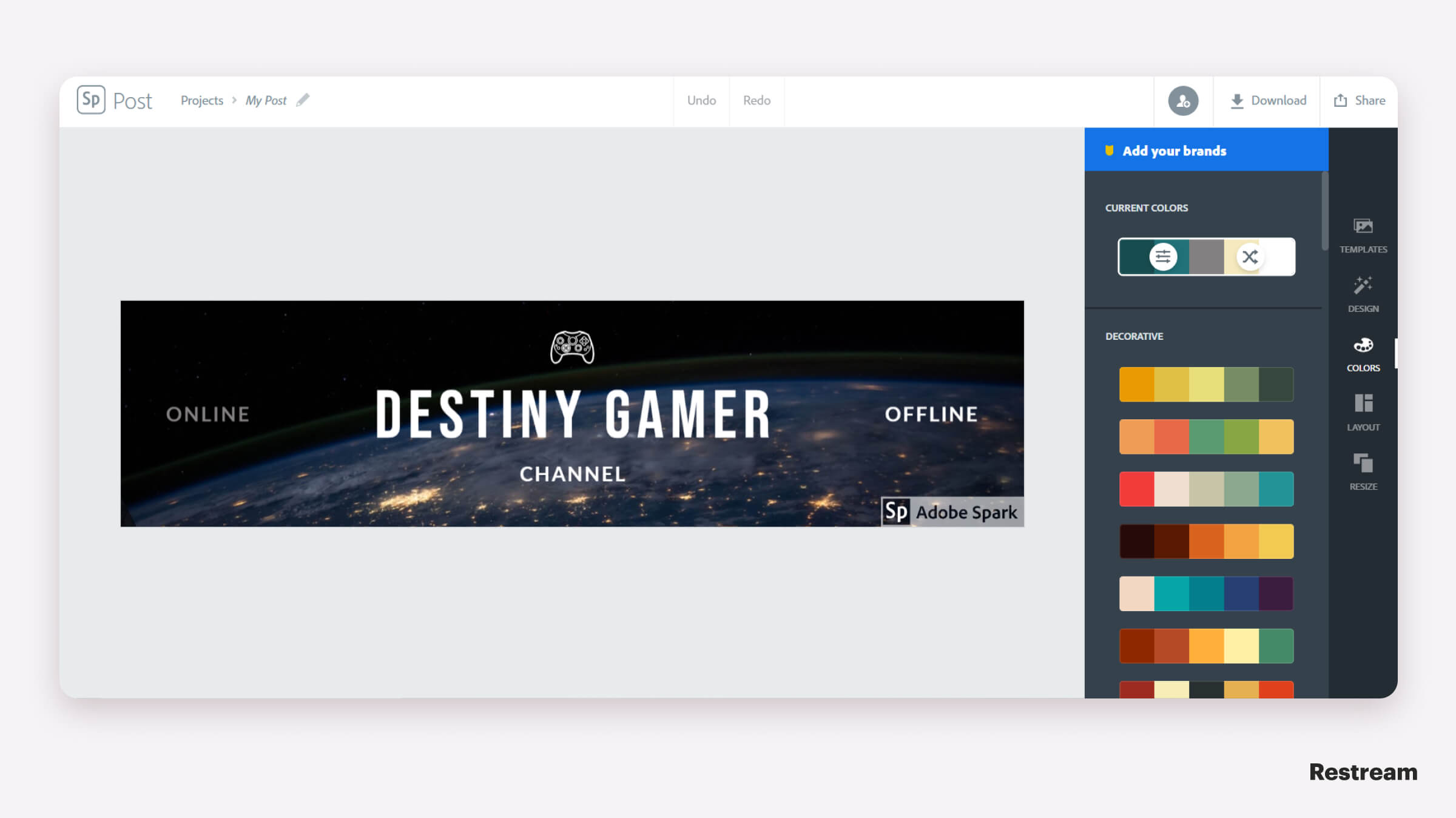 This iconic brand always has something to offer when it comes to design. Adobe's high-quality product allows you to create remarkable Twitch banners. Unfortunately, free users have somewhat limited features to work with in Adobe Spark — no unique designs, no premium templates, and the unkillable Adobe Spark watermark. Of course, all these troubles are non-factors if you consider buying the product.
👉 Easil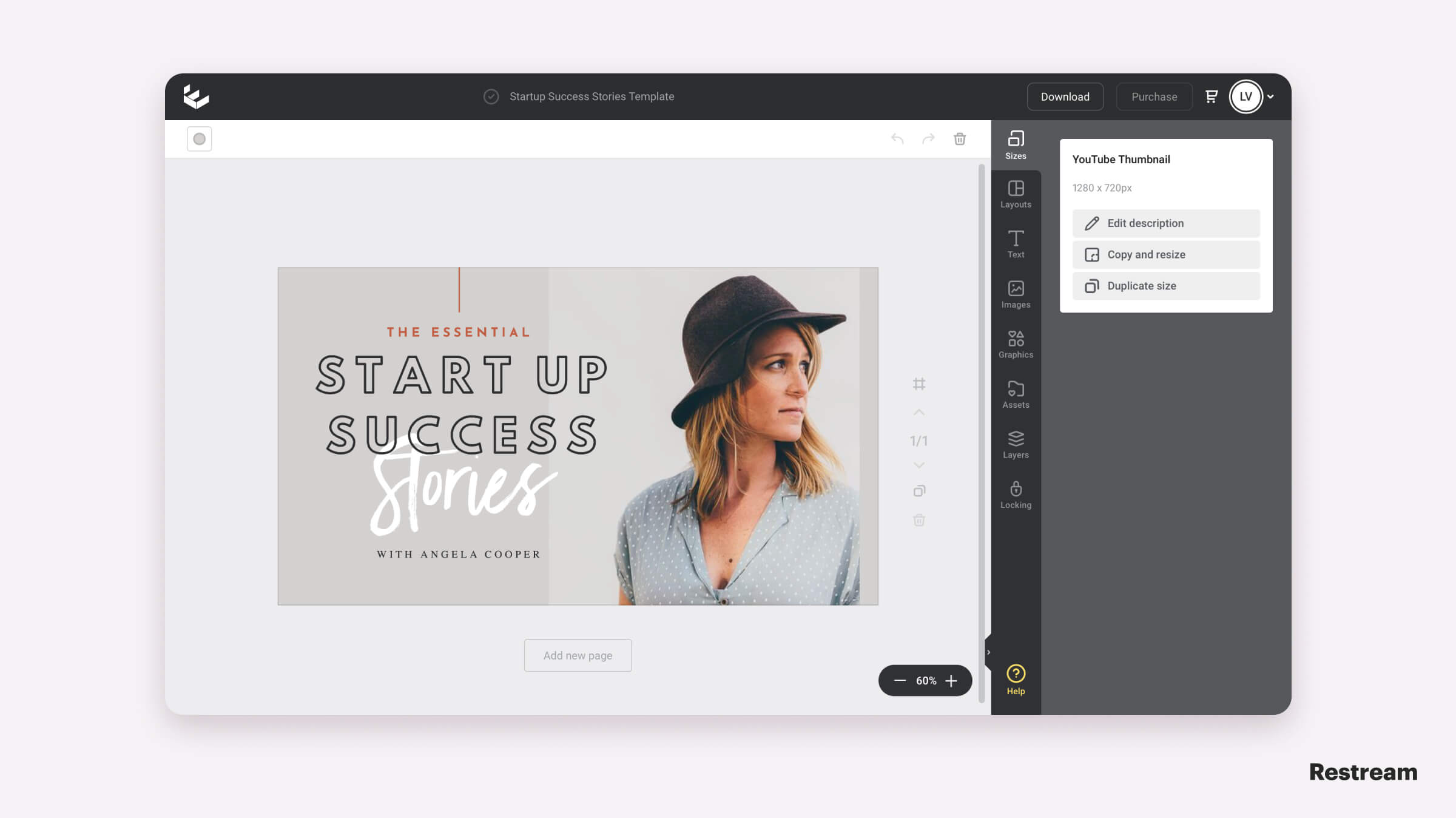 Beautiful, practical, and creative — Easil allows you to create all kinds of graphics or choose from thousands of amazing high-quality templates. There's everything, from unique templates for Instagram stories or IGTV to engaging banners and posters for Facebook and LinkedIn.
👉 Placeit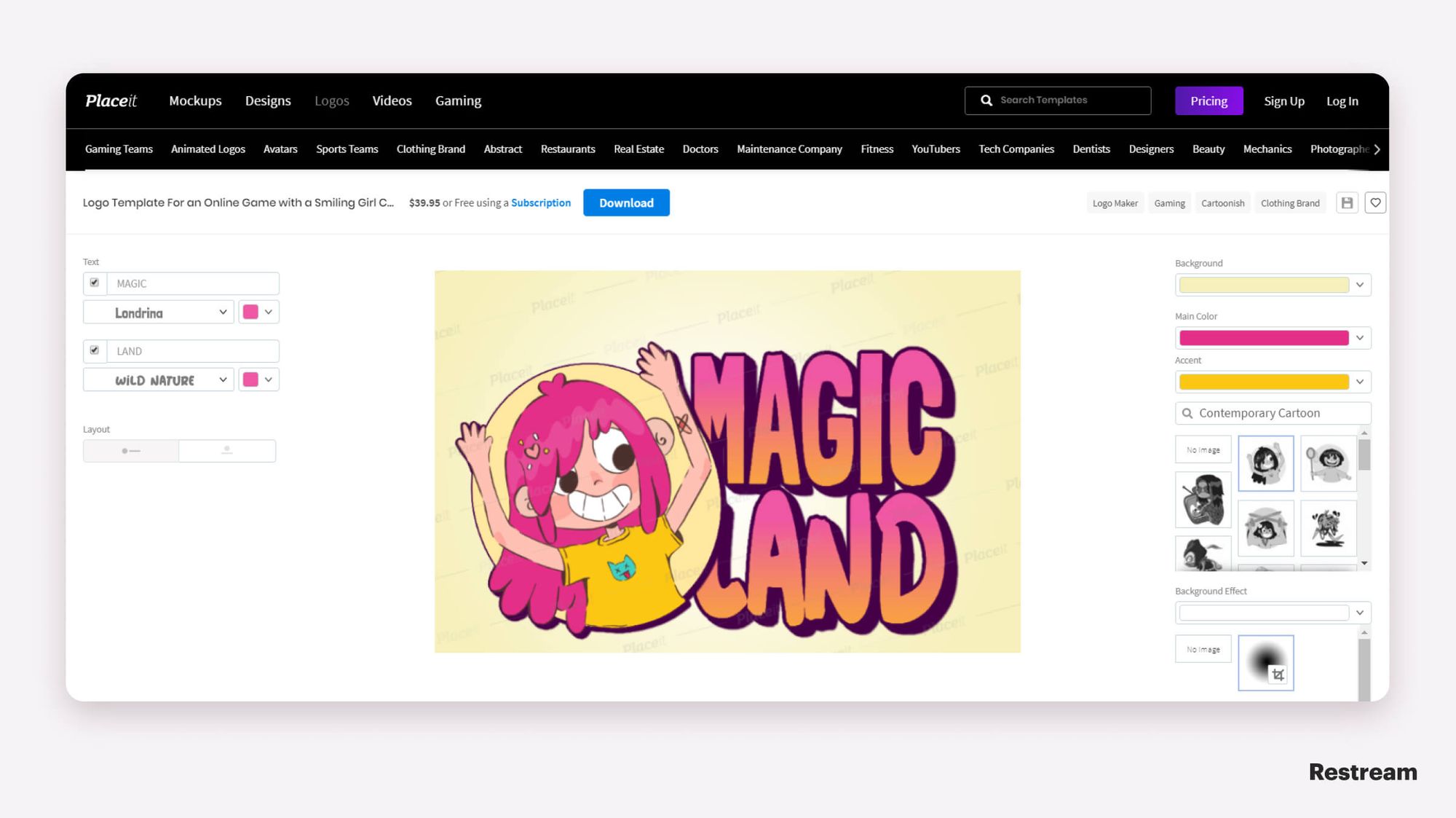 Struggling to come up with a logo for your Twitch channel? Not only does Placeit help you create the live stream logo of your dreams, but it also offers thousands of fresh banner templates to choose from. Everything is customizable. The downside, however, is that you have to pay for access to the Placeit banner and logo maker.
👉 Advanced Overlay Maker (by Nerd or Die)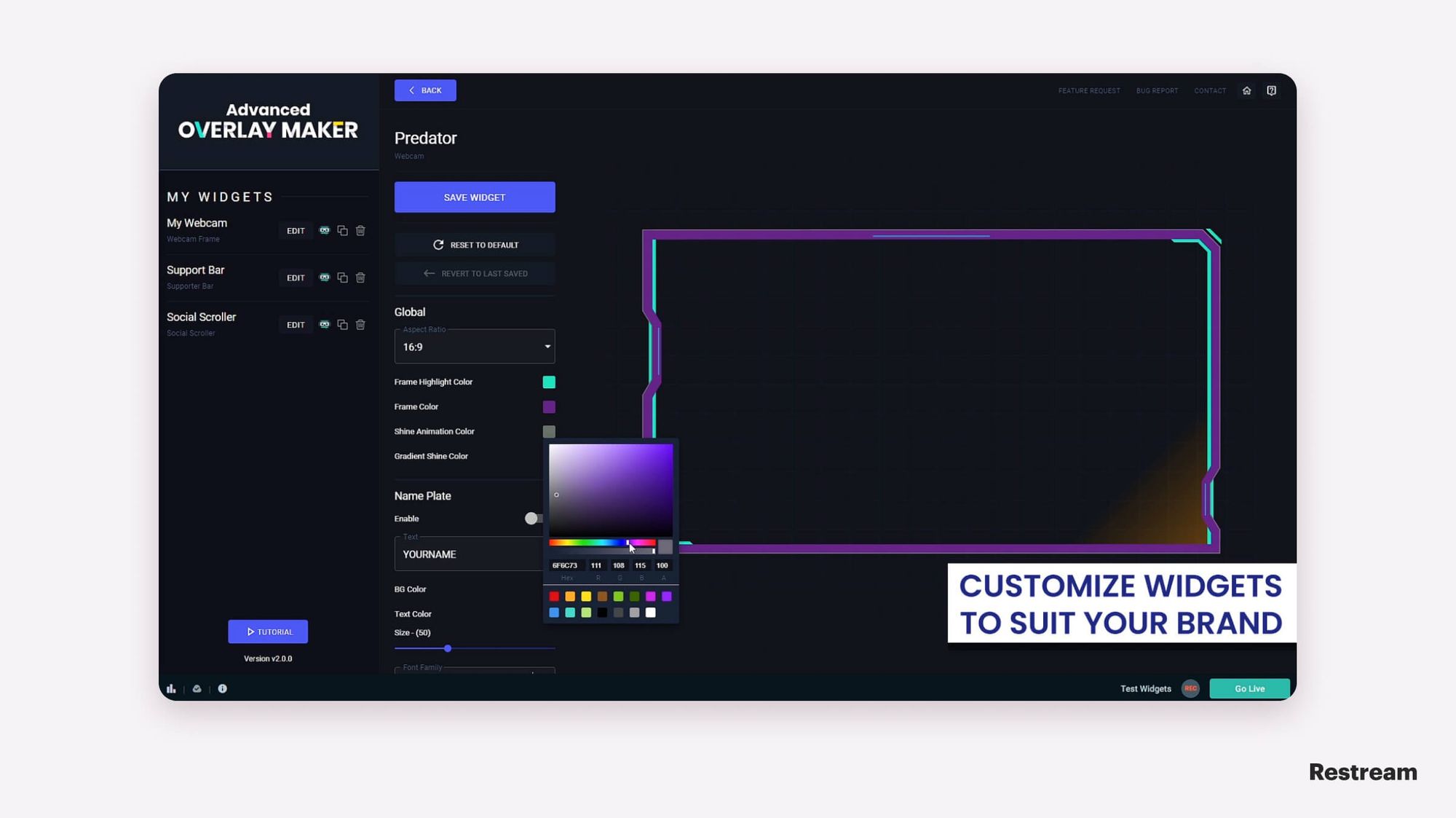 For years, the guys from Nerd or Die have been creating amazing overlays for all kinds of streamers. Nowadays, you can do it yourself using their simple live stream overlay creator. Advanced Overlay Maker (AOM) allows you to create unique overlays, which work with every popular streaming platform, including Twitch, YouTube Live, and Facebook Live.
👉 Strexm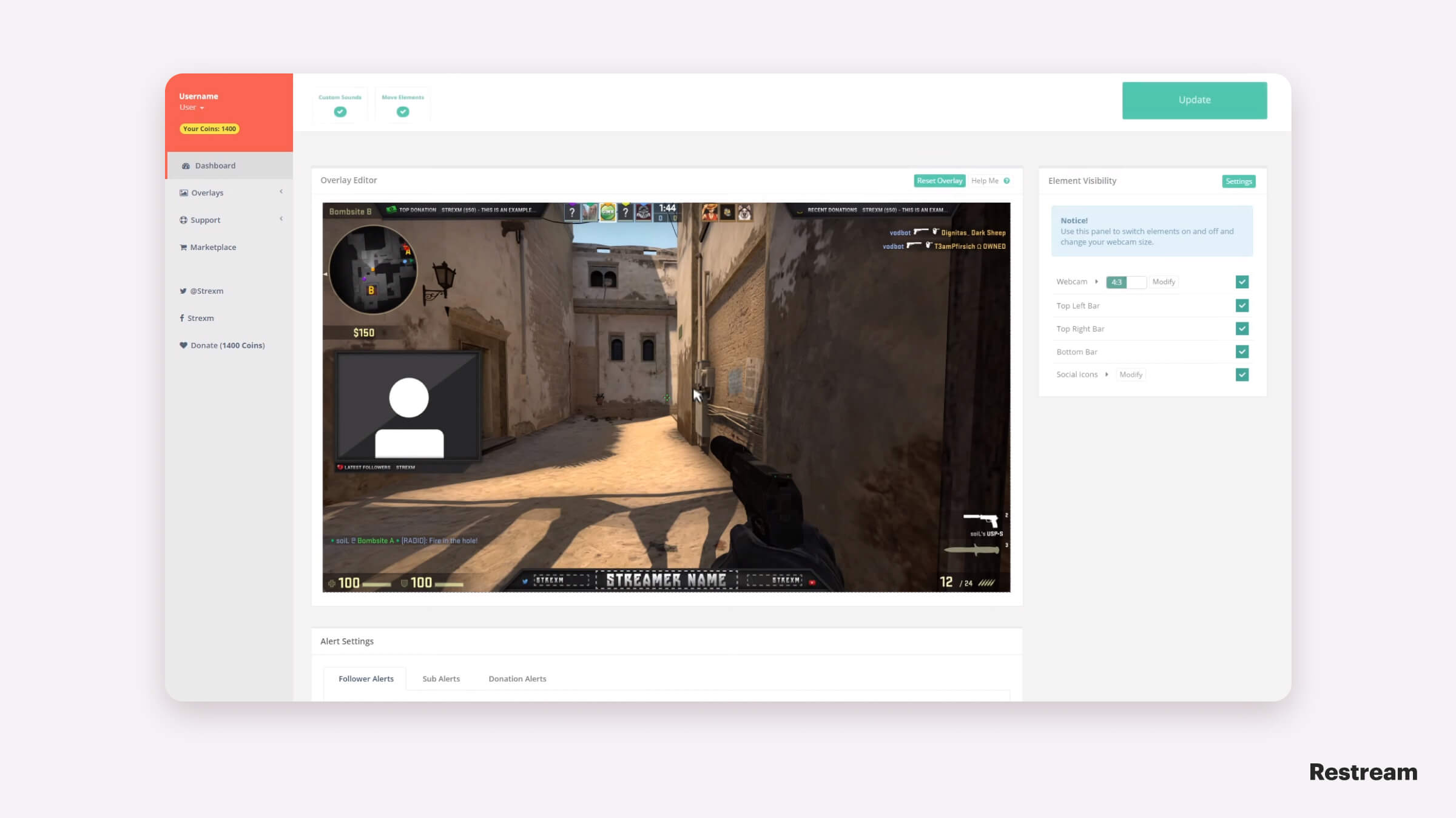 As an affordable alternative to Nerd or Die, Strexm offers you 200+ overlay designs to make your live stream smooth and slick. The service has overlays designed explicitly for the most popular video games, including LoL, Dota 2, FIFA, and Call of Duty. And most importantly, you don't have to spend a single penny! Simply connect Strexm with Twitch and choose your overlay.
👉 Visuals by Impulse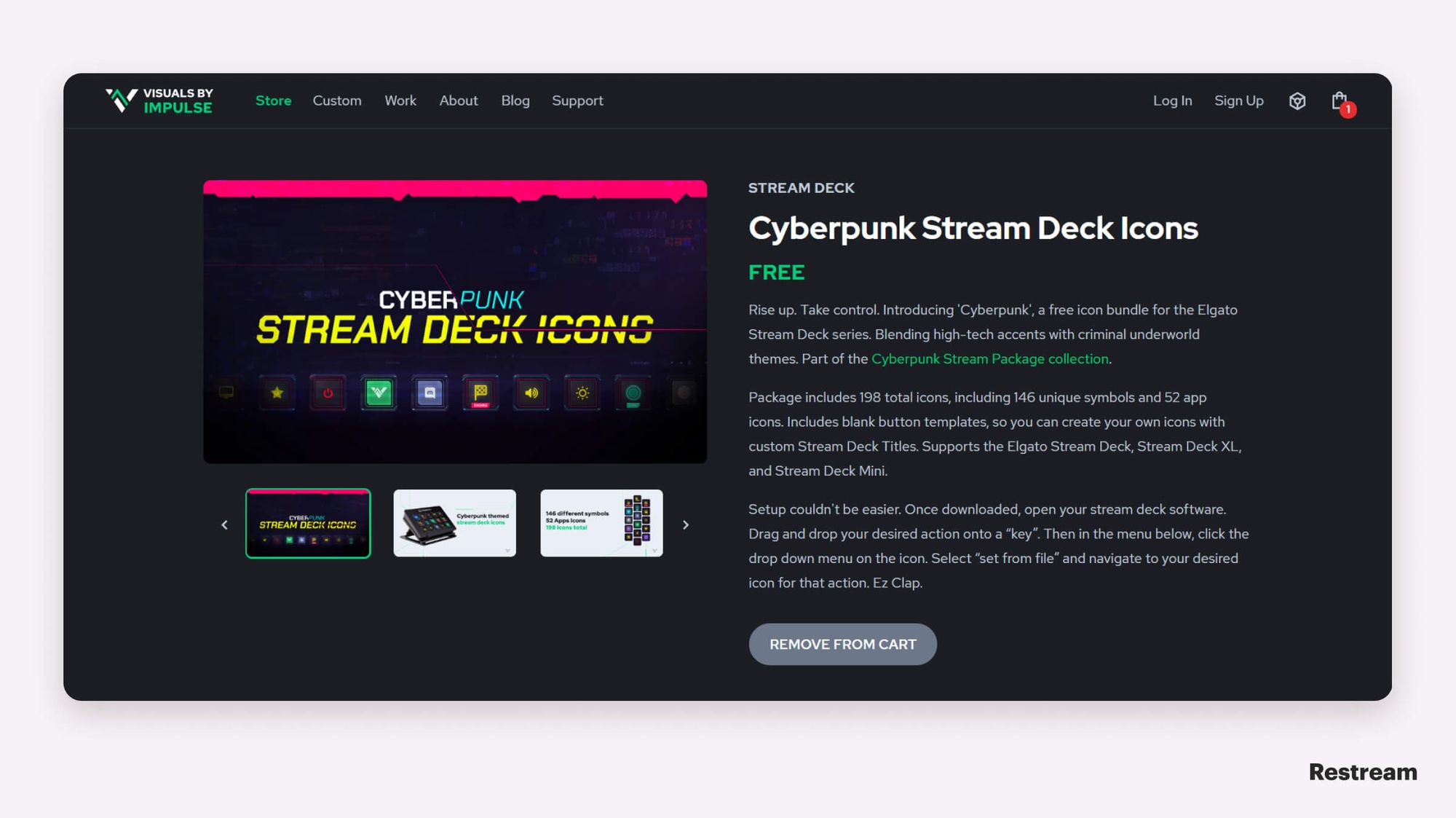 Visuals by Impulse offers custom stream overlays, animated alerts, banners, panels, and more. If you really want to finetune every aspect of your channel, look no further. New premium designs are added weekly. Visuals by Impulse supports OBS Studio, Streamlabs, and StreamElements, as well as every streaming platform.
All these amazing tools can help you customize your live stream in a unique way. Once you're  sure your live stream stands out, you can share it with the world. And the easiest way to share with as many viewers as possible is to multistream on several platforms all at once. With Restream Studio, you can use all your new custom overlays, panels, and banners while you multistream on more than 30 platforms right from your browser.
Read later: Top 7 powerful reasons to multistream with Restream 📍
Wrapping up
It can be a bit overwhelming to understand all these tools and their functionality. But exploring them is easy and fun. With tools like Canva, Snappa, Crello, Easil, and Placeit, you can create all sorts of banners, watermarks, logos, and overlays. And AOM, Strexm, and Visuals by Impulse are simply must-haves for gamers because of their outstanding overlays, panels, and alerts!