Facebook Live is one of the most popular social media platforms for streaming live video — which means there's a lot of competition. If you're looking to stand out, you'll need to customize your Facebook Live videos.
In this guide, you'll learn how to level up your live streaming game on Facebook Live using customization options like overlays, titles, logos, backgrounds and more. If you're new to streaming on Facebook, check out our ultimate guide to live streaming on Facebook Live first.
Adding overlays and graphics isn't required for going live on Facebook, but it definitely helps make your live video look more professional and engaging. You can use captions to introduce guests and topics, you can highlight comments from the chat on-screen, and you can add your branding to each live video.
Customize your Facebook Live
easily with Restream
Get started for free
How to add backgrounds, overlays and more to your Facebook Live video with Restream
An easy way to customize your Facebook Live video, without having to download any software, is with browser-based live streaming software Restream Studio. To add all your customizations to Restream Studio, click the Start with Studio button on your Restream dashboard. Once you're in Studio, you can add destinations for live streaming, upload and select your graphics, toggle your split-screen options, invite guests, and access all the customization features your stream needs.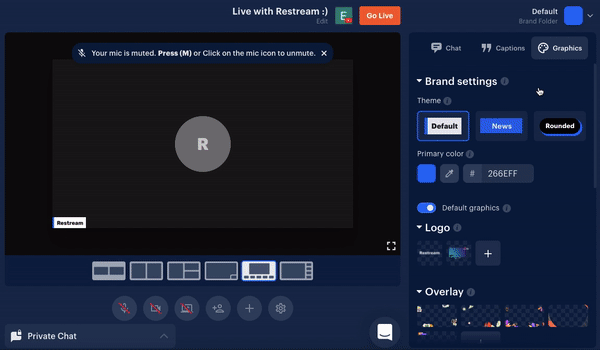 You can easily add the following customizations with Restream Studio:
Overlays: A live stream overlay is a graphic that sits on top of your video feed. Overlays for Facebook Live come in many sizes and shapes, with some animated and others static. You can use an overlay to show messages from the Facebook Live chat, provide the names of your stream participants to viewers, add calls to action with your social handles and much more. An overlay makes your stream look more professional and enticing to viewers. To add overlays to Facebook Live using Restream, go to the Graphics tab and select an Overlay. You can upload custom overlays to Restream Studio as well.
Virtual or animated backgrounds: An animated background is more captivating than a static one and makes your stream engaging for viewers. If your background is moving, remember to keep it simple, however. You want it to be dynamic, not distracting. Another option is adding a virtual background to hide what's behind you. To add a virtual background to Facebook Live in Restream Studio, click Settings, click Virtual Background, and then select your Key color from the drop-down menu.
Graphics: Live stream graphics help make your Facebook Live video look more engaging and professional. They can provide details about your stream, such as the names of you and your guests or the place you're streaming from. You can also display comments from the live chat on-screen to bring guests into the conversation. Graphics can also be overlays, logos or lower-third captions.
Logos: A logo reinforces your brand and makes your Facebook Live stream look more professional. Make it small and stick it in one of the corners of the screen so it's not too distracting. You can also format your logo as a watermark and add that to your stream to make it even more nondescript.
Lower thirds: Lower thirds take up the bottom portion of your screen (sometimes one-third of the screen, sometimes less) and allow you to introduce guests, speakers or hosts of your live stream on Facebook. Titles can be simple with a single line of text or more complex with graphics. Lower thirds are also a good place to promote your social media accounts, website or other contact info.
Video title and description: Giving your Facebook Live stream a specific title and description will make it easier for viewers to find you. Make your title both descriptive and enticing — it's one of the first things people see when deciding whether to click on your live video or not. You can update the title, description and game you're streaming (if you are streaming a game) with Restream.
Background music: Music can help change the entire tone of your Facebook Live stream. It's also a useful tool for boosting engagement and keeping viewers interested. But if you play background music, it has to be legal to use. It must either be your original track, music you have a license to play or copyright-free music. To add background music to Facebook Live using Restream, click the Add Source button, click Background music, and then select your music genre from the list.
Split screen: A split-screen format allows both you and your guest to appear on-screen at the same time. This feature is ideal for interviews, panel discussions, podcast recording sessions, press conferences, business meetings and any live stream with multiple participants.
Screen sharing: When you share your screen on a live stream, you can show viewers what's on your computer monitor in real time. If you have a presentation to show or are doing a tutorial, sharing your screen is an important feature. Formatting your live stream so viewers can see your screen and still view your video feed keeps the live stream engaging as well.
Other ways to customize your Facebook Live stream with Restream Studio are:
Some Facebook Live video creators don't have the time to create custom designs but still want their stream to look professional. With the default graphics available in Restream Studio, you can broadcast a high-quality, professional-looking video that still shows off your brand personality.
Not only does Restream's browser-based Studio help you add customizations to your stream, but it also lets you broadcast your stream to multiple platforms at the same time. You can choose from Facebook, Twitter, LinkedIn, YouTube and more than 30 other platforms to stream to simultaneously. Once you have a Restream account, connecting it to your Facebook, Twitter and other profiles is simple.
Live stream everywhere,
all at once
Get started for free
Design tools for Facebook Live graphics
There are plenty of design tools out there that can help you create custom elements for your Facebook Live stream — and you don't need design skills to use them. The most user-friendly design tools for making custom graphics for your Facebook Live stream are:
Canva: Canva has over 8,000 free templates for logos, overlays, backgrounds, captions and more. The paid plan has even more features.
Snappa: Snappa has over 6,000 free templates plus a huge image library to draw from.
Easil: Easil has both stock images and high-quality templates you can use to create graphics for your Facebook Live stream.
FAQs
How do I put graphics on Facebook Live?
You can either create graphics in Facebook's Live Producer and add them to your stream, or you can use a third-party streaming tool like Restream to broadcast your live video with your graphics to Facebook. Learn more about adding graphics to your live stream with Restream.
How do I put an overlay on Facebook Live?
To add an overlay to your Facebook Live stream using Restream Studio, go to the Graphics tab inside Restream Studio. Scroll down to Overlay and select the one you want. You can toggle it on and off. To upload your custom overlay, click the + and upload the image you created for your overlay.
Can I use a green screen on Facebook Live?
Facebook Live supports green screens, so you can add a virtual background to your stream. Most basic webcams support green screens as well. Learn more about how to use green screens on a live stream in our full guide.
How do I add a logo to Facebook Live?
You can add a logo and other custom graphics to your Facebook Live stream by using a third-party streaming tool like Restream. You can connect your Facebook account to Restream so your live video will broadcast to Facebook. In Restream's dashboard, goto the Graphics tab, and then click the Upload logo button.
Can I overlay text to my Facebook Live stream?
You can add captions, a chat overlay and even a ticker (scrolling text at the bottom of the screen) to your Facebook Live stream by using Restream. Connect Restream to your Facebook account, then go live using Restream Studio. Inside the Studio, you can customize your captions, toggle chat overlay options, and configure your ticker text.
How do I add background music to Facebook Live?
You can add royalty-free background music to your Facebook Live stream using Restream Studio. Inside the Studio, click Start with Studio, and then click the + at the bottom of the dashboard, next to the gear icon. Click Background music. Scroll through the available music genres and choose the one you want by clicking Select. Read more about adding background music in Restream Studio in our detailed guide
Wrap-up
Customization options can help take your Facebook Live broadcast to the next level. Make your live stream professional and engaging, and stand out from the millions of other live streamers on Facebook. Restream Studio makes customizing your stream easy. Add stream graphics, titles, guests and more in just a few clicks. To make your next Facebook Live stream a success, broadcast with the all-in-one, browser-based Restream Studio.