Intro
Restream Studio is on a mission to make your streams more engaging and stylized. You can now add several genres of modern background music generated by AI and free from copyright, licensing, and royalties. The tracks are also infinite in length — meaning you'll have music for your entire stream without needing to change tracks or playlists.
Choose from a selection of genres and add background music to your stream with just a few clicks:
Chill
Hiphop
Ambient
Pop
Rock & Metal
Classical
Keep reading to learn how Background Music can save you time and headaches, and enhance your stream!
✅ Copyright free, license free, royalty Free
Background Music is a great way to set the vibe of your stream, but playing music that's protected by copyright can put you at risk for a copyright strike and other penalties.
Depending on the platform, the consequences for violating copyright can range from your content being removed, to your channel or page being shut down, to legal action being taken against you. 😳
Thanks to partnership with Mubert, Restream features AI-generated Background Music. You'll never have to worry about copyright, royalties, or expensive licensing fees again. This feature is included with your Restream account and is accessible with just a few clicks.
🔥 Set the vibe for your stream
Is your stream poppy and fun? Or does it feel chill and moody?
Whether you're streaming solo, chilling with friends, or leading an interview, music is the perfect way to set the tone of your stream!
The right Background Music can communicate your brand and help attract the audience who will most resonate with your stream. Adding music also elevates your production value and conveys professionalism and polish.
Ready to amp up your stream's vibe? We've developed multiple music genres for our Background Music so you can always find the right fit for your stream!
💃 Keep your audience engaged
Playing background music during your stream is a simple way to remove some of the pressure of entertaining your audience and always having to be "on."
Those awkward pauses during commentary or lulls in a conversation don't feel so awkward anymore when you have music playing in the background and filling any in-between spaces.
If you're creating art or cooking a delicious dish on your stream, having background music lets you focus on what you're creating rather than needing to constantly provide commentary.
Need to step away for a moment? Even if your chair is empty, your music signals that your stream is still active, making your audience less likely to lose interest and bounce.
🙌 Less time stressing, more time creating
You put a lot of time and energy into making your stream happen.
Between searching for music that's copyright free, debating if you should pay expensive licensing fees, and troubleshooting tech issues, getting the right music can be a time-consuming process.
Using Restream Background Music eliminates the headache, hassle, and potential risk of finding music for your stream — giving you one less thing to worry about, and more time for creating amazing content!
🤩 Easy to use
Ready to get started? It's super easy to add Background Music to your stream — all it takes is three clicks!
Open Restream Studio, click the "Add source" button, click "Background music", then select which genre of music you'd like to play on your stream. Your music selection will appear as a new stream to the right of the host stream preview and can be toggled on and off.
👉 Oh yeah, this feature is available for everyone (free & paid plans).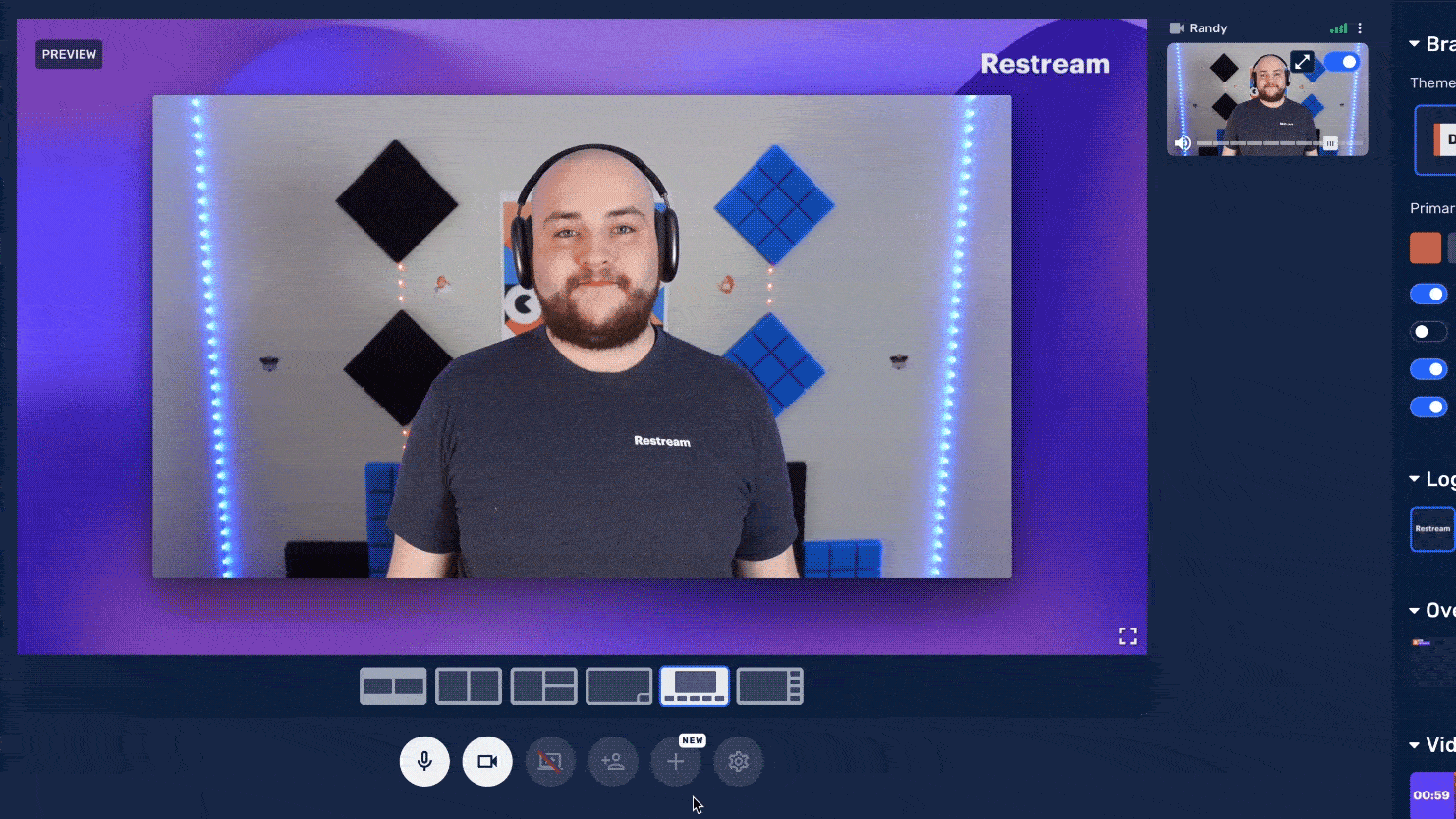 We hope you love using our new Background Music! Head to Restream Studio to try it out for yourself and find the perfect music for your stream.
---
Psst! Looking for other ways to raise your production value? Check out our new Animated Backgrounds. Happy Streaming!